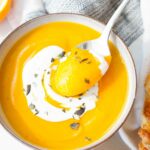 Print
Pumpkin Ginger Soup with Orange
Delicious, warming and flavorful pumpkin soup. It's easy, quick to make and kids love it!
1

medium onion

diced

2

tablespoons

frying oil

1.5-

inch

piece of fresh ginger

4 cm, grated

1

heaped teaspoon grated orange zest

preferably from an organic orange

4

cups

vegetable broth

1 liter

4

cups

pumpkin puree

2.2 lbs/1 kg, OR 1.5 lbs/700g raw pumpkin chunks

1/2

cup

orange juice

120ml, from 2 small oranges

salt and pepper

to taste

to garnish: plain yoghurt

toasted pumpkin seeds
In a large pot, heat the oil over medium heat, add the onion and cook for about 8 minutes until soft and translucent.

Add the grated ginger and orange zest, cook, stirring for about 1 minute.

Add the pumpkin puree (or uncooked pumpkin chunks), broth and orange juice, simmer for 5 minutes (when using uncooked pumpkin, simmer for 15 minutes).

Season with salt and pepper, to taste.

Serve with a dollop of yogurt and toasted pumpkin seeds on top.

Enjoy!
Soup consistency: You can add more broth or more pumpkin puree if your soup is too thick or too thin.
How to toast pumpkin seeds: add to a dry pan and toast until fragrant and you start to hear them pop. Immediately remove them from the pan because they can easily burn.
Pumpkin vs butternut squash: I like this soup just a little more with pumpkin that with butternut squash.
Pumpkin puree vs uncooked pumpkin chunks: This soup tastes a little better with roasted pumpkin (pumpkin puree), but the difference in taste is not huge.
How to make pumpkin puree: cut the pumpkin/squash into equal size big chunks (skin-on). Arrange them on a baking tray, skin-side down, bake at 200°C / 400°F / Gas Mark 6, no fan (or reduce the temp. by 20°) for 30-60 minutes, until the pumpkin is soft (the baking time will depend on the size of the pieces and the pumpkin variety). Use a spoon peel the pumpkin, puree the flesh with an immersion (hand) blender or in food processor until smooth. Unused puree can be frozen and kept for several months in the freezer. You can also peel the pumpkin, prior to toasting it. It will be tastier (chunks browned at the bottom = more flavor), but it takes a little longer.
Storing and freezing tips: store in the fridge for up to 3. This soup is very freezer-friendly. Freeze for up to 6 months. 1 cup = 240-250 ml
Calories count = 1/4 of the recipe.