Cranberry-orange braided brioche
Delicious buttery brioche with dried cranberries, orange zest and a crunchy crumble on top. Brioche is a French yeast bread with lots of butter, eggs and milk. This recipe requires the use of an electric mixer fitted with a hook atachment, because the dough for brioche is quite wet and sticky and needs to be kneaded much longer than a traditional yeast dough (high fat content in the dough causes slower gluten formation, which gives the dough elasticity). Brioche is easy to make, requires, though, a little patience – the dough has to rest for a minimum of 6 hours, and preferably overnight in the fridge (it will develop great flavor and texture), but it's definitely worth it, because after that you have a wonderfully smelling, fluffy and buttery bread.
I baked this brioche in the form of a braided challah, which is a typical Jewish bread. Growing up in Poland, I've eaten challah very often, always convinced that it's a polish bread. In Poland we call Challah – 'Chałka'.
This is a modified recipe from this blog, I'm participating in the #synchronbacken (synchronous baking), organized by the Zorra of kochtopf.me (in German). This initiative was a lot of fun! On a particular day a group of volunteers gather to bake a selected recipe and this month we've baked brioche. I halved the original recipe, used 1 egg yolk instead of ½ egg, soft butter instead of a cold one, I also added dried cranberries, orange zest and a crumble on top.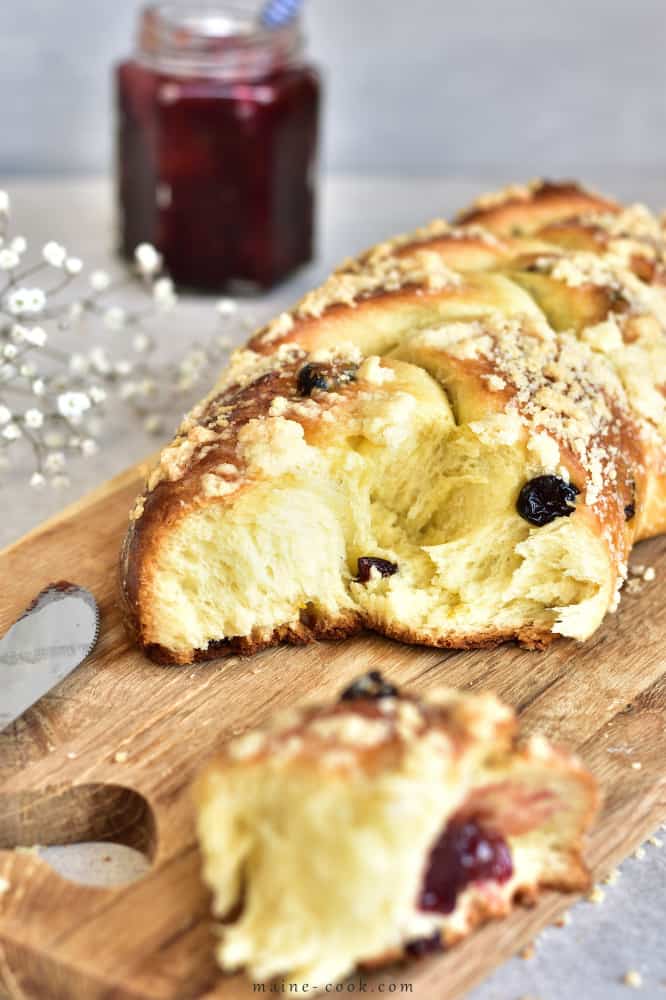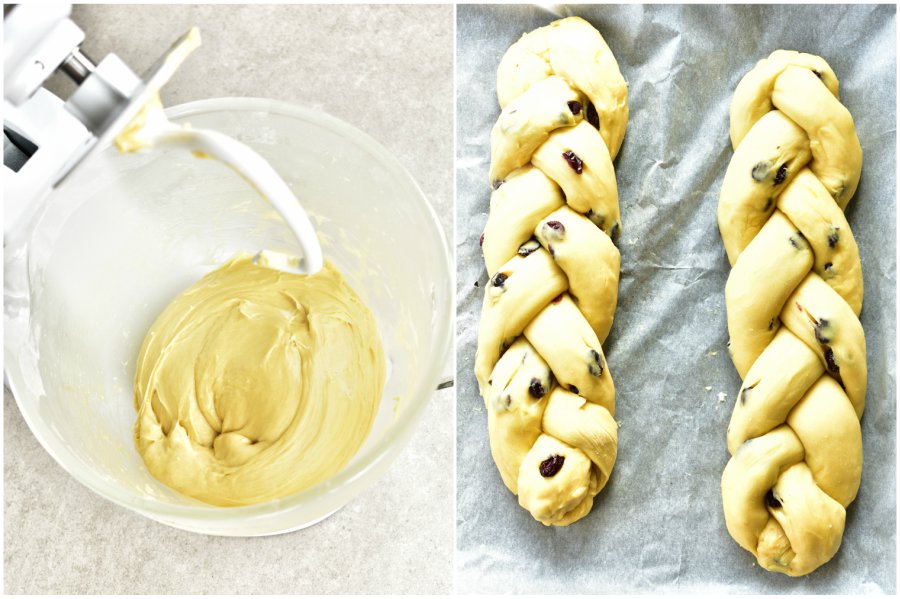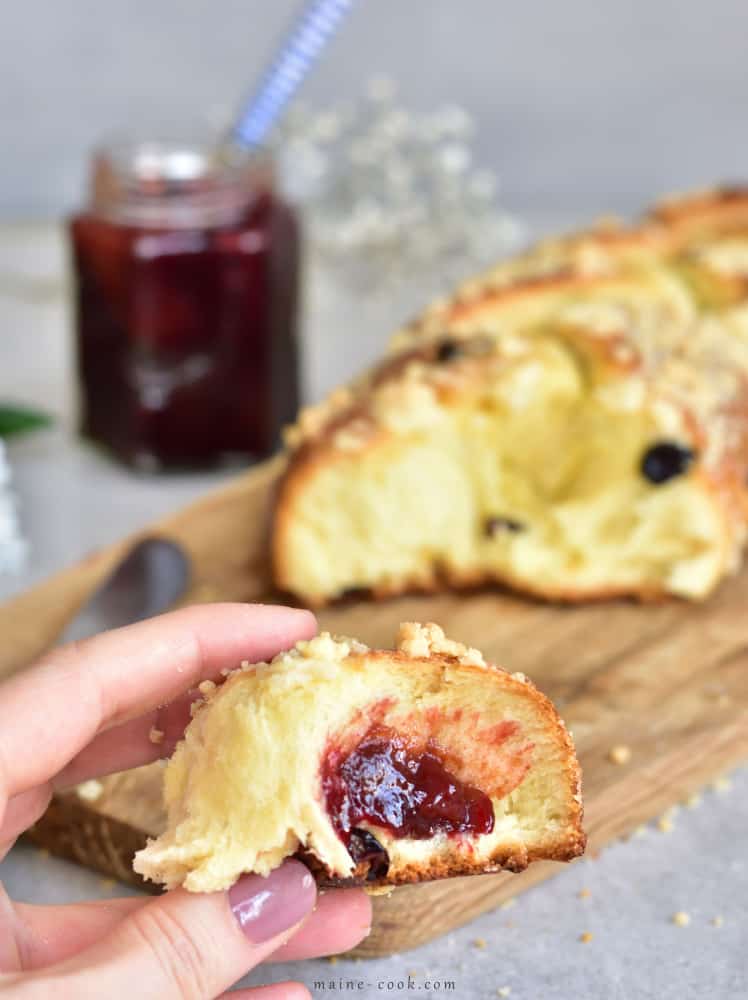 Cranberry-orange braided brioche
(!) the dough needs to be refrigerated overnight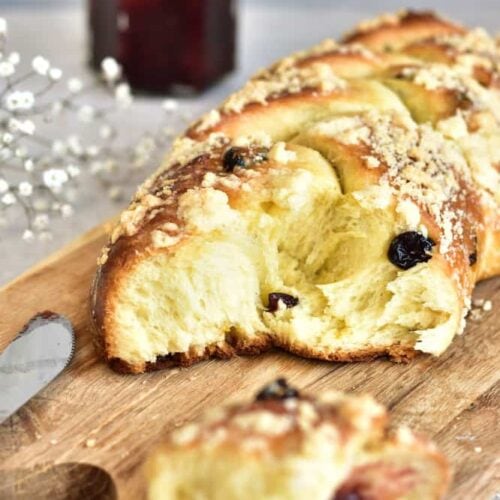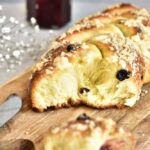 Print Recipe
Ingredients
brioche:
500

g

all-purpose flour

17.6 oz

12

g

instant yeast

3 teaspoons

75

g

sugar

2.6 oz

4

large eggs

1

egg yolk

75

g

milk

2.6 oz

10

g

salt

2 teaspoons

200

g

butter

at room temperature, cut into small pieces, 7 oz

additionally:

80

g

dried cranberries

6 tablespoons, about a ¾ cup

5

tablespoons

orange juice

from 1 medium orange

2

teaspoons

orange zest

grated, from 2 small oranges
crumble:
40

g

all-purpose flour

1.4 oz

30

g

butter

cold, 1 oz

25

g

sugar

0.9 oz
Instructions
make the dough:
If you forgot to warm up the butter, cut it into small pieces, spread them on a plate and put in a warm place.

Add all the ingredients, except the salt and butter, to the mixer bowl, knead with a hook attachment for 5 minutes at the lowest speed.

Add the salt and knead for a further 10 minutes (low speed 1/2).

Knead the dough for a further 10 minutes (low speed 1/2), adding the butter in teaspoon-sized pieces. Add another piece of butter when the previous chunk is almost incorporated. At the end add the orange zest. Stop and scrape down the sides of the mixer bowl as needed. The dough should be smooth, glossy and a little jiggly.
first rise:
Cover the bowl and leave in a warm place for 1.5 hours to rise.

Deflate the dough – lift the dough and drop it down onto the work surface from a height of about 20 cm.

resting the dough:

Form the dough into a ball, put in a bowl, cover and leave in the fridge for a minimum of 6 hours or overnight.

Soak the cranberries in the orange juice, cover and leave in the fridge overnight.
second rise:
On the next day, drain the cranberries, pat them dry lightly with paper towels. Knead the cranberries into the dough (with your hands).

Divide the dough into 2 equal parts, divide each of those into 3 parts and wrap the braid. Roll each piece of dough into a long rope, roughly 35 cm / 14 inches long (if they shrink let them rest for 5 minutes). Braid the ropes together like braiding hair, squeeze the ends together when complete. Repeat with the remaining dough (the recipe yields 2 loaves).

Put the braids on a baking sheet lined with a parchment paper, cover with a clean dishcloth and leave to rise in a warm place for about 2 hours. The dough should increase its volume.
bake:
Preheat the oven to 180 °C / 350 °F / Gas Mark 4, no fan.

Make the crumble: rub all the ingredients together until a crumble is formed.

Brush the braids with the beaten egg and sprinkle the crumble on top.

Bake for about 30 minutes until the bread is golden and a skewer inserted into the middle comes out clean (when the brioche starts to brown too fast, cover it with a piece of baking paper).

Take the brioche out of the oven, transfer immediately onto a cooling rack, after 10 minutes it's ready to be sliced and served.
Did you make this recipe? Let me know how you liked it and give it a star rating in the comments below! You can also add a photo of your creation!