The best pierogi dough recipe + how to make the best pierogi (polish dumplings)
This is my favorite pierogi dough recipe – soft, elastic, smells of butter, is easy to roll out. It's an authentic and traditional polish recipe (I'm polish, so I know what I'm taking about! :))
Pierogi dough is easy to make without a recipe (I think no polish grandmother makes it using a recipe :)) – the exact recipe is not important here, if the dough is too dry you need to add some water, if too wet – a little bit of flour. The most important thing is, that the dough is well-kneaded! However, it is worth having your favorite recipe and a kitchen scale on hand – the preparation goes then much faster, the ingredients are added into a bowl and kneaded together and most of the time you don't need to add additonal water or flour.
There are two ways of making a pierogi dough – with or without an egg. For me, the perfect pierogi dough is without an egg – the dough with eggs is a bit tougher in my opinion, but the difference with a well-kneaded dough is not significant. The second reason why I don't add an egg is that, it's more hygienic – having a small child at home, I usually make a lot of pierogi in one batch, but making a lot of breaks in betweeen. I don't have to worry about washing my hands thoroughly all the time, taking care if the table is well cleaned and watching out if my daughter is eating a dough with an raw egg. You shoud definitely try making pierogis with your kids – rolling out the dough, cutting rounds, shaping the pierogis, I think it's a fascinating activity for every child!
Here you will find a recipe for:
– pierogi ruskie – with potato, cheese and onion filling (the most popular polish pierogi)
– pink pierogi (the dough is colored with beetroot juice!) with potatoes, onion, feta cheese and spinach filling.
– sauerkraut and mushroom pierogi
– uszka 'little ears' filled with wild forest mushrooms and onion for Christmas Eve Borscht (clear beet soup)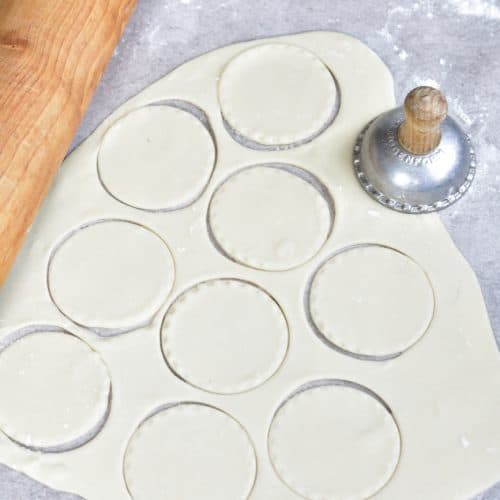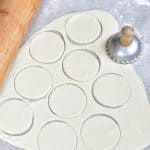 Print
The best pierogi dough recipe + how to make the best pierogi (polish dumplings)
The dough is soft, smells of butter and is easy to roll out.
Total Time
1
hour
20
minutes
Ingredients
500

g

/ 17.63 oz flour

I used all-purpose flour, type 480

280

g

/ 9.88 oz water

40

g

/ 1.4 oz butter

1

teaspoon

salt
Instructions
→ Making the dough:
Add the flour and salt into a large bowl, mix together.

In a small saucepan, warm the water with butter until they are very hot (temperature around 80-90 °C / 176-194 °F, that is when the water starts to move and steam). The water can't be boiling or simmering or the dough will be rubbery.

Pour hot water with butter into the bowl with flour, mix with a wooden spoon until roughly combined.

Knead the dough using your hands or with a stand mixer fitted with a hook attachment, about 5 minutes. The dough should be smooth, soft and elastic, it shouldn't stick to your hands. When you follow the recipe, the dough should be perfect, but if for some reason it's not, add some water if it's too dry, or a little bit flour if it's too wet. If the dough already forms a ball, is relatively smooth, but still tough, it means that it's not ready, it must be further kneaded until soft and elastic (after resting time it will be even softer).

Wrap the kneaded dough in plastic foil (so it doesn't dry out), leave to rest for about 30 minutes (it will be easy to roll out).
→ Rolling out, stuffing and shaping:
Divide the dough into 4 parts.

Onto a lightly floured surface, roll out thinly first piece of the dough, to a thickness of approx. 2 mm / 0.08 inch (a dough rolled out thinner than 1 mm is too thin and a dough thicker than 2 mm will be too tough – when you are eating pierogi, the most important thing is the filling, the dough should be only an addition, it cannot take attention from the filling). If the dough is hard to roll out, set it aside for about 5-10 minutes to rest, it will definitely be better.

Use a cup or a pierogi/pastry cutter to cut out rounds (mine has a diameter of 7 cm / 2.8 inch, I recommend pastry cutter, not cup, because it's easier to cut out the rounds as it has sharp edges). Place one ball of filling / 1 teaspoon of filling on each round (I shape my filling into balls – see photos, this way it's easier to stuff the pierogi, you can also scoop a little amount of the filling with a teaspoon. I like when my dumplings have a lot of filling inside, on a 7 cm / 2.8 inch dough round I give 3.5 cm / 1.4 inch in diameter ball / 20g filling).

Gather scraps, cover with plastic wrap and set aside.

Fold the dough over filling to create a half-moon shape. Press edges together, sealing and crimping with your fingers. Do not leave any gaps or pierogi may open during cooking.

Place the pierogi apart on a towel lightly sprinkled with flour (this is important, they can stick to the board), cover loosely with a kitchen cloth so that they don't dry out.

Repeat with the remainig dough.
→ Cooking:
Bring a large pot of slightly salted water to a boil.

Cook dumplings in batches (for a 21 cm / 8 inch pot I cook about 10-12 dumplings at a time), when they float to the water surface cook them for 2 minutes them remove from the water with a slotten spoon. The cooking time will depend on the thickness of the dough.

Drain well and transfer onto a plate. Serve warm.

Bon Appetit!
Notes
→ How to store the pierogi:
To ensure that the cooked dumplings don't stick to each other, brush them lightly with oil. Store in a tightly closed container in a refrigerator for about 2 days. On the next day it's best to fry them until golden.
The best dumplings are the fresh ones, made and cooked at the same day, but: I usually do this: I prepare the filling balls (1 ball with a diameter of about 3.5 cm / 1.4 inch / 20g per 1 dumpling). I prepare only the amount of dumplings that we are going to eat on a given day (about 14 per person). I wrap the rest of the dough tightly in plastic foil and put in the fridge. I place the rest of the filling balls on a plate and also tightly wrap in plastic foil and put in the fridge. On the next day I'm preparing the rest of the dumplings. If I have more time and I'm making more dumplings in one batch, then I freeze them. After removing the dough from the fridge, it is good to slightly warm it up (leave it for about 30 minutes on the counter), it will be more elastic. On the next day, the dough can discolor a little, but we don't mind that.
→ How to freeze the pierogi:
I freeze raw dumplings. Place the pierogi on a tray / wooden board sprinkled well with flour (important, dumplings can easily stick to it and then burst while cooking), arrange the dumplings so that they do not touch each other. When frozen, transfer them into containers or plastic bag. I cook frozen dumplings just like fresh ones, with the difference that you can cook a smaller amount of them at a time, I cook max. 8 pieces at once. When you drop too many pierogis at once it will lower the temperature too much and the dumpling can burst.
Nutrition
The best pierogi dough recipe – step by step: