This pasta dish will be ready in no time. It consists mainly of ingredients that you can keep in your pantry for a long time (the only fresh ingredients are onion and garlic). This tuna pasta with tomatoes and olives is perfect for a weeknight dinner, it will fulfill and satisfy your whole family. This is another dish from your favorite category – 30-Minute dinner.
Give this dish a try, I guarantee you'll add it to your regular recipe rotation!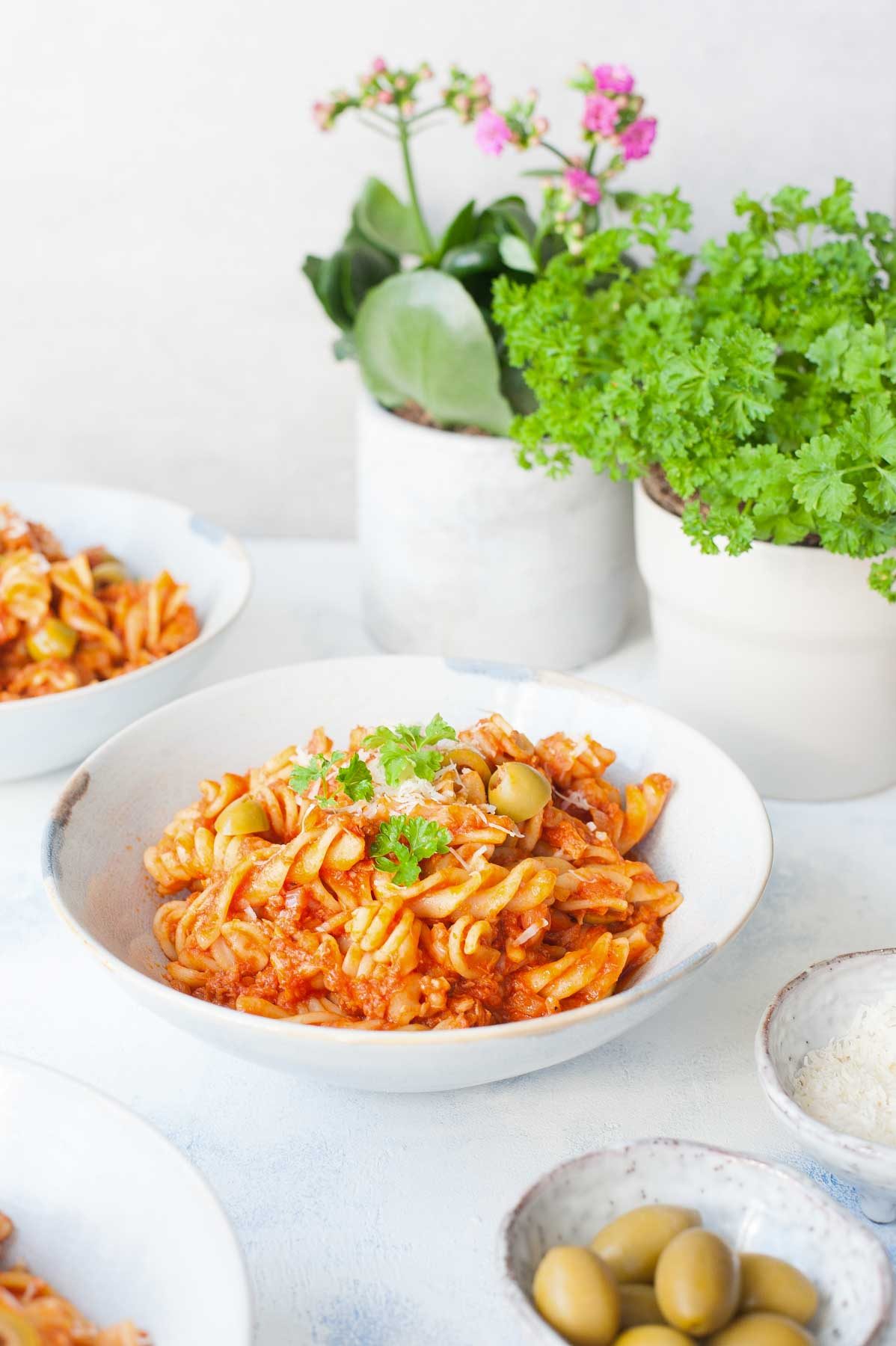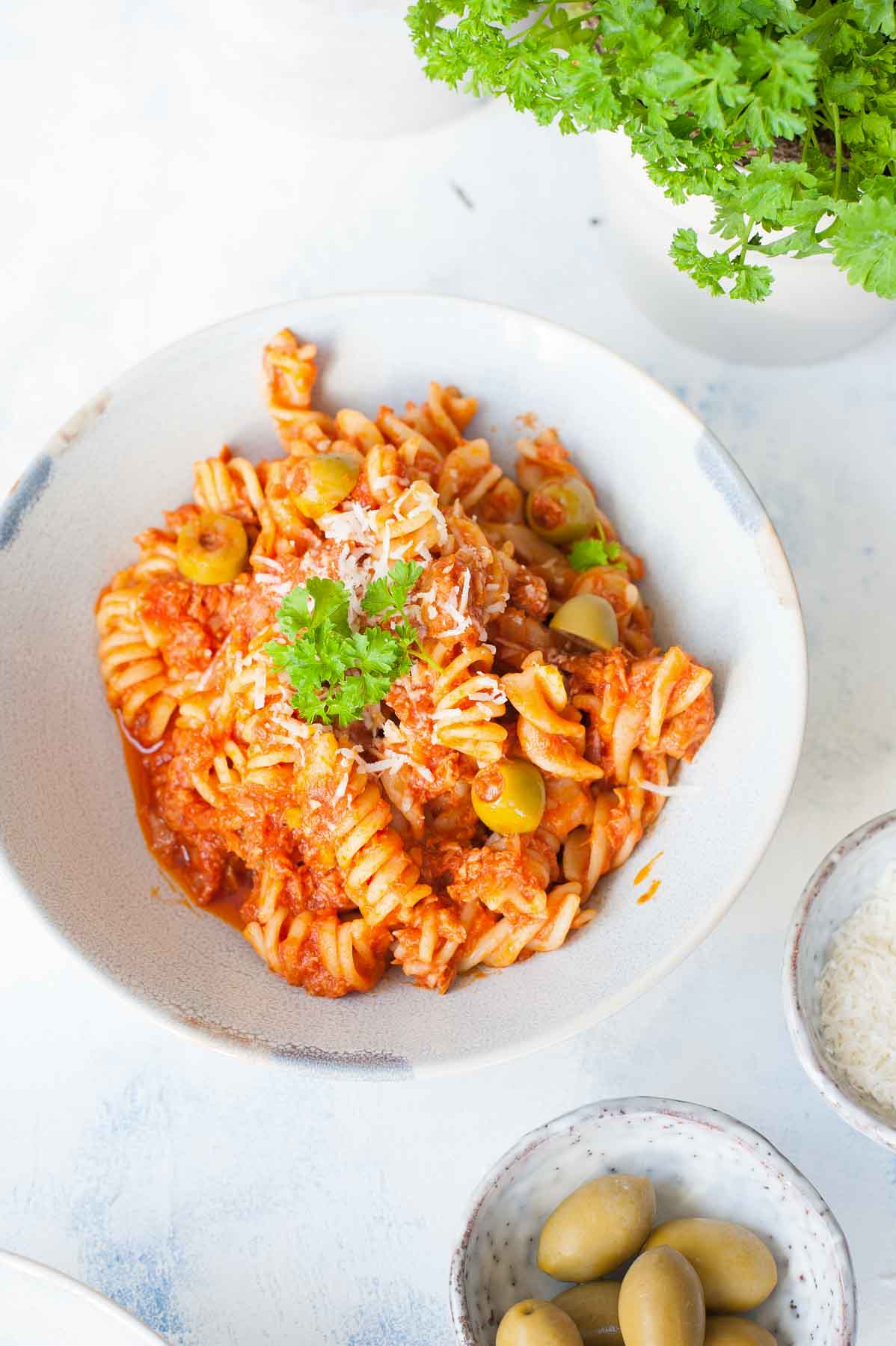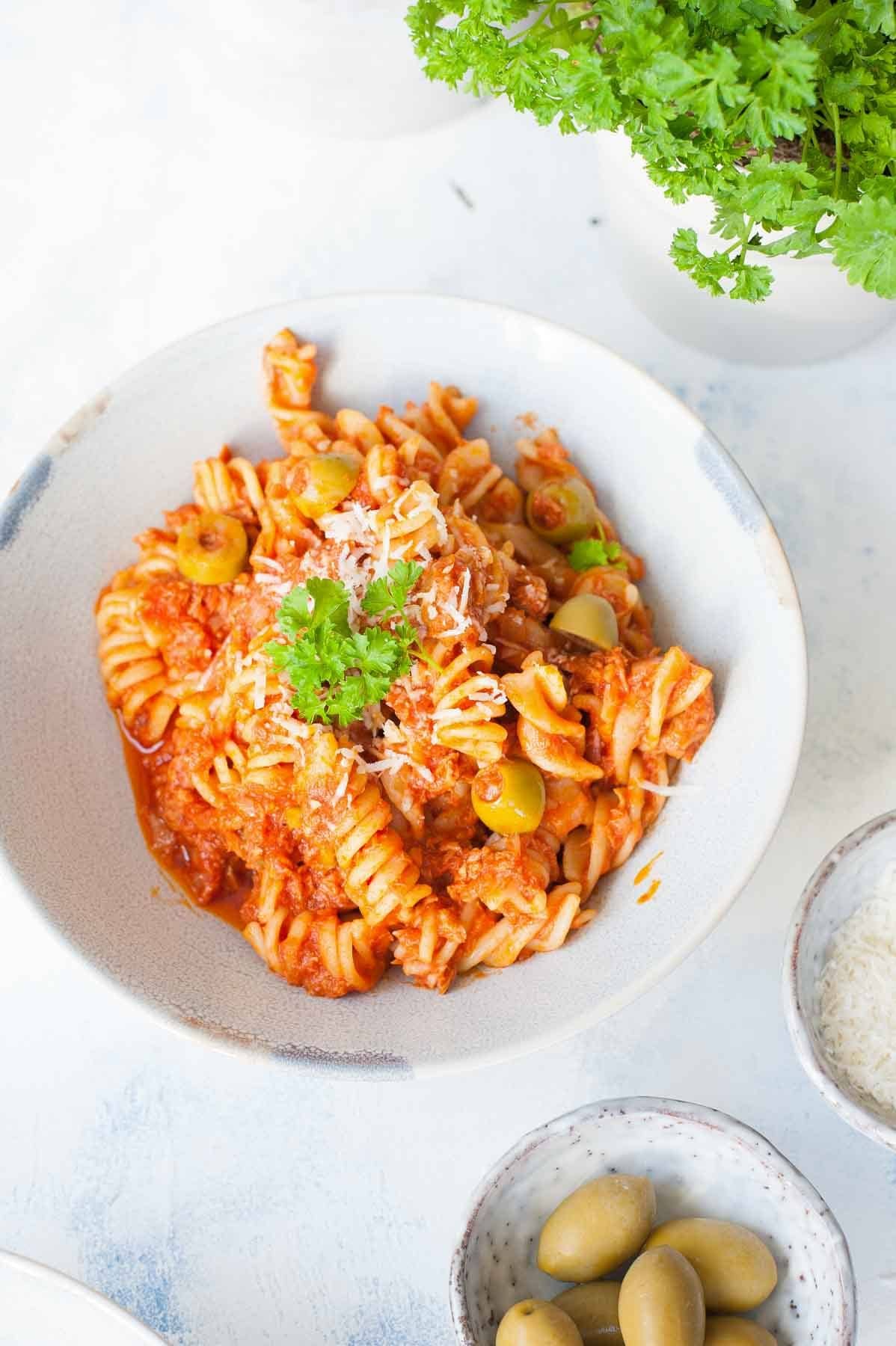 Ingredients:
Tuna – the main ingredient of this dish. I used canned tuna in olive oil – it tastes best. Alternatively, just use tuna in oil or tuna in its own juice (it will be less tasty but also less calorie-rich).
Pasta – I like fusilli with this recipe. It catches the chunky sauce very nicely. Alternatively, you can use orecchiette, farfalle or penne or any pasta that you have in your pantry. It's best to use pasta that 'catches' the sauce. You can also use gluten-free pasta.
Fat for cooking the onion and garlic – I used a mixture of olive oil and clarified butter for cooking onion and garlic with herbs because they both taste great and add a different taste to the dish. I really like to use clarified butter, it doesn't burn as quickly as the regular butter, and its taste is just as delicious. If you don't have clarified butter use regular butter. You can also use just butter or just olive oil. Mixing them both is my personal preference in this recipe.
Canned tomatoes – Instead of canned crushed tomatoes, you can use tomato passata (not tomato sauce) or fresh, chopped tomatoes when they're in season.
Broth – You can add vegetable or chicken broth to the dish. I'm sometimes using water with crushed organic stock cubes (made with only natural ingredients) instead of broth if I don't have it on hand. You can make your own chicken stock by following this recipe: roasted chicken stock.
Olives – I used green olives, but black or kalamata lives would be a good substitute. You can use the leftover olives to make pasta alla Puttanesca (tomato, olive, capers, anchovies, and tomato pasta).
Why this recipe works:
It's made from pantry staples.
It's very quick and easy to make. It's my go-to recipe for weeknight dinner when I don't have time to do the shopping and to cook.
It's budget-friendly.
Kids love this tuna pasta!
The sauce is very flavorful. This is really the best sauce that you can make with such a small amount of ingredients. It's pure comfort food.
How to make tuna pasta step by step:
These are complete cooking instructions. Scroll down for printable recipe card.
Prepare your ingredients: Start with cooking 7 oz / 200 g of fusilli pasta until al dente (the pasta should have a bite to it). Dice the onion, chop finely cloves garlic, drain the tuna, roughly chop the olives.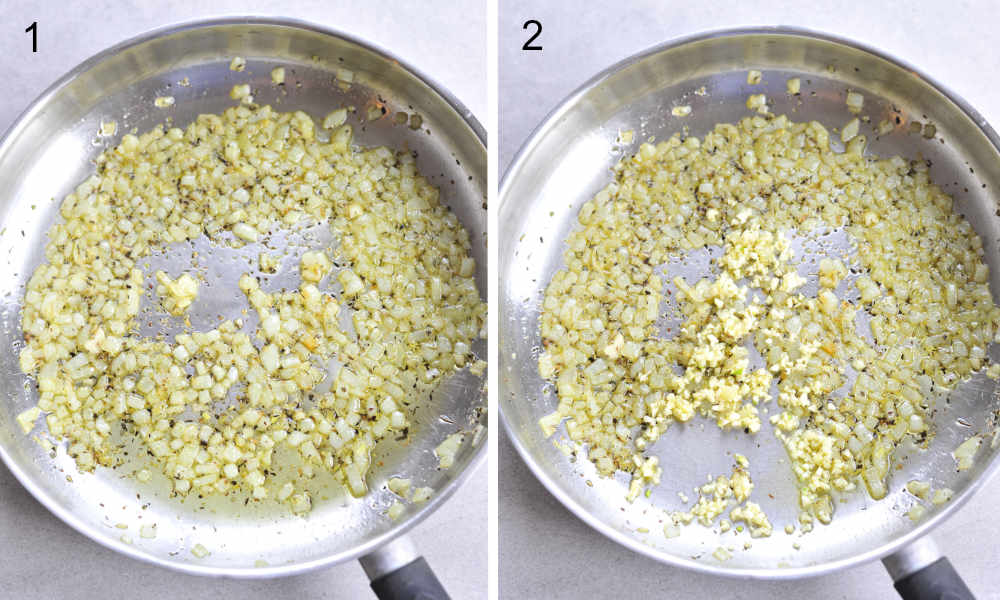 STEP 1: Heat 1 Tbsp of olive oil and 1 Tbsp of clarified butter/butter in a big frying pan, add 1 medium chopped onion and 1 ts of Italian seasoning. Cook until translucent.
STEP 2: Add 3 finely chopped cloves garlic, cook for about 1 minute or until fragrant.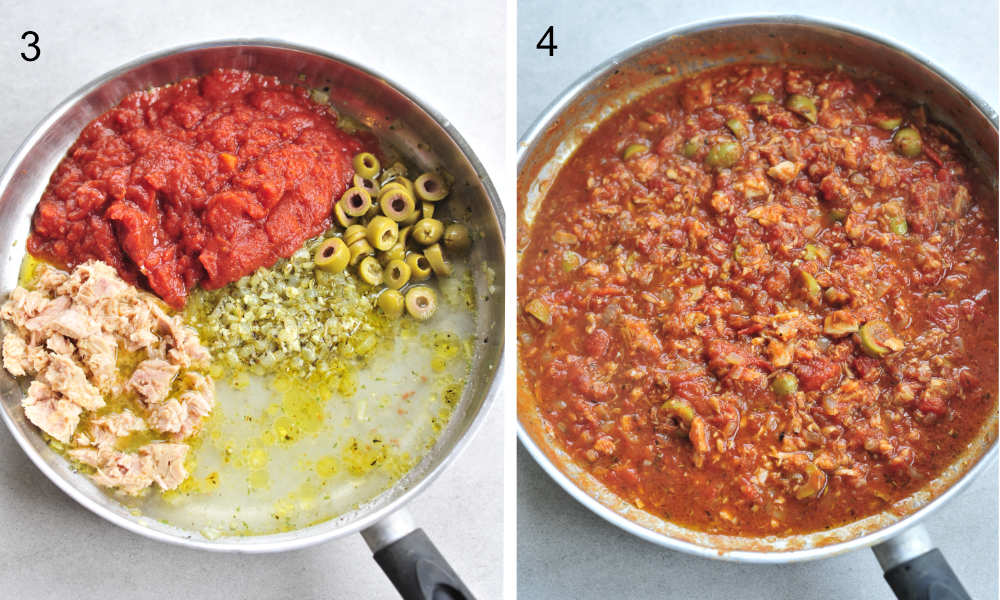 STEP 3: Add all the other ingredients: 1 14-oz / 400 ml can crushed tomatoes, drained 1 160 g / 6-oz. can tuna, 1/2 cup of vegetable/chicken broth, and 14 roughly chopped green olives.
STEP 4: Simmer the sauce for about 10 minutes. Season to taste with salt and pepper. Toss with cooked pasta, sprinkle with chopped parsley and grated parmesan cheese. Enjoy!
Storing and Freezing tips:
Can this tuna pasta be stored for later? Theoretically, yes, but I think it tastes best freshly prepared. After some time the pasta will soak up the sauce and become mushy, and the sauce will thicken. You can heat it up and add some water to dilute it, but it just won't be as delicious as freshly made.
How to make it ahead: You can easily make just the sauce and store it in the fridge for up to 3 days. Cook the pasta just before serving the dish.
How to freeze it: The sauce can be frozen! Defrost the sauce and cook the pasta just before serving.
Tuna pasta with tomatoes and olives
Quick and easy pasta recipe, made with ingredients that you probably have in your pantry. It's delicious and fulfilling.
Pin This Recipe!
SAVE THIS RECIPE
Saved!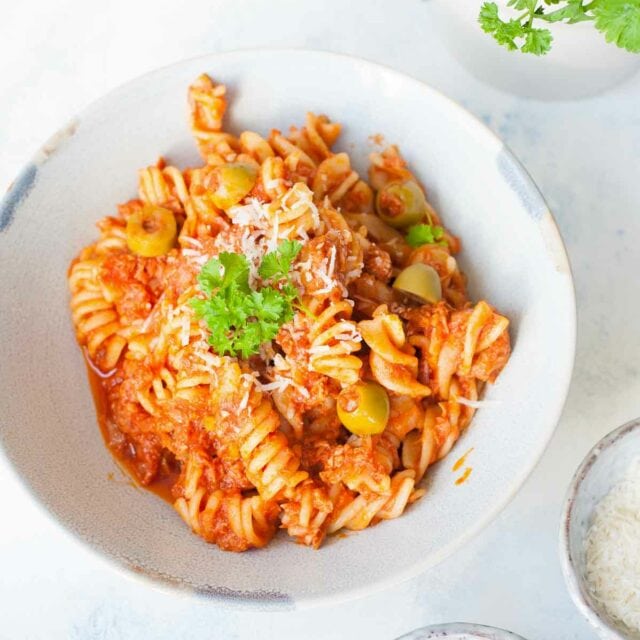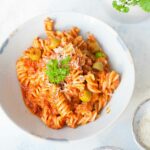 Print Recipe
RATE THE RECIPE
(click on the stars)
Ingredients
pasta:
200

g

/ 7 oz fusilli pasta

1

tablespoon

olive oil

1

tablespoon

clarified butter

1

teaspoon

Italian seasoning

1

medium onion

3

cloves

garlic

1 400

g

/ 14-oz. can tomatoes

or the same amount of tomato passata

½

cup

broth

vegetable / chicken broth or use organic stock cubes

1 160

g

/ 6-oz. can tuna

in olive oil

14

green olives

or black / calamata olives

1

teaspoon

lemon juice

optional

salt and pepper

to taste
to serve:
grated parmesan cheese

chopped parsley
Instructions
Cook the pasta al dente (it should have a bite to it).

Dice the onion, chop the garlic very finely.

Heat the olive oil and clarified butter in a large pan.

Add the onion and Italian seasoning, cook for about 6 minutes over medium-low heat until translucent. Add the garlic and cook, stirring, for one more minute.

Drain the tuna using a sieve, cut the olives in half or into 3 parts.

Add canned tomatoes, broth, tuna and olives to the pan. Cook, stirring from time to time, over medium heat for about 10 minutes.

Season with salt and pepper to taste, optionally with a bit of lemon juice.

Mix with cooked pasta, serve with grated Parmesan cheese and chopped parsley (optional).

Enjoy!
Notes
This pasta dish reheats very well. Can also be frozen! (but the pasta won't be al dente anymore).
Instead of green olives you can use kalamata or black olives, but green olives works best for me in this recipe.
Instead od canned crushed tomatoes you can use tomato passata or fresh tomatoes when they're in season.
This recipe can be easily doubled or tripled.
Calories count = 1 serving (½ recipe).
Tried this Recipe? Rate the Recipe and tell us what you think in the Comments!
Did you make this recipe? Let me know how you liked it and give it a star rating in the comments below! You can also add a photo of your creation!