This delicious pumpkin seed chicken salad features juicy and crispy chicken, crusted with pumpkin seeds, lots of fresh veggies, and pumpkin seed oil-based dressing. This crispy chicken salad is very filling and can also be eaten for lunch. It's my take on the traditional Styrian breaded chicken salad (Backhendlsalat).
Here you'll find more Austrian recipes.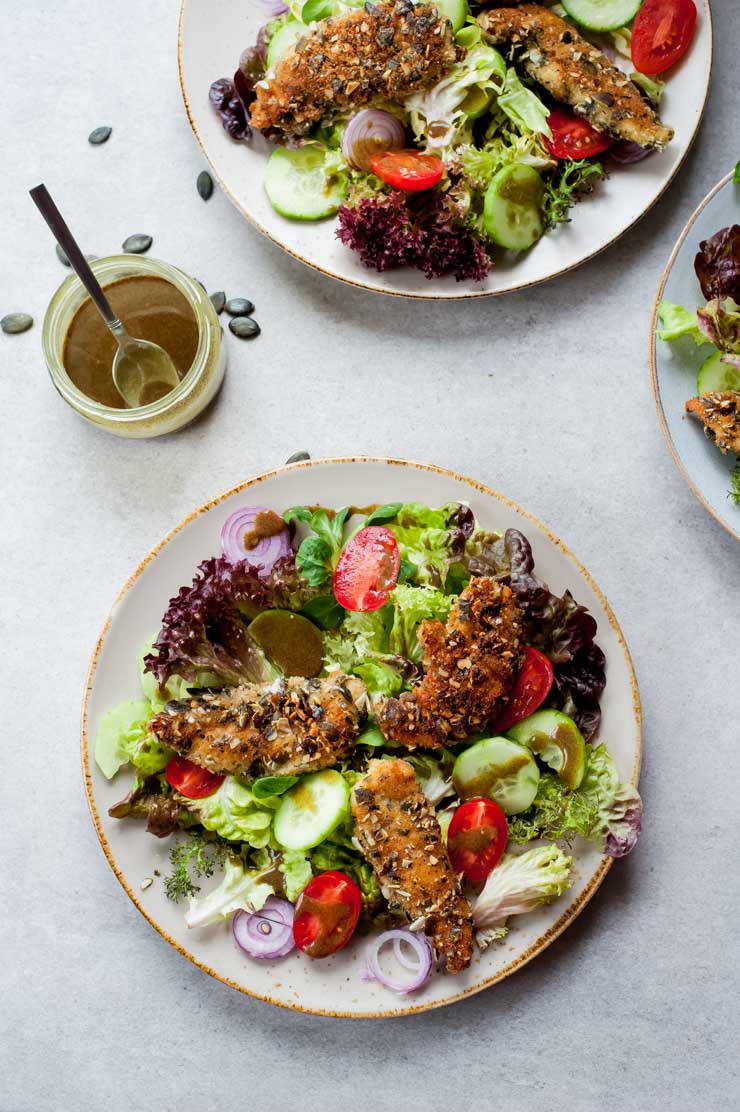 What is a Styrian breaded chicken salad (Backhendlsalat)?
Backhendl (fried chicken) is one of the most important dishes of Styrian cuisine (Styria is an Austrian state) but it's just chicken pieces coated in flour, dipped in beaten egg and coated in breadcrumbs then fried or pan-fried. It's often served with lemon wedges and warm potato and lamb's lettuce salad. So my recipe is not entirely authentic. The recipe below resembles a salad that I ate in a restaurant in Vienna. I liked it so much that I now can't imagine making this salad any other way.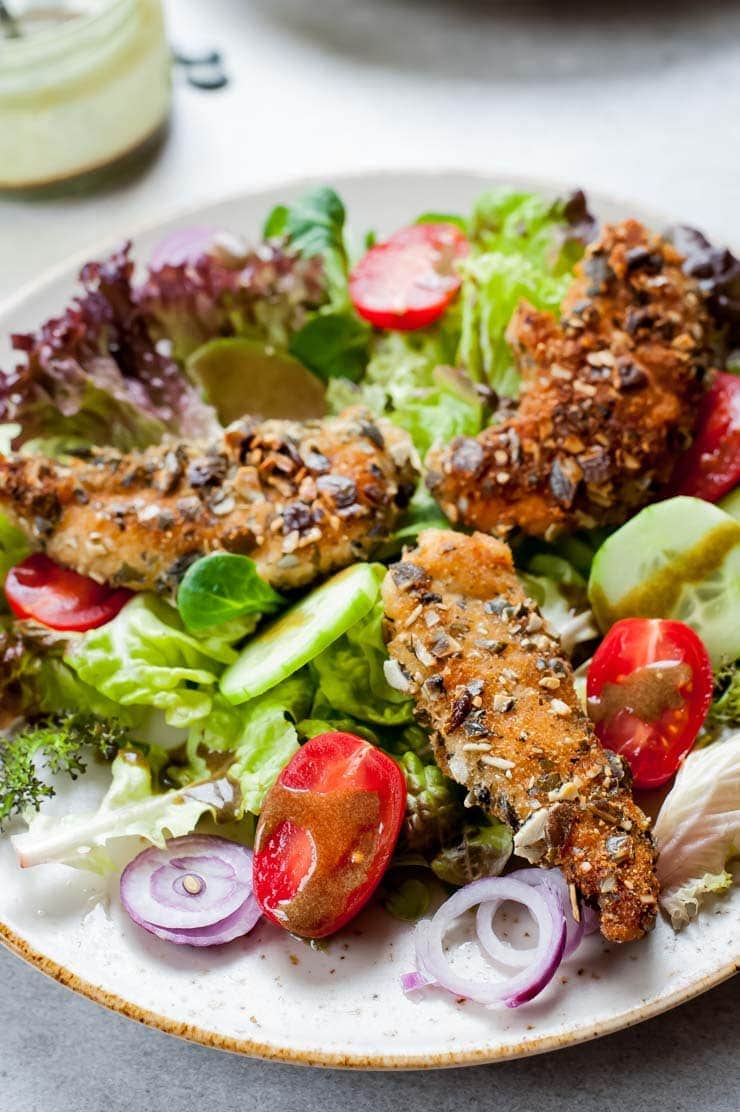 What makes this crispy chicken salad different from other chicken salads?
Chicken is breaded in a mixture of breadcrumbs and chopped pumpkin seeds. They add an additional crunch and nutty flavor.
Pumpkin seed oil-based dressing, which is a very traditional Austrian condiment.
What is pumpkin seed oil?
Pumpkin seed oil is a very healthy oil, produced in the Styria region (Styria is especially famous for it). It looks similar to balsamic vinegar, but unlike it, it's delicate in taste, nutty, really delicious. It's so popular in Austria that you can even buy a pumpkin seed oil-flavored ice cream! It's actually one of my favorite flavors (you can try it at Eis Greissler ice-cream shop under the name Kürbiskernöl).
I also love pumpkin seed oil as vanilla ice cream topping! I know it sounds unbelievable, but just try it! So good! It's often served this way in Vienna.
The addition of pumpkin seeds and pumpkin seed oil makes this salad unique, but if you omit these ingredients (swap pumpkin seeds for breadcrumbs, and pumpkin seed oil for olive oil), this salad will also be very good.
Pumpkin seed crusted chicken salad (Backhendlsalat) – step by step:
A have a very detailed post on how to make breaded chicken cutlets step by step. It contains many helpful tips and storing and freezing options.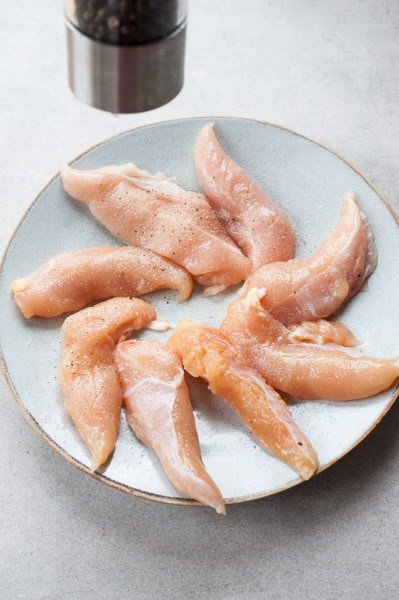 Here you'll find my other salad recipes.
Did you make this recipe? RATE THE RECIPE or tell me in the COMMENTS how you liked it! You can also add a photo of your dish. It would make me very happy and will help other readers. Thank you!!
Pumpkin seed crusted chicken salad
Delicious salad, featuring crispy and juicy chicken, crusted with pumpkin seeds, lots of fresh veggies and pumpkin seed oil-based dressing.
Pin This Recipe!
SAVE THIS RECIPE
Saved!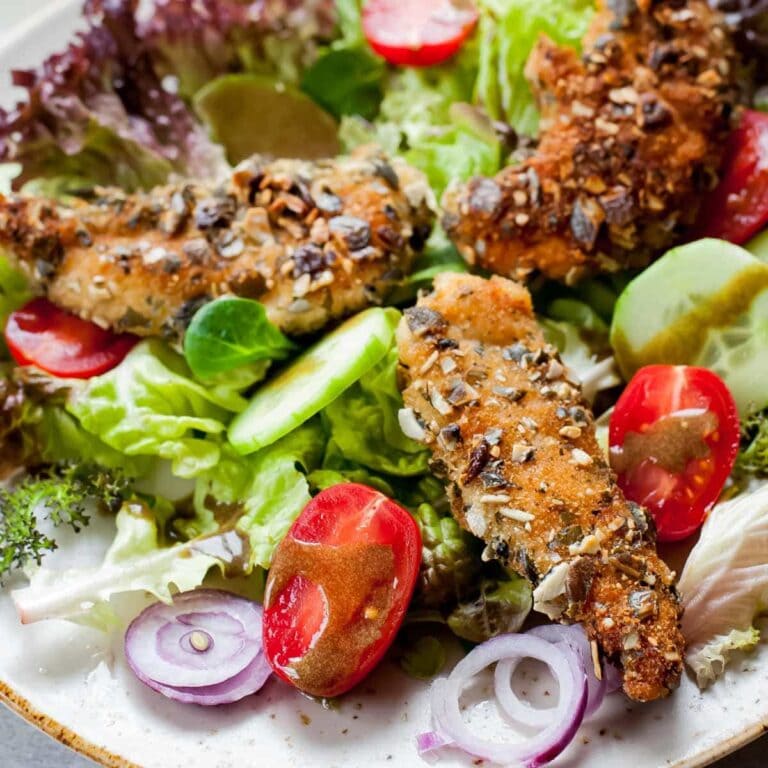 Print Recipe
RATE THE RECIPE
(click on the stars)
Ingredients
chicken:
8

chicken tenders

or 2 chicken breasts, 350g / 12 oz

1/3

cup

breadcrumbs

5 tablespoons, 50g

1/3

cup

pumpkin seeds

5 tablespoons, 50g, cut into smaller pieces

1

egg

salt and pepper

to taste

3

tablespoons

frying oil
salad:
2

handfuls leaf lettuce

8

small tomatoes

I used mini San Marzano tomatoes

½

greenhouse cucumber

1

small red onion
dressing:
2

tablespoons

pumpkin seed oil

or olive oil

1

tablespoon

apple cider vinegar

1

teaspoon

dijon mustard

1

teaspoon

honey

salt and pepper

to taste
Instructions
Bread the chicken: you can use chicken tenderloin or whole chicken breast, cut into equal-sized pieces. Season the meat well with salt and pepper. In a small bowl, beat the egg with a fork. On a plate, mix the breadcrumbs and chopped pumpkin seeds (don't chop them very finely, just a little). Dip each chicken piece in the egg mixture, then coat evenly in the breadcrumbs mixture. Place on a clean plate. Continue until all chicken pieces are breaded. If you have some egg and breadcrumb mixture left, bread the chicken once again until you have no more egg and breadcrumbs left.

Pan-fry the chicken: Heat the oil in a large frying pan, cook the chicken on both sides over high heat until golden. Transfer to a plate lined with paper towels.

Dressing: pour all the dressing ingredients into a small jar, season with salt and pepper to taste, close the lid and shake it a few times vigorously until thick sauce forms.

Wash and spin dry the lettuce in a salad spinner, if you have one.

Assemble: Place the lettuce on the plates, top with pan-fried chicken pieces, sliced in half tomatoes, cut into thin slices cucumber and onion. Pour the sauce over and serve.

Enjoy!
Notes
Make ahead: you can make the dressing, bread and pan-fry the chicken the day before. When you're ready to serve the salad (lettuce and vegetables must be fresh), shake the dressing jar vigorously and warm up the chicken in the oven until warm and slightly crispy. The salad tastes best when freshly prepared, though.
Tried this Recipe? Rate the Recipe and tell us what you think in the Comments!