Thai red curry is one of our favorite dinners. Delicious, crispy and juicy shrimp, in an aromatic sauce with a tender and sweet pumpkin/squash and spinach. It's really quick to make and packed with flavor.
For more Thai recipes, check out my Thai coconut sticky rice with mango!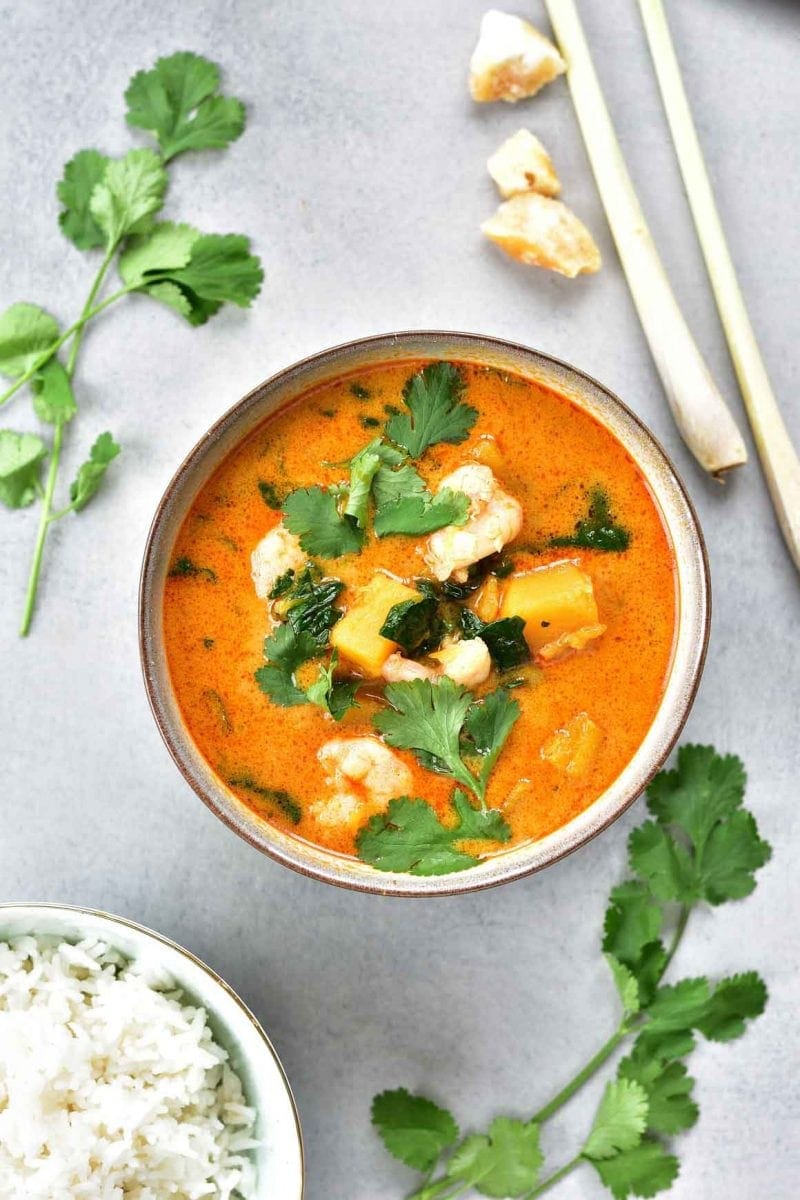 THAI RED CURRY INGREDIENTS:
Ingredients for an authentic Thai curry may not be so easy to get, but once you buy them, you can store them in the fridge for a long time and make tasty curries many times. You can buy all the ingredients in oriental food stores or on the internet. Vegetables can be freely changed, depending on what you have on hand, keeping the curry base unchanged. The original curry paste is unfortunately made of hard-to-get ingredients, so it is best to buy a ready-made one. Lemongrass can be omitted (but I highly recommend finding it, because it adds a wonderful lemony aroma to the curry), the tamarind paste can be replaced with the lime juice (although it lacks its fruity sweetness). When the pumpkin season is over you can use sweet potatoes.
THAI RED CURRY SHRIMP RECIPE PREPARATION:
The preparation of this Thai red curry is very simple, the only thing you need to pay attention to in this recipe is the preparation of shrimps. You have to be careful not to overcook them, they should be poached gently in the warm sauce (if overcooked they are tough and rubbery). Thanks to this poaching method, they are delicate, crispy and juicy.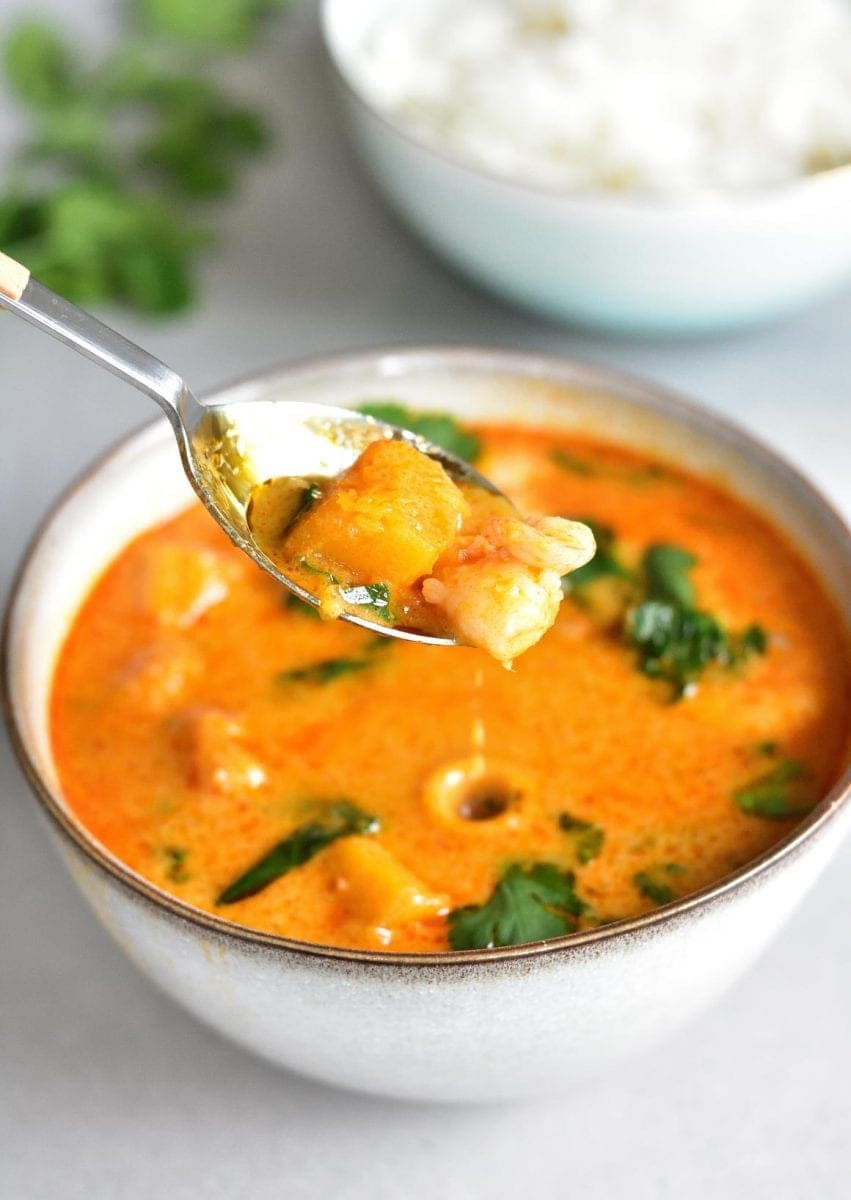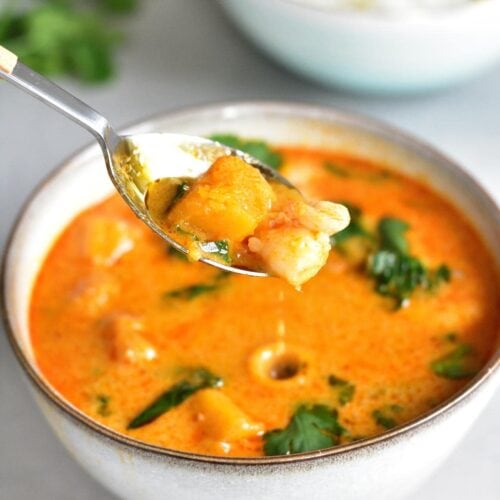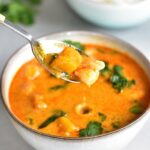 Print
Thai red curry with shrimp, pumpkin, and spinach
Aromatic Thai red curry with juicy shrimp, butternut squash/pumpkin and spinach
Ingredients
1

can coconut milk

14 fl oz / 400ml

14

fl oz

vegetable / chicken broth

400 ml, use the coconut milk can to measure!

3

tablespoons

Thai red curry paste

2

cloves

garlic

a piece of ginger

about 1-inch / 3 cm

1

stalk lemongrass

optional

1.3

lbs

butternut squash/Hokkaido pumpkin

600g, seedless and skinless, or sweet potatoes

2

large handfuls

fresh spinach leaves

4.4 oz/125g

8

oz

shrimp/prawn

225g, peeled and thawed

5

teaspoons

fish sauce

2

teaspoons

tamarind paste

or lime juice to taste

a piece of palm sugar

about 1-inch/2.5 cm, or light brown sugar

to serve: 1/2 cup jasmine rice (3.5 oz/100g), cilantro leaves
Instructions
Open a can of coconut milk (don't shake the can), a thick mass should be at the top (coconut cream), and coconut water at the bottom. Spoon out about ⅔ of the cream, add into a large pot, heat over medium heat until bubbling and until oil begins to separate from the cream.

Finely chop the garlic and ginger or puree them in food processor/mash in a pestle and mortar. Mix with the Thai curry paste. Bruise the white part of the lemongrass with a knife handle.

Add the curry paste and lemongrass to the pot and cook for 2 minutes.

Peel the pumpkin/butternut squash, cut into 1/2-inch/1.5 cm cubes, add to the pot, cook for 2 minutes.

Pour in the remaining coconut milk and the broth (measure it out with the coconut milk can), cook for another 10 minutes, until the pumpkin is tender (cooking time depends on the type of the pumpkin!).

Add washed and dried spinach leaves and palm sugar. Cook briefly, about 30 seconds until the spinach leaves are slightly wilted.

Thaw the shrimps/prawns (you can put them into a cold/lukewarm water for a while).

Reduce the heat to the minimum and wait until the curry stops boiling (this is important), but it is still very hot. Add the shrimps, stir, and remove the pot from the heat. Stir from time to time for about 3 minutes until the shrimps are cooked through (they will change their color from gray to light pink). You can take one shrimp out, cut it in half and see if it's ready in the middle (it will be white/pink, not opaque).

Season the curry with fish sauce and tamarind paste. If the curry is not salty enough – add fish sauce, not sour enough – tamarind paste, not sweet enough – sugar (you will have to put a couple of teaspoons of sauce into a small pot and heat it with sugar so that it can dissolve).

Serve with rice and sprinkle with fresh coriander leaves.
Notes
Peeling the pumpkin: You don't have to peel Hokkaido pumpkin, its skin is very tender after cooking. Butternut squash needs to be peeled.
Pumpkin cooking time: it can vary, depending on the pumpkin/squash variety. Hokkaido pumpkin cooks shorter, butternut squash longer.
This Thai red curry can be eaten as a soup (without the rice) or as a main dish (with rice). When eaten with rice it must be really well-seasoned, as the addition of rice will dilute its flavor.
This dish can be easily reheated. Be careful though, to not warm it up for too long so that the shrimp stays nice and juicy (and doesn't overcook).
Calories count = 1 serving (1/2 of the recipe), including rice.
Instead of pumpkin/squash you can add sweet potato.
Nutrition
Did you make this recipe? Let me know how you liked it and give it a star rating in the comments below! You can also add a photo of your creation!