Chicken with vegetables and noodles in chinese plum sauce
This plum sauce is really brilliant! Chinese plum sauce is usually served as a dipping sauce with duck, spring rolls or various types of dumplings. My version of this sauce is a little simplified, I combined it with crunchy vegetables, chicken breast and noodles. You can't really taste the plums here, they give a complex flavor and naturally thicken the sauce (no need to add flour!). The taste of the sauce will depend on the plum ripeness and variety, I liked it most with european plums (not with japanese plums, like on the photo below), but really any kind of plum variety will do. Be sure to try the sauce before adding it to the rest of the ingredients, you may have to season it – if it's not sweet enough, add more sugar, not sour enough – vinegar, and if it's not salty enough – soy sauce. The sauce should be intensely flavored, because after combining it with the vegetables and noodles, its taste will slightly mellow. The sauce comes out delicious, tangy, slightly sweet, sour and salty, a perfect balance of flavors. You can use any vegetables that you like, but I recommed especially mushrooms and broccoli. Enjoy!
My other sweet and sour chicken recipes: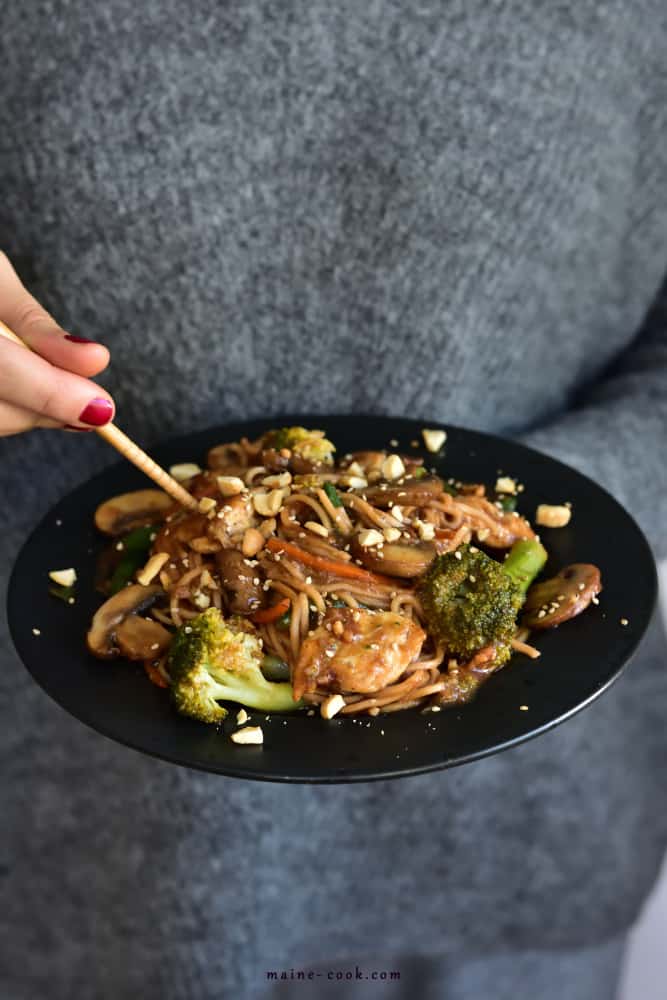 Chicken with vegetables and noodles in chinese plum sauce
Chicken breast and vegetables in tangy, sweet-sour plum sauce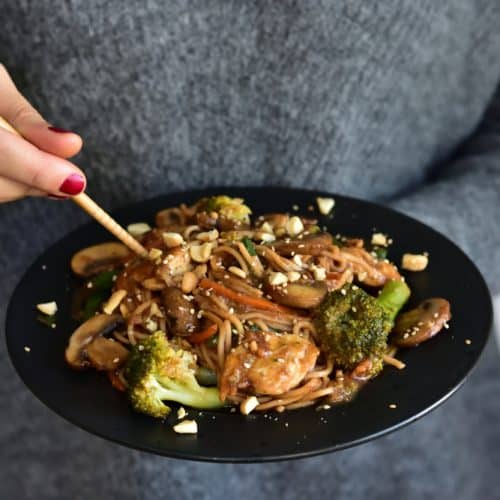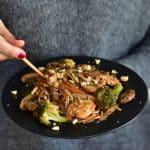 Print Recipe
Ingredients
→ chinese plum sauce:
300

g

/ 11.6 oz plums

preferably european plums

3

star anise

4

cardamom capsules

lightly crushed

6

tablespoons

soy sauce

1.5

tablespoons

red wine vinegar

2

tablespoons

brown sugar

1

clove

garlic

grated

2.5

cm

/ 1 inch piece of ginger

grated
→ pot:
125

g

/ 4.4 oz Mie noodles

150

g

/ 5.3 oz frozen green beans

½

broccoli head

250g / 8.8 oz
→ pan:
1

chicken breast

about 180g / 6.3 oz

1

large clove garlic

1

cm

/ ½ inch piece of ginger

2

tablespoons

frying oil

100

g

/ 3.5 oz button mushrooms

cut into thick 0.5 / 0.2 inch slices

1

medium carrot

cut into thin matchsticks
→ to serve:
1

teaspoon

sesame seeds

2

tablespoons

cashews

I used salted and roasted
Instructions
→ plum sauce:
Cut the plums into quarters, remove the stone, put into a medium pot, add the remaining ingredients for the sauce.

Cook over medium-low heat for about 20 minutes, until the plums start to fall apart and the sauce thickens.

Discard the star anise and cardamom capsules, season to taste: add more sugar, vinegar or soy sauce depending on whether it's not enough sweet, sour or salty (it will depend on the type of plums used), the taste should be balanced and distinctive (it will mellow a bit later, when we will add other ingredients).

Puree the sauce until smooth, set aside.
→ pot:
I cook green beans, noodles and broccoli in one pot - noodles and green beans in water and I steam the broccoli in a sieve, hung over the pot. Split the broccoli into florets, peel the thick stalk and cut into thick slices, wash, arrange the broccoli, florets-side-up on a sieve, which fits the selected pot, cover with a lid (it doesn't have to be a perfect fit). Broccoli, depending on the size of the florets, need to be steamed for about 8 minutes.

In a big pot, bring water to the boil, steam the broccoli for about 4 minutes, then add the green beans and noodles into the water, cook for about 4 minutes. Drain, set aside.
→ pan:
Cut the chicken breast into 2-3 cm / 1 inch cubes, mix with a little oil, finely chopped ginger and garlic, season with salt and pepper to taste (if you have time, you can leave the chicken to marinate for about half an hour or longer).

Heat the oil in a big frying pan, cook over high heat for 2 minutes on one side and then one minute on the other, until browned, remove from the pan and transfer on a plate (if it's still a bit pink in the middle, you can add it to the pot with hot plum sauce and wait 1-2 minutes until the meat is cooked through).

Add the mushrooms to the pan, spread out in a single layer, then put carrot matchsticks on top. Don't stir for the first 2 minutes (otherwise the mushrooms will release water), and when the mushrooms are golden brown cook them, stirring, for about 1-2 minutes, until the mushrooms and carrots are tender, but still crunchy.
→ serve:
Add the chicken, noodles, green beans, broccoli and plum sauce to the pan, mix together, warm up.

Serve topped with roasted cashews and sesame seeds.

Bon Appetit!
Chicken with vegetables and noodles in chinese plum sauce – step by step: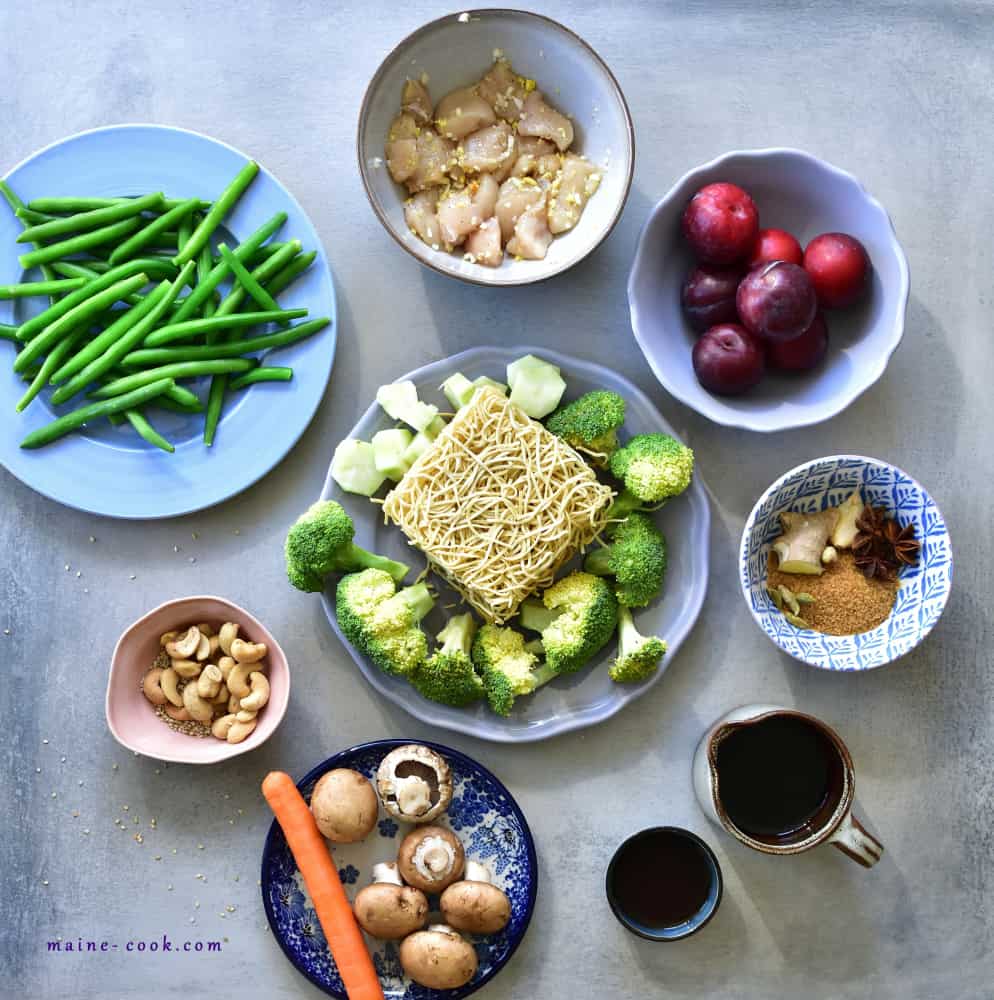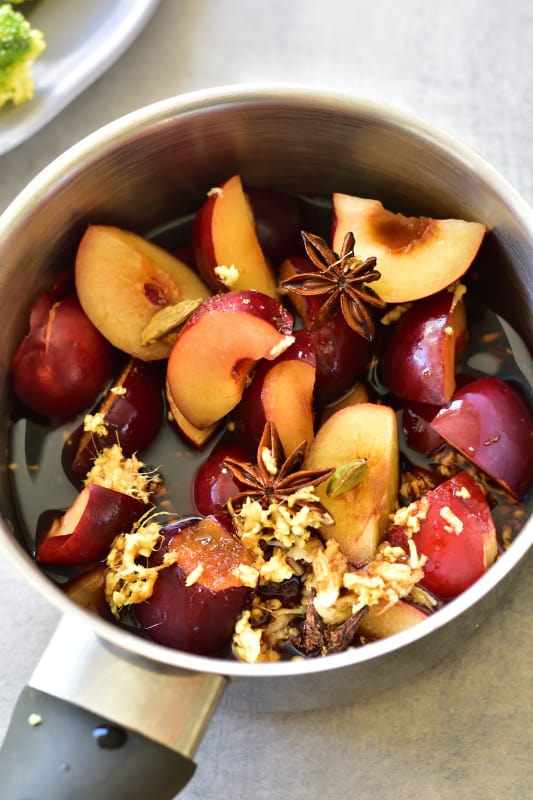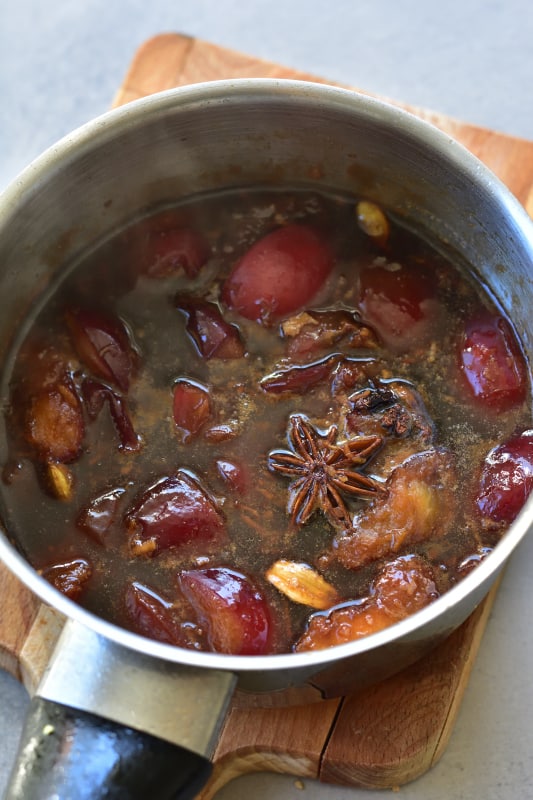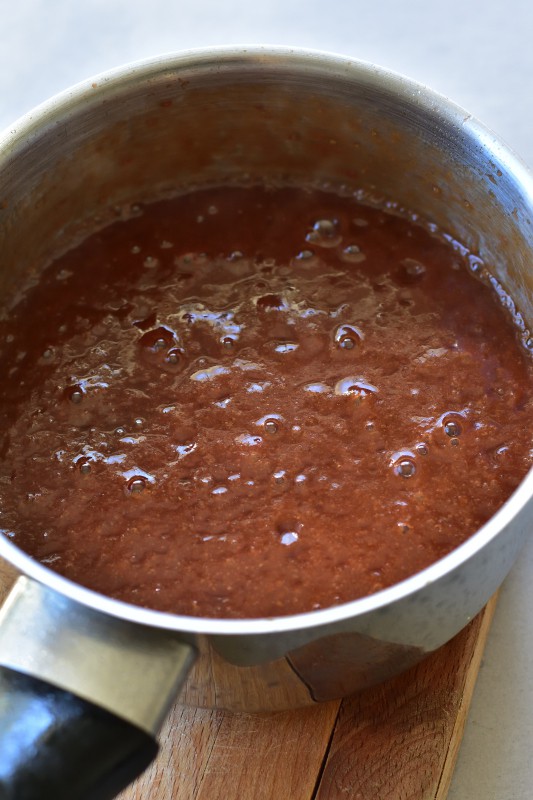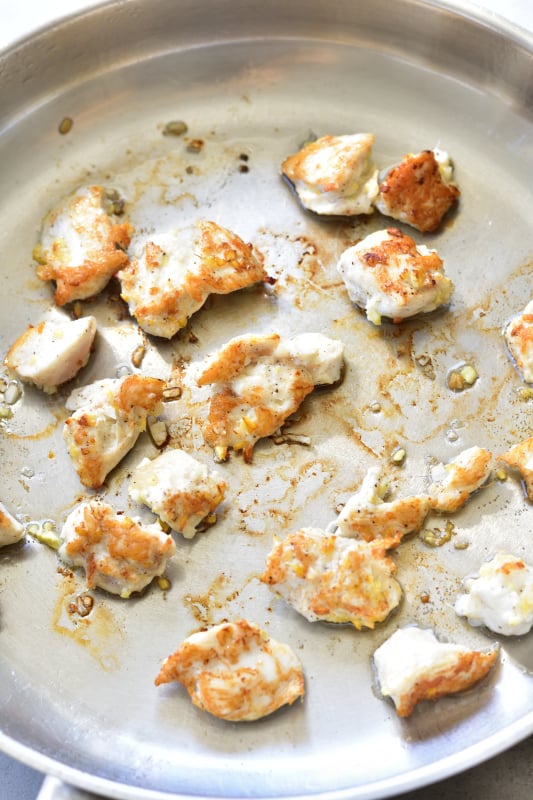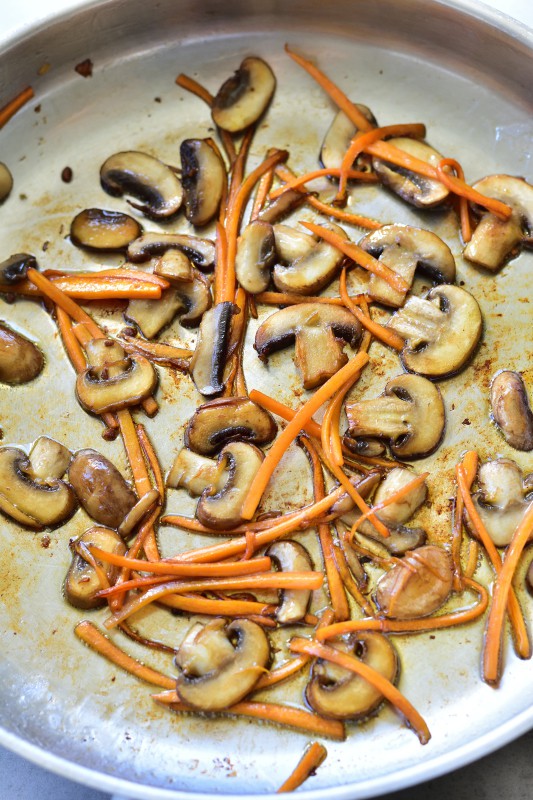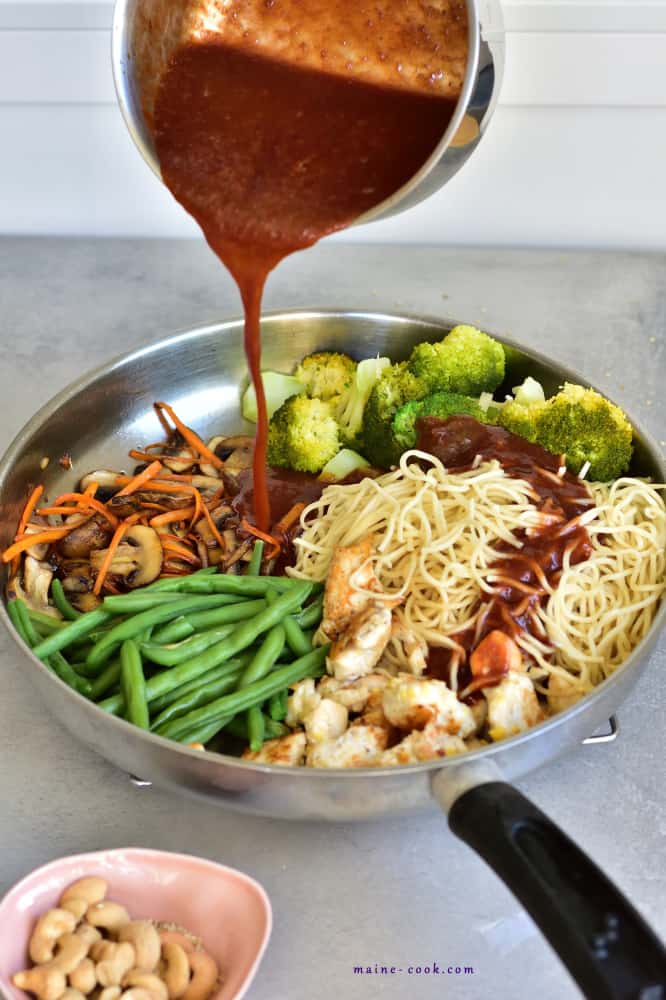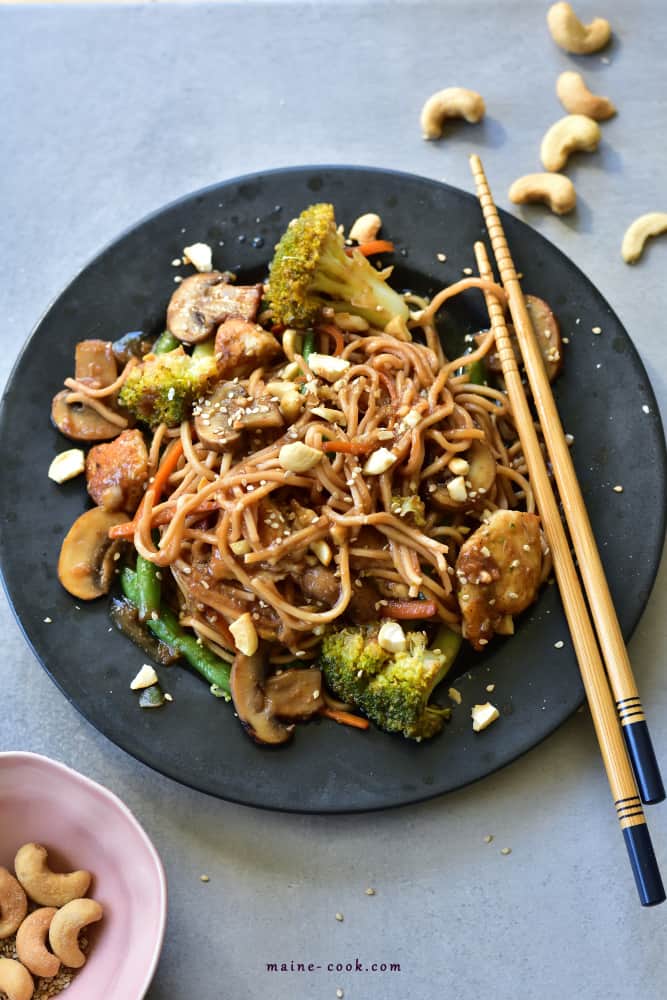 Did you make this recipe? Let mi know how you liked it in the comments below!