Potato and cheese pierogi are one of the most popular Polish dishes. The filling is very simple, it consists only of 3 ingredients, but I can assure you, it's packed with flavor. It's the comfort food of every Pole, but they are also loved by tourists visiting our country. I really don't know anyone who wouldn't like it. Making pierogi is quite labor-intensive, but it pays off – you'll have dinner ready for many days, and the pierogi freeze very well.
Note that this recipe focuses on pierogi ruskie filling, for more tips on how to make pierogi dough, general information on pierogi, including storing and freezing tips, check out this post: pierogi dough.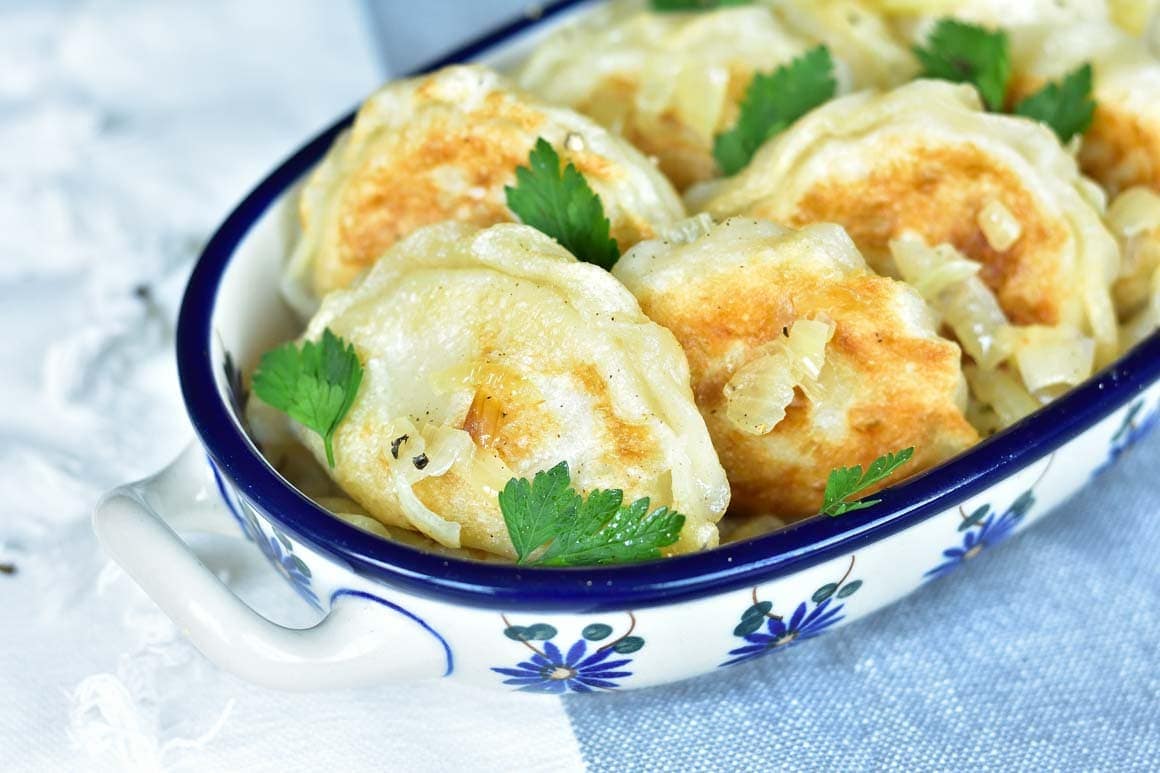 Where does the name come from?
Potato and cheese pierogi are called in Poland pierogi ruskie. They're sometimes mistranslated as Russian pierogi. The word 'ruskie' means Ruthenian, which is the name of the historical region in Ukraine, which once belonged to Poland. In Ukraine, you can find similar dumplings, but those with cheese and potato filling are not as popular as in Poland.
Also, a quick clarification on the word pierogi. The singular form of this word is pieróg and the plural is pierogi. Pierogies, perogies, perogi are not Polish words and no one in Poland calls them this way. These names are rather used in English-speaking countries.
Ingredients:
To make potato and cheese pierogi, you need:
Pierogi dough – this post focuses on the pierogi filling. Here you'll find pierogi dough recipe with many tips on how to make perfect pierogi, including storing and freezing tips.
Potato and cheese filling.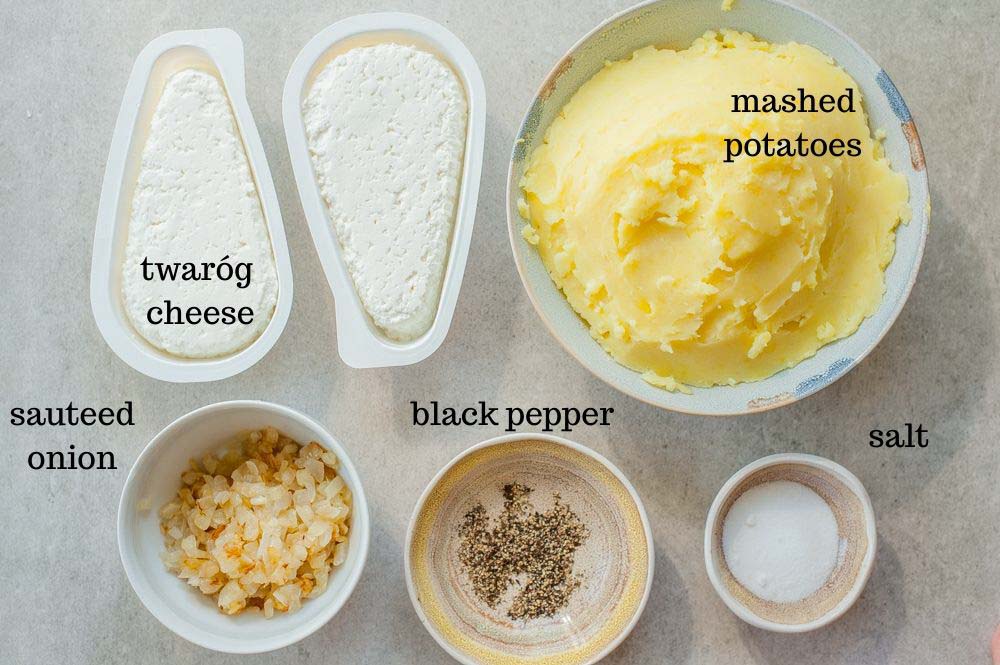 Potato and cheese filling ingredients:
The most important thing here is potatoes to cheese ratio. This is my absolute favorite ratio, but feel free to experiment with what works best for you.
Potatoes – it's best to use mealy potatoes, that can easily be mashed into a puree.
Cheese – this recipe requires full-fat Polish twaróg cheese. Farmer's cheese can be used as a substitute (you'll find more on this below). Do not add cheddar cheese – a have a separate recipe for that: cheddar pierogi.
Sauteed onions – lightly caramelized sweet onions add a ton of flavor to the filling. You can't add too little!
Salt and black pepper – season to taste but don't spare on the pepper. Lots of pepper is necessary.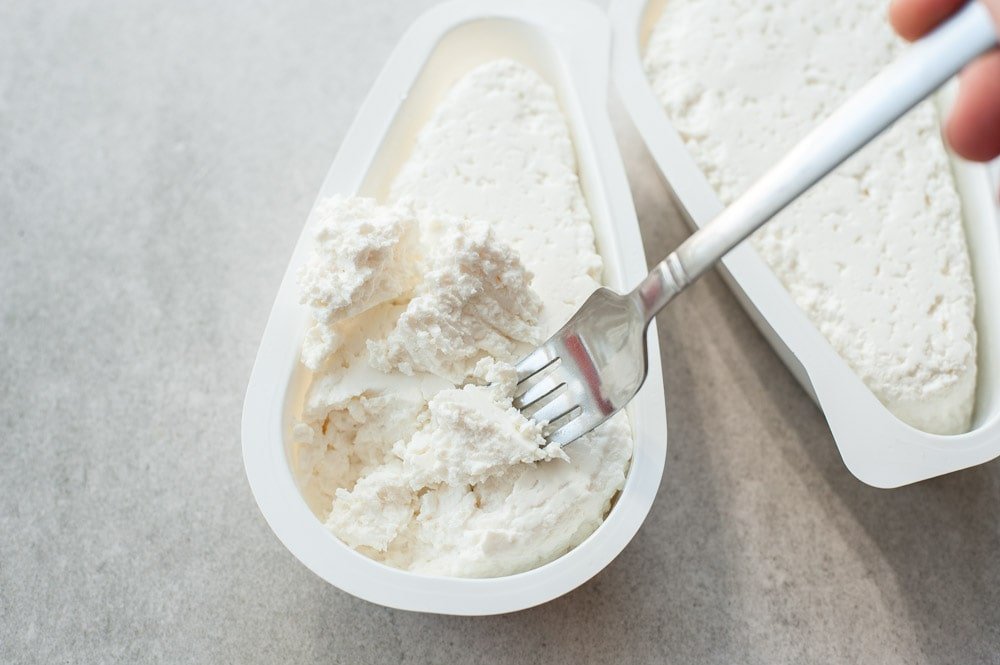 What is twaróg cheese?
Twaróg cheese is a very popular Polish curd cheese, it's our most important, national cheese. It's really delicious, fresh, slightly sour. Twaróg cheese is also sometimes called white cheese in Poland. When you'll say 'go and buy white cheese' everyone knows that you're meaning twaróg cheese. It is made from soured milk, that is warmed up, then cooled and strained.
It's hard to find a cheese with a similar taste. You can substitute it for farmer's cheese – it tastes almost the same (it's just a little less sour in my opinion). Similar cheeses like cottage cheese, Italian ricotta, German quark, Austrian topfen don't resemble its taste.
Cottage cheese looks similar but is much sweeter and the grains don't clump to each other. Ricotta is too creamy and mild-flavored, like the quark and topfen.
You can find twaróg in any Polish supermarket (as well as in Russian or Ukrainian supermarkets). It should be labeled 'Twaróg tłusty' / full-fat (my favorite kind for this recipe) or 'Twaróg półtłusty' / reduced-fat or 'Twaróg chudy' / low-fat cheese. Twaróg cheese is also used to make Polish cheesecake (sernik).
In my childhood, I often ate it on a toast, spread with butter and poured with honey on top – tastes heavenly! Also, the Polish version of 'mac and cheese' from my kindergarten – macaroni pasta with twaróg cheese, sprinkled with sugar on top. Yum!
When you google potato and cheese pierogi you'll find many recipes that call for cheddar cheese. They're really delicious, but they're just not potato and cheese = pierogi ruskie anymore. The taste of cheddar cheese is very different from Twaróg cheese and a couple of years ago it's was not so easy to get in Poland (both of my grandmothers still don't know that such cheese exists). Here you can find my recipe for cheddar pierogi. I also added rosemary sauteed in butter to the filling. It's really a game-changer!
Can twaróg cheese / farmer's cheese be frozen?
Yes, you can freeze twaróg cheese / farmer's cheese. Its texture will be a little different, far more dry and crumbly, so I wouldn't like to eat it on bread but it can be used for pierogi with no problems.
How to make the potato and cheese pierogi filling step by step:
STEP 1: Sautee the onions until translucent and lightly caramelized.
STEP 2: Cook and mash the potatoes.
STEP 3: Stir the mashed potatoes with cooked onions and cheese. Season to taste with salt and pepper.
STEP 4: Optional. You can form the filling into small balls. I find it helps with filling the pierogi.
SIMILAR DISHES:
So-called Lazy pierogi (pierogi leniwe) – they are made with twarog cheese, eggs, and flour and resemble Italian gnocchi in shape. They are most often served with sugar or breadcrumbs sauteed with butter.
Potato and cheese fritters. When you have leftover potato and cheese filling you can mix it with an egg, shape round patties and pan-fry until golden on both sides. So good!
Similar dumplings are also very popular in Austria, where I live, they are called Kärntner Kasnudeln. The only difference here is another type of cheese – Topfen, and the addition of fresh mint.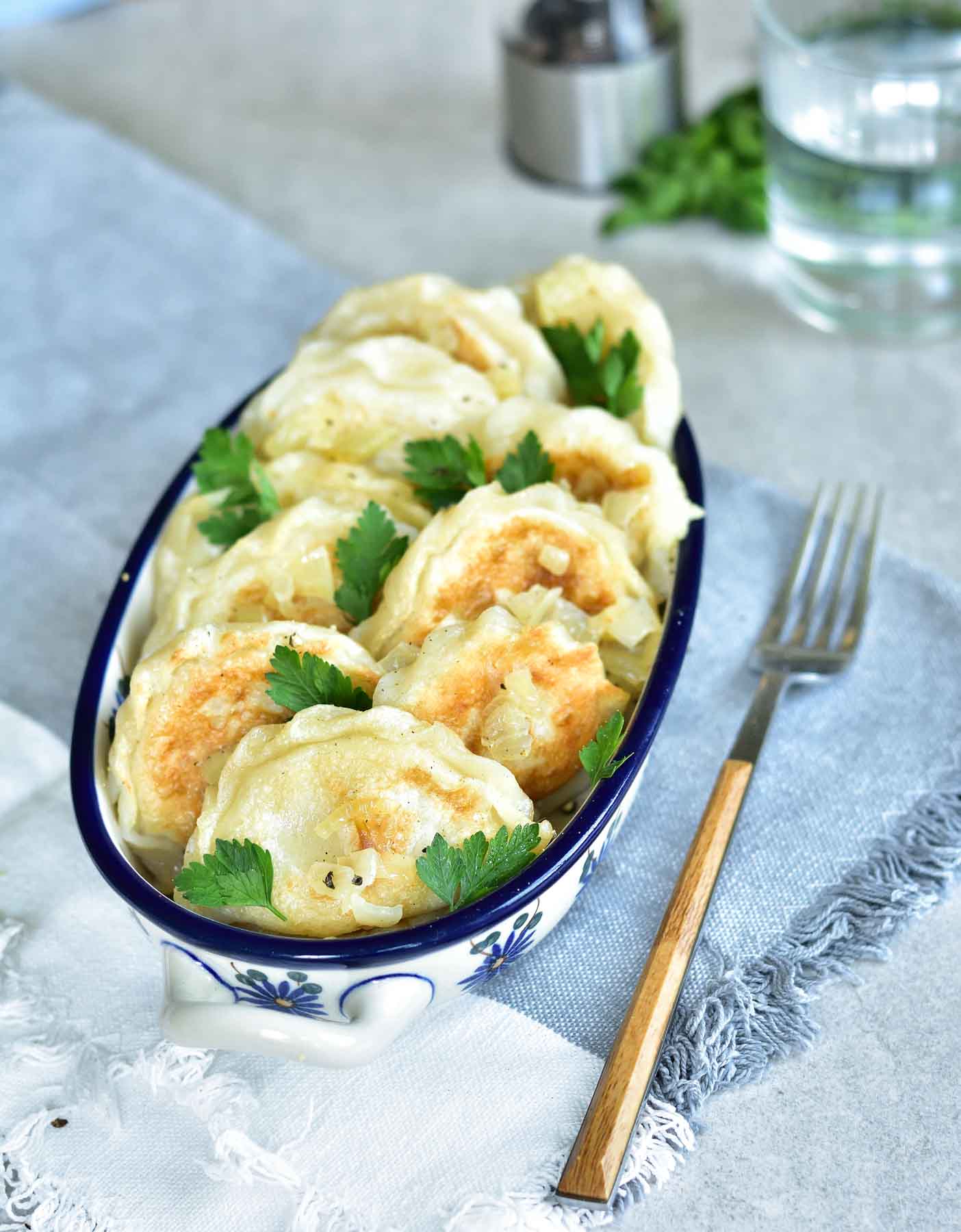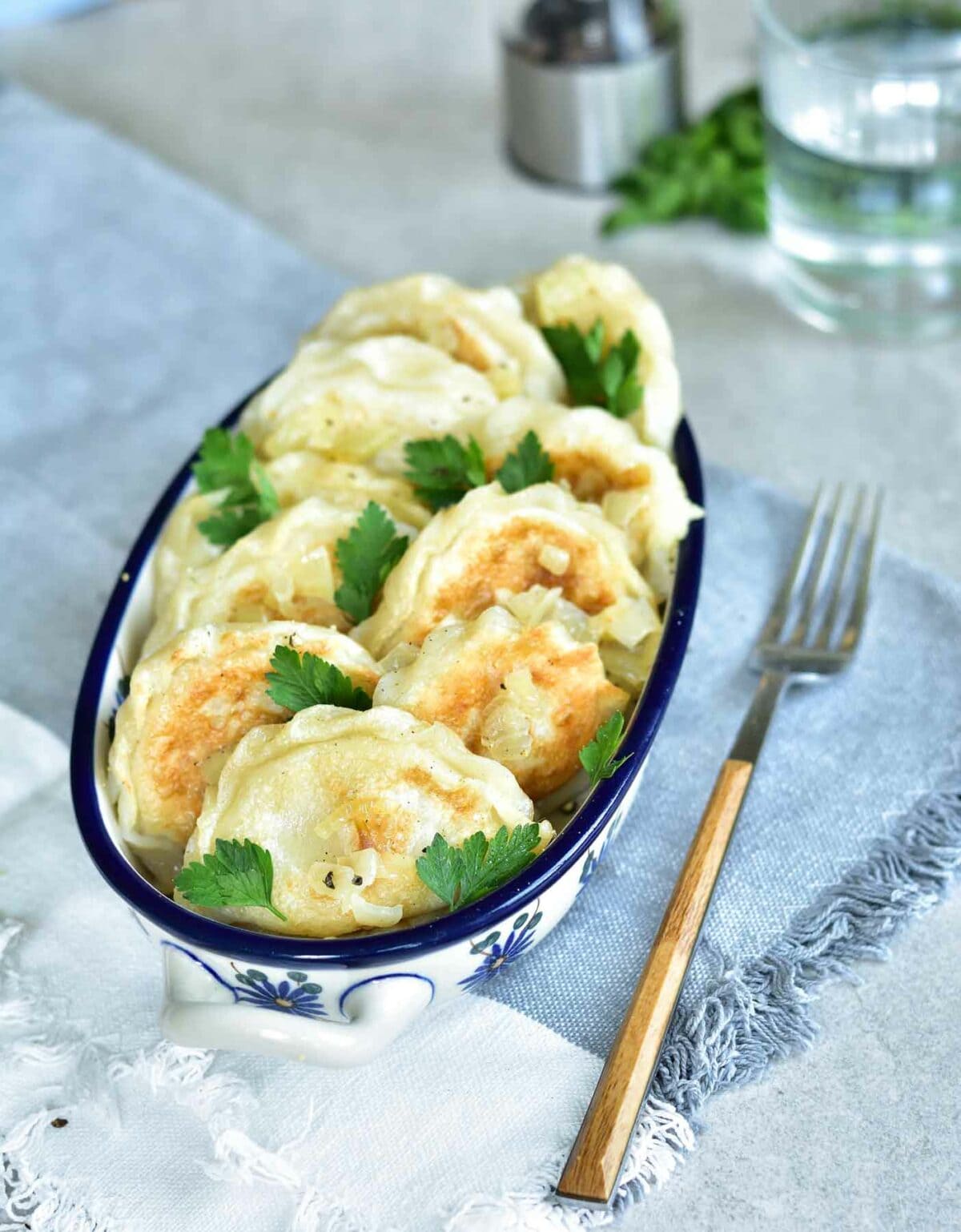 More pierogi recipes:
I have a separate post, where I talk about all the traditional and modern pierogi filling ideas.
Here are my recipes:
Here you'll find all my pierogi sauces and toppings ideas.
Did you make this recipe? RATE THE RECIPE or tell me in the COMMENTS how you liked it! You can also add a photo of your dish. It would make me very happy and will help other readers. Thank you!!
Authentic potato and cheese pierogi (pierogi ruskie)
Melt-in-your-mouth tender pierogi ruskie with well-seasoned potato and cheese filling.
Note that this recipe focuses on pierogi ruskie filling, for more general information on pierogi, including storing and freezing tips, check out this post: pierogi dough.
Pin This Recipe!
SAVE THIS RECIPE
Saved!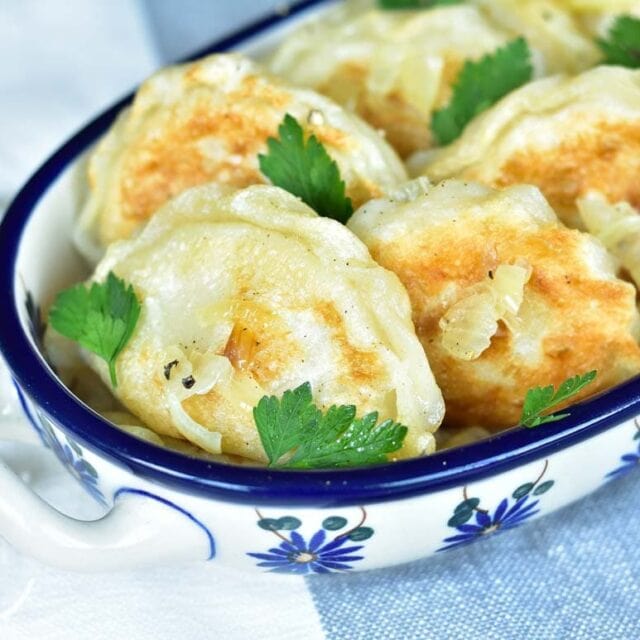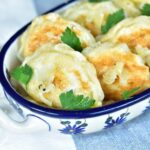 Print Recipe
RATE THE RECIPE
(click on the stars)
Servings
6
servings (makes about 100 pierogi)
Ingredients
for the dough:
4

cups

flour

500g/17.5oz, I used all-purpose flour

1

cup

+ 2.5 Tbsp water

280g / 280ml / 10-oz (to weight on a scale)

3

tablespoons

butter

1.4 oz/40g, or vegetable oil

1

teaspoon

salt
for the filling:
2.2

lbs

potatoes (1kg)

mealy variety, cooked potato weight = 1.8 lbs / 800g

8.5

oz

onion (240g)

1 very large and 1 small onion

2

tablespoons

frying oil

17.5

oz

full-fat (tłusty) Polish twaróg cheese (500g)

or farmer's cheese

salt and black pepper

to taste, I added 4 teaspoons salt and 1.5 teaspoons freshly ground pepper
Instructions
-> Make the dough:
Add the flour and salt into a large bowl, mix together.

In a small saucepan, warm the water with butter until they are very hot, but not boiling (temperature should be around 80-90 °C / 176-194 °F, that is when the water starts to move and steam).

Pour hot water with butter into the bowl with flour, mix with a wooden spoon until roughly combined.

Knead the dough using your hands or with a stand mixer fitted with a hook attachment, for about 5 minutes. A food processor can also be used (fitted with the dough blade). The dough should be smooth, soft and elastic, it shouldn't stick to your hands. When you follow the recipe (especially if you weight the ingredients, instead of using measuring cups), the dough should be perfect, but if for some reason it's not, add some water if it's too dry, or a little bit flour if it's too wet. If the dough already forms a ball, is relatively smooth, but still tough, it means that it's not ready, it must be further kneaded until soft and elastic (after resting time it will be even softer).

Wrap the kneaded dough in plastic foil, leave to rest for about 30 minutes.
-> Make the filling:
Boil the potatoes in a pot of salted water until soft enough to mash. Drain and mash the potatoes, transfer to a large bowl, set aside to cool.

Dice the onion. Heat the oil in a large frying pan, cook the onion over medium-low heat for about 10 minutes until translucent.

Combine the potatoes with cheese and onions, season with salt and pepper to taste. You can do it with your hands or with a stand mixer (fitted with a flat beater attachment) or with a potato press (I have a blender with a potato masher attachment, it's great here).

Optional step: You can form the filling into balls – making the pierogi goes faster this way. I scoop the filling with an ice cream scoop, then divide this in half and form a ball, each 3.5 cm / 1.4 inch in diameter, about 20 g / 0.7 oz in weight. You can, of course, scoop the filling with a teaspoon – about 1 teaspoon for 1 dumpling. If the filling is not easy to form you can put it in the fridge for 30 mins.
-> Rolling out, stuffing and shaping:
Divide the dough into 4 parts.

Onto a lightly floured surface, roll out thinly the first piece of the dough, to a thickness of approx. 2 mm / 1/16 inch. If the dough is hard to roll out, set it aside for about 5-10 minutes to rest.

Use a cup or a pierogi/pastry cutter to cut out rounds (mine has a diameter of 7 cm / 2.8 inch). Place one ball of filling / 1 teaspoon of filling on each round

Gather scraps, cover with plastic wrap and set aside.

Fold the dough over the filling to create a half-moon shape. Press edges together, sealing and crimping with your fingers. Do not leave any gaps or pierogi may open during cooking.

Place the pierogi apart on a towel lightly sprinkled with flour (this is important, they can stick to the board), cover loosely with a kitchen cloth so that they don't dry out.

Repeat with the remainig dough.
-> Cook the pierogi:
Bring a large pot of slightly salted water to a boil.

Cook dumplings in batches (for a 21 cm / 8 inch pot I cook about 10-12 dumplings at a time), when they float to the water surface cook them for 2 minutes them remove from the water with a slotten spoon. The cooking time will depend on the thickness of the dough.

Drain well and transfer onto a plate. Serve warm, pour over some melted butter.
Notes
If you have a little dough left: You can leave it in the fridge for up to 3 days, freeze it or make fruit pierogi. You can use blueberries or stawberries (can be frozen), mixed with sugar. Prepare and cook as in the recipe above, serve with sour cream sweetened with sugar. You can also cut it into thick strips and use as pasta eg with soup.
If you have leftover filling: Make potato and cheese fritters. Mix the filling with egg, shape round patties and pan-fry until golden on both sides.
Cooking time: will depend on the thickness of the dough. Cut one pieróg in half to see if the dough is cooked through. Cook the pierogi to desired consistency. Some like them chewier and some very tender, like melting-in-your-mouth tender.
Calories count = 1/6 of the recipe (1 serving). This is only an estimate.
Tried this Recipe? Rate the Recipe and tell us what you think in the Comments!