Delicious bundt cake, perfect for Easter and also for any other occasion (or for true chocoholics like us, without the occasion!). It's intensely chocolatey, with an orange flavor, very moist and fluffy. Covered with a decadent chocolate glaze. I'm really excited to share this recipe with you, this chocolate orange bundt cake is really perfect!
To ensure that this chocolate orange bundt cake turn our perfect, a few things are important:
– your ingredients should be at room temperature
– bundt pan should be generously greased with butter
– carefuly melt the chocolate so it doesn't separate (don't bring cream to a boil but almost to the boil)
– properly cream butter and sugar, until light and fluffly (this require a couple of minutes!)
– add the next egg only when the previous one is completely combined with the batter
– don't overmix the batter when adding flour
– slighlty underbake the cake, it will be super moist!
– wait for the cake to cool down, it will be easier to take out of the baking form
– enjoy! it's really soo good!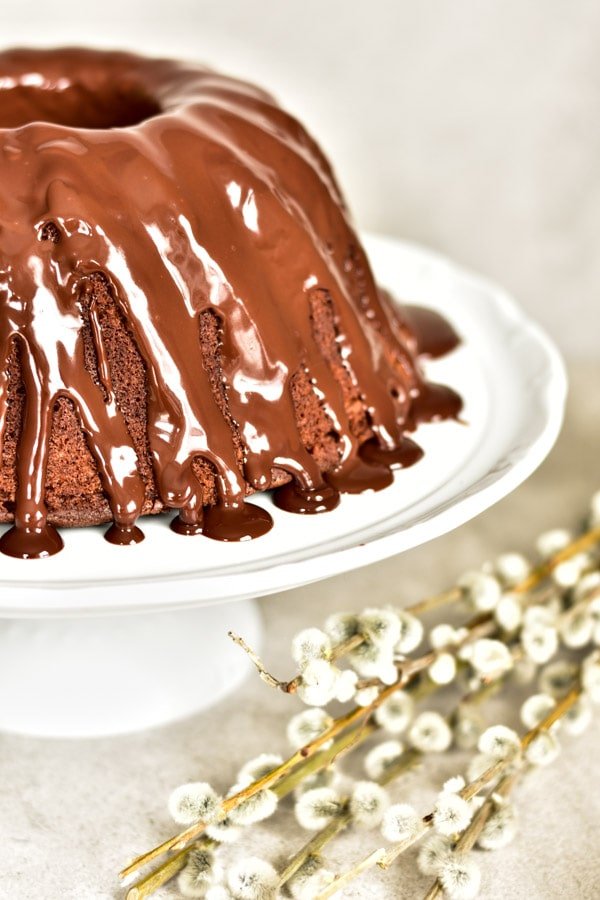 Interesting fact:
Cakes baked in the form of a bundt cake are very popular in Poland, especially during Easter time. Yeast dough versions are the most popular, but pound cakes are also often baked. They are called babka or babka wielkanocna (Easter babka). Babka or Baba means little grandmother or old woman in polish, as the bundt cake's shape resembles a woman's skirt. In English-speaking countries and for Jewish people, a baked good named babka is a rich yeast dough which is cut into strands, that are braided under each other (like this walnut chocolate babka wreath).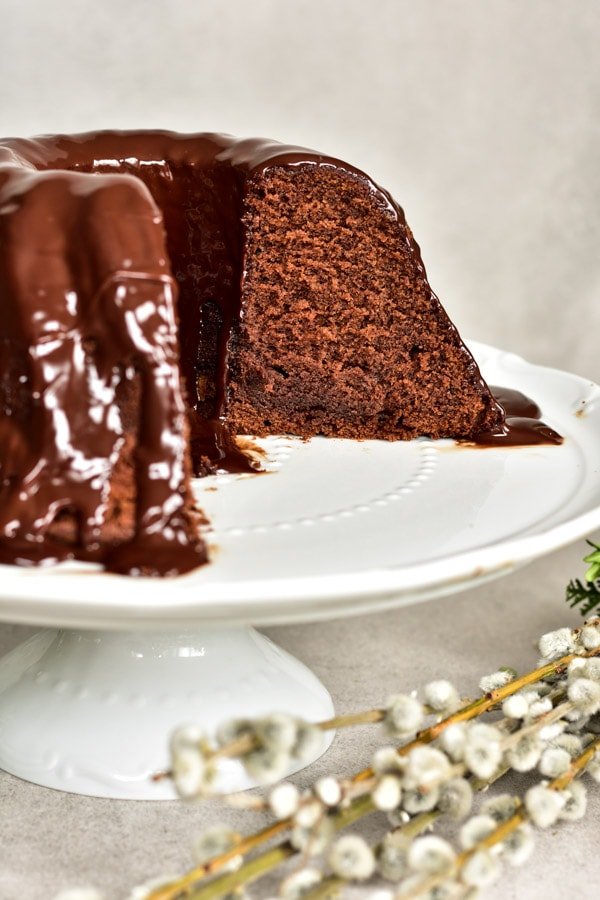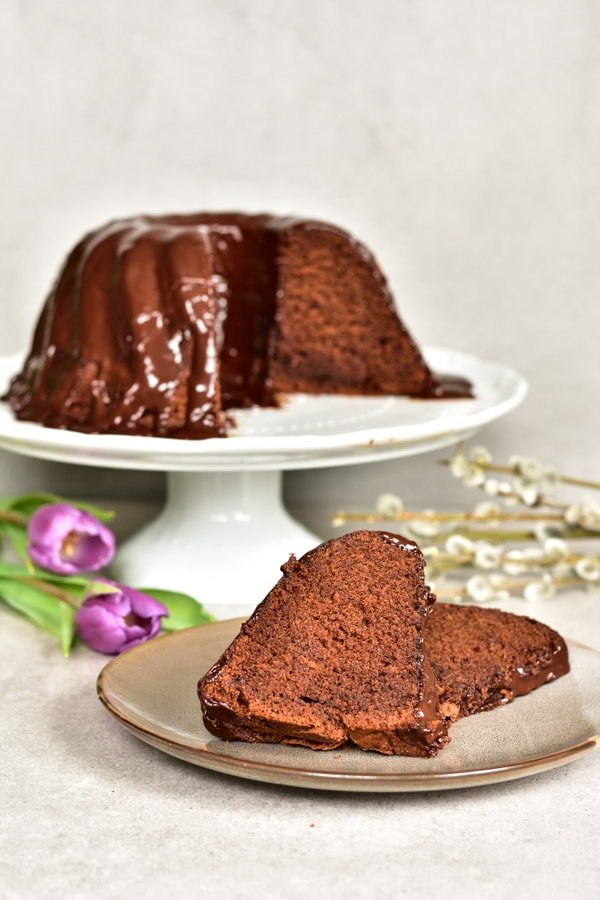 Chocolate orange bundt cake
Moist chocolate bundt cake with orange favor and chocolate glaze.
Pin This Recipe!
SAVE THIS RECIPE
Saved!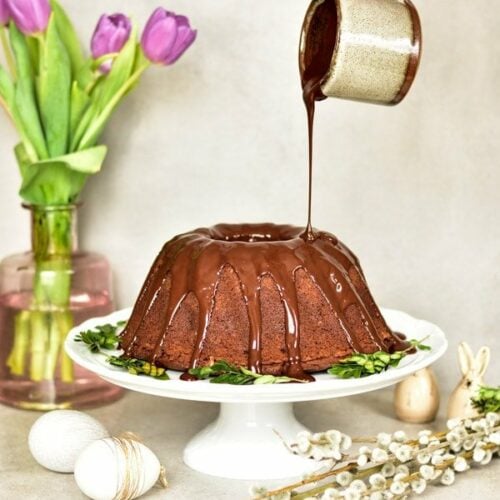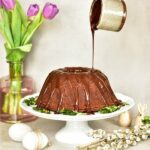 Print Recipe
RATE THE RECIPE
(click on the stars)
Ingredients
bundt cake:
100

ml

heavy cream

36%, 6.5 tablespoons, ½ cup – 1 Tbsp

4

tablespoons

orange juice

3.2

oz

dark chocolate

90g

1.4

oz

milk chocolate

40g

2

tablespoons

orange liqueur

like Cointreau, or smooth orange jam, or orange juice

2

teaspoons

vanilla extract

1 ¾

cup

all-purpose flour

220g / 7.8 oz, spoon and leveled

5

tablespoons

cocoa

unsweetened, 35g / 1.2 oz

1 ¼

teaspoons

baking powder

½

teaspoon

baking soda

1/3

teaspoon

salt

7

oz

butter

soft, cut into pieces, 200g / 1 cup – 2 Tbsp

8.5

oz

superfine baker's sugar

240g / 1 cup + 1

2

heaped tablespoons grated orange zest

preferably from organic oranges, from 4 small oranges

3

large eggs
chocolate orange glaze:
4

oz

dark chocolate

115g

½

cup

heavy cream

120 ml

¼

cup

orange juice

or 1 teaspoon smooth orange jam
Instructions
All ingredients should be at room temperature! (especially the eggs and butter).

Generously butter a 21 cm / 8-inch bundt cake pan, set aside.

Add the cream and orange juice into a small pot, bring almost to the boil, remove from the heat, add the cut into small pieces chocolate, wait 1 minute, then stir until the chocolate has melted, add the orange liqueur/jam and vanilla extract, stir until combined, set aside.

In a large bowl, mix the flour, cocoa, baking powder, baking soda and salt together, sift into another bowl, set aside.

Preheat the oven to 180 °C / 350 °F / Gas Mark 4, no fan (if using a convection over reduce the temperature by 25 degrees).

Add the butter to the mixer bowl, beat for about 2-3 minutes at medium-high speed until fluffy.

Add the sugar and orange zest, beat until the mixture is light and fluffy, about 3 minutes.

Add the eggs, one at a time, beat up well, next egg can be added when the previous one is incorporated into the batter, after adding each egg scrape the sides of the bowl with a silicone spatula.

Reduce the speed to low, add 1/3 of the flour mixture, beating just to combine, add ½ of the chocolate mixture, followed by 1/3 of the flour mixture, another ½ of the chocolate mixture, and finally the last 1/3 of the flour mixture, mixing only until just combined after each addition. In the end, gently fold the batter with a silicone spatula (as the dry ingredients tend to sink to the bottom).

Scoop the batter into the prepared pan, smoothing the top with a spatula (try to put just a little less batter in the middle of the pan than on the sides), tap the pan slightly, put in the oven.

Bake for about 50 minutes, a skewer inserted into the center of the cake doesn't have to come out perfectly clean, the cake should be a little underbaked (but just a little).

Place the pan on a cooling rack for 15 minutes, then turn the cake over onto the cooling rack and leave it to cool. The baking time may slightly vary from oven to oven.

Prepare the glaze: pour orange juice into a small pot and cook over medium heat until its volume is reduced to about 1 teaspoon (it will boost the orange flavor), you can also use a smooth orange jam, but I didn't want to buy the whole jar only to use 1 teaspoon. Pour the cream into a small pot and bring almost to the boil, remove from the heat, add finely chopped chocolate, wait 1 minute, mix until the chocolate is dissolved, add the reduced orange juice, mix until smooth. Pour the glaze over the cake.
Notes
How to store chocolate orange bundt cake: Store the cake in a tightly closed container for up to 4 days. It will be still delicious for the next 2 days.
Calories count: 355 = 1 serving = 1/16 recipe.
Tried this Recipe? Rate the Recipe and tell us what you think in the Comments!
Did you make this recipe? Let me know how you liked it and give it a star rating in the comments below! You can also add a photo of your creation!