Cranberry Orange Mulled Wine Recipe
This is my favorite mulled wine recipe. Perfectly spiced, warming and so tasty. Tastes like Christmas in a glass. It's a national holiday treat in Austria. It's called Glühwein here (which can be translated as glow-wine) and is being selled at all Christmas markets.
It's super easy – all you need to do is warm some aromatic spices with red wine, orange juice and cranberries. You can of course add more spices, but I don't like too heavily spiced mulled wine. The taste of the wine should be only complemented by the spices. It doesn't have to be expensive wine, cheap (but still tasty) wine is enough. Any wine – dry, semi-sweet or sweet will work. If you'll use sweet wine, you'll need to add a tablespoon less sugar. I love the addition of oranges and fresh cranberries (can be omitted, but it's really worth to add them!). I really like the sweet and tart taste of fresh cranberries, I add them to everything now! They're also very healthy. What's interesesting in this recipe, is that I make orange syrup first, using orange juice, zest and spices. This way sugar dissolves easy and quickly and the spices are more aromatic.
This mulled wine is very quick to make and always a highlight on any holiday party!
If you have some cranberries left, you can make these pumpkin cranberry muffins or carmelized plum and cranberry sauce!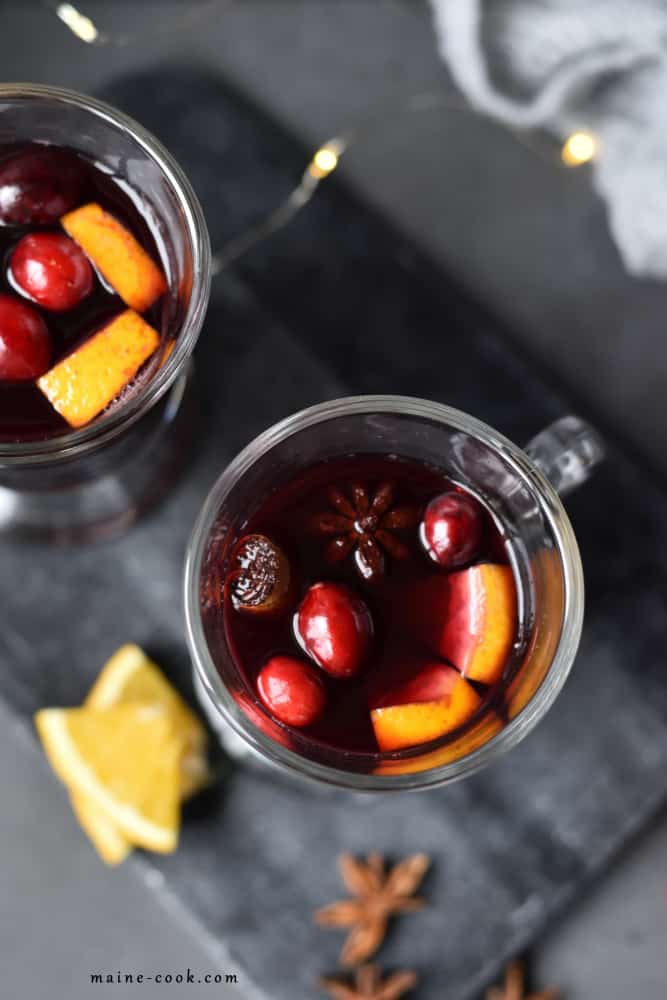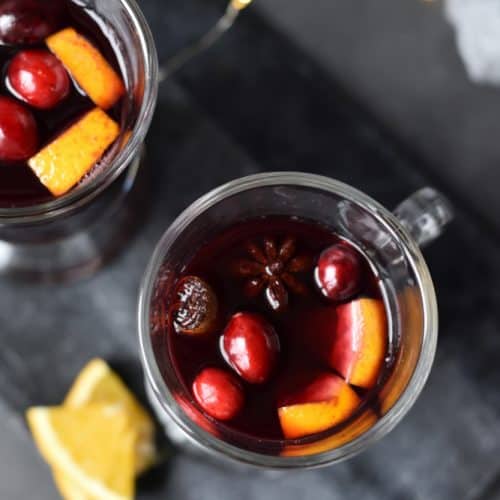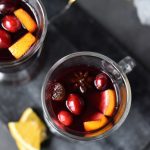 Print
Cranberry Orange Mulled Wine Recipe
Mulled wine recipe. With fresh cranberries, orange juice, zest and aromatic spices. Perfectly spiced and warming. Tastes like Christmas in a glass!
Ingredients
1

bottle / 750 ml red wine

can be dry/semi-sweet/sweet, preferably fruity dry red wine

1

and ½ orange

20

pieces

fresh cranberries

optional

4

tablespoons

light brown sugar

you can add more, add a tablespoon less sugar if you're using sweet wine, you can also use white sugar

1

star anise

1

cinnamon stick

2

cardamom capsules

5

cloves
Instructions
Make an orange syrup. Peel one orange and squeeze out the juice. Place the zest on a cutting board, cut off the white pith (more or less) and discard it. Add the zest and juice, sugar and spices into a medium pot. Bring to a boil over medium heat and cook, stirring for about 3 minutes, then add the cranberries and cook for two more minutes. Sugar should dissolve, cranberries will slightly burst (when added earlier, they will break down completely), and the syrup will be thickened. Remove the pot from heat and let the syrup stand for 10 minutes until slightly cooled.

Add the wine, remaining ½ orange (cut into smaller pieces) and heat gently over minimum heat until the wine is very warm, but not boiling. If you bring the mulled wine to a boil, it will lose some of its aroma and alcohol will start to evaporate (and we don't want that, right?). If your mulled wine is not enough sweet, you can sweeten it with honey or powdered sugar.

Set aside for 5-10 minutes then ladle into heatproof glasses (thin wine glasses can break) and serve. For decoration, you can add spices from the pot, fresh cranberries and orange pieces.

Cheers!
Notes
Storage: Strain leftover wine and keep covered in the fridge for up to 2 days.
Nutrition
Did you make this recipe? Let mi know how you liked it in the comments below!