Pear and thyme risotto with lemon thyme chicken
Delicious summer risotto, delicate but also very interesting in taste. Pear goes very well with thyme, and the addition of parmesan cheese adds a lot of taste to the dish. This risotto goes perfectly with this recipe for baked chicken breast (lemon thyme chicken). I served it with a small salad on the side – it was light and packed with flavour dinner.
An interesting thing in this recipe is its preparation method – this risotto is made without stirring! You don't have to stir it all the time. Traditionally, you need to add a small portion of broth, wait for the rice to absorb the liquid and stirr again.
Since I learned about this method, I make risotto much more often. I read about it on Serious Eats, where Kenji López-Alt tested, that without constant stirring you can get as good risotto as this prepared the traditional way.
So far, it was thought that the reason for stirring risotto is to extract starch form rice grains. They should release starch when rubbing against each other. It thickens the risotto and makes it creamy.
The best risotto is of course creamy, but it should also taste slightly nutty, which is caused by toasting the rice grains. Kenji convinces, that the starch is already on the surface of the rice grains. You don't have to stir it for 30 minutes to extract it. However, by toasting rice, the risotto becomes less creamy. To get a creamy risotto with a nutty flavor at the same time, you need to do a small trick. You just need to add the rice to the broth, stir it, strain (starch stays in the broth). Toast the rice (it will taste better, like all things fried), then add the whole broth to the pot and cook the rice until al dente.
It's really super easy! Additionally, while the risotto is cooking, you can clean your kitchen or prepare a small salad as a side.
For more on this topic read further here (note that this is not a new, revolutionary method, because the article is from 2011).
See also my other risotto recipes: saffron risotto and lemony asparagus and green peas risotto.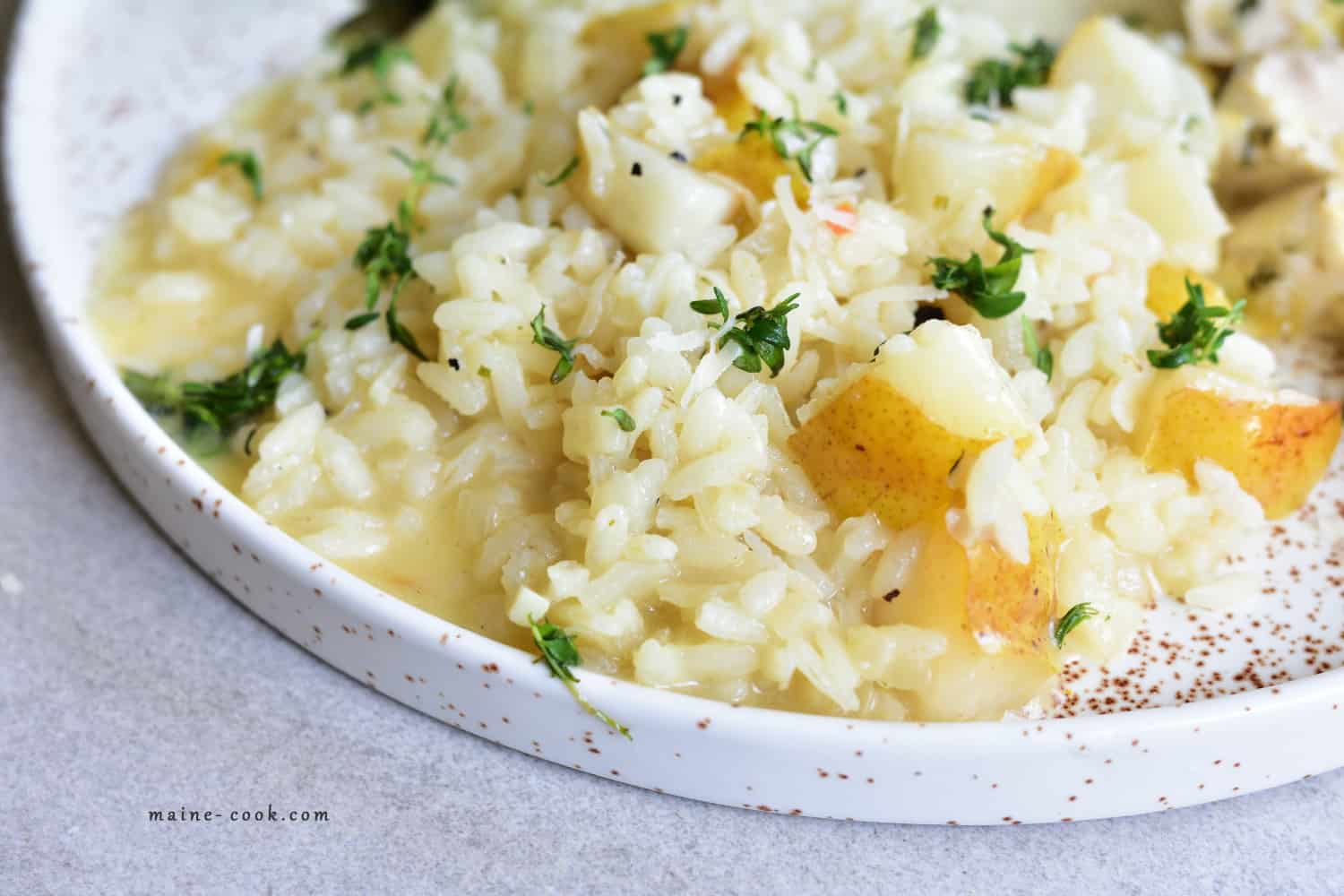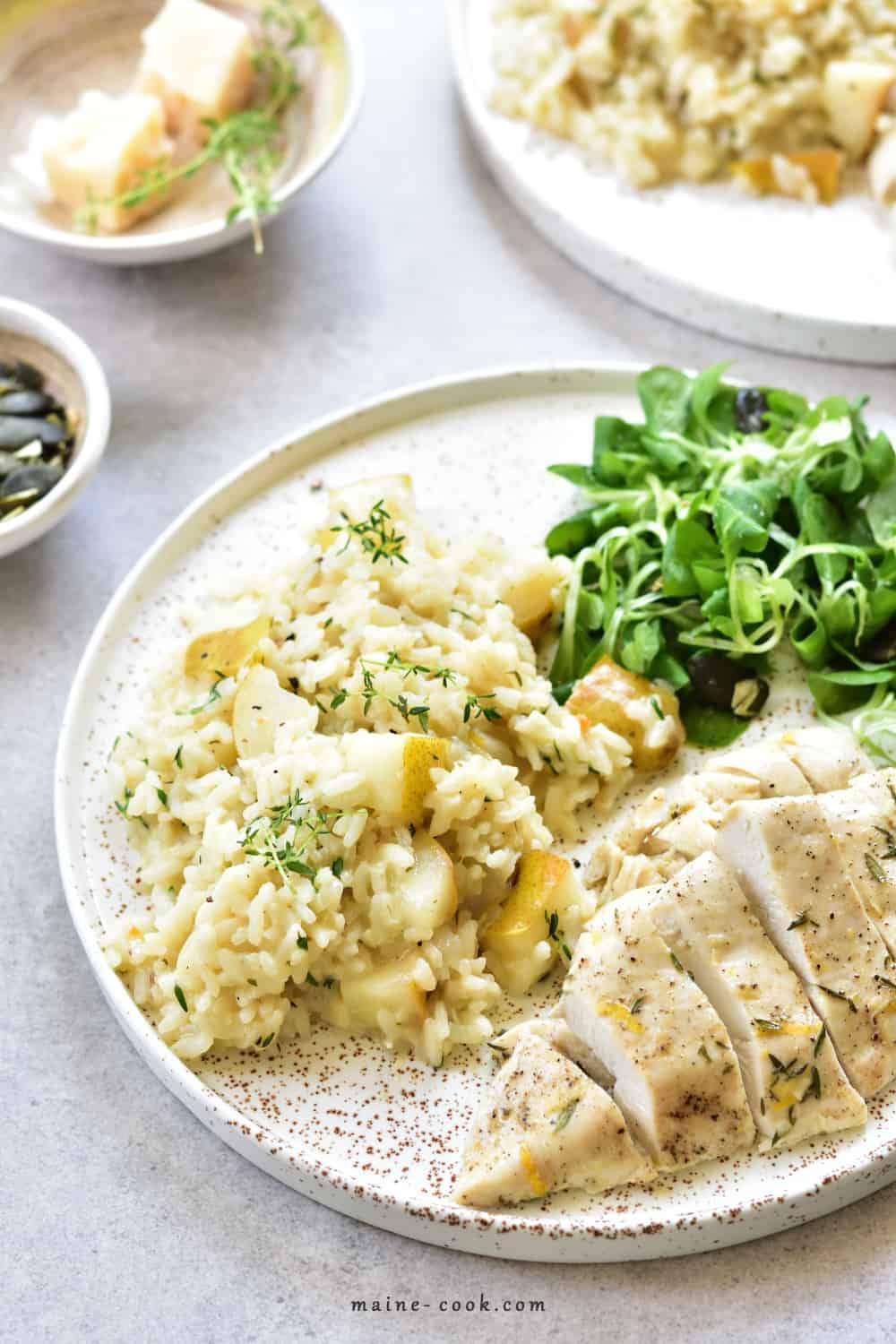 Pear and thyme risotto with lemon thyme chicken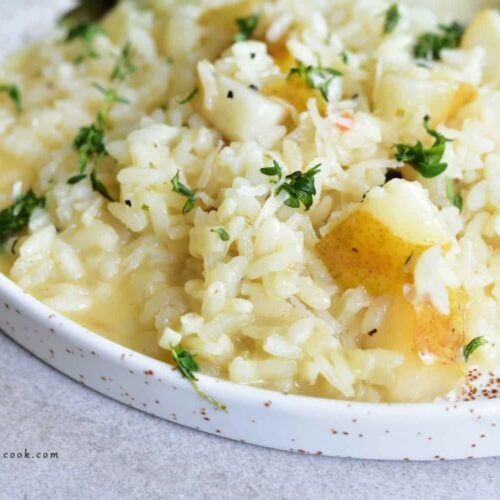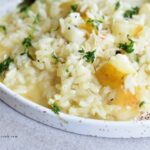 Print Recipe
Ingredients
risotto:
2

tablespoons

frying oil

2

shallots or 1 small onion

70g, cut into small cubes

3

twigs thyme + heaped teaspoon thyme leaves

1

large clove garlic

thinly sliced

100

g

/ 3.5 oz risotto rice

Arborio / Carnaroli / Bomba

3

tablespoons

dry white wine

45 ml

300

g

vegetable / chicken broth

(=300ml)

1

medium pear

diced into 1 cm / ½ inch cubes, preferably firm

2

tablespoons

grated Parmesan cheese

2

teaspoons

heavy cream

(36%) or butter

salt and pepper

to taste
small salad, as a side:
a few leaves lettuce / a small handful lamb's lettuce

1

tablespoon

pumpkin seeds

lightly toasted in a dry pan

dressing: 1 teaspoon olive oil + 1 teaspoon lemon juice + salt and pepper
Instructions
risotto:
Add rice to the broth and stir several times with a spoon, strain through a fine-mesh strainer, reserve the broth (!).

In a wide and shallow pot heat up the oil, add the onion and thyme twigs, cook on low heat about 10 minutes (be careful not to burn them).

Add the garlic and cook for about 30 seconds, until fragrant.

Move the onion and garlic to the side of the pan (so that they don't cook) and add the well drained rice, turn heat up to medium high and cook for 2 minutes, until all rice grains are covered with oil, slightly golden and their edges are translucent.

Mix the rice with onion and garlic, then add the wine, cook until evaporates completely.

Add the broth (it can be cold), stir well, bring to a boil, cover, simmer over low heat for 10 minutes. Add the pear, cook for another 5 minutes.

Remove the pot from the heat, remove the thyme twigs, add the parmesan cheese, cream and thyme leaves, season with salt and pepper to taste. Serve right away, preferably on warm plates (they can be warmed up in the oven).
salad:
Wash the lettuce, drain. Mix with pumpkin seeds, olive oil and lemon juice together. Season with salt and pepper to taste, serve with the risotto.
Notes
The best risotto is creamy and not thick – it should flow off the spoon like a wave, when it gets cold, it's no longer saucy. It's best to serve it straight from the pot and preheat the plates, for example in the oven - just keep them a few minutes in the oven preheated to 100 ° C / 212 °F (you will see the difference!).
If you like this recipe or tried it, please leave me a comment and let me know what you think. You can also send me a picture – I will be very happy to see your creations! Don't forget to share the recipe with others!