Grilled salmon with saffron risotto and zucchini
Saffron works perfectly with fish. I seasoned this salmon fillet delicately because in this dish it's the risotto that should stand out. This meal is really delicious, delicate, flavourful and well-liked by kids.
This dish is also very quick to make, you do not have to stir the risotto too often, just cook on low heat, and while it's cooking you can prepare salmon and zucchini. For more on this topic, you can read here in my post – pear and thyme risotto or on Serious Eats).
Perfect as an everyday dish, simple family dinner but it's also well-suited for an elegant dinner – it looks so lovely on a plate. I took the idea for this dish from the 'Kuchnia i wino' restaurant in Cracow, where I ate it a couple of years ago.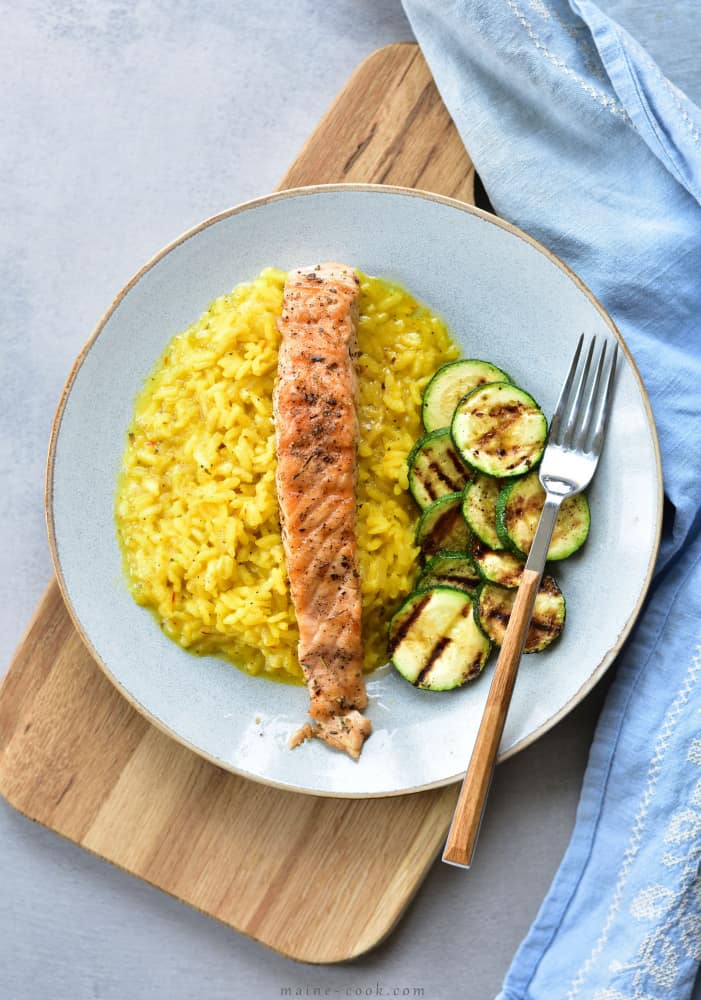 Grilled salmon with saffron risotto and zucchini
Juicy and tender grilled fish served with bold-tasting saffron risotto and grilled zucchini.
SAVE THIS RECIPE
Saved!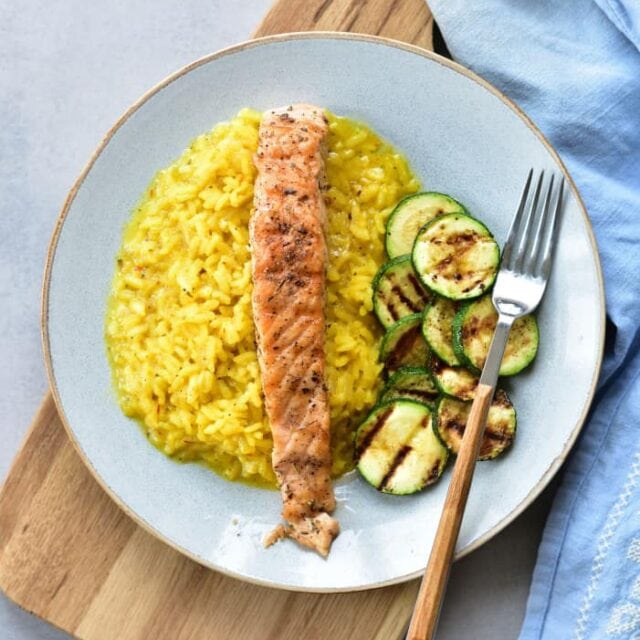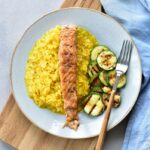 Print Recipe
Ingredients
fish:
2

salmon fillets

about 11oz/300g

1

heaped teaspoon French herb seasoning

Herbes de Provence (or a combination of dried rosemary, basil, oregano, and thyme)

1

tablespoon

frying oil

salt and black pepper

to taste
zucchini:
1

small zucchini

cut into 1/4-inch/5mm slices

1

tablespoon

frying oil

salt and black pepper

to taste
risotto:
2

shallots / small onions

60g / 2 oz, diced

2

small cloves garlic

cut into thin slices

1

tablespoon

frying oil

1/2

cup

risotto rice

100g/3.5 oz, arborio / carnaroli / bomba

4

tablespoons

dry white wine

60ml

1 1/2

cups

vegetable broth

360ml

a small pinch of saffron

1/2 of 0.12g package

2

heaped tablespoons grated Parmesan cheese

salt and black pepper

to taste
Instructions
marinate the fish:
Pat the salmon dry with paper towels, season with salt, pepper, and Herbes de Provence mixed with 1 tablespoon of frying oil. Set aside to marinate or cook right away.
risotto:
Add rice to the broth and stir several times with a spoon, strain through a fine-mesh strainer, reserve the broth (!).

In a medium pot (ideally it should be wide and shalloheat up the oil, add the chopped onion and cook on low heat about 8 minutes. Add the garlic and cook for 30 seconds.

Move the onion and garlic to the side of the pan (so that they don't cooand add the well-drained rice, turn heat up to medium-high and cook for 2 minutes, until the edges become translucent and the rice is slightly golden.

Mix the rice with onion and garlic, then add the wine, cook for 30 seconds until evaporated.

Add the broth (it can be coland saffron, mix well, bring to a boil, cover, turn down to the lowest heat and cook for 15 minutes, stir once during this time.

Remove the pot from the heat, add the Parmesan cheese, season with salt and pepper to taste.

Serve right away, preferably on warm plates (they can be warmed up in the oven, preheated to the lowest temperature).
zucchini + salmon:
While the risotto is cooking – grill the salmon and the zucchini on the grill pan (of course you can also cook them on a regular pan).

Season the zucchini with salt and pepper. Heat 1 tablespoon of oil in a grill pan and grill the zucchini slices for 2 minutes on each side over medium heat. Zucchini should be browned (but not black and burned), tender but also have a bite to it.

Heat another tablespoon of oil, cook the salmon on medium heat for 2 minutes on each side, until the fish is cook through (to your preferred doneness).

Serve the salmon with risotto and zucchini.

Enjoy!
Did you make this recipe? RATE THE RECIPE or tell me in the COMMENTS how you liked it! You can also add a photo of your dish. It would make me very happy and will help other readers. Thank you!!