Ratatouille with poached eggs
This is my favorite way to serve ratatouille – French vegetable stew. It's usually made from eggplants, courgettes, peppers and tomatoes. It's very simple, delicious, uses only basic ingredients – check out my ratatouille recipe.
One of the many ways to serve this dish are eggs poached in ratatouille. Eggs are poached in the stew, until the egg whites are set, but the egg yolks still runny. I serve it with a couple of bread slices with salted butter (you can also just salt the regular butter). Preparation is similar to the middle-eastern Shakshuka.
It's really so good! It's great as a quick lunch and as well as breakfast. You can also serve it with grilled chicken breast on the side, but you will be surely fulfilled with the vegetarian version!
For other ways to serve ratatouille, see these ratatouille filled pancakes: cheesy vegetable crepes.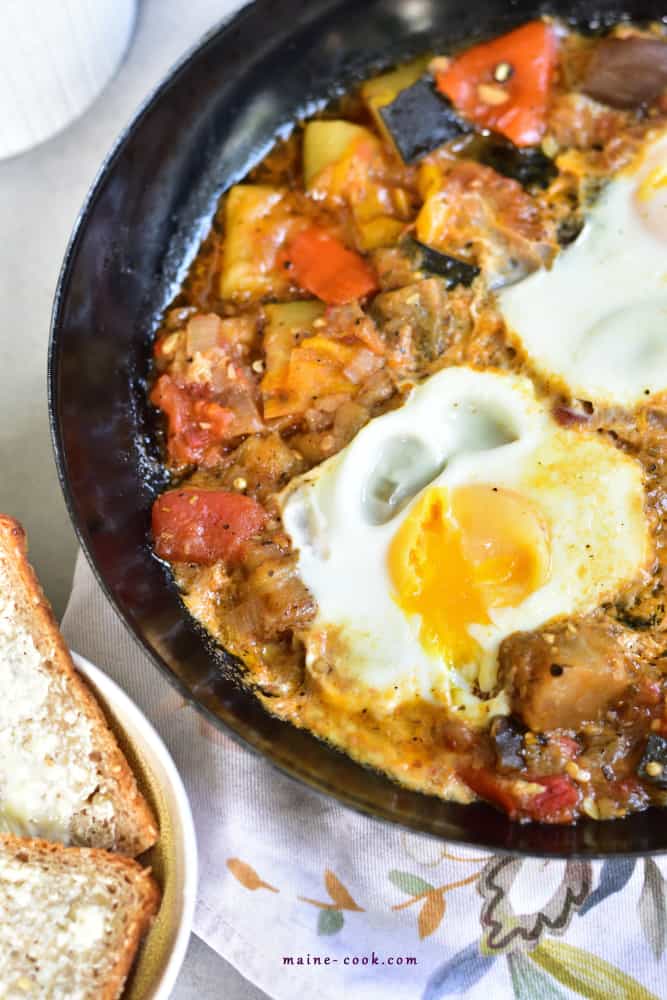 Ratatouille with poached eggs
My favourite way to serve this tasty french vegetable stew! You can find my ratatouille recipe
HERE
.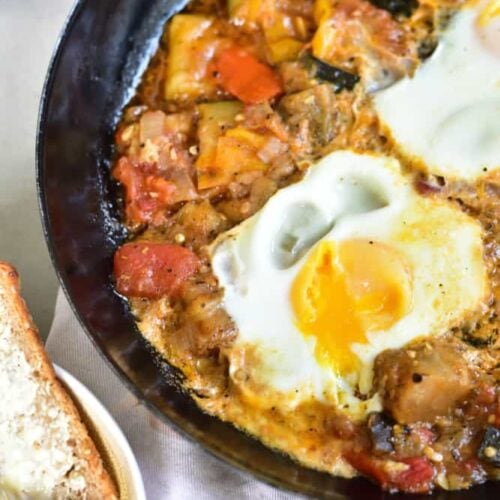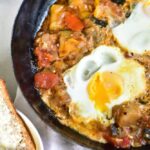 Print Recipe
Ingredients
3

cups

ratatouille

link to the recipe above

2

teaspoons

balsamic vinegar

good quality, optional

4

teaspoons

butter

optional

4

large eggs

salt and pepper

to taste

a few slices bread with salted butter

a few springs parsley

for sprinkling
Instructions
Warm up the ratatouille on a very large pan (on the photos you can see stewed version of the ratatouille, if you have made the fried version, cut the vegetables into smaller pieces), add balsamic vinegar, mix together.

Using a tablespoon, make four wells in the vegetables (they should be spaced out), place in each one of them a teaspoon of butter and then crack an egg into each indentation.

Cover the pan with a lid (the lid should be well fitted) and simmer for a few minutes until the egg whites are barely set and the egg yolks still runny.

Transfer onto plates, season with salt and pepper to taste, serve with slices of bread and salted butter, you can also sprinkle it with parsley.

Bon Appetit!
Notes
If you don't have a well fitted lid, it's better to bake the dish in the oven (using an ovenproof skillet). Preheat the oven to 200 °C / 400 ° F / Gas Mark 6 and bake for about 10-15 minutes, until the egg whites are barely set and the egg yolks still runny.