Roasted chicken breast with delicious, bold-tasting, balsamic-mustard sauce with fresh figs on top. The sauce is complex in flavor and slightly sour, works perfectly with fresh, sweet figs. Chicken breasts are baked in the oven, I used the same method as with this lemon-thyme chicken breast.
The dish is done very quickly, you just have to mix all the ingredients for the marinade together, pour in a baking dish, put in the chicken and set aside for a minimum of half an hour and bake. It's important to use a good quality balsamic vinegar, even a small amount of the cheaper one can change the taste of the dish.
Balsamic chicken with figs tastes so good and is ready in no time! Thanks to the figs, looks beautiful on a plate, too. It's perfect for dinner parties, as it's really easy to prepare for a crowd.
See my other recipes using fresh figs: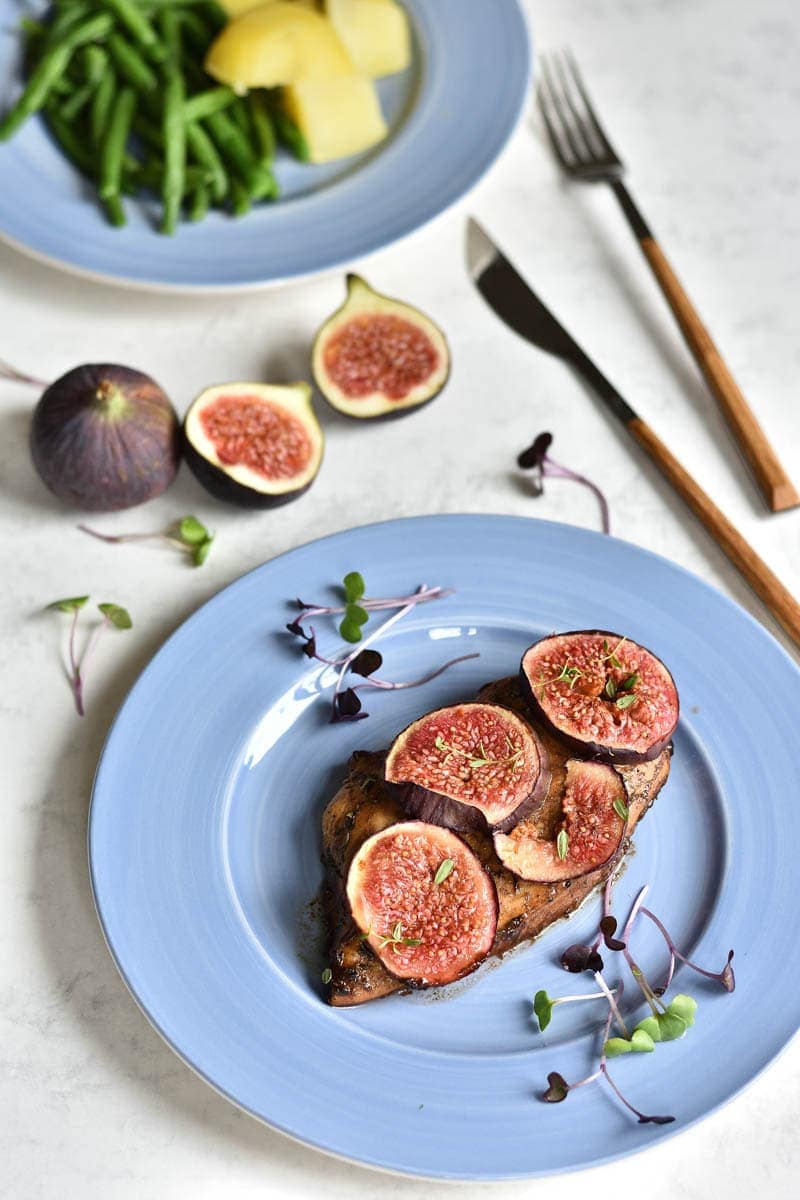 Balsamic chicken with figs
Roasted chicken breast with bold-tasting, balsamic-mustard sauce with fresh figs on top.
SAVE THIS RECIPE
Saved!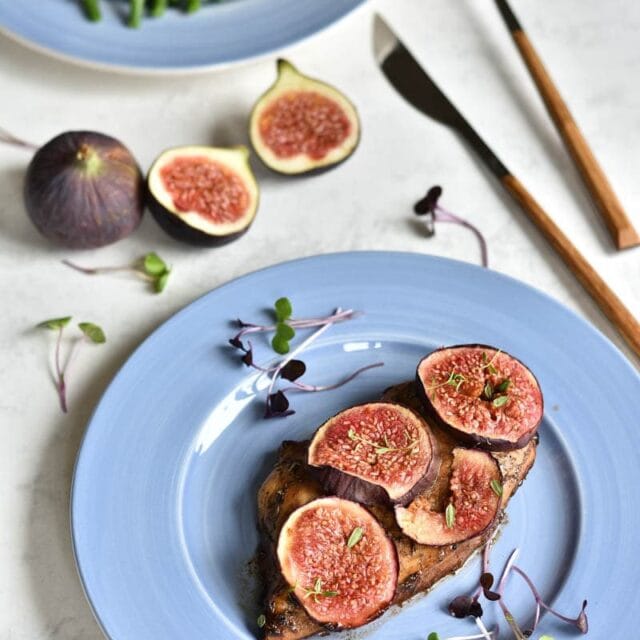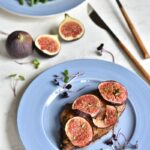 Print Recipe
RATE THE RECIPE
(click on the stars)
Ingredients
-> 2 small chicken breasts, 330g / 11.6 oz
-> marinade:
3

tablespoons

balsamic vinegar

good quality

1

tablespoon

olive oil

1

tablespoon

lemon juice

1

heaped teaspoon honey

1

heaped teaspoon Dijon mustard

2

teaspoons

fresh thyme or 1 teaspoon dried thyme
-> to serve: eg potatoes, cooked green beans with butter, fresh thyme for sprinkling
Instructions
Lightly pound the thicker part of the chicken breasts, so that the whole breast has a similar thickness (but not too much, they still need to look like chicken breasts and not fillets). Season well with salt and pepper.

In a small bowl, whisk the ingredients for the marinade.

Place the chicken in a small baking dish, pour the marinade over the meat, leave for about half an hour to marinate or longer (overnight, in a refrigerator).

Preheat the oven to 175 ° C / 347 °F / Gas Mark between 3 and 4.

Slice the figs and arrange on the meat.

Put the chicken in a preheated oven and bake for about 22 minutes. You can check if the meat is ready by measuring its internal temperature, it should be 74°C / 165°F. The baking time may vary depending on the size of the meat and type of the oven.

While the chicken is baking, you can cook the potatoes and green beans.

Remove the chicken from the oven, leave to rest for about 5-10 minutes. Transfer on plates and serve, spoon the sauce from the baking dish over the meat.

Enjoy!
Tried this Recipe? Rate the Recipe and tell us what you think in the Comments!
Did you make this recipe? RATE THE RECIPE or tell me in the COMMENTS how you liked it! You can also add a photo of your dish. It would make me very happy and will help other readers. Thank you!!