Bobotie recipe – South African curried meatloaf casserole
Bobotie is the national dish of South Africa. It's a casserole with curried minced meat, aromatic spices and a blend of sweet and sour ingredients. It's covered with fluffy, creamy egg custard and topped with bananas and shredded coconut.
The list of ingredients may sound exotic, but believe me, this dish is hearty, comforting and its taste complex. This casserole provides a perfect balance of sweet and sour flavours. If you like a combination of meat and fruit you will fall in love with this dish, as we did.
The meatloaf comes out very juicy, but can be easily cut into portions. It's most often served with yellow rice – rice cooked with turmeric (or saffron), other aromatic spices and raisins. I also served green beans on the side. Beef or lamb mince meat is most commonly used, but I added beef and pork, making it more juicy.
The dish probably comes from the Indonesian island of Java, where a similar dish called Bobotok is known. It's meat (mostly fish) wrapped in banana leaves, seasoned with coconut, bay leaves, curry paste and steamed. The Dutch traders, on their way from Indonesia to the Netherlands, colonized the Cape of Good Hope, where they brought Indonesian spices and slaves. The Dutch contributed the basic recipe for a minced-meat casserole with a baked-egg topping. The Malays on the other hand, combined european influences with the ingredients available on the spot and spices they knew from their homeland. This way Bobotie was created – a vibrant and colorful mixture of cultures and cuisines. It became very popular both in South Africa and later in the Netherlands, and over time also in other African countries. The first recipe for bobotie can be found in a Dutch cookbook from 1609. To this day, Indonesian cuisine is very popular in the Netherlands – you can find Satay chicken with peanut sauce in almost every restaurant.
I've tried many bobotie recipes and this is by far my favourite one. It's loosely adapted from this website.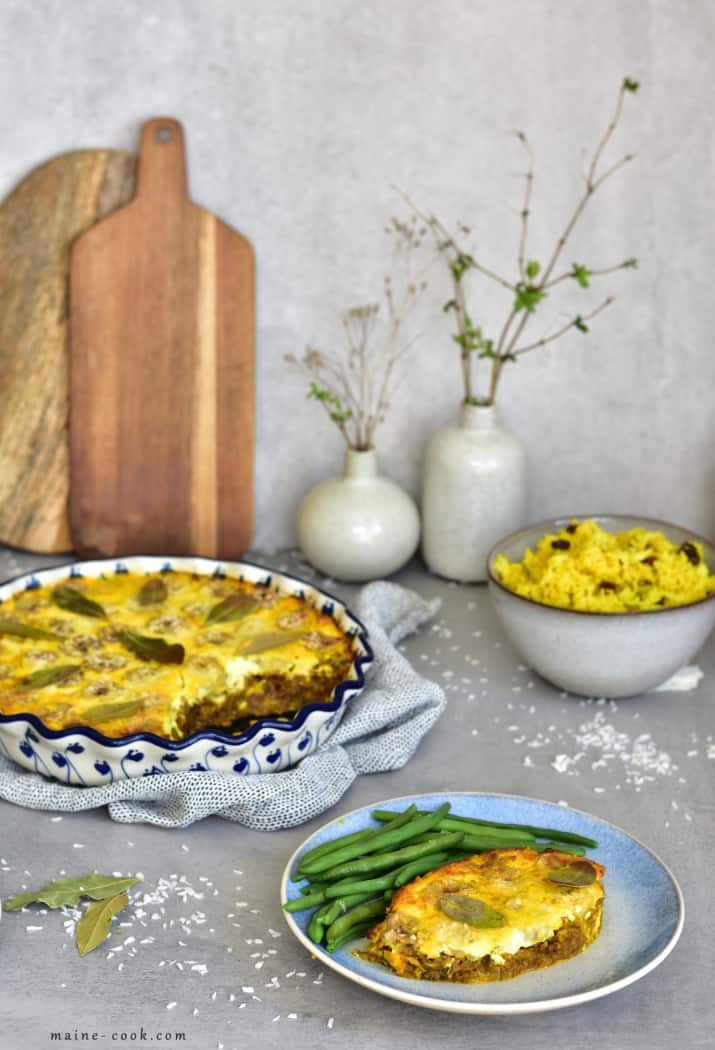 Bobotie recipe – South African curried meatloaf casserole
Curried minced meat casserole, seasoned with aromatic spices and a blend of sweet and sour ingredients. It's covered with fluffy, creamy egg custard and topped with bananas and shredded coconut.
SAVE THIS RECIPE
Saved!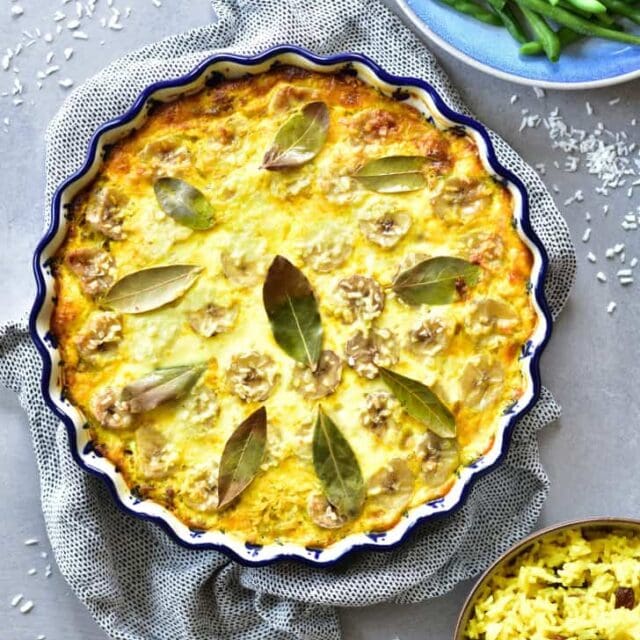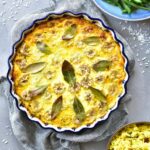 Print Recipe
RATE THE RECIPE
(click on the stars)
Ingredients
mince meat:
500

g

/ 1.1 lbs mince meat

I used beef and pork 60/40

2

tablespoons

frying oil

2

medium onions

diced

3

cloves

garlic

finely chopped
spices:
1

tablespoon

mild curry powder

½

teaspoon

ground coriander

a large pinch ground cardamom

a pinch Cayenne pepper

salt and pepper

to taste
additionally:
2

tablespoons

apricot jam

1

green apple

peeled and grated, I used Golden Delicious

1

teaspoon

tomato paste

2

slices

bread / 1 kaiser roll + milk for soaking

details in the recipe

2

tablespoons

raisins

juice and zest from 1 lemon

preferably organic
egg custard + topping:
1.5

banana

sliced

2

eggs

200

ml

milk

2

tablespoons

shredded coconut

to sprinkle on top

a couple bay leaves

for decoration, optional
yellow rice:
250

g

/ 8.8 oz rice

650

ml

boiling water

3

cloves

3

cardamom pods

lightly crushed

1

teaspoon

salt

4

tablespoons

raisins

50g

½

teaspoon

turmeric
Instructions
Casserole:
Heat a tablespoon of oil in a large frying pan, add the chopped onions, cook over medium-low heat for about 8 minutes, until translucent. Add chopped garlic and spices and cook, stirring, for 2 minutes. Move to the side of the pan.

Increase the heat to the highest setting, add the second tablespoon of oil and ½ meat, cook for about 2 minutes (don't stir), then stir and cook until the meat is no longer pink (don't cook the meat for too long so it won't dry out). Move to the side of the pan and repeat with the remaining meat. Mix the browned meat with onions, garlic, and spices together. Take the pan off the heat.

Preheat the oven to 200°C / 400°F / Gas Mark 6.

Soak the bread in milk, then blend in a food processor into a paste. I used 1 kaiser roll and about ½ cup of milk. You don't need to remove the crust, just break the kaiser roll into smaller pieces, soak in milk, then puree in a food processor until paste forms, you shouldn't be lumpy. If you don't want to blend the kaiser roll/bread, you need to remove the crust, then crumble it finely and soak in milk.

Add to the pan: apricot jam, peeled, cored and grated apple, tomato paste, raisins, juice and lemon zest, and the bread-milk paste.

Place the pan back on the stovetop, stir fry for about 1-2 minutes. Season with salt and pepper to taste, transfer the content of the pan into a baking dish (I used a round 26 cm /10-inch baking dish).

Place banana slices on top of the casserole.

Mix the eggs with milk, pour over the meat mixture. Sprinkle with shredded coconut on top, then place the bay leaves.

Bake for 30 minutes until the egg custard is set and browned at the edges. After removing the casserole from the oven, leave to rest for about 5-10 minutes before cutting into portions.

Serve with yellow rice and boiled green beans.
Rice and beans:
Rinse the rice. Add the cardamom pods, cloves, turmeric, salt and rice in a medium pot. Pour in boiling water, stir, bring to a boil and cover. Simmer over low heat for about 15 minutes or until rice absorbs water and is soft.

Cook the green beans (I used frozen) for about 3 minutes in lightly salted water. Drain.
Tried this Recipe? Rate the Recipe and tell us what you think in the Comments!
Did you make this recipe? Let mi know how you liked it in the comments below!