Soft 5-ingredient gingerbread cookies made only with healthy ingredients. Perfect for babies, when complementary feeding is being implemented.
I prepared these baby cookies with my seven-month-old daughter in mind, so the cookies are very soft. A toothless child can easily mash them between the gums, but you should still take care that your baby "bites" off only tiny pieces.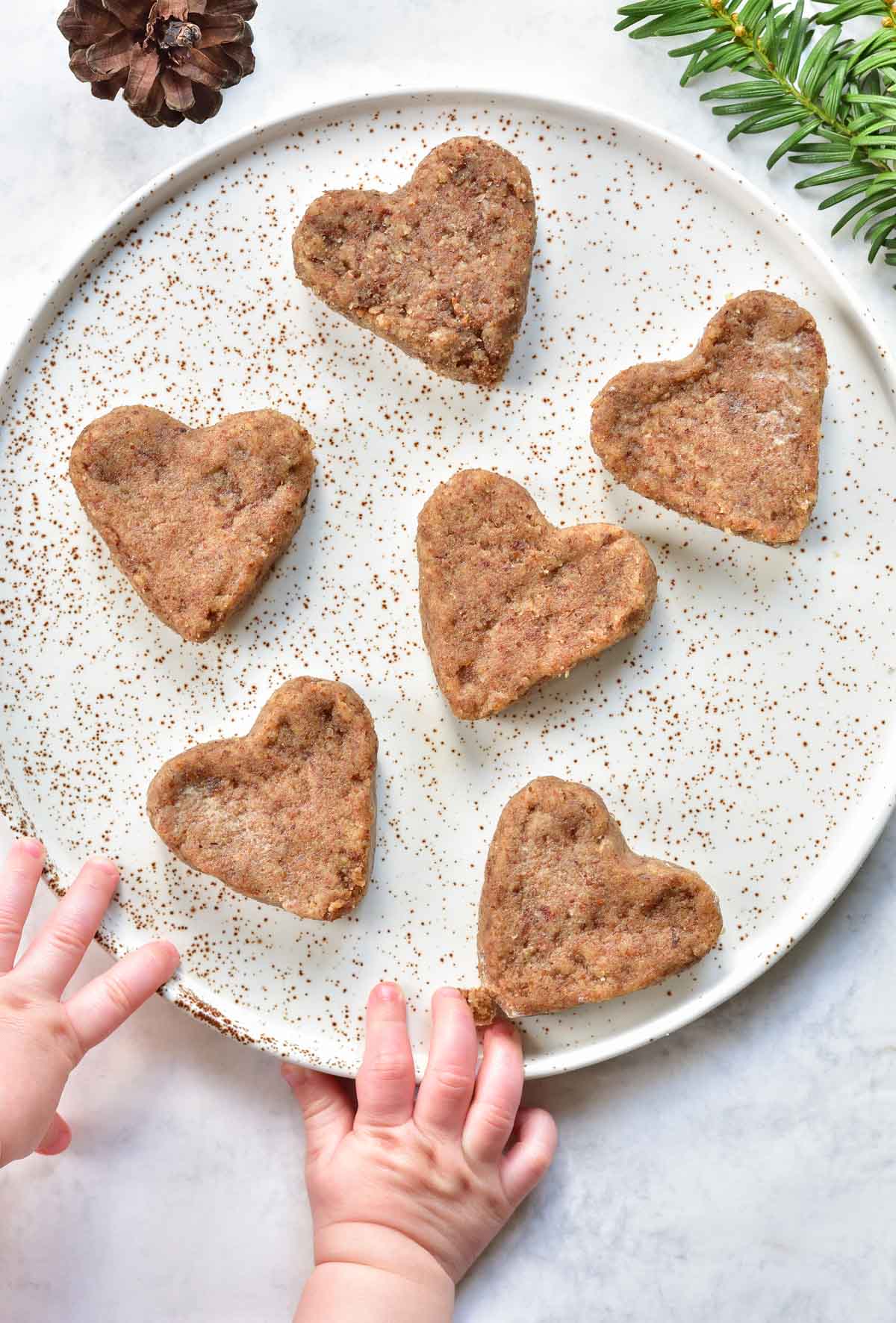 The cookies are really delicious, they're also great for older children (my daughter is currently almost two years old and still likes them) or even adults! Banana and dates are naturally sweet, so there's no need to add sugar. The preparation is very simple – you only need to blend all ingredients together in a food processor or using an immersion blender, then form and bake the cookies.
In fact, baking the cookies is not really necessary, they taste also very good raw, but they are quite soft and don't hold their shape. I bake them so that they have a nice form (eg hearts, as on the photos) and you can take them with you and give your child a healthy snack when taking a walk.
If you want to eat these gingerbread cookies raw, you can, for example:
– make 'truffles': form balls and coat them in melted dark chocolate
– 'cake pops' (opens in a new window): as described above + insert a cake pop stick into the cake and sprinkle with shredded coconut or sprinkles.
I would recommend these two variants for older children / adults though.
After the holiday season, you can swap the gingerbread spice mix to pumpkin pie spice mix, just cinnamon, vanilla extract or omit it completely.
Soft gingerbread cookies for babies (sugar-free and flour-free baby cookies)
Soft 5-ingredient gingerbreads made only with healthy ingredients. Perfect for babies and small children!
SAVE THIS RECIPE
Saved!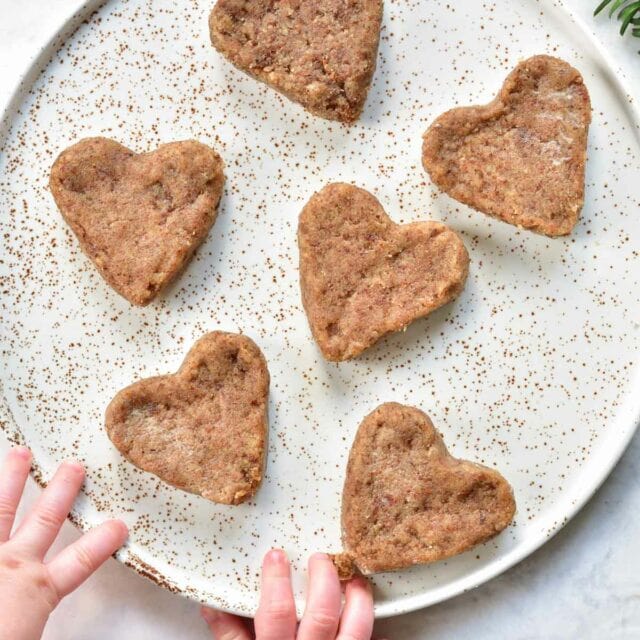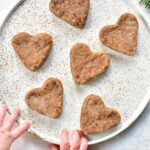 Print Recipe
RATE THE RECIPE
(click on the stars)
Ingredients
1 ¾

cup

(7oz/200g) ground almonds

plus a little more to sprinkle the cookie cutter

13

dates

100g / 3.5 oz

1

banana

100g / 3.5 oz

5

tablespoons

milk

or water

1

teaspoon

gingerbread spice mix

or pumpkin pie spice, or cinnamon or 1 teaspoon vanilla extract
Instructions
Preheat the oven to 180 °C / 350 °F / Gas Mark 4.

Blend the banana, dates, milk and gingerbread spice mix together until smooth, using a food processor or an immersion blender.

Add the ground almonds, mix until all ingredients are combined.

Prepare a cookie cutter – I used a 6 cm /2.4-inch heart-shaped cutter. Moisten the cutter slightly with water and sprinkle the inside of the cutter with ground nuts.

Prepare a baking tray and line it with parchment paper.

Place the cutter directly on the paper and fill with the cookie batter using a teaspoon, until filled to the top – my cookies were about 1 cm / ½ inch thick. Quickly lift the cookie cutter up or push the mixture through with your fingers, if the dough sticks to the cutter. Smooth the edges of the cookie. Sprinkle the cutter with ground nuts after each cookie and repeat with the rest of the dough. The recipe yields about 10 cookies.

Bake for about 10 minutes, the cookies will be soft and slightly golden at the bottom. Leave to cool on the baking tray (cookies will harden a bit more as they cool).

Enjoy!
Notes
Calories count = 1 cookie. This is only an estimate!
Store about 3 days in the fridge in a tightly closed container.
If you don't have store-bought ground almonds and want to grind whole nuts yourself – you can grind them in the food processor. However, it's better not to grind them very finely, like a flour – when using coarsely ground nuts it's easier to form the cookies and the mixture is less sticky. If you have almond flour, you may need to add a little more than in the recipe.
If your dates are dry and hard rather than fresh and soft, it's better to use an immersion blender or a very strong food processor to blend them. Alternatively, cut the dates into smaller pieces and leave to soak in milk until they soften a bit.
You don't need to use a cookie cutter and just bake round-shaped cookies, if you wish. Form balls, then flatten them a bit to a thickness of 1 cm / ½ inch and bake!
Cookies can be also eaten raw. For older children and adults you can make 'truffles' – form balls and coat them in melted dark chocolate, or make 'cake pops' – as described above + insert cake pop sticks into the cake and sprinkle with shredded coconut or sprinkles.
Tried this Recipe? Rate the Recipe and tell us what you think in the Comments!
Did you make this recipe? RATE THE RECIPE or tell me in the COMMENTS how you liked it! You can also add a photo of your dish. It would make me very happy and will help other readers. Thank you!!