Chantarelle and dill potato fritters
Potato fritters with an italian twist! The traditional all-potato version is extremely popular in my country, but I think I like them even better this way. When I saw the first chantarelles at the farmers' market, I immediately thought about this recipe. These fritters have really crispy, thin edges and a slightly soft center. Chantarelle mushrooms add a lot of taste and umami to the fritters. I seasoned them with dill and parmesan cheese (optional) and served with sour cream (you can also use plain yogurt). They make perfect quick and simple dinner, with a poached egg and a small salad on the side. Give them a try!
Potato pancakes are associated with the cuisines of many European and Middle Eastern century-old traditions. In my native Poland they are called 'placki ziemniaczane' (which literally translates to potato pancakes), in Austria, where I live now, we have Kartoffelpuffer and worldwide they are mostly known as Latkes (which are jewish).
If you're looking for another chantarelles recipes, you should try my tomato and chantarelles spaghetti!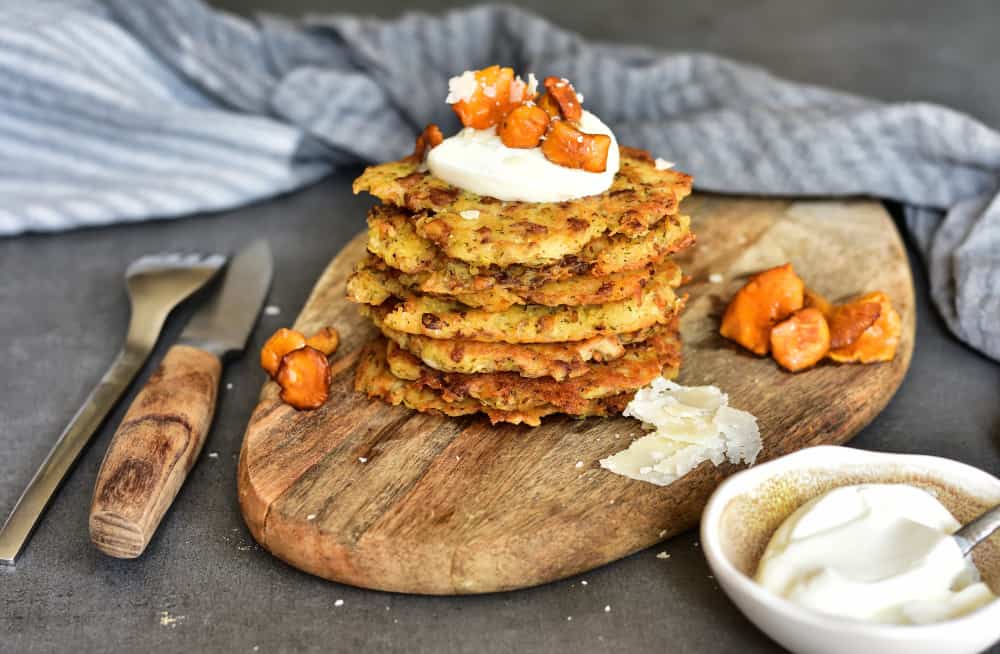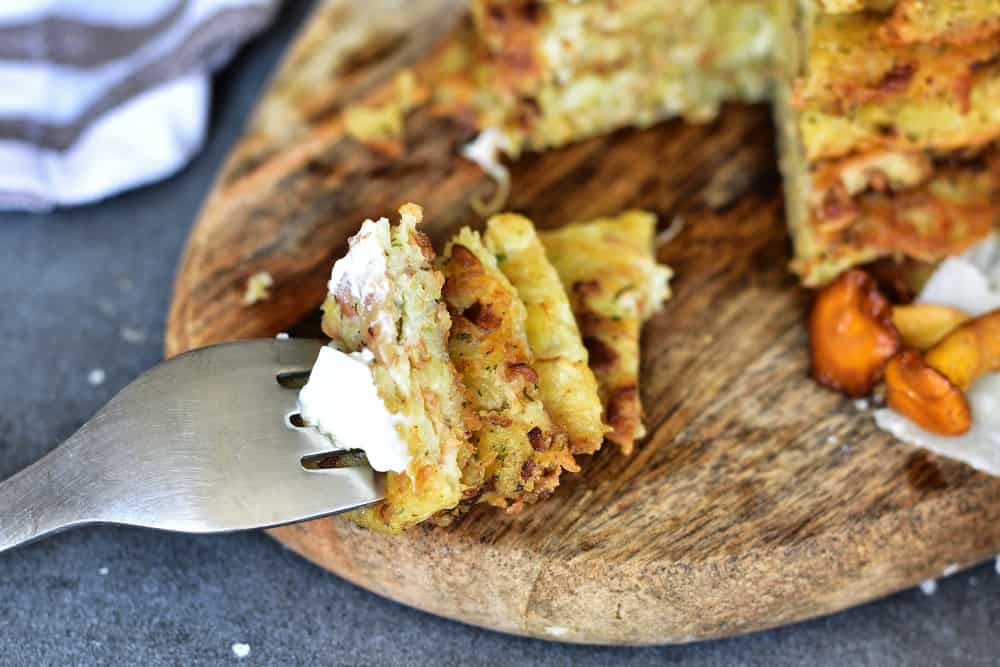 Chantarelle and dill potato fritters
Potato fritters with an Italian twist!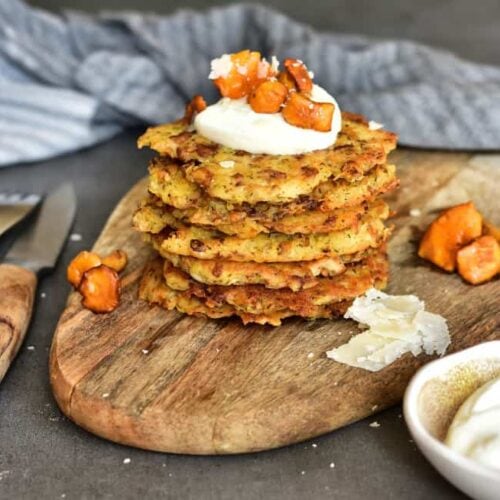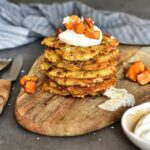 Print Recipe
Ingredients
fritters:
1

kg

/ 2.2 lbs potatoes

preferably starchy variety

1

small onion

optional, can be omitted

2

teaspoons

salt

200

g

/ 7 oz chantarelle mushrooms

or button mushrooms

1

tablespoon

potato starch / flour

2

tablespoons

grated Parmesan cheese

optional

2

heaped teaspoons finely chopped dill

1

large egg

salt and pepper to taste

I added 1 teaspoon salt and ½ teaspoon pepper

3

tablespoons

frying oil or clarified butter

for frying
to serve: sour cream 12% / plain yogurt, cherry tomato salad, a few fried chantarelles, dill, grated parmesan cheese
Instructions
Peel the potatoes and onion, grate on the small holes of the grater, mix with 2 teaspoons of salt together, set aside for 10 minutes.

After this time, using your hands or a clean kitchen towel, wring out as much liquid as possible.

Wash the chanterelles, pat them dry thoroughly with paper towels and finely chop (I pour water into a large bowl, quickly wash the mushrooms, wrap them with paper towels and squeeze out excess water like from a sponge, they will not look very good, but it's not important here, since they will be finely choped anyway).

In a large bowl, mix all the ingredients for the pancakes together (potatoes, onion, chanterelles, potato starch, parmesan, dill and egg), season to taste with salt and pepper.

Heat the oil in a frying pan, scoop about 1 tablespoon of batter onto the skillet for each pancake, flatten to ½ - ¾ cm / 0.2 – 0.3 inch thickness. Cook over medium-high heat for about 3 minutes on one side and 3 minutes on the other until golden (flip the pancakes when golden brown and crispy).

Transfer the fritters onto a plate lined with a kitchen towel, pat dry excess fat.

Serve the fritters warm, with sour cream or plain yogurt and a simple cherry tomato salad. You can also fry some chantarelles with butter and serve them on the side. Sprinkle with dill and grated Parmesan cheese.

Bon Appetit!
Notes
- pancakes from the recipe above come out very crispy, if you want softer pancakes (but still with crispy edges) then you need to add one more egg and a tablespoon of potato starch to the batter
- you can use any potatoe variety here (also waxy potatos), but it's possible that you'll need to add more starch / flour (about a tablespoon more) to the batter, because these potatoes have less starch, which binds the fritters together
- the onion can be omitted, the pancakes will be still very good
- you can also use buttom mushrooms instead of chantarelles, but with the chanterelles they're way better - the pan must be well heated, otherwise the pancakes will soak up the fat and don't taste fantastic (the pan shouldn' t be also too hot, so that the fritters won't burn)
- it's best to fry the pancakes on a non-stick frying pan or on a heavy bottomed cast iron skillet, since the pancakes with the addition of mushrooms don't hold together as good as all-potato fritters
- if you're cooking a large batch of fritters, you can store them in a 100 ° C / 212 ° F preheated oven, so they stay warm