Pesto sauce has countless uses. If you're looking for ways to use pesto other than pasta sauce, check out our ideas and recipes using pesto! Adding pesto sauce to a dish is the simplest way to add a ton of flavor without much effort!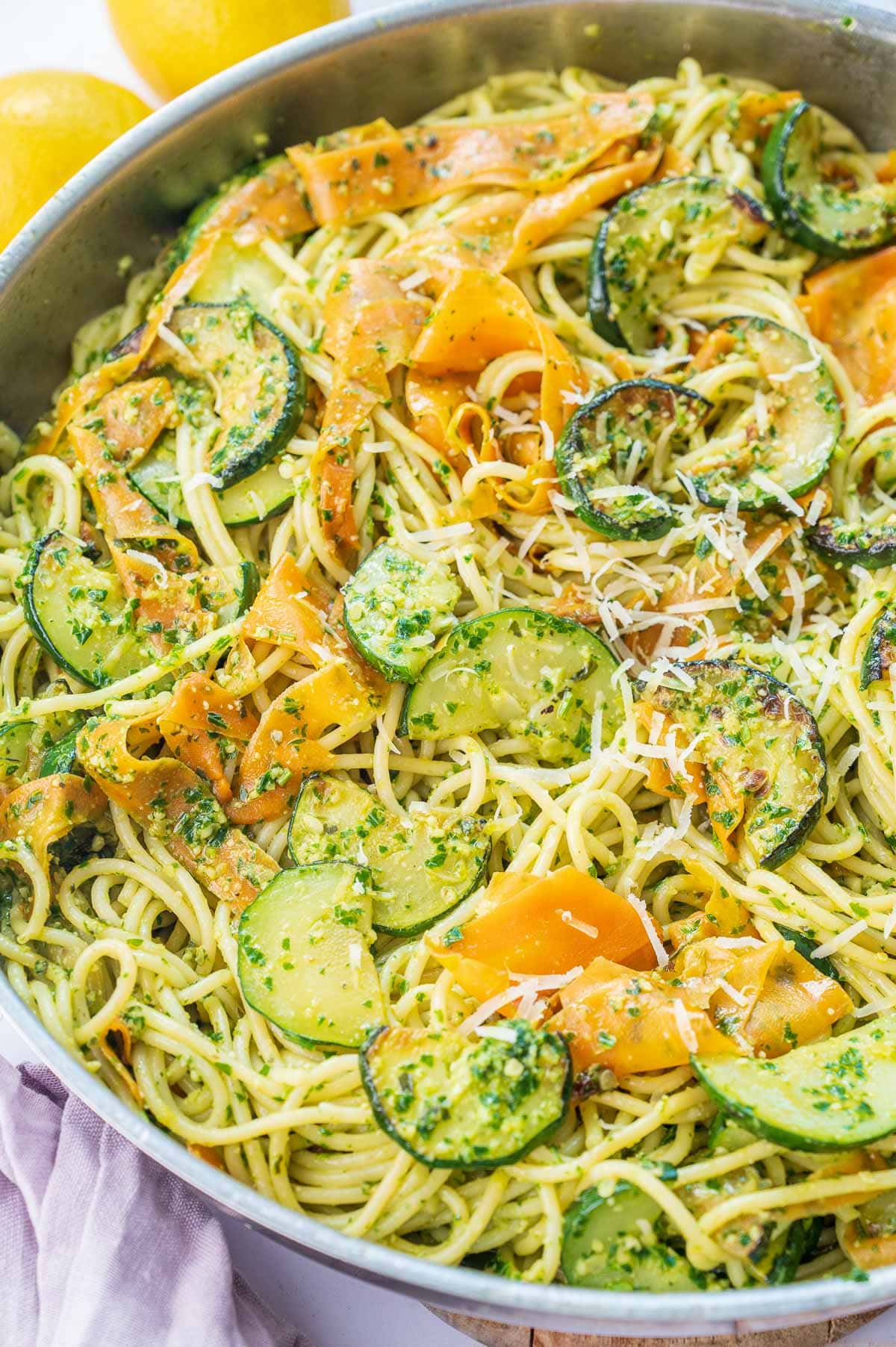 Types of pesto
There are many more types of pesto besides the traditional and most popular basil pesto.
Check out also our other pesto recipes:
other ingredients that make delicious pesto: carrot tops, radish greens, beet greens, kale, and roasted red peppers (with walnuts).
#1 Pasta sauce
The best way to use pesto is of course as a pasta sauce. Toss it with al dente pasta, some vegetables or protein and you have a perfect easy meal. Here are some of our favorite recipes:
parsley pesto pasta (the photo is shown above)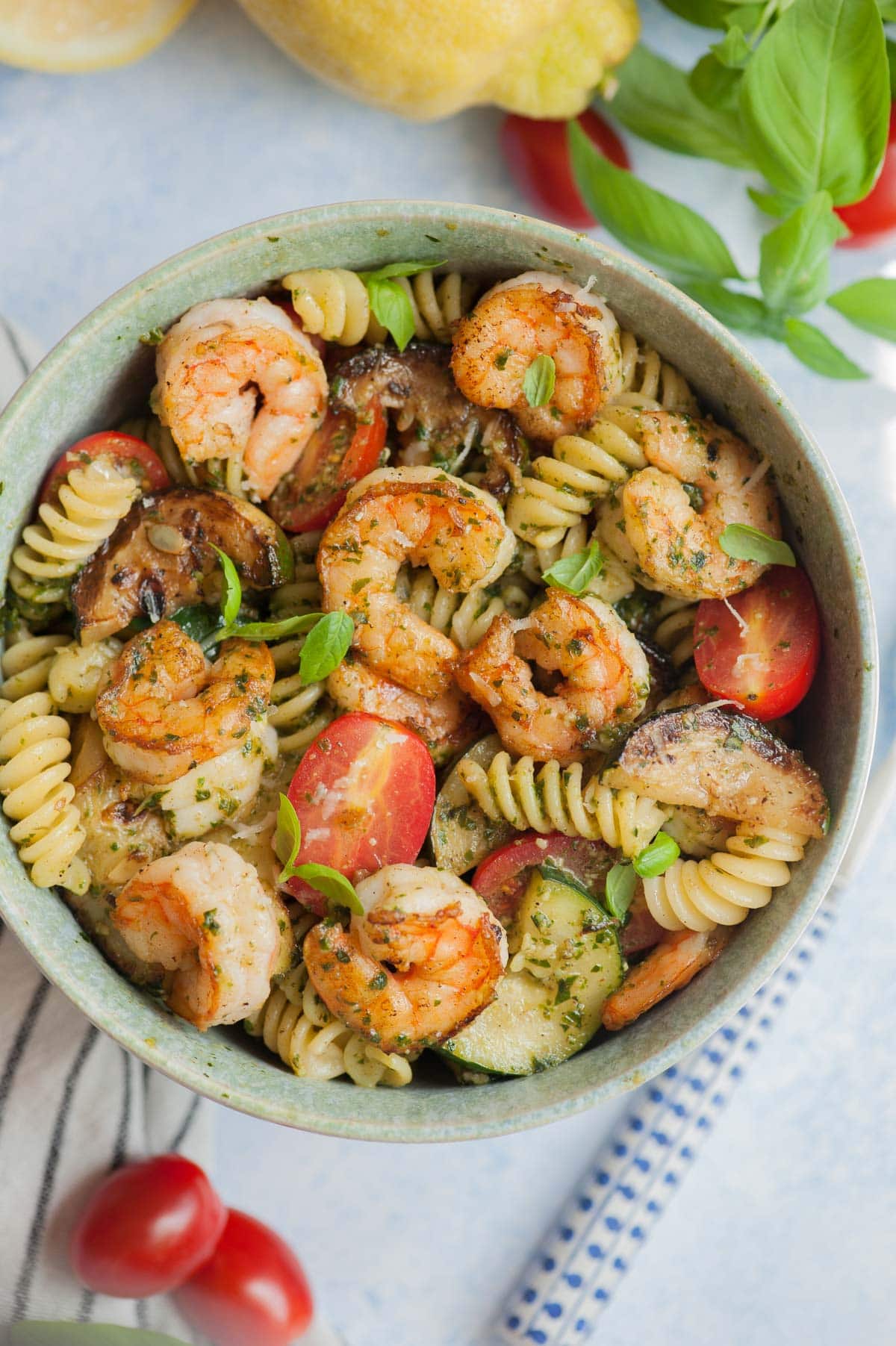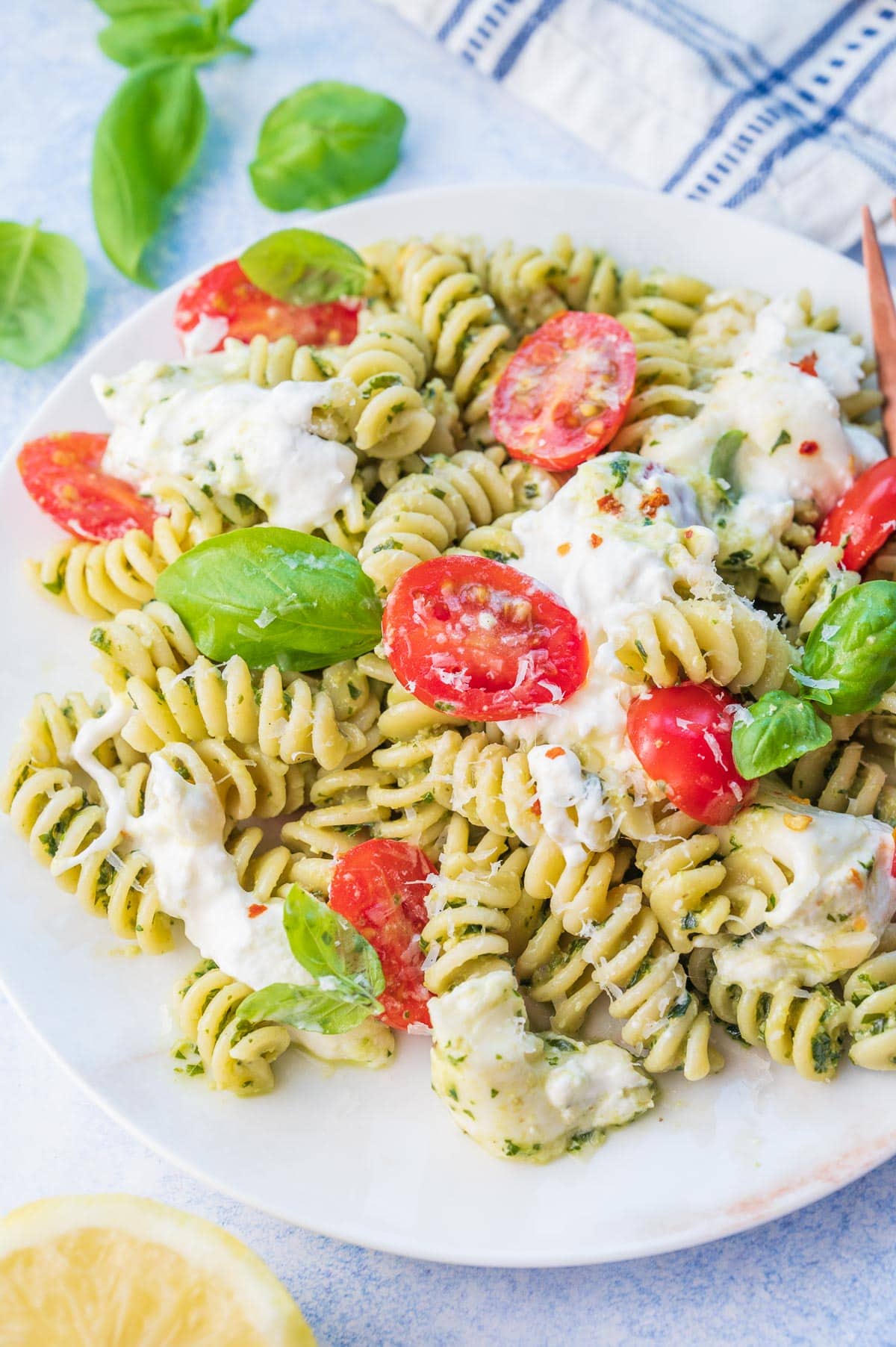 #2 Spread for sandwiches
One of my favorite sandwiches of all time is Caprese panini made with toasted bread, spread with pesto, and topped with tomatoes and mozzarella. You can spread pesto on toast, bruschetta, focaccia, crostini, sandwich, flatbread or panini. It's also delicious in a grilled cheese sandwich!
#3 Topping for pizza
You can use pesto for pizza two ways – either as a pizza topping (that won't be baked) or as a pizza sauce (that will be baked with pizza). Pesto as a pizza topping is actually my favorite pizza topping – it works great with any type of pizza. It's also great on this pizza toast or Puff pastry pizza bites.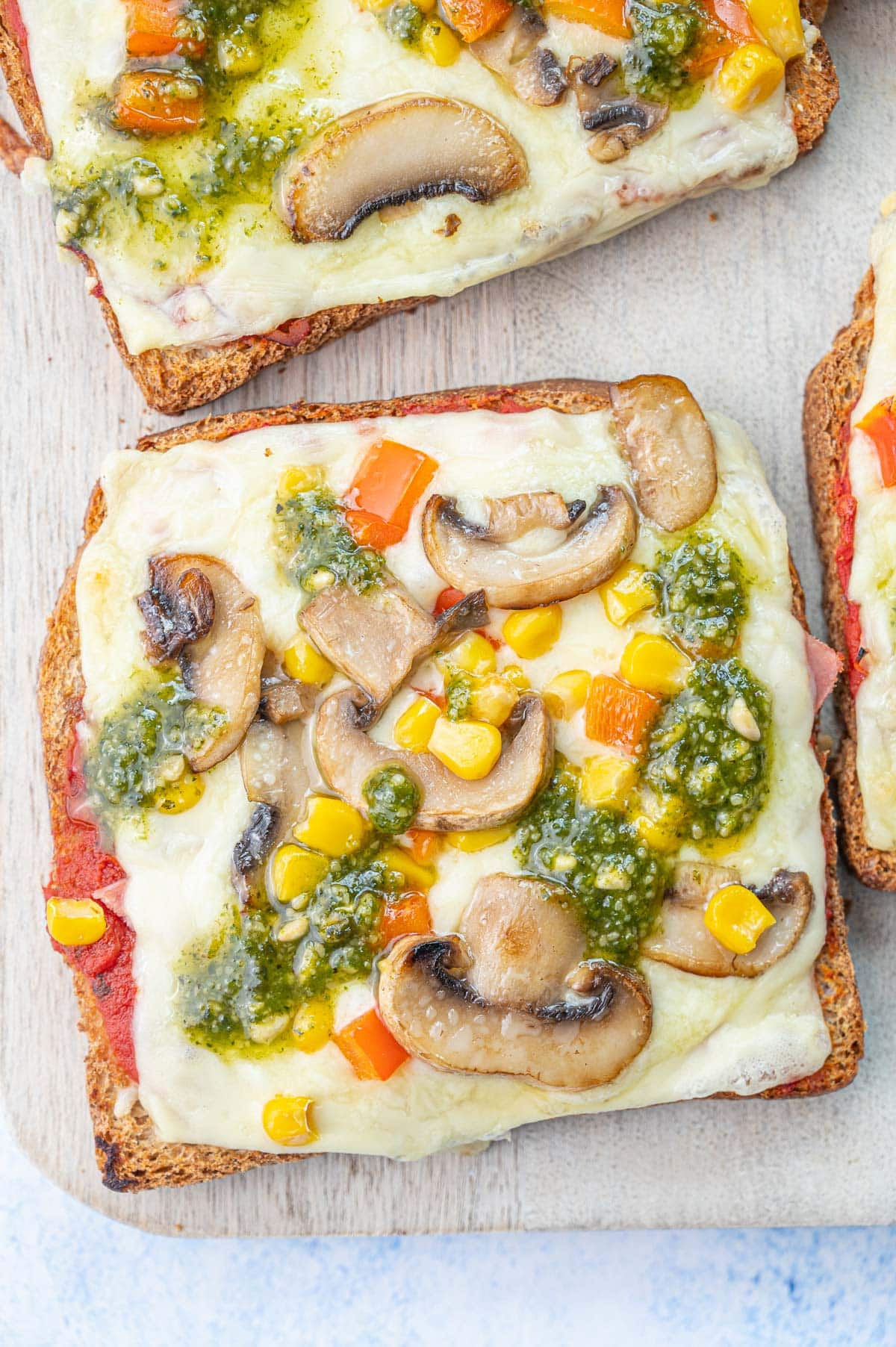 #4 Burger sauce
Have you tried topping your burgers with pesto? You should! It works great with classic beef burgers and also vegetarian or mushroom burgers.
#5 Pesto vinaigrette (salad dressing)
It's the easiest way to add a ton of flavor to your salad. Simply thin out your pesto with water to make it more spreadable and you have an amazing salad dressing.
A simple and delicious pesto salad idea: arugula + mini mozzarella balls + cherry tomatoes + pesto vinaigrette.
#6 Salad topping
Dollop some pesto on a salad, for example, this Caprese salad for a delicious twist on it.
#7 Pasta salad dressing
Pesto can be used as a cold pasta salad dressing. Try this delicious pesto pasta salad!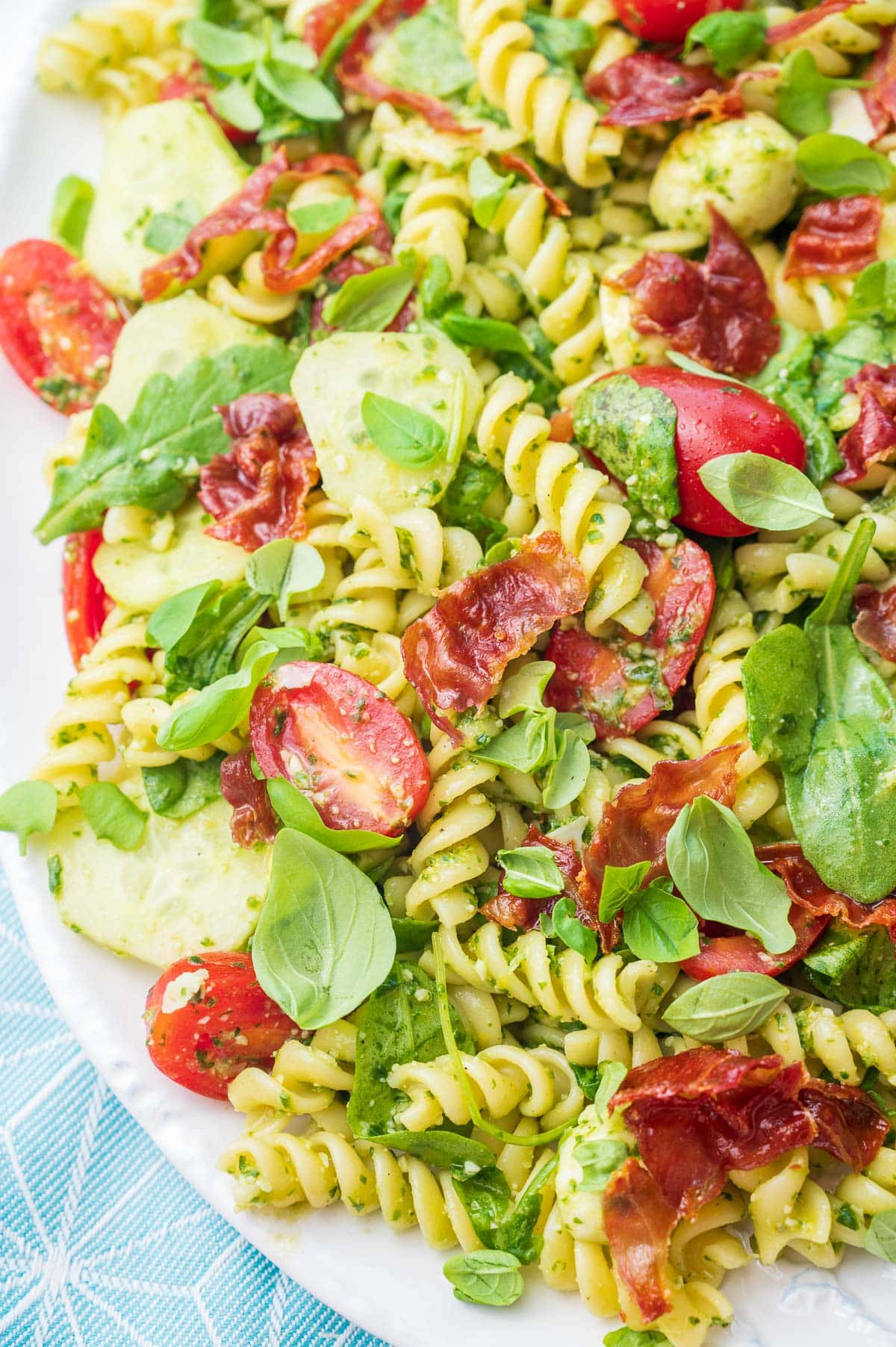 #8 Potato salad dressing
We absolutely love this Italian-inspired potato salad with pesto dressing, eggs, green beans, and crispy prosciutto.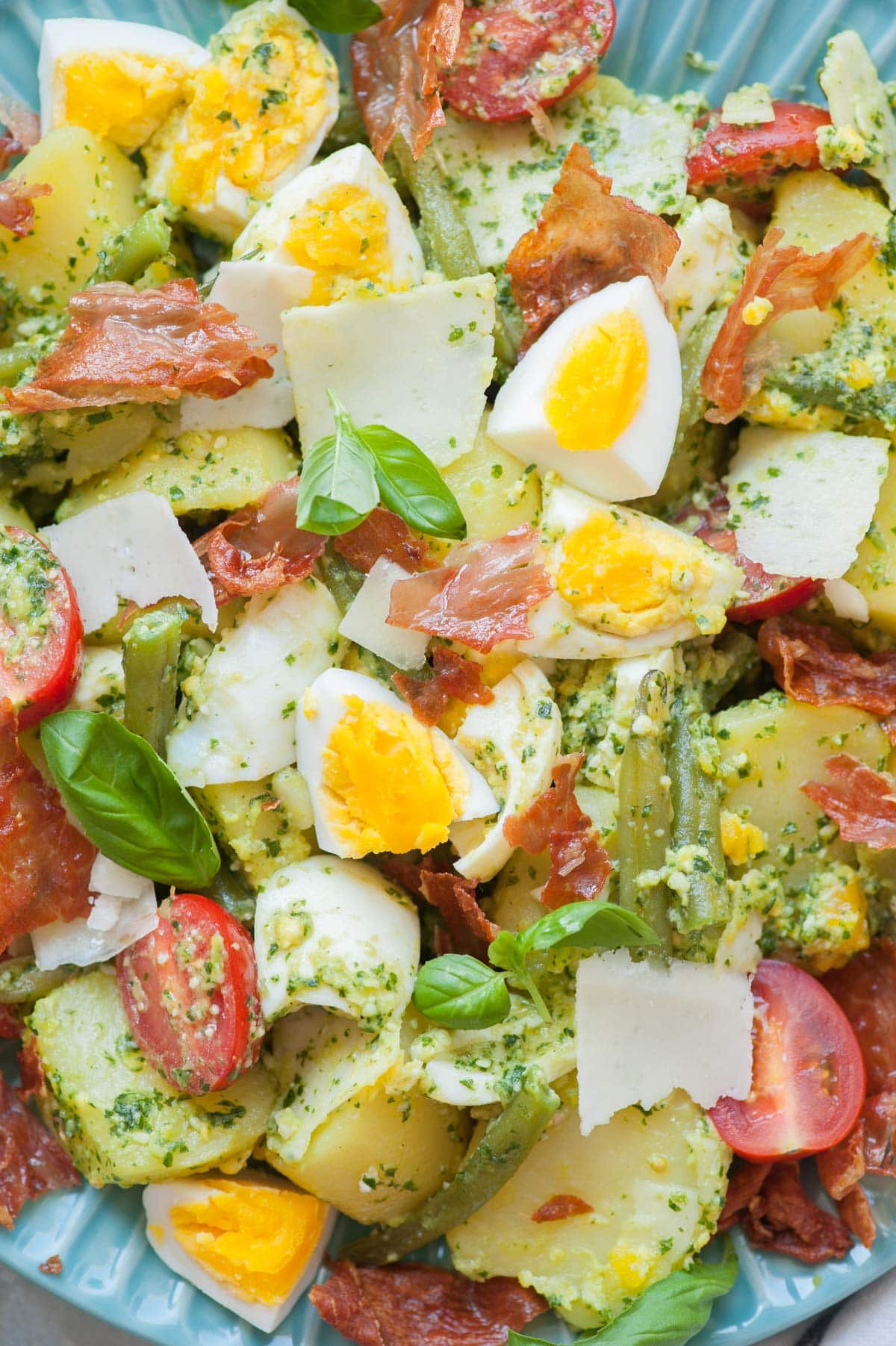 #9 Casserole sauce
This pesto chicken bake is made with a sauce consisting of pesto, heavy cream, and milk. It's an easy way to make a flavorful sauce for a baked casserole. Toss it with pasta, some protein, and vegetables of your choice and you have an easy dinner for a couple of days.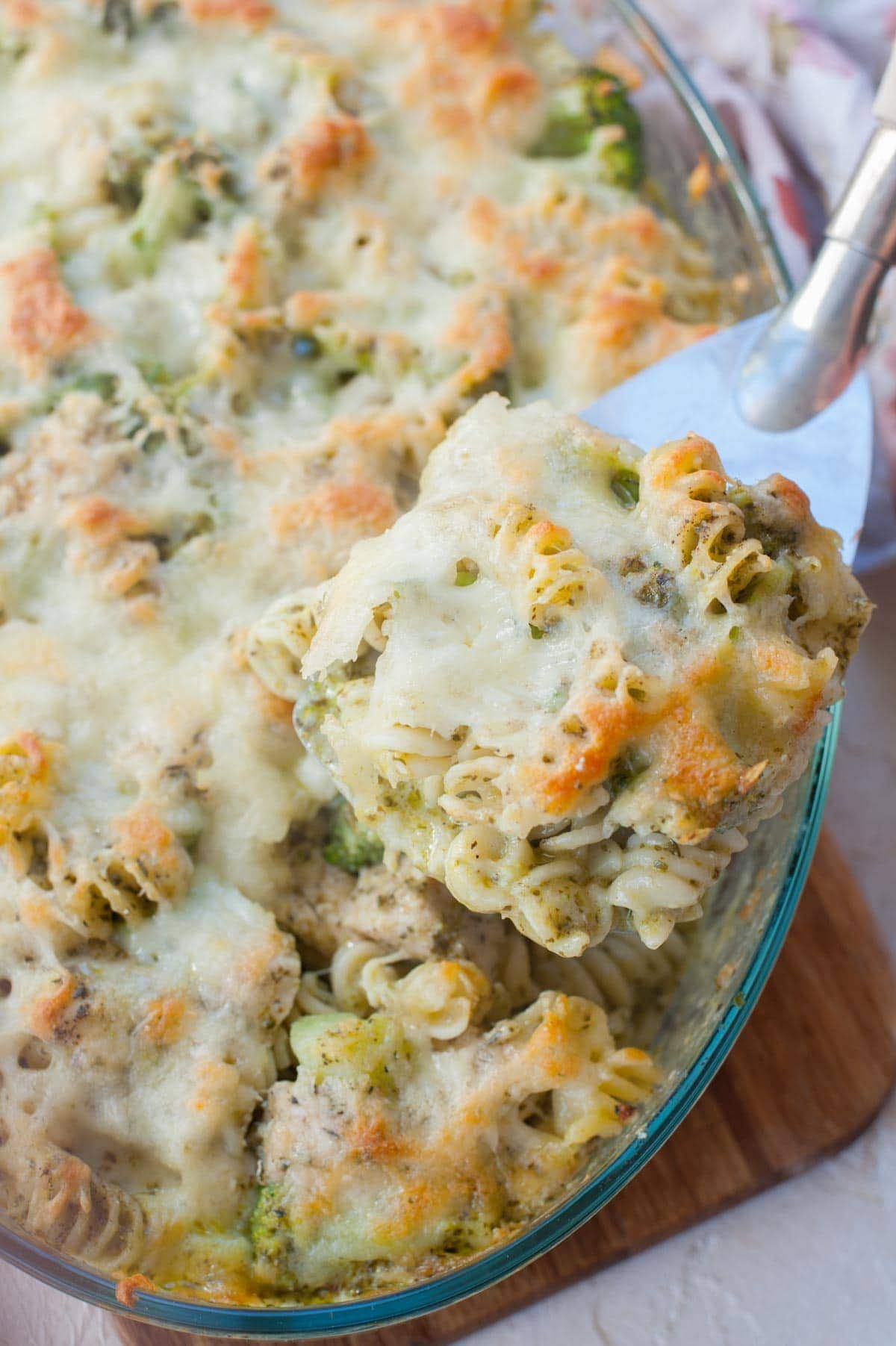 #10 Filling for puff pastry
I used basil walnut pesto for this Puff Pastry Christmas Tree. It's an easy, quick to make, and delicious appetizer! If you'd like to make this recipe but in a more universal shape, use this puff pastry cheese straws recipe and use pesto instead of just cheese.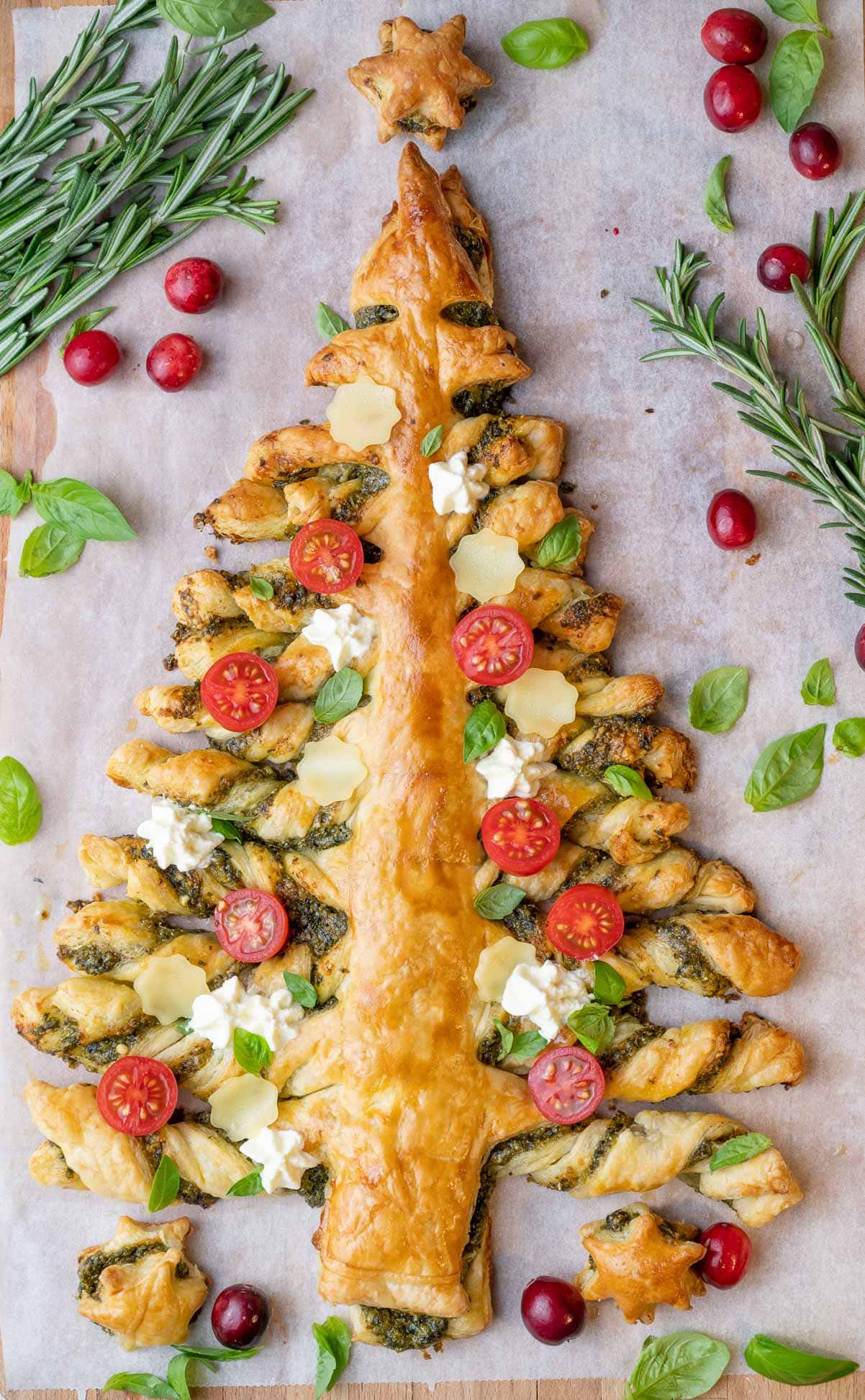 Another great idea is puff pastry tomato tart: spread puff pastry sheet with pesto and some cheese, bake, then top with fresh tomatoes.
#11 Topping for baked salmon (baked pesto salmon)
Try this easy dinner idea – top salmon fillets with pesto and breadcrumb parmesan topping, then bake in the oven. This baked pesto salmon is super delicious!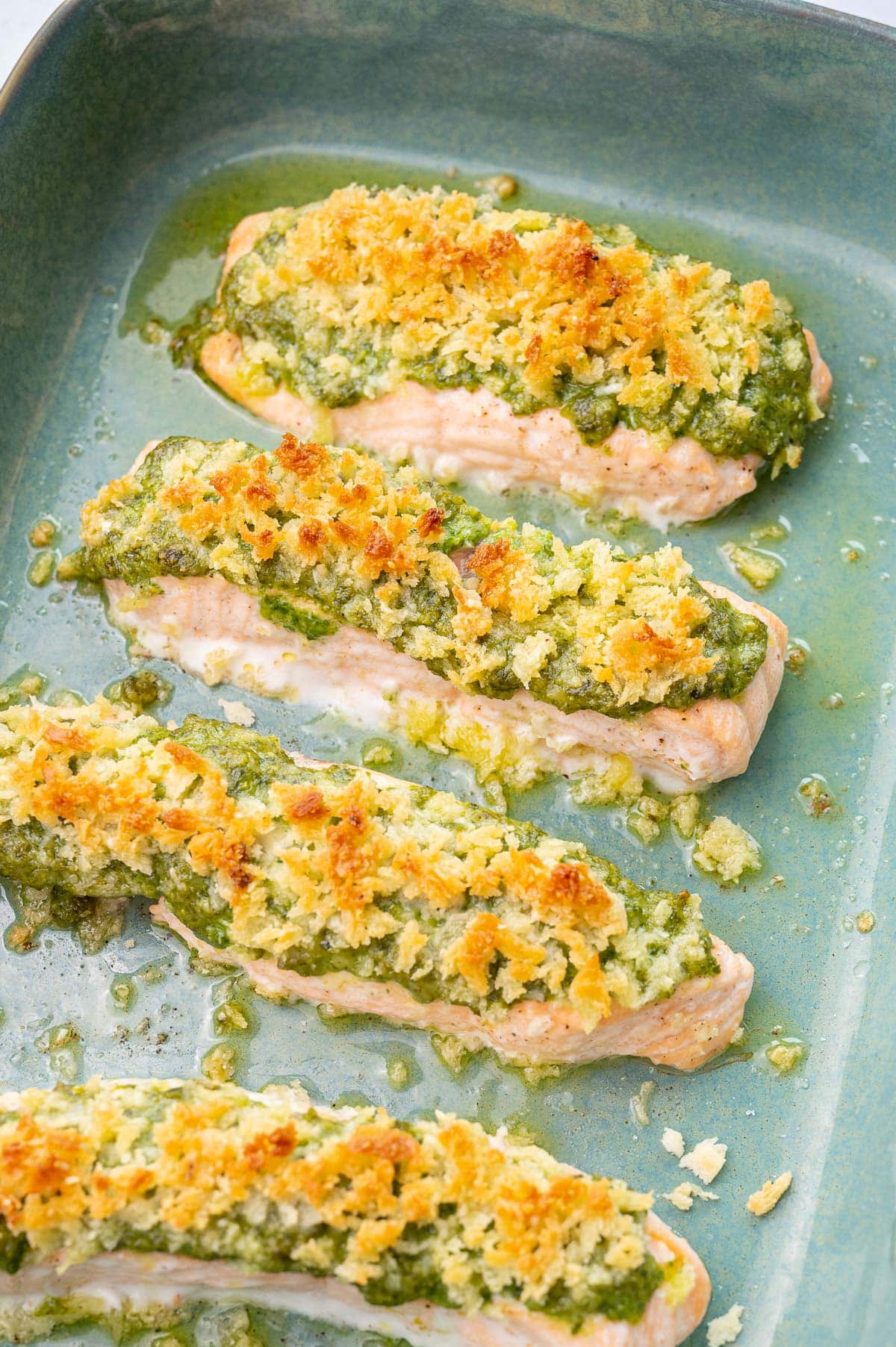 #12 Perfect sauce for vegetables
Pesto sauce is delicious with ANY vegetables. We love it with these cauliflower steaks, roasted carrots, or any other roasted veggies.
#13 Add it to a soup
This may sound like a weird one – but it really works! There is a French soup called Pistou Soup that uses a condiment similar to pesto (called pistou) that is stirred into a hot soup. I sometimes use pesto in this recipe and it's so good. It makes the broth extremely delicious.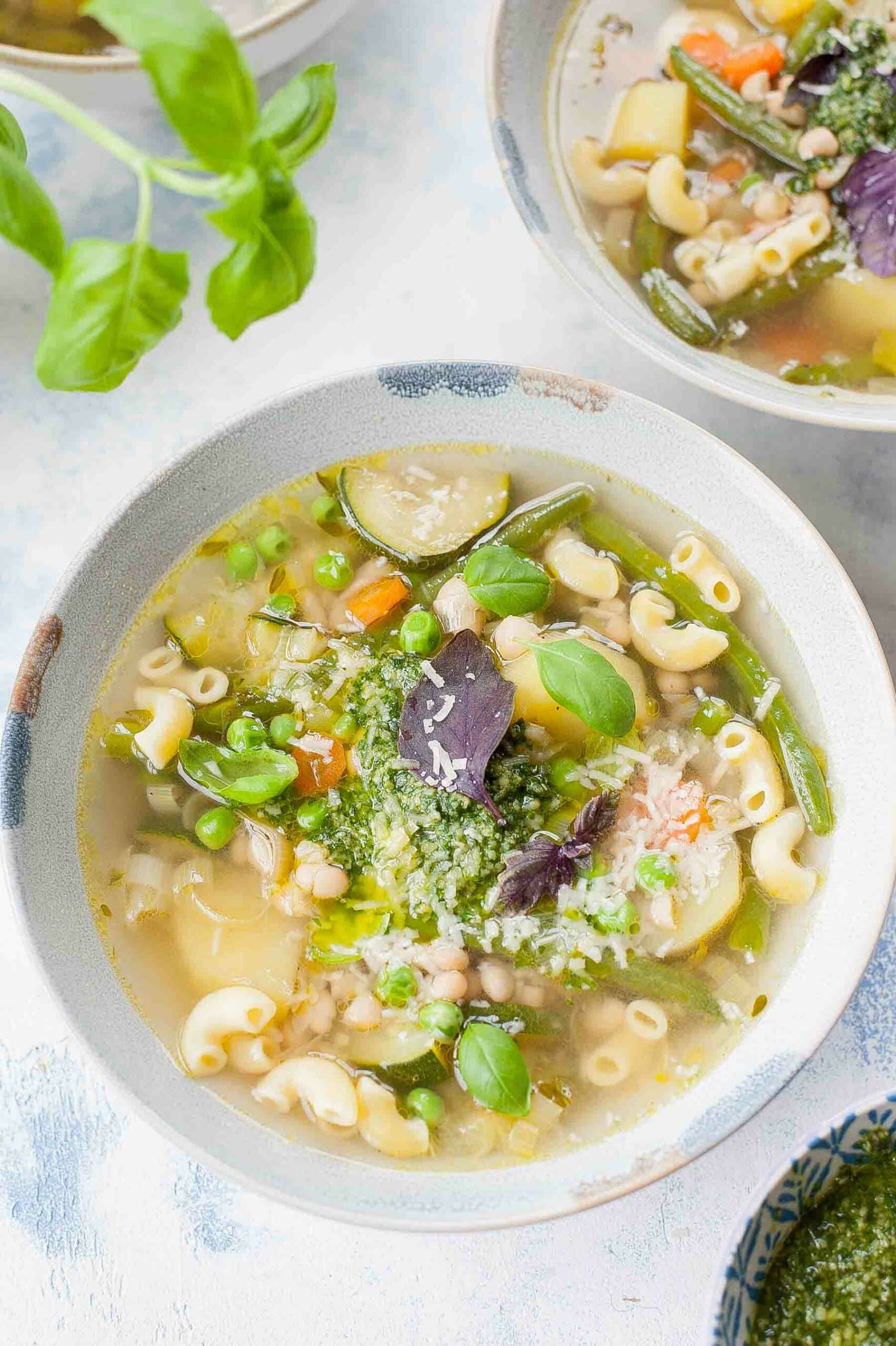 #14 It's great with any protein
No matter if it's chicken, fish, eggs, or steaks – basil pesto will go with it just perfectly. It transforms a simple pan-fried / baked / steamed / grilled protein into a delicious meal.
Try it with this chicken Caprese, pesto chicken, or green shakshuka.
#15 Sauce for wraps or crepes
We love pesto chicken wraps (pan-fried chicken, tomatoes, mozzarella and Swiss cheese, and pesto sauce wrapped in tortillas) or savory crepes filled with chicken, vegetables, and pesto.
#16 Pesto dip
Use pesto on its own as a veggie dip – serve it with celery sticks, carrots sticks, or bell pepper strips.
Combine it with cream cheese – it makes an easy and delicious dip.
Try also this hummus dip – traditional hummus flavored with pesto!
Another great dip/condiment is this pesto mayo.
#17 Make pesto butter
Combine soft butter with pesto and you'll have a flavorful compound butter! Use it on bread or with baked fish.
#18 Stuffing for chicken breast
Flatten chicken breasts with a meat mallet, spread with pesto and sprinkle with cheese, roll up, cook in a pan on all sides until golden then cover the pan and cook over low heat until the chicken is cooked through – delicious!
Try also these prosciutto-wrapped chicken tenders with pesto.
#19 Add it to mashed potatoes
I actually haven't tried this one but it sounds really delicious!
#20 Topping for a tart or quiche
Try this asparagus quiche with a dollop of basil pesto on top!
#21 Pesto cream sauce
A delicious sauce for pasta or gnocchi – combine pesto with heavy cream and you'll have a flavorful sauce that goes with almost everything!
#22 Pesto risotto
Add a dollop of pesto to a risotto for a flavorful side dish.
#23 Pesto zucchini boats
Tomato and Pesto Stuffed Zucchini Boats are light, fresh, and so easy to make! They can be served as a vegetarian main dish or as a simple side dish.
Pesto Uses (20+ Recipes Using Pesto)
Pesto sauce has countless uses. If you're looking for ways to use pesto other than pasta sauce, check out our ideas and recipes using pesto! Adding pesto sauce to a dish is the simplest way to add a ton of flavor without much effort!
Pin This Recipe!
SAVE THIS RECIPE
Saved!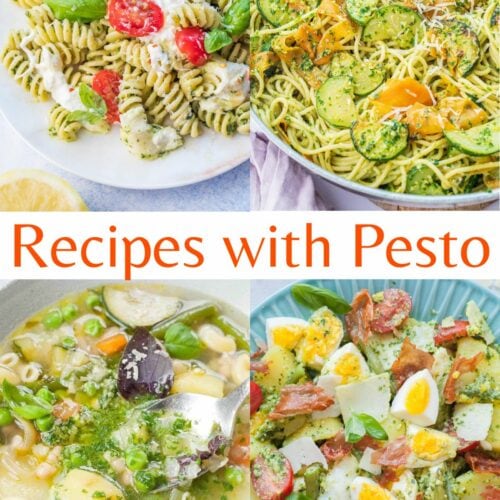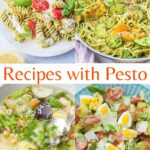 Print Recipe
RATE THE RECIPE
(click on the stars)
Ingredients
2

cups

(packed) (45g) basil leaves

1/2

cup

 (45g) Parmesan cheese

1

very small clove garlic

1

tablespoon

(10g) pine nuts

3

tablespoons

extra virgin olive oil

salt and pepper

to taste
Instructions
Wash the basil leaves in cold water and pat them dry.

Add all the ingredients, except the olive oil, to a food processor bowl. Pulse until thick paste forms.

Add the olive oil and pulse slowly at low speed or whisk in the olive oil by hand, until thick sauce forms.

Season to taste with salt, you can also add more olive oil if you want thinner consistency of your pesto.
Tried this Recipe? Rate the Recipe and tell us what you think in the Comments!