Delicious chicken quesadilla filled with flavorful chicken, lots of veggies, mushrooms and melty cheese. Perfect snack/appetizer for any party or a delicious quick weeknight dinner.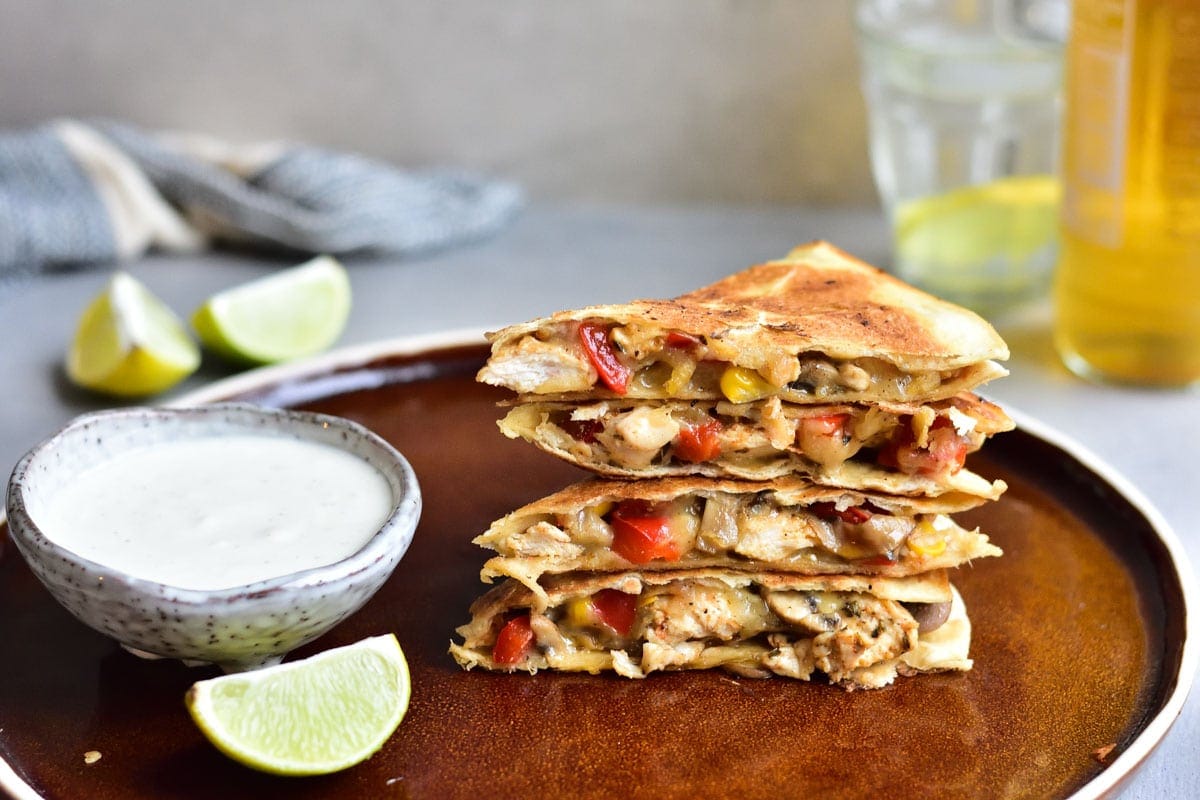 What are quesadillas?
Quesadillas are a Mexican dish consisting of tortillas with a cheese filling (queso is Spanish for cheese). Often vegetables or meat are added (but basic recipe has only cheese in it).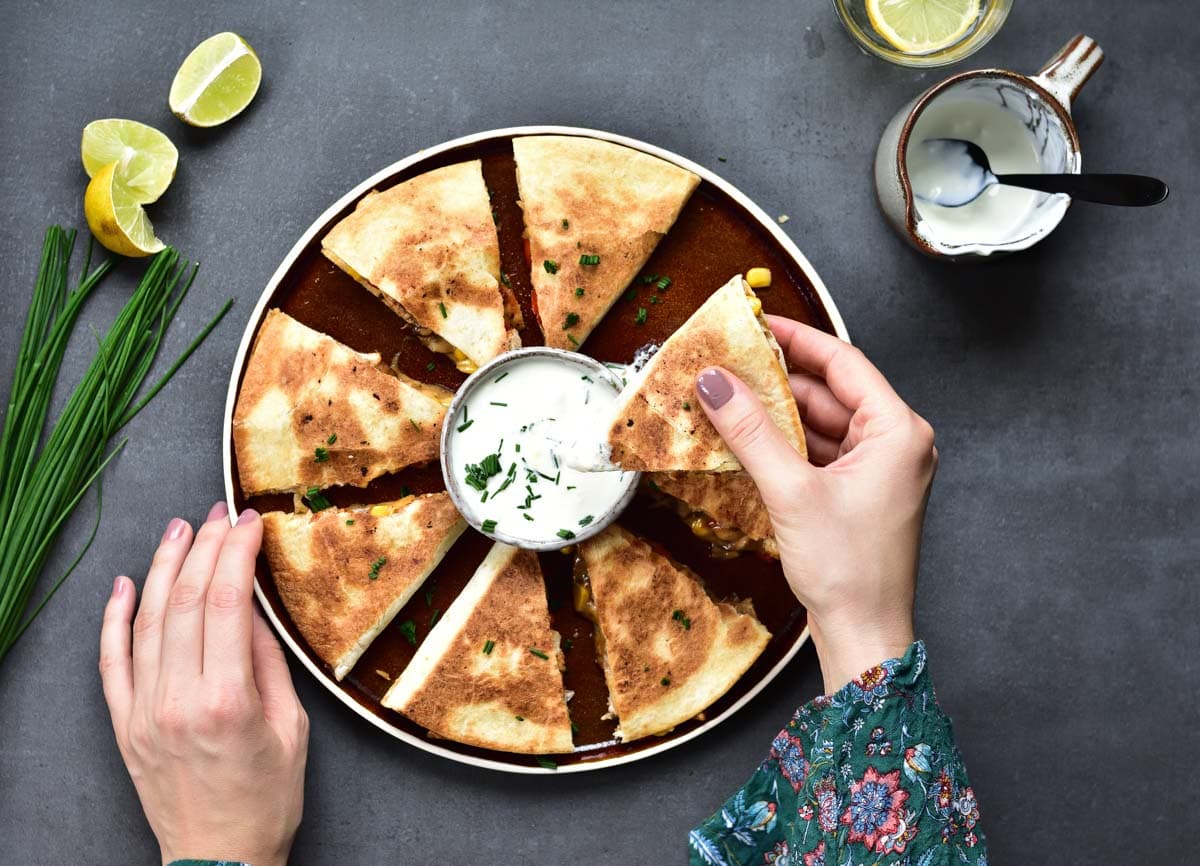 How to make great quesadillas:
The key to a good tortilla is a large amount of cheese that holds the filling together. I like them the most with cheddar cheese but every other melting cheese will work.
Make sure your filling has cooled down before adding the cheese or you will end up with a big clump of melted cheese instead of a filling with evenly distributed cheese.
Make sure to season tortillas with salt directly after cooking them so that the salt can stick to the tortillas.
I really like to make quesadillas from a single large tortilla, not two, because it's easier to flip over. If you have small tortillas you can make one quesadilla from 2 tortillas (in this post for broccoli cheddar quesadillas you can see that on the photos).
.
How to make chicken quesadilla step by step: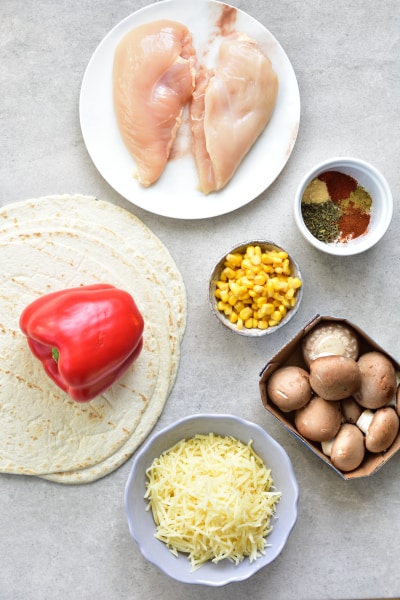 How to serve this dish:
tomato salsa
refreshing dip made of sour cream, yogurt, and lime juice
guacamole
pico de gallo (tomato onion salsa)
Other Mexican / Tex-Mex dishes you may like:
Chicken quesadilla recipe with mushroom, bell pepper and corn
Chicken quesadilla recipe – easy and festive dish – tortillas stuffed with tender and perfectly seasoned chicken with sauteed mushrooms, bell pepper, corn and a large amount of cheese.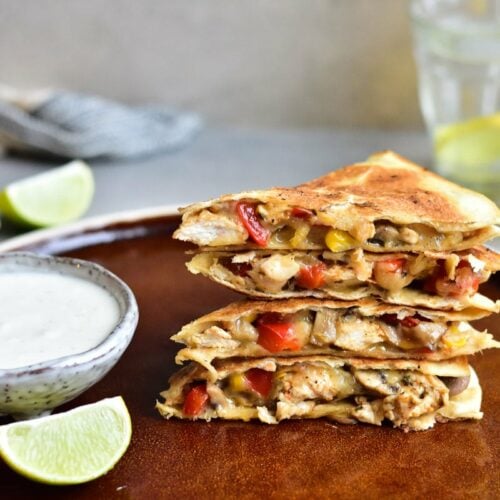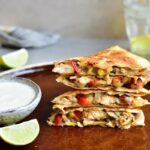 Print Recipe
Ingredients
the chicken:
2

small chicken breasts

300g / 11 oz or 1 large chicken breast

1

teaspoon

dried oregano

½

teaspoon

garlic powder

½

teaspoons

paprika powder

¼

teaspoon

cumin

¼

teaspoon

cayenne pepper

salt and pepper

to taste

2

tablespoons

frying oil
the other ingredients:
1

red bell pepper

200

g

/ 7 oz cremini mushrooms

or button mushrooms

2

heaped tablespoons canned corn

60g

200

g

cheese

cheddar, emmentaler or other melting cheese

4

large tortillas
dipping sauce:
3

tablespoons

sour cream 12%

2

tablespoons

yogurt

1

teaspoon

lime juice

or lemon juice

salt and pepper

to taste
Instructions
Cut the chicken into small cubes. In a small bowl, mix the spices together and rub the chicken with the spice mix, season with salt and pepper to taste.

In a large frying pan, heat a tablespoon of oil over high heat. Add the chicken and cook for about 3 minutes without stirring. Then cook, stirring for a few more minutes until browned and cooked through. Transfer to a plate.

While the chicken is cooking, cut the mushrooms into ½ cm / ¼ inch half-slices and the bell pepper into small cubes. When the chicken is ready, add to the pan, spread out in an even layer. Cook without stirring for about 3 minutes. Season with salt and pepper, cook, stirring from time to time, for another 5 minutes, until browned and tender. Transfer to a plate.

Leave the chicken, mushrooms and bell pepper to cool slightly, then add the corn and grated cheese, mix together and season with salt and pepper.

Divide the filling into 4 parts and spread each part evenly over half of each tortilla. Press the filling slightly to make it more compact.

Fold tortillas in half, pressing gently. Lightly oil a big frying pan and cook the tortillas over medium heat, two at a time, on both sides. They're ready when lightly browned on both sides and the cheese is melted.

Transfer the tortillas on a plate. Sprinkle with a little salt, while still warm and cut each tortilla into 4 parts.

Mix the ingredients for the sauce together and serve with quesadillas.

Enjoy!
Notes
– You can prepare the filling ahead, for example, the day before and cook the tortillas just before serving.
– Quesadillas also taste good cold, but when left for too long they're becoming soft, losing its crunchiness. Alternatively, they can be reheated, but taste best freshly cooked.
Did you make this recipe? Let me know how you liked it and give it a star rating in the comments below! You can also add a photo of your creation!