Wondering what to put in a quesadilla? Try these 12 quesadilla filling ideas! Quesadillas are always a hit – they make a great appetizer or a quick weeknight dinner. Packed with flavor, cheesy, and crunchy – what more could you want?
#1 Ground Beef Quesadillas
Cheesy, meaty, well-spiced quesadillas filled with ground beef, beans, and veggies.
#2 Vegetarian Quesadillas
These vegetarian quesadillas are filled with roasted sweet potatoes, beans, and corn. The filling is deliciously spiced and it's baked in the oven so they're really easy to make!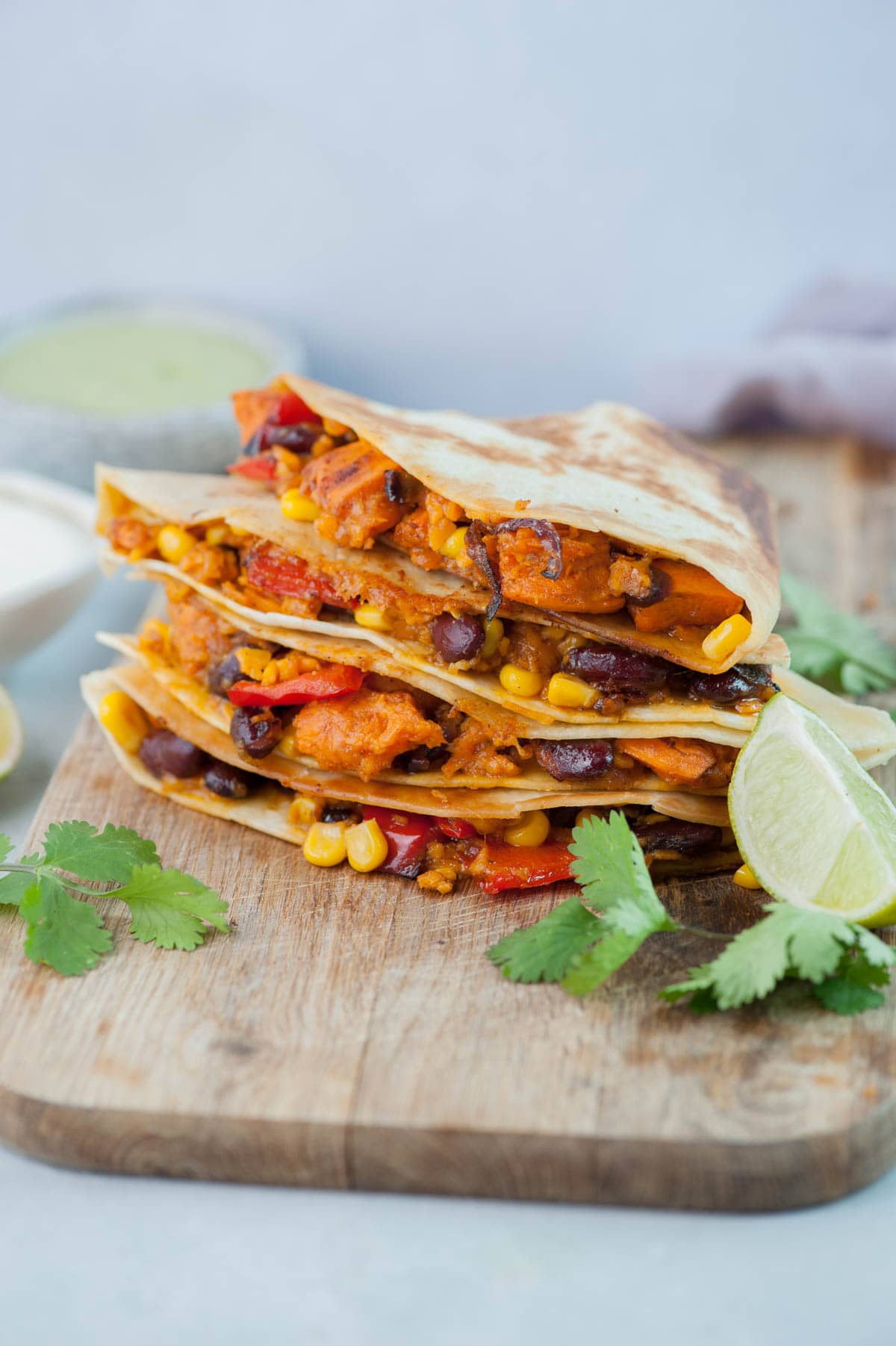 #3 Chicken Quesadillas
These quesadillas are filled with tender chicken and sautéed mushrooms, bell pepper, and corn.
#4 Mushroom Quesadillas
These simple quesadillas are made with just 3 ingredients but are so flavorful they will knock your socks off! Sautéed mushrooms are combined with caramelized onions and tasty Gruyère cheese.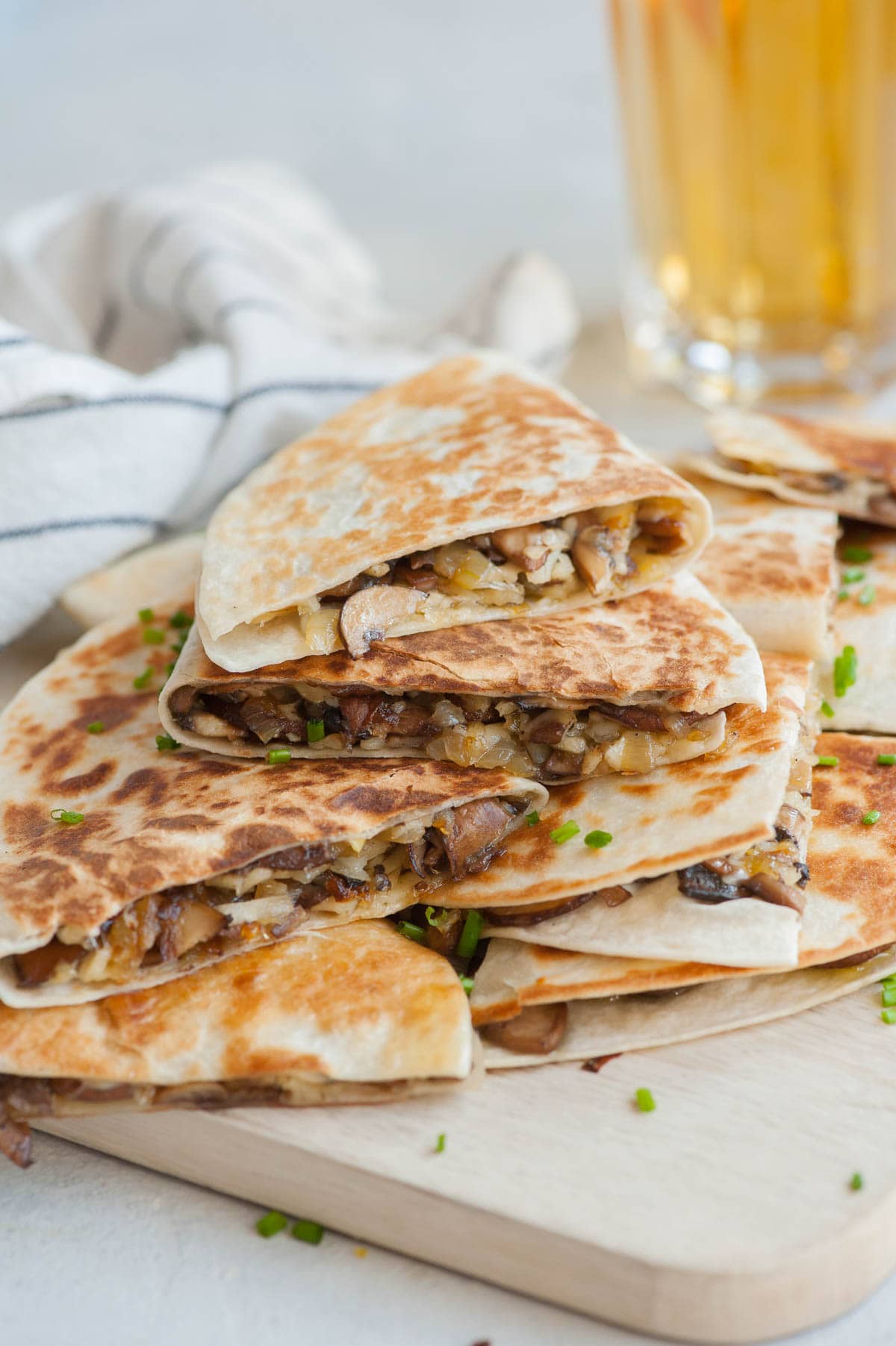 #5 BBQ Chicken Quesadillas
This delicious filling comes together in no time and it's packed with flavor. Finger-licking good bbq shredded chicken with sautéed bell peppers, onions, corn, and plenty of cheese.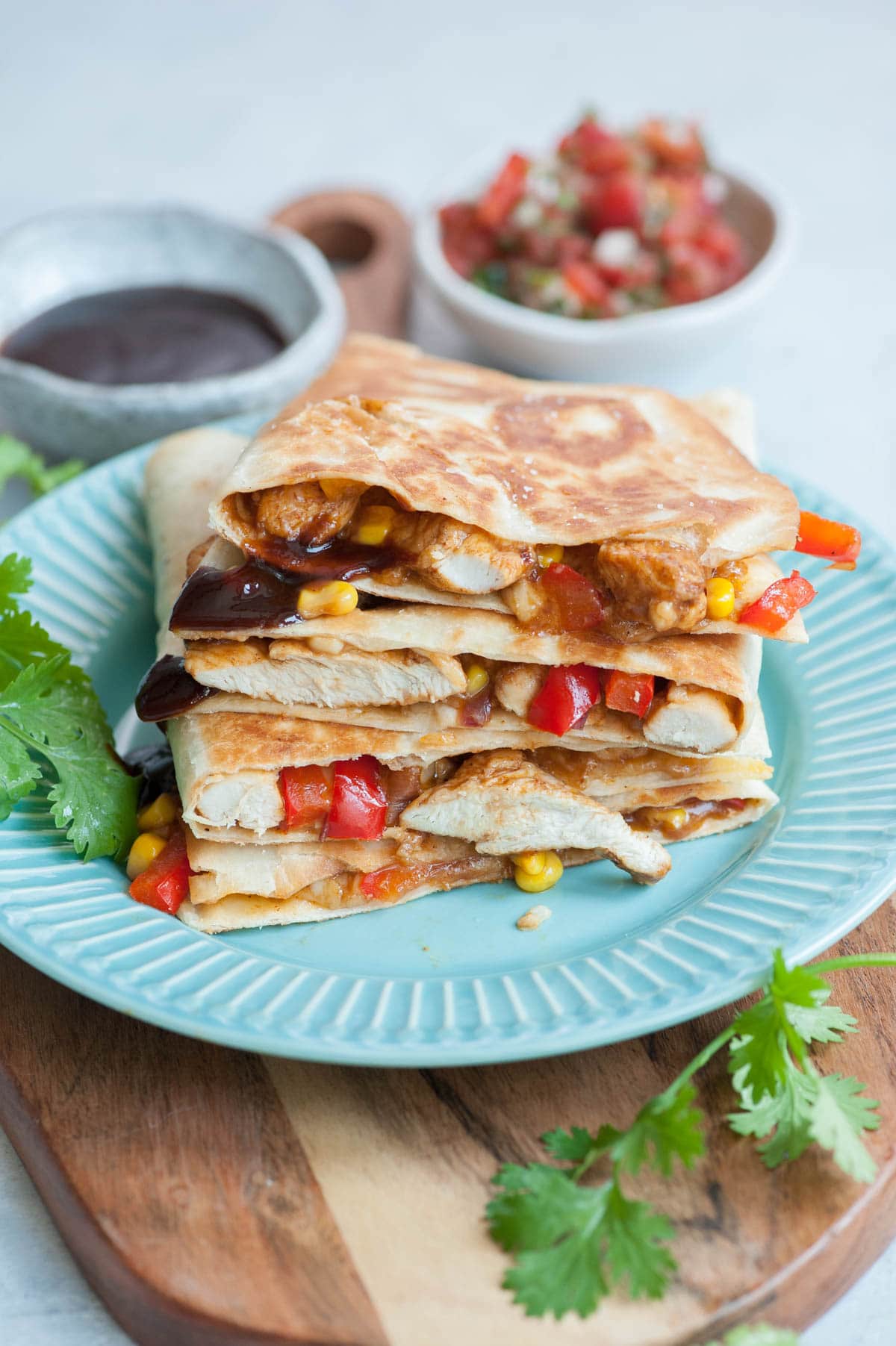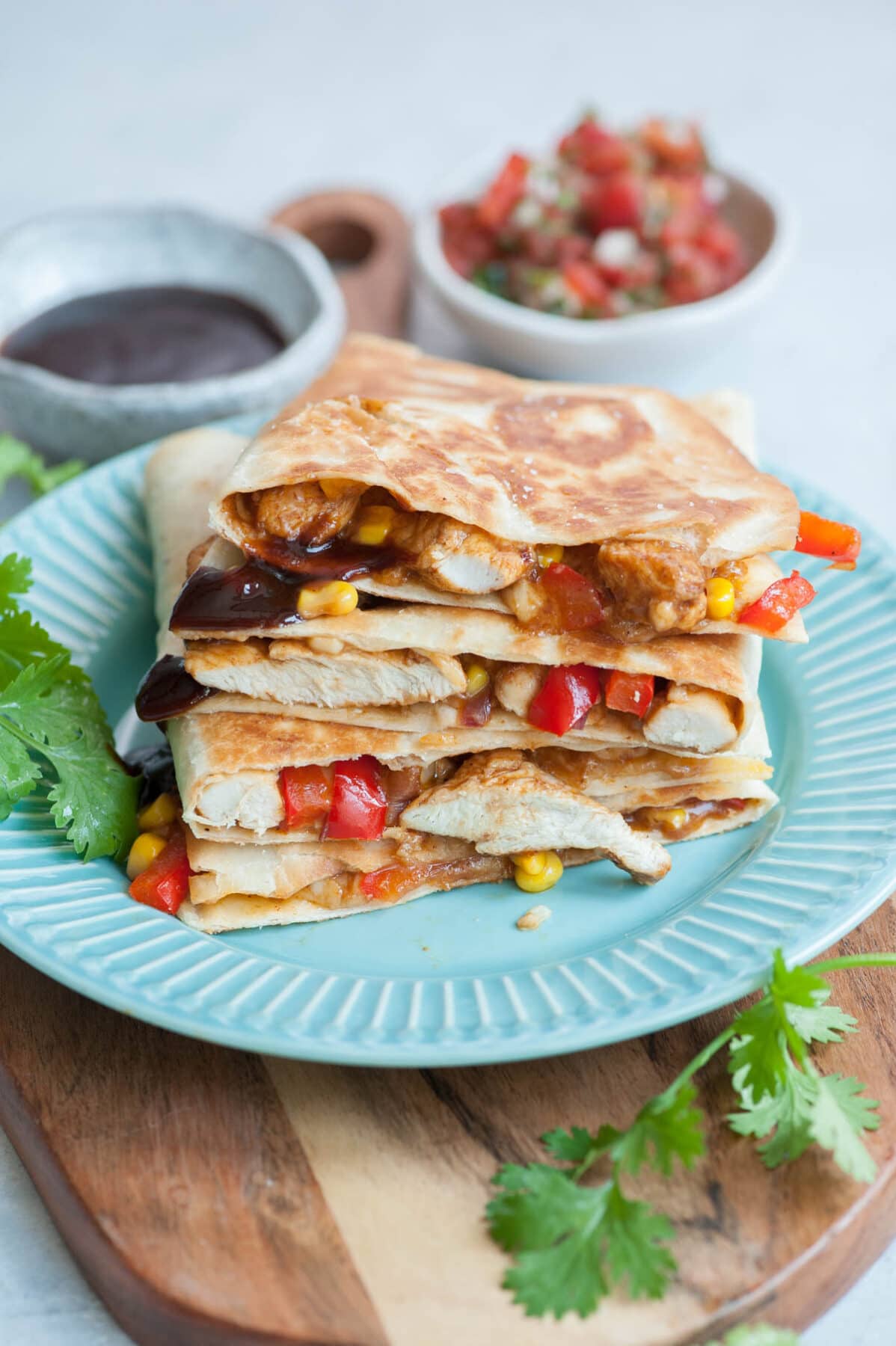 #6 Zucchini Quesadillas
It may not sound like much but I'm telling you – these quesadillas are so good! The key to zucchini that tastes amazing and not bland is browning it properly. Combine it with garlic, pepper flakes, flavorful cheese, crispy tortillas, and refreshing yogurt dip and it's heaven in your mouth.
#7 Leftover Turkey Quesadilla
This quesadilla is seriously the best thing you can do with your Christmas leftovers. It's made with just 3 ingredients – leftover turkey, leftover cranberry sauce, and cheese (brie, mozzarella, and cheddar) – just imagine how good they are!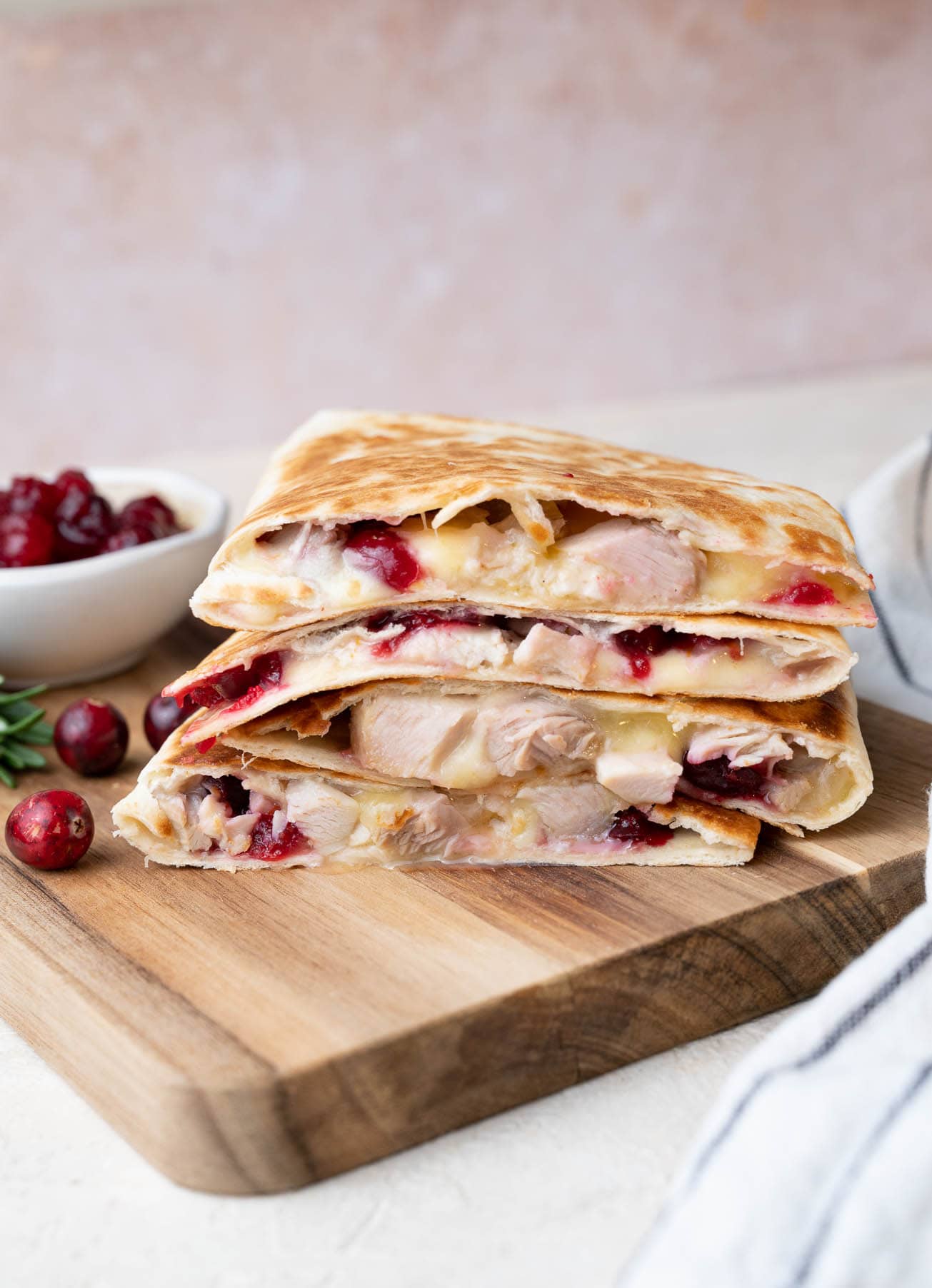 #8 Broccoli Quesadilla
Just 5 ingredients are needed for this recipe. Perfectly browned broccoli, garlic, herbs, sharp cheddar, and tortilla. You won't believe how good they are!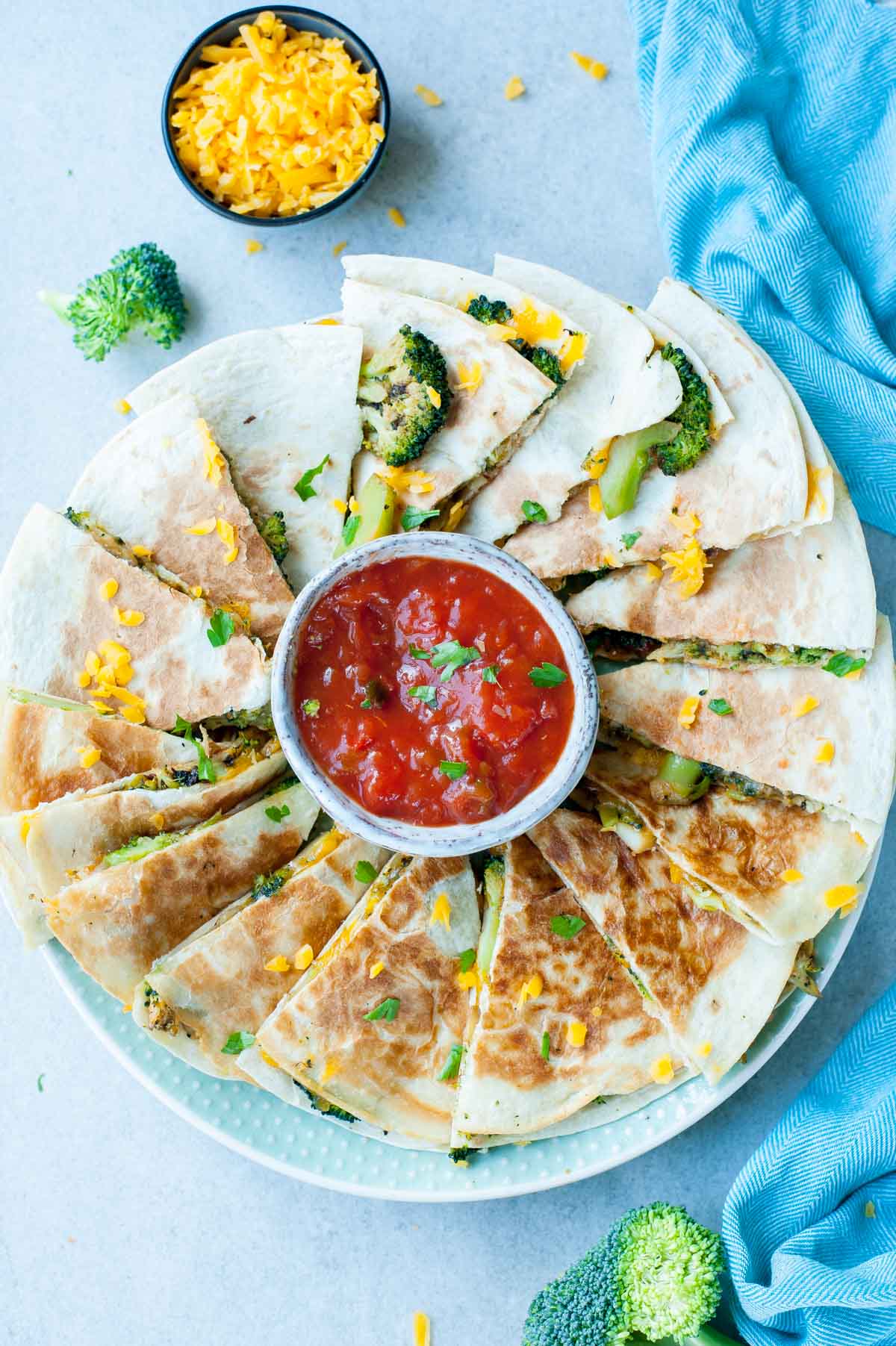 #9 Chicken Fajita Quesadillas
These quesadillas are filled with all the flavors of chicken Fajitas – they are filled with tender and well-spiced chicken, bell peppers, and onions.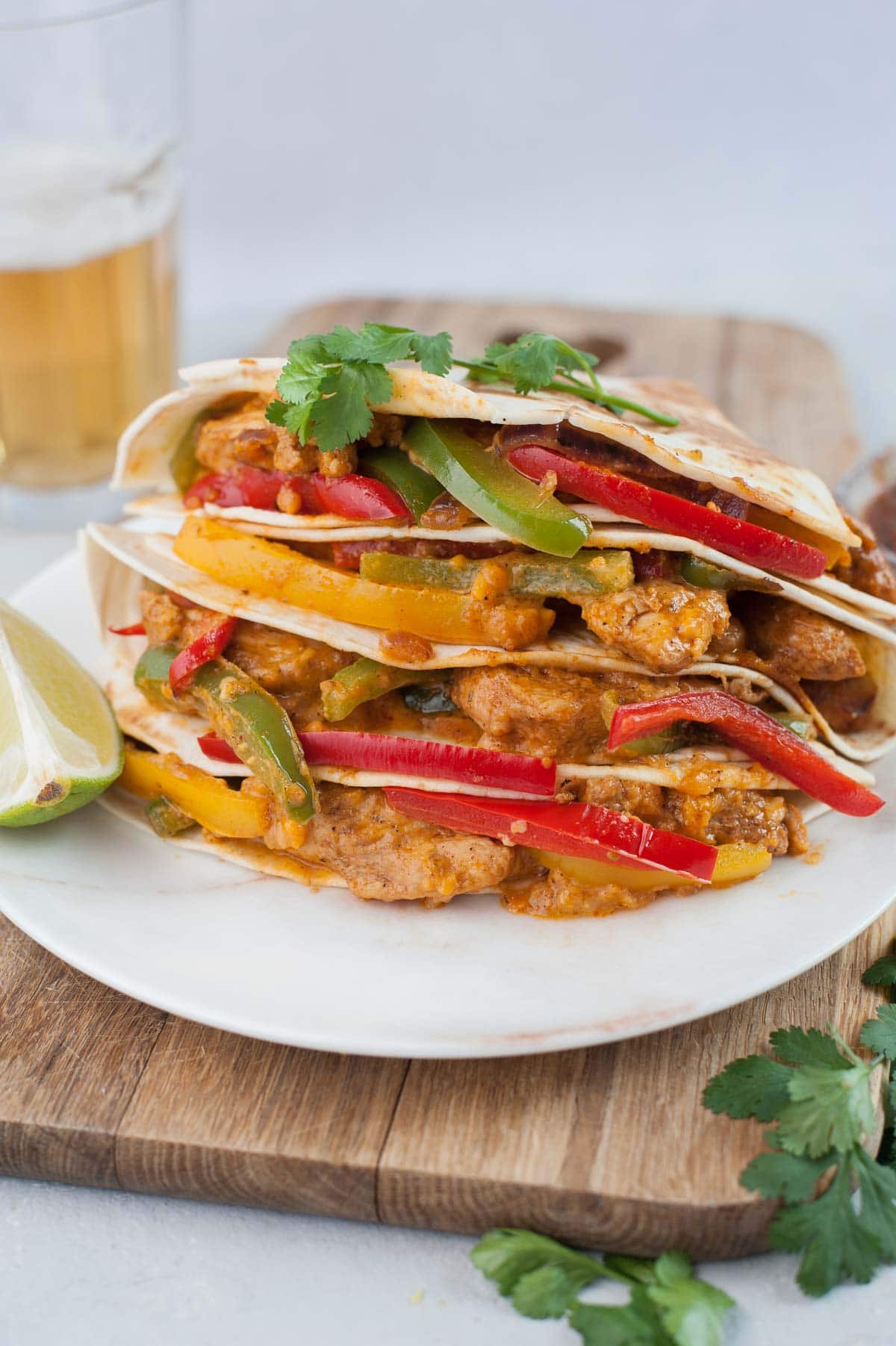 #10 Breakfast Quesadilla
These breakfast quesadillas are filled with scrambled eggs and tomatoes. Serve them with salsa and avocado for a perfect savory breakfast!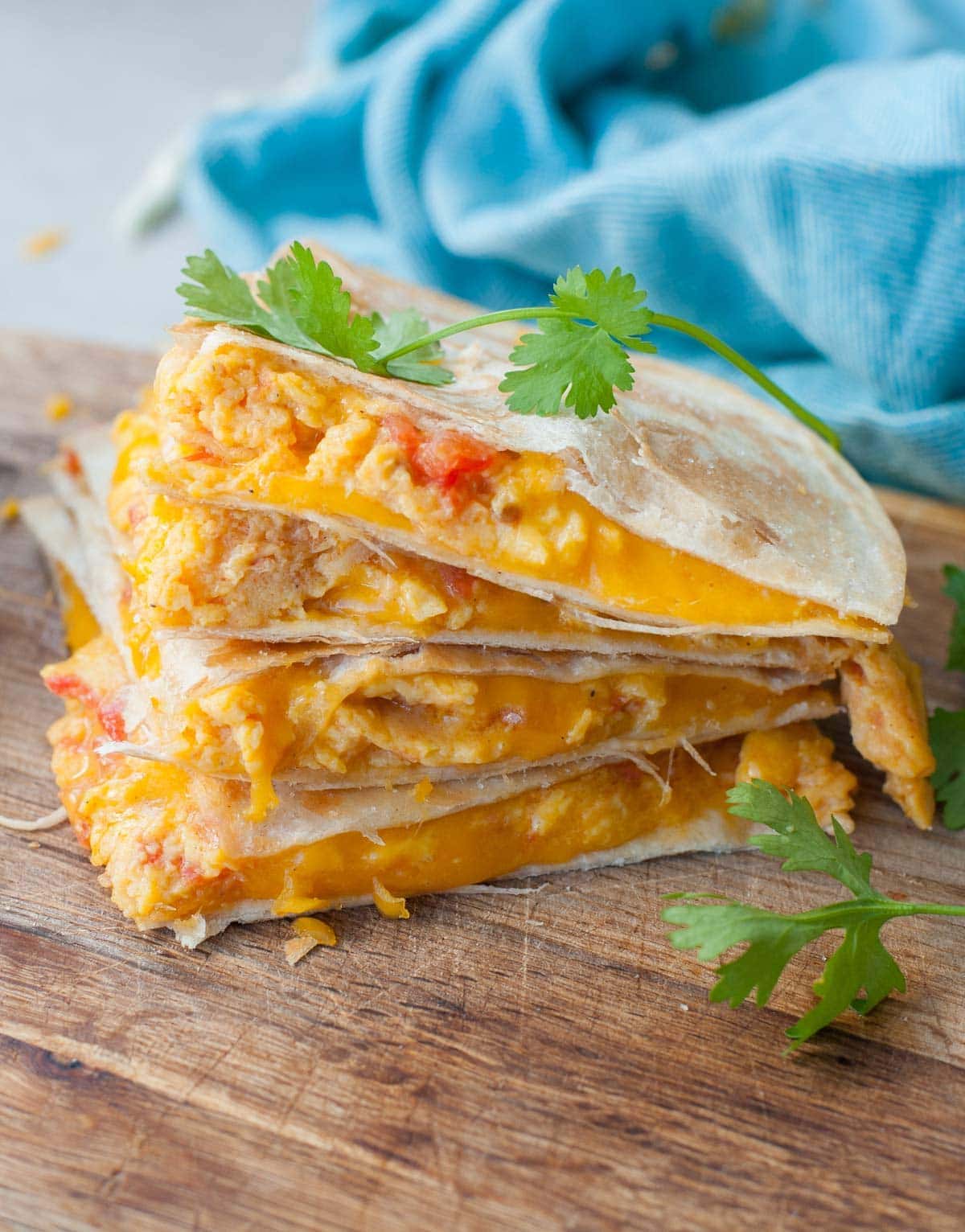 #11 Pizza Quesadilla
This delicious pizza quesadilla is filled with pizza ingredients and toppings such as pizza sauce, mozzarella, parmesan, salami/pepperoni, mushrooms, bell pepper, and olives.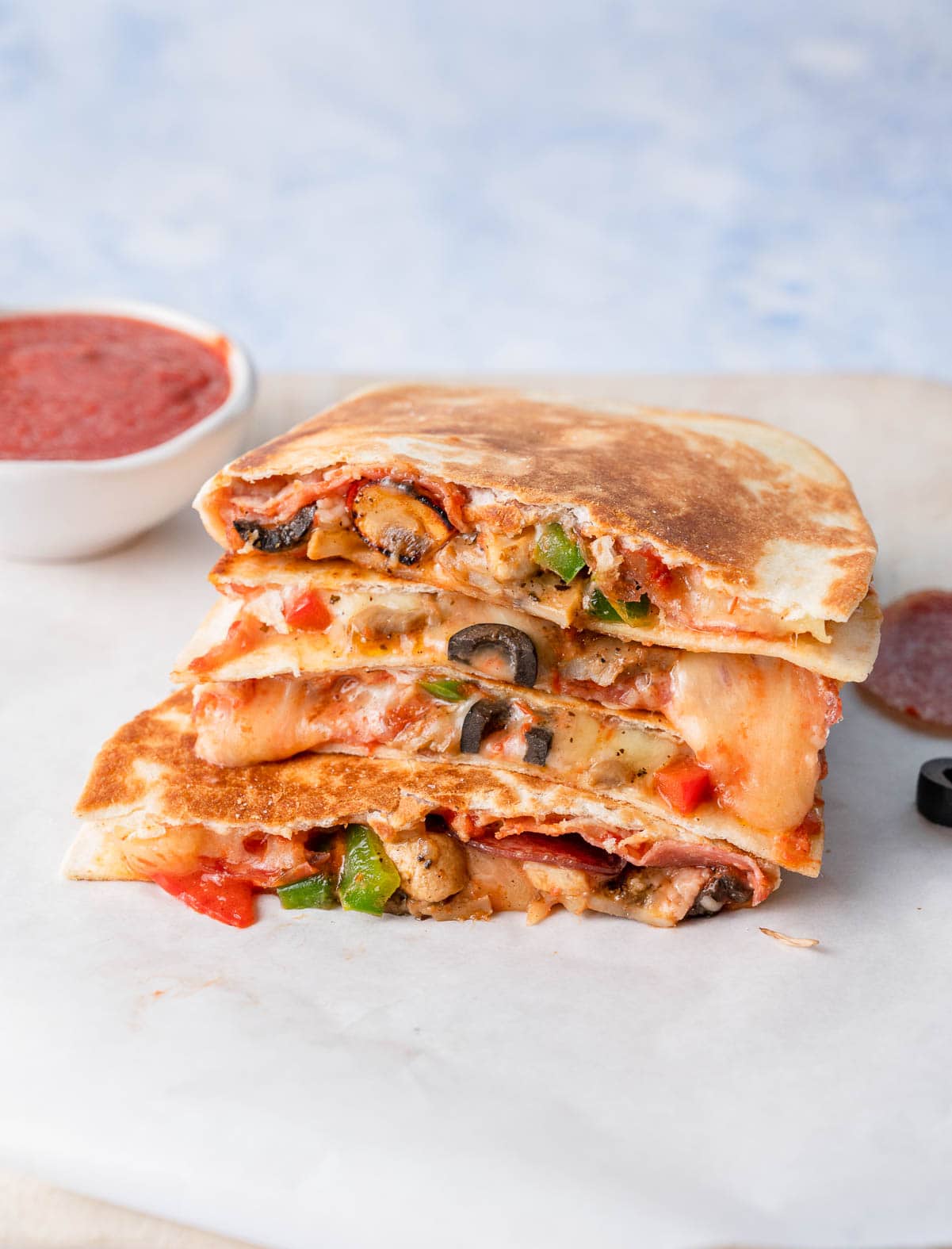 #12 Basic Cheese Quesadillas
You can use any type of melting cheese for your quesadillas (examples are mentioned below). My favorite cheese combo for basic cheese quesadillas are equal amounts of Gruyere cheese, sharp cheddar cheese, and smoked gouda.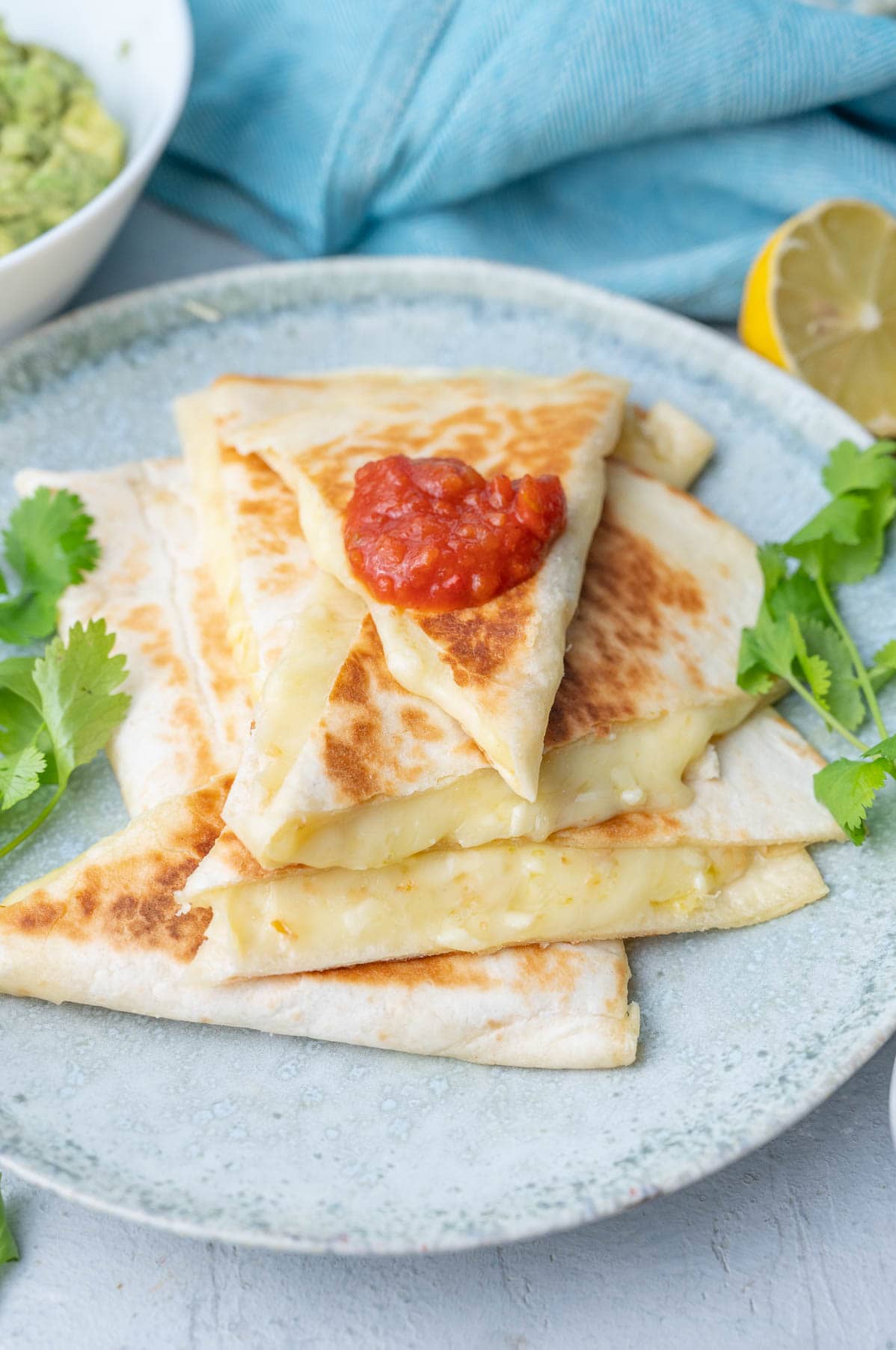 10+ Quesadilla Recipes (Quesadilla Fillings)
Delicious cheese quesadilla filled with 3 types of cheese.
Pin This Recipe!
SAVE THIS RECIPE
Saved!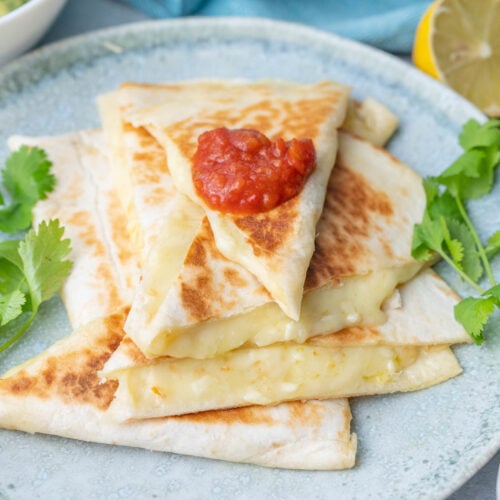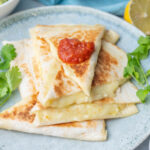 Print Recipe
RATE THE RECIPE
(click on the stars)
Ingredients
3

large

tortillas

3

cups

shredded cheese (300g)

I used equal amounts of Gruyere, sharp Cheddar, and Smoked Gouda

1

tablespoon

frying oil or butter

optional
Instructions
Shred the cheese on the large holes of a box grater. Combine the cheeses in a large bowl.

Place about 1 cup of cheese on half of each tortilla. Fold tortilla in half.

Heat the oil in a large pan over medium heat. Place two fold in half tortillas in the pan.

Cook the quesadillas until they are browned on both sides and the cheese is melted.

Transfer to a plate, sprinkle with salt and cut into triangles.
Notes
You can use any kind of melting cheese, it can be just 1 type of cheese.
Cooking quesadillas in oil is optional, you can also cook them in a dry non-stick pan but they're crispier and tastier cooked in oil.
Calories = 1 quesadilla (1/3 of the recipe).
Tried this Recipe? Rate the Recipe and tell us what you think in the Comments!
What are quesadillas?
Quesadillas is a Mexican dish consisting of tortillas and filling. In Mexico, corn tortillas are most often used although wheat tortillas are also popular in the northern states. For the filling white melting cheese, meat and vegetables are being used. Quesadillas are then cooked on the griddle to melt the cheese and warm the filling. Queso means cheese in Spanish but not all quesadillas in Mexico are made with cheese!
Best cheese for Quesadillas
You can use any type of melting cheese that you like for your quesadillas. Cheddar, Monterey Jack, or Pepper Jack cheese are most often used for American-style quesadillas.
My favorite cheeses for quesadillas include: Cheddar, Gruyère, Spanish Manchego cheese, Brie, and smoked Gouda.
The most popular Mexican cheese for quesadillas is Oaxaca or Chihuahua cheese. It's a white cheese that tastes similar to young Monterey cheese but its texture is similar to mozzarella.
Quesadilla Sides
green or red salsa
quick blender salsa: 1 can crushed tomatoes (14-oz/400ml), 1 handful fresh cilantro, 1/4 teaspoon cumin, 1 large clove garlic, 1 deseeded jalapeno or some hot pepper flakes to taste, 2 tablespoons lime juice, 1 teaspoon brown sugar, 1 small white or yellow onion, salt, and pepper to taste.
pico de gallo (tomato and onion salsa)
sour cream
simple yogurt dip (3/4 cup plain yogurt, 1 clove garlic, 1 tablespoon lemon juice, salt and pepper to taste)
garlic yogurt sour cream dip (1/2 cup of plain yogurt, 1 Tbsp of sour cream, 1 ts lime juice, 1 small clove garlic (pressed), salt and pepper).
guacamole (easy guacamole: avocado, dried coriander, lime juice, salt and pepper), or sliced avocado