Churros with chocolate sauce are a very popular snack in Spain, Portugal and South- and Middle America. These deep-fried pastries are sometimes referred to as Spanish doughnuts. Churros are very crispy on the outside and soft on the inside, sprinkled with cinnamon sugar, smell wonderfully and are very addictive!
Churros are very easy to make, all you need to do is throw all the ingredients except the flour into a pot, and when they come to the boil, add the flour, mix in and it's ready!
For more Fat Thursday's treats try these lemon ricotta doughnuts!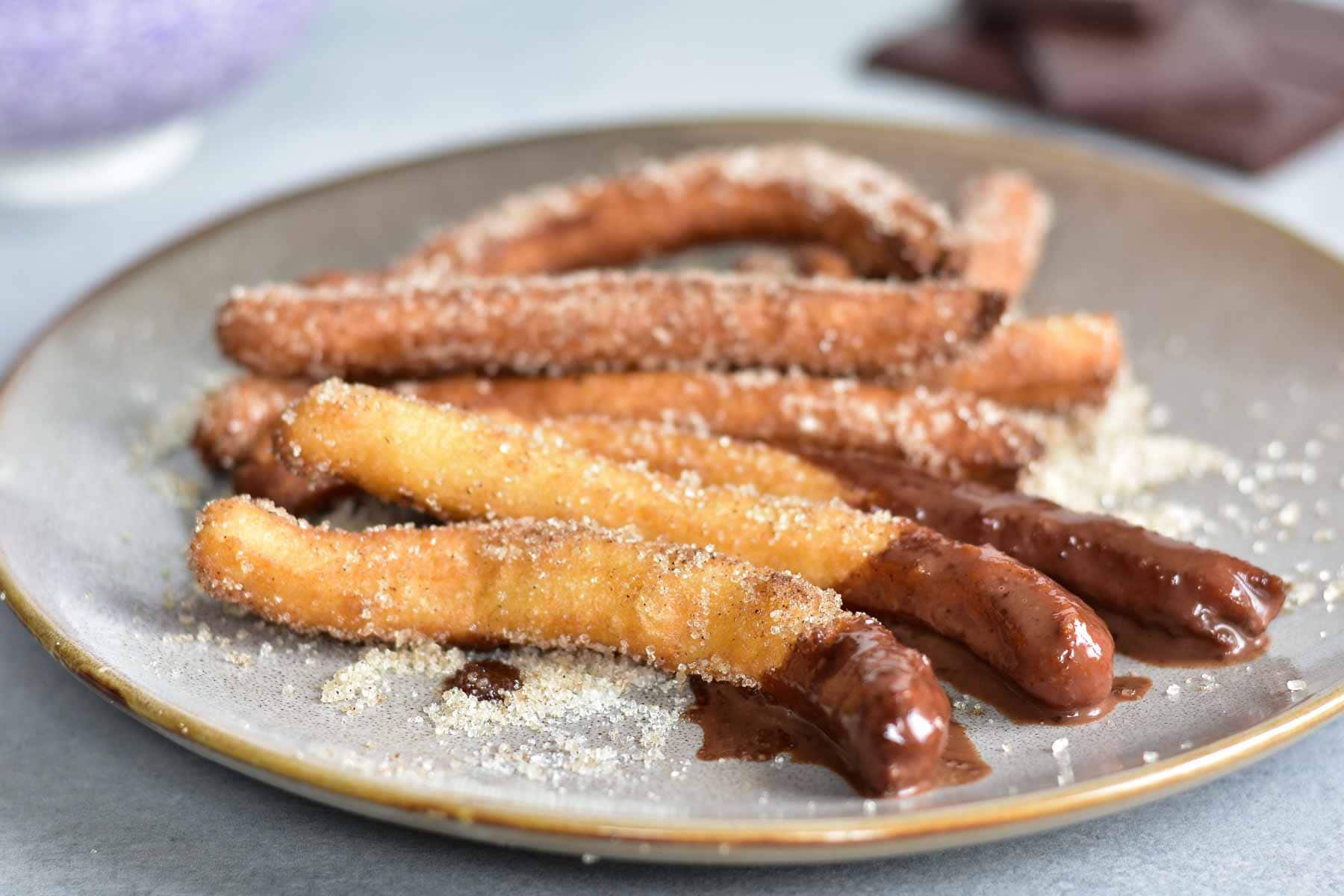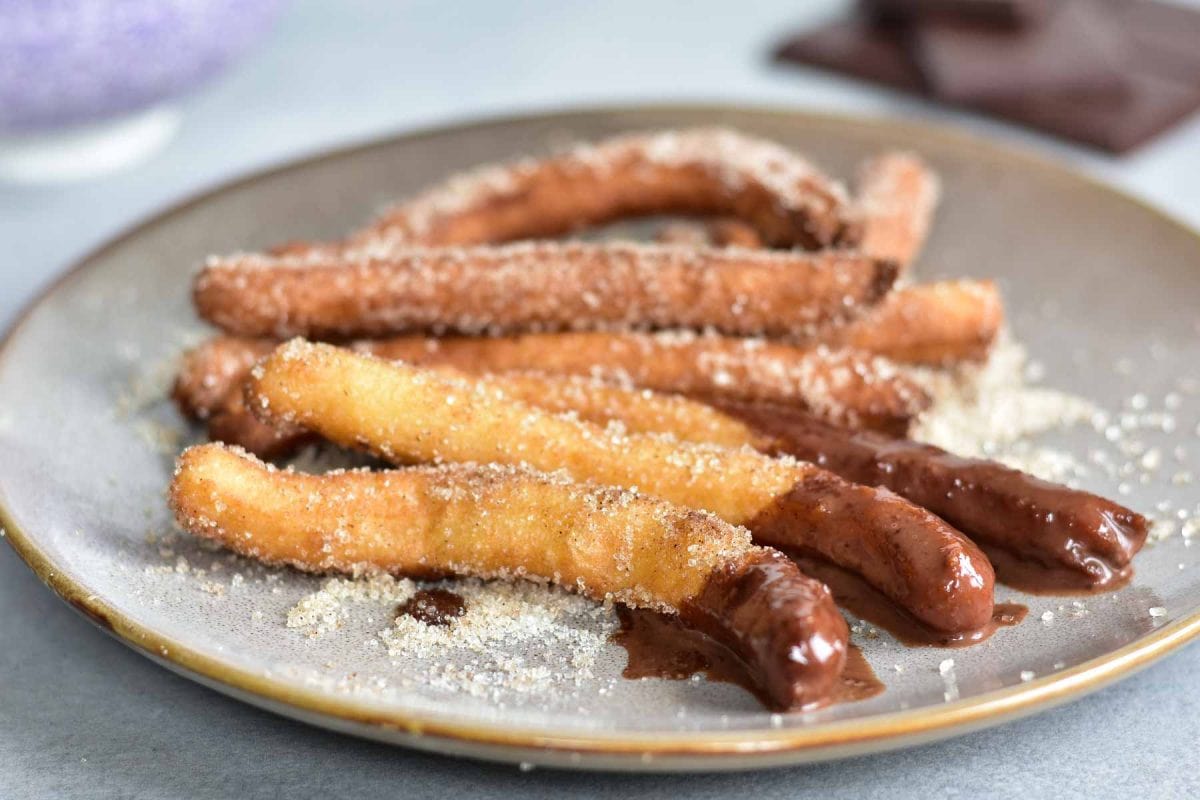 TYPES OF CHURROS:
There are many types of churros, for example in Spain – thick and plain-shaped sticks in the north, thin and star-shaped ones in the south, often served with a hot chocolate. In Mexico, they are often stuffed with dulce de leche, in Cuba with sweet and exotic guava filling and in Uruguay, you can find a melted cheese filling. In many countries, there are special stands on the streets, where churros are sold – called Churreria.
CHURROS ORIGIN:
It is not known, where exactly the churros came from, but there are two theories: the first assumes that they came from Spain and were often cooked by nomadic Spanish shepherds, as a substitute for fresh bread because the dough was easy to make and fry. The second theory, considered as the more likely one, says that Portuguese sailors brought the idea back from China, as the Chinese people ate salty deep-fried dough sticks called youtiao for their breakfast. The Portuguese and the Spaniards, along with their conquests, spread the churros all over Central and South America.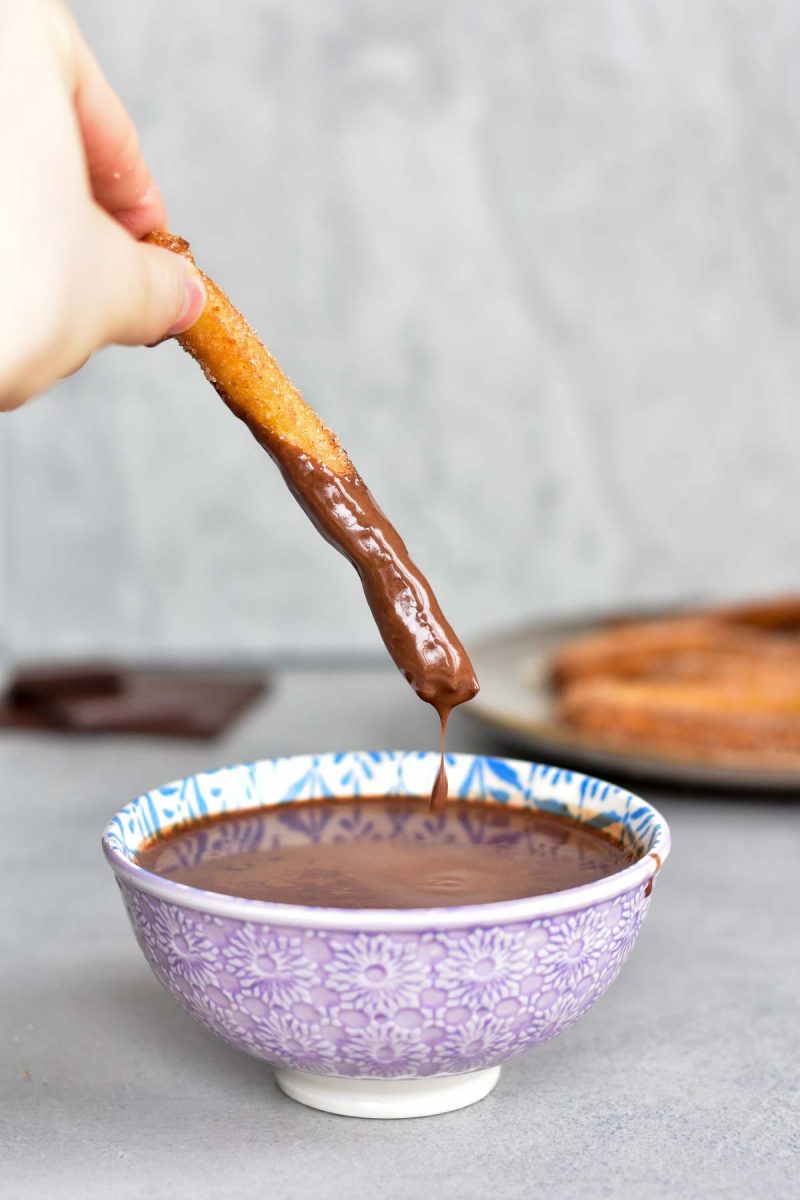 CHURROS DOUGH RECIPE – WITH EGGS OR WITHOUT EGGS?
You can find two types of recipes for churros – for a dough with eggs and without eggs. I searched through the recipes on some Spanish blogs and most of them were without the eggs. I tried both versions and the dough without the eggs is my favorite. Churros with eggs are more fluffy and light, but definitely less crunchy.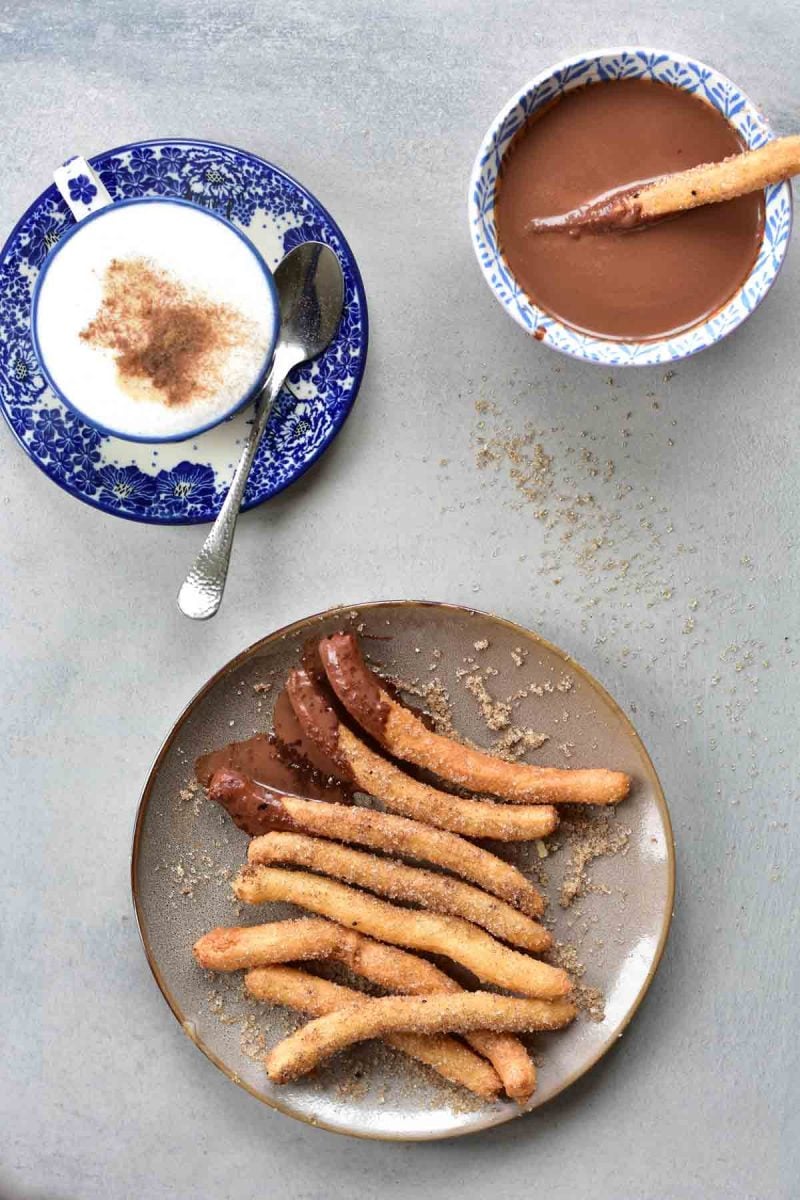 Churros with chocolate sauce
Crispy churros coated with cinnamon sugar and dipped in chocolate sauce
SAVE THIS RECIPE
Saved!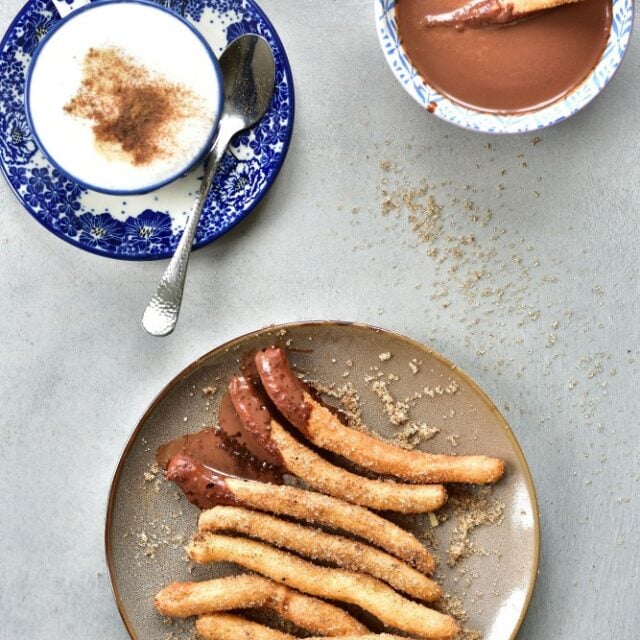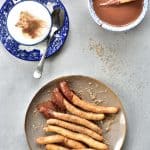 Print Recipe
RATE THE RECIPE
(click on the stars)
Servings
4
servings (16 churros)
Ingredients
churros:
1

cup+2tsp water

250ml

2

tablespoons

sugar

1

tablespoon

vanilla sugar

or granulated sugar

1/3

teaspoon

salt

2

tablespoons

butter

1oz/30g

1

cup

all-purpose flour

4.6oz/130g
for frying:
about 4 cups/1 liter frying oil

lard, refined coconut or rapeseed oil
cinnamon sugar:
3

tablespoons

light brown sugar

¾

teaspoon

cinnamon

I used Ceylon cinnamon
chocolate sauce:
¼

cup

heavy cream

2

oz

dark chocolate 70 %

50g

a few tablespoons of milk

optionally
Instructions
Make cinnamon sugar: On a medium plate mix sugar and cinnamon together, set aside.

Make the dough for the churros: Add water, sugar, salt, and butter into the medium pot, bring to a boil, then take the pot off the heat and add the flour.

Mix the dough with a wooden spoon until it forms a smooth ball. The dough will be thick.

Transfer the dough into a piping bag fitted with a star-shaped tip (mine was 11 mm/0.4 inch in diameter, you can use a larger one and fry the churros a bit longer).

Fry the churros: In a medium pot heat up the oil (make sure that you have enough oil in the pan to cover the churros so that they float freely while frying), the oil must be well heated (it's best to check the temperature with a thermometer, it should be about 180°C/ 356°F).

Gently drop 2-3 churros at a time into the heated oil (mine were about 15 cm/6 inches long), cook for about 4 minutes or until golden (thicker churros may need a longer cooking time), turn them over in the middle of this time so that they cook evenly (using two forks or tongs), adjust the heat as needed. Remove them with a slotted spoon/tongs on a plate lined with paper towels to drain.

Roll the churros in cinnamon sugar while still warm.

Repeat with remaining dough.

Make the chocolate sauce: In a small pot, heat the cream until very warm (do not let it boil), remove from the heat and add the chopped chocolate, mix until smooth, thin with a small amount of milk until the sauce has the preferred consistency. The sauce will thicken as it cools.

Serve churros with the chocolate sauce. They are the best when freshly made or up 2-3 hours after frying, after that time they won't be crispy.
Notes
– It's important that the oil is well heated, it can not be too cold because the churros will absorb the fat and will not be tasty, the oil can not also be too hot because the churros will brown too quickly from the outside and be raw in the middle.
– You shouldn't fry too many churros at the same time because it will cause the oil temperature to drop too much and the churros will soak up the fat.
– The dough comes out quite thick, so it's good to have a heavy-duty piping bag, I do not recommend using a plastic bag with a cut-off corner, because it may split open and the mixture will burst out into the hot oil.
Tried this Recipe? Rate the Recipe and tell us what you think in the Comments!
Did you make this recipe? RATE THE RECIPE or tell me in the COMMENTS how you liked it! You can also add a photo of your dish. It would make me very happy and will help other readers. Thank you!!