Millet with broccoli, peas and cashew sauce
Quick to make and delicious recipe for millet – great as a light dinner or salad for a weeknight. I cooked millet groats with fried onion, garlic and broth together – millet prepared this way is really delicious. Noteworthy is also the sauce, which adds lightness and a lot of flavor to the dish – it's slightly sweet and sour, with lime and cardamom – this combination of flavors is really brilliant. The whole meal is complemented by salty feta, crispy cashews and aromatic basil. I recommend it! 🙂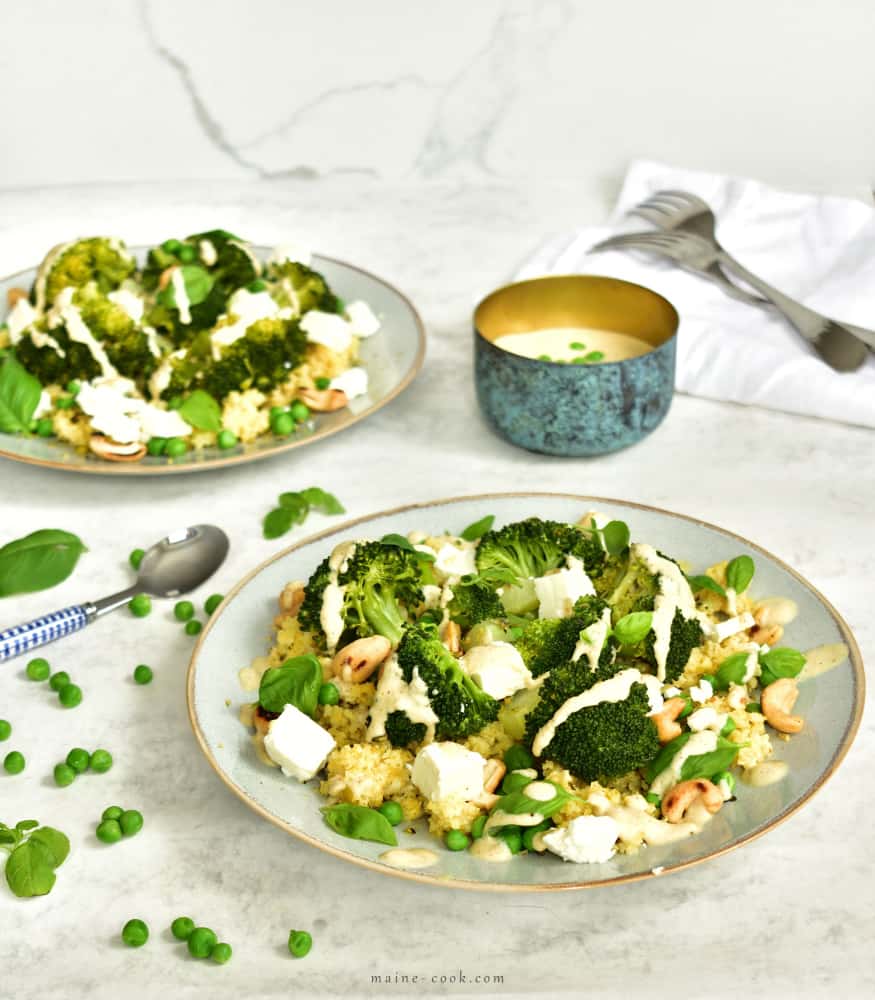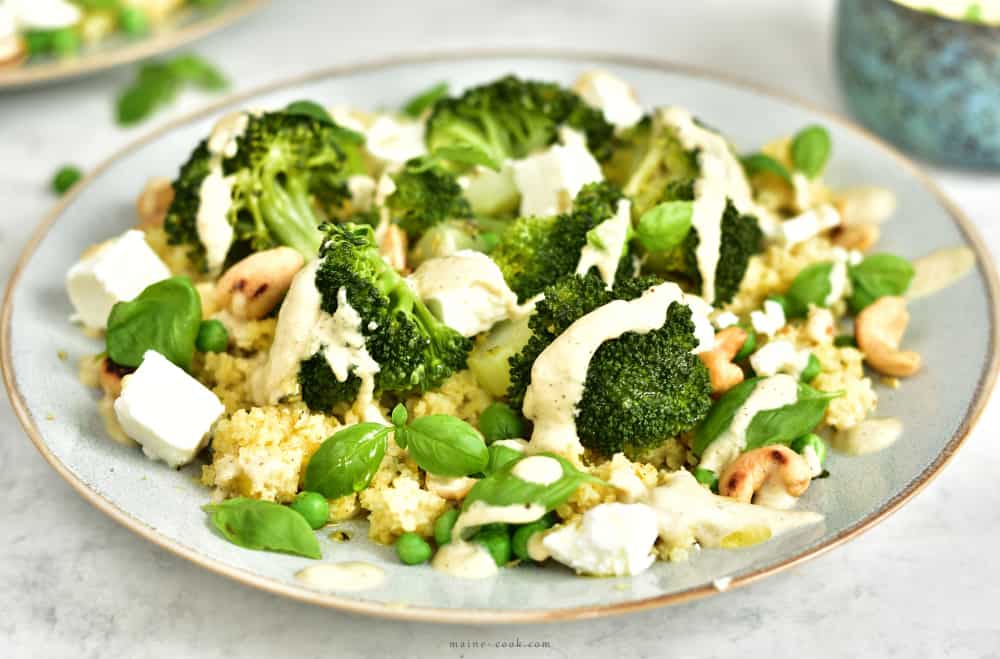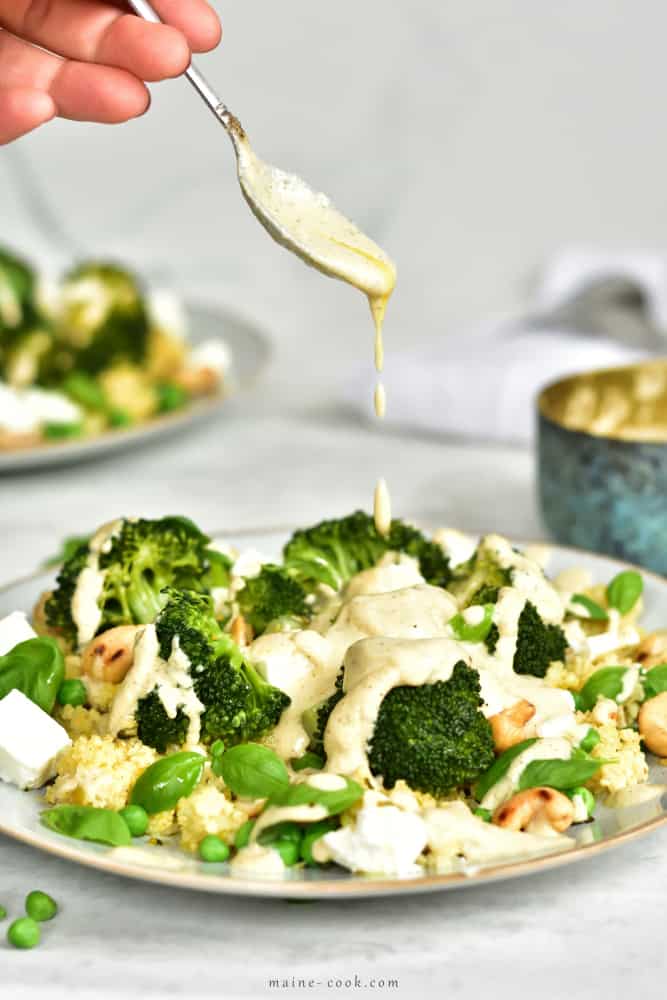 Millet with broccoli, peas and creamy cashew sauce
Millet served with broccoli, green peas and creamy cashew lime sauce.
SAVE THIS RECIPE
Saved!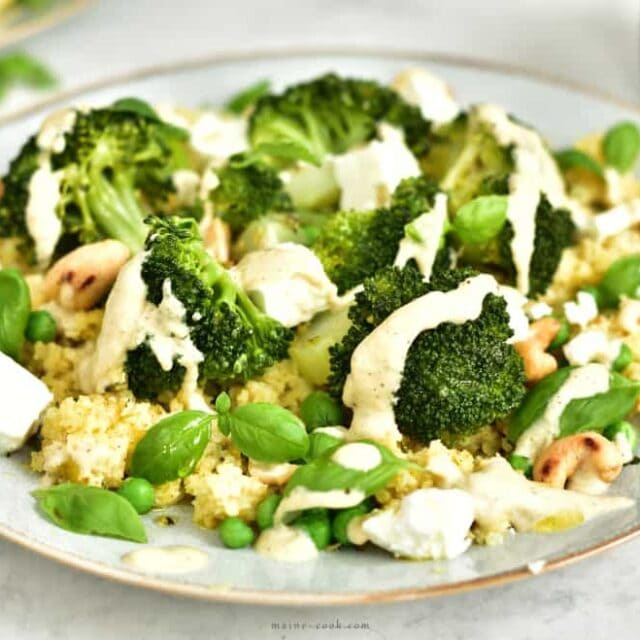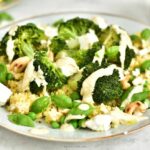 Print Recipe
RATE THE RECIPE
(click on the stars)
Ingredients
millet:
100

g

raw millet

about a ½ cup

250

ml

water/broth

1 cup

1

tablespoon

frying oil

1

small onion

3

cloves

garlic

salt and black pepper

to taste
additionally:
½

head broccoli

250g

100

g

frozen green peas

75

g

feta cheese
sauce:
55

g

cashews

a small handful

juice from ½ lime

zest from 1 lime

grated

2

tablespoons

olive oil

6

tablespoons

water

1

teaspoon

honey

big pinch of cardamom

salt and black pepper

to taste
to finish:
2

tablespoons

cashew nuts

1

tablespoon

pumpkin seeds

1

tablespoon

olive oil

fresh basil leaves
Instructions
Cook the millet: Cut onion into cubes, garlic into thin slices. Rinse the grains with the hottest water you can get from the tap (or with boiling wateon a fine mesh strainer until the water runs clear. Heat the oil in a small pot over medium heat, add the onion and cook for 5 minutes, then add the garlic and cook for another 30 seconds. Add the millet, boiling water/broth, season with salt and pepper, bring to a boil and cover the pot. Cook on a very low heat for 18 minutes, don't stir during cooking and don't lift the lid. When the millet is cooked, take it off the heat, uncover and let sit for 5 minutes, then fluff it with a fork. Taste and season with salt and pepper, if necessary.

Cook the broccoli and peas: Divide the broccoli into florets and rinse. Steam it (or cook in watefor about 8-10 minutes, add the peas one minute before the end of the cooking time.

Toast the nuts and the seeds in a dry pan until lightly brown and fragrant. When they are ready, take them immediately off the pan.

Make the sauce: Blend all the sauce ingredients in a food processor until smooth.

Assemble: Lay the millet on the plates, put broccoli and peas on top, pour the sauce over the vegetables. To finish, sprinkle with crushed feta cheese, toasted cashew nuts and pumpkin seeds, basil leaves, drizzle with olive oil.

Enjoy!
Tried this Recipe? Rate the Recipe and tell us what you think in the Comments!
Did you make this recipe? RATE THE RECIPE or tell me in the COMMENTS how you liked it! You can also add a photo of your dish. It would make me very happy and will help other readers. Thank you!!