Lemon ricotta doughnuts are soft, fluffy and very tasty. They're super simple to make. You can prepare the batter while the oil is warming up!
If you don't have time to make traditional doughnuts, this recipe is perfect for you. Baking powder is added to the batter, not yeast, so you don't have to wait for the dough to rise. Ricotta cheese makes them very soft and fluffy. They taste intensely lemony and refreshing.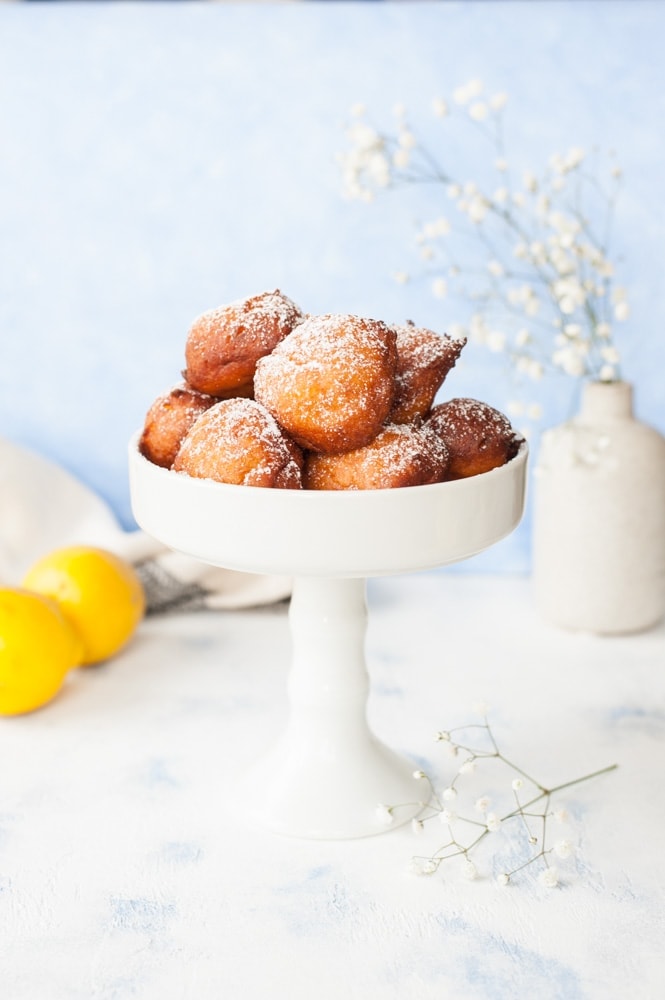 These lemony doughnut bites are served for carnival in Italy and called castagnole di ricotta. They're usually flavored with lemon/orange zest, or anise seeds and anise liqueur. On the internet, you'll also find them under the name baci di ricotta (which can be translated to ricotta kisses), as a recipe that goes by this name, was popularized by Nigella.
If you're looking for other fritters, to celebrate Fat Thursday or just your morning coffee, check out this churros recipe!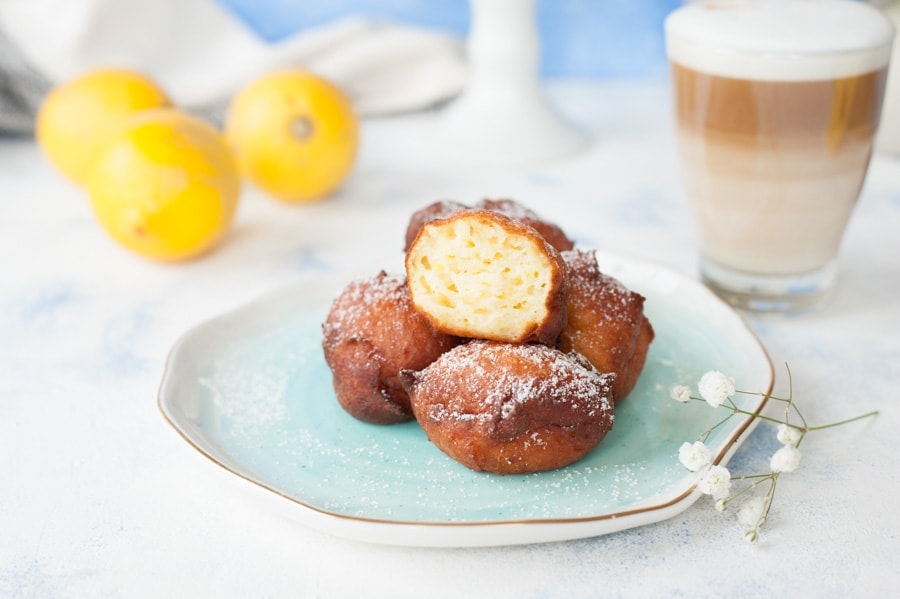 Lemon ricotta doughnuts – step-by-step: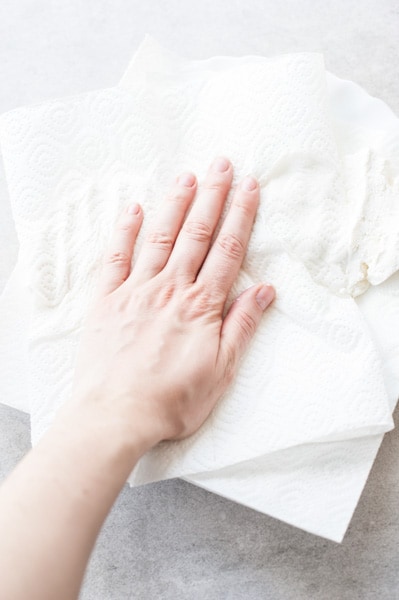 Lemon ricotta doughnuts
Lemony doughnut bites made with ricotta cheese. They're super simple to make. You will prepare them while the oil is warming up. They are soft, fluffy and very tasty.
SAVE THIS RECIPE
Saved!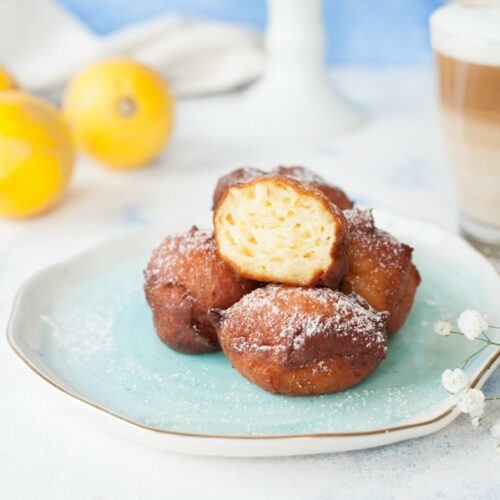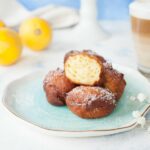 Print Recipe
RATE THE RECIPE
(click on the stars)
Servings
24
small doughnuts
Ingredients
doughnuts:
500

g

/ 1.1 lbs ricotta cheese

3

large eggs

zest grated from 3 lemons

preferably organic

120

g

/ 4.3 oz sugar

2/3 cup

150

g

/ 5.3 oz flour

1 cup + 2.5 Tbsp, spoon and leveled

a large pinch of salt

1.5

teaspoons

baking powder
additionally:
700

ml

frying oil

refined coconut oil, lard or rapeseed/sunflower oil for high-temperature frying
Instructions
Pour the oil into a large pot and start warming it up, you should have about 5 cm / 2 inch of oil in the pot.

Drain the ricotta to remove water excess. This step is optional, but thanks to this we can add less flour and doughnuts will be more delicate. On a large plate, lay out 2 layers of paper towels, spread the ricotta cheese and press it carefully with more paper towels until they soak up the water. Gently pull the paper towel by pulling its edge. Repeat, trying to drain as much moisture as possible. I've got 400g / 14 oz cheese left.

In a medium bowl, combine the cheese, eggs, lemon zest, and sugar, whisk until combined.

In a second bowl, mix the flour with salt and baking powder together, add to the cheese mixture and whisk only just combined.

The oil should be heated to a temperature around 180-190°C / 355-375°F. You can check it with a candy thermometer, it makes frying the doughnuts so much easier!

Fry the doughnuts: drop balls of the batter, a little bigger than a walnut, into the oil. When the dough hits the oil it should instantly sizzle. You can drop the dough using two teaspoons (scoop the dough with one and drop it into the fat with the other), transfer the dough into a plastic bag, with a corner cut off and squeeze the dough directly into the oil or my favorite way: using an ice cream spoon. Scoop about ¾ ice cream spoon and drop the batter into the oil.

Fry the doughnuts for about 3-4 minutes, until golden on both sides.

Transfer to a plate lined with paper towels and sprinkle with powdered sugar.

Enjoy!
Notes
Fry the doughnuts in batches, about 4-5 donuts at a time, depending on the size of the pot. They need enough oil to float but don't have to be completely submerged. Adding too many doughnuts at a time will cool down the oil and they will soak up the fat. If the temperature is too high – they will brown too quickly on the outside, but won't be done on the inside.
Tried this Recipe? Rate the Recipe and tell us what you think in the Comments!
Calories count = 1 doughnut.
Did you make this recipe? RATE THE RECIPE or tell me in the COMMENTS how you liked it! You can also add a photo of your dish. It would make me very happy and will help other readers. Thank you!!