Delicious wraps made with crispy breaded chicken cutlets, spicy tomato sauce, fresh tomatoes, and lettuce. These crispy chicken wraps are a delicious homemade fast food that the whole family will enjoy!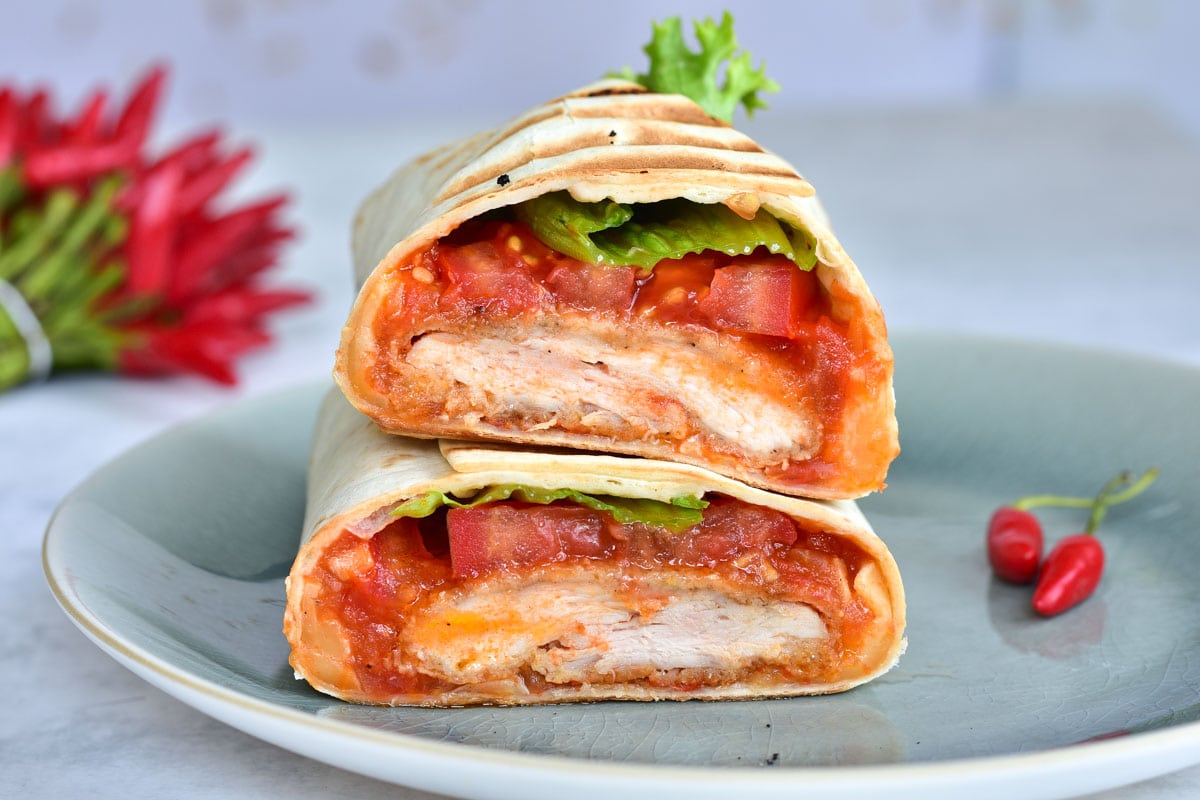 Recipe inspiration:
These wraps are inspired by crispy chicken wraps that can be bought in McDonald's here in Austria. I don't normally eat there, but while driving for a good few hours on the highway, there's unfortunately not much choice. These wraps consist of breaded chicken cutlets, spicy tomato sauce, a piece of lettuce wrapped in tortillas. They actually taste not that bad, but I think I don't have to tell you how much tastier (and healthier) are these, made from scratch at home.
Ingredients:
These crispy chicken wraps consist of:
breaded chicken cutlets – with the breading seasoned with Parmesan cheese, lemon zest, and chopped parsley. They are really amazing and worth trying!
spicy sweet and sour tomato salsa
melted gouda cheese (you can also use other cheese of your choice, like Swiss cheese or cheddar cheese)
fresh veggies: tomatoes and lettuce
soft tortillas.
How to make it step by step: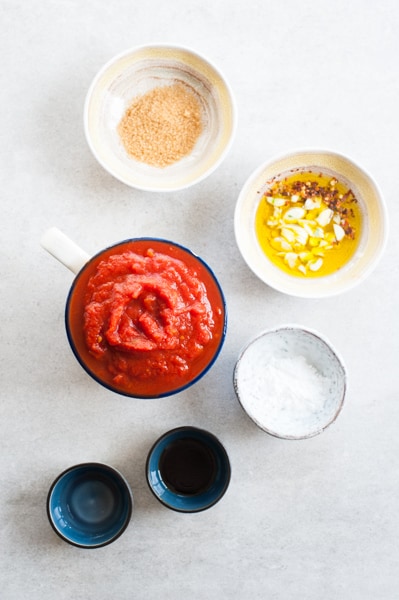 Storage / make-ahead:
If you want to make these wraps ahead, you can prepare all the ingredients, store them separately, then assemble just before serving. The sauce will keep in the fridge for up to 3-4 days, it can also be frozen.
A have a very detailed post on how to make breaded chicken cutlets step by step. It contains many helpful tips and storing and freezing options.
Other great ways to use up tortillas:
Did you make this recipe? RATE THE RECIPE or tell me in the COMMENTS how you liked it! You can also add a photo of your dish. It would make me very happy and will help other readers. Thank you!!
Crispy chicken wrap with spicy tomato salsa
Tortilla wraps with crispy chicken cutlets, spicy and sweet-sour tomato sauce, melted cheese, fresh tomatoes, and lettuce. Healthy and delicious fast food!
SAVE THIS RECIPE
Saved!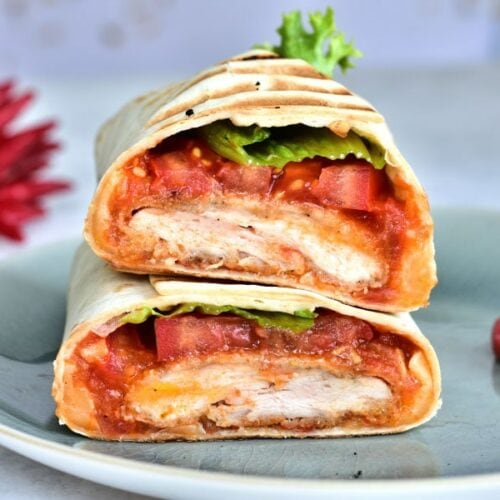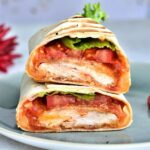 Print Recipe
RATE THE RECIPE
(click on the stars)
Ingredients
chicken cutlets:
330

g

/ 11.6 oz chicken / turkey breast fillets

salt and pepper

to taste

2

tablespoons

flour

1

big egg

1

heaped teaspoon lemon zest

preferably from an organic lemon

1

tablespoon

chopped parsley

1/3

cup

breadcrumbs

40g / 1.4 oz

1/3

cup

grated Parmesan cheese

20g / 0.7 oz, or breadcrumbs

frying oil

about 4 tablespoons
additionally:
4

large tortillas

8

slices

cheese

I used gouda

2 to

matoes

sliced

4

leaves

lettuce
tomato salsa:
7

medium tomatoes

670g / 1.5 lbs, you can also use canned tomatoes

2

tablespoons

olive oil

3

cloves

garlic

1-2

fresh chili peppers

or dried chili flakes, to taste

2

teaspoons

rice vinegar

1

teaspoon

Worcestershire sauce

2

teaspoons

brown sugar

2

teaspoons

potato/corn flour/starch

salt and pepper

to taste
Instructions
tomato salsa:
Pour boiling water over the tomatoes, peel the skin, cut them into a 1-2 cm / ¾-inch cubes.

Cut chili pepper into slices, finely chop the garlic. If you want the sauce to be less spicy, remove the seeds from the chili pepper. You can also use dried chili flakes, if you don't have fresh chilies.

Heat the olive oil in a large pot, add the garlic and chili, cook, stirring, for a minute.

Add the tomatoes, rice vinegar, Worcestershire sauce, and brown sugar. Cook for about 30 minutes over low heat. The sauce should be thick, stir it from time to time, keep an eye on it especially at the end of cooking time so that it doesn't burn.

Season with salt and pepper to taste, add potato flour, mix and bring to a boil, then take off the heat. Taste and add more salt, pepper, vinegar or sugar, if necessary.
chicken cutlets:
While the sauce is cooking, prepare the chicken cutlets.

Place the flour on the first plate.

On the second plate, mix together the breadcrumbs with grated Parmesan cheese.

On the third plate (or shallow bowl), crack an egg, mix together with grated lemon zest and chopped parsley leaves.

Pound the chicken breasts/fillets using a meat mallet to an even thickness, about ¾ cm / ½-inch, season generously with salt and pepper on both sides.

Dredge each cutlet in flour, shake off excess flour. Then dip in the egg mixture and coat evenly in the breadcrumbs mixture.

Pan-fry the cutlets: heat a couple of tablespoons oil in a large frying pan over high heat. The pan and oil should be well warmed up. Pan fry the cutlets for about 3 minutes on one side and 2 minutes on the other, until golden. Don't overcrowd the cutlets, pan fry in batches, flip over only when the coating is golden.

Transfer to a plate lined with paper towels.
assemble the wraps:
Place 2 slices of cheese on a large tortilla, spread over 1 heaped tablespoon of tomato salsa. Place the chicken pieces on top – cut the cutlets so that they fit in the middle of the tortilla, and finally put 2 slices of tomato on top.

Roll up the tortillas and lightly toast them in a panini maker or on a grill pan, until the tortillas are lightly browned and the cheese is melted.

Finally, place lettuce leaves into the wraps (if added before grilling, the leaves will fade).

Enjoy!
Notes
Calories count = 1 serving = 2 tortillas (½ recipe).
The dish can be easily made ahead. Prepare the sauce and the chicken cutlets the day before. On the next day assemble the wraps and toast them in a panini maker or on a grill pan until warm.
Tried this Recipe? Rate the Recipe and tell us what you think in the Comments!