Jump to Recipe

Curried chicken cakes with mushrooms and red bell paprika
Fast, simple and delicious dinner – doesn't mean boring! These curried chicken cakes are bursting with flavor and are a good alternative to the traditional breaded chicken cutlets.
These curried chicken cakes are very simple to make: you just need to cut chicken breasts into small pieces, mix with finely chopped bell pepper, cremini mushrooms and season with curry powder. I like to add a lot of seasoning, but it can vary in intensity, depending on the brand, so adjust the amount to your taste.
I served these fritters with potato puree and simple cucumber salad. Chicken cakes reheats very well, so you could make more and enjoy them for a couple of days.
It's a very comforting, simple dinner, that your family will love!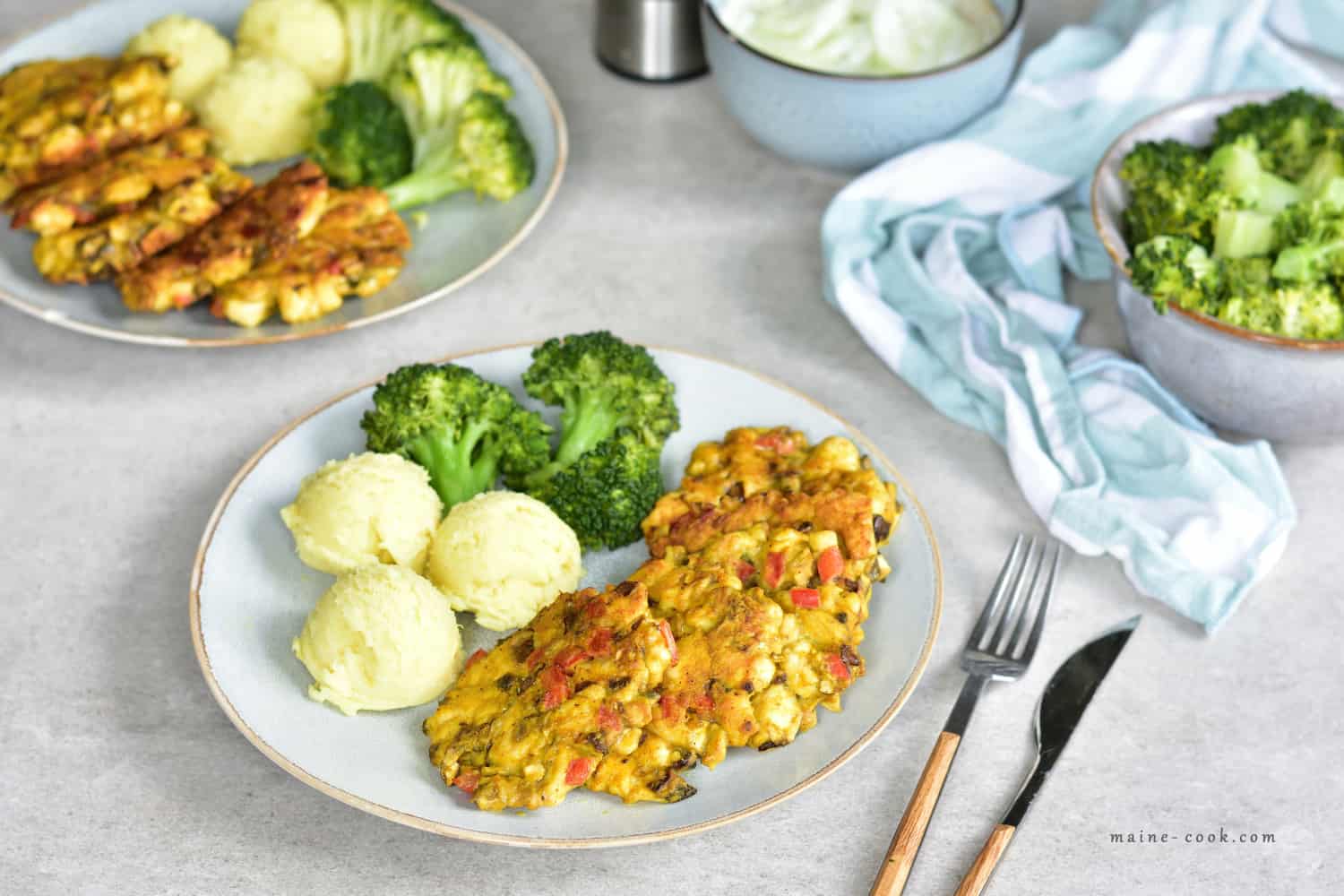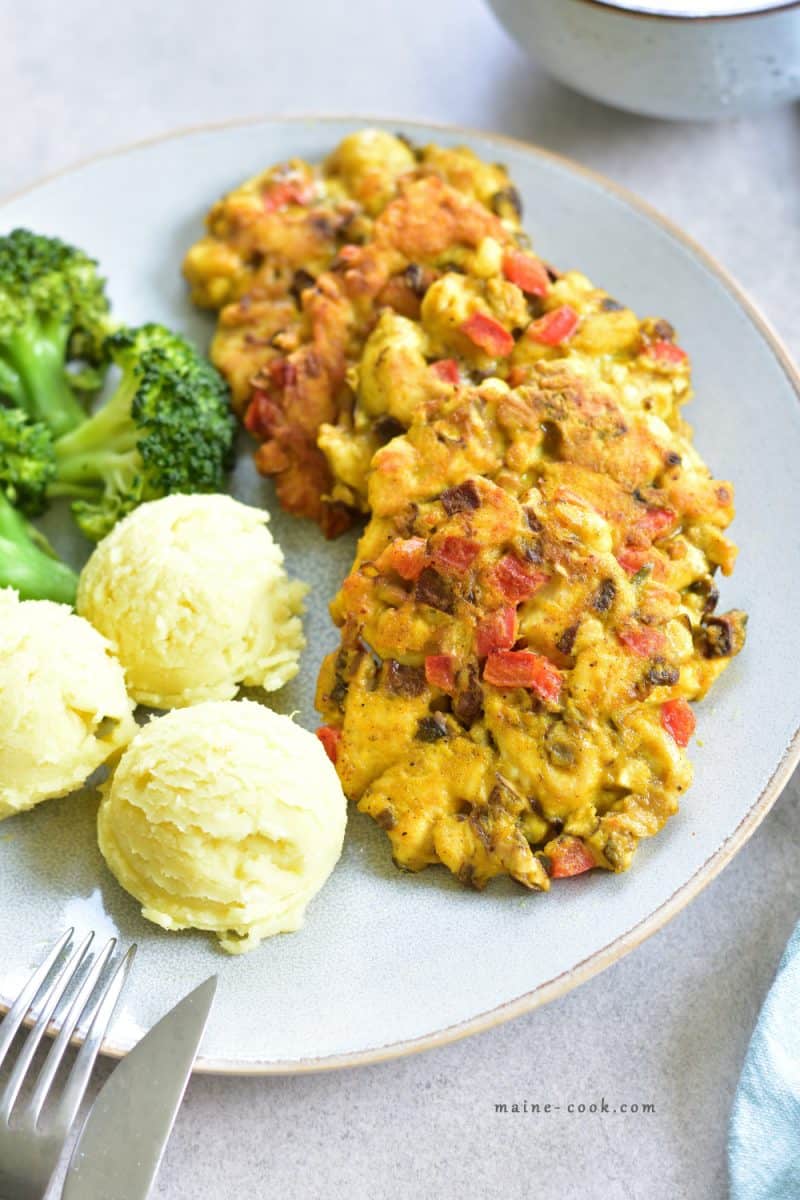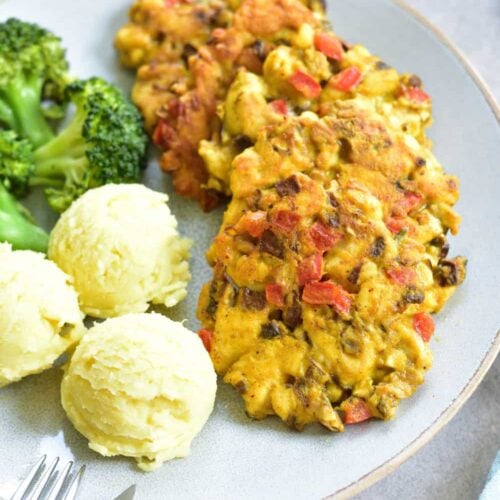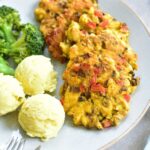 Print
Curried chicken cakes with mushrooms and red bell paprika
These curried chicken fritters are bursting with flavor and are a good alternative to traditional breaded chicken cutlets. Served with potato puree and cucumber salad are very comforting. The recipe yields 8 small fritters, which serves 2 generously.
Ingredients
chicken cakes:
2

medium chicken breasts

420g / 15 oz

1

large egg

1/3

large red bell pepper

50g / 1.8 oz

100

g

/ 3.5 oz cremini mushrooms / 5 small or 2 very large

3.5

teaspoons

mild curry powder*

3

tablespoons

flour

salt and black pepper

to taste

2

tablespoons

oil

for cooking the fritters
to serve:
½

broccoli

steamed or cooked, or green beans / other vegetables of your choice

mashed potatoes
cucumber salad:
½

greenhouse cucumber

sliced

2

tablespoons

plain yogurt

1

clove

garlic

pressed

salt and black pepper

to taste
Instructions
Cut the chicken into small 1 cm / ½ inch cubes, the bell pepper into ½ cm / ¼ inch cubes, finely chop the mushrooms.

In a big bowl, mix all ingredients for the cakes together, season to taste with salt and pepper.

Heat the oil on a large frying pan, the pan should be well heated. Scoop a heaping tablespoon of the batter onto skillet, flatten into about 1 cm /0.5-inch thick disk, repeat with the remaining batter (working in batches).

Cook over medium-high heat for about 2 minutes on one side and then one minute on the other, until the meat is cooked through and the cakes are lightly browned (flip the cakes only when well cooked on one side and golden, otherwise they may fall apart while flipping).

Transfer the cakes on a plate lined with kitchen towel to drain the excess fat.

Serve with mashed potatoes, steamed broccoli, and cucumber salad.

Cucumber salad: Slice the cucumber and mix with yogurt and pressed garlic, season with salt and pepper to taste.

Enjoy!
Notes
Depending on the brand, the intensity of the curry powder may vary, so adjust the amount to your liking. If you're not sure, you can always add a little less, cook one fritter and taste. Then you can add more curry powder to the batter.
Chicken cakes reheat on the next day very well, just cook them over low heat with a little bit of oil until warm.
Calories count = 1 serving (1/2 recipe).
Nutrition
Did you make this recipe? Let me know how you liked it in the comments below!