Chocolate covered strawberries are quick to prepare, simple and impressive looking. Although winter strawberries are not as sweet and juicy as the summer ones, taste wonderful, covered in chocolate. It's a great idea for busy people to celebrate Valentine's Day. They can also be a beautiful gift for Mother's Day!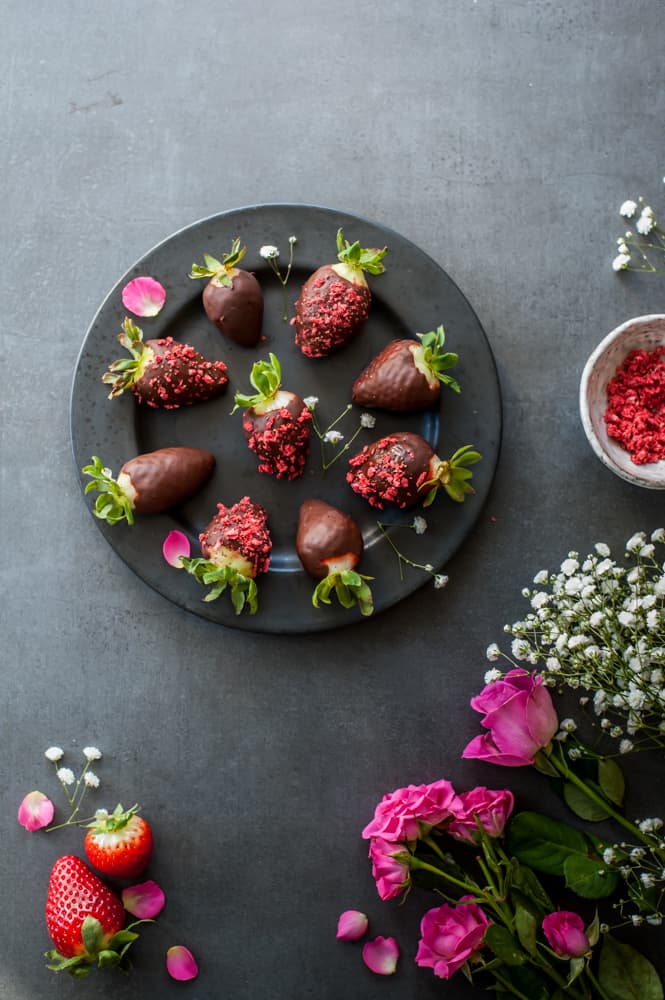 Chocolate covered strawberries are very easy to prepare, but there a couple of things that you need to pay attention to:
– Wash the strawberries and pat thoroughly dry with paper towels, otherwise the chocolate won't stick to the strawberries.
– Melt the chocolate using double boiler method (in a bowl that is placed over a pot with steaming water), otherwise it can separate.
– It's good to add a small amount of vegetable oil to the melted chocolate, it will be softer and less crumbly when cooled.
– You should use a good quality chocolate. It makes all the difference!
When all the strawberries are coated in chocolate, it's time to decorate! Decorating is not necessary, chocolate covered strawberries are tasty on their own, but decorated look so pretty.
Some topping ideas:
– you can drizzle them with milk or white chocolate
– sprinkle with finely grated chocolate
– coconut flakes
– colorful sprinkles
– chopped nuts or
– finely grounded freeze dried fruit (like on the photos, I mixed freeze dried strawberries in the food processor. They look beautiful and also taste intensely strawberry).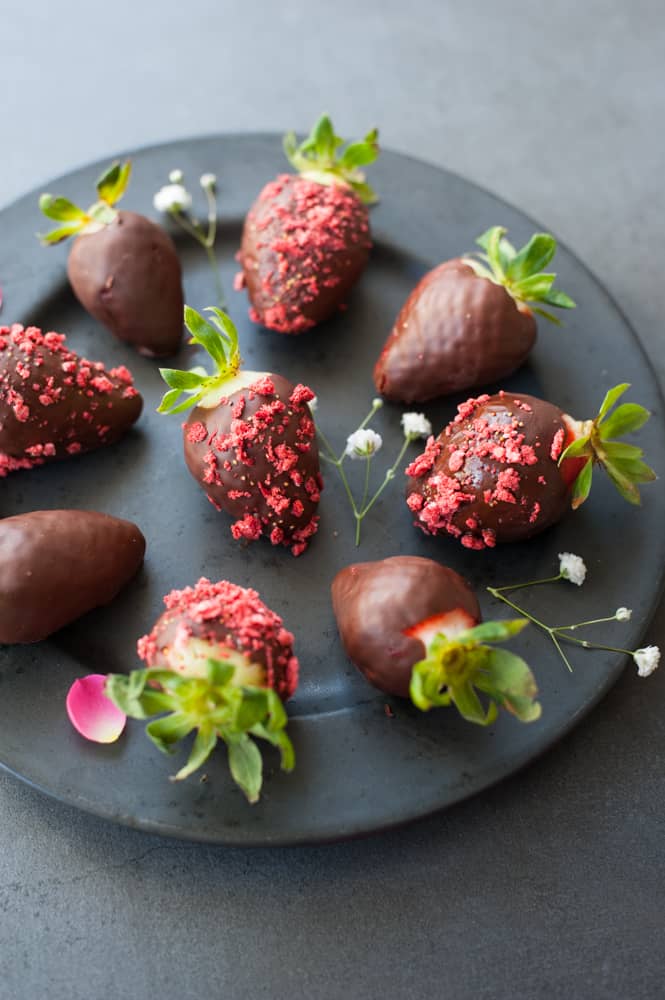 Chocolate covered strawberries are perfect as a gift! Some gift ideas:
– You can make a Chocolate Strawberry 'Bouquet' – Stick bamboo skewers into the leafy ends of the strawberries, you can tie a ribbon around the sticks. Place in a nice vase or cup.
– Make Chocolate Strawberry 'Lollipops' for kids (same as above, you can tie separate ribbons onto each skewer).
If you are looking for other chocolate desserts for a special occasion, check these recipes out:
– chocolate lava cake (ready in about 20 minutes!)
– chocolate crepes with raspberry sauce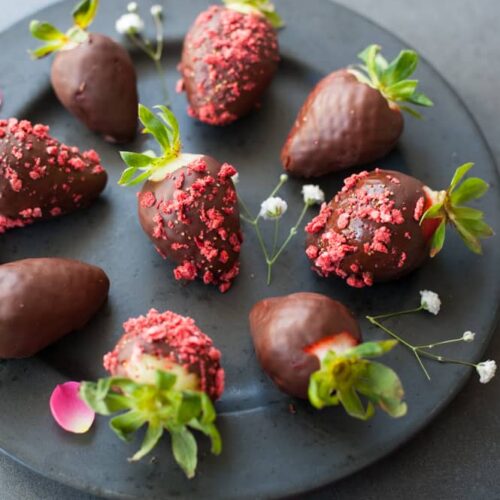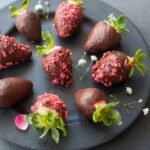 Print
Chocolate covered strawberries – simple and delicious dessert in 10 minutes
Chocolate covered strawberries recipe – a step by step guide. A beautiful and impressive looking dessert, perfect for Valentine's Day or Mother's Day.
Ingredients
strawberries:
14

strawberries

2

oz

(50g) dark chocolate

or milk / white chocolate, good quality!

1

teaspoon

vegetable oil

e.g. coconut oil

1

teaspoon

vanilla extract

optional
for decoration (optional):
white or milk chocolate, coconut flakes, chopped nuts, freeze-dried strawberries, colorful sprinkles
Instructions
Wash the strawberries and pat thoroughly dry with paper towels (otherwise chocolate won't stick to them). Don't remove the leafy ends!

Melt the chocolate using a double boiler method: In a medium pot, bring water to a boil. Take off the heat, place a glass or metal bowl over the pot, add the chopped chocolate, oil and vanilla extract. The bowl can't touch the water surface. Stir until the chocolate is melted.

Dip the strawberries in chocolate: Pick a strawberry by the top leaves and dip it in the melted chocolate, shake gently to remove any excess chocolate. When you have not much chocolate left, you can help yourself with a teaspoon.

Place the strawberries on a tray lined with baking paper.

Decorate the strawberries: you can sprinkle them with finely chopped chocolate, nuts, grounded freeze dried strawberries (read note) or sprinkles while the chocolate is still not set. If you want to drizzle them with milk or white chocolate it's better to wait until the chocolate coating is set.

Leave the strawberries on the counter and wait until the chocolate is set or place the tray in the fridge, to speed up the process (it should take about 15 minutes or a little longer). The strawberries taste best at room temperature.
Notes
Strawberries can be stored in the fridge for a few hours or the whole day, but with time the chocolate will look dull. If you intend to keep them a little longer in the fridge, transfer them to a tightly sealed container after the chocolate has set.
Before serving, leave the strawberries on the counter so that they warm up to the room temperature. Cold, straight from the fridge, don't taste so good.
Strawberries on the photos are sprinkled with freeze-dried strawberries, finely grounded in the food processor. You can also grate them on a grater, but not too finely (I don't recommend microplane, the pieces clump to each other and then it's hard to sprinkle them). I highly recommend freeze-dried strawberries as a topping – it intensifies the strawberry flavor!
Chocolate covered strawberries are a perfect gift. You can stick them on bamboo skewers and make 'lollipops', that kids love or make a Chocolate Strawberry Bouquet, by tying the skewers with a ribbon and placing them in a vase or a cup.
Calories count = 1 serving (7 strawberries).
Nutrition
Did you make this recipe? Let me know how you liked it and give it a star rating in the comments below! You can also add a photo of your creation!