The first time I've baked gingerbread cookies using this homemade gingerbread spice mix, I thought "oh, that's how real gingerbread should taste like". They were just so flavorful and fragrant. Try it with these Gingerbread squares with plum jam and chocolate (Lebkuchen cookies).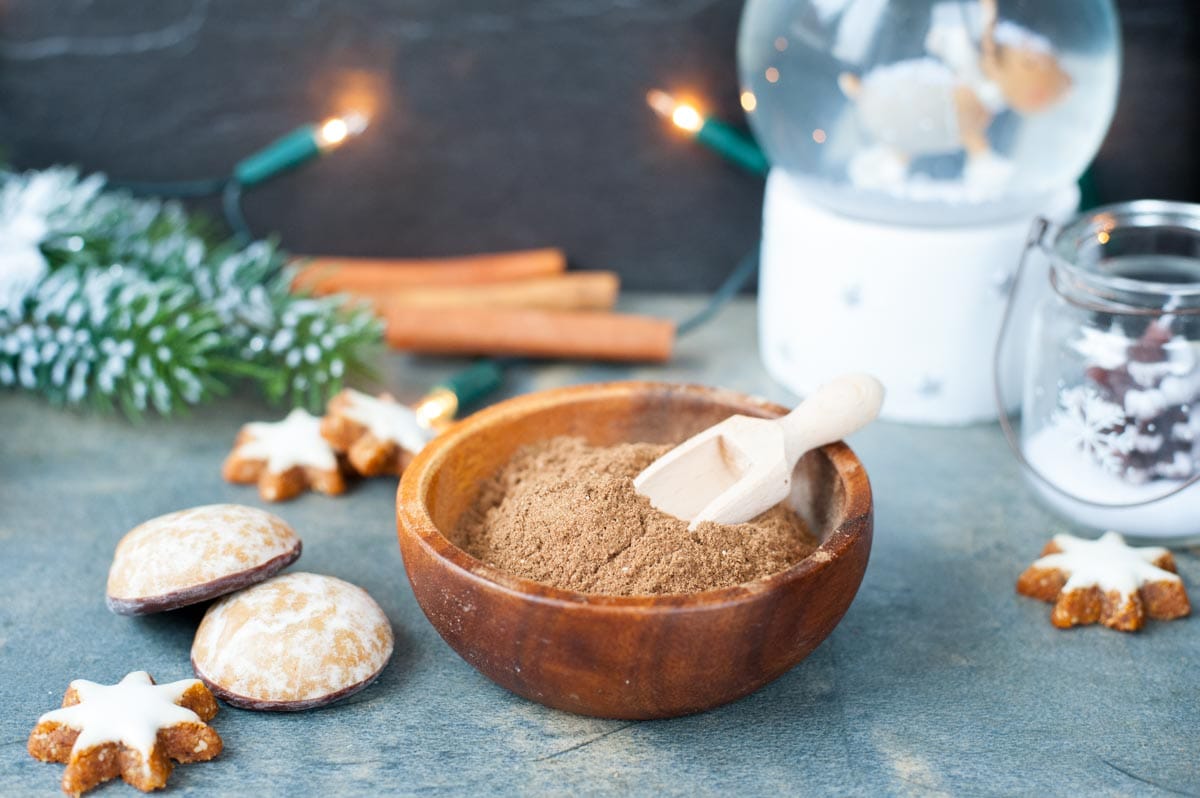 What is gingerbread spice made of?
Gingerbread spice is made of cinnamon, ginger, nutmeg, cloves, cardamom, allspice, star anise, coriander, and black pepper.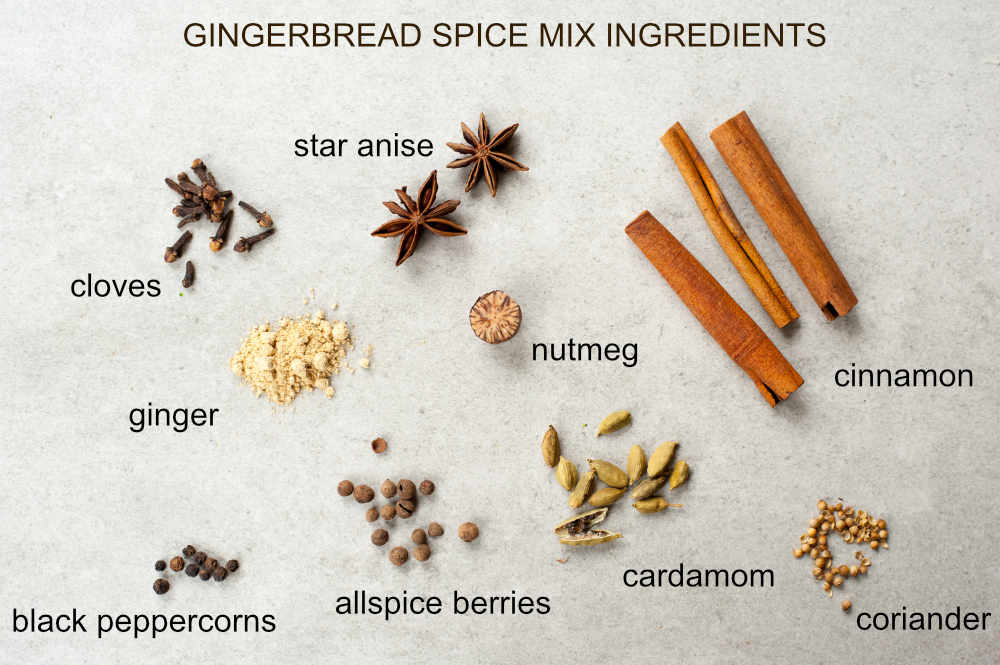 What's the difference between gingerbread spice mix and pumpkin pie spice?
Pumpkin pie spice is made with only 5 spices: cinnamon, ginger, nutmeg, allspice, and cloves. It's more mild than the gingerbread spice and has more cinnamon. Gingerbread spice also contains additional spices such as star anise, cardamom, black pepper, coriander, which bring more Christmassy feeling. For me, pumpkin pie spice smells like fall and gingerbread spice like winter and the holidays. 
How to make homemade gingerbread spice mix:
The most flavorful spice mix is made from whole spices that are freshly ground.
If you can't find all the whole spices you can mix freshly ground spices with store-bought ground spices.
You can make the spice mix with just store-bought ground spices. It won't be more flavorful than store-bought gingerbread spice but it will be cheaper and you can control what goes in it and adjust it to your liking.
Don't make big batches of the spice mix, spices lose their flavor quickly so it's better to make a new batch rather than to use a flavorless one.
You can omit these spices that you don't have on hand, except cinnamon. You can also change the spice ratios to your liking.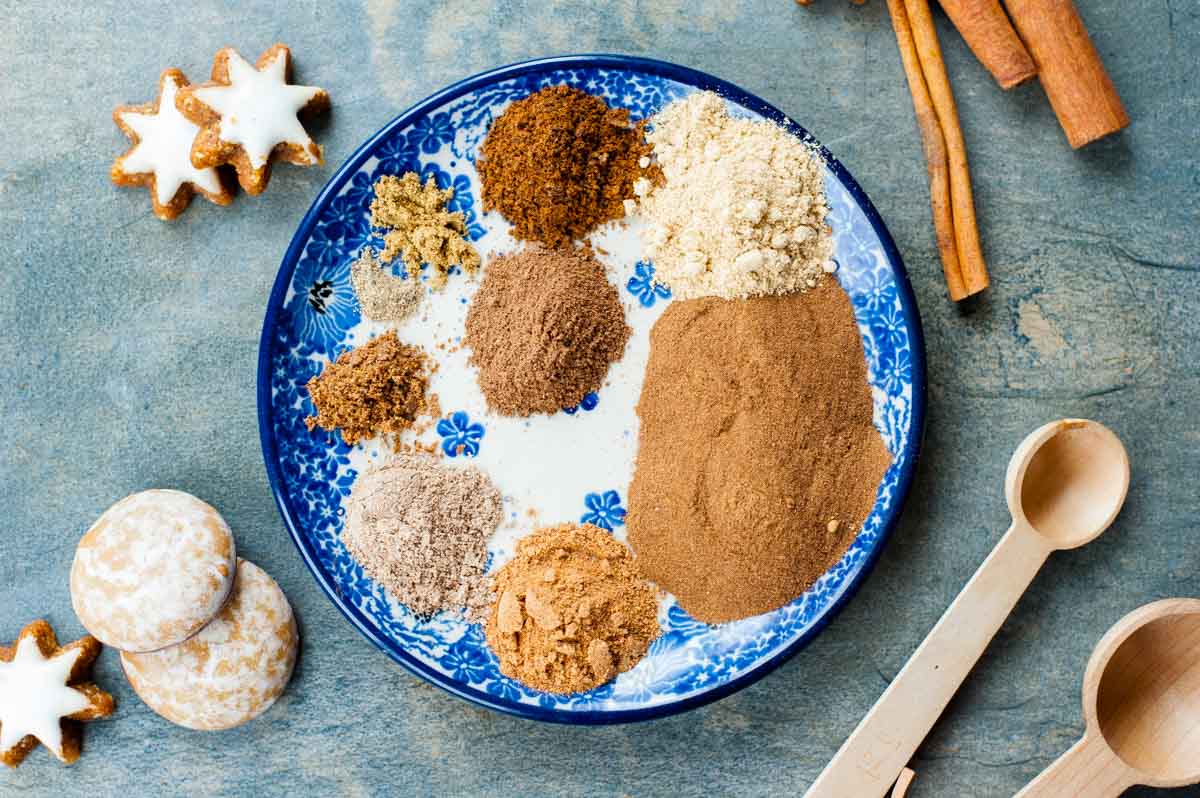 How to grind the spices:
You can use a coffee grinder or a food processor, but only if they are powerful.
I have heard Thermomix grinds such hard spices very well.
Using a pestle and mortar (this is what I've done). When it comes to mortar, you need a large and solid mortar, I have a Thai granite mortar (check out this pesto recipe to see the photo). Don't buy small mortar, you will only be frustrated. A couple of years ago I've once bought one, I just wanted to try it out and see if I will be using it but it landed in the trash. It's better to invest and buy a solid mortar and pestle.
Gingerbread spice mix uses:
Gingerbread spice mix
Aromatic homemade gingerbread spice mix. It will improve the taste of any Christmas dessert.
Pin This Recipe!
SAVE THIS RECIPE
Saved!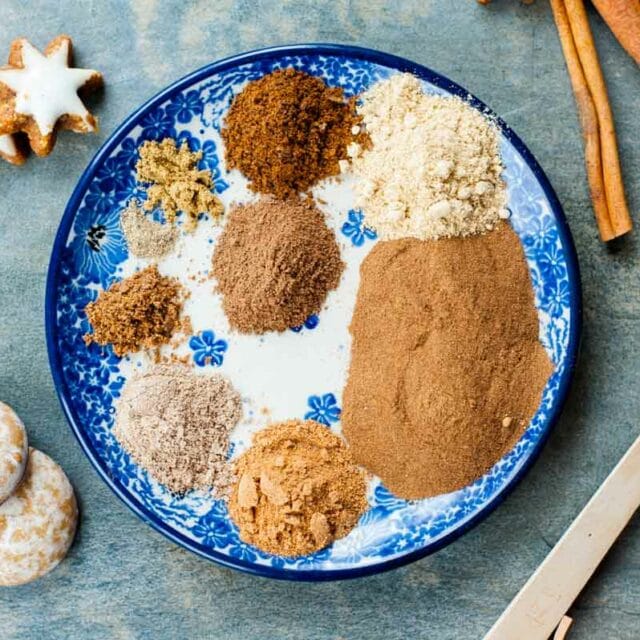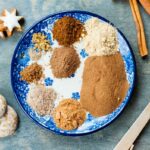 Print Recipe
RATE THE RECIPE
(click on the stars)
Ingredients
3

tablespoons

ground cinnamon

ground cinnamon sticks

2

teaspoons

ground ginger

1

teaspoon

ground nutmeg

1

teaspoon

ground cloves

1

teaspoon

ground cardamom

split open the green capsules and take out the seeds, you only need the seeds

1

teaspoon

ground allspice berries

ground pods from 2 star anise

not the whole stars

1/4

teaspoon

ground coriander

a large pinch ground black pepper
Instructions
The provided amounts of spices are already ground spices. You should buy whole spices (except the ginger, you need to buy ground ginger) and grind them in a coffee grinder or using a pestle and mortar. Then you need to measure out the amount needed (you can eyeball it) and mix all the spices together. You can also mix freshly ground spices with store-bought ground spices, if you can't get all of them or just use only ground spices. Freshly ground spices will be most flavorful.

Store the spice mix in a tightly closed jar.
Tried this Recipe? Rate the Recipe and tell us what you think in the Comments!
Did you make this recipe? RATE THE RECIPE or tell me in the COMMENTS how you liked it! You can also add a photo of your dish. It would make me very happy and will help other readers. Thank you!!