As I came across so many avocado chocolate pudding recipes, I wasn't very convinced.. Chocolate and avocado, it doesn't sound very tasty. However, I wanted to make a healthy and simple snack for my little daughter. I gave it a try and was really surprised. With the right banana:avocado ratio you really can't taste the avocado. I'm telling you, this healthy chocolate pudding came out really good! I won't tell you though, that it tastes like the real calorie-rich chocolate pudding, but believe me, we were really happy how it turned out. It's great for breakfast or as a dessert/snack and the best part is, you can eat it guilt-free! It's good for kids – chocolatey, sweet, but also healthy.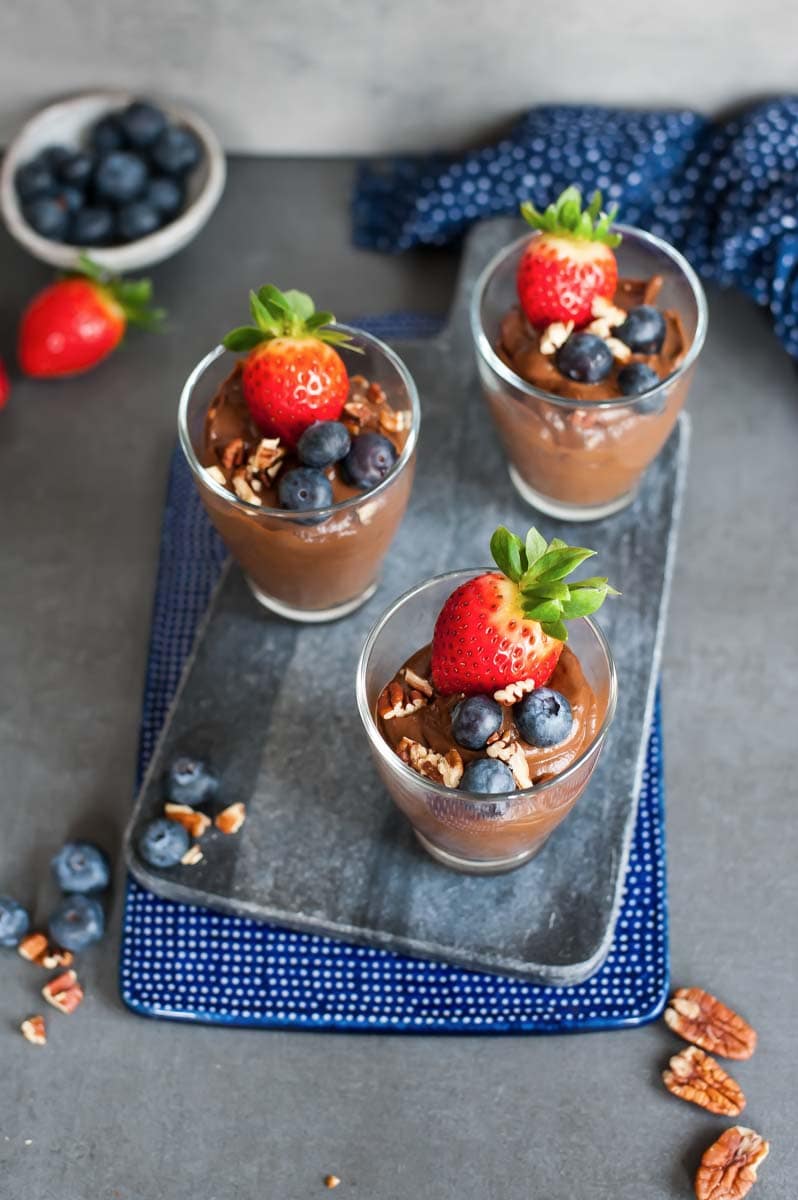 How to make the best tasting, but also healthy chocolate pudding?
– Bananas : avocado ratio is important, it must be 2 bananas for 1 avocado. This way, you can't taste the avocado and its addition makes the pudding super creamy. Bananas and avocado must be ripe, it will be easier to get the smooth, velvety texture of the pudding. Ripe bananas also act as sweetener, so don't add any firm and unripe fruit.
– Use good quality cocoa powder, the pudding will taste so much better.
– Maple syrup – you need to add a bit of sweetener here, the caramel flavor of maple syrup works perfectly.
– A pinch of salt – enhances the sweetness of the dessert.
– The addition of vanilla extract and almond butter is optional, but it's really worth to add them. They make the flavor more complex.
– Almond butter – you can buy ready-made almond butter, for example in health food stores. It should contain just roasted and finely ground almonds. You can also make your own at home if you have a good blender/food processor. Almond butter is a very versatile ingredient, you can add it also to your oatmeal, spoon over fresh fruits or make my coffee banana smoothie!
– what you could also add – a pinch of pumpkin pie spice or gingerbread spice mix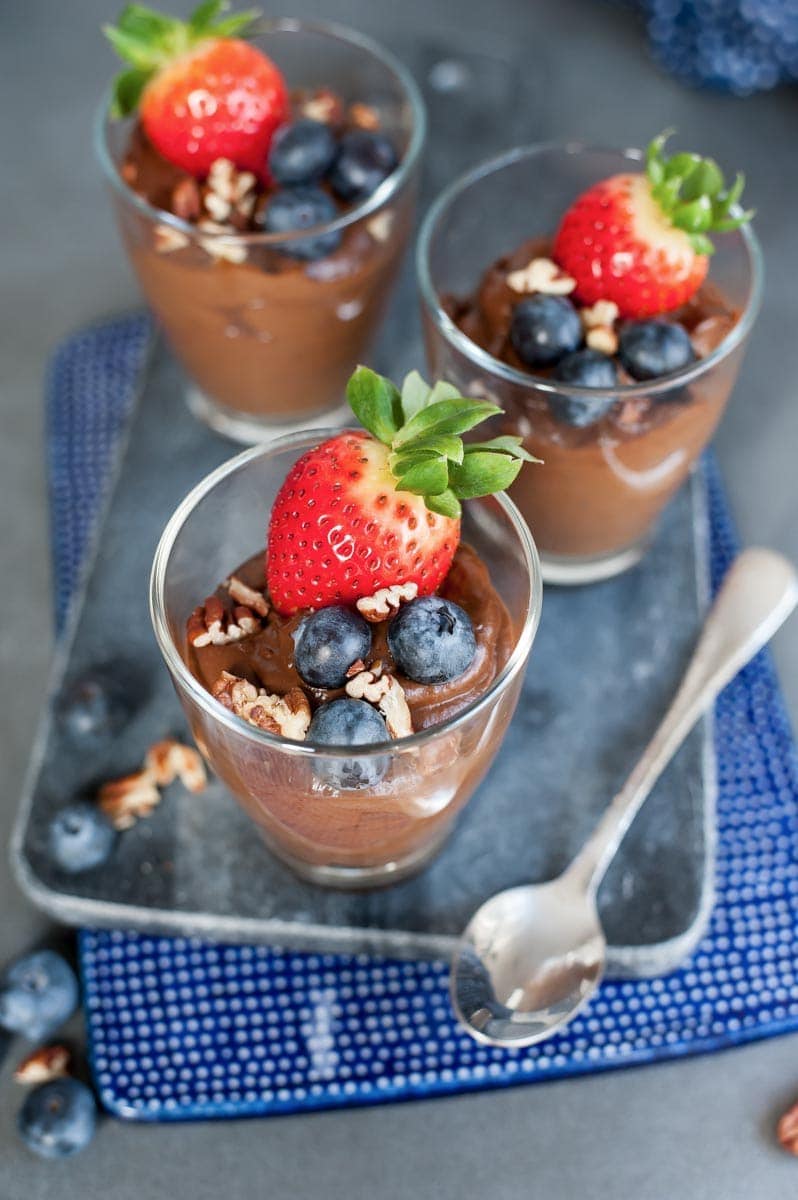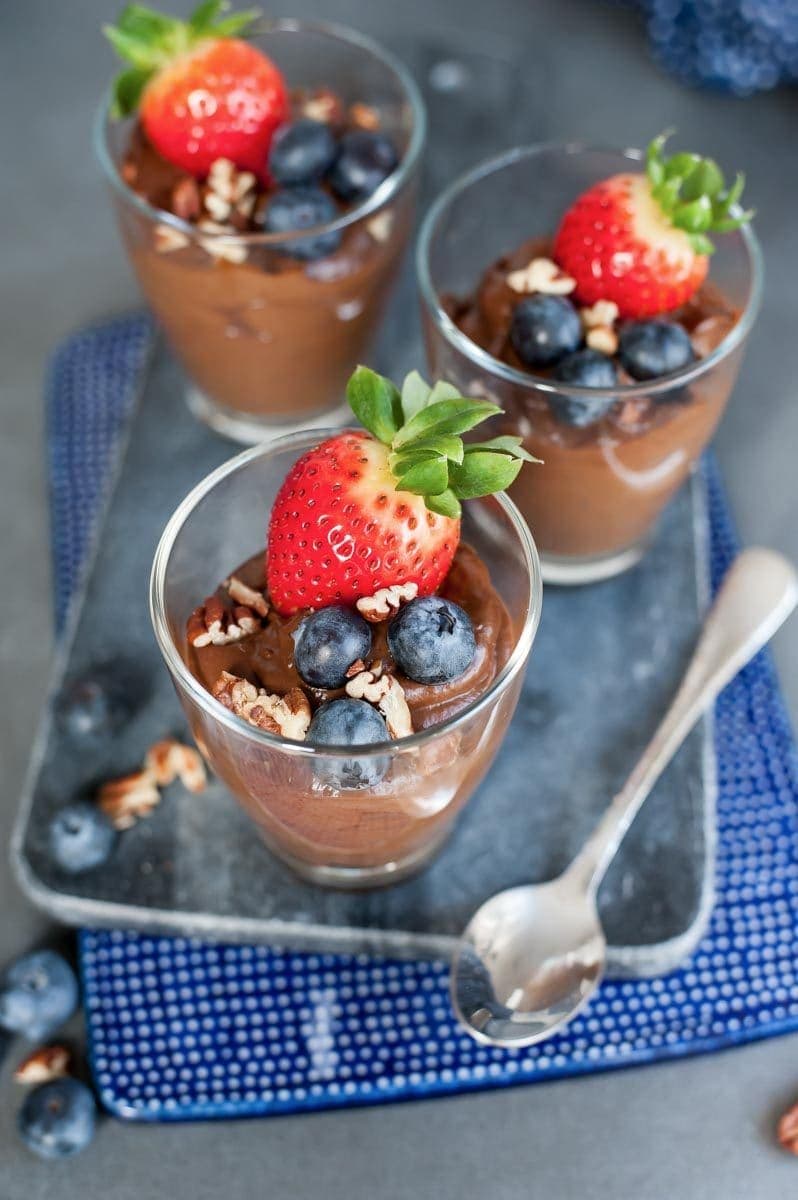 How to serve the healthy chocolate pudding:
– For me, it tastes best with strawberries, but any other fresh fruit will do.
– You can sprinkle it with some chopped nuts – shredded coconut, almonds, hazelnuts, and my favorite pecans.
– Optionally, you can also whip coconut cream – you can buy either a can of coconut cream or coconut milk. If you have coconut milk, open the can without shaking it, there should be coconut cream / thick part on top and coconut water / thin part at the bottom. Coconut milk with emulsifiers won't separate, so make sure you're buying good quality, natural coconut milk. Collect the thick part and whip it until thick and fluffy.
Here you'll find my other breakfast recipes.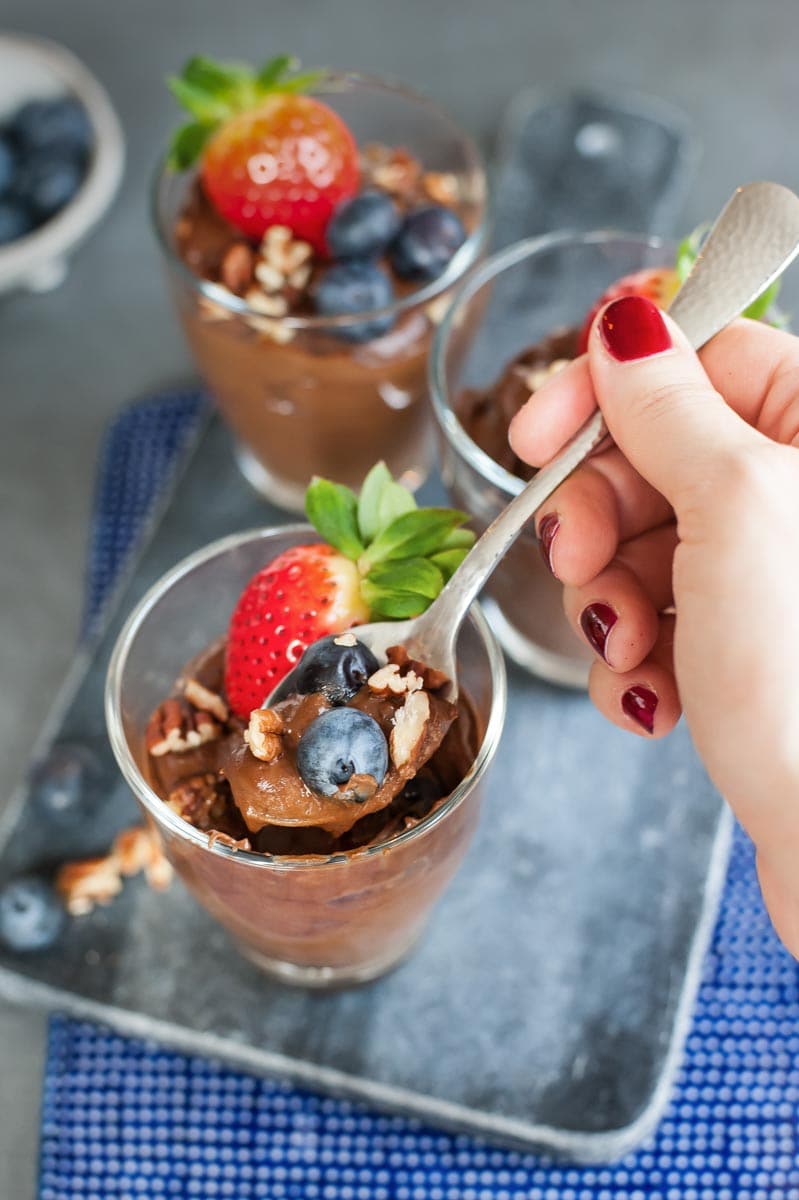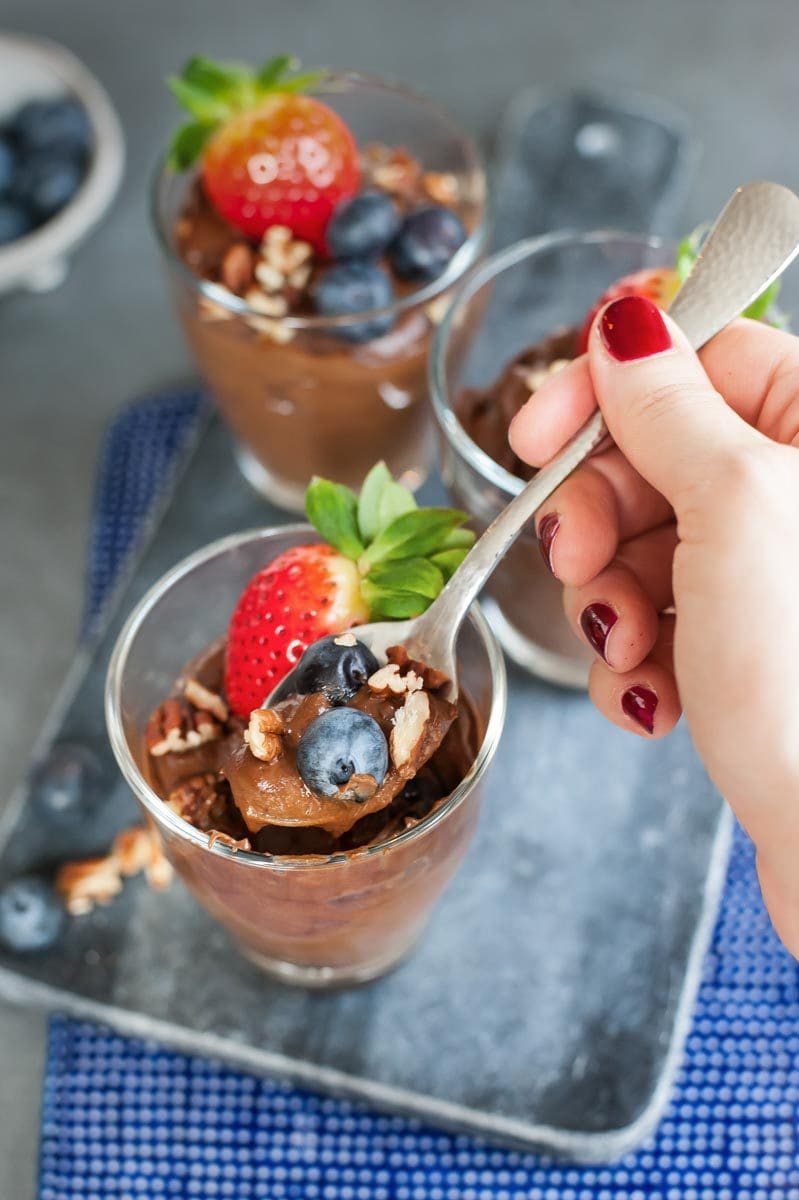 Healthy chocolate pudding
Chocolate pudding made with only healthy ingredients. Delicious and sweet, can be eaten for breakfast with no remorse.
Pin This Recipe!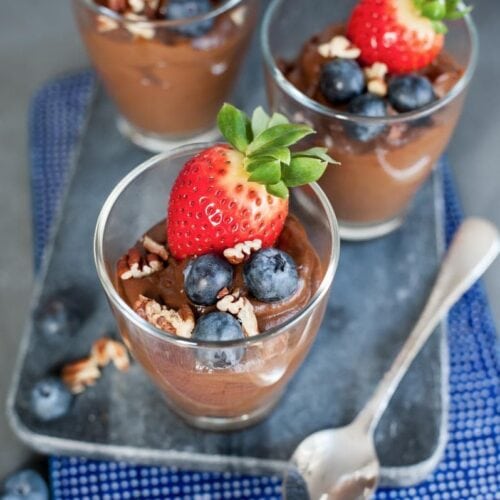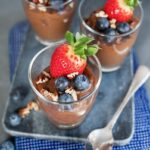 Print Recipe
Ingredients
for the pudding:
2

bananas

ripe!

1

avocado

ripe!

4

tablespoons

cocoa

unsweetened

2

tablespoons

maple syrup

pinch

of salt

1

teaspoon

vanilla extract

optional

1

tablespoon

almond butter

optional, or roasted and finely ground nuts
to serve:
fresh fruit

chopped nuts or shredded coconut

whipped coconut cream

optional
Instructions
Add all the ingredients in a food processor, pulse until perfectly smooth. You can also use an immersion (hand) blender. The pudding should have a really perfectly smooth consistency and be fluffy.

Serve in glasses with fresh fruit, chopped nuts (best are almonds, hazelnuts, pecans) or shredded coconut, optionally with whipped coconut cream.
Notes
Bananas and avocado must be ripe. The amount of maple syrup will depend on how sweet your bananas are, it's possible you'll need less or more.
The addition of vanilla extract and almond butter is optional, but it improves the taste of the dessert.
The pudding is great to make ahead, can be left in the fridge for a couple of hours or a whole day. I wouldn't leave it in the fridge overnight though, as it's made from raw ingredients.
It tastes good at room temperature and chilled, actually a little better when chilled and rested.
Number of servings: depends on what size your glasses are. On the photos, there are 3 servings (the amount you'll get from the recipe). I would serve this amount for 2 people though.
The number of calories = 1 serving = ½ recipe. This is only an estimate.
Did you make this recipe? Let me know how you liked it and give it a star rating in the comments below! You can also add a photo of your creation!