We love oatmeal for breakfast. It's quick to make, healthy, filling, and delicious. It's a great way to start your day. Browse our collection of over 13 oatmeal recipes. You'll find here recipes for stovetop oatmeal or baked oatmeal. Baked oatmeal is especially a great option for a make-ahead breakfast.
1) Banana Oatmeal
This banana oatmeal makes an easy and quick breakfast that the whole family will enjoy. Adding bananas to oatmeal is a natural way to sweeten it and a great way to use up those ripe brown bananas.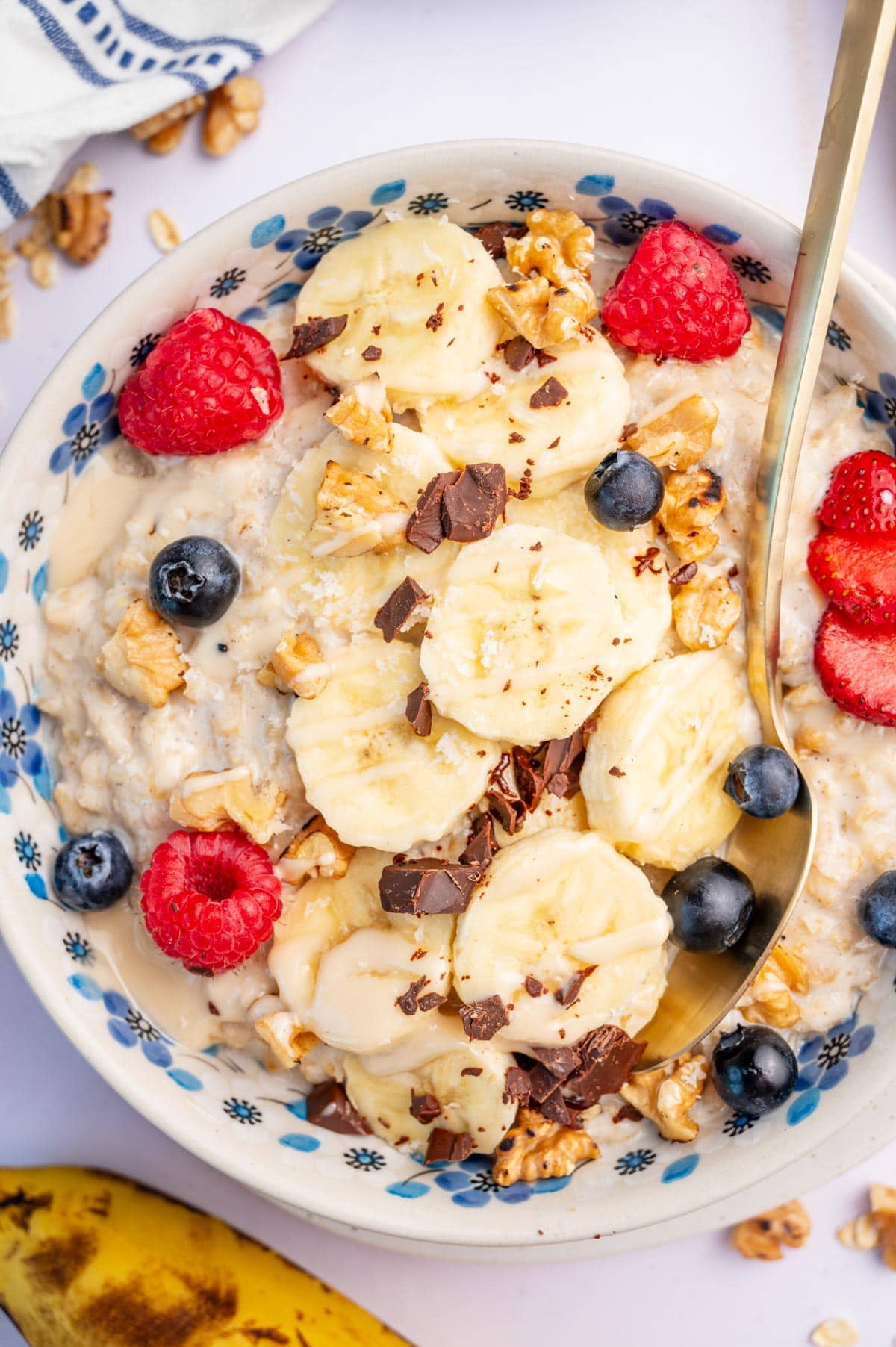 2) Baked Banana Blueberry Oatmeal
This is my favorite baked oatmeal recipe. Lots of ripe bananas sweeten the oatmeal and make it so moist and creamy. Blueberries add great flavor and also lots of moisture. This oatmeal is so so good!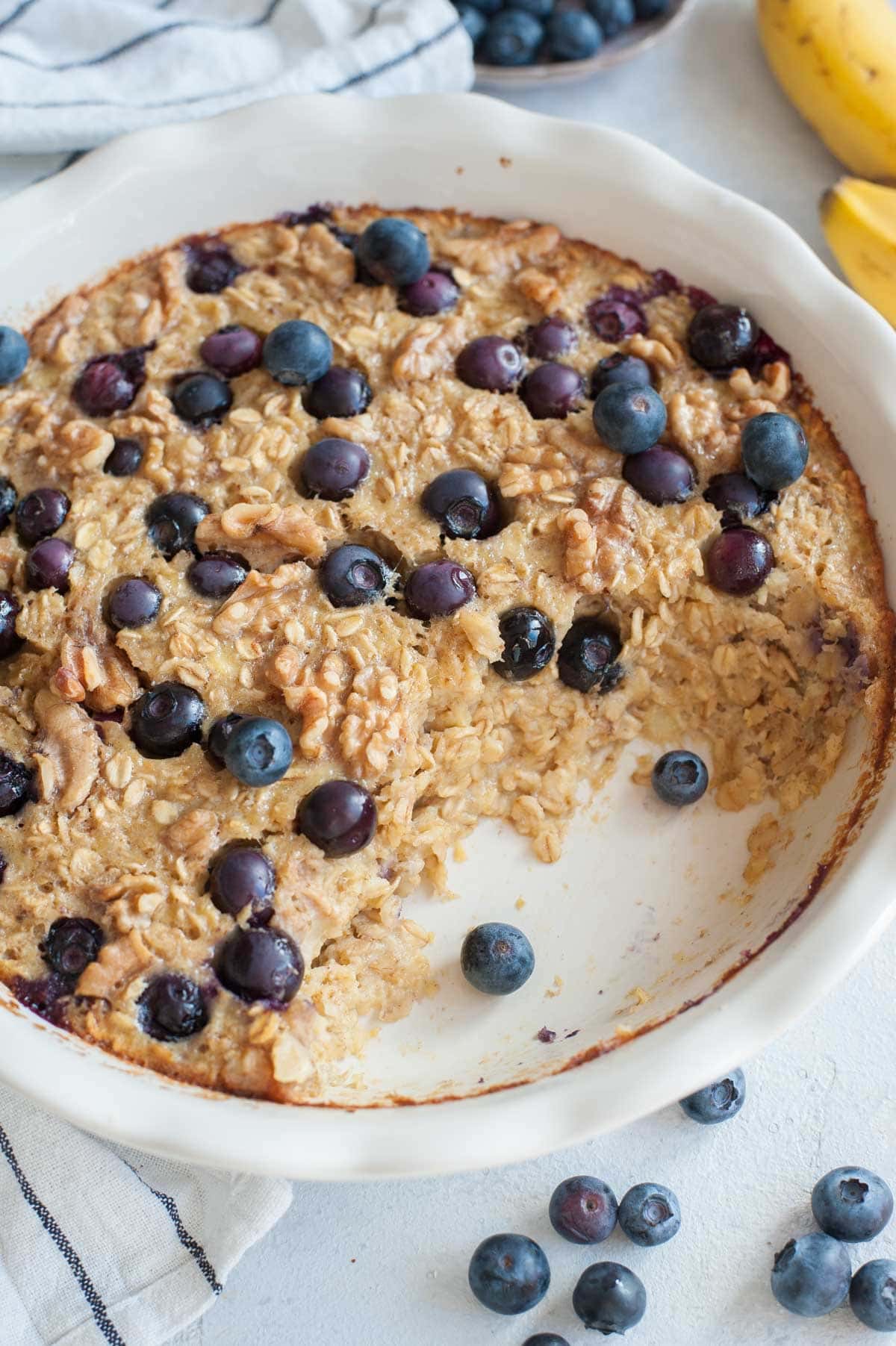 3) Apple Baked Oatmeal
Fall-themed baked oatmeal that is also good all year round! Tender apples, lots of cinnamon, crunchy walnuts, and sweet raisins make this oatmeal irresistible. The top of the oatmeal caramelizes beautifully in the oven creating crunchy browned edges. My kids really love this one!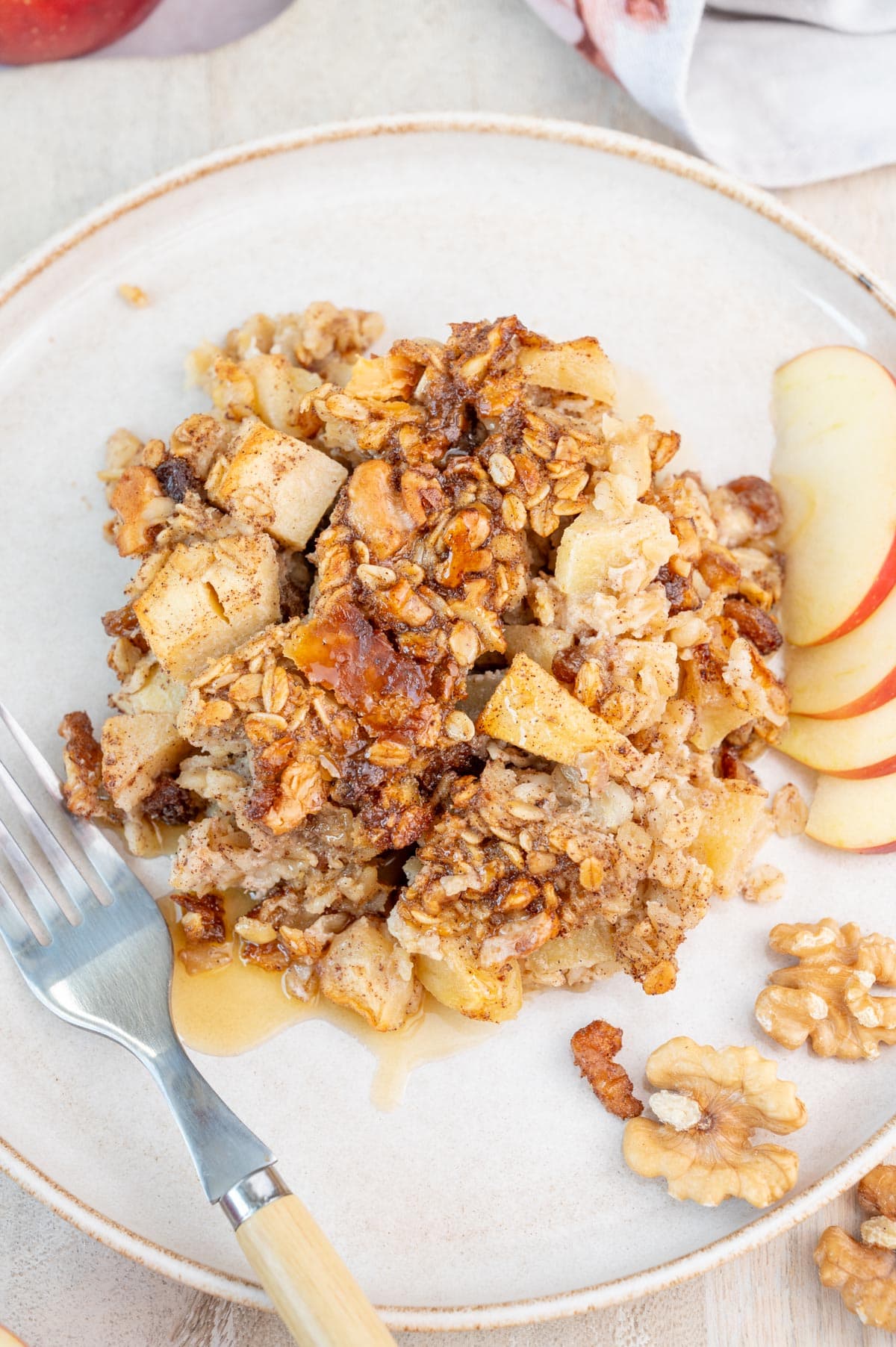 4) Apple Cinnamon Oatmeal – stovetop version
Quick and easy cinnamon oatmeal topped with irresistible sauteed cinnamon apples. This oatmeal is made on the stovetop. You can make it two ways – either you cook apples directly in the oatmeal or you pan-fry apples separately in a pan and top your oatmeal with them. The second option takes a bit longer but it's much better, I really love this one!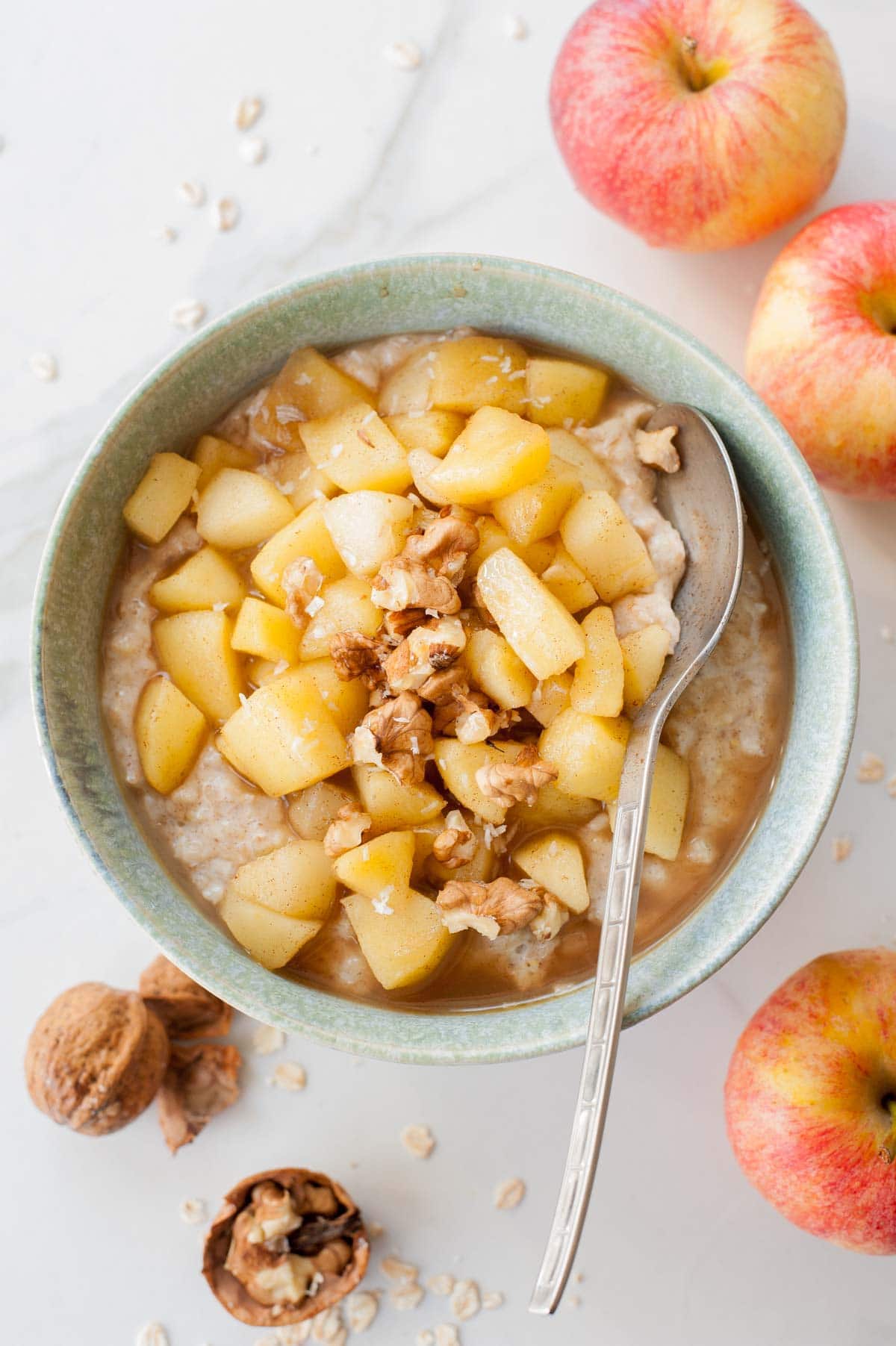 5) Coconut Oatmeal with Pears
This oatmeal is made with coconut milk and topped with saucy, aromatic, spiced pears. When fall comes and pears appear in stores, this is the first recipe I make! Coconut milk makes this oatmeal extra creamy.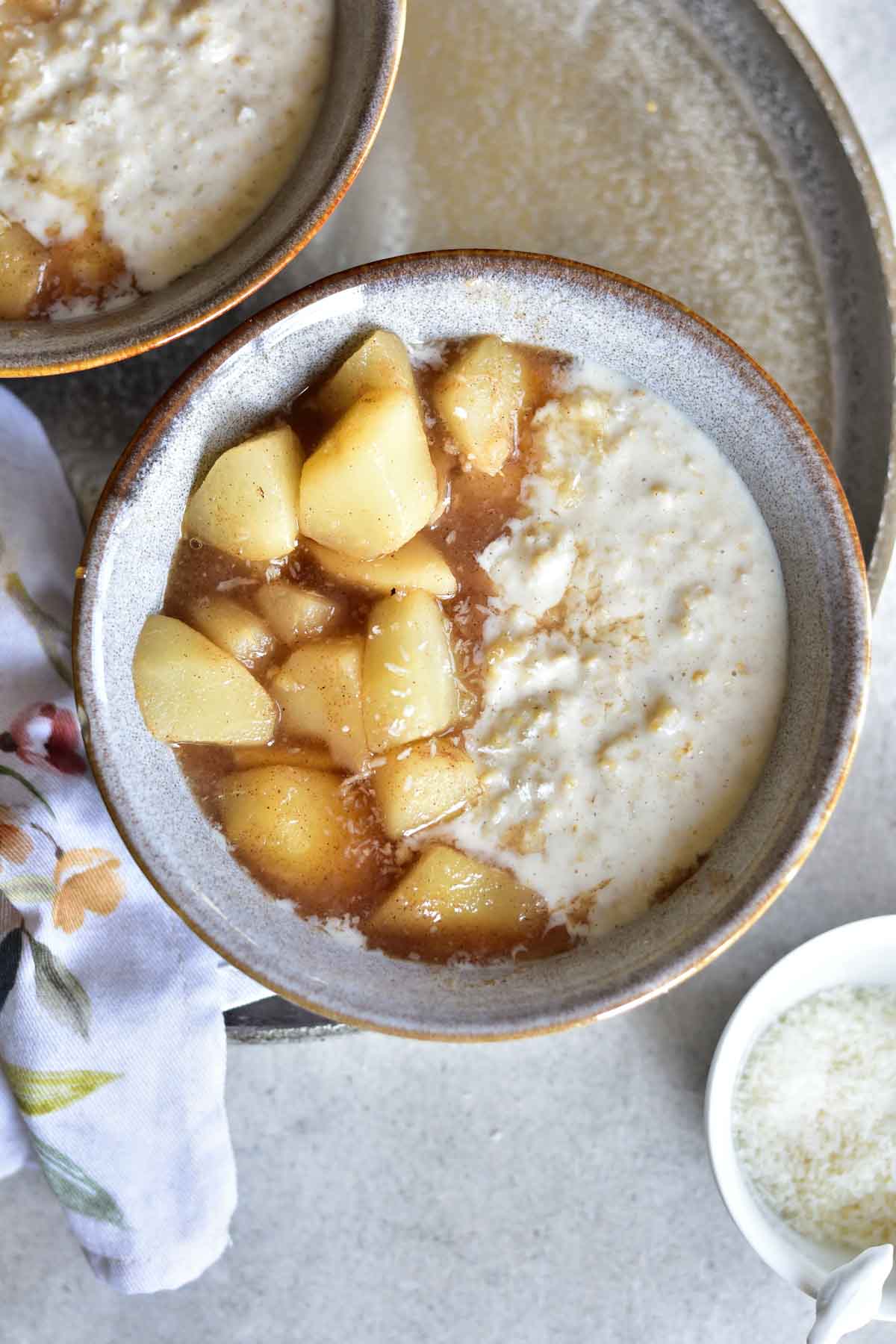 6) Baked Pumpkin Oatmeal
Baked pumpkin oatmeal is flavorful and moist, all thanks to the addition of pumpkin puree. It's seasoned with pumpkin pie spice and topped with crunchy walnuts and sweet cranberries. It makes a perfect fall breakfast!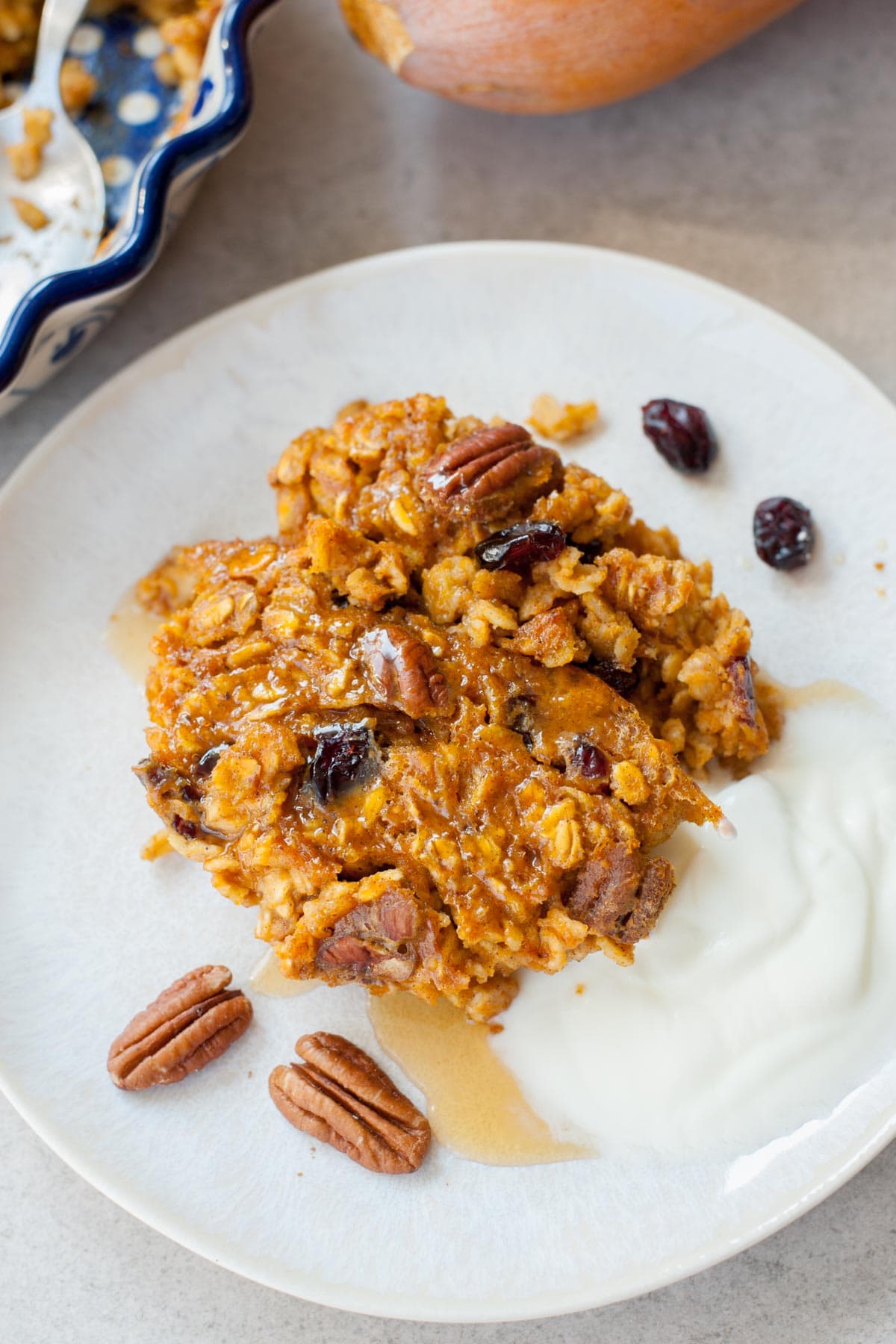 7) Banana Passion Fruit Oatmeal
A banana oatmeal with a twist! This exotic-tasting oatmeal is made with passion fruit which adds a delightful flavor to the oatmeal.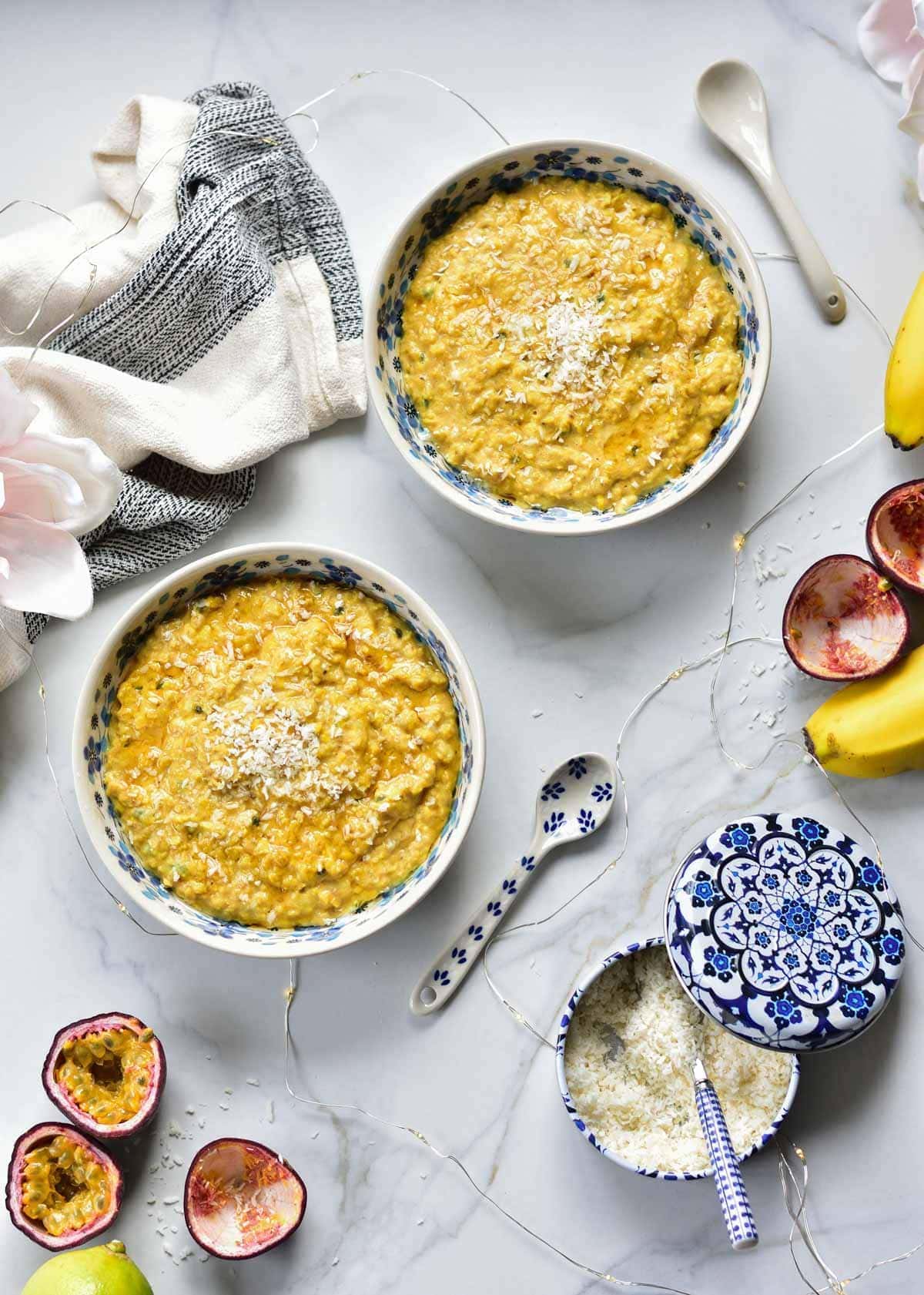 8) Banana Peanut Butter Oatmeal
A classic flavor combination – banana and peanut butter. This oatmeal is rich, but not too heavy, creamy, and super filling. It's topped with sweet bananas, crunchy peanuts, and chocolate chunks!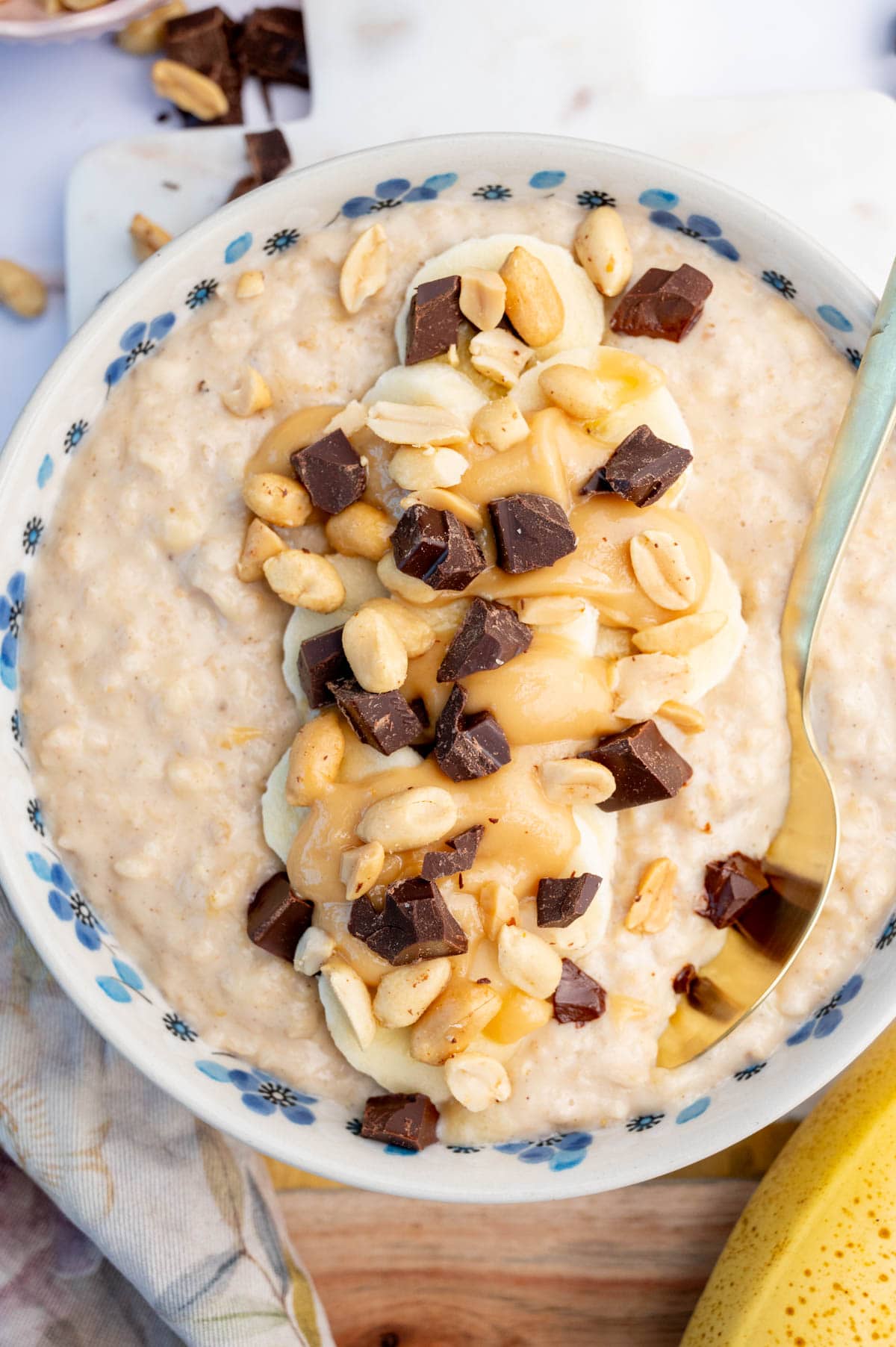 9) Carrot Cake Bake Oatmeal
Carrot cake in the form of an oatmeal? It's unbelievably good! Well-spiced oatmeal with grated carrots, baked to a crispy perfection and topped with cream cheese topping.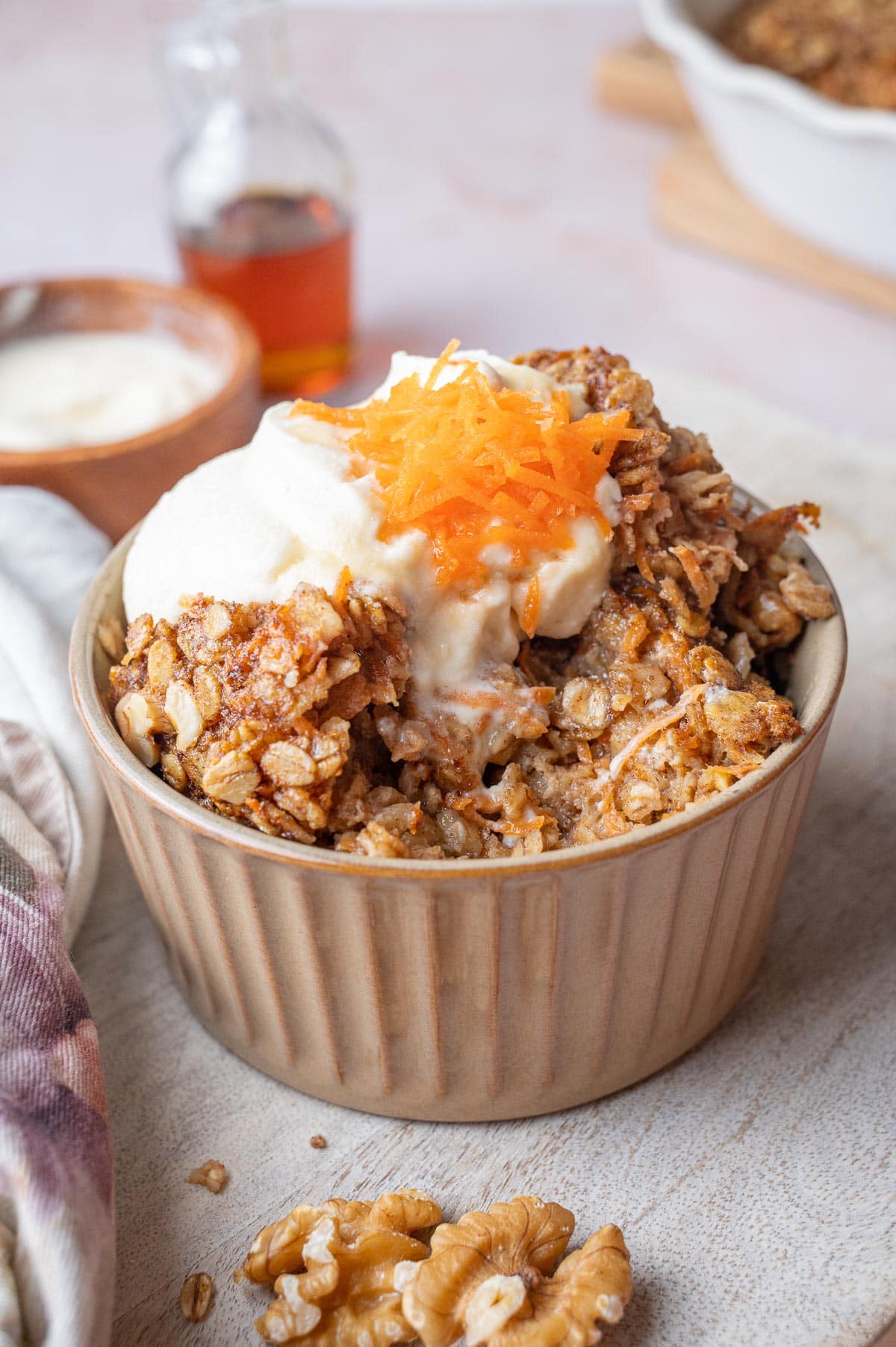 10) Baked Chocolate Oatmeal
The ultimate indulgent oatmeal! Rich and decadent, but also healthy! It's made with cocoa powder and chocolate chunks. Perfect for a special occasion breakfast!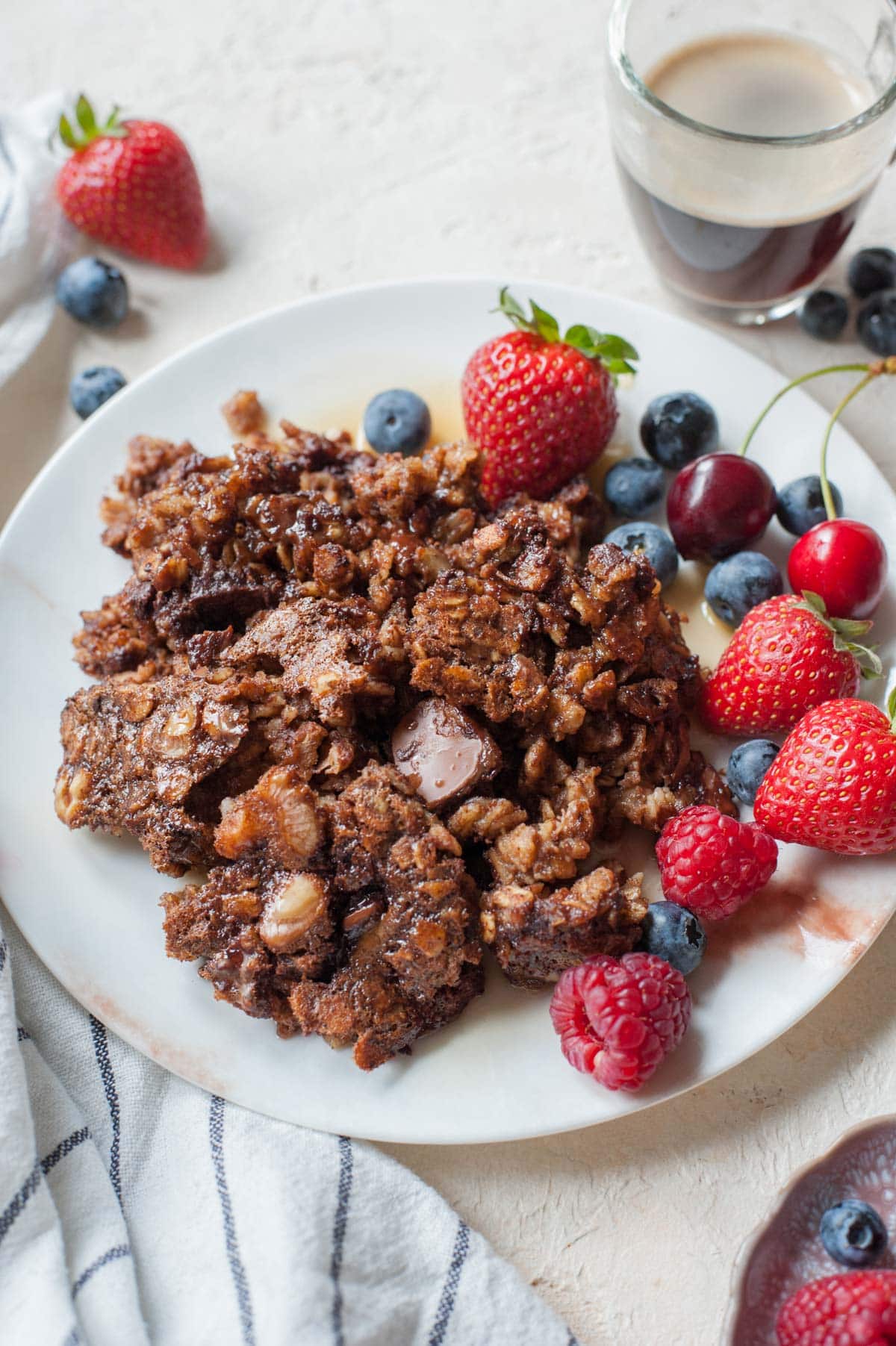 11) Strawberries and Cream Oatmeal
A must during strawberry season. This oatmeal is bursting with strawberry flavor – fresh strawberry puree and chopped strawberries are added to the oatmeal for the ultimate strawberry flavor. A splash of cream makes it super creamy.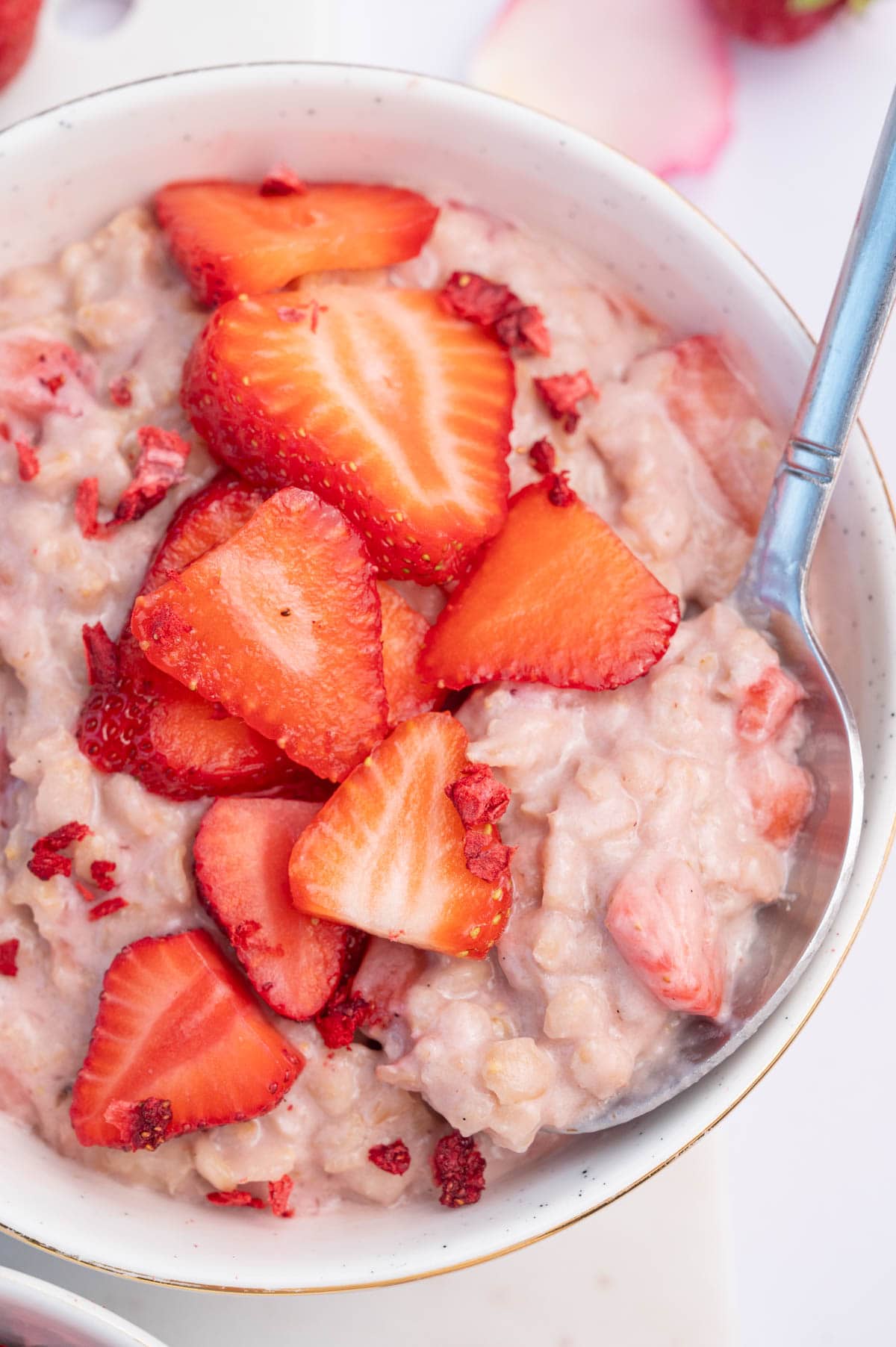 12) Peach Oatmeal
This peach oatmeal is made with a whole pound of peaches in the form of fresh peach puree and chopped peaches. It tastes so light and fruity!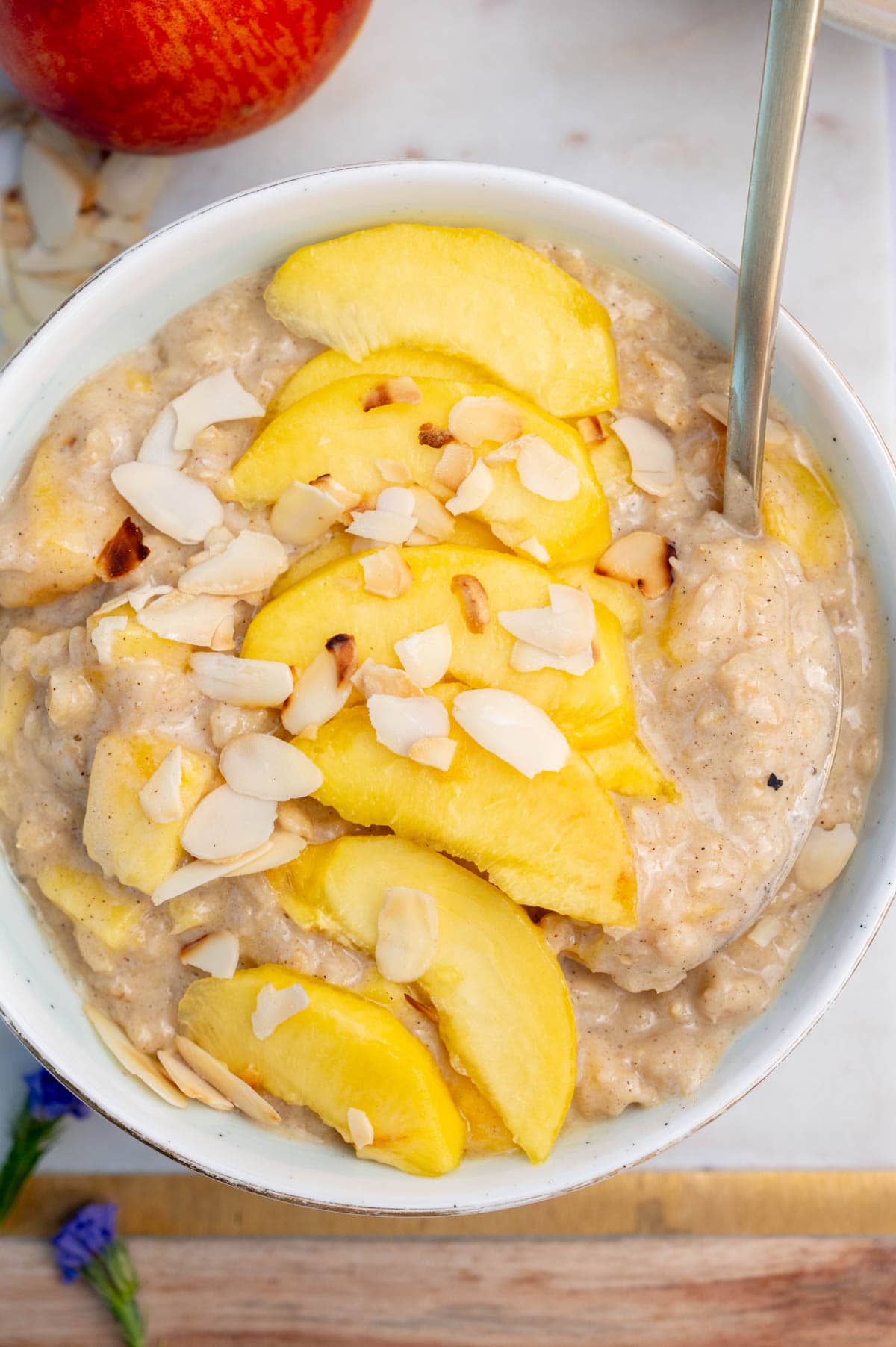 13) Banana Chocolate Oatmeal
This banana chocolate oatmeal tastes rich and decadent but it's actually healthy. It's naturally sweetened with bananas and maple syrup. Top it with chocolate chunks and chocolate hazelnut spread for extra indulgence.
(The recipe is below the photo in the recipe card).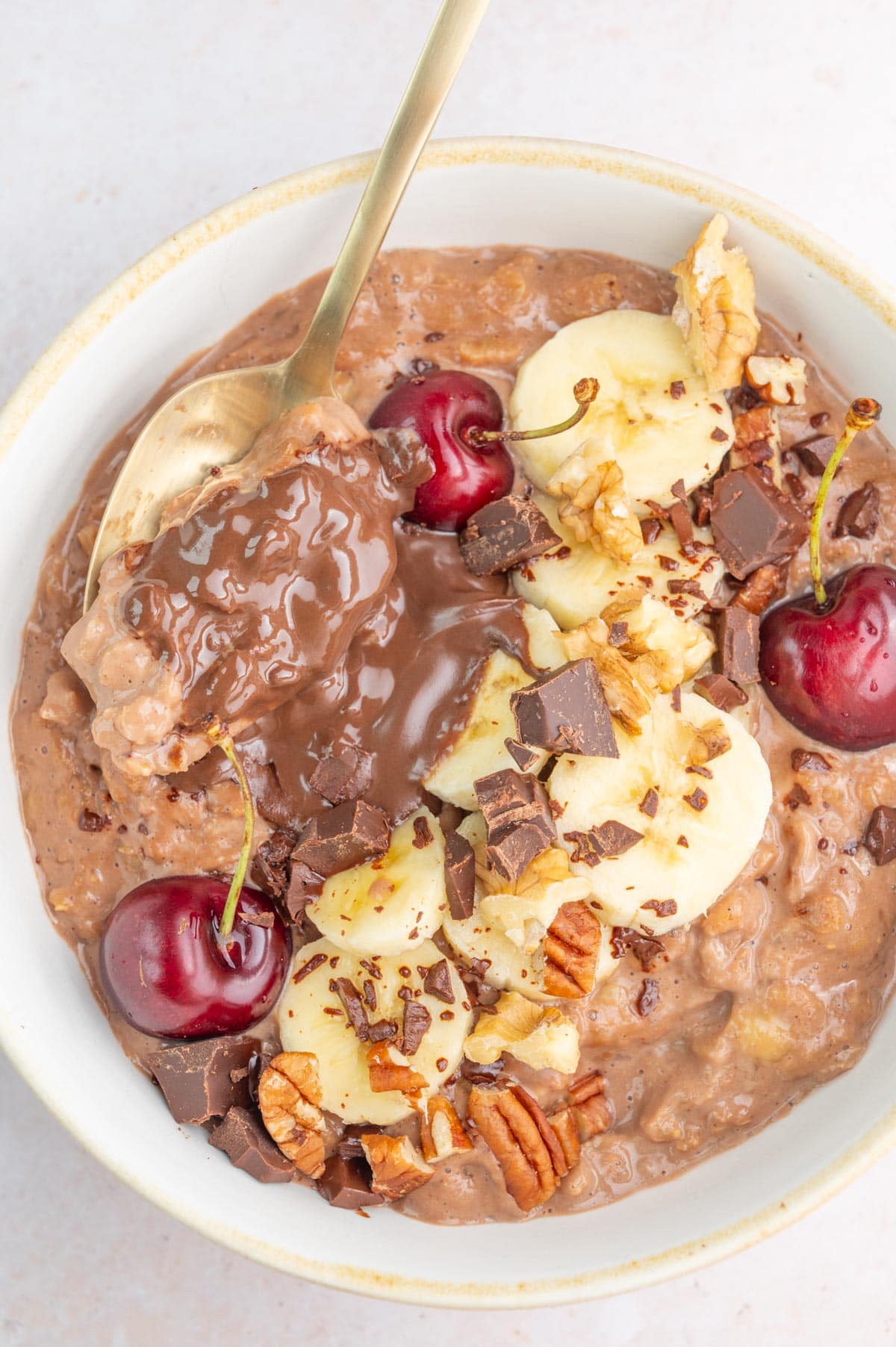 Oatmeal Recipes (15+ Recipes You Need To Try!)
A collection of oatmeal recipes for a perfect start of your day.
Try this rich and creamy banana chocolate oatmeal for a delicious and indulgent breakfast.
Pin This Recipe!
SAVE THIS RECIPE
Saved!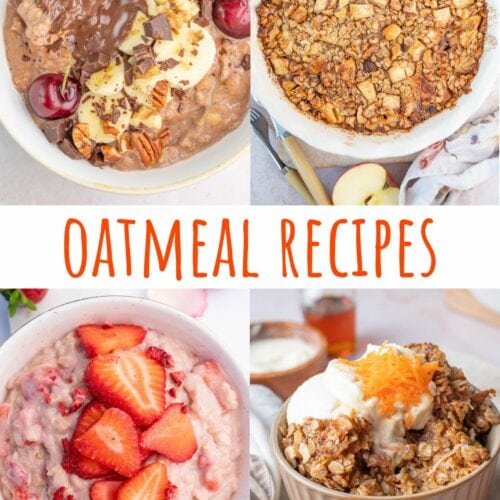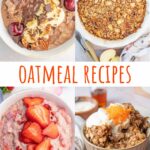 Print Recipe
RATE THE RECIPE
(click on the stars)
Ingredients
2

cups

(200g) old-fashioned oats

4

cups

(960ml) milk

of your choice

3

tablespoons

cocoa powder

preferably Dutch-processed, but any kind work

2

tablespoons

maple syrup

2

teaspoons

vanilla

1/4

teaspoon

cinnamon

pinch

of salt

4

medium bananas

2

teaspoons

coconut oil

optional

chocolate-hazelnut spread

for serving, optional

sweet cherries and strawberries

for garnish
Instructions
Add milk, oats, maple syrup, cocoa powder, vanilla, cinnamon, and salt to a medium/large heavy-bottomed pot.

Bring to a boil then cook for 10-12 minutes, stirring frequently (to prevent burning at the bottom of the pot) until oats are soft and almost all the milk has been absorbed. At this point, your oatmeal will be a little bit too runny, but this is ok – it will thicken considerably while cooling. Take the pot off the heat.

Mash bananas with a fork. Add bananas and coconut oil to the oatmeal and stir until combined. After a minute or so, your oatmeal should have a perfect creamy, thick, but still pourable consistency.

Pour your oatmeal into bowls and top with your favorite toppings (my favorite for this oatmeal are a couple of banana slices, a spoonful of chocolate hazelnut spread, strawberries, sweet cherries, and a couple of chopped walnuts or pecans).

Enjoy!
Notes
We always eat this oatmeal right after making it but if I plan on saving it for the next day, I will bring it once again to a boil after adding the bananas. This recipe calls for adding bananas after the oatmeal has been cooked to preserve some of their nutritional value which is partially lost after cooking the bananas. It is also a way to cool your oatmeal quicker (by adding cold bananas to a very hot oatmeal). Fresh bananas in the oatmeal will store better until the next day if they have been cooked.
This recipe has a high milk-to-oats ratio because this is what we prefer – I like when my oatmeal is not too thick – it should still be pourable when I add it to my bowl. If you want thicker oatmeal, add 1/2 cup less milk.
This oatmeal is already pleasantly sweet with just mashed bananas but we like it extra sweet so I´m adding maple syrup. You can omit it if you´d like a less sweet oatmeal. You could also add fewer bananas.
Coconut oil makes the oatmeal a little bit more creamy and adds a touch of coconut flavor. You can omit it if you don´t have it on hand.
Calories = 1 serving (1/3 of the recipe). This is only an estimate!
Tried this Recipe? Rate the Recipe and tell us what you think in the Comments!
FAQ's
How do you make oatmeal taste good?
My best tips are to add mashed bananas to your oatmeal and cook it in milk instead of water! I also like to add coconut oil to the oatmeal for flavor and it also makes oatmeal more creamy. As a sweetener, I like to use maple syrup.
You can also add spices to your oatmeal such as cinnamon, apple pie spice, pumpkin pie spice, or gingerbread spice mix.
What are the best ingredients to put in oatmeal?
The best ingredient to add to your oatmeal are mashed bananas! They sweeten it naturally and make it moist. Other important ingredients are coconut oil, maple syrup, and aromatic spices such as cinnamon or pumpkin pie spice.
What are the best oatmeal toppings?
My favorite oatmeal toppings:
– fresh chopped fruit such as bananas or berries
– crunchy nuts or seeds such as walnuts, almonds, pecans, shredded coconut
– chopped bittersweet chocolate
– a drizzle of nut butter such as peanut butter or almond butter
– sauteed cinnamon apples
Is oatmeal healthy with milk or water?
Your oatmeal will be healthy no matter if you cook it in milk or in water. Milk adds more flavor and makes your oatmeal more sweet and creamy.
Best oats for an oatmeal
Old-fashioned oats – old-fashioned oats are best for oatmeal if you like it more chewy and you like your oatmeal to have more texture.
Quick-cooking oats – they're smaller than old-fashioned oats and cook faster. Use them if you have less time or you want your oatmeal to be more creamy and less chewy.
Steel-cut oats – they cook the longest but your oatmeal will have more texture.
Cooking methods for oatmeal
Stove-top – the quickest method – your oatmeal cooks in under 10 minutes on the stovetop.
Baking – baked oatmeal takes longer to cook but it tastes similar to a cake, has a crunchy top, and creamy inside. It reheats very well and is easy to make for a crowd. This is my favorite type of oatmeal!
No-cook method aka overnight oats. You simply combine all the ingredients and leave overnight in the fridge to soften!