Cheese sun-dried tomato and olive puff pastry pinwheels
Quick to make, savoury puff pastry cookies. Perfect for parties or when you feel like eating a crispy snack. They're so simple to make, just mix the grated cheese, finely chopped olives and sun-dried tomatoes together, then spread over a puff pastry sheet. Roll up the dough and cut into slices. Place the puff pastry pinwheels on a baking tray and bake. So simple yet packed with flavour!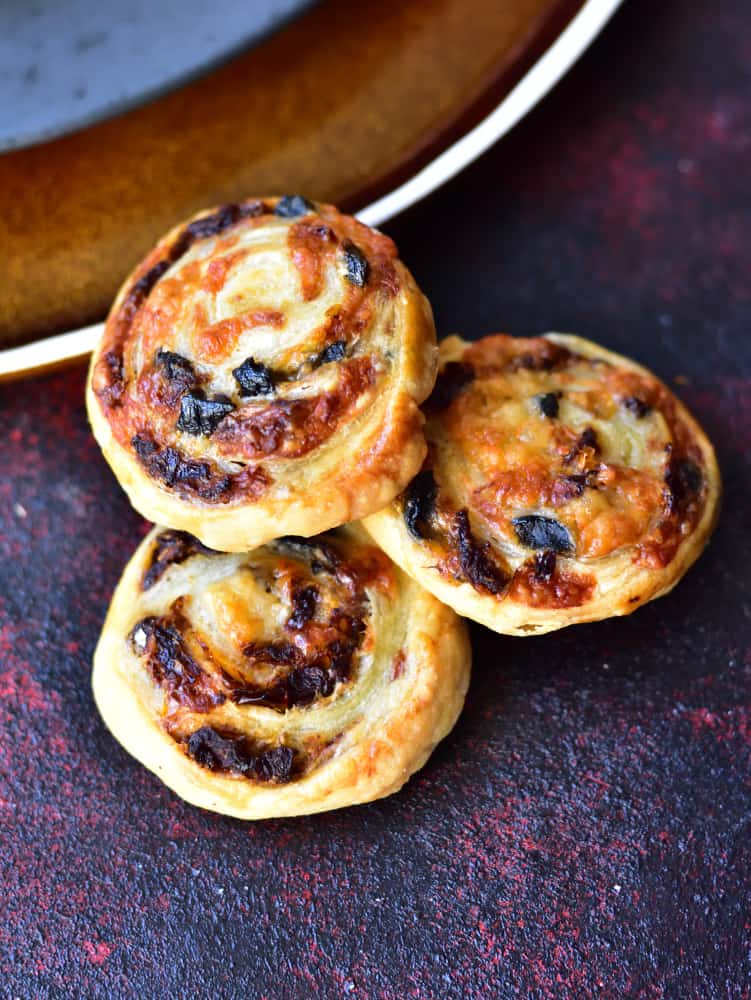 They taste good warm and at room temperature, but unfortunately, like all puff pastry snacks, they will be less crispy after about 2 hours.
When using store-bought puff pastry, it's best to use all-butter puff pastry (tastes so much better!).
How to make puff pastry pinwheels step by step: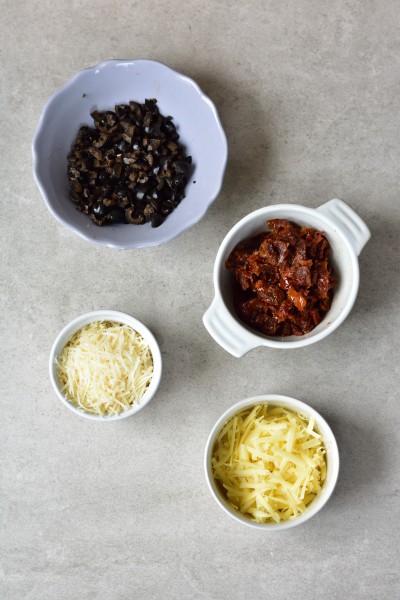 If you are looking for other puff pastry appetizers, try these: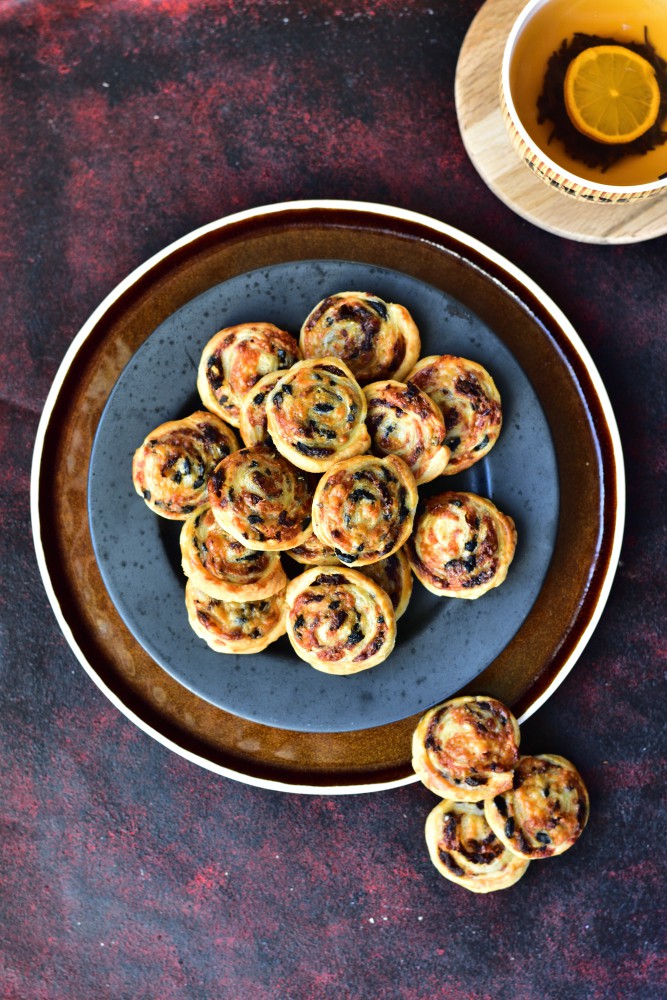 Cheese sun-dried tomato and olive puff pastry pinwheels
Puff pastry pinwheels recipe – a quick and festive snack! These are stuffed with cheese, black olives, sun-dried tomatoes and are full of taste!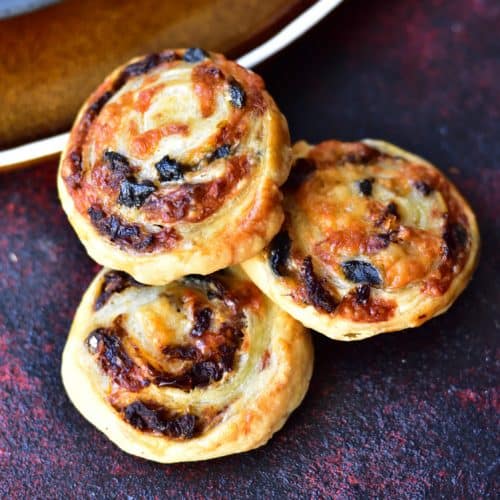 Print Recipe
Ingredients
pinwheels:
1

sheet puff pastry

10oz/280g, preferably all-butter puff pastry

1

cup

grated cheese (3.5oz/100g)

I used 1/2 cup (50g/1.8oz) parmesan cheese and 1/2 cup (50g/1.8oz) cheddar, you can use any melting cheese you like

3/4

cup

sun-dried tomatoes (oil-packed)

3.5oz/100g = 17 tomatoes

1/2

cup

black olives

17 olives (70g/2.5oz)
Instructions
Preheat the oven to 200°C / 400°F / Gas Mark 6 (no fan).

Grate the cheese (cheddar on large holes of a box grater, parmesan on small ones), drain the sun-dried tomatoes, finely chop the tomatoes (you should have 1/2 cup finely chopped sun-dried tomatoes) and olives. Mix all the ingredients together.

On a sheet of parchment paper or a silicone mat, lightly roll out the puff pastry to a thickness of approx. 2 mm / 1/16 inch into a rectangle shape. If you're using all-butter puff pastry (homemade or store-bought) you need to sprinkle it well with flour, on both sides, before rolling out. It sticks a little more than a regular store-bought puff pastry.

Spread the filling in an even layer over the rolled out dough, press it lightly into the dough.

Roll up the dough to create a long roll.

Cut the log into ½ inch / 1 cm slices, using a very sharp serrated knife, or better a thread (as on the photos) – the slices will be more even and look better. Slice a piece of thread under the roll, cross the ends over the top, pull tight and repeat. Don't worry if the slices are not perfectly round and even!

Place the pinwheels on a baking tray lined with parchment paper, arrange the rolls 3 cm / 1 inch apart (they will rise a little). Press the pinwheels lightly to flatten them and adjust their shape. They should be roughly of even thickness.

Beat the egg with a fork and mix it with milk. Brush the pinwheels with the egg wash.

Bake the pinwheels for 10 minutes, then reduce the temperature to 180°C / 350°F / Gas Mark 4 and bake for about 13 minutes or until golden brown. Make sure to keep an eye on them in the last 5 minutes to ensure they won't burn. The baking time can be longer or shorter in your oven!

Enjoy!
Notes
Store in a tightly closed container. They are best served within 2 hours after baking – the will still be crispy, but after this time they will start to soften.
Reserve the oil from the sun-dried tomato jar. You can keep it in the fridge and add to salad dressings or cook chicken with it, it's very aromatic.
Calories count = the whole recipe (this is only an estimate!).
Did you make this recipe? Let me know how you liked it and give it a star rating in the comments below! You can also add a photo of your creation!