Puff pastry appetizers are one of my favorite appetizer recipes to serve at parties, gatherings, or just as a quick snack for my family. Here you'll find a collection of 13 delicious savory puff pastry appetizers.
#1 Puff Pastry Mushroom Tart
It's one of the most popular recipes on the blog! Readers love it and for a good reason – it's delicious and super easy to make. Crispy puff pastry is topped with flavorful Gruyere cheese and sauteed balsamic mushrooms and onions. You can serve it as a one large tart and cut it into servings or make small, individual tartlets.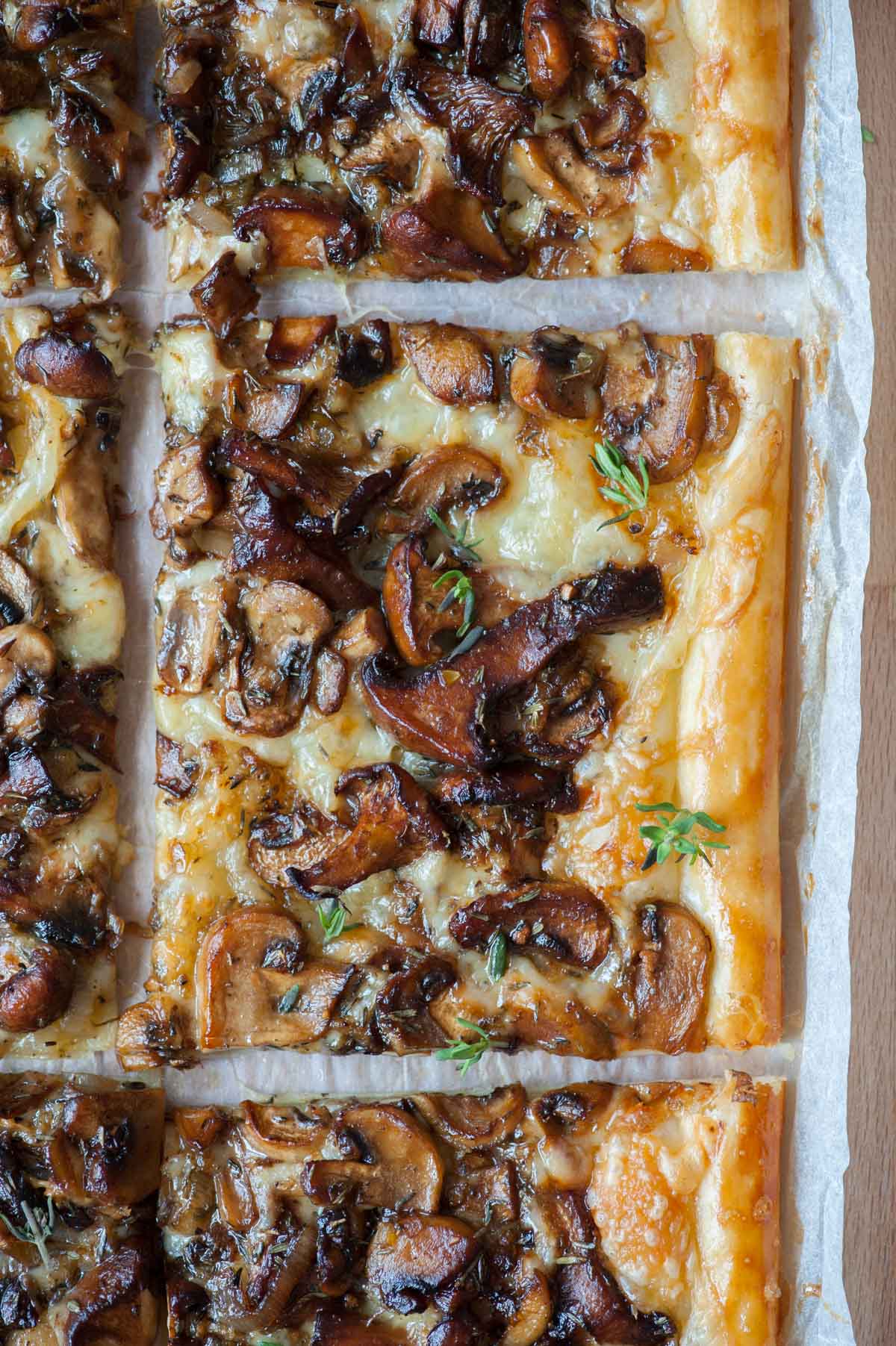 #2 Puff Pastry Strudel with Vegetables and Cheese
Puff pastry strudel is a delicious puff pastry appetizer filled with lots of vegetables and melted gooey cheese. You can modify this recipe to your liking and fill it with just about anything! This recipe is also very popular among my readers!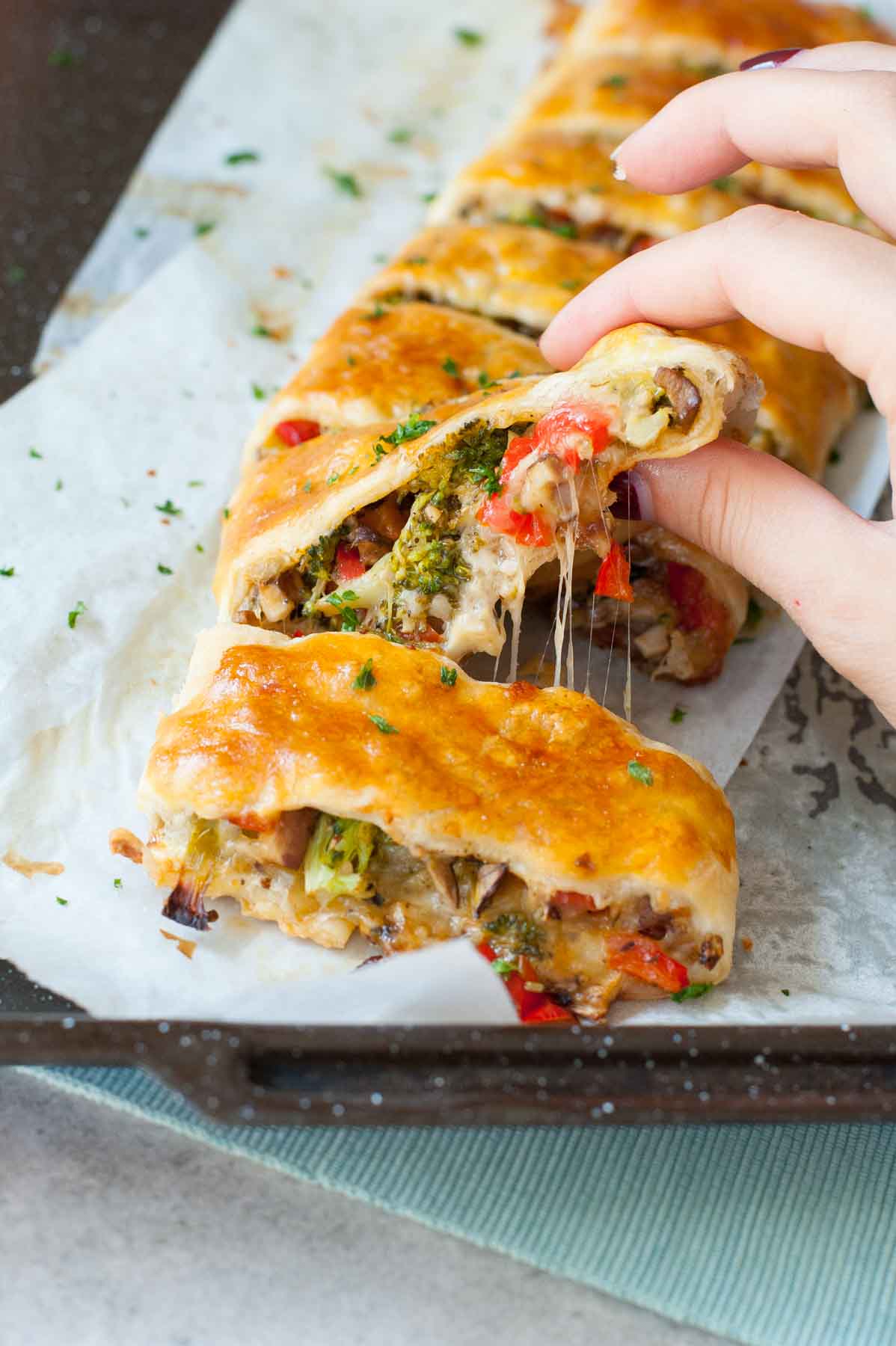 #3 Puff Pastry Cheese Straws
Puff pastry cheese straws are easy and quick to make. You just need to cut a sheet of puff pastry into strips, sprinkle over parmesan cheese and herbs and twist the strips. These cheesy straws are so good it's hard to stop eating them! They are great for parties and also make a tasty appetizer for a soup.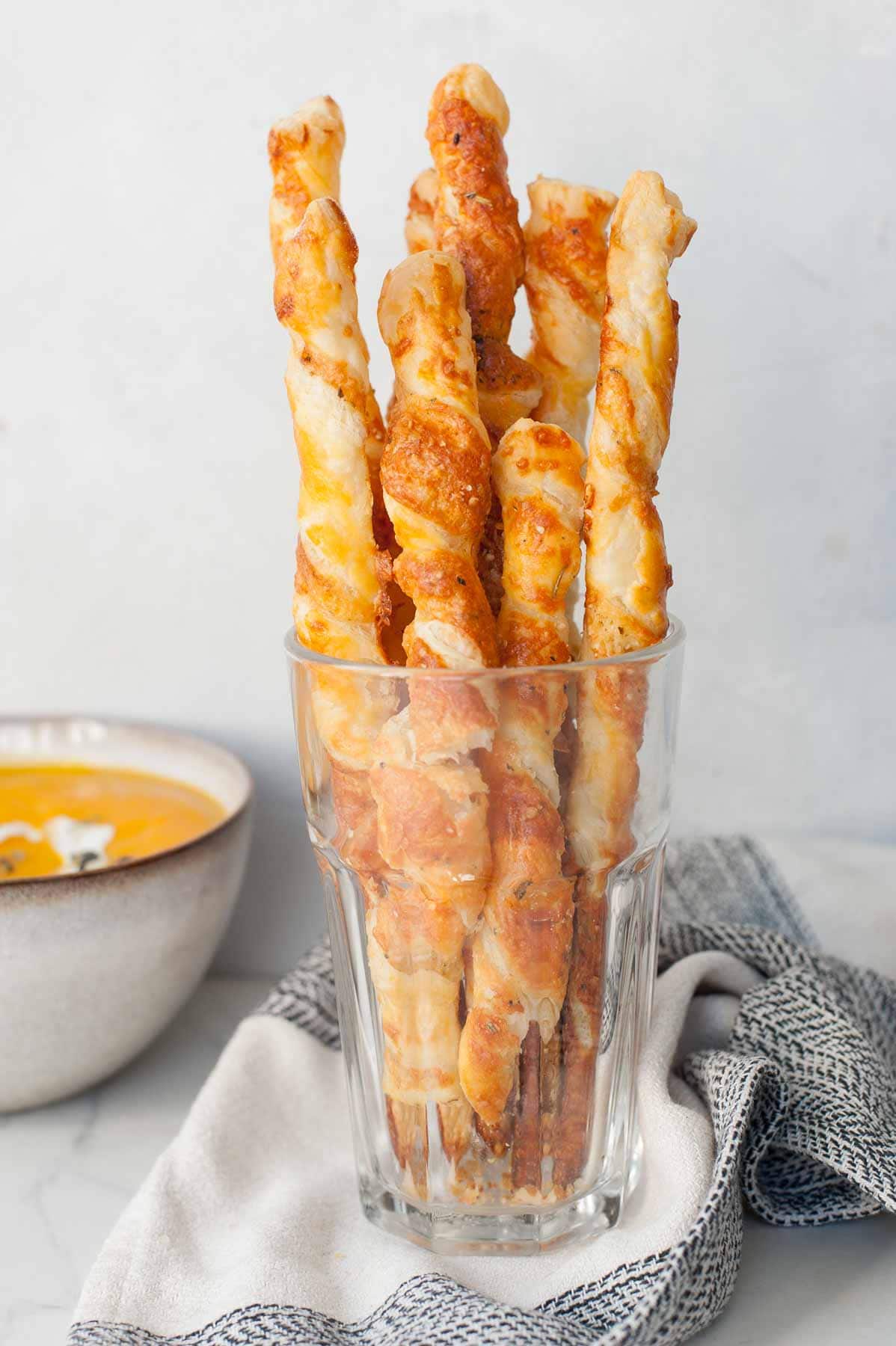 #4 Puff Pastry Pinwheels
Puff pastry pinwheels are a tiny appetizer filled with cheese, olives, and sun-dried tomatoes. They so flavorful and crispy, even kids like them!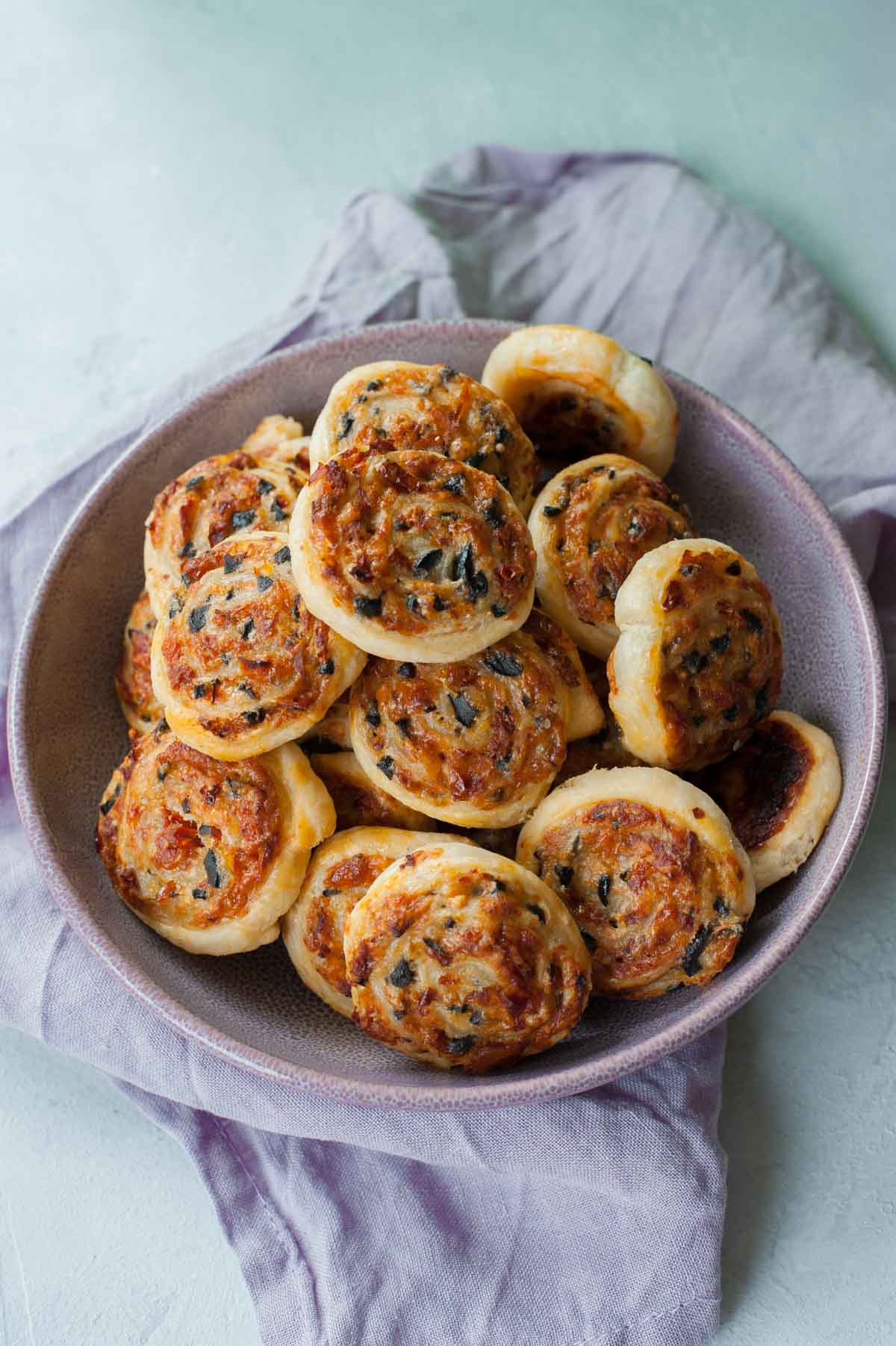 #5 Puff Pastry Onion Tart
Puff pastry onion tart is an easy and delicious tart made with caramelized onions, pear, and blue cheese. It's so quick to make and it's sure to impress! You can serve it as a one large tart and cut it into servings or make small, individual tartlets.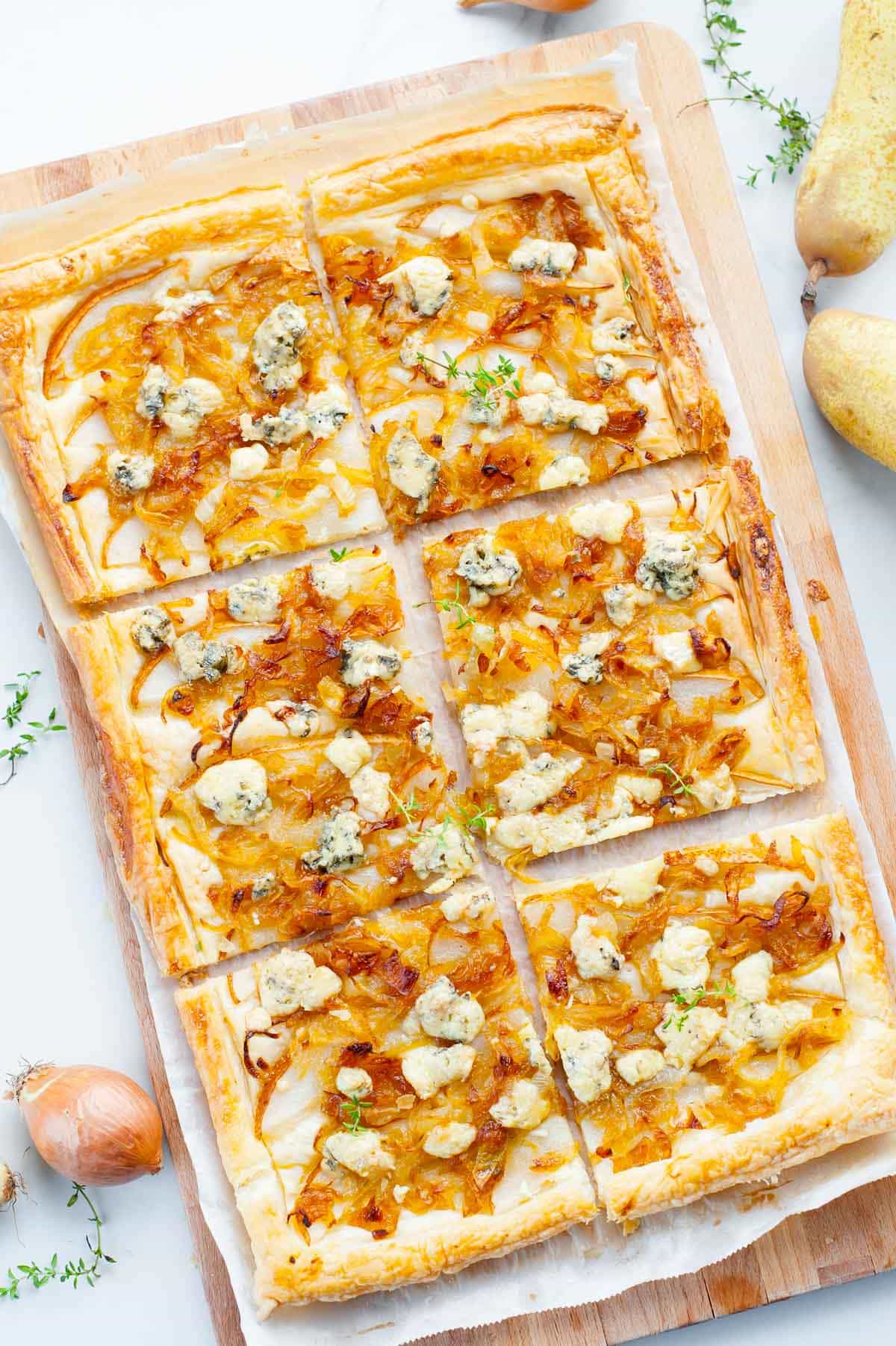 #6 Cranberry Brie Bites
Cranberry brie bites are a delicious appetizer made with puff pastry shells filled with brie cheese and leftover cranberry orange sauce. They take just a couple of minutes to make and are so delicious. They look elegant and pretty so it's a perfect appetizer to serve for Thanksgiving.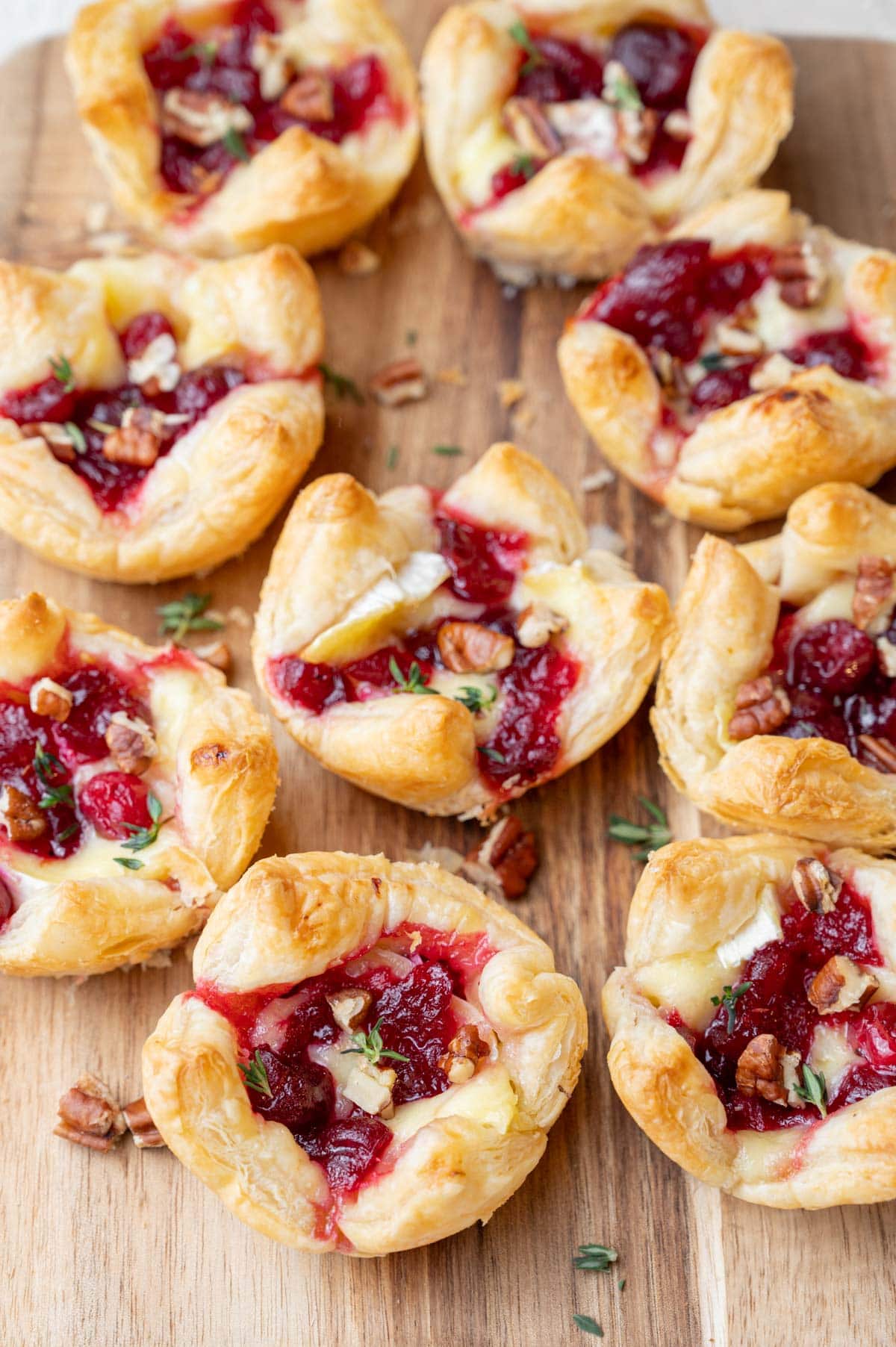 #7 Spinach Puffs
Spinach puffs are filled with tasty spinach filling seasoned with herbs, 3 kinds of cheese, onions, and garlic. They're so flavorful that even kids like them!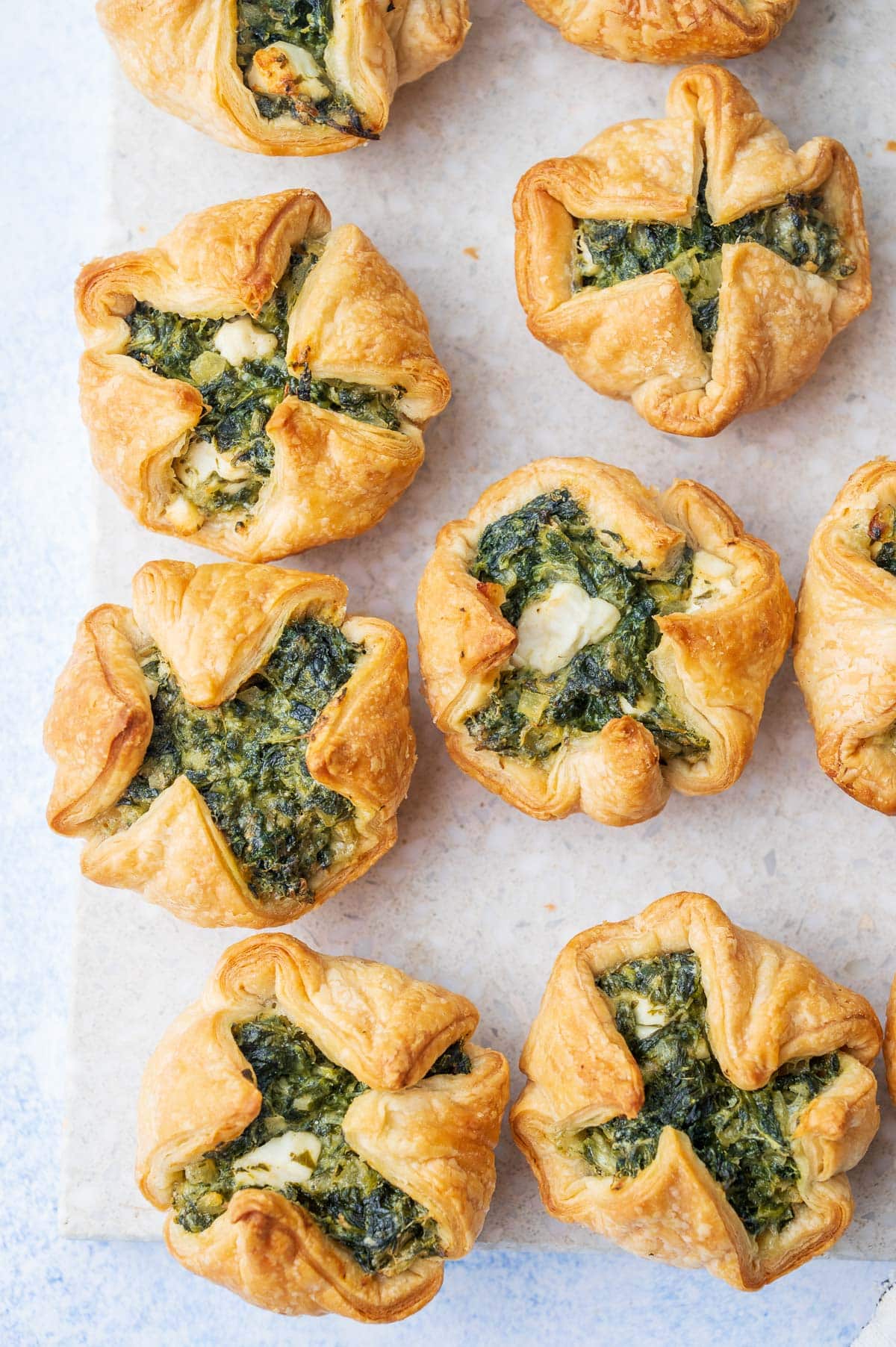 #8 Puff Pastry Pizza Bites
Puff pastry pizza bites are a small bites of pizza on puff pastry! This shortcut pizza recipe would be perfect for a kids party!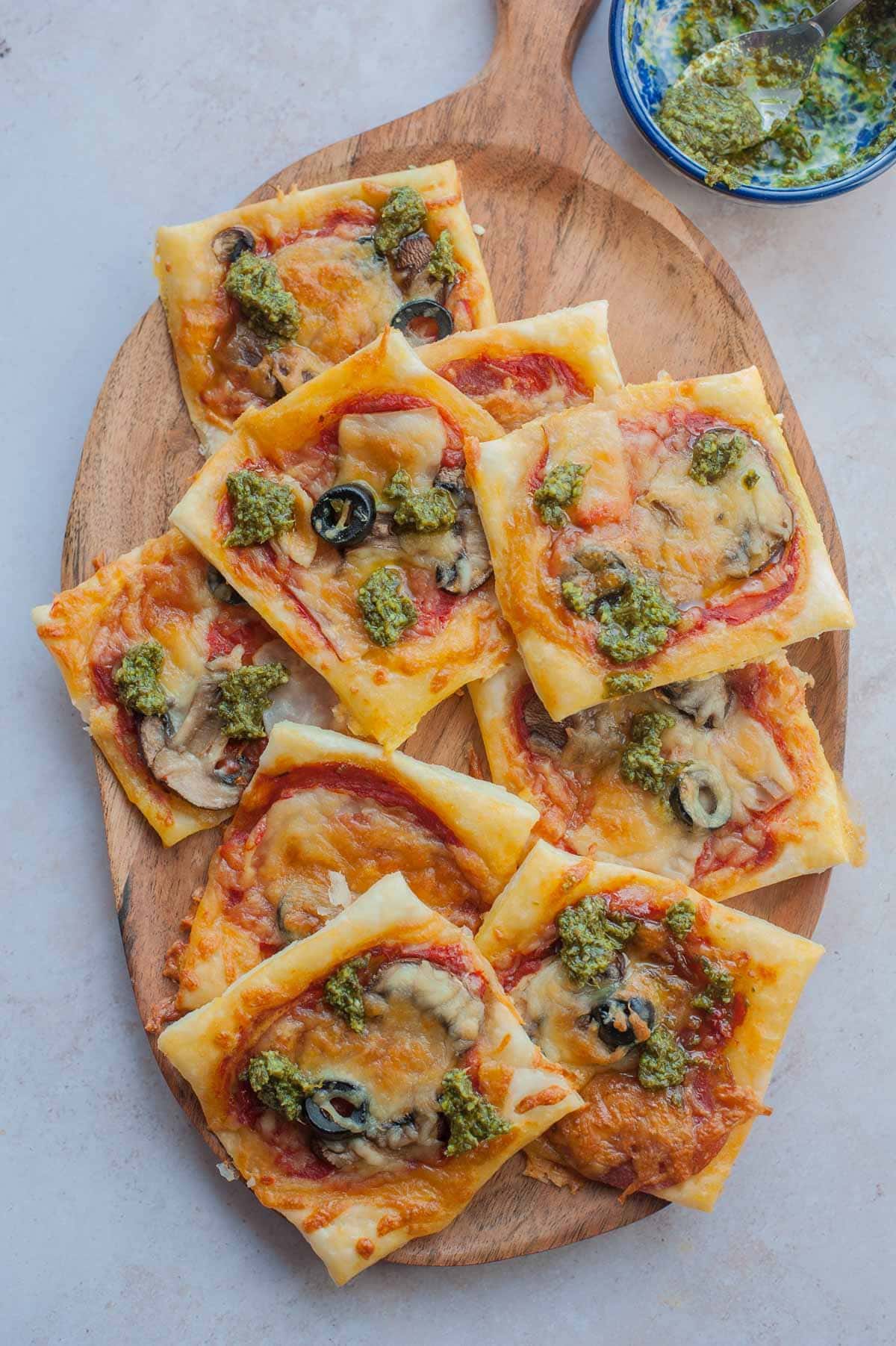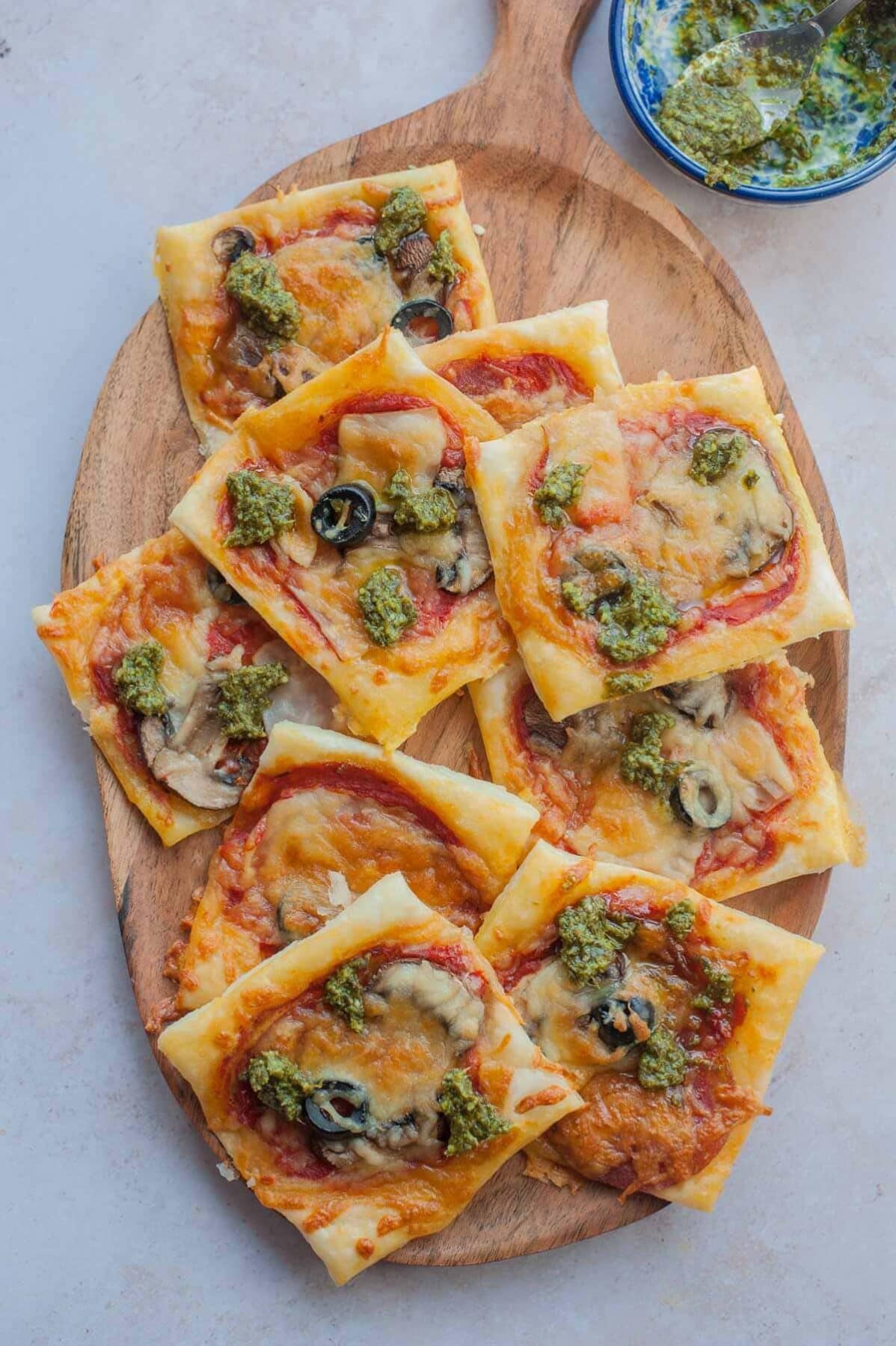 #9 Puff Pastry Bundles with Asparagus
Celebrate asparagus season with these delicious crispy pastries filled with asparagus, cheese, ham, and honey mustard sauce!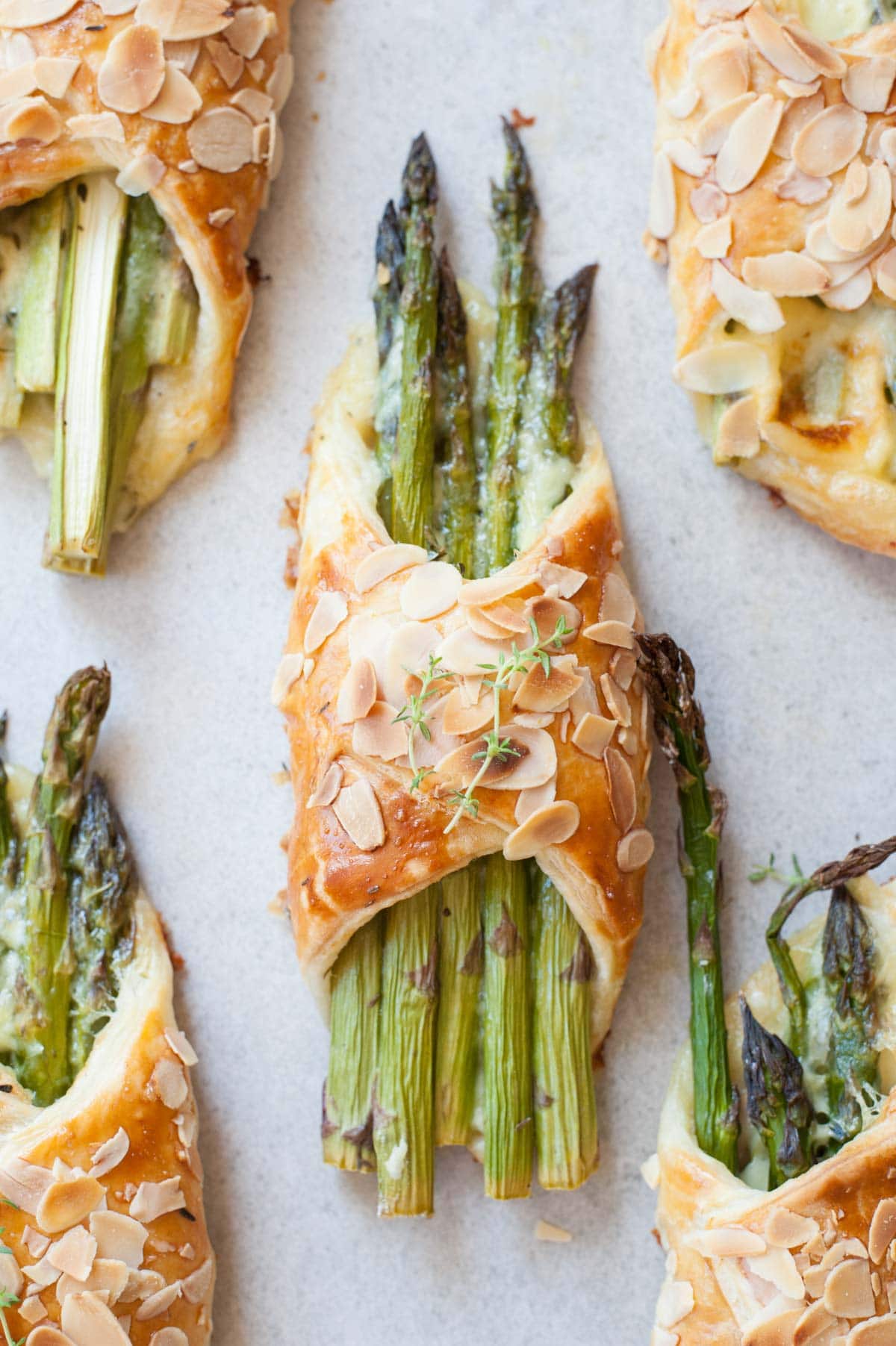 #10 Puff Pastry Christmas Tree
Puff pastry Christmass tree is a cute and delicious Christmas appetizer. Puff pastry twists are shaped like a tree and filled with delicious basil walnut pesto.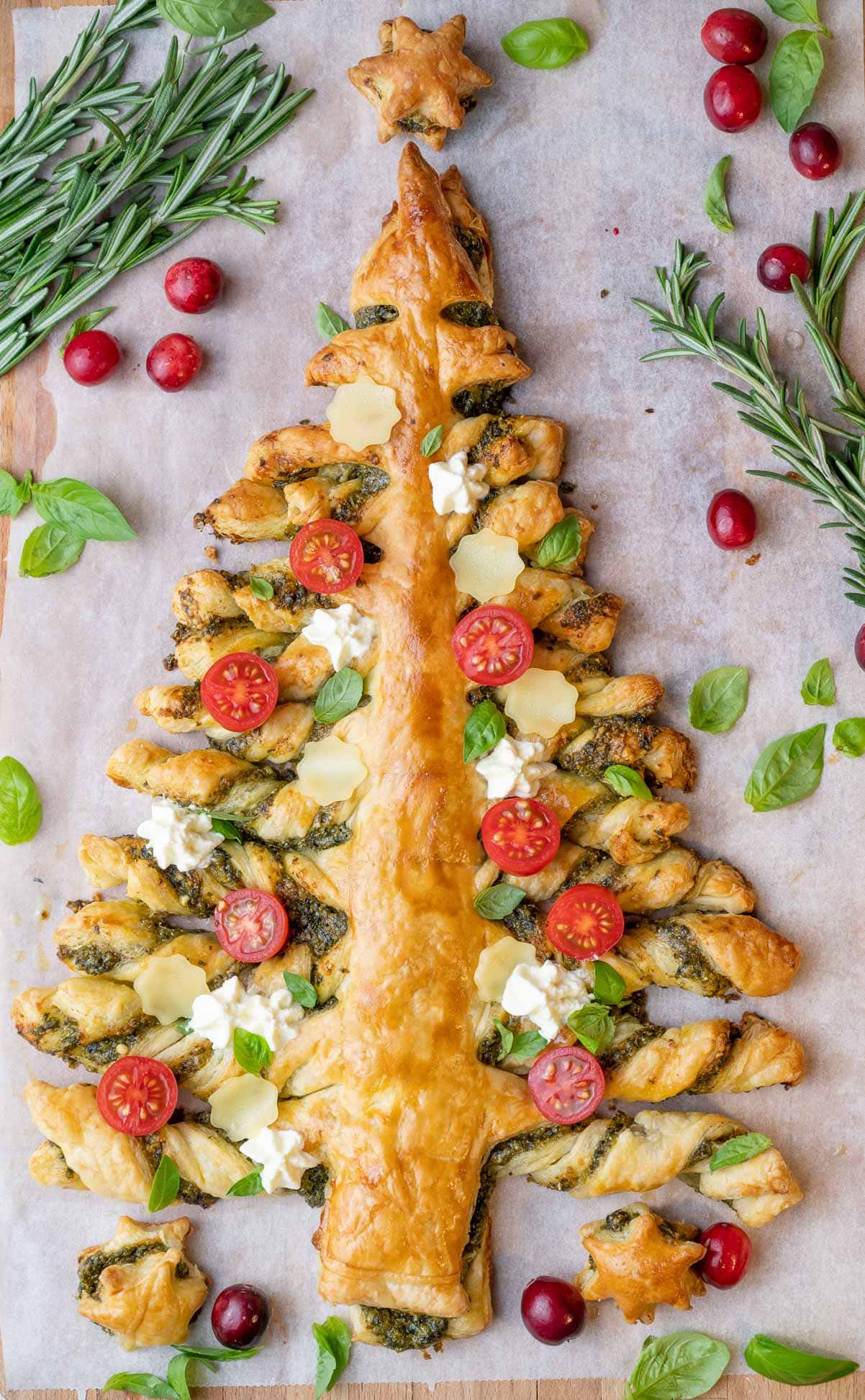 #11 Ham and Cheese Puff Pastry
Ham and cheese wrapped in puff pastry with honey mustard sauce make a delicious portable snack or an appetizer that everyone will like.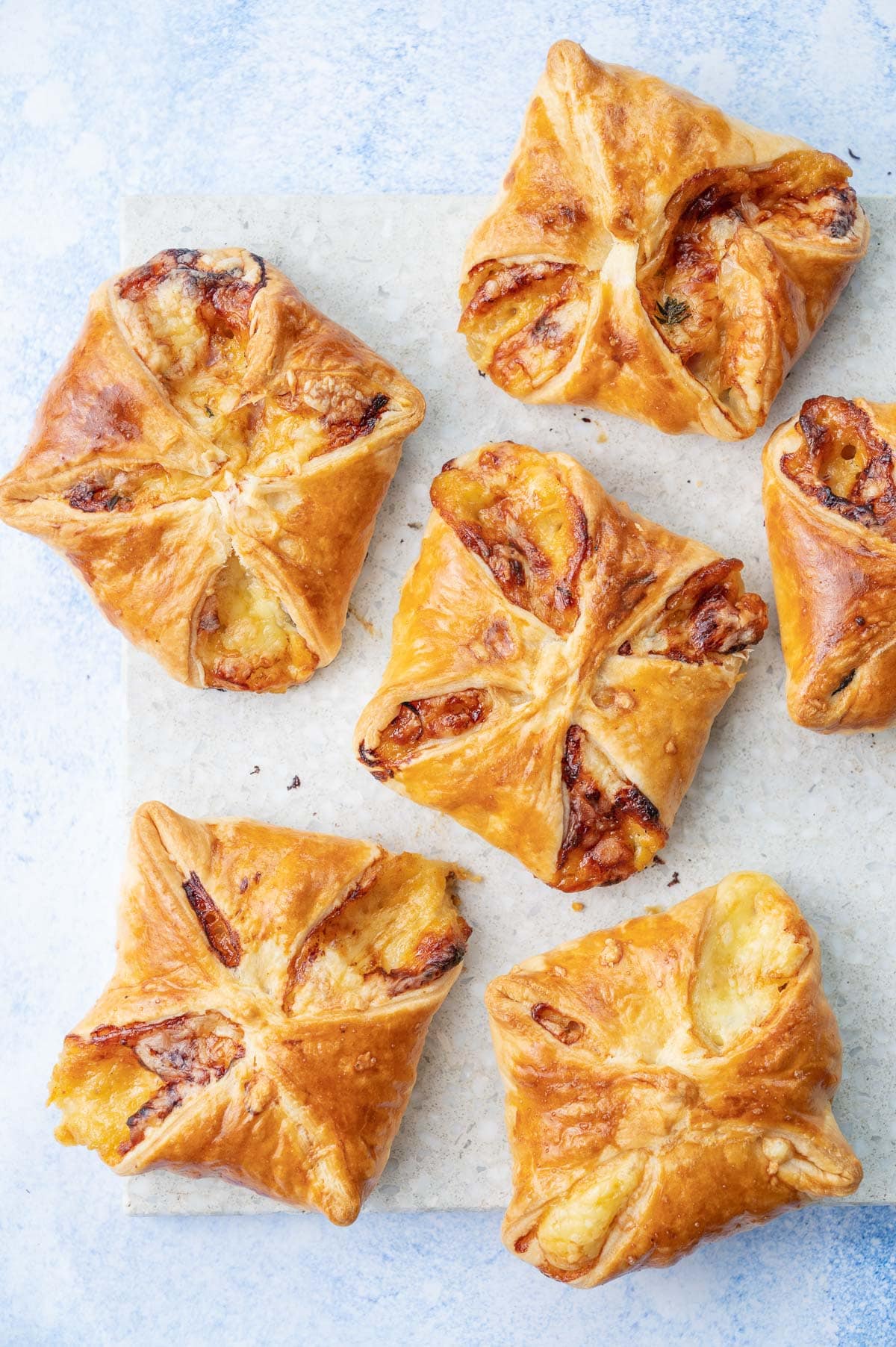 #12 Puff Pastry Breakfast Tarts
These pastries would not only be great for breakfast but also as a filling appetizer. They look so pretty on the table with bright orange egg yolks, colorful bell peppers and red pepper flakes!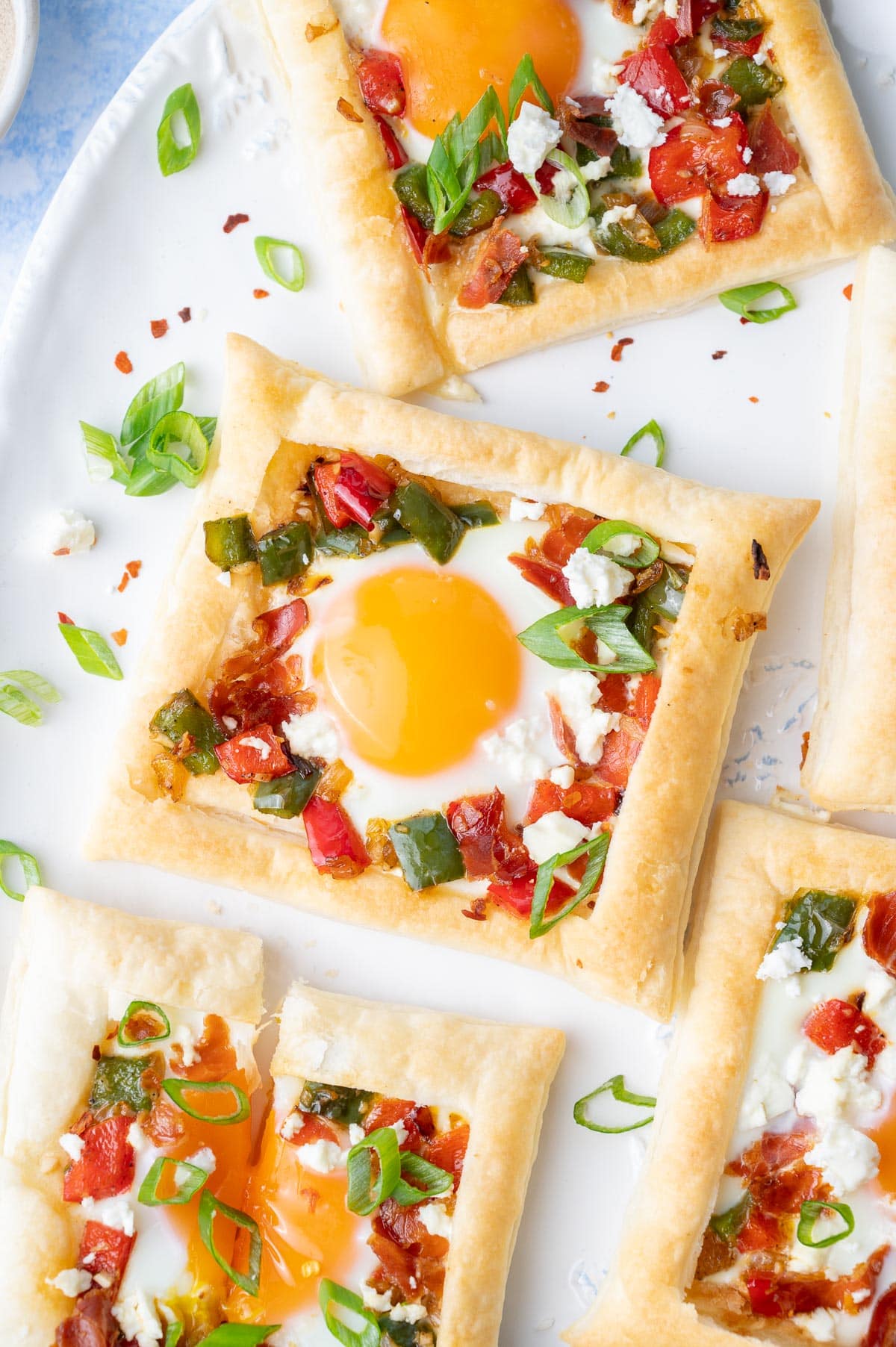 #13 Smoked Salmon Puff Pastry Bites
Smoked salmon puff pastry bites are easy and delicious appetizer made with crispy puff pastry shells, filled with whipped cream cheese, and topped with smoked salmon.
They are very similar to this smoked salmon appetizer, but are using puff pastry shells instead of cucumbers!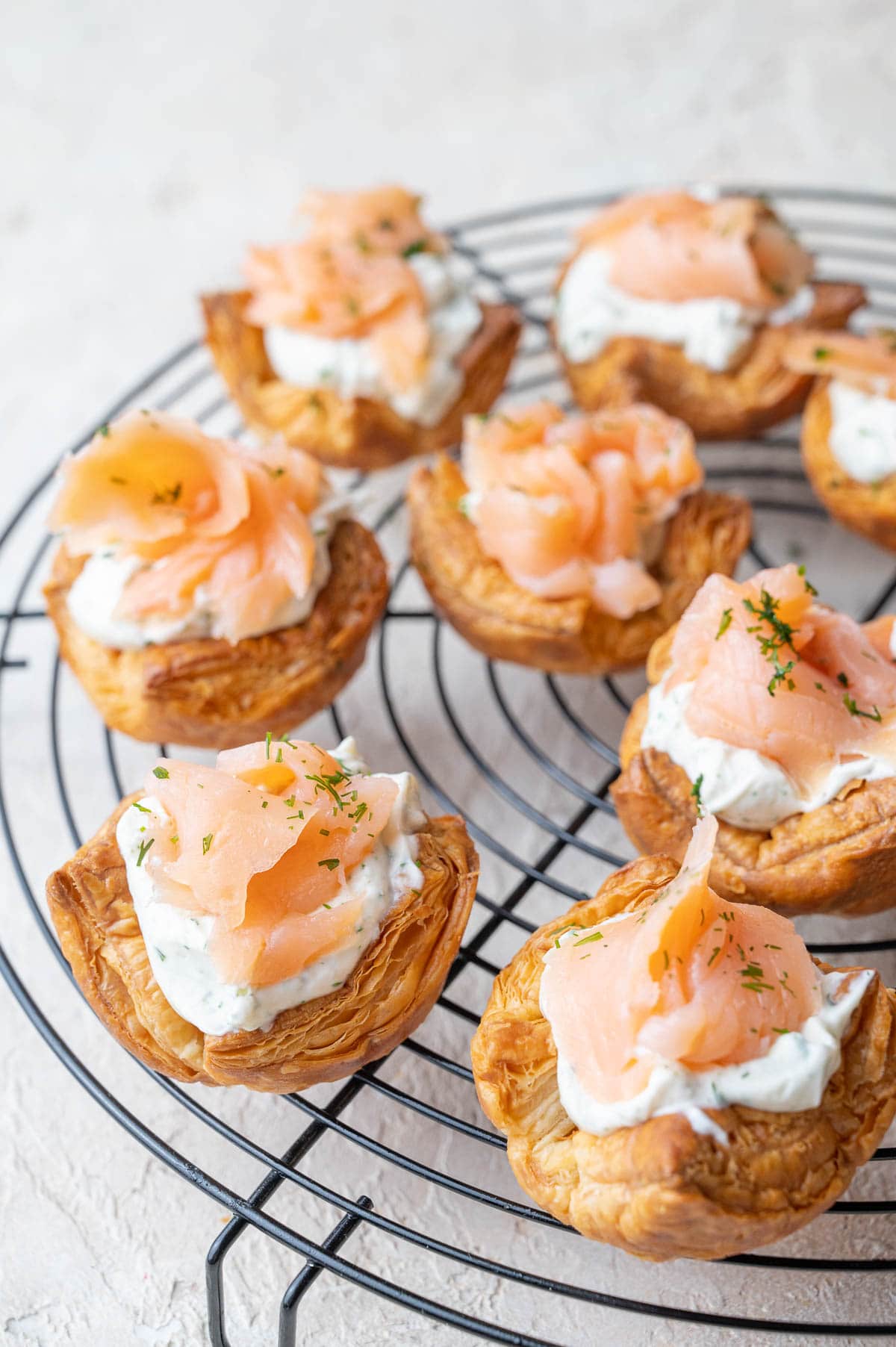 Puff Pastry Appetizers
Smoked salmon puff pastry bites are easy and delicious appetizer made with crispy puff pastry shells, filled with whipped cream cheese, and topped with smoked salmon.
Pin This Recipe!
SAVE THIS RECIPE
Saved!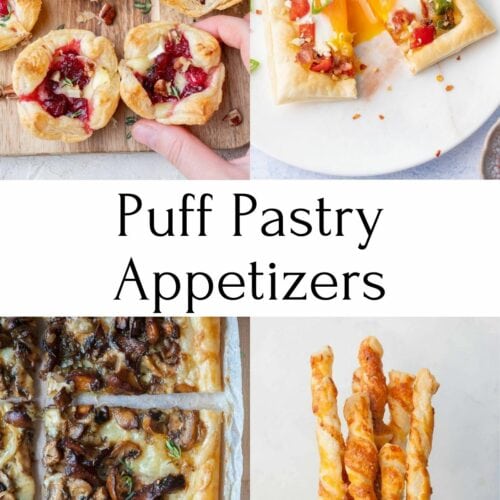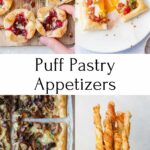 Print Recipe
RATE THE RECIPE
(click on the stars)
Servings
15
puff pastry bites
Ingredients
1

sheet puff pastry

about 10 ounces or 285g

8

ounces

(225g) cream cheese

1 1/2

tablespoons

chopped dill

1

teaspoon

lemon juice

1 1/2

tablespoons

milk

salt and pepper

to taste

7

ounces

(200g) smoked salmon

fresh dill

to garnish
Instructions
Preheat the oven to 425°F (220°C).

Your puff pastry should be about 1/8-inch (3-4 mm) thick, if it's thicker and square roll it out on a piece of parchment paper into a 9×15 inches (23x38cm) rectangle.

Cut the puff pastry into 3-inch (7-8 cm) squares (3 rows, 5 columns). Scroll down to see step by step photos for a reference.

Spray generously a muffin tray with cooking/baking spray or grease it with vegetable oil.

Place each puff pastry square in the center of each muffin cup. Prick the centers with a fork.

Bake the pastry shells for 10 minutes then reduce the temperature to 325°F (160°C) and bake for 10 more minutes.

Take the pastry shells out of the muffin pan and place on a cooling rack.

Prepare the whipped cream cheese: Add cream cheese, chopped dill, lemon juice, and milk in a medium bowl and beat with a mixer for 2-3 minutes until light and fluffy. Season to taste with salt and pepper.

When the pastry shells are at room temperature, spoon a heaped teaspoon of the cream cheese on each pastry shell using two teaspoons (if you want it to look prettier you can transfer the cream cheese mixture into a piping bag fitter with a star tip and pipe the cheese into the pastry shells).

Top with pieces of smoked salmon – I cut the salmon into strips and rolled them up.

Decorate with small twigs of dill.

Enjoy!
Notes
Calories = 1 puff pastry bite (1/15 of the recipe). This is only an estimate!
Tried this Recipe? Rate the Recipe and tell us what you think in the Comments!