Looking for ways to use Gruyere cheese? You've come to the right place! Check out these delicious recipes with Gruyere cheese.
1) Gruyere mac and cheese
What's a better recipe to use a well-melting and flavorful cheese than mac and cheese? This recipe for baked mac and cheese uses both Gruyere cheese and cheddar, it's topped with crunchy breadcrumb-parmesan topping and baked until crispy and bubbly.
You may also want to try the fall version of this recipe with pumpkin puree and fall spices – pumpkin mac and cheese (also uses Gruyere cheese).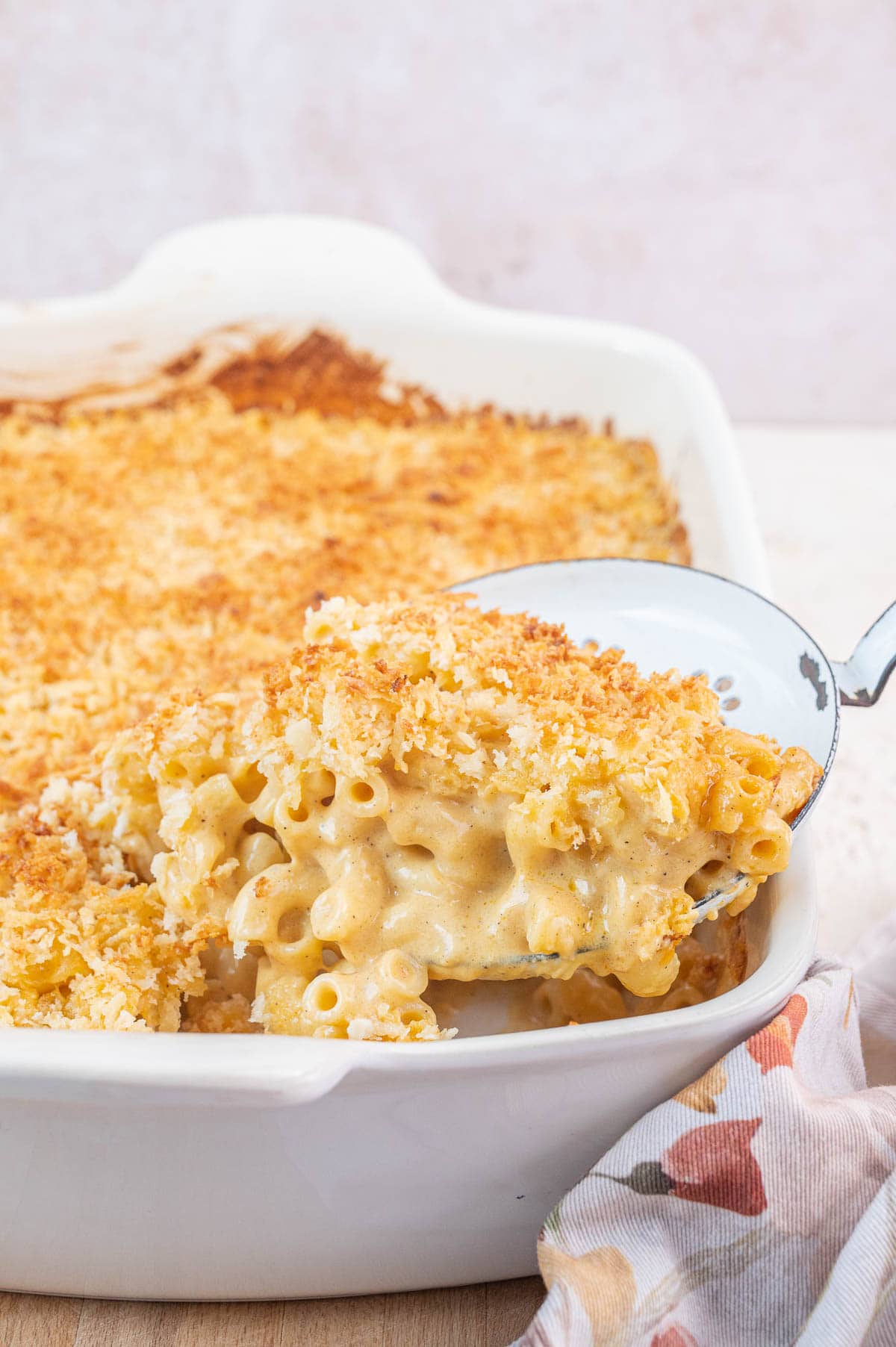 2) French onion soup
Add delicious Gruyere cheese and cheesy bread to a bowl of hot flavorful onion soup and you'll have one of the best soups ever. Gruyere cheese really elevates this soup to another level.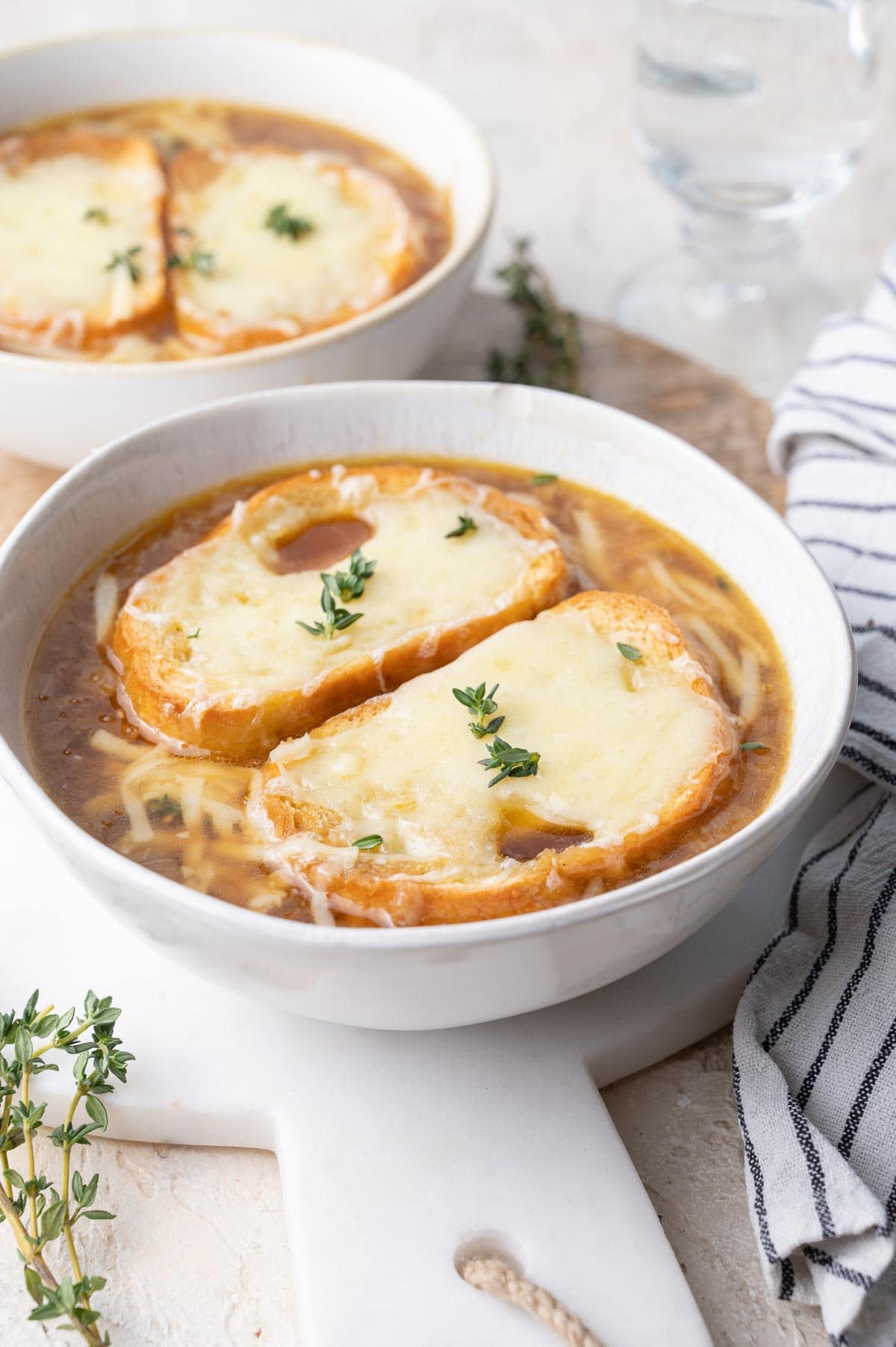 3) Mushroom bruschetta
Crispy baguette topped with melted Gruyere and balsamic mushrooms. It makes a great appetizer all year round.
4) Baked ratatouille
This dish is one of the most popular recipes on the website and for a good reason. It makes an excellent side dish or a meatless dinner. It's so delicious and looks pretty too. Tomato bell pepper sauce, many vegetables, all baked with Gruyere cheese on top until browned and bubbly.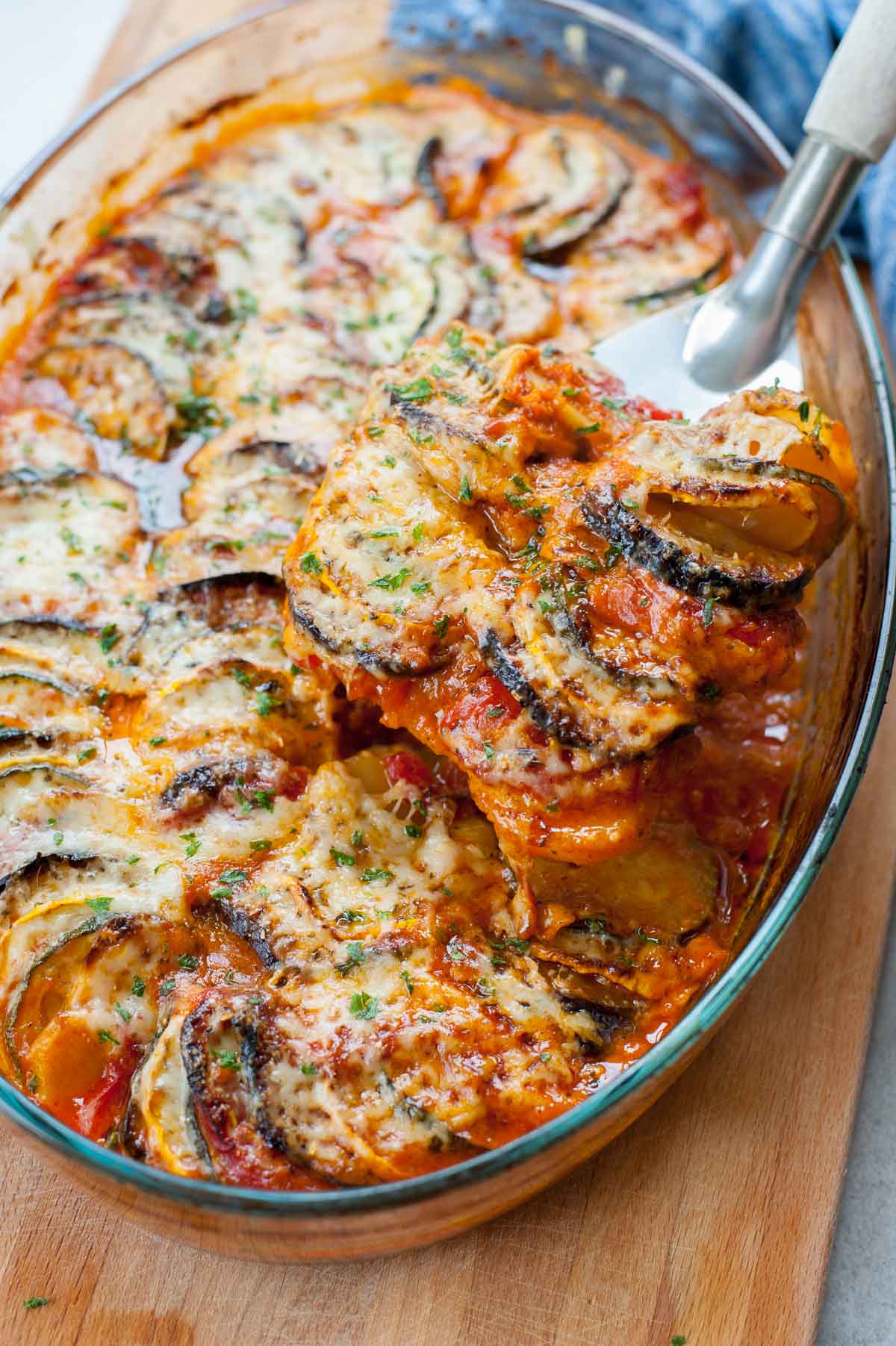 5) Beer cheese dip
The best beer cheese dip recipe! Made with 3 kinds of cheese (Gruyere, cheddar, and parmesan) and spices. It's so easy to make at home so why bother buying store-bought when the flavor is incomparable. Give it a try!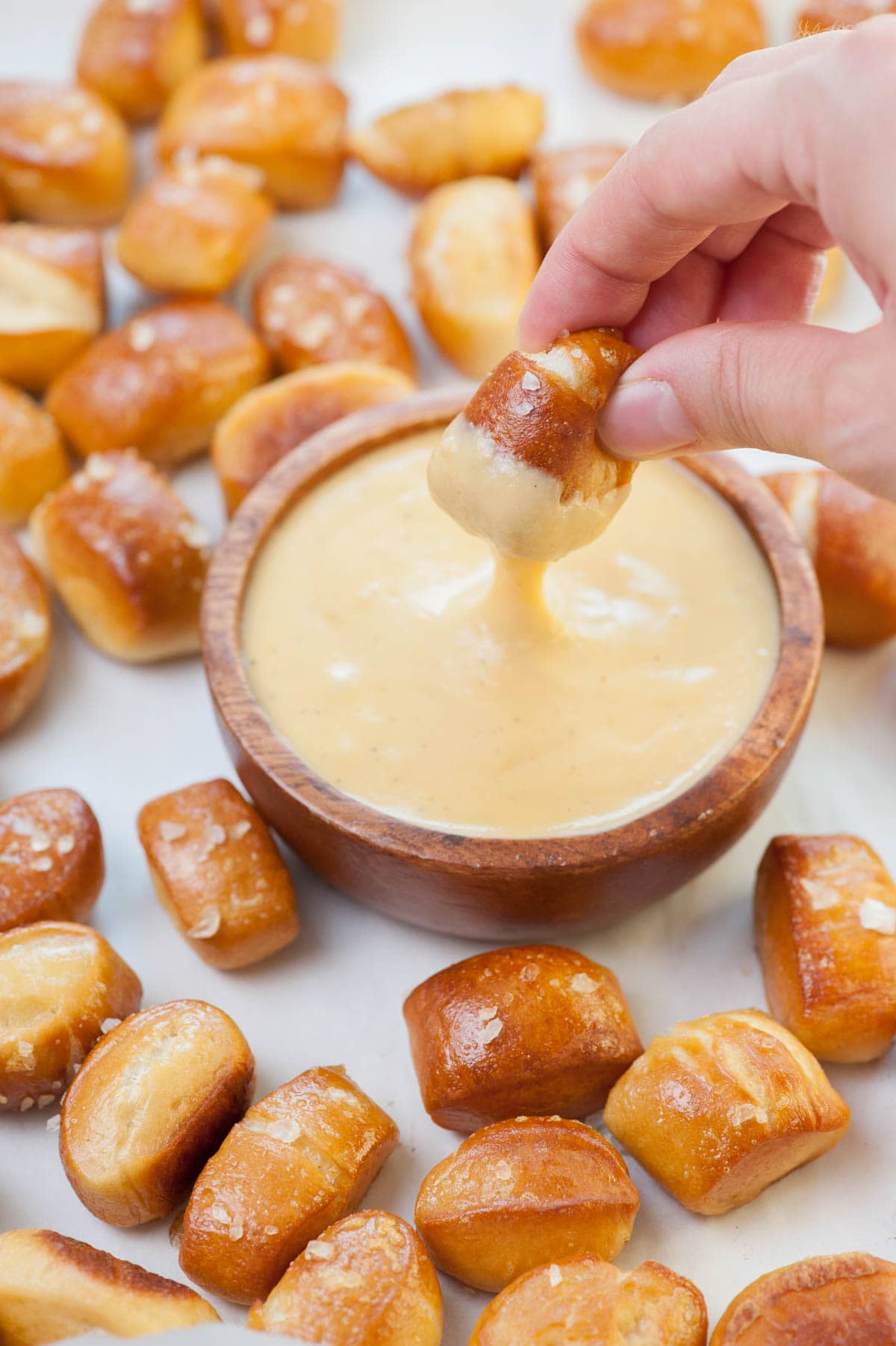 6) Mushroom Tart
Another reader's favorite – so easy to make and so flavorful. Your guests and family will be thrilled. This mushroom tart is made with a puff pastry base then topped with Gruyere and balsamic sauteed mushrooms. Delicious can not begin to describe it!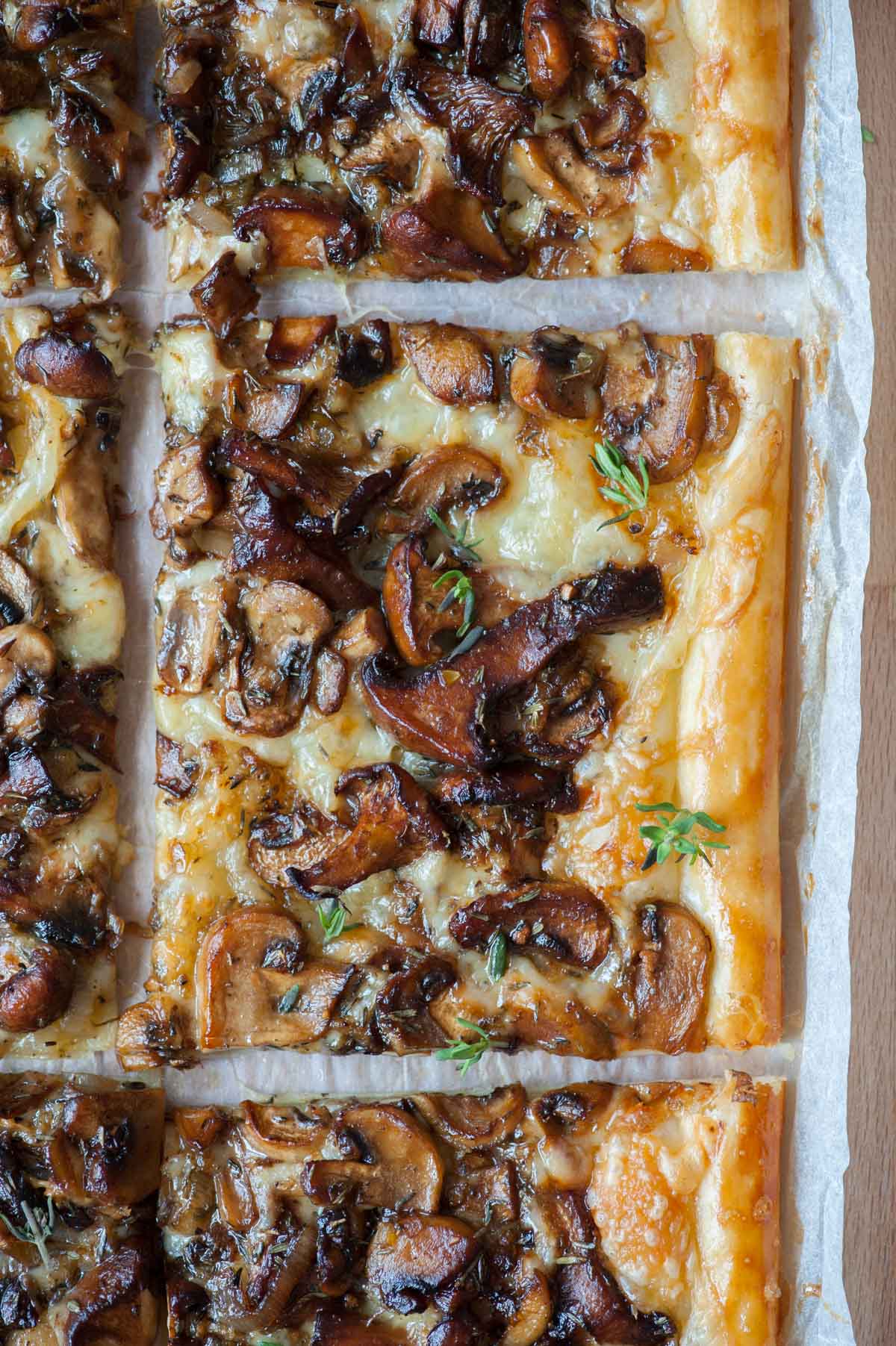 7) Mushroom omelet
There's no better cheese to flavor an omelette than Gruyere cheese. I have two mushroom omelet recipes with Gruyere cheese. In this recipe for an omelet with chanterelle mushrooms, the cheese is added directly to the egg batter. In the second recipe (shown below), the omelet is more fluffy thanks to beaten egg whites, and the cheese is added to sauteed mushrooms. Both are VERY good, I LOVE these for breakfast.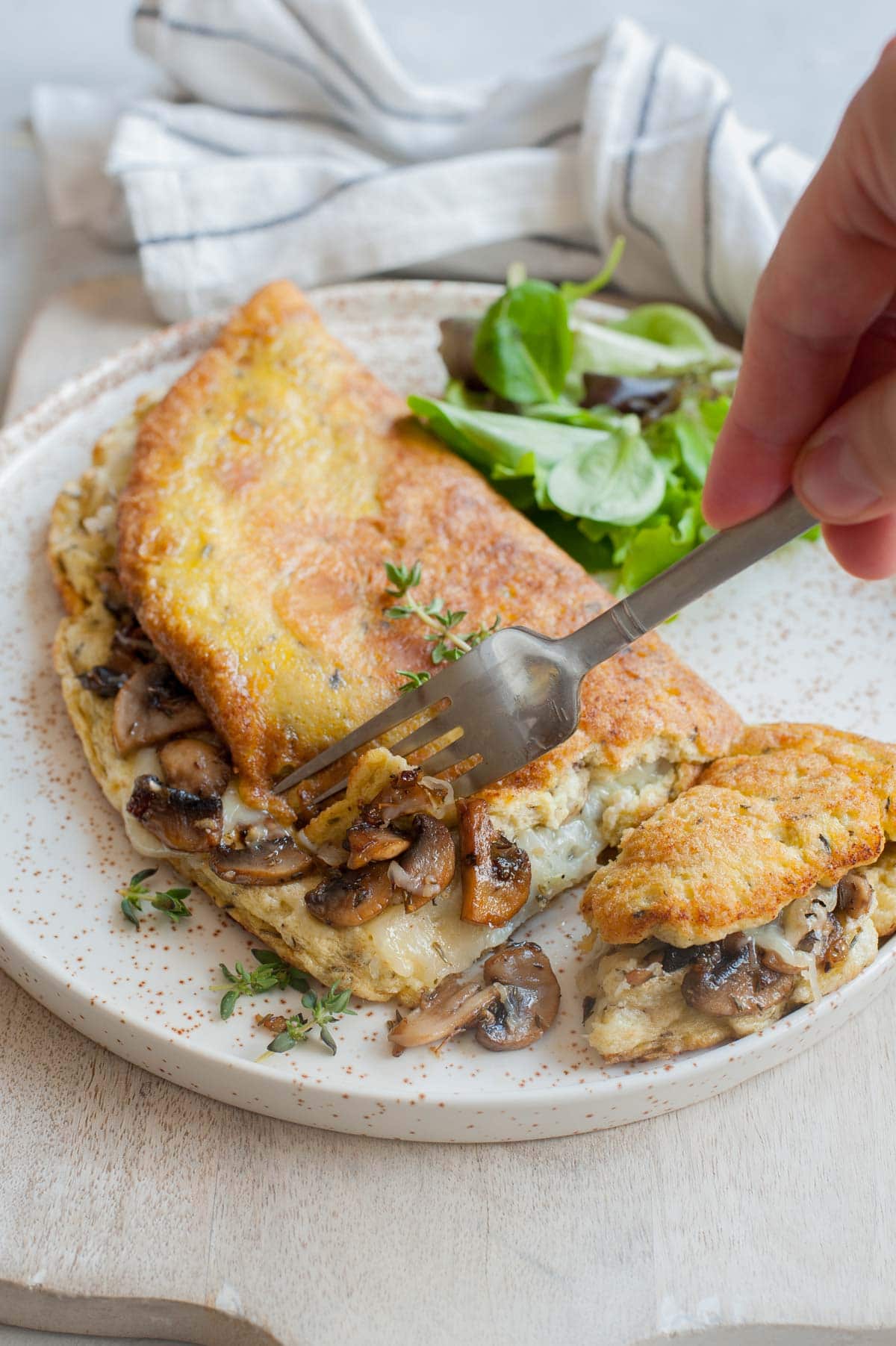 8) Zucchini gratin
This zucchini gratin (or scalloped zucchini) is one of the best ways to use an abundance of zucchini. Lots of sauteed browned zucchini, delicious sauce, flavorful Gruyere, and crunchy breadcrumb parmesan topping. This side dish is sure to impress!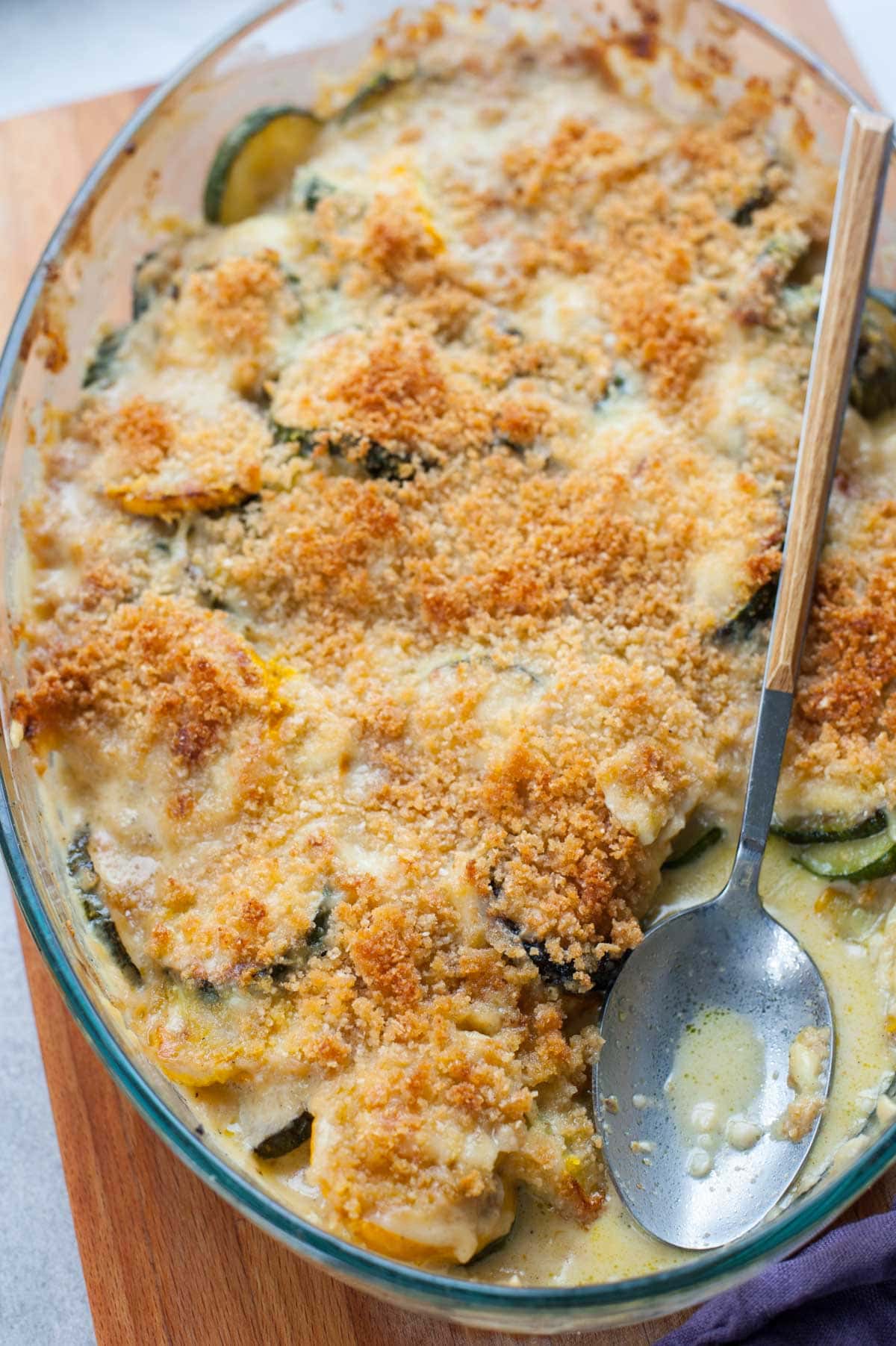 9) Mushroom quesadilla with caramelized onions
This quesadilla is packed with so much goodness – delicious Gruyere, sauteed mushrooms, and caramelized onions. It takes some time to properly caramelize the onions but otherwise this is a very quick and easy recipe. The flavor is out of this world!
I also have another quesadilla recipe made with Gruyere cheese – this zucchini and corn quesadilla.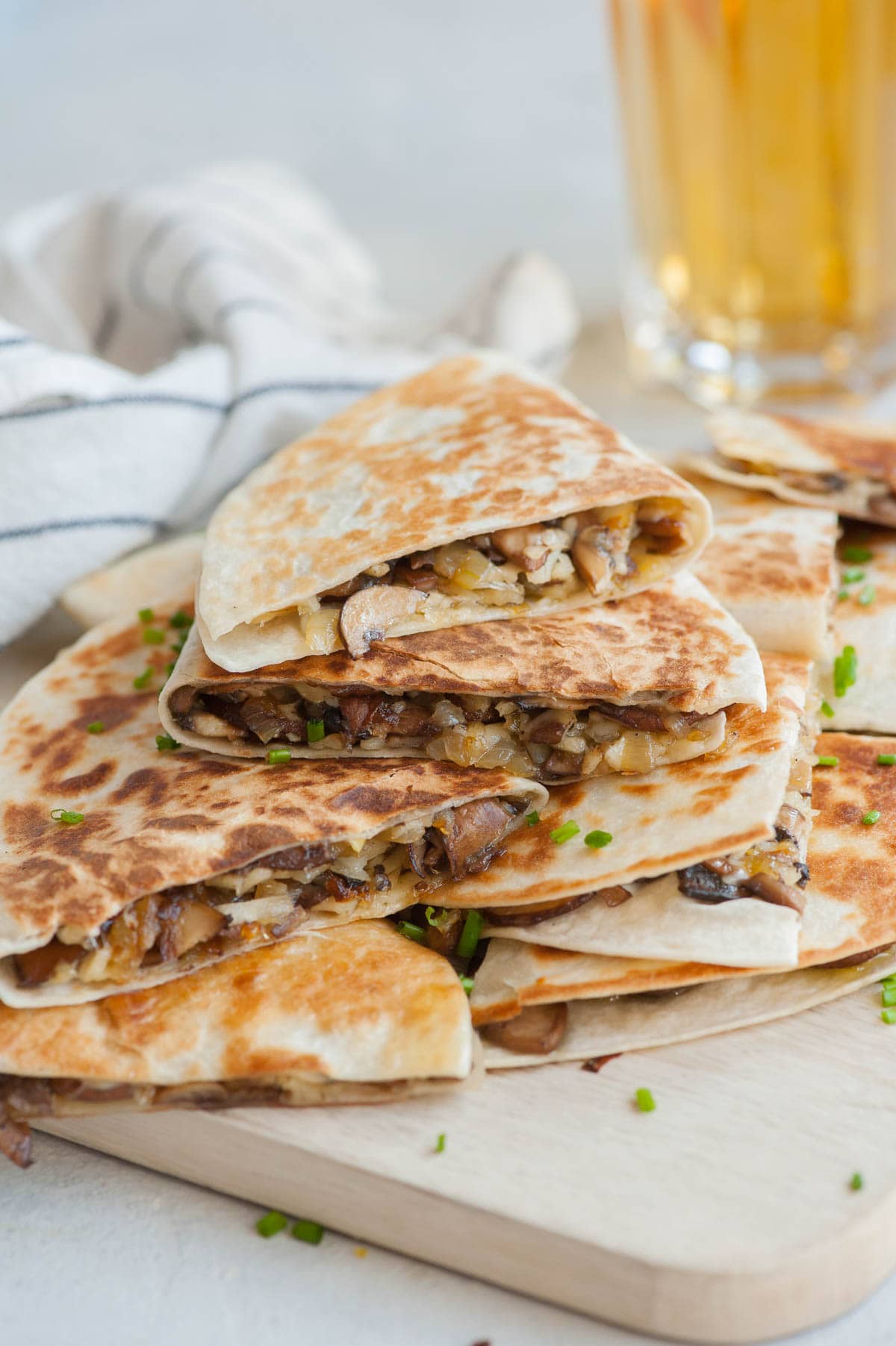 10) Mushroom stuffed chicken breast
An easy and delicious dinner recipe that the whole family will love – chicken breast stuffed with sauteed mushrooms, cheese, and served with creamy sauce.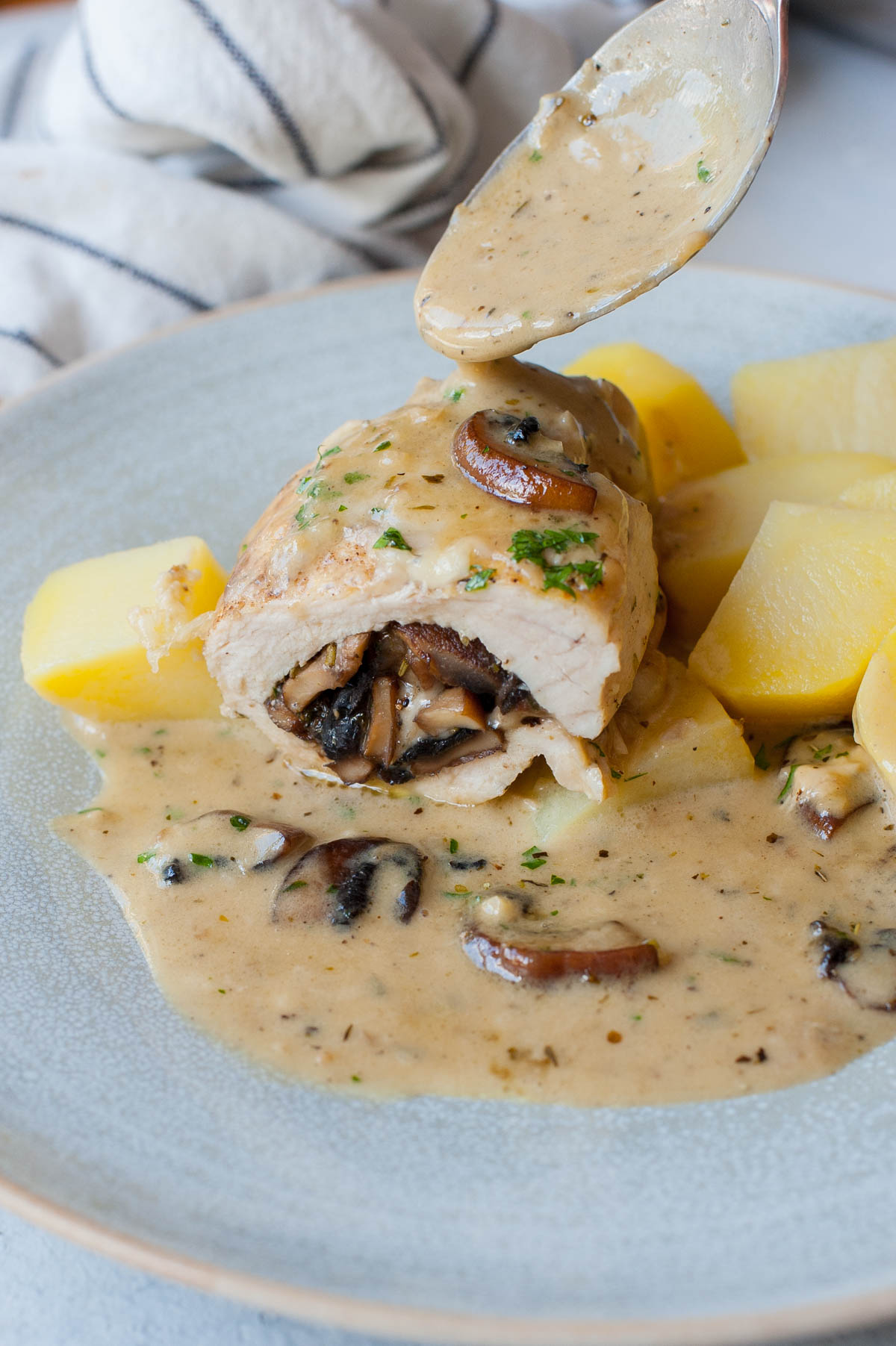 11) Mushroom crepes
Yet another mushroom and Gruyere cheese recipe! I bet you can see by now how obsessed I am by this flavor combination 🙂 This time mushroom and cheese combo is combined with spinach and used as a filling for crepes. This makes a delicious vegetarian dinner recipe.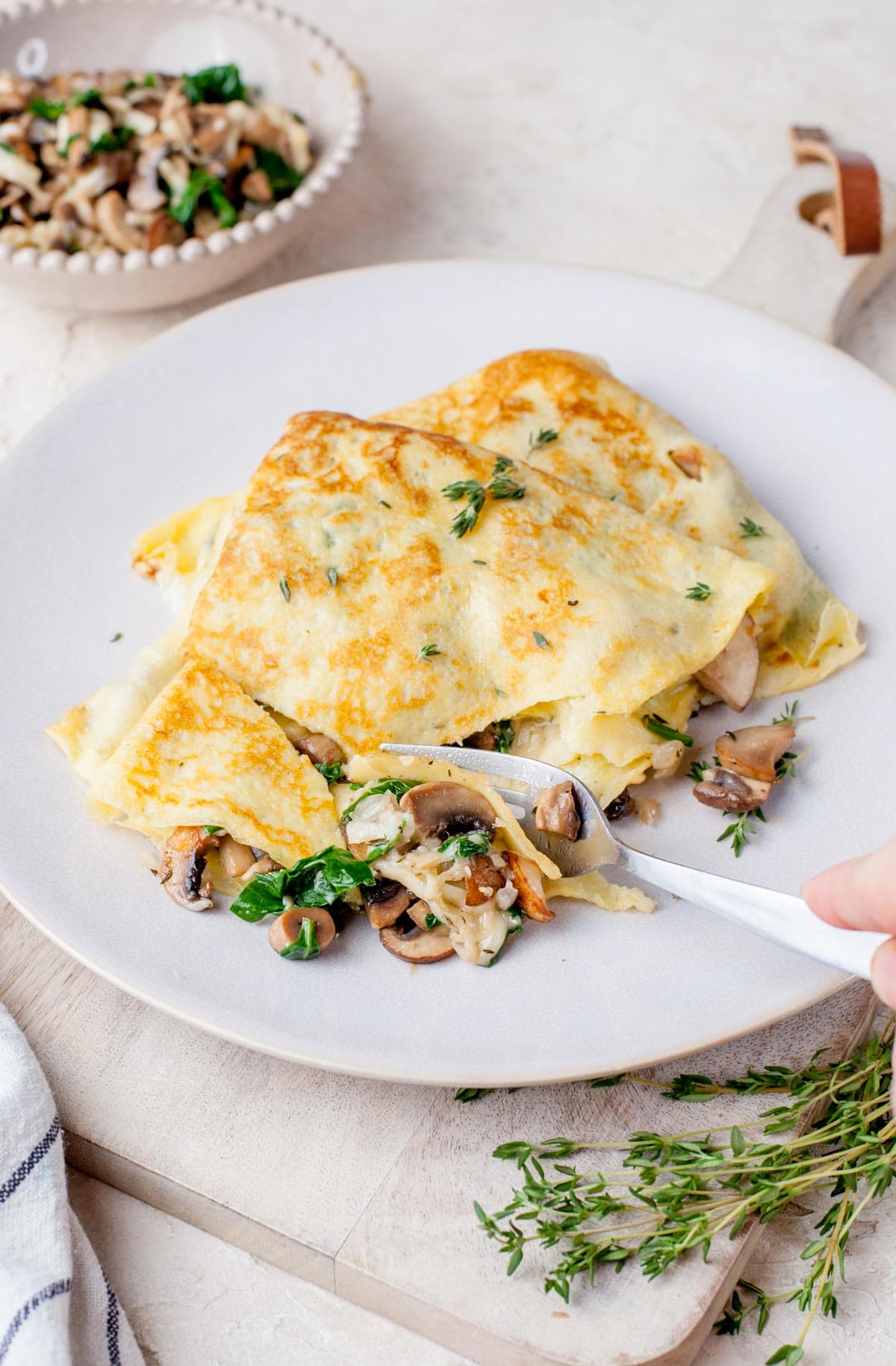 12) Cheesy potato egg scramble
Repurpose leftover potatoes in this easy breakfast/dinner recipe. Scrambled eggs, browned potatoes, ham, delicious cheese, Old Bay seasoning, sour cream, and chives make this delicious recipe.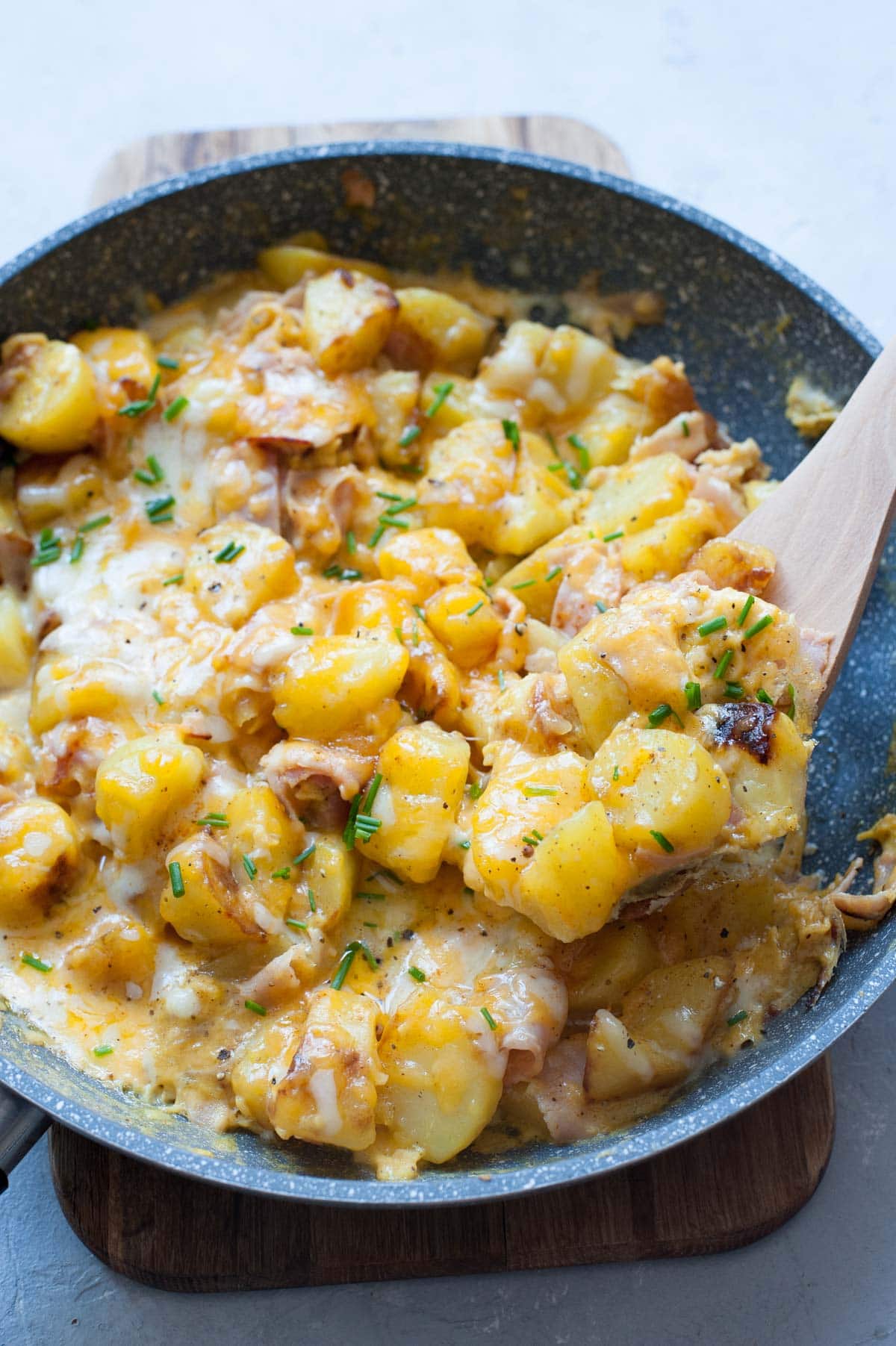 13) Gruyere grilled cheese
This delicious grilled cheese sandwich is made with Gruyere cheese, ham, and delicious honey mustard butter. It's so good! It's one of my favorite grilled cheese sandwiches ever. The recipe is in the recipe card below the photo.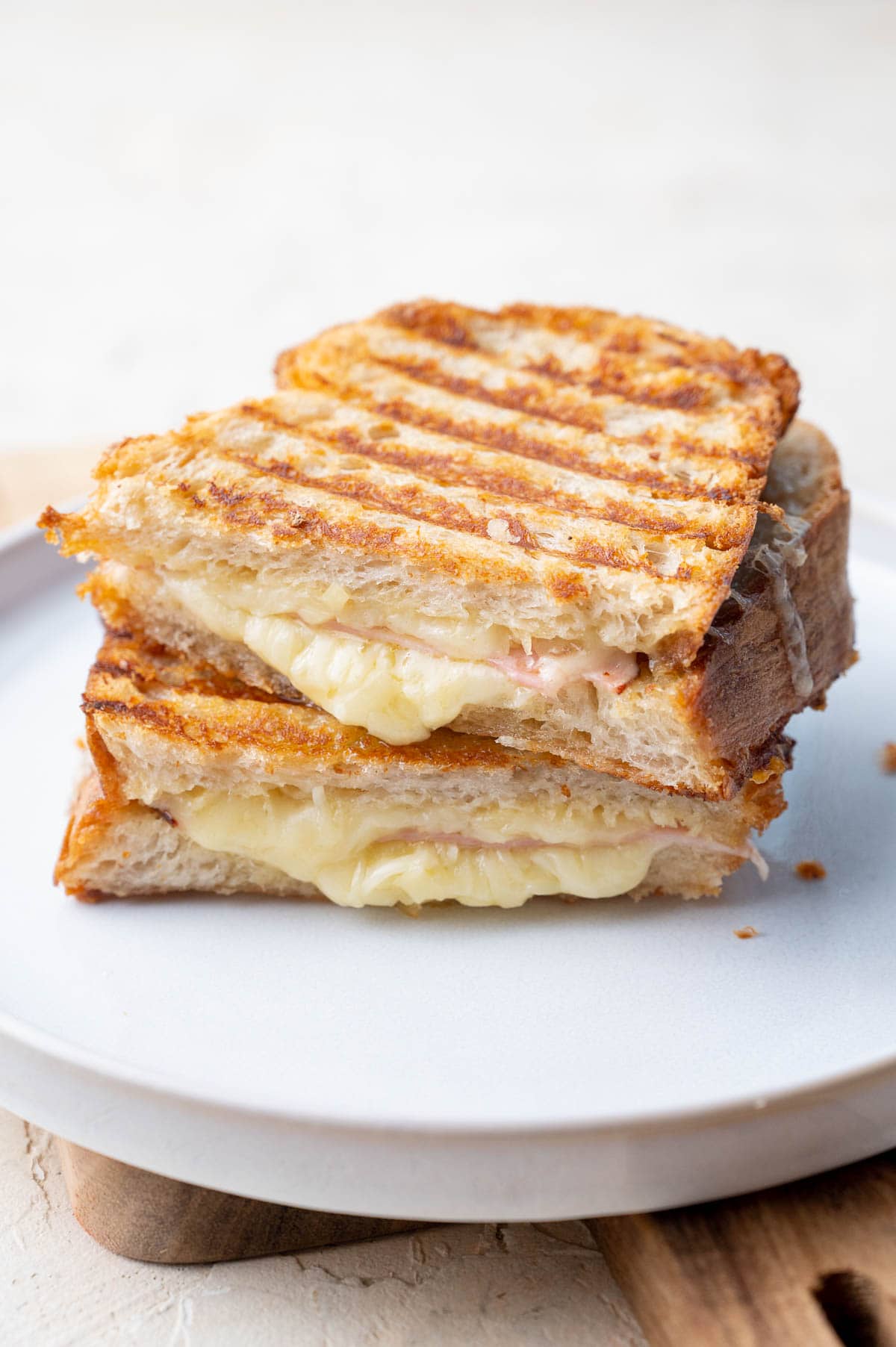 Gruyere Cheese Recipes
Gruyere and Ham Grilled Cheese Sandwich
Pin This Recipe!
SAVE THIS RECIPE
Saved!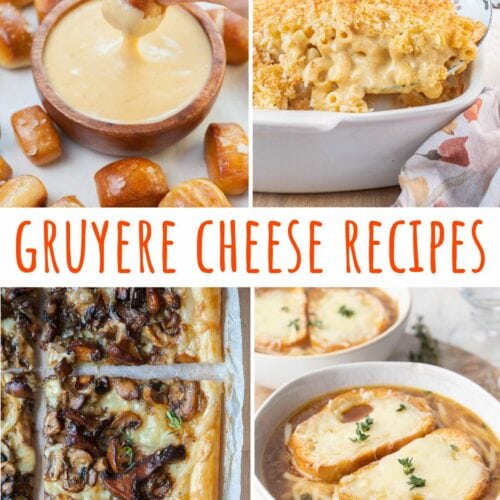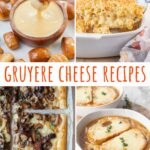 Print Recipe
RATE THE RECIPE
(click on the stars)
Servings
1
large sandwich
Ingredients
2

large slices sourdough bread

2

tablespoons

soft butter

1

teaspoon

Dijon mustard

1/2

teaspoon

mayo

1/2

teaspoon

honey

salt and pepper

2/3

cup

(70g) shredded Gruyere cheese

at room temperature!

2

slices

ham

1

tablespoon

soft butter

for cooking the sandwich
Instructions
In a small bowl, combine 2 tablespoons soft butter, mustard, mayo, and honey. Season lightly with salt and pepper.

Spread one side of each slice of bread with the butter spread.

Top each slice with 1/3 cup of shredded cheese and a slice of ham.

Put one slice of bread on top of the other to create a sandwich (cheese and ham should be inside the sandwich).

Spread the remaining 1 tablespoon of plain butter on the outside of the sandwich (both sides).

Cook the sandwich in a non-stick pan or put it in a panini press until the outside is golden brown and the cheese is melted. If cooking the sandwich on the stovetop make sure to cook it over medium-low/low heat so that the cheese have time to melt. If the cheese is not entirely melted but the sandwich is already browned, you can put your sandwich for 1-2 minutes in a 350°F (180°C) oven.

Enjoy!
Notes
Calories = whole recipe = 1 large sandwich. This is only an estimate!
Tried this Recipe? Rate the Recipe and tell us what you think in the Comments!
What is Gruyere cheese?
Gruyere is a Swiss cheese that originates from Gruyeres city in Switzerland. It has a firm texture and a pale yellow color. It has a bold, nutty, and earthy flavor. It's great in so many recipes and elevates their flavor every single time. Gruyere cheese melts very well that's why it's often used in cheese sauces. It's traditionally aged for at least 6 months, but it can be aged longer.
Gruyere cheese substitutes
Gruyere cheese has a pretty unique flavor but if you can't find it, you can try using:
Emmentaler/Swiss cheese
Appenzeller cheese
Jarlsberg cheese
Comte cheese
Fontina cheese
Raclette cheese
What goes best with Gruyere cheese
Gruyere cheese has a nutty bold flavor and goes well with almost anything – veggies and proteins. The perfect pairing for Gruyere are mushrooms and onions.