A great idea for breakfast, which I ate in Brussels in the bakery-restaurant-cafe Le Pain Quotidien. I highly recommend going to this place when visiting Brussels or Paris. You can enjoy there aromatic coffee, eat delicious, savory, or sweet breakfast, and of course, brilliant French pastries, including my favorite Pain au Chocolat. We ate there 2 days in a row, it was so good.
I didn't fall in love with Brussels, but I think it's worth spending at least 1 day there on the way to Brugge, called the Venice of the North. For me, it's one of the most atmospheric towns in Europe, with charming old houses and narrow streets crisscrossed by tens of channels (I recommend a boat trip through the canals). To feel the atmosphere that prevails in this small old town, I recommend watching the movie 'In Bruges'. From Brugge, you can take a bus to the Belgian Sea Side, for example to Zeebrugge, where you will find a large sandy beach and beautiful sand dunes. We were there in winter and with all those Christmas decorations it was really magical. There is also a lot of delicious food in this region, we ate a great duck in mirabelle plum sauce, coq au vin (chicken braised in red wine) and, of course, Belgian waffles.
Returning to the recipe, Harissa is a North African / Middle Eastern spice mix made of roasted hot peppers, cumin, coriander, and garlic. The paste is very aromatic, you will definitely use it for many dishes (eg for marinating meat – check out my recipe for roasted chicken thighs with harissa, rosewater sauce, and lemon couscous). You can buy it in many oriental food stores or on the internet, or make a similarly tasting paste at home. Homemade harissa tastes for me better than the one from the tube, and it's also very easy to make.
Toasts are simple and quick to make – toast sourdough bread slices in a toaster, spread the toast with the paste, put scrambled eggs, slices of avocado and tomato on top, sprinkle with fresh coriander leaves and lime juice. Simple and delicious!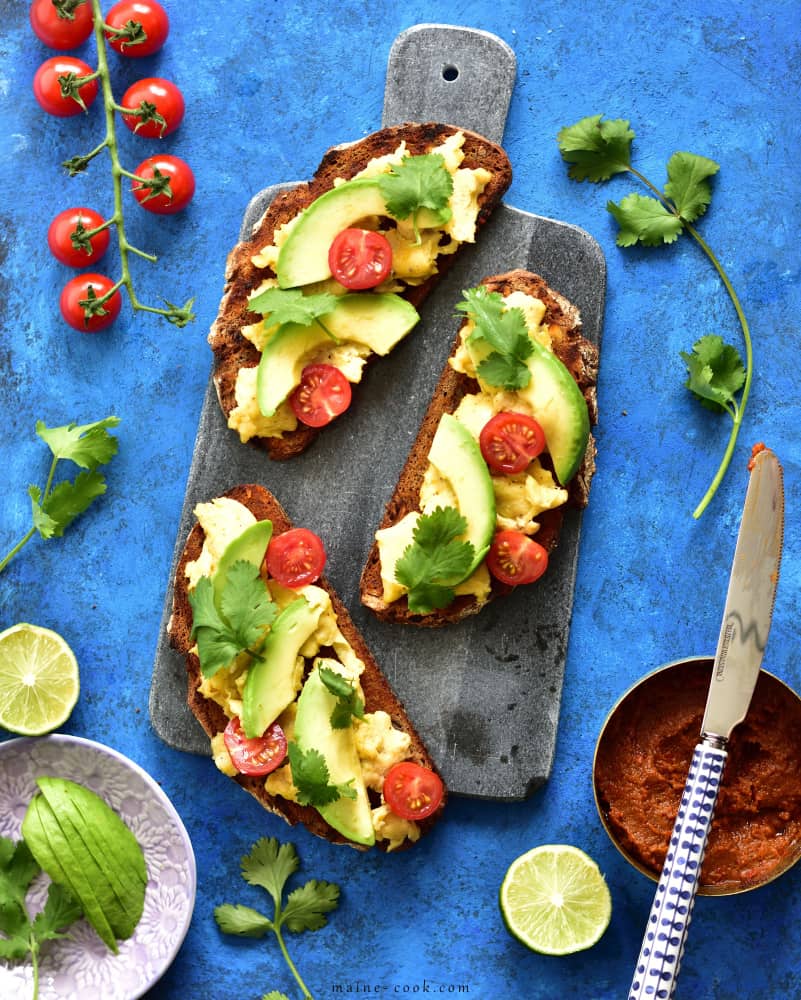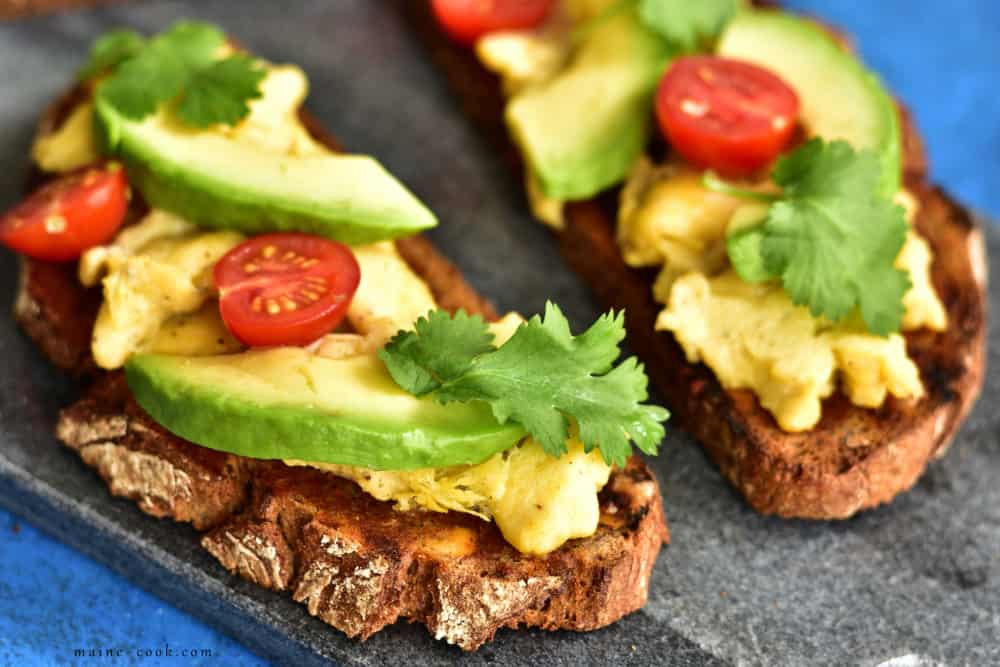 You may also like our Avocado Egg Toast.
Harissa, scrambled eggs, avocado, and coriander sourdough toast
Recipe for homemade Harissa paste – click here, or you can use a recipe for a small amount of paste, which is in the notes under the recipe
SAVE THIS RECIPE
Saved!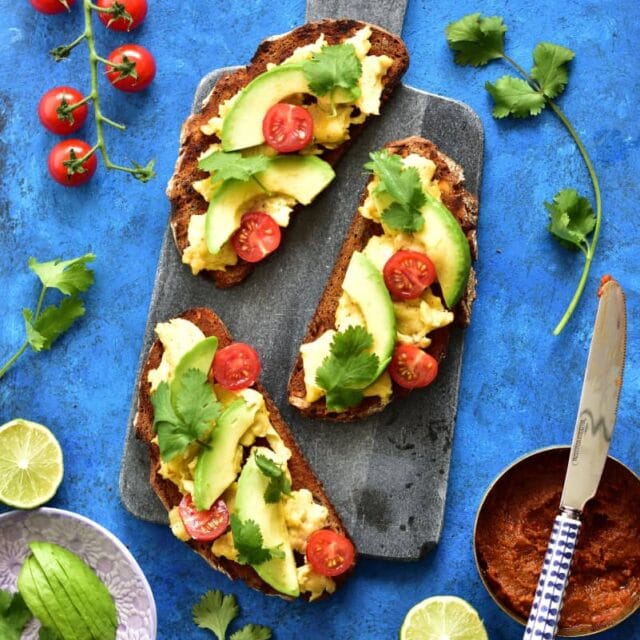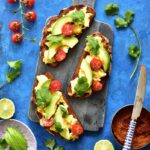 Print Recipe
RATE THE RECIPE
(click on the stars)
Ingredients
6

large slices of sourdough bread

4

teaspoons

harissa paste

store-bought or homemade from my recipe

4

large eggs

1

tablespoon

butter

1

avocado

sliced

1 to

mato

sliced, or 6 cherry tomatoes cut in half

fresh coriander leaves

1/4

lime

salt and pepper

to taste
Instructions
Toast bread slices in a toaster (optional), spread them thinly with the harissa paste (to taste, carefully, it's very spicy).

Scrambled eggs: whisk eggs in a bowl, season with salt and pepper, mix, heat butter in a frying pan and cook the eggs until set.

Place the scrambled eggs on the toasts, top with avocado slices, tomatoes, season with salt and pepper, sprinkle with coriander leaves and a little amount of lime juice.

Enjoy!
Notes
* Harissa paste is quite spicy, commercial harissa varieties may vary
* recipe for homemade harissa paste, a small amount, just for this recipe:
1 tablespoon frying oil, 1 small onion, 1 clove garlic, 2 chili peppers,
1 teaspoon dried ground coriander, 1 teaspoon ground cumin
1/2 teaspoon paprika powder, 2 heaped tablespoons of finely chopped red bell pepper (you can also use a leftover roasted bell pepper), 1 teaspoon tomato paste, salt to taste. Method: Dice the onion, slice the garlic and chili (remove the seeds if you want it to be less spicy). Heat the oil in a small frying pan, cook onions over low heat for 7 minutes, add garlic, chili, peppers, spices and cook for 5 minutes. Add the tomato paste, mix, season with salt, blend in a blender until thick paste forms.
Tried this Recipe? Rate the Recipe and tell us what you think in the Comments!
Did you make this recipe? RATE THE RECIPE or tell me in the COMMENTS how you liked it! You can also add a photo of your dish. It would make me very happy and will help other readers. Thank you!!