Harrisa paste is a North African spice mix. The main ingredients of the paste are spicy chili peppers, red bell pepper, cumin, garlic, coriander and sometimes it's also seasoned with saffron and rose petals. It's the most popular spice mix in Tunisia, from which it originates, it's considered to be a national spice of this country. It is also often found in Morocco, Libya and in the Middle East. It's very versatile, can be added to soups, stews, couscous, and as a marinade for meats, practically for everything. You can buy it in the form of a paste or a dry spice, which can be later mixed with olive oil. The recipe below yields an amount of paste, which can be used to marinate 8 chicken thighs, the leftover paste can also be frozen. Harissa is very spicy, a little goes a long way (but it also depends on the variety of chili peppers used), but also very aromatic, gives the dishes an unforgettable taste. You can easily buy it in oriental food stores or on the internet, but making it yourself at home is very easy! Homemade pasta is delicious, more aromatic than the store-bought one.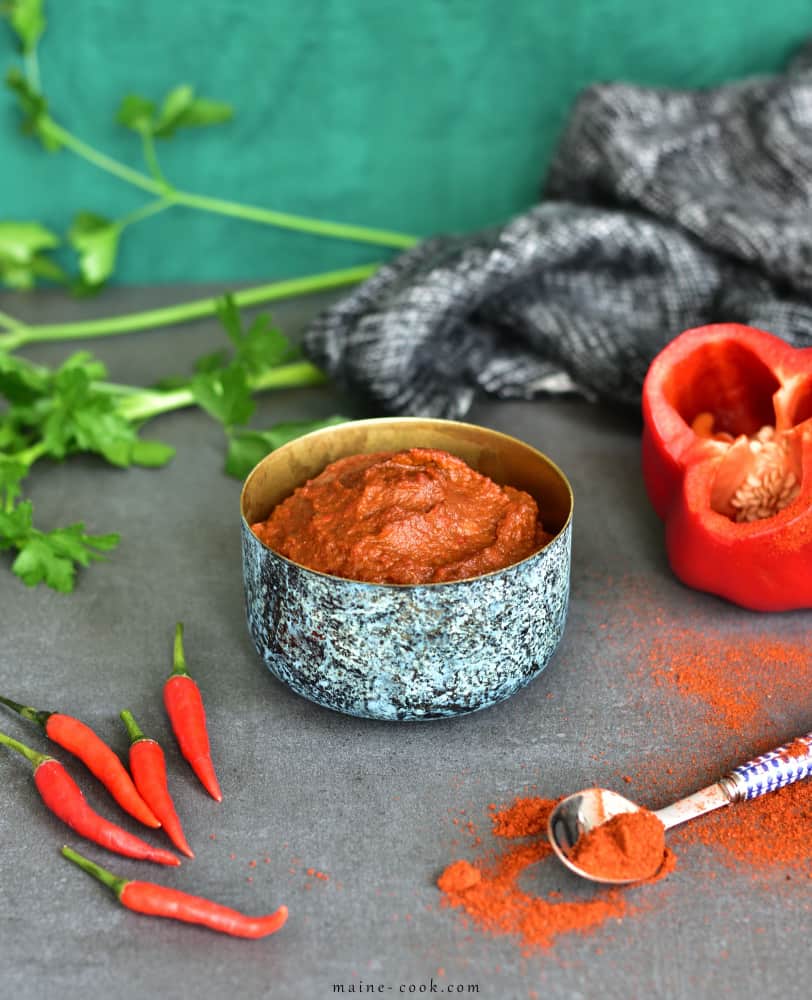 MY RECIPES USING HARISSA PASTE:

Homemade harissa paste
Recipe for a spicy North African spice mix. This amount of harissa is enough to marinate 8 chicken legs.
SAVE THIS RECIPE
Saved!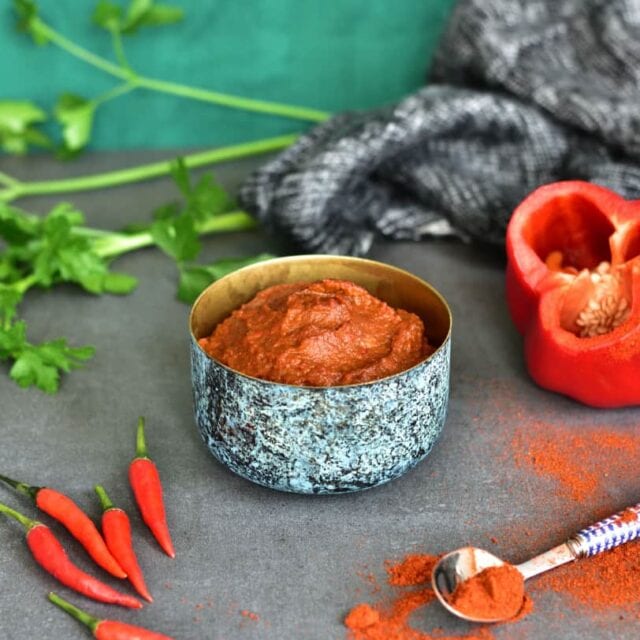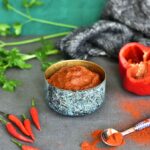 Print Recipe
RATE THE RECIPE
(click on the stars)
Ingredients
4

shallots

or small onions

4

tablespoons

frying oil

8

cloves

garlic

8

chili peppers

seeds removed, I used bird's eye chilies, they are very spicy, you can use less

4

teaspoons

ground cumin

4

teaspoons

ground dried coriander

2

teaspoons

paprika powder

1

red bell pepper*

4

teaspoons

tomato paste

salt

to taste
Instructions
Chop onions, garlic, chili and bell pepper very finely.

Heat the oil in a frying pan, add the onions, cook for about 6 minutes until translucent, then add the garlic, chili, and spices, cook for a minute.

Add the bell pepper, cook for about 5 minutes, until tender.

Add the tomato paste, cook, stirring, for 2-3 minutes, season with salt to taste.

Pulse the content of the pan in a food processor until it becomes a thick paste.

Store in the fridge, in a closed container. If the paste will be stored for more than a few days, it must be topped with a thin layer of olive oil, it can also be frozen.
Notes
You can use fresh bell pepper or roasted, both versions will be good, but I prefer it with roasted pepper. I wouldn't warm up the oven only for this one pepper, though. Use it only if you're roasting bell peppers also for other purposes.
How to roast bell peppers: Preheat the oven to 220 °C / 450 °F / Gas Mark 8, no fan and roast until tender and browned, set aside to cool, peel and remove the seeds, chop finely and cook as in the recipe.
Tried this Recipe? Rate the Recipe and tell us what you think in the Comments!
Did you make this recipe? RATE THE RECIPE or tell me in the COMMENTS how you liked it! You can also add a photo of your dish. It would make me very happy and will help other readers. Thank you!!