Harrisa chicken is a quick and simple to make dish, that looks amazing on a plate and is just bursting with flavor. Chicken legs are marinated in harissa – an aromatic paste made of hot peppers, cumin, coriander, and garlic. If you want to make an elegant dish to impress your guests but really don't have time to stay long in the kitchen – this is it. It's really amazing. Delicate meat is easily falling off the bone, you've got crispy skin, sweet carrots, onions and raisins, knock-your-socks-off rose water sauce (easy!) and lemon parsley couscous. Give it a try, guys!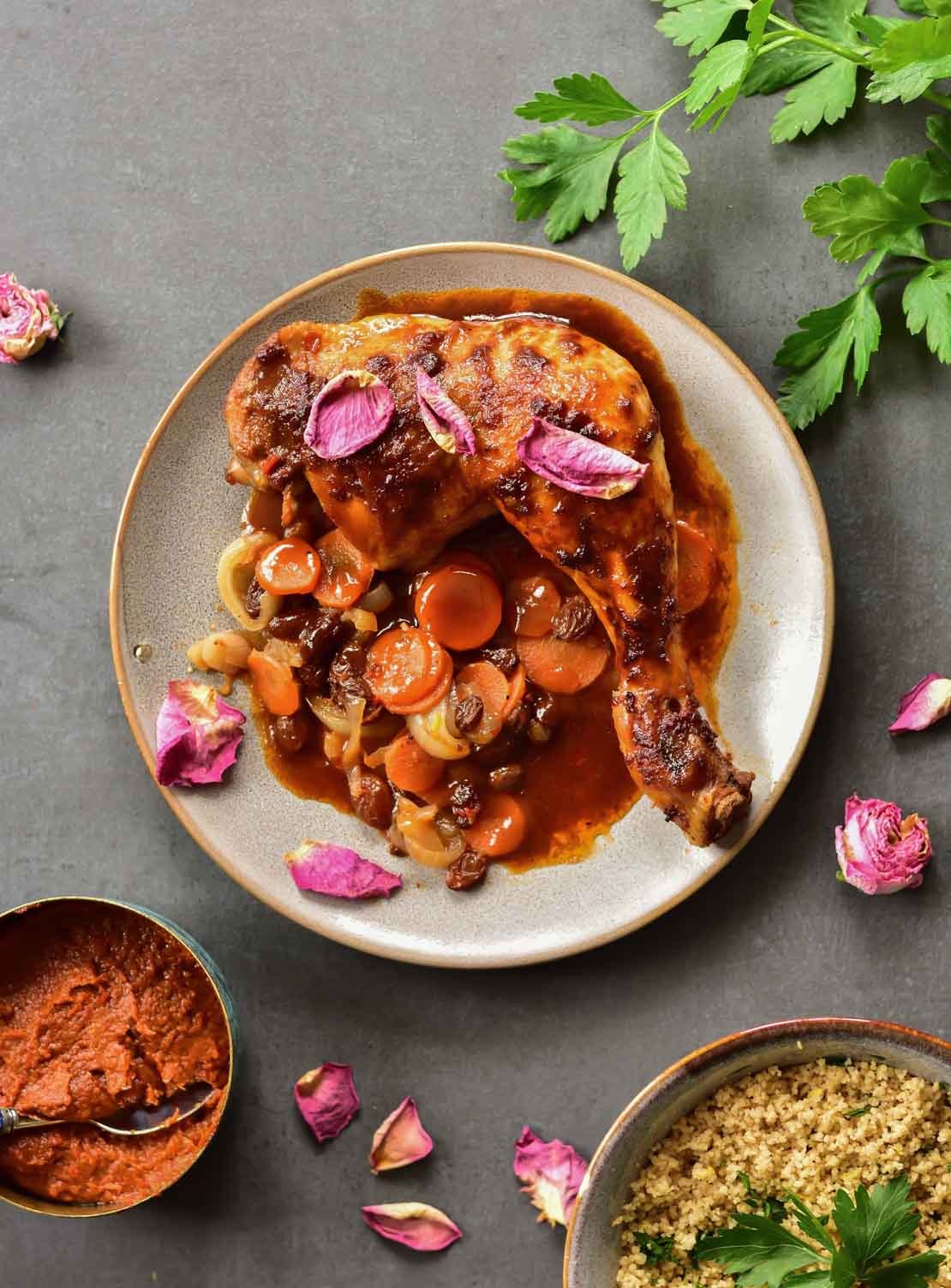 Harissa chicken with rose water sauce ingredients and substitutions
Chicken – I used chicken legs, but chicken thighs will also work.
Harissa – You can use harissa paste or harissa spice mix (I prefer the former). Since this is the most important ingredient of this recipe, I will talk about it a little more below!
Carrots, onions, raisins – they go with all the other ingredients so well that I really can not think of any substitutes!
Rose water – It's very fragrant, its addition really takes the sauce to another level, its smell is wonderful. If you won't use rose water for cooking anymore, it's wonderful as a face tonic! If you can't find it, don't worry, the sauce will also taste good without it.
Couscous – I added chopped parsley and grated lemon zest to the couscous, so it's really light and flavorful. You can use regular couscous, pearl couscous or bulgur.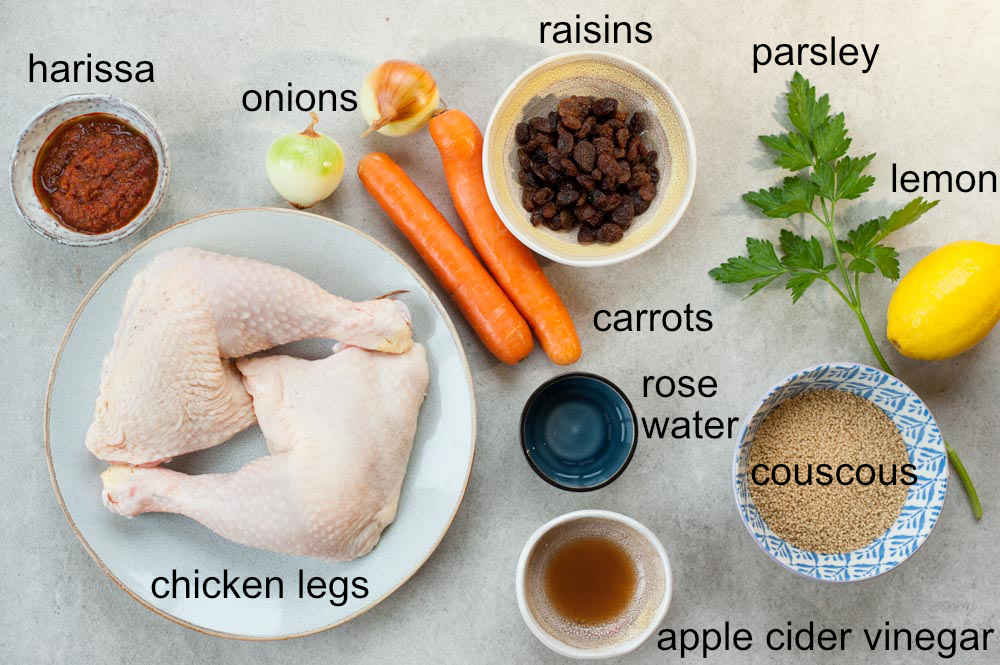 What is Harissa?
Harrisa paste is a North African chili pepper paste. The main ingredients of the paste are spicy chili peppers, cumin, garlic, and coriander. It's very versatile, can be added to soups, stews, couscous, and as a marinade for meats, practically for everything. You can buy it in the form of a paste or a dry spice, which can be mixed with olive oil.
Harissa is very spicy and aromatic. If you don't like very hot meals don't worry, this dish is just slightly hot. The spiciness mellows during baking and in combination with sweet vegetables and couscous, it was just spicy enough for us and our little daughter.
How to make harissa marinade:
It's actually very easy. If you have harissa paste – that's just it. You need to rub the chicken with the paste and leave to marinate. If you have a harissa dry spice mix, just mix it with olive oil and rub the chicken with the mixture. Harissa pastes vary, depending on the brand. I actually find store-bought harissa very good and spicy, but just a little more bland in terms of spices so I usually add a little more dry spices like cumin and coriander to make it more aromatic.
How to substitute harissa:
Harissa paste / dry rub is actually quite easy to buy, either in Oriental food stores or on the internet, but if you can't get them, try to make your own! It's really easy and you don't need any weird ingredients. Here's my recipe for homemade harissa paste.
How to use harissa (harissa recipes):
Step by step instructions

STEP 1: Rub the chicken legs with harissa paste. Leave to marinate for a minimum of 30 minutes or better overnight.
STEP 2: Place the legs in a baking dish, add water, cover the dish and bake for 45 minutes.

STEP 3: Add the chopped carrots, onions and raisins.
STEP 4: Bake uncovered for 45 minutes until the meat falls off the bones easily and the skin is browned and crispy.

STEP 5: Make the sauce: Strain the vegetables, gather the liquid in a small saucepan.
STEP 6: Add the vinegar and cook the sauce for a couple of minutes until thickened.

STEP 7: Stir in the rose water.
STEP 8: Make the couscous. Pour boiling water over couscous, leave for 5 minutes. Stir in the chopped parsley and grated lemon zest.
SERVE: Serve the chicken legs with the rose water sauce and lemon parsley couscous.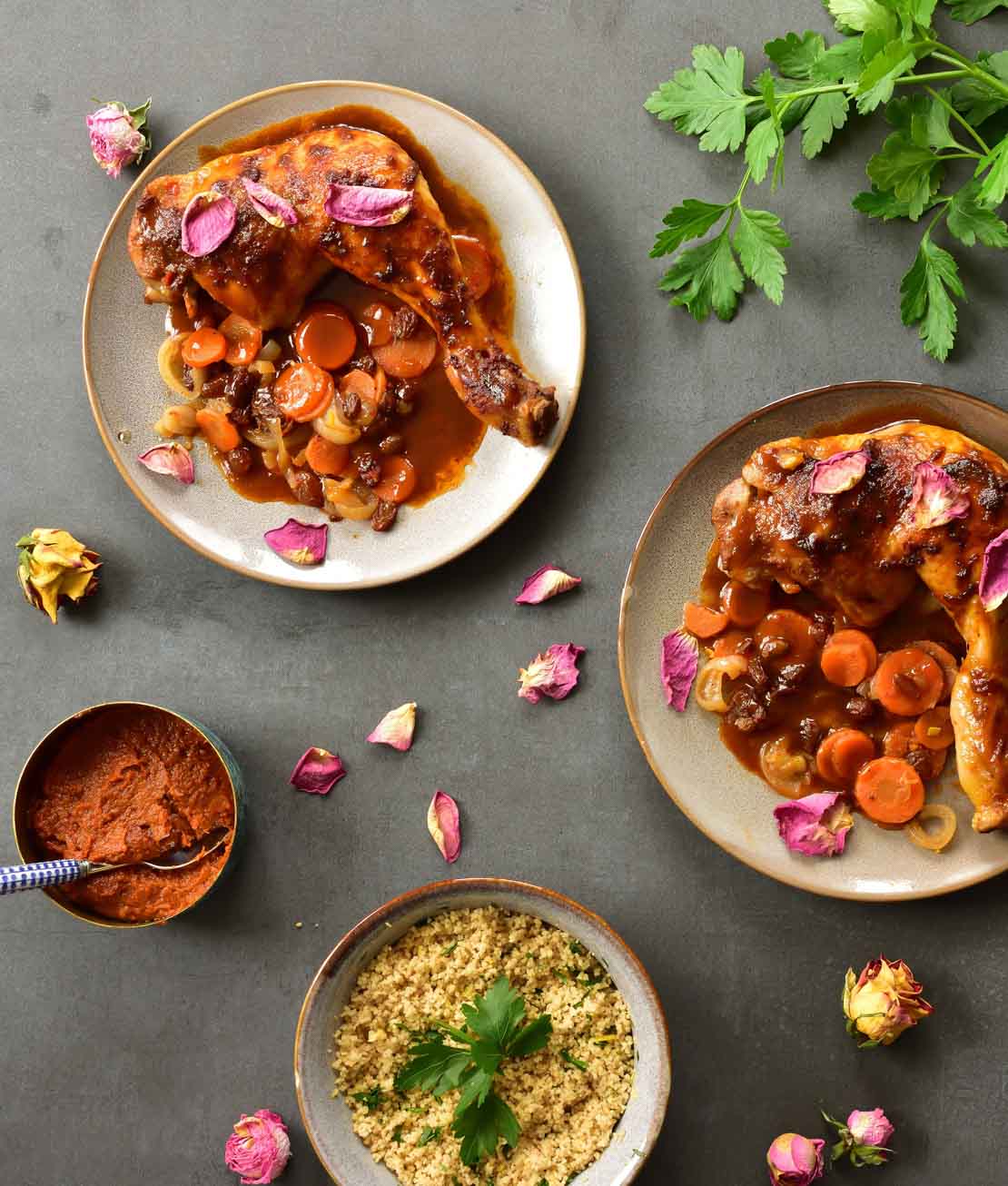 Another baked chicken legs recipe that we really love is this baked chicken with apples and onions recipe or baked chicken leg quarters.
Harissa Chicken
Flavorful, fall-off-the-bone chicken, seasoned with aromatic harissa paste and served with rose water sauce and lemon parsley couscous.
Pin This Recipe!
SAVE THIS RECIPE
Saved!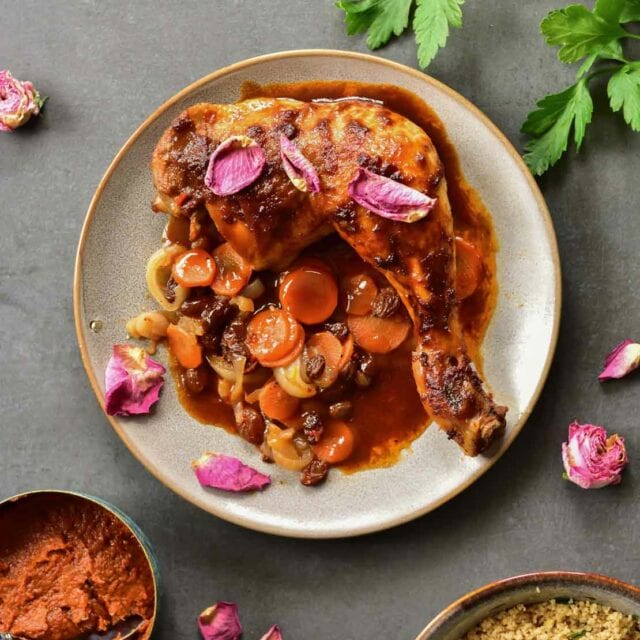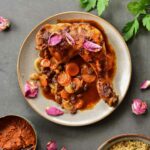 Print Recipe
RATE THE RECIPE
(click on the stars)
Ingredients
meat and vegetables:
2

chicken legs

about 1.3 lbs / 600g

2

medium carrots

7 oz / 200g, cut into very thin slices (about 2-3mm / 1/7-inch)

3

tablespoons

raisins

3

shallots

or small onions, 3.4 oz / 100g, cut into thin slices

salt

to taste

½

cup

of water
the sauce:
baking dish drippings

1

tablespoon

apple cider vinegar

or red wine vinegar

1

tablespoon

rose water

can be omitted
the couscous:
½

cup

couscous

½

cup

boiling water

3

sprigs parsley

finely chopped leaves

1

teaspoon

grated lemon zest

preferably from an organic lemon

salt and black pepper

to taste
Instructions
meat and vegetables:
Marinate the chicken legs for a minimum of a few hours, and preferably overnight. Rub the meat thoroughly with salt and harissa paste, also under the skin. Place the meat in an oven proof casserole dish, cover it with a plastic foil, put in the fridge, leave to marinate.

Preheat the oven to 180 °C / 350 F / Gas Mark 4, no fan (if you have a convection oven reduce the temperature by about 20°). Remove the chicken from the refrigerator.

When the oven is ready, pour about a ½ cup of water into the dish (you should have about 1/2-inch / 1 cm water in the baking dish), cover the dish with a lid or seal tightly with aluminum foil, put in the oven, bake for 45 minutes.

About 10 minutes before the end of this time, prepare the vegetables (slice thinly the carrots and shallots).

Add the carrots, onions, and raisins to the baking dish, pour in the additional water, if necessary. The vegetables should be at least half-covered with the liquid.

Bake uncovered for another 45 minutes. At the end of the baking keep an eye on the thighs and if they brown too quickly cover them loosely with an aluminum foil. If the skin is not crispy, move the baking dish to the top shelf of the oven and bake until crispy.

Remove the chicken from the oven, it's ready when the skin is browned and crispy and the meat easily falls off the bone.
couscous:
About 10 minutes before the end of the baking time, prepare the couscous.

Season the couscous with salt and pepper, add boiling water, stir, cover and leave for 5 minutes.

Stir in the chopped parsley and lemon zest.
rose water sauce:
Strain the meat and vegetables, reserving the liquid in a small pot.

Add a tablespoon of apple cider vinegar to the sauce and cook over medium heat until thickened (my sauce has reduced by half and I had about ¼ cup of sauce left).

Take the pot off the heat, add a tablespoon of rose water and stir.
serve:
Place the chicken, vegetables, and couscous on a plate, pour the sauce over and serve.

Enjoy!
Notes
recipe for a small amount of harissa paste, just for this recipe:
1 small onion, 2 cloves garlic, 2 chili peppers, 1 teaspoon ground cumin, 1 teaspoon ground coriander, ½ teaspoon sweet paprika powder, 2 heaped tablespoons finely chopped red bell pepper, 1 teaspoon tomato paste, salt to taste.
Dice the onion, garlic and chili (remove the seeds to make it less spicy). Heat the oil in a small frying pan, add the onion and cook for about 6 minutes, add the garlic, chili, and spices, cook for about 1 minute, add chopped red bell paprika and cook for 5 minutes until soft, finally add tomato paste, mix and season with salt. Blend until smooth paste forms.
I like to add additional spices to the store-bought harissa paste: 1/2 ts cumin + 1/2 ts coriander
Ingredient substitutions:

chicken legs – you can also use chicken thighs
harissa paste – if you only have dry spice mix, mix is with olive oil and rub the chicken, you can also try to make your own spice mix
rose water – can be omitted
coucous – you can also use pearl couscous or bulgur
apple cider vinegar – red wine vinegar

Calories count = 1/2 of the recipe (this is only an estimate!)
Tried this Recipe? Rate the Recipe and tell us what you think in the Comments!
This dish was inspired by the pan-fried sea bass recipe from the book 'Jerusalem' by Y. Ottolenghi and S. Tamimi.
Did you make this recipe? RATE THE RECIPE or tell me in the COMMENTS how you liked it! You can also add a photo of your dish. It would make me very happy and will help other readers. Thank you!!