This herring salad is so simple and delicious! It's made with only a couple of ingredients and it's super easy to make! It's very hard to stop eating this Polish / German herring salad – it´s so good. Pickled herring, potatoes, apples, and onions is a classic flavor combination. Additionally, I added hard-boiled eggs, cucumbers in brine and quick-pickled onions for crunch and a pop of color. All these ingredients go extremely well together.
This salad is perfect for any family/friends celebrations, potluck parties and more festive occasions like Christmas or Easter.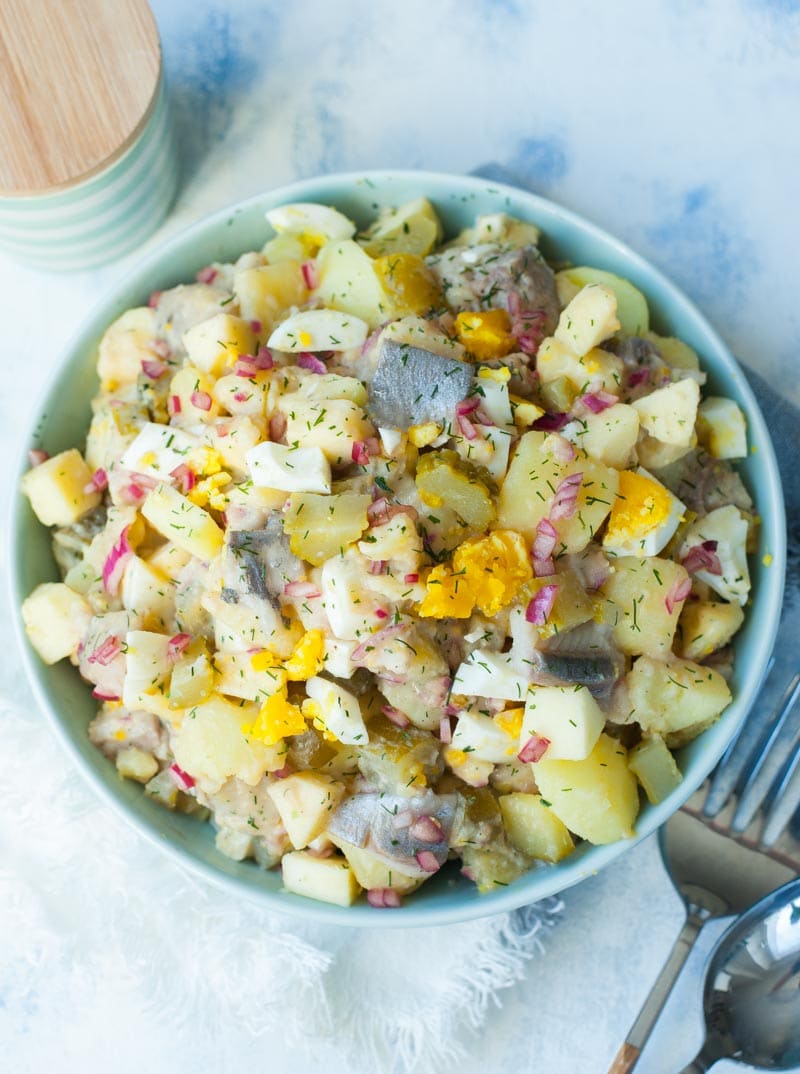 About the recipe
Herring salads are traditionally served for Christmas, New Year's Eve and Easter in Poland, Germany, and Scandinavian countries. Every family has its own recipe, but the ingredients that are included in this recipe are the most popular.
There are also many other flavor combinations – there is herring in cream sauce, in tomato sauce, pickled with prunes and raisins, with curry sauce, herring salad with beets, and many others.
This herring salad recipe is based on Polish and German recipes for this salad.
Ingredients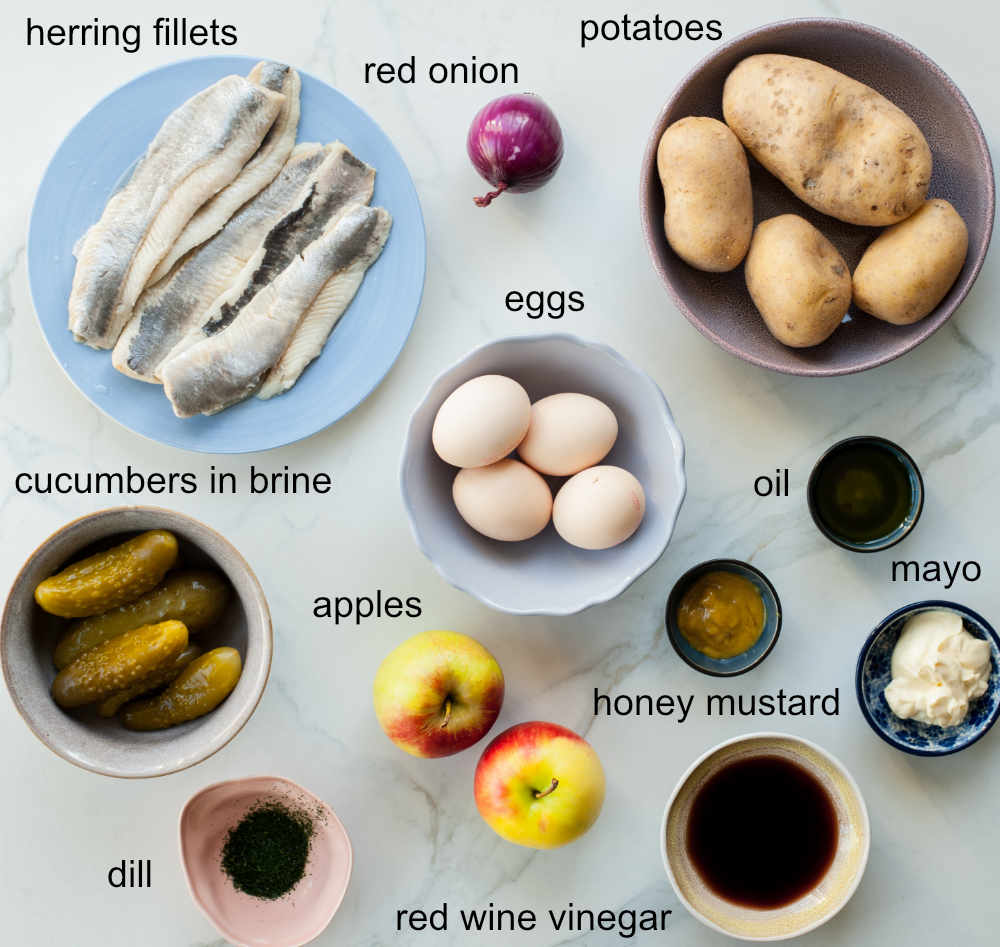 The ingredients for this salad are pretty simple and easily available except these two ingredients, that I would like to talk a little more about:
Herring:
What is herring? Herring is a small, oily fish most commonly found in the waters of the North Pacific and North Atlantic Oceans, including the Baltic Sea.
For this recipe, you don't need a raw or cooked fish, but a pickled fish. How is this made? Initially, the herrings are cured with salt to extract water. The second stage involves removing the salt and adding flavorings, typically a vinegar, salt, sugar solution, and spices like peppercorn, bay leaves, and raw onions (according to Wikipedia).
In Poland, you can buy herring cured in salt that needs to be soaked in water or milk for a couple of hours in order to be edible (it's very salty) or purchase already cured herring in oil, that is ready to eat and contains no flavorings/additional ingredients (this is what this recipe is calling for). They are of course many flavored herring products, with seasonings and vinegar added or herring in sauce.
If you didn't grow up eating herring, its taste can be at first a little weird to you. It's really hard for me to describe its taste and I really can not compare it to any other fish. It tastes unique and for me – amazing. If you can't find herring at your local supermarket try your nearest Polish, Russian, Scandinavian, German or Jewish deli.
FUN FACT: herring fillets are served as an appetizer to vodka!
Cucumbers in brine:
This is a traditional Polish / German product (called ogórki kiszone in Polish and Salzgurken in German). These are cucumbers that are naturally fermented in salted water and there is no vinegar added to the brine. Cucumber pickles like dill pickles are pickled with vinegar (they are called ogórki konserwowe in Poland and Delikatessgurken in Germany/Austria).
Cucumbers in brine taste so much better than dill pickles. They're softer (not that crunchy) and also extremely healthy. Dill pickles are more crunchy and taste vinegary instead of kind of naturally sour (and maybe a little bit sweet). You can substitute cucumbers in brine with cucumber pickles with vinegar but the salad will taste a little different. You can also use gherkins/cornichons pickles which are very small pickled cucumbers.
Cucumbers in brine are a main ingredients of Polish dill pickle soup.
How to make it step by step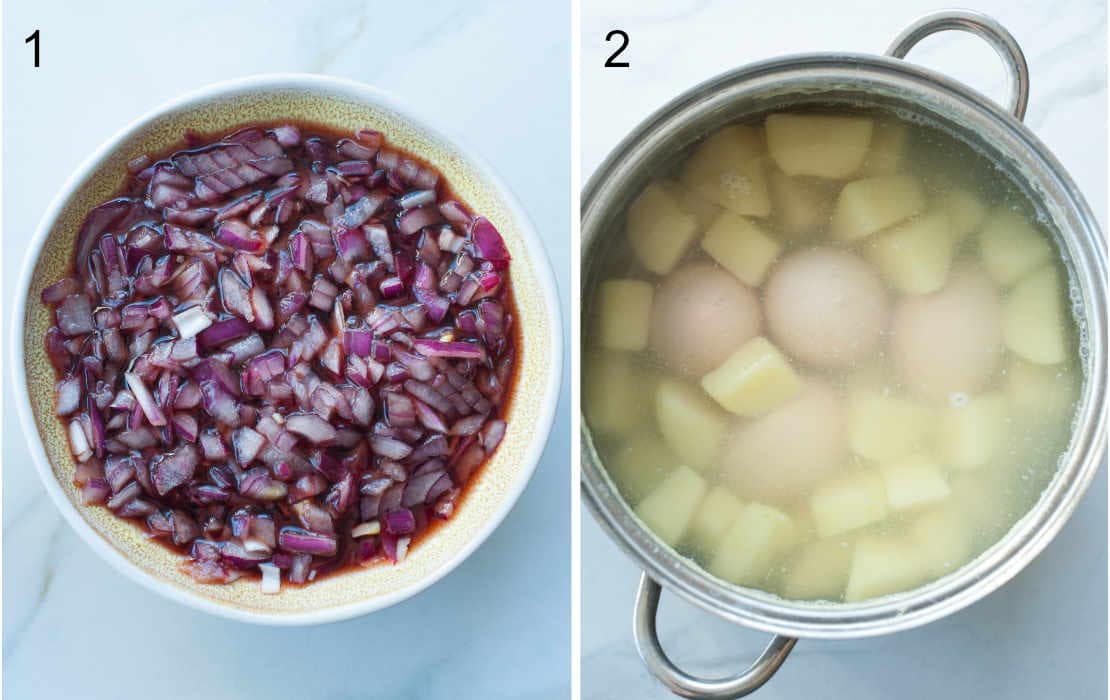 STEP 1: Marinate the onion in vinegar.
STEP 2: Cook the potatoes and eggs.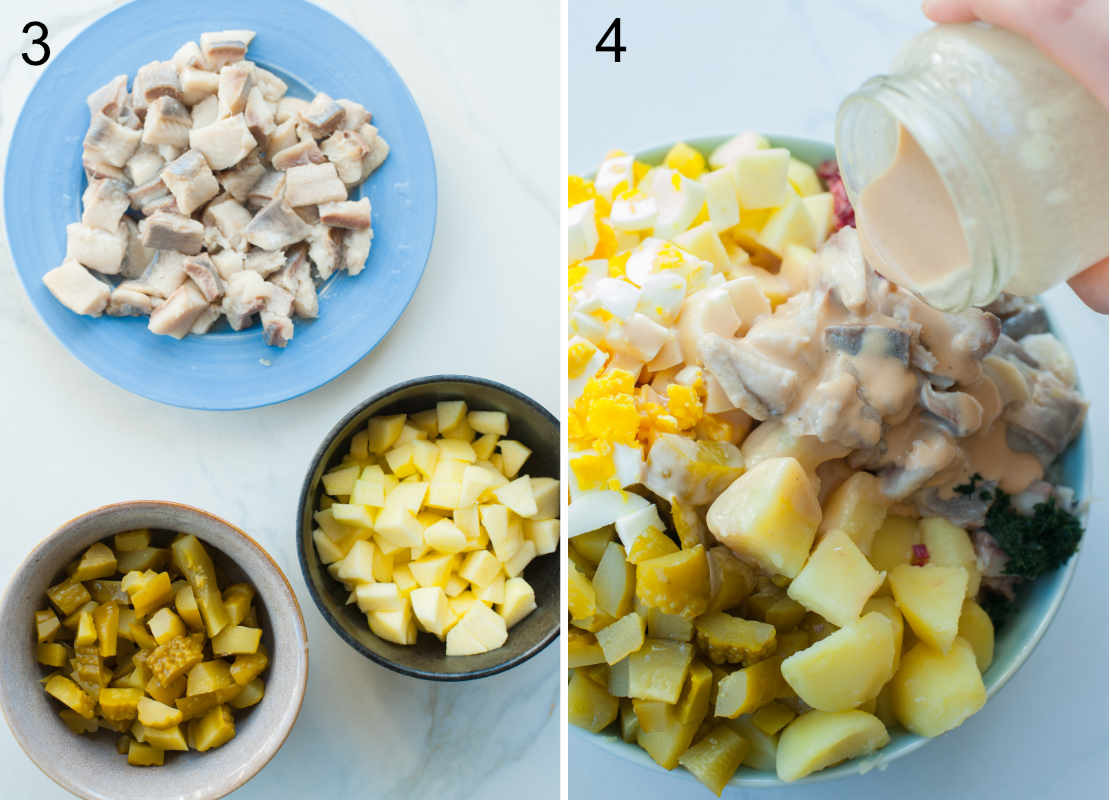 STEP 3: Chop all the salad ingredients.
STEP 4: Make the dressing and pour over the salad.
Stir everything together, season with salt and pepper.
Enjoy!
Storage
Store the salad in the fridge for up to 3 days. It also tastes delicious the next day.
Serve the salad at room temperature.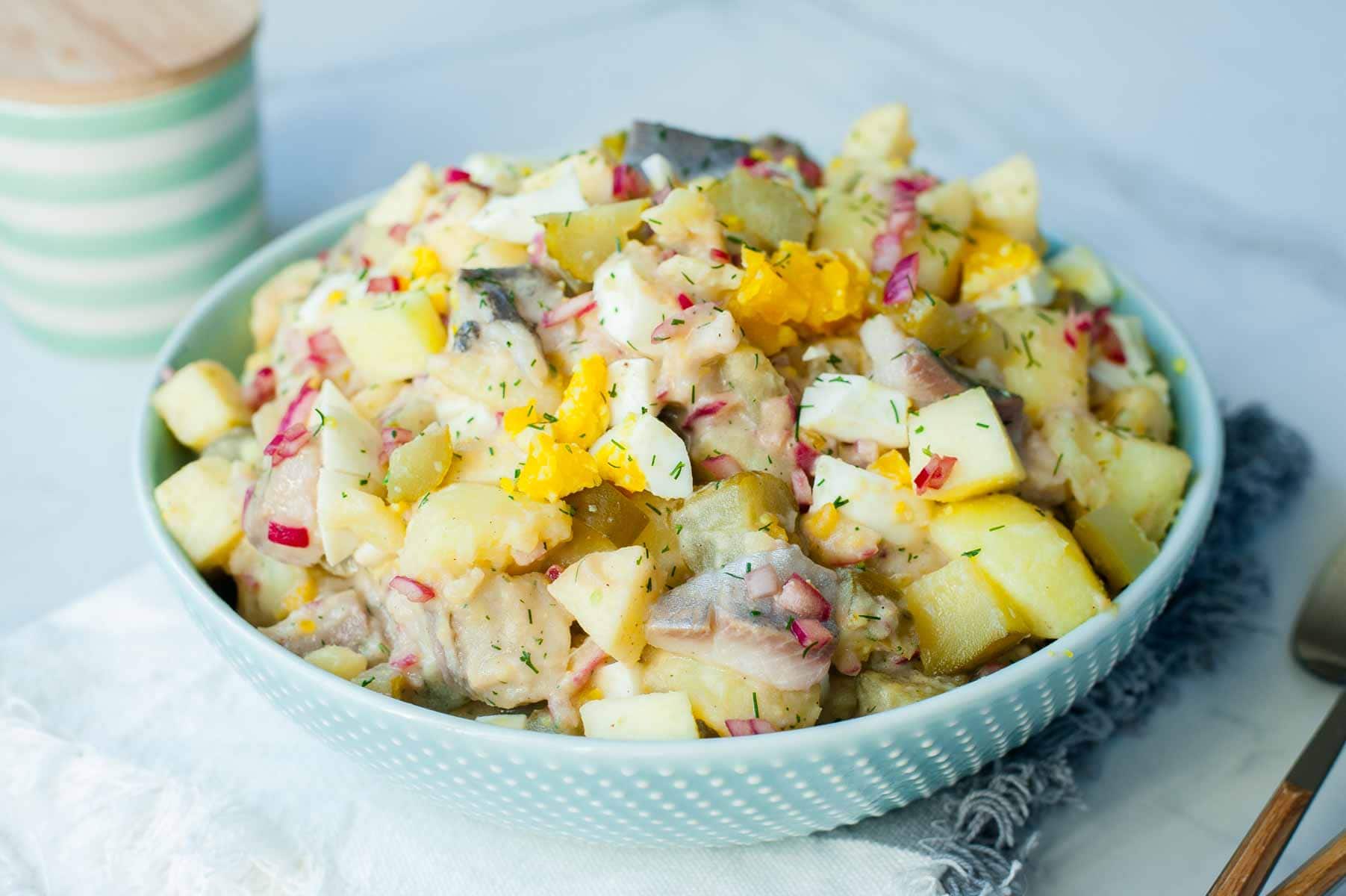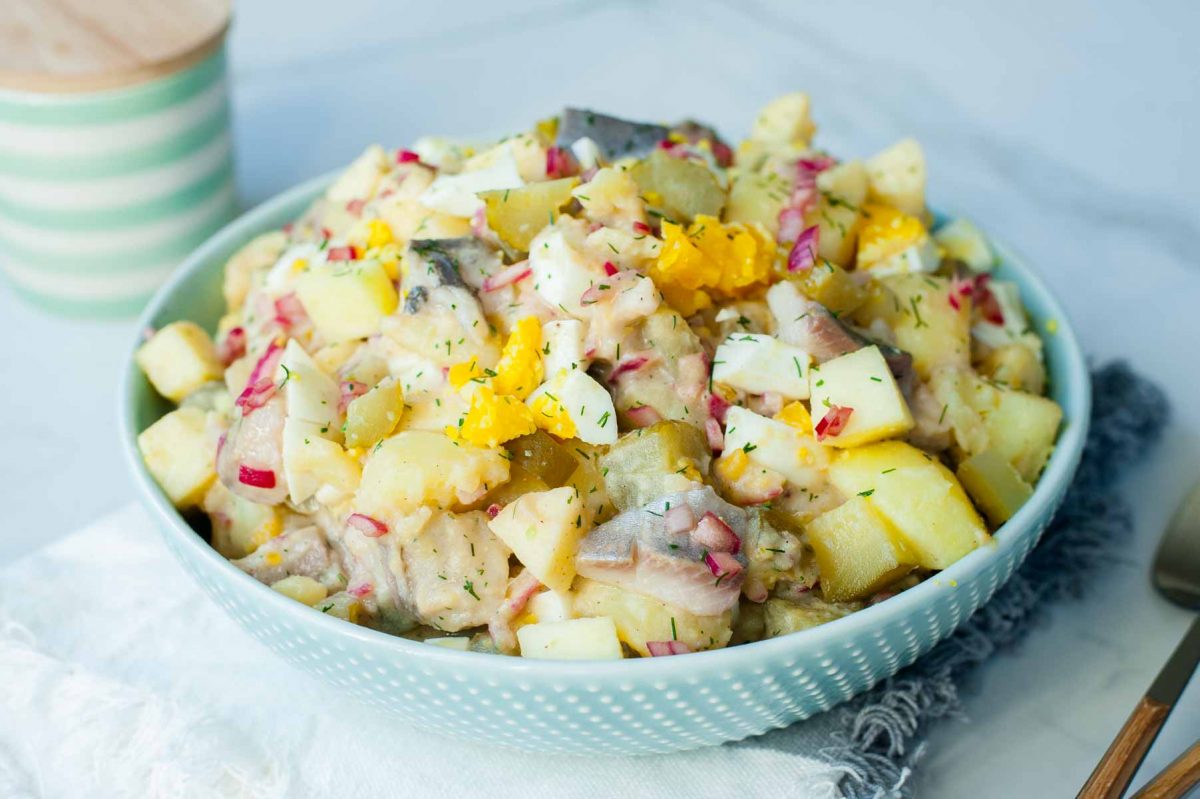 Another potato salad you may like: potato and asparagus salad with eggs, smoked trout, sauteed radishes and honey-mustard sauce!
Did you make this recipe? RATE THE RECIPE or tell me in the COMMENTS how you liked it! You can also add a photo of your dish. It would make me very happy and will help other readers. Thank you!!
Herring salad with potatoes, eggs, cucumbers in brine and apples
This herring salad is so simple and it's made with only a few ingredients. It´s so good it´s hard to stop eating it!
Pin This Recipe!
SAVE THIS RECIPE
Saved!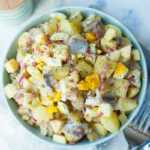 Print Recipe
RATE THE RECIPE
(click on the stars)
Ingredients
salad:
1.5

lbs

potatoes

700g, waxy variety

14

oz

herring fillets in oil

400g, drained, 4-5 fillets

2

small apples

sweet variety

1

small red onion

4

eggs

8

oz

cucumbers in brine

230g, about 6 medium cucumbers, or a little less dill pickles*

1

tablespoon

chopped dill
sauce:
3

tablespoons

red wine vinegar

2

tablespoons

linseed or rapeseed oil

cold-pressed, or olive oil

4

tablespoons

mayonnaise

2

teaspoons

honey mustard

or Dijon mustard + 1/2 ts honey

salt and pepper

to taste
Instructions
Marinate the onion: Dice the onion, add into a small bowl, mix with vinegar (the onion should be completely covered with vinegar). Leave for 15 minutes.

Cook the potatoes and eggs: Peel the potatoes and cut into 1-1.5 inch/3 cm cubes. Add to a pot with boiling salted water. Cook the potatoes for 6 minutes, then add the eggs and cook for 8 more minutes. Drain.

While the potatoes and eggs are cooking make the dressing: Strain the onion, reserve the vinegar and add it into a medium jar or small bowl. Add the rest of the ingredients for the sauce. Season with salt and pepper. Shake the jar thoroughly to mix the ingredients or whisk the ingredients in the bowl until combined.

Stir the potatoes with the dressing: Transfer cooked potatoes into a large serving bowl and immediately pour in the sauce (potatoes should be still warm, they will absorb the sauce), stir the potatoes with the sauce.

Chop the eggs, apples, cucumbers, and dill: Peel the eggs and apples and chop into small cubes. Chop the cucumbers. Chop the dill finely. Add them to the bowl.

Combine all salad ingredients. Season with salt and pepper, if necessary. If the salad is not sour enough, you can add more vinegar or lemon juice, if it's too sour for your liking, you can add some honey.

Enjoy!
Notes
Store the salad in the fridge for up to 3 days. It also tastes delicious the next day.
Serve the salad at room temperature.
It's important to pour the dressing over warm potatoes so that they can absorb the sauce and taste amazing. If they are cold the dressing will slide right off them.
Cucumbers in brine are cucumbers that are naturally fermented in salted water. The brine contains no vinegar. You can substitute to pickled cucumbers (with vinegar) / dill pickles / gherkins/cornichons (I prefer the latter) but it just won't taste the same.
If you can't find pickled herring in oil or cucumbers in brine at your local supermarket try your nearest Polish, Russian, Scandinavian, German or Jewish deli.
Tried this Recipe? Rate the Recipe and tell us what you think in the Comments!