Rhubarb lemonade with orange and cardamom is a delicious spring beverage. It's sweet, slightly sour and very refreshing.
If you're looking for other lemonade recipes, we really love this watermelon mint lemonade.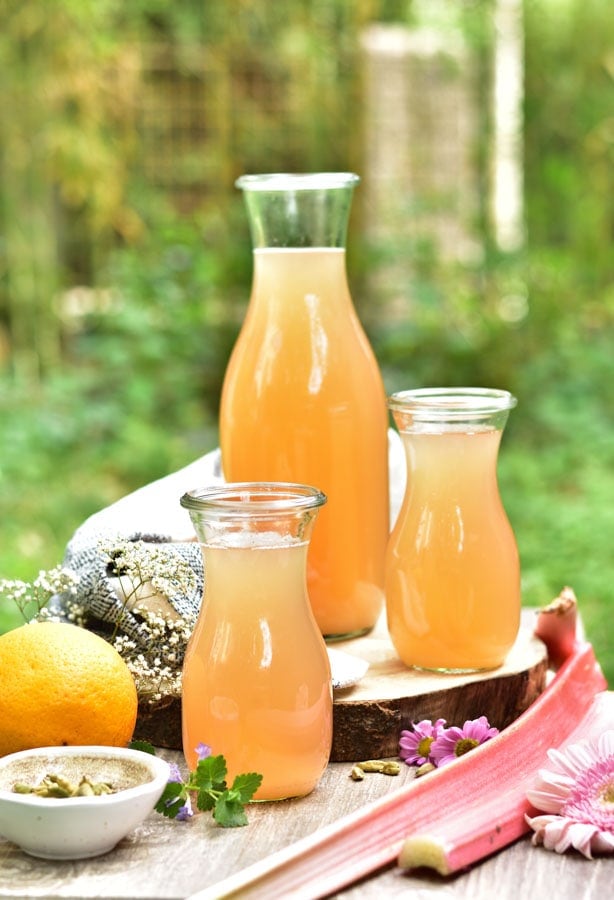 What do you need to make rhubarb lemonade:
– Rhubarb – depending on the variety the beverage's color may vary from orange to pink. If you have too much rhubarb you can freeze it. This lemonade can be easily made from frozen rhubarb and you can enjoy it all year around.
– Orange – preferably organic orange as we're also using its zest.
– Lemon juice
– Cardamom – you can omit it if you don't have it on hand, but it adds a very subtle spicy flavor to the lemonade, making it taste much better! Rhubarb, orange, and cardamom really go well together.
– Sweetener – I used xylitol because it tastes the same as sugar but has 40% less calories and is more healthy than sugar. The general rule is that you can replace sugar with xylitol in a 1:1 ratio, but I personally find sugar a little sweeter than xylitol so I would add just a little less sugar than xylitol. When adding more xylitol/sugar, make sure to dissolve it in the very warm lemonade first, so it's evenly distributed. If you're adding sugar it's best to add raw sugar or light brown sugar (for its caramel taste).
Serving and storing tips:
– This lemonade tastes good warm or cold (serve it in a pitcher with ice cubes).
– If you serving it right away you can reserve some rhubarb pieces for decoration.
– It will keep up in the fridge for up to 3 days (but don't forget to strain it and discard the cooked rhubarb).
– Can naturally be frozen.
How to make rhubarb lemonade – step by step:
Rhubarb lemonade ingredients: 1 lb rhubarb, 1 orange, 1/2 lemon, 4 heaped Tbst xylitol/sugar, 4 cardamom capsules.

Slice the rhubarb, crush the cardamom capsules, juice the orange and lemon

Add all the ingredients into a pot, add 6 cups water. Bring to a boil and simmer for a couple of minutes.

Strain the lemonade (you can discard the rhubarb), press with a spoon to release as much juice as possible. Serve warm or cold.
Rhubarb orange and cardamom lemonade
Delicious spring beverage that is sweet, slightly sour and very refreshing.
Pin This Recipe!
SAVE THIS RECIPE
Saved!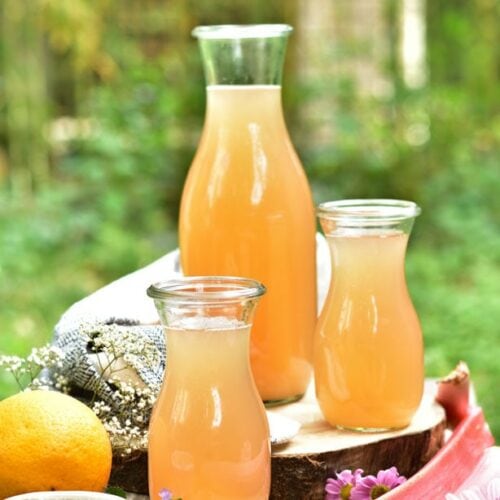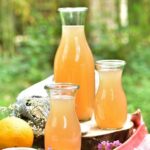 Print Recipe
RATE THE RECIPE
(click on the stars)
Ingredients
1

lb

rhubarb

3 large stalks, 500g

6

cups

water

1.5 l

juice from 1 small orange

juice from 1/2 lemon

zest from ½ organic orange

in 1 piece, not grated

4

cardamom capsules

4

heaped tablespoons xylitol

or to taste, can be also sweetened with sugar
Instructions
Wash the rhubarb and cut into approx. 3 cm /1-inch pieces, slightly crush cardamom capsules (only to open them), squeeze the juice from 1 small orange, ½ lemon and cut off a large piece of the orange skin.

Add all ingredients into a large pot, sweeten to taste with xylitol/sugar, bring to a boil over medium heat, then simmer for a couple of minutes until the rhubarb is soft and begins to fall apart.

Take the pot off the heat and allow to stand for approx. 30 minutes (optional), then strain through a mesh strainer, squeezing as much liquid from the rhubarb as possible.

The lemonade can be served warm or cold, with ice cubes.

Enjoy!
Notes
The lemonade will keep up in the fridge for up to 3 days (but don't forget to strain it and discard the cooked rhubarb).
Tried this Recipe? Rate the Recipe and tell us what you think in the Comments!
Did you make this recipe? Let me know how you liked it and give it a star rating in the comments below! You can also add a photo of your creation!