Roasting is the best way to prepare brussels sprouts, they are beautifully browned and packed with flavor. The crispy and charred edges are the best part! These roasted brussel sprouts with pineapple are slightly sweet and sour. The addition of juicy, sweet pineapple and crunchy pecans will convince even the biggest opponent of brussels sprouts. The brussel sprouts are seasoned with sour balsamic vinegar, lemon juice, and sweet maple syrup. The key to the best roasted brussel sprouts is not overcrowding them on a baking tray and roasting them at high temperature.
This is a quick and easy side dish, you can serve it with roasted chicken or roasted duck. You'll also find instructions for the simplest and super quick dinner in the recipe notes.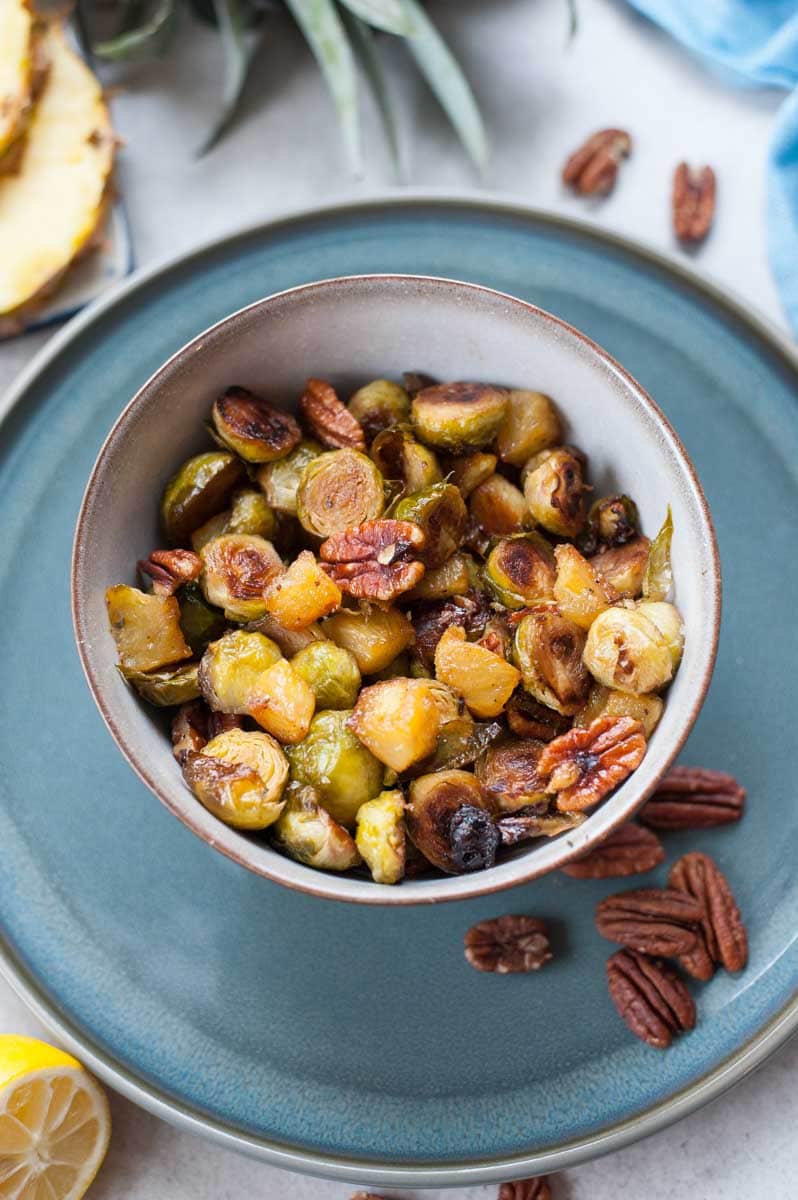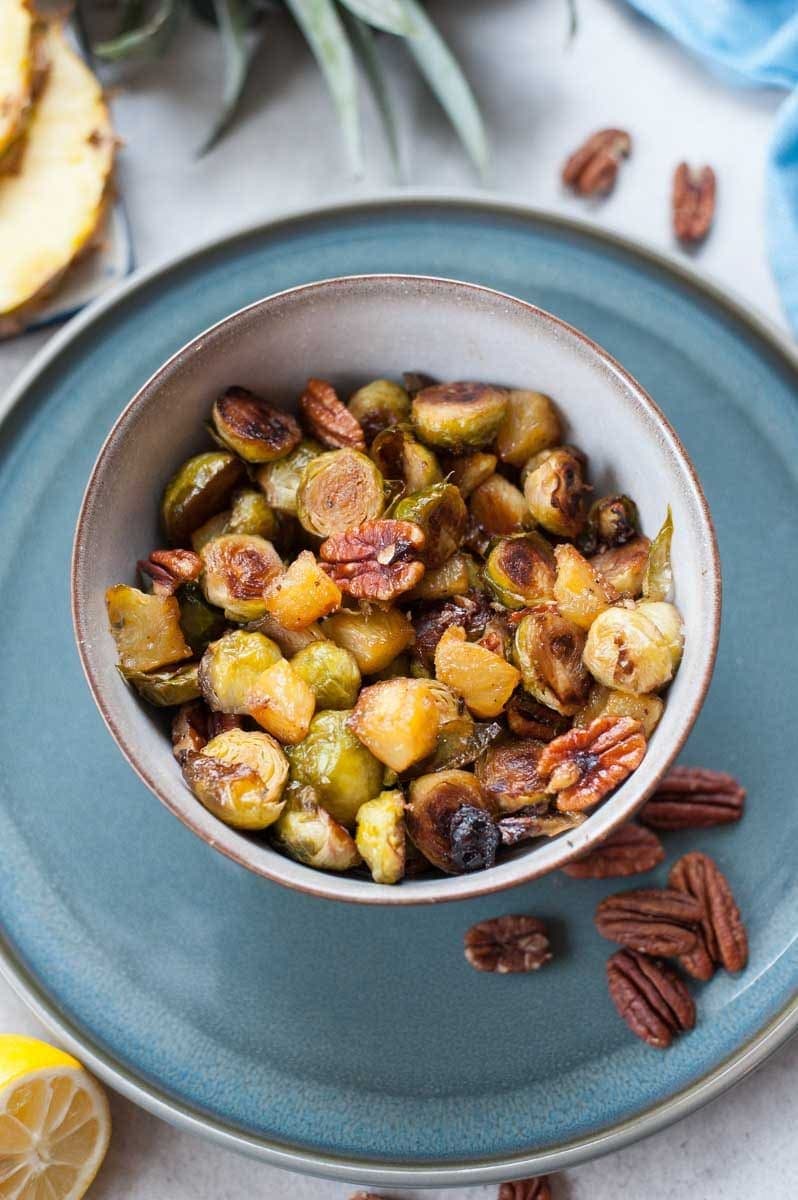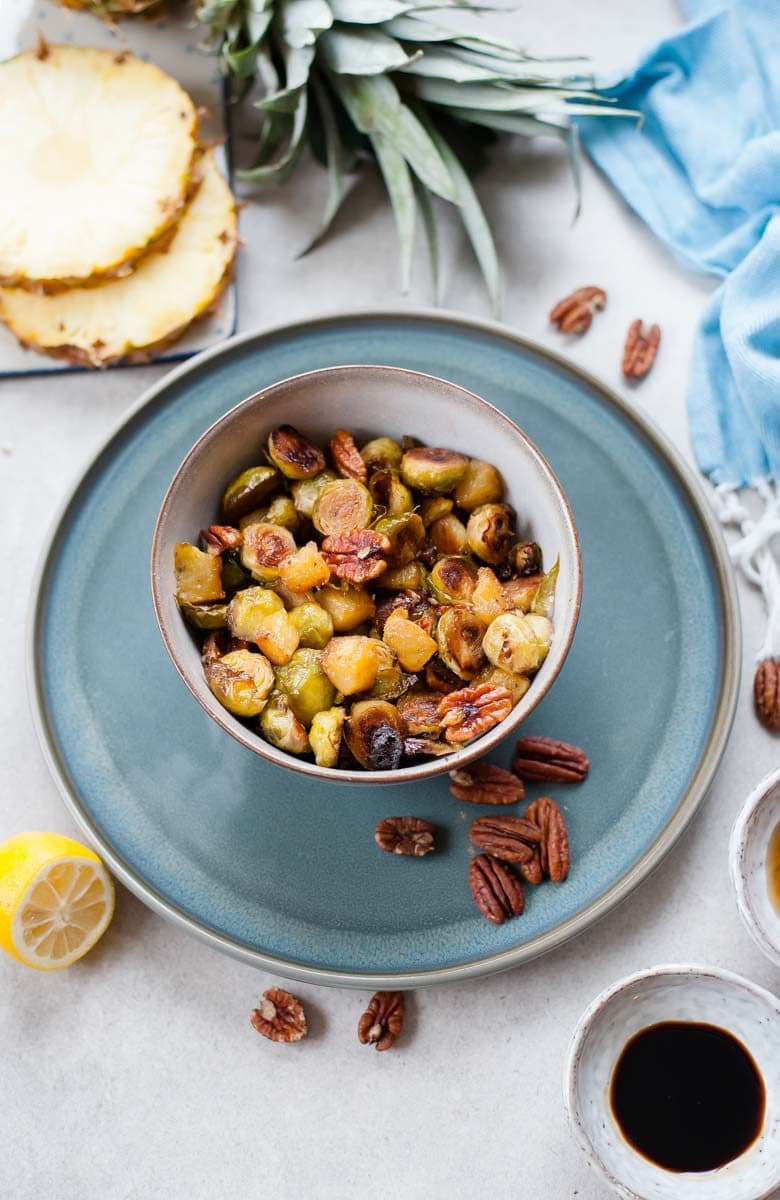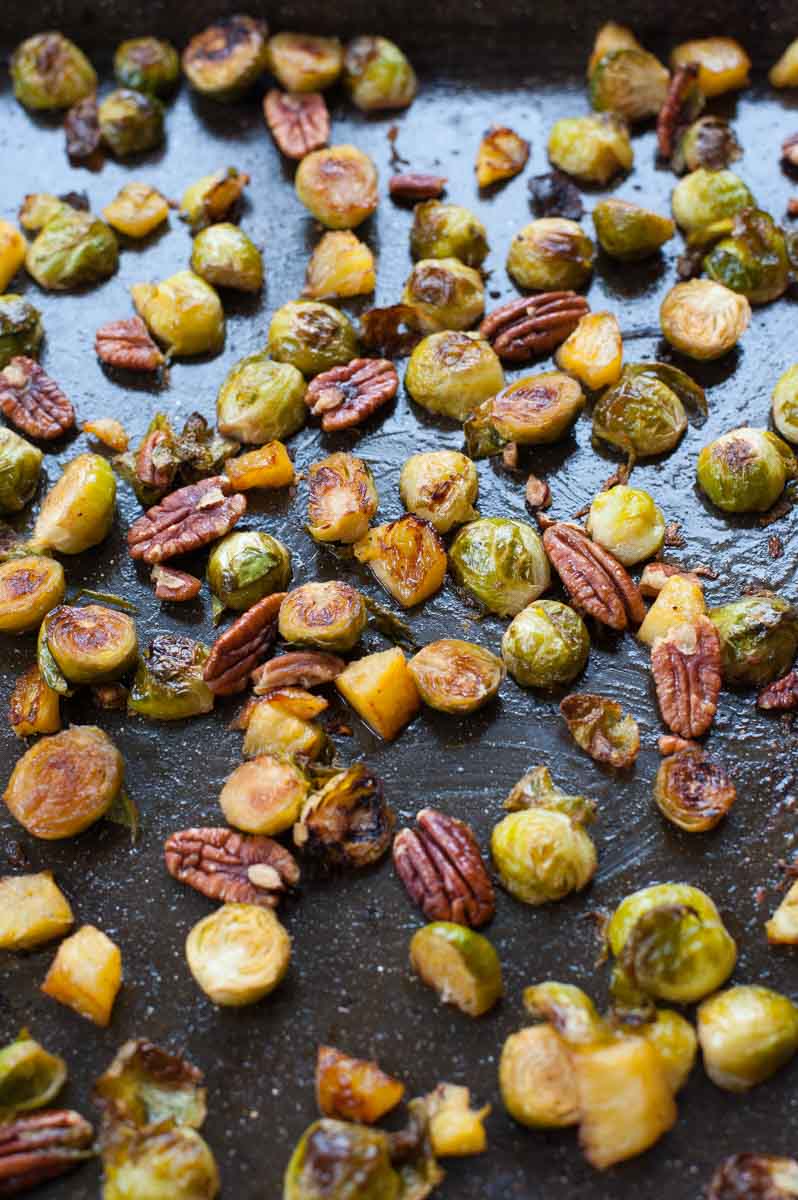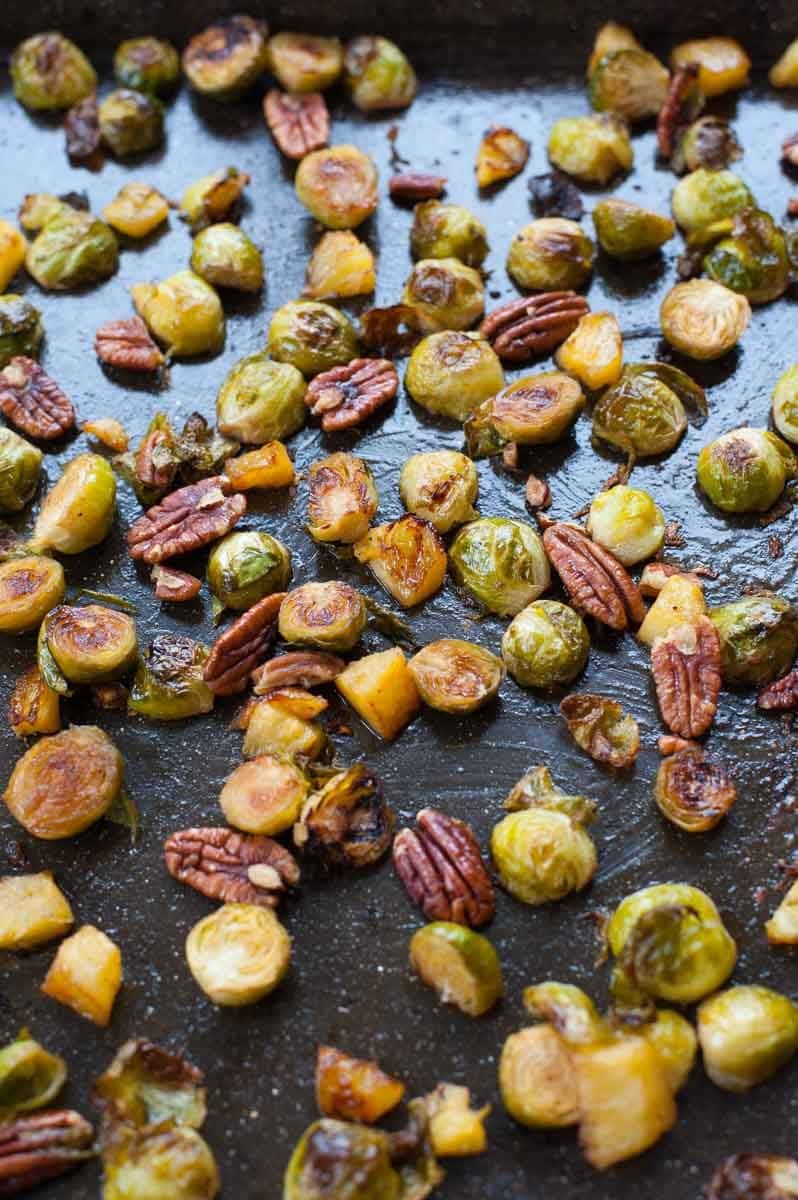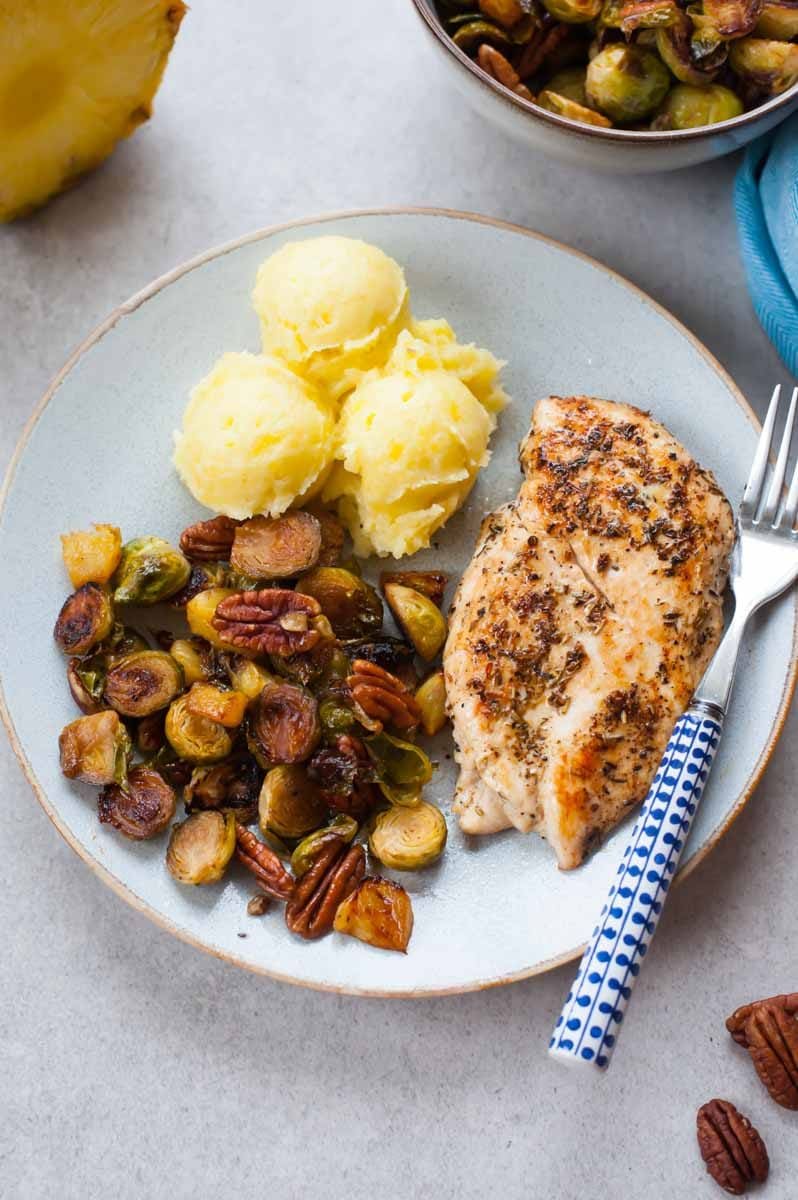 Ideas for using the rest of the pineapple:
You may also like these Parmesan Roasted Brussel Sprouts, Brussel Sprouts Gratin, or Smashed Brussel Sprouts.
Did you make this recipe? Let me know how you liked it and give it a star rating in the comments below! You can also add a photo of your creation!
Roasted brussel sprouts with pineapple and pecans
The best roasted brussels sprouts recipe. Balsamic sweet sour brussel sprouts with juicy pineapple and crunchy pecans!
Pin This Recipe!
SAVE THIS RECIPE
Saved!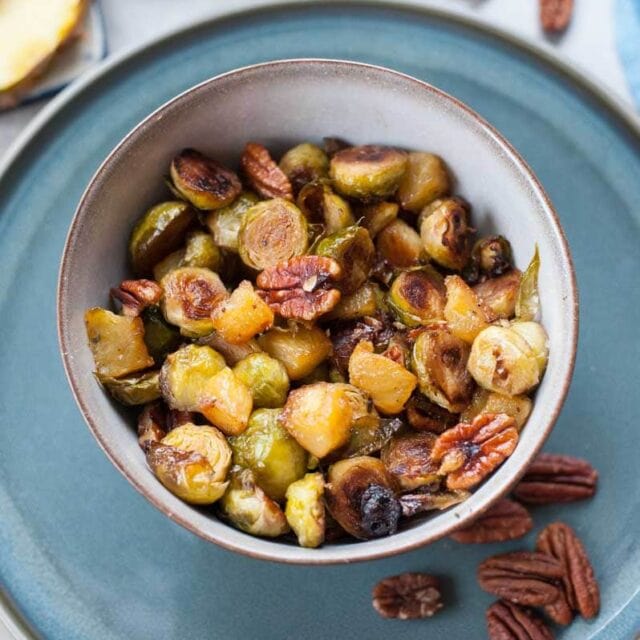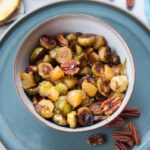 Print Recipe
RATE THE RECIPE
(click on the stars)
Ingredients
13.4

oz

brussel sprouts

380g

4.4

oz

fresh pineapple

125g

1.5

tablespoons

olive oil

1

teaspoon

lemon juice

2

teaspoons

balsamic vinegar

good quality

2

teaspoons

maple syrup

or honey

2

tablespoons

pecans

or walnuts

salt and pepper

to taste
Instructions
Preheat the oven to 200°C / 400°F / Gas Mark 6.

Wash the brussel sprouts, peel off the outer leaves, trim off the bottom of the core, cut in half.

Peel and core the pineapple, cut into 1.5 cm / 1/2 inch cubes.

Toss the brussel sprouts and pineapple with olive oil, lemon juice and balsamic vinegar. Season with salt and pepper to taste.

Spread in an even layer on a baking tray (without baking paper), roast for 15 minutes. The brussel sprouts shouldn't be overcrowded, so they can properly brown.

After this time, add the pecans and maple syrup, mix everything together and roast for 5 more minutes, until the brussel sprouts are browned and tender.

Serve and enjoy! Check if the brussel sprouts are sour enough, if not – sprinkle them with lemon juice.
Notes
You can serve it as a salad (for a lunch) or as a side dish. You can serve it with roasted chicken or duck.
The simplest way to serve this roasted brussel sprouts salad: with potato puree (cooked potatoes + lots of butter + a little bit of milk + salt and pepper) and pan-fried chicken breast (pound the thickest part a bit and season well with salt, pepper and 1 ts Herbes de Provence / french seasoning or Italian seasoning, fry on both sides on a pan until nicely browned).
Calories count = 1 serving (1/2 of the recipe).
Tried this Recipe? Rate the Recipe and tell us what you think in the Comments!