Quick delicious autumn dinner. Juicy and moist chicken breast in creamy mushroom sauce with butternut squash. The preparation is very simple and the dish full of flavor. This recipe can be made two ways – either with raw butternut squash or with pumpkin puree. Serve it with potatoes or with pasta!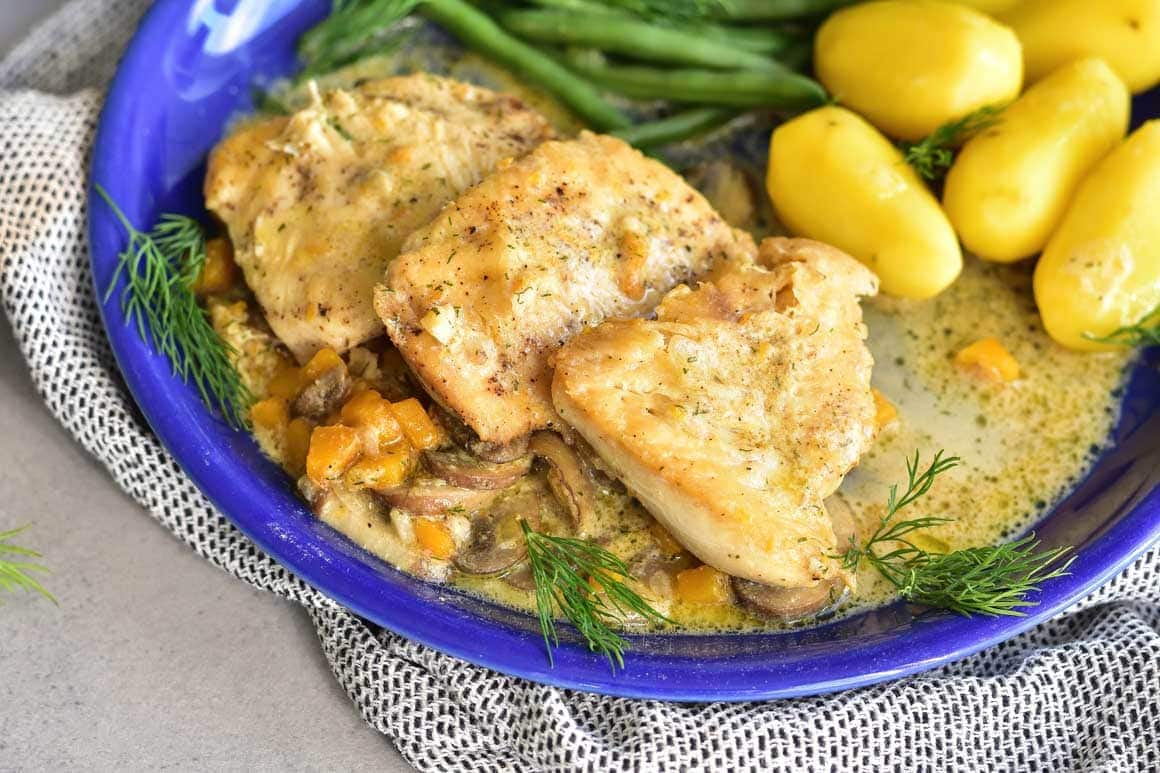 INGREDIENTS + SUBSTITUTIONS:
Chicken – I used chicken breast but also boneless chicken thighs can be used (they may require a little longer cooking time). Turkey breast can also be used.
Butternut squash – you can use any type of squash or pumpkin. You can also use raw pumpkin or pumpkin puree. This sauce is also really amazing with pumpkin puree – it thickens the sauce naturally. I also tested it with roasted pumpkin chunks, but I like it much better with either raw pumpkin or pumpkin puree. Cooking time may slightly vary depending on the pumpkin/squash type.
Mushrooms – I used cremini mushrooms (brown mushrooms) but also easier-to-get white button mushrooms can be used. Cremini mushrooms taste a little better.
Cream – the sauce is a bit lightened up, because I used sour cream instead of heavy cream, as I usually do. But it's slightly sour and tangy and works here perfectly and balances rather heavy mushrooms and pumpkin. You can easily swap it for heavy cream/heavy whipping cream but I really like the tang of the sour cream. When using pumpkin puree I would add heavy cream though.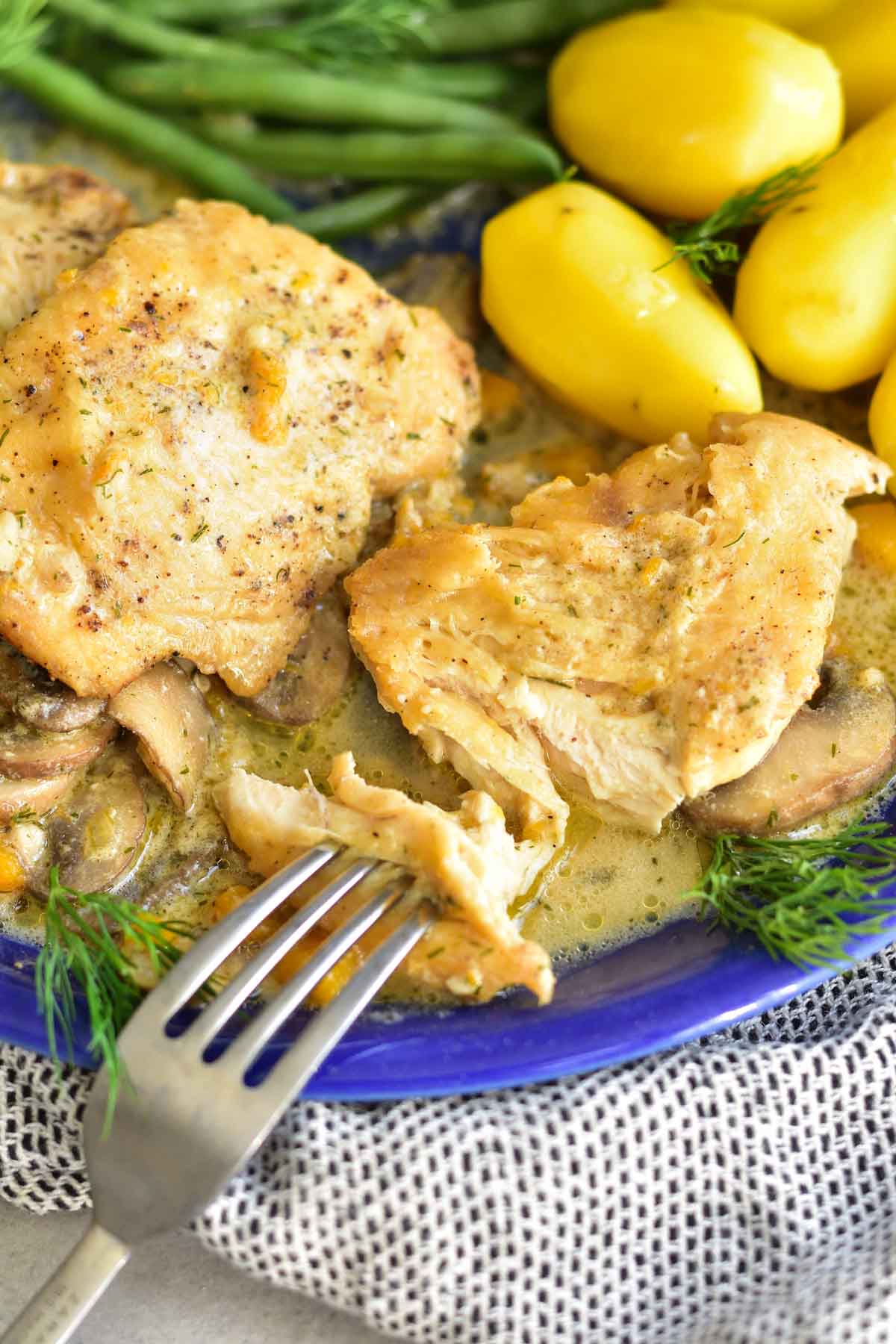 Chicken breast in creamy mushroom and butternut squash sauce – step by step:
STEP 1: Cut the chicken breast into equal-sized pieces. Season with salt and pepper.
STEP 2: Cut the mushroom into slices, butternut squash into small cubes. Dice the onion and finely chop the garlic.
STEP 3: Cook the chicken pieces on both sides until golden. Chicken doesn't have to be cooked through. Transfer to a plate.
STEP 4: Cook the mushroom, butternut squash, onion, and garlic.
STEP 5: Add the cream, broth, and nutmeg. Simmer for a couple of minutes until the sauce thickens.
STEP 6: Add the chicken pieces back to the pan. Cook until cooked through. Season with salt and pepper to taste and enjoy!
TOP TIPS:
The key to success is

to cook the meat very briefly. Cooking the delicate chicken breast for

too long

results in dry and tasteless meat

.

Cook

the meat until golden, turn,

fry very briefly

and remove from the pan. The meat

will be cooked through later in the

sauce.
Don't stir the mushroom right away. Wait a little allowing them to brown. This will provide lots of flavor.
Other autumn dinner recipes that you may like:
Chicken breast in creamy mushroom and butternut squash sauce
Juicy and moist chicken in creamy mushroom sauce with butternut squash
Pin This Recipe!
SAVE THIS RECIPE
Saved!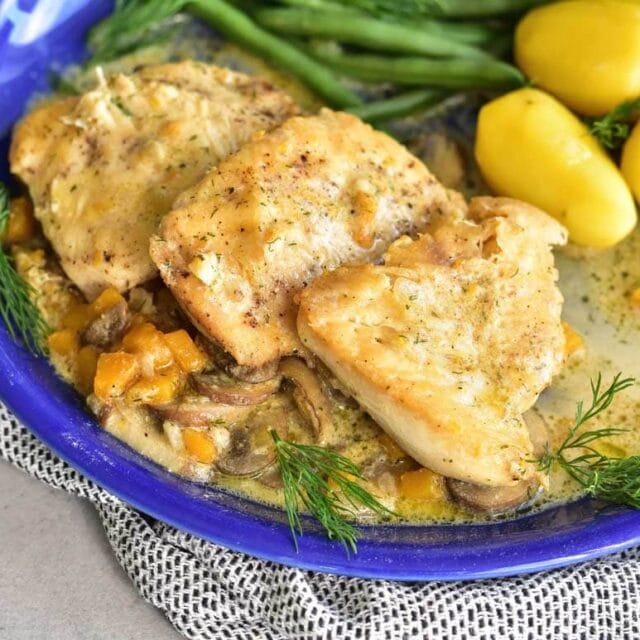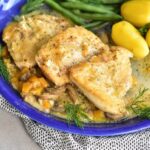 Print Recipe
RATE THE RECIPE
(click on the stars)
Ingredients
-> 2 small chicken breasts, about 300g / 10.5 oz
-> for the sauce:
2

tablespoons

frying oil

200

g

/ 7 oz cremini mushrooms

120

g

/ 4.2 oz butternut squash

without skin and seeds OR 2/3 cup pumpkin puree

1

small onion

or 2 shallots

2

cloves

garlic

½

cup

sour cream 12%

or heavy cream 30-36%, 120 ml

½

cup

broth

vegetable/chicken broth/water, 120 ml

¼

teaspoon

nutmeg

1

tablespoon

chopped dill

salt and pepper

to taste
to serve: potatoes, green beans
Instructions
Cut the chicken breasts into 3 equal pieces (in half crosswise, then the thicker half again in half, lengthwise). You can also pound it lightly to an even thickness (it will cook evenly and be juicy. Season to taste with salt and pepper.

Cut the butternut squash into very small cubes, about 0.5 cm / 1/4 inch. You can also grate it on the big holes of the grater, but I think it looks more appetizing when you cut it in cubes. If you're using pumpkin puree add it later along with the broth and cream.

Cut the mushrooms into thick, 0.5 mm / 1/4 inch slices.

Chop finely the shallots (or onion) and garlic.

Heat the oil in a large frying pan over high heat, add in the chicken pieces. Cook on one side for about 3 minutes, until golden, turn over and cook for a minute. Be careful not to overcook the meat, or it will be tough. Remove from the pan, it should be slightly pink in the middle (it will be cooked through later in the sauce) or no longer pink. Transfer on a plate.

Add the mushrooms and butternut squash to the pan, spread them evenly. Cook over high heat for about 3 minutes, don't stir (!). When they are sightly browned at the bottom – stir, then add the onion with garlic. Reduce the heat to medium-low. Cook, stirring from time to time for about 4-5 minutes.

Pour in the cream and broth (and pumpkin puree if using), season with nutmeg and cook over medium-low heat for a few minutes, until the sauce thickens a bit. Don't worry if the sour cream breaks into small clumps – the sauce will be smooth again after cooking for a few minutes.

Add the chicken back to the pan, cook until cooked through.

Remove from the heat, season with salt and pepper, stir in chopped dill.

Serve with potatoes and optionally with other vegetables, like cooked green beans.

Enjoy!
Notes
Butternut squash substitute: you can use other sqash type or pumpkin. Raw sqash can be used or pumpkin puree. Both versions are delicious.
You can also serve this sauce with pasta.
Sour cream substitute: heavy cream or heavy whipping cream.
If your using raw squash and not pumpkin puree you can drench the chicken in flour prior to cooking it, to thicken the sauce (totally optional).
Cooking times may vary, depending on the stovetop type.
Calories count = 1/2 of the recipe, not including the pictured potatoes and green beans (this is only an estimate).
Tried this Recipe? Rate the Recipe and tell us what you think in the Comments!
Did you make this recipe? RATE THE RECIPE or tell me in the COMMENTS how you liked it! You can also add a photo of your dish. It would make me very happy and will help other readers. Thank you!!