Wondering what to mix with cranberry juice? Here you'll find a collection of delicious cranberry cocktails. Cranberry cocktails are always a hit! Cranberry juice adds a great sweet and tart flavor and bright red color to drinks.
#1 Cosmopolitan Cocktail
A classic cosmopolitan cocktail is made with just 4 ingredients: citron vodka, cranberry juice, lemon juice, and orange liqueur. This recipe is perfectly balanced – it's not heavy on the vodka, it's slightly sweet and not too tart. It's such an easy and delicious cocktail – it's fruity, refreshing, and has a distinctive flavor.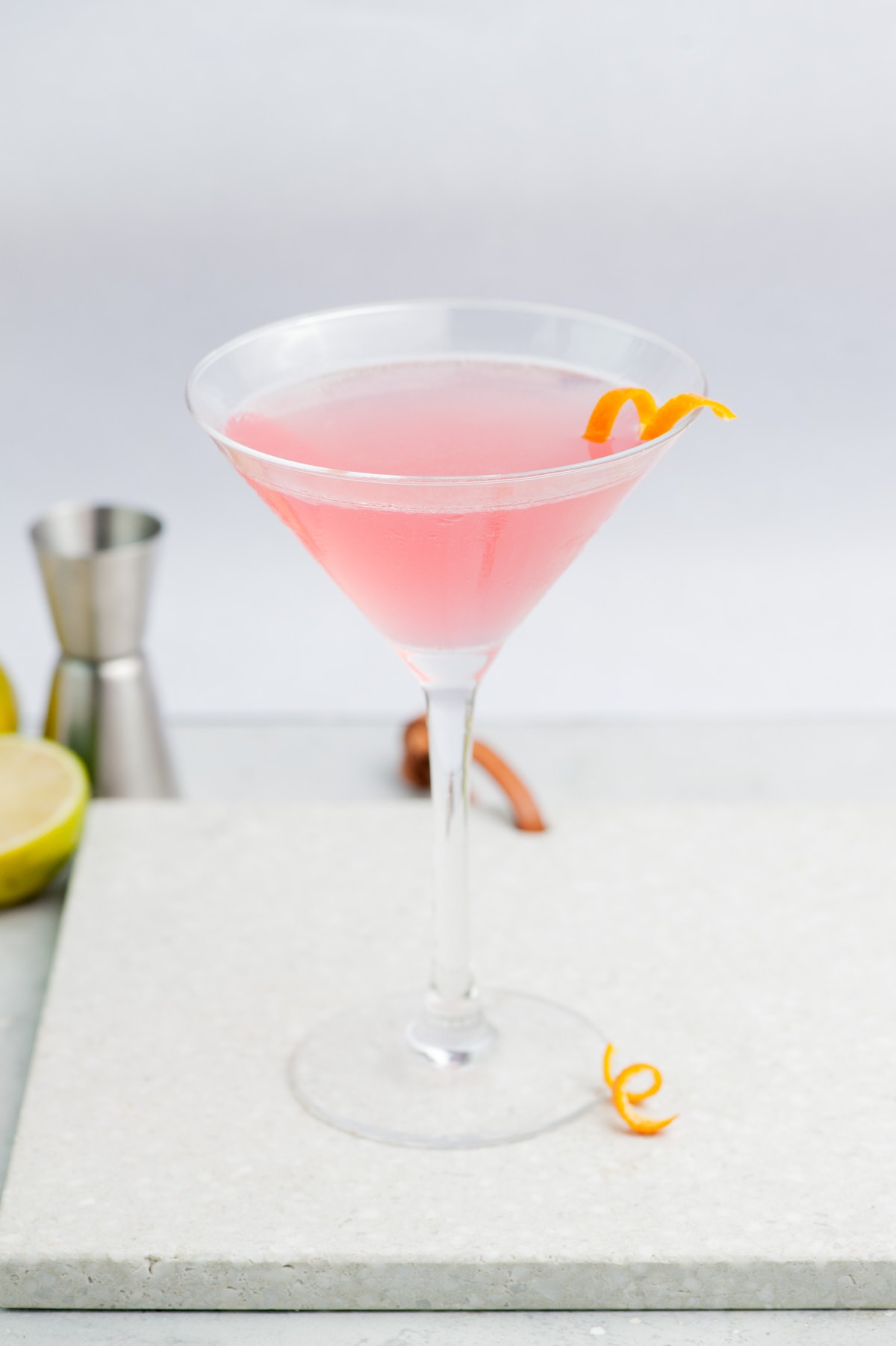 #2 Malibu Bay Breeze
Malibu bay breeze is a delicious and simple cocktail made with just 3 ingredients: malibu rum (coconut rum), cranberry juice, and pineapple juice. It tastes refreshing and tropical!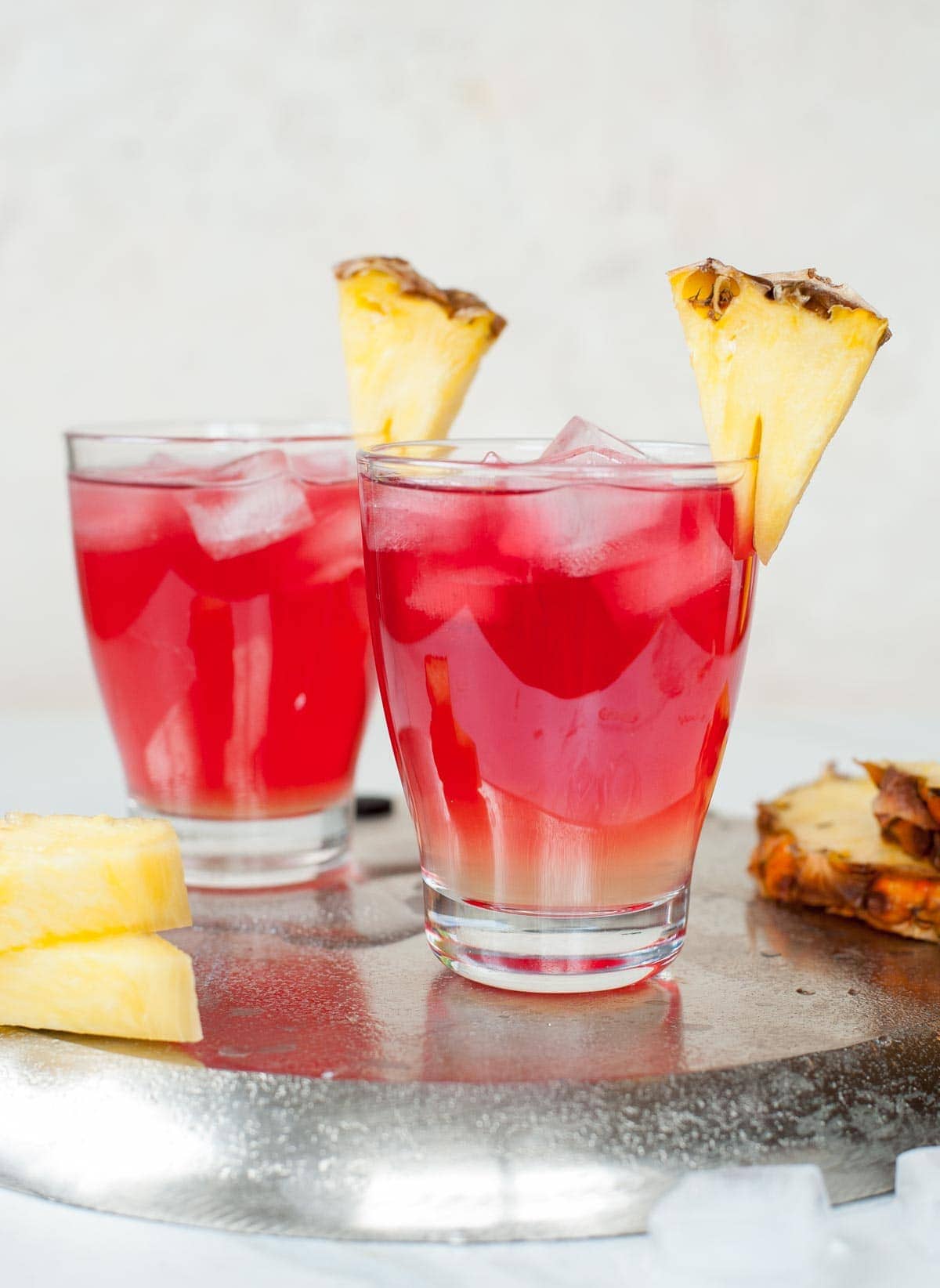 #3 Sea Breeze Cocktail
Sea Breeze cocktail is a delicious and refreshing cocktail – it really feels like a sea breeze! It's made with vodka, cranberry juice, and grapefruit juice. I really wasn't sure about this flavor combo – but I'm telling you – it has become one of my favorites!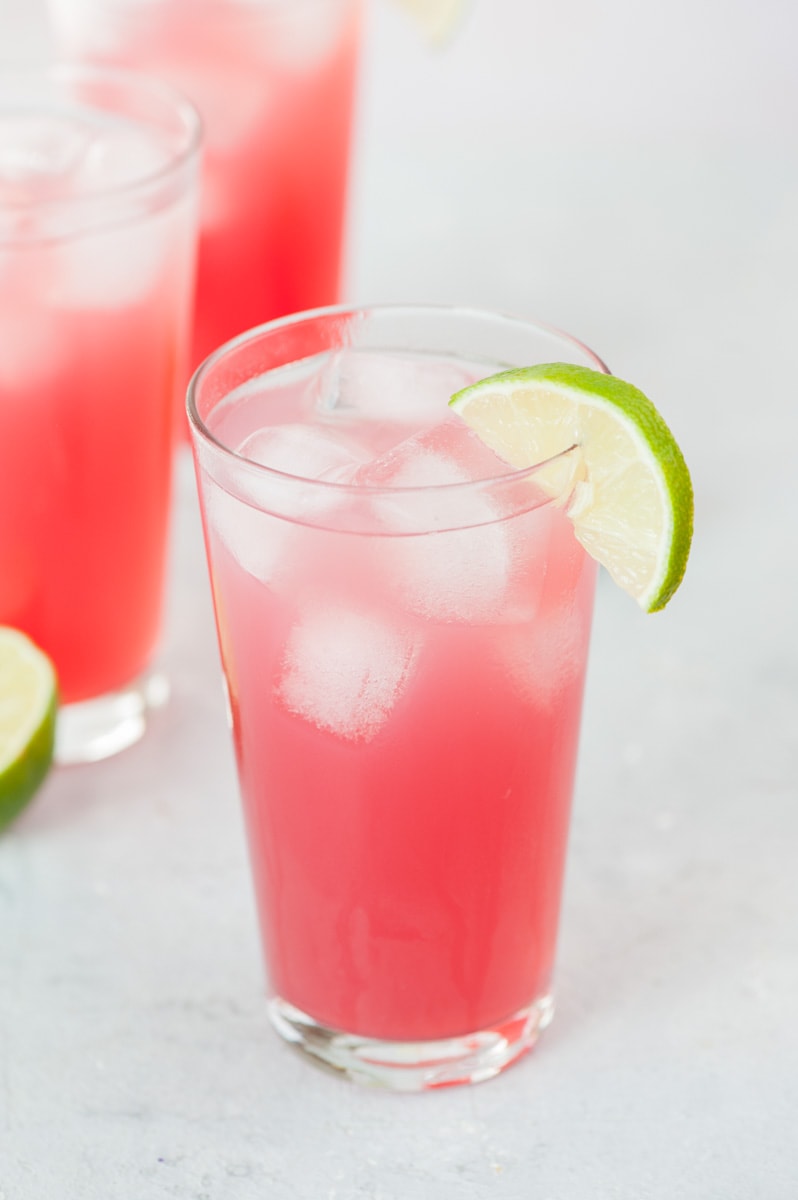 #4 Cranberry Martini
Cranberry martini is a tasty cranberry orange-flavored drink that looks beautiful and elegant but it's very simple to make. Vodka, cranberry juice, orange juice, orange liqueur, lemon juice, and simple syrup are shaken together to make a refreshing cocktail.
It's garnished with sugared cranberries.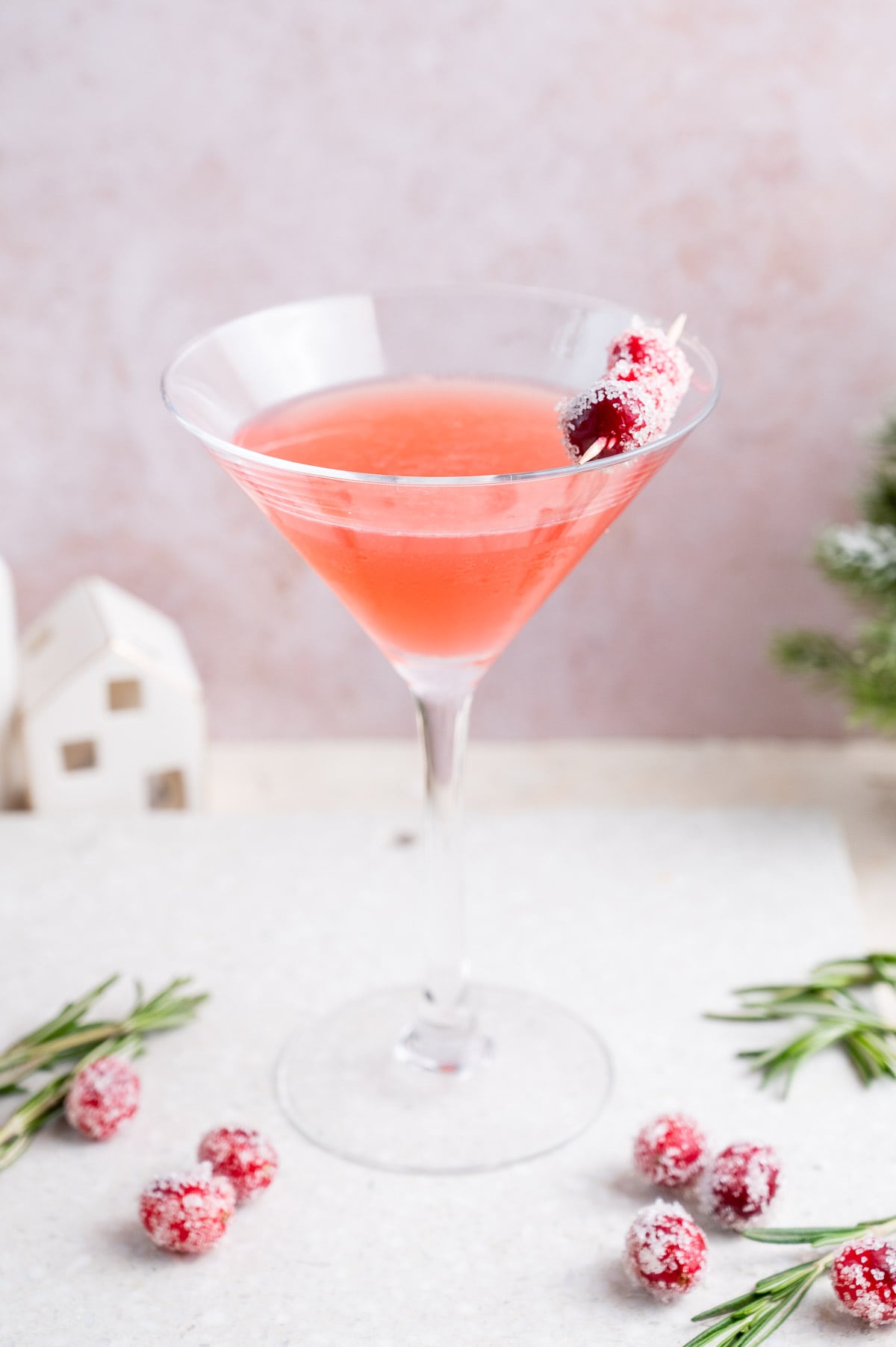 #5 Cranberry Mimosa
Cranberry mimosa, also called a Poinsettia drink is a wonderful and elegant champagne cocktail made with champagne, cranberry juice, and orange liqueur. It's a great alternative to drinking plain champagne! It's really so delicious and refreshing – we absolutely love it!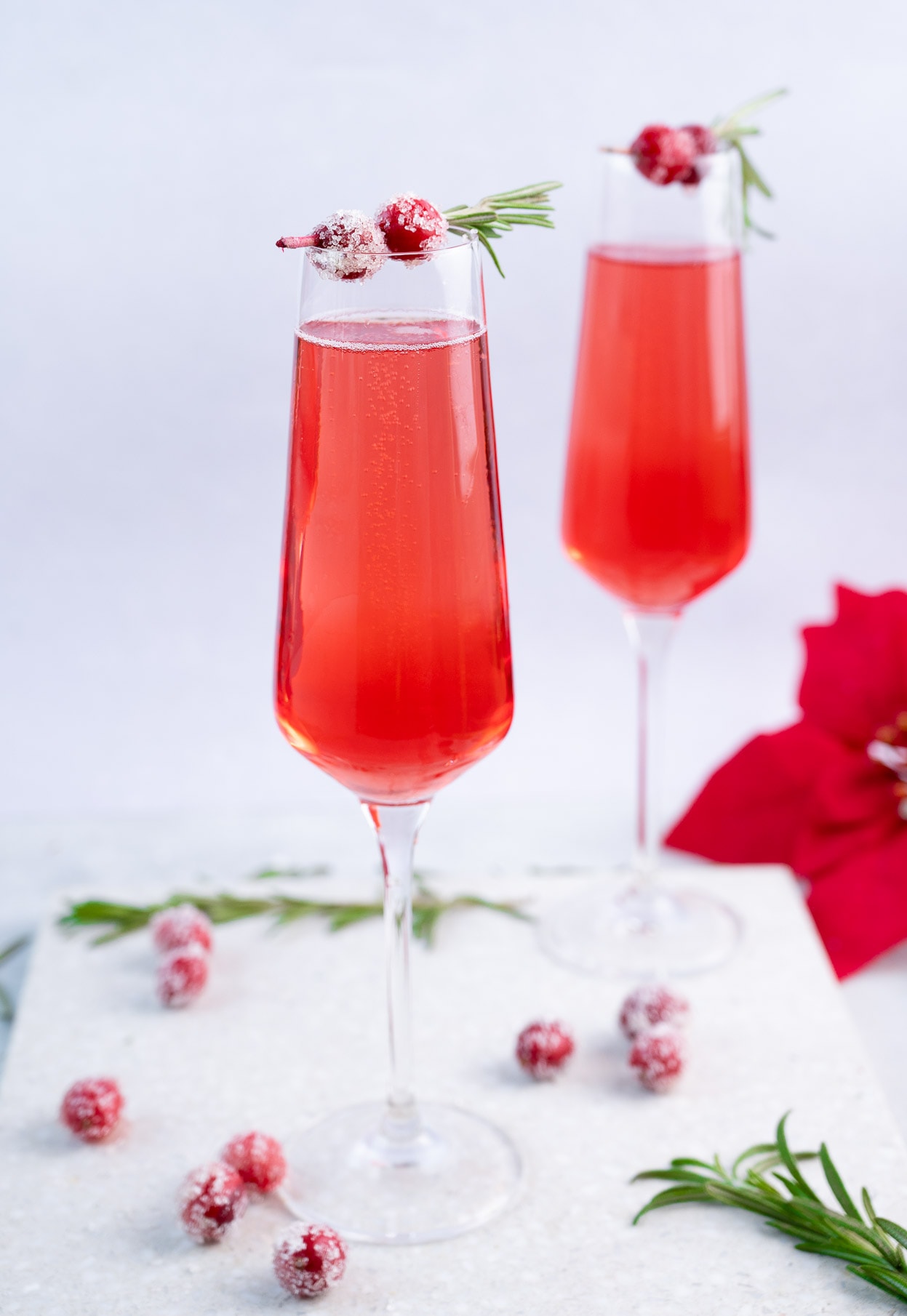 #6 Christmas Sangria
Christmas sangria is a holiday twist on a classic sangria. It's a chilled red wine drink flavored with cranberry juice, orange juice, orange liqueur, and aromatic winter spices.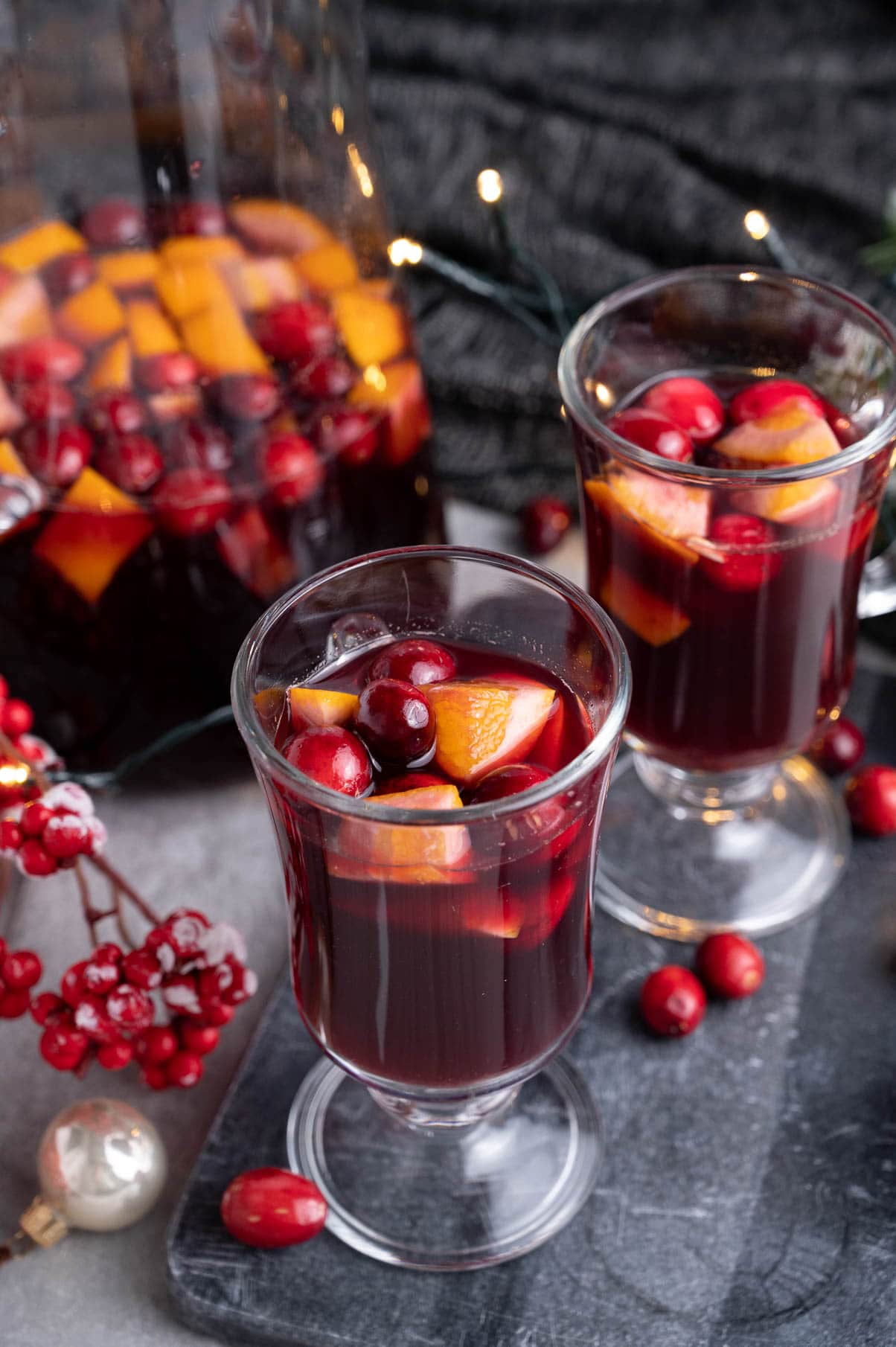 #7 Madras Cocktail
Madras cocktail is a simple cocktail made with cranberry juice, orange juice, and vodka. Easy and delicious!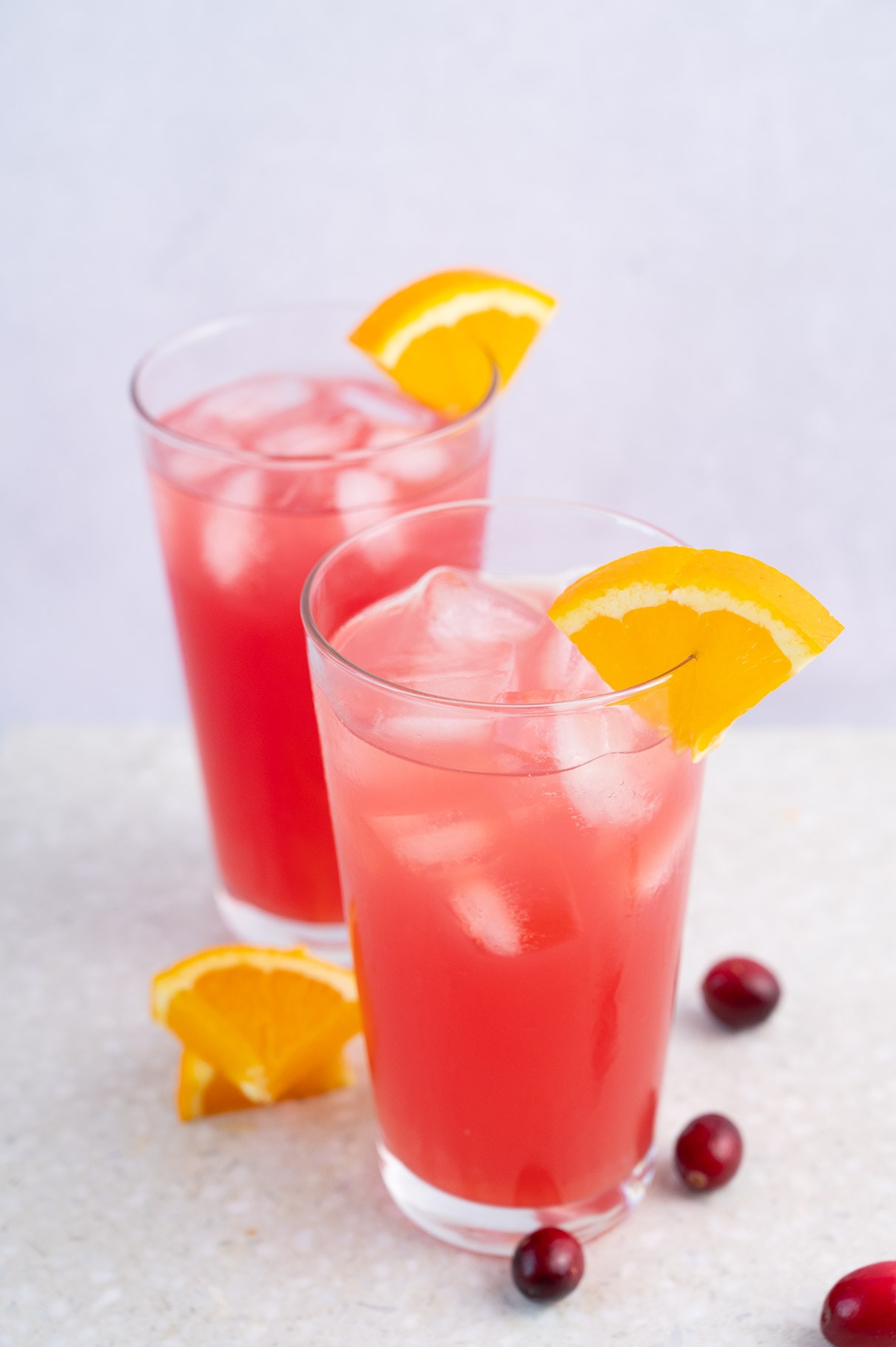 #8 Bay Breeze Cocktail
Bay breeze cocktail is another easy 3-ingredient cocktail made with vodka, cranberry juice, and pineapple juice. I personally prefer swapping the vodka for malibu rum (you'll be making malibu bay breeze that is shown at the beginning of this post) or pineapple juice for grapefruit juice (that will be a sea breeze cocktail), but it's also, of course, very tasty!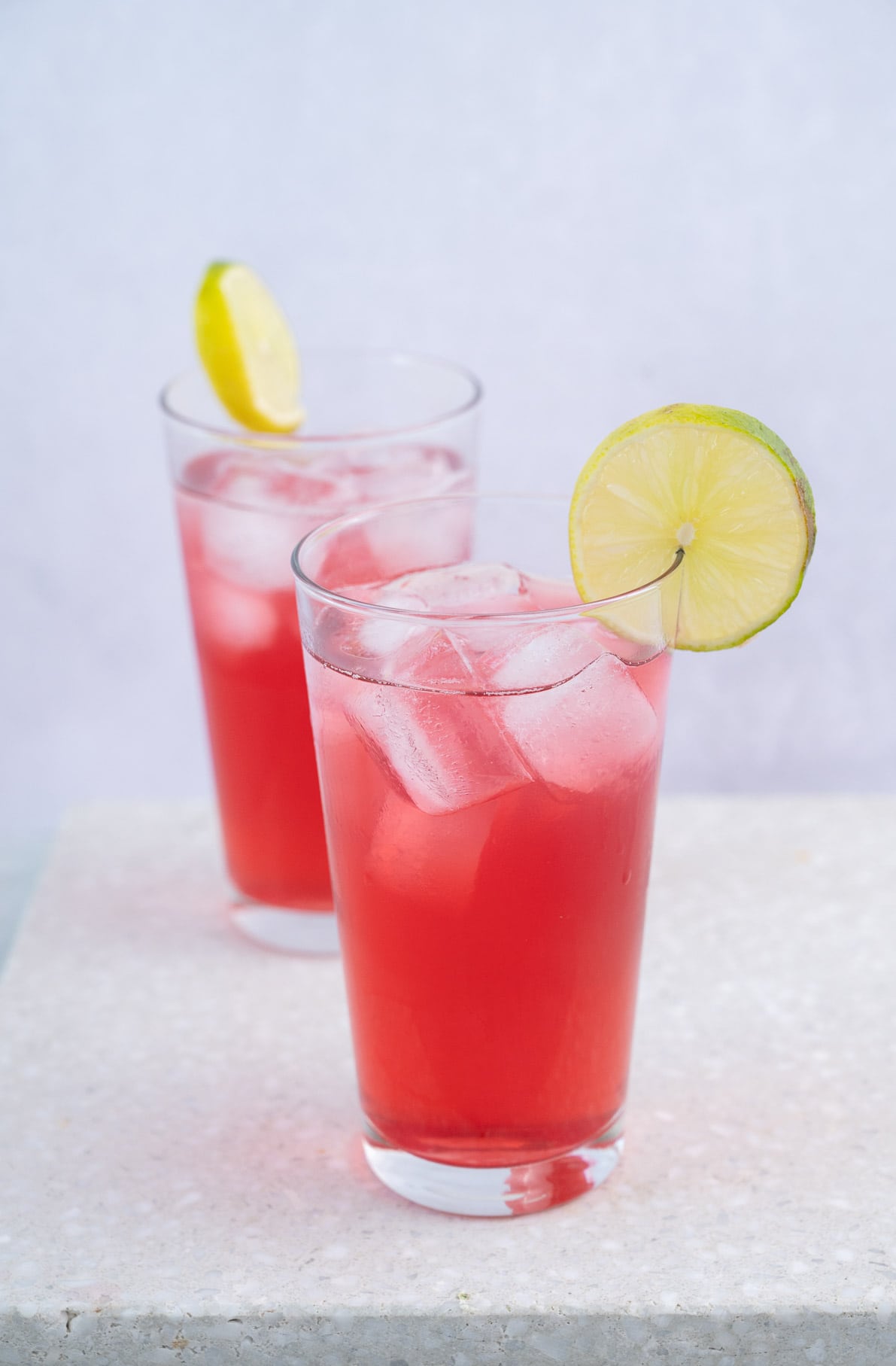 Cranberry juice drinks FAQ's
What can I mix with cranberry juice?
Cranberry juice goes best with orange juice and orange-flavored liqueurs. The orange enhances the cranberry flavor in the best possible way! Other great mixers for cranberry juice are grapefruit juice and pineapple juice. Cranberry juice also goes well with alcohols such as vodka, rum, gin, champagne, or red wine.
What kind of cranberry juice is best for cocktails?
There are 3 types of cranberry juice on the market:
1) Cranberry juice cocktail – it's 100% cranberry juice sweetened with sugar. Try to avoid cranberry juice sweetened with high-fructose syrup or corn syrup.
2) Cranberry juice sweetened with other fruit juices such as apple juice, grape juice, and pear juice. This is not 100% cranberry juice but a 100% juice blend. When you compare the nutritional information on both types of cranberry juice, you can see that they contain the same amount of sugars.
These two types of cranberry juice are best for cocktails.
3) 100% unsweetened cranberry juice – this is pure cranberry juice that is not sweetened – it's very tart and would be hard to drink on its own. If you want to add this to your cocktail, you will also need to add simple syrup to the juice to sweeten it.
Is cranberry juice cocktail the same as cranberry juice?
Cranberry juice cocktail is a sweetened cranberry juice.
What is the name for vodka and cranberry?
This simple 2-ingredient drink is called Cape Codder (or Cape Cod) also known simply as vodka cranberry. It gets its name from the East Coast town in Massachusetts, which is known for growing cranberries.
#9 Easy cranberry vodka cocktail
This easy cranberry vodka cocktail is made with just 2 ingredients and it's so delicious!
Cranberry Juice Cocktails
Easy cranberry vodka cocktail made with just 2 ingredients.
Pin This Recipe!
SAVE THIS RECIPE
Saved!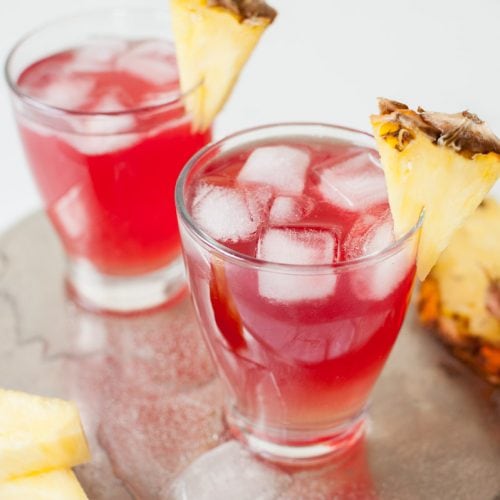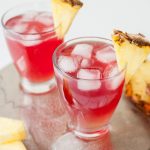 Print Recipe
RATE THE RECIPE
(click on the stars)
Ingredients
2

oz

(60ml) vodka

4

oz

(120ml) cranberry juice cocktail (sweetened)

ice cubes
Instructions
Fill a glass with ice cubes.
Notes
If you like cocktails that are more sour, you can add a small splash of lime juice.
You can decorate the glass with a lime slice.
This recipe calls for sweetened cranberry juice (either with sugar or with other fruit juices). You can also use 100% cranberry juice (unsweetened), but you will need to add some simple syrup to the drink or it will be too sour. How to make simple syrup: combine equal amounts (per volume) of sugar and water. Cook until sugar is dissolved then leave to cool.
For a drink that is less heavy on the vodka, you can add just 1 1/2 ounces of vodka (45ml).
Calories = 1 cocktail.
Tried this Recipe? Rate the Recipe and tell us what you think in the Comments!