These pierogi are really so beautifully pink like on the photos! The dough is colored with beetroot juice (there are no artificial coloring!) and the spinach filling is also really delicious. I've made a twist on the traditional potato and cheese pierogi (pierogi ruskie). I swapped the Polish twaróg cheese (which is not so easy to buy outside Poland) for Greek feta cheese and added spinach leaves. The end result is really fantastic. You have to try them! These spinach pierogi would look lovely on your Christmas table.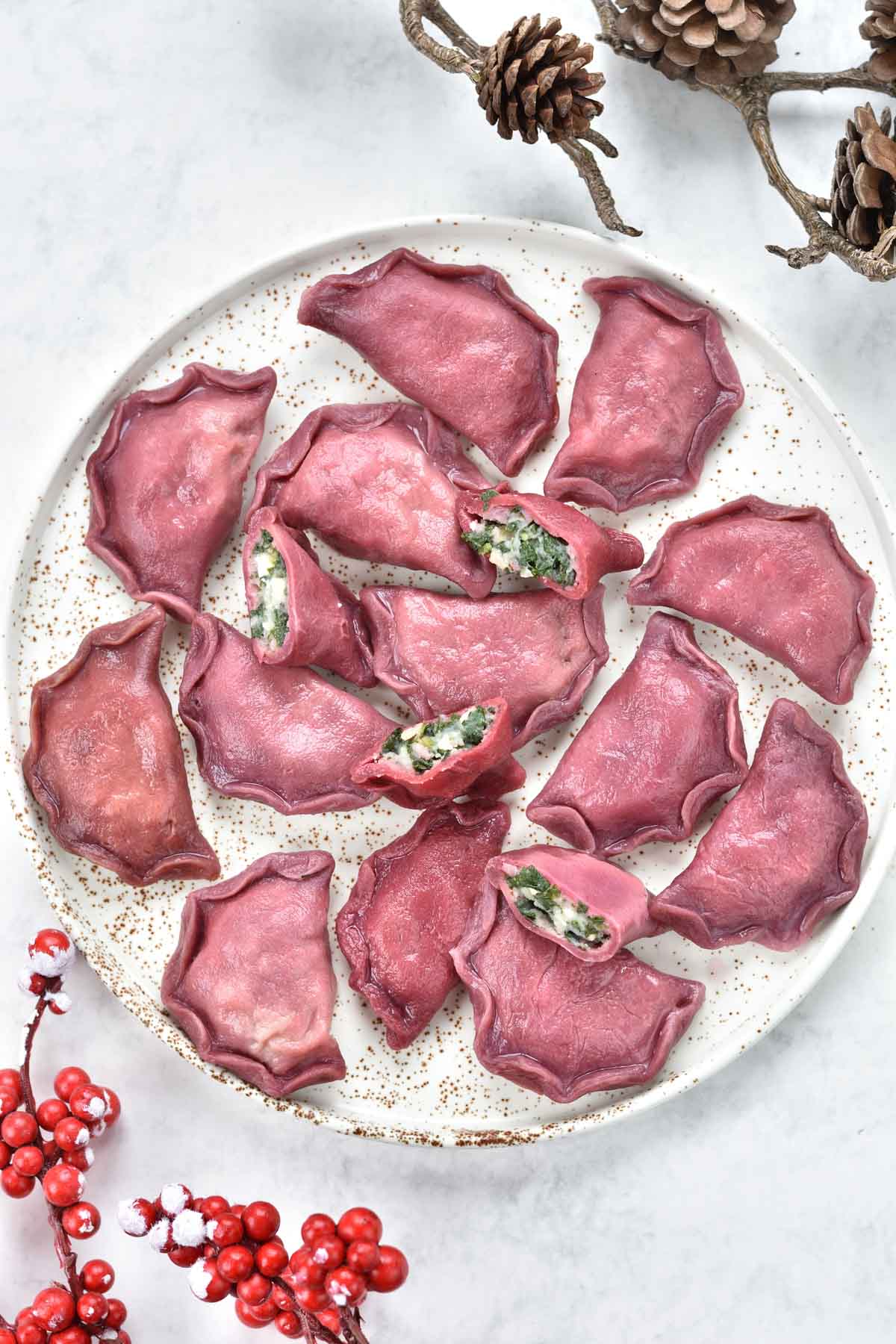 WHAT ARE PIEROGI:
Pierogi are Polish dumplings, made with unleavened dough and filled with sweet or savory fillings. They are boiled and then sometimes additionally pan-fried.
Do you call them Pierogi, Pierogies or Perogies? Although the word 'pierogies' is popularized in English-speaking countries, it is not the true name of these Polish dumplings. The correct name is: singular – 1 pieróg and plural – pierogi. There are no other terms to name it.
How to make spinach, potato and feta filling:
Cook the potatoes.
Sautee the onions and garlic.
Cook the spinach until wilted. Chop roughly.
Combine the filling ingredients, add crumbled feta cheese and stir until combined.
Season with salt, pepper, and nutmeg to taste.
Fill and cook the pierogi!
Other pierogi recipes:
I have a separate post, where I talk about all the traditional and modern pierogi filling ideas.
Here are my recipes:
Here you'll find all my pierogi sauces and toppings ideas.
Pink Pierogi with spinach, potatoes and feta cheese filling
Delicious twist on traditional pierogi recipe. These spinach pierogi taste and look amazing!
Pin This Recipe!
SAVE THIS RECIPE
Saved!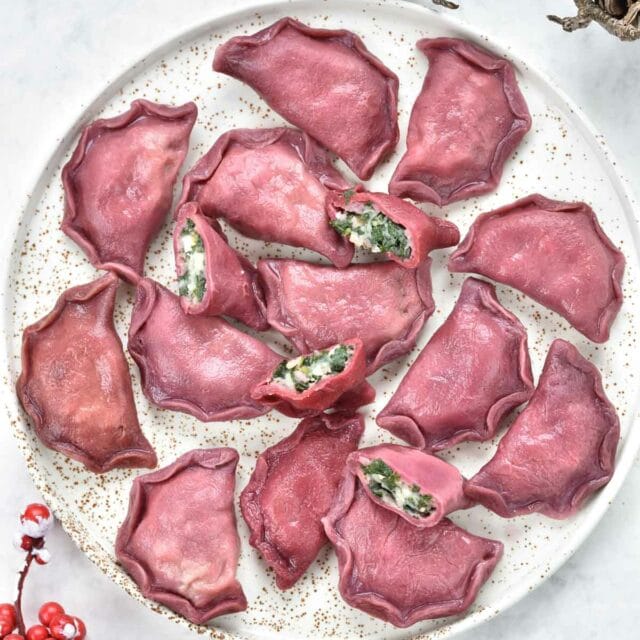 Print Recipe
RATE THE RECIPE
(click on the stars)
Servings
75
pierogi (5 servings)
Ingredients
Dough:
21.2

oz

all-purpose flour (600g)

4 3/4 cups + 1 Tbsp

¼

teaspoon

salt

3.5

tablespoons

butter (1.8oz/50g)

or vegetable oil

200

ml

beetroot juice

or water (3/4 cup + 1.5 Tbsp)

200

ml

water

(3/4 cup + 1.5 Tbsp)
Filling:
2

large onions

2

tablespoons

frying oil

4

cloves

garlic

1.1

lbs

fresh spinach (500g)

7

oz

feta cheese (200g)

1.1

lbs

potatoes (500g)

floury variety

1

teaspoon

dried oregano

1/3

teaspoon

nutmeg

salt and black pepper

to taste
Instructions
Make the filling:
Boil the potatoes in a pot of salted water, until soft enough to mash (about 15-20 minutes). Drain and mash the potatoes, transfer to a large bowl, set aside to cool.

Dice the onions, finely chop the garlic.

Heat the oil in a large frying pan, add the onion, cook over medium-low heat about 8 minutes until translucent.

Add the garlic and cook, stirring, for another minute. Add the content of the pan to the potatoes.

Spinach: if using baby spinach – just wash the leaves. If you have larger and thicker leaves – you need to wash them and cut off the hard stems. Add the spinach to the pan, cook until wilted – baby spinach will be wilted very quickly, in about 1 minute, thicker and larger leaves need a few minutes. Lightly squeeze out the water, chop it finely, add to the potatoes and onion.

Crumble the feta cheese over the filling.

Season the filling with salt, freshly grounded black pepper, oregano and nutmeg. Mix together until well combined. Make sure that the filling is not too dry (in that case you can add a little water, in my filling a bit of moisture came from the spinach).
Make the pierogi dough:
If you're making the dough by hand, you should wear gloves!

Sift the flour and salt together into a large mixing bowl.

In a small saucepan warm the beetroot juice and water. When they are very warm (but not boiling) take the pot off the heat and add the butter, stir until melted, then pour into the flour.

Mix with a wooden spoon until combined, then knead with your hands or with a stand mixed fitted with the hook attachment for about 5 minutes or until the dough is soft and elastic (when it's not, try adding a little bit more water or flour).

Cover the bowl with cling film, set aside and leave to rest for at least 30 minutes.
Shape and fill the pierogi:
Divide the dough into smaller portions. Thinly roll out the dough onto a lightly floured surface to a thickness of 2-3 mm / 1/8-1/12 inch (or as thick as you like). Cut out rounds with a pastry cutter or a glass. Place a teaspoon of the filling in the center of each dough circle, then fold the edges together to create a semi-circular dumpling, pressing the edges together to seal. Do not leave any gaps or pierogi may open during cooking. If the dough sticks to your hands, sprinkle it gently with flour. If the dough is hard to roll out, leave it for a while to rest. Gather scraps, reroll and fill. Repeat with remaining dough. Place the pierogi apart on a towel sprinkled with flour.
Cook the pierogi:
Bring a large pot of slightly salted water to a boil. Drop in the pierogi about 10 at a time. When they float to the water surface cook them for 2 minutes then remove from the water with a slotted spoon and transfer onto a plate (cooking time depends on the dough thickness and the size of the dumplings).

Drizzle with melted butter and enjoy!
Notes
How to freeze the pierogi: Place the uncooked dumplings on a flat tray or a plate (place the dumplings apart from one another so they don't stick to one another). The tray should be well sprinkled with flour. Once frozen, take them out and put them in bags or other containers. Cook frozen dumplings the same way as the uncooked ones.
Tried this Recipe? Rate the Recipe and tell us what you think in the Comments!
Did you make this recipe? RATE THE RECIPE or tell me in the COMMENTS how you liked it! You can also add a photo of your dish. It would make me very happy and will help other readers. Thank you!!