Delicious potato and cheese pierogi with cheddar cheese are such a comfort food. The filling is made from cooked potatoes, cheddar cheese, sauteed onion and rosemary butter which takes this simple filling to another level. They are so good but please bear in mind, that this is an Americanized version of Polish potato and cheese pierogi. For authentic potato and cheese pierogi, like you can find in Poland, see this recipe: authentic potato and cheese pierogi (pierogi ruskie).
This recipe focuses on the filling. For the best pierogi dough recipe with lots of tips on how to make perfect pierogi, check out this post: pierogi dough recipe.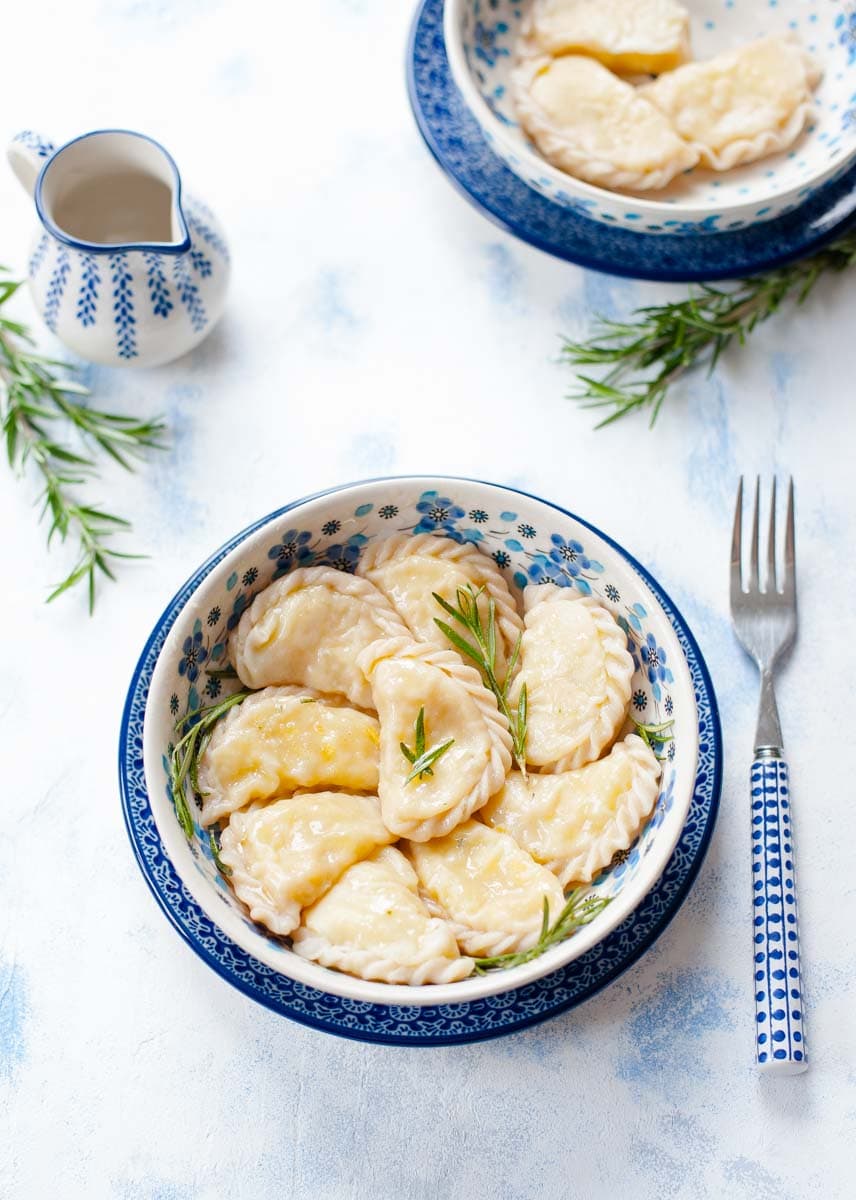 Ingredients:
This filling is very simple, you just need mashed potatoes, grated cheddar cheese, onions sauteed with rosemary and salt and pepper.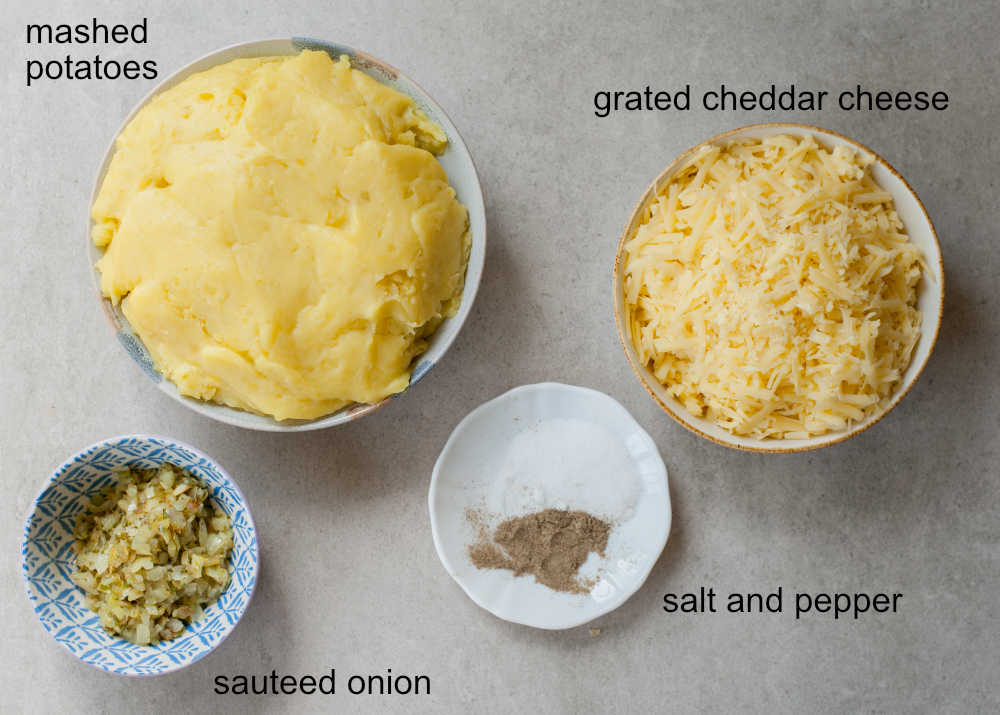 Once I've googled 'potato and cheese pierogi', to see, to my surprise, that a lot of them call for cheddar cheese ( I'm not living in the US, I'm Polish living in Austria). I've never thought to make the potato and cheese pierogi this way. Traditionally we use white curd cheese – 'twaróg cheese'. Twaróg is a soft, curd cheese, slightly sour. It's similar to farmer's cheese in taste but doesn't resemble cheddar cheese's taste at all (though both are very tasty). Cheddar cheese is not easy to get in Poland. Now it's available in some big markets, but some years ago not really. A couple of years ago I didn't even know that cheddar cheese exists. Potato and cheddar cheese are such a good flavor combination, so I thought, it must taste good. And guess what, it was! Soo good. I was really surprised.
Instead of cheddar cheese Swiss cheese (Emmental cheese) works also great!
I still like the traditional potato and cheese pierogi (pierogi ruskie) better, mainly because they remind me of my childhood. My boyfriend on the other hand, has said that that were the best pierogi that he has ever eaten and my 20-months old daughter has eaten 10 pierogi (I don't even know how that's possible!). I encourage you to make pierogi at home, from scratch, it's a bit time consuming, but very easy to do and worth every minute of that time!
How to make potato and cheese pierogi step by step:
Start with making the pierogi dough. You can find thorough instructions and step-by-step photos in this post: pierogi dough.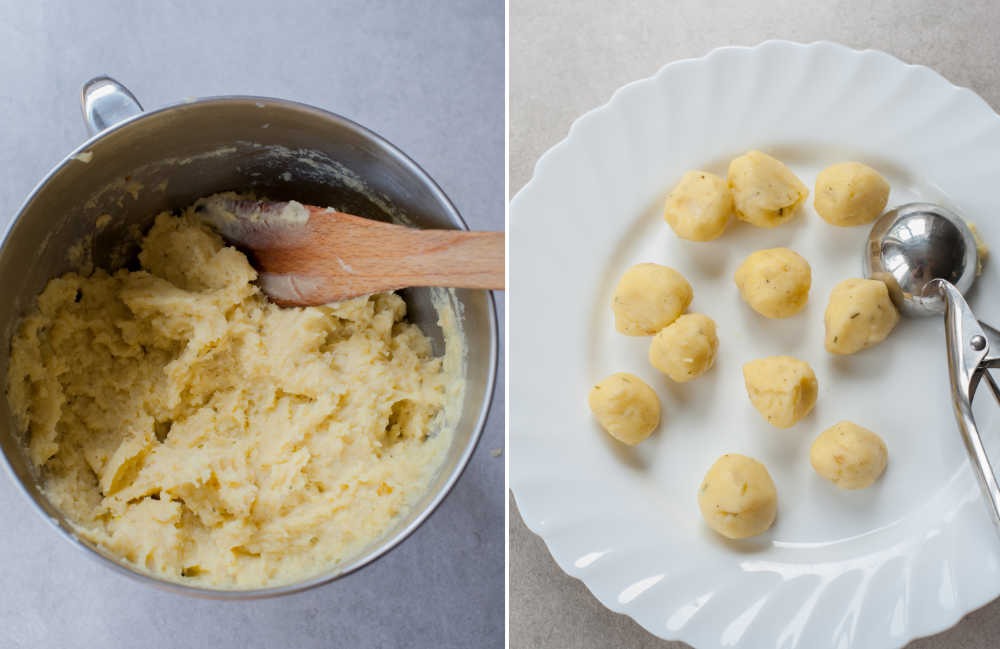 STEP 1: Make the filling: cook the potatoes and mash them, sautee the onion with chopped rosemary twigs, grate the cheese. Combine all the ingredients and season with salt and pepper to taste. I like to mix the ingredients with a stand mixer fitted with a paddle-shaped attachment – it's just easier than mixing it by hand.
STEP 2: Shape small balls of filling. This is optional (you can just scoop the filling with a teaspoon) but I find it's makes filling the pierogi easier and quicker. I scoop the filling with an ice cream spoon then divide it in half and shape small balls.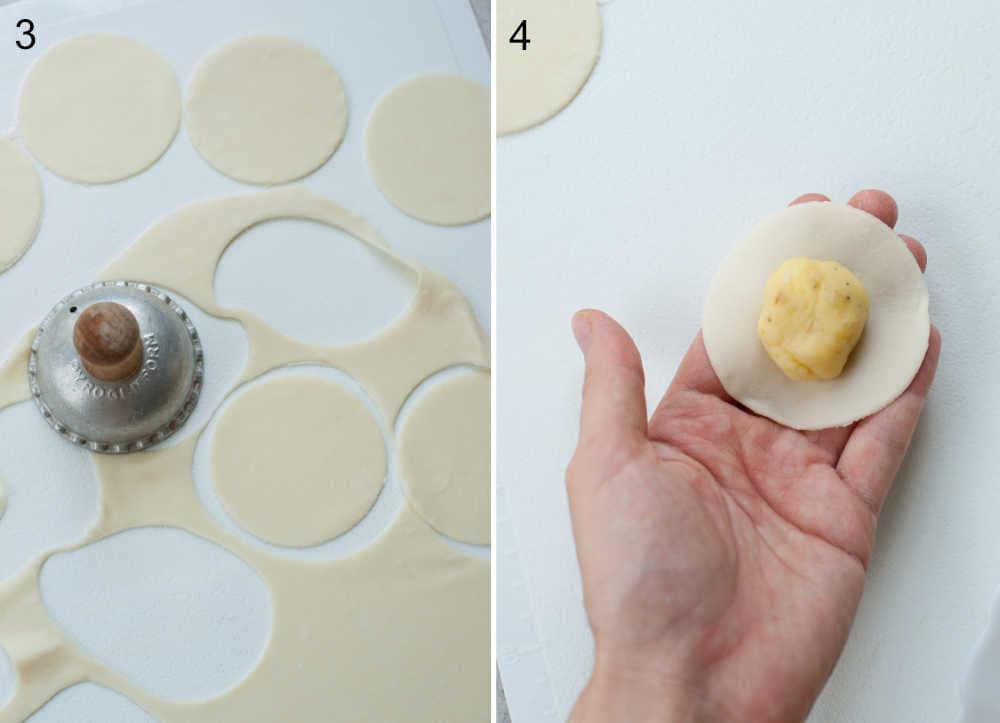 STEP 3: Roll out the pierogi dough and cut out rounds.
STEP 4: Place one filling ball on each dough circle.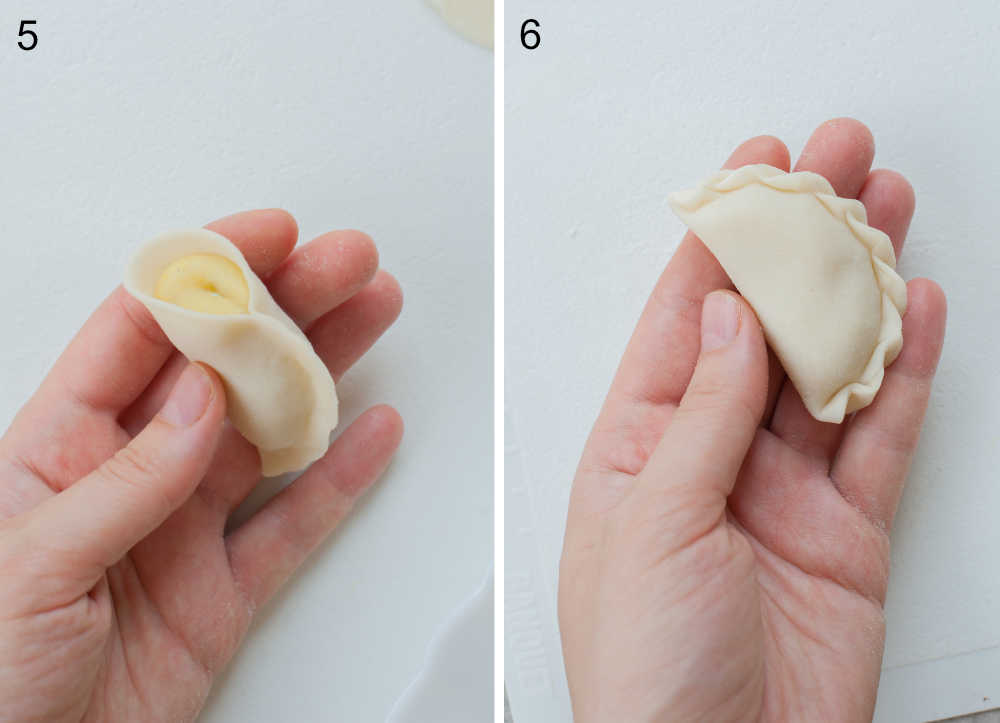 STEP 5 + 6: Pinch the edges together to seal.
Now the pierogi are ready to be cooked!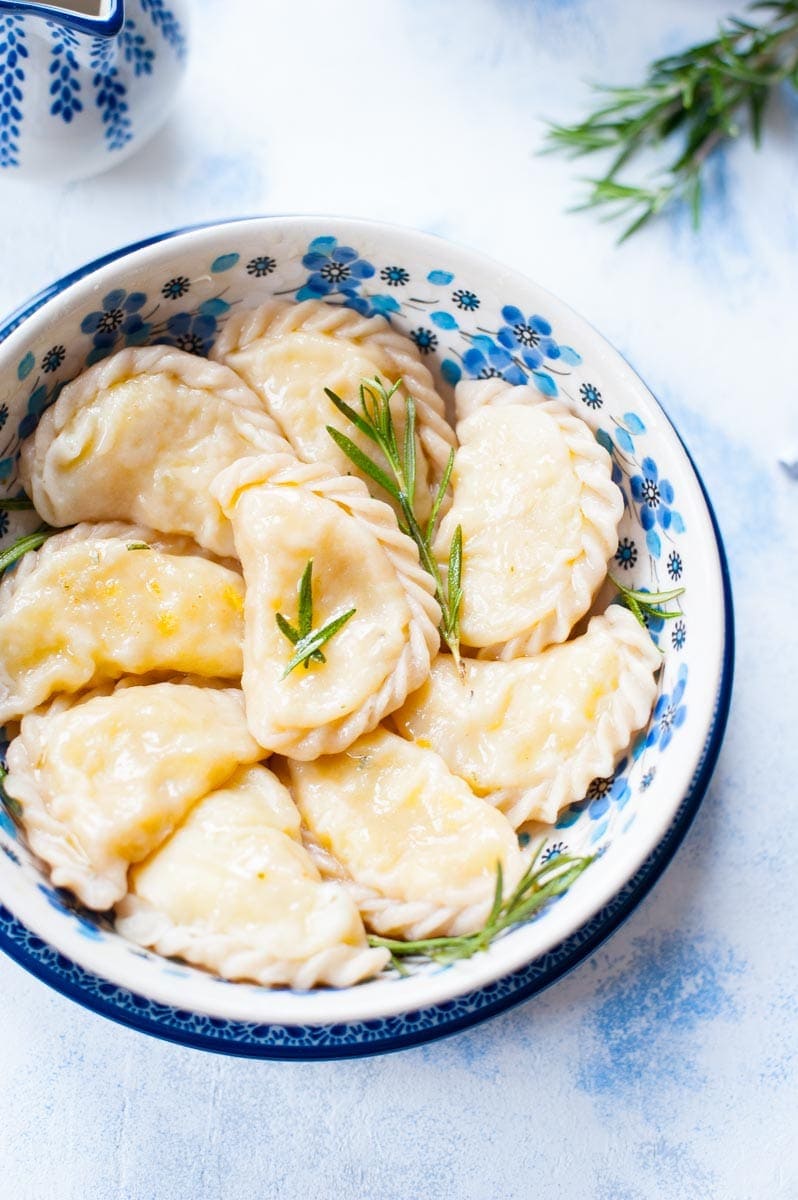 All my pierogi recipes:
I have a separate post, where I talk about all the traditional and modern pierogi filling ideas.
Here are my recipes:
Potato and cheese pierogi the American way – homemade cheddar pierogi
Potato and cheese pierogi recipe – made with potatoes, swiss cheese / cheddar and rosemary. Delicious and comforting!
PIEROGI DOUGH RECIPE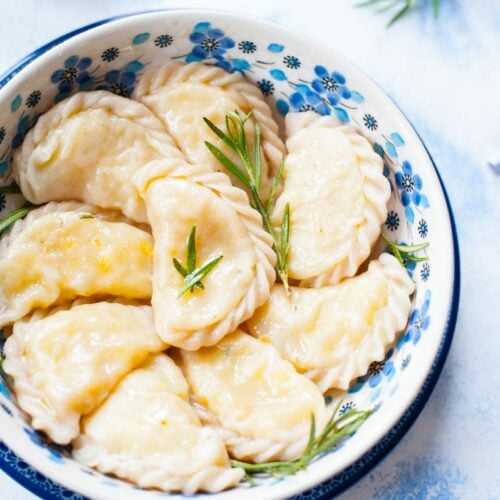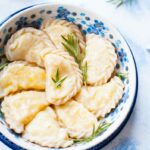 Print Recipe
Servings
4
servings (about 50 pierogi)
Ingredients
the dough:
½

pierogi dough recipe (linked above)

2 cups/250g/8.8oz flour, ½ teaspoon salt, 1.5 Tbsp/20g/0.7oz butter, 140ml/g/4.9oz water
the filling:
2.2

lbs

(1kg) lbs potatoes

preferably type C (mealy), cooked potato weight – 800g / 1.8 lbs

7

oz

(200g) cheese

swiss cheese or cheddar

1

small onion

2

tablespoons

butter

1

rosemary twig

optional

salt and pepper

to taste
to serve:
rosemary butter

optional, 2 tablespoons butter + a rosemary twig
Instructions
Cook the potatoes until tender. While still warm, mash them into puree, set aside to cool.

Grate the cheese on the big holes of the grater.

Finely chop the onion and rosemary needles. Heat the butter in a frying pan and cook the onion with rosemary over medium heat, along with a pinch of salt, until soft (but be careful not to brown or burn it). Set aside to cool.

Mix all the ingredients for the filling together (mashed potatoes, cooked onion with rosemary, grated cheese), season with salt and pepper to taste.

Thinly roll out the dough (but not too thin) to a thickness of approx. 2 mm / 1/10 inch. Using a pierogi / pastry cutter / a cup cut out rounds. Using a teaspoon, apply the filling on each round. Fold over and press the edges to seal.

Cook the dumplings in a large amount of salted water, about 10 pieces at a time. Dump them in a pot of boling water, when they float to the water surface cook them for 2 minutes.

Remove from the water with a slotted spoon, drain well, transfer to a plate.

They taste best served with melted butter. You can also make rosemary butter, by frying a rosemary twig in butter. Serve the pierogi spooned with this aromatic butter.

Enjoy!
Notes
How to store the pierogi: If you're not serving the pierogi right away, you need to coat them in melted butter so that they don't stick to each other. On the next day, pan fry them until golden.
Freezing: Place the dumplings apart (raw or cooked) on a tray, well-sprinkled with flour. Put in the freezer. When frozen, transfer into containers or freezer bags. Cook them like fresh dumplings, without thawing, but fewer pieces at once (about 8 pierogi at a time). When the pierogi float to the water surface – cooked frozen pierogi are done and raw frozen pierogi need to be cooked for 2 minutes.
Calories = 1 serving (1/4 of the recipe). This is only an estimate!
Did you make this recipe? Let me know how you liked it and give it a star rating in the comments below! You can also add a photo of your creation!