Uszka 'little ears' – porcini filled polish dumplings for Christmas Eve Borscht
Uszka tanslates to little ears in polish. They are small pierogies filled with dried wild forest mushrooms and sauteed onion. They resemble italian tortellini in shape. They are usually served with Christmas Eve Beet Soup – Borscht – Barszcz Wigilijny. Sometimes sauerkraut and mushroom filling is used (see the recipe HERE). The filling is simple and easy to make, but shaping the uszka is a bit time consuming. Considering we are making them once a year – they are really worth it. Delicate pierogi dough filled with mushrooms almost melts in your mouth and combined with clear beetroot soup is really wonderful. Below you will find an authentic recipe with step by step photos.
HERE you can find my no egg pierogi dough recipe including instructions how to make perfect pierogi and how to store and freeze them – take a look!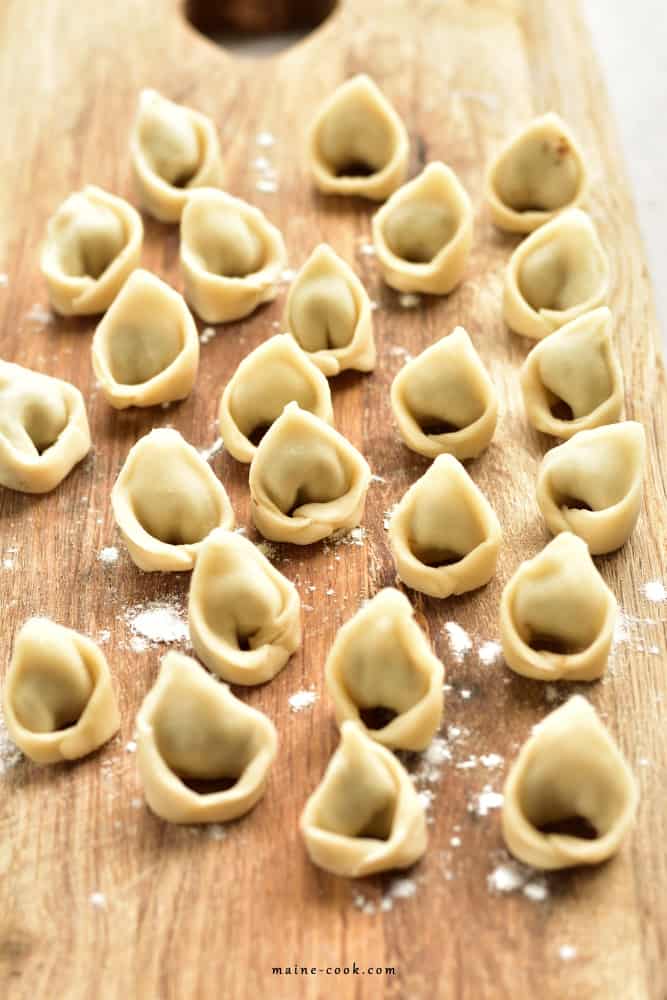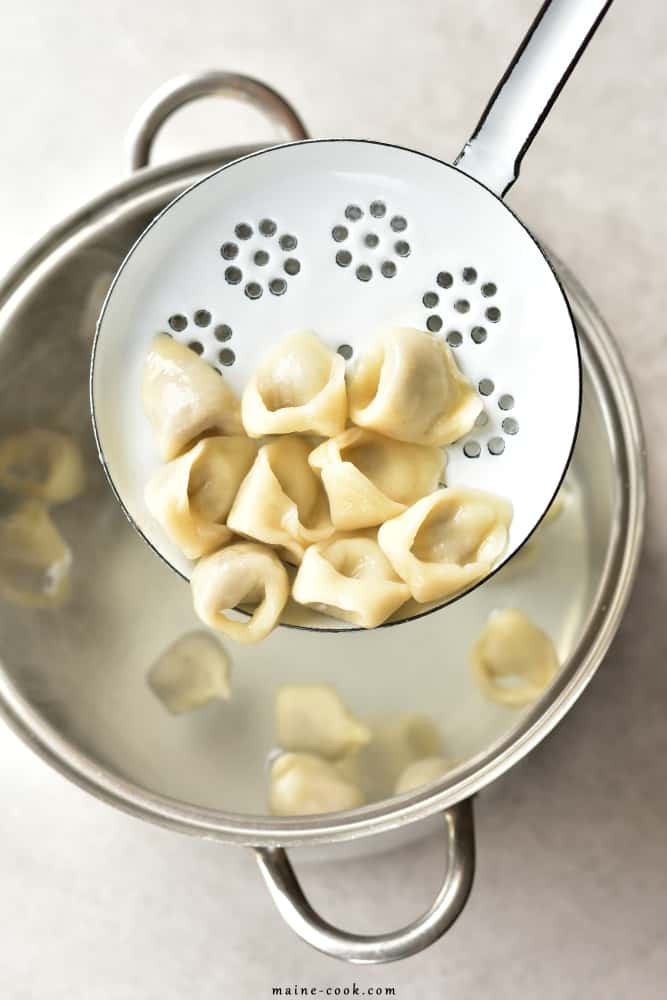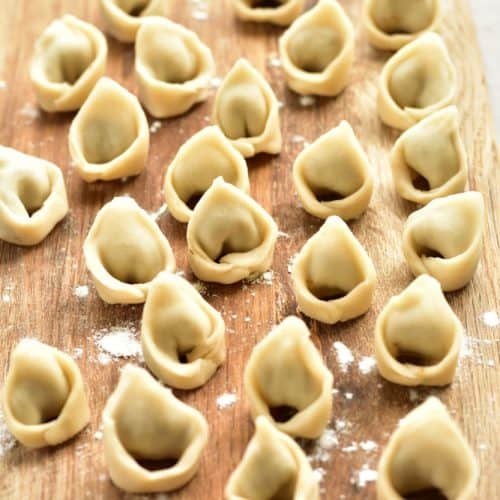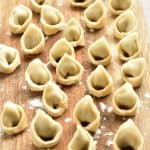 Print
Uszka 'little ears' - porcini filled polish dumplings for Christmas Eve Borscht
Recipe for little pierogi dumplings with onion and mushroom filling.
The filling recipe yields about 110 uszka.
Prep time (approx.): 20 mins (the filling) + 60 mins (shaping the uszka)
Cook time: 30 mins (cooking the mushrooms) + 10 mins (cooking the uszka)
Prep Time
1
hour
20
minutes
Ingredients
100

g

dried wild forst mushrooms

preferably porcini mushrooms

2

bay leaves

1

allspice berry

1

large onion

100g / 3.5 oz

2

heaped tablespoons butter

salt and black pepper

to taste
Instructions
Rinse the mushrooms *, add to a medium pot with bay leaves and allspice berry, add enough water to cover the mushrooms. Cook over low heat, partially covered, for about 30 minutes until tender. Strain and squeeze out the water. Discard the bay leaves and allspice berry.

Heat the butter in a pan over medium heat, add finely chopped onion. Cook for about 8 minutes, until soft and translucent.

Add the cooked and drained mushrooms to the pan and cook for a few more minutes.

Transfer the content of the pan to a food processor bowl, blitz until of almost paste consistency, season with salt and pepper to taste (you can also grind the mushroom filling in a meat grinder).

Roll out the pierogi dough (ýou'll need 1/2 of my recipe) very thinly, abour 1-2 mm / 1/8 inch thick. Cut into 4 cm / 1.5 inch squares (see photos).

Apply the filling with a teaspoon, or squeeze it from a plastic / pastry bag. Fill a plastic bag with the mushroom filling and cut its corner. Squeeze a little bit of filling onto each square.

Fold over in a triangle shape, press the edges together to seal (if it's not easy to do, wet the edges all around each square with a bit of water). Wrap the two ends around your finger and press.

Arrange the shaped dumplings on a kitchen towel, lightly sprinkled with flour, cover with a second kitchen towel (so that the dough won't dry out).

Boil the uszka in salted water, about 15 pieces at a time, for about 1-2 minutes, starting from the moment when they float to the water's surface. Remove from the water with a slotted spoon. You can stir a small amount of butter, so that they don't stick to each other (only if you're serving the uszka right away and not freezing them).

Serve in a bowl of clear vegetarian borscht.

Enjoy!
Notes
* Many recipes call for soaking the mushrooms, but I don't usually do that. You can soak them for a few hours if they have a lot of sand (it will fall at the bottom of the bowl). I didn't notice any sand in the mushrooms that I usually buy. I rinse them briefly with water just like I rinse fresh mushrooms.
* You can cook the uszka right away or freeze them. How to freeze uszka: place them on a plate or chopping board, it should be well sprinkled with flour. The uszka should be placed apart so that they don't stick to each other. On the next day (or when they're frozen) transfer them to a plastic bag or container. Cook the same way as fresh, uncooked uszka.
Nutrition
Did you make this recipe? Let mi know how you liked it in the comments below!
Uszka 'little ears' – porcini filled polish dumplings recipe – step by step: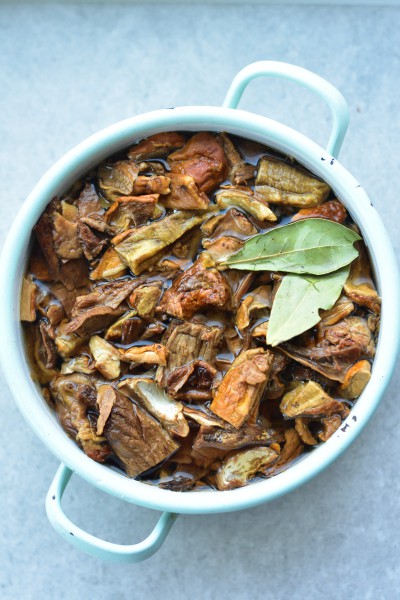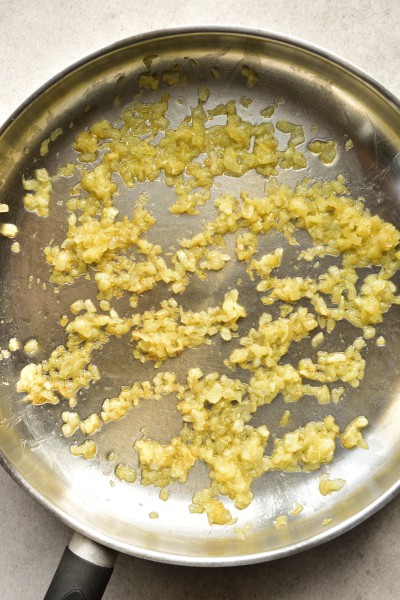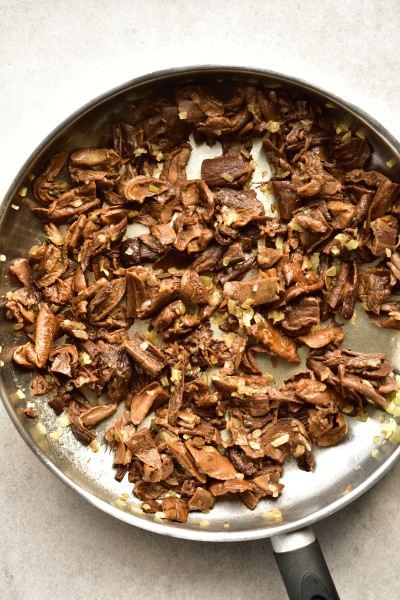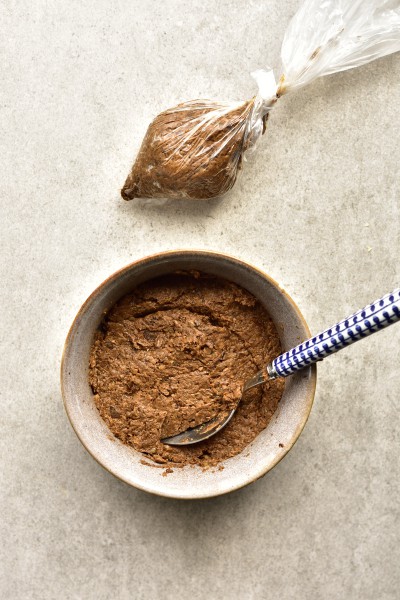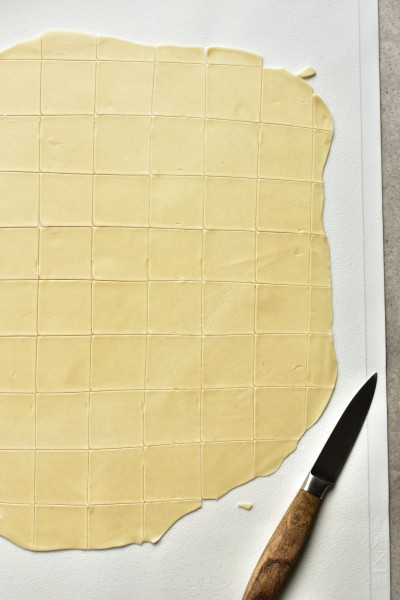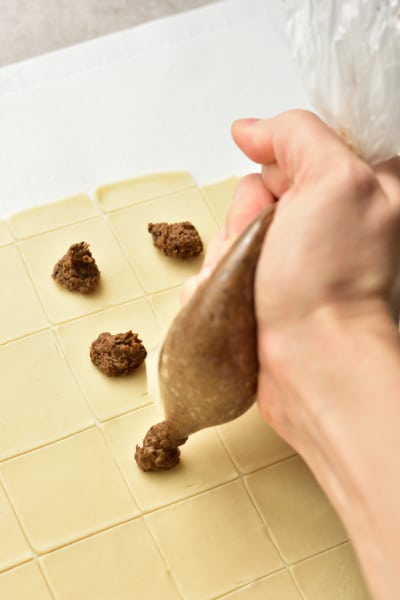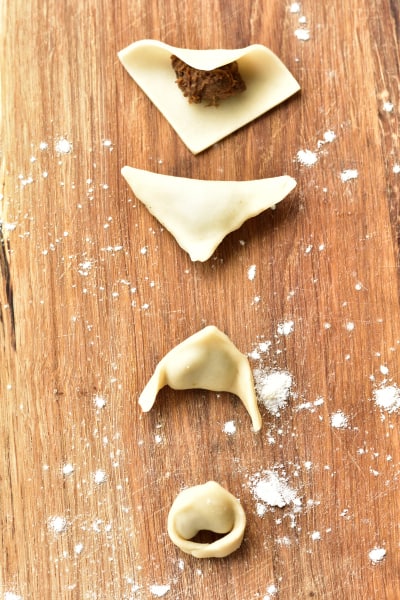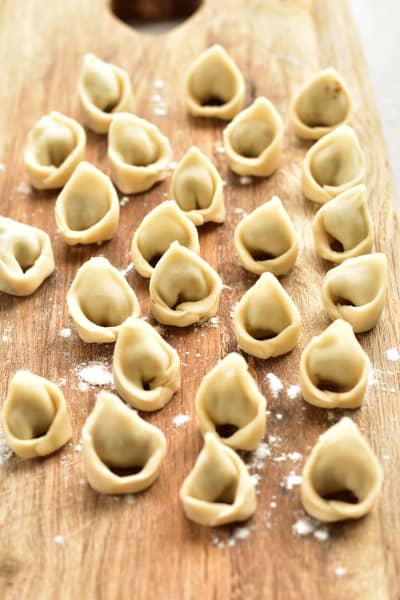 Cook the dried mushrooms with bay leaves and allspice berry until tender, then squeeze out the water. Sautee chopped onion in butter, then add the mushrooms. Cook for a couple of minutes. Season with salt and pepper and mix in a food procesoor until of almost paste consistency. Roll out thinly the pierogi dough, cut into 4 cm / 1.5 inch squares. Apply the filling, shape the uszka. You can now cook and serve the uszka or feeze them.
Enjoy!
Last Updated on