Wonder what to fill your pierogi with? Here I have 15+ pierogi filling ideas for you! Everything from traditional pierogi fillings to more modern ideas.
What are pierogi?
Pierogi are one of the most popular Polish dishes (in Poland and abroad!). These polish dumplings are made with simple dough made with flour, hot water, and butter/oil, and filled with many different fillings. It's the comfort food of every Pole!
I've seen people calling them pierogis, perogy, pyrogy, perogies, perogis, pierogies – yes! so many different versions. It's much simpler in Poland – pierogi is the plural name of these delicious dumplings (so calling them pierogis makes no sense since 'pierogi' is already plural!) and 1 dumpling is 1 pieróg. You could also call them pierożki (this is how my daughter calls them!) which means literally 'small pierogi'.
Pierogi dough:
I will start with the pierogi dough since every pierogi recipe starts with the dough and this is a base for good pierogi! I like my pierogi dough rolled out thin and so tender that it melts in your mouth! Check out my very popular pierogi dough recipe, it has over 50 5-star ratings and many many comments from happy readers! In this post, you'll find many helpful tips on how to cook and freeze pierogi, and also a video showing how to make pierogi.
Pierogi fillings:
#1 Pierogi ruskie (potato and cheese pierogi)
I will start with the most popular pierogi in Poland (at least in the region where I come from) and my personal favorite pierogi – pierogi ruskie. Pierogi ruskie (Ruthenian pierogi) are filled with Polish twaróg cheese (farmer's cheese), sauteed onion, and mashed potatoes.
Here's the recipe: pierogi ruskie.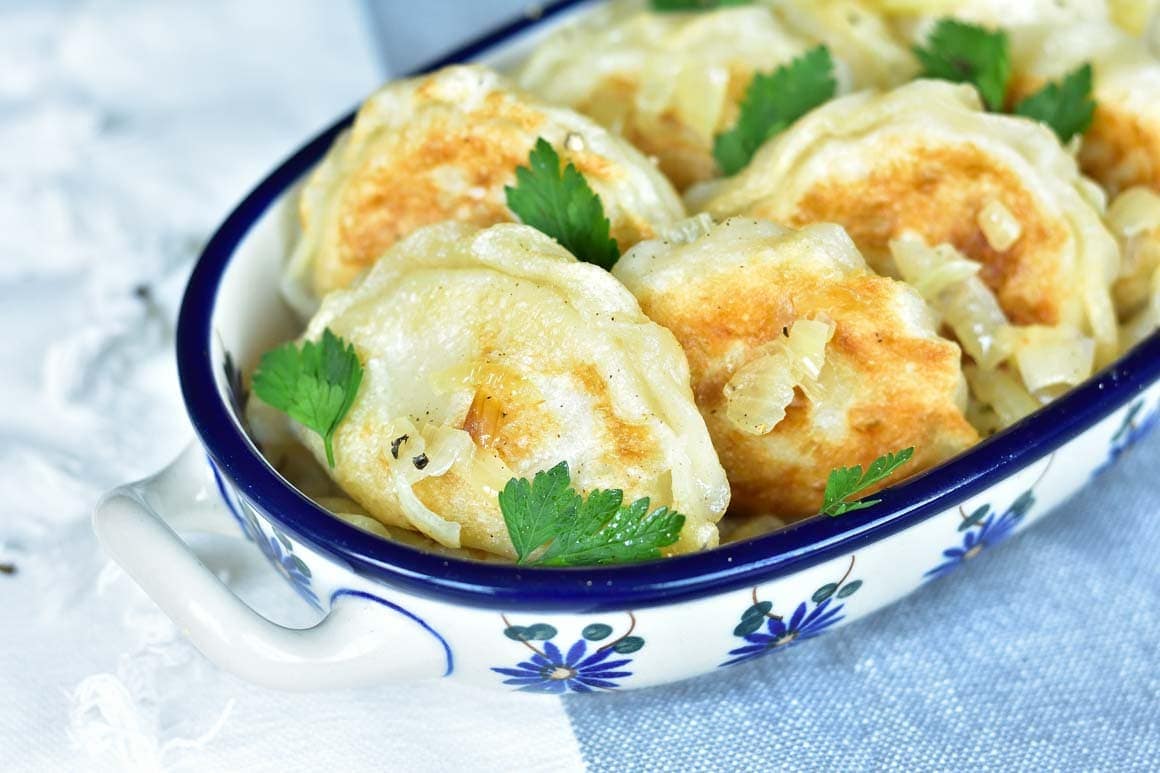 #2 Potato and cheddar filling
This is an Americanized recipe for traditional polish potato and cheese pierogi, where you add cheddar cheese in place of polish twaróg cheese which is not easily available outside of Poland. I actually really like these pierogi, although they taste very different in comparison to the real potato and cheese pierogi. I added chopped rosemary and rosemary-infused butter to my recipe which makes it over the top delicious!
Here's the recipe: potato and cheddar pierogi.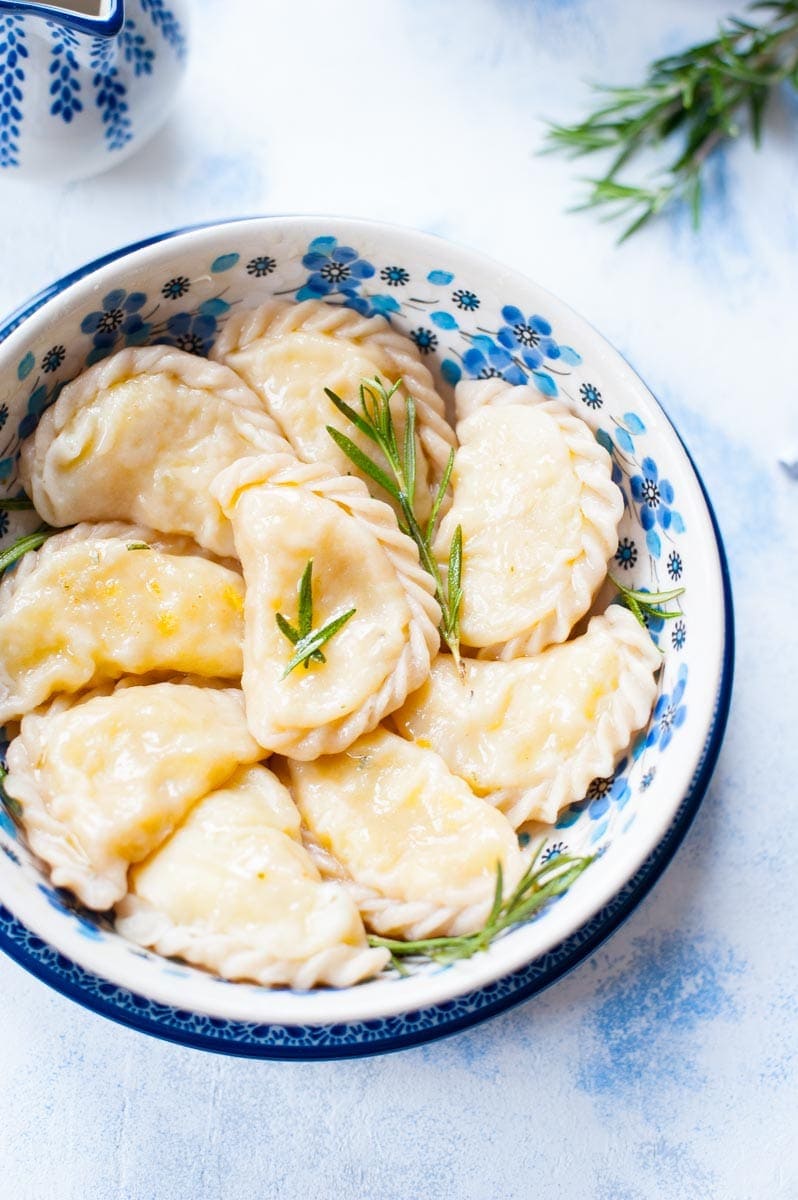 #3 Potato filling
This filling seems to be very popular abroad but it's not really in Poland. You can make it with mashed potatoes and sauteed onion, season generously with salt and pepper.
#4 Sauerkraut and mushroom filling (pierogi z kapustą i grzybami)
This is my second favorite pierogi type! The recipe features cooked sauerkraut, sauteed onions and mushrooms (wild mushrooms and cremini mushrooms). These pierogi are really delicious, I usually make them for Christmas.
Here's the recipe: Sauerkraut mushroom pierogi.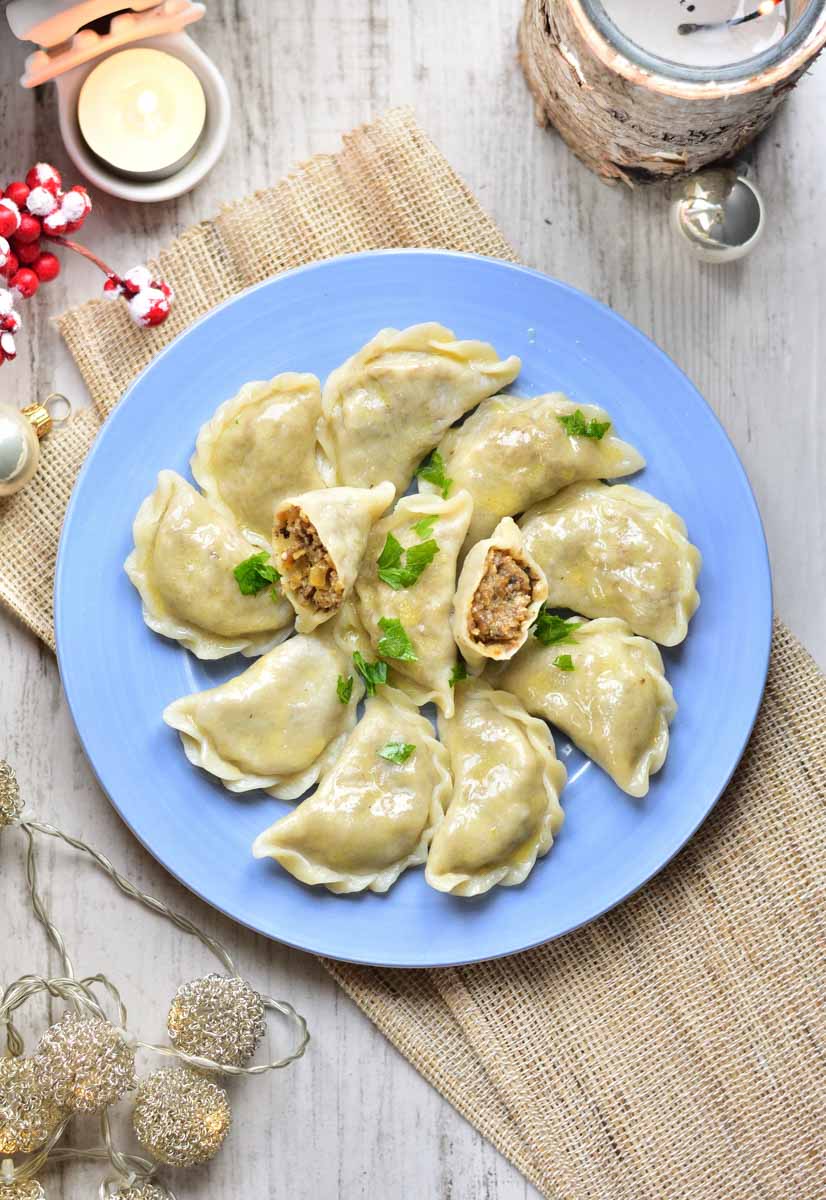 #5 Sweet cheese filling
My third favorite pierogi! The filling is made with Polish twaróg cheese (farmer's cheese), sugar, and egg yolks. Yum!
Here's the recipe: sweet cheese pierogi.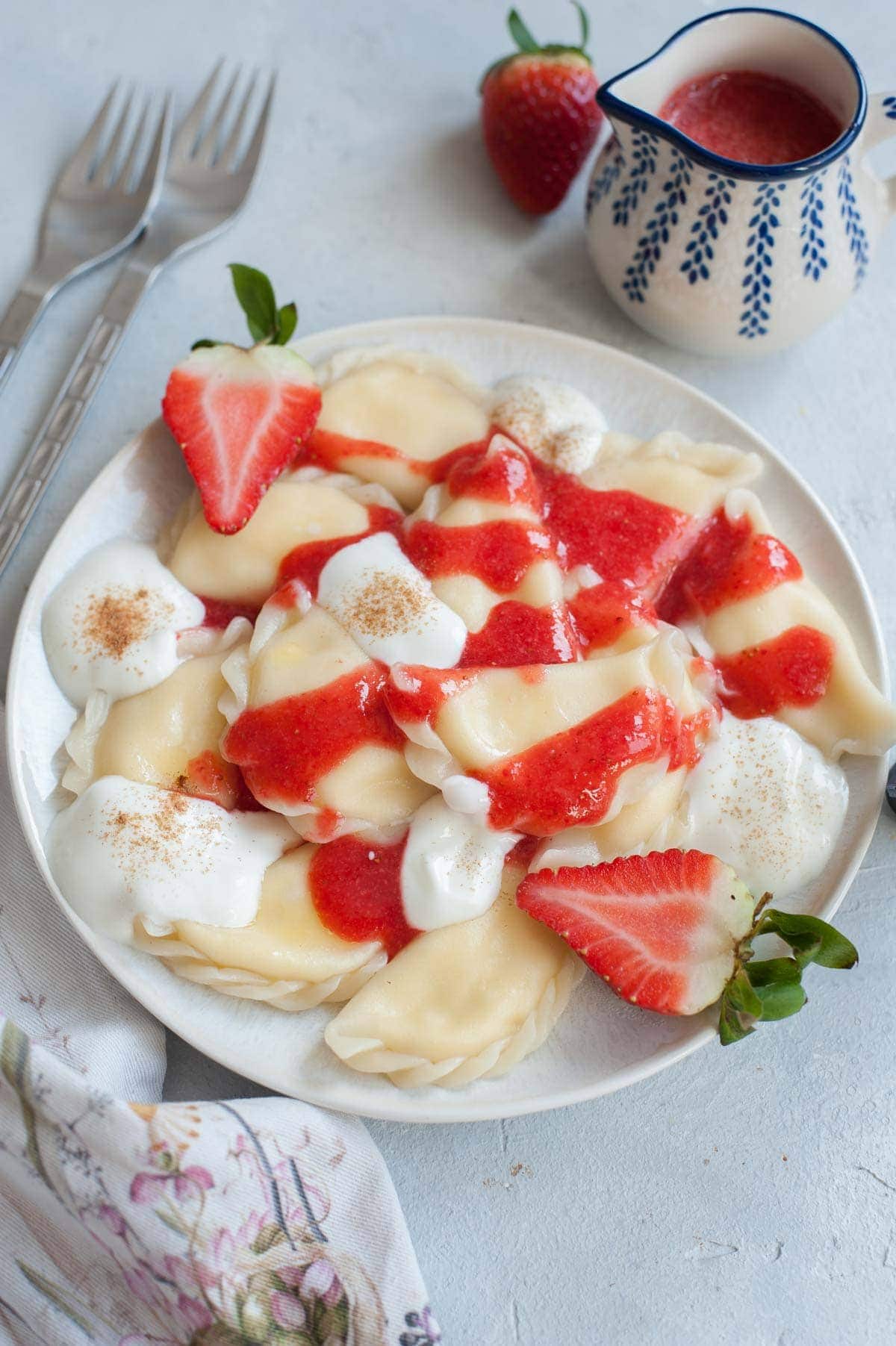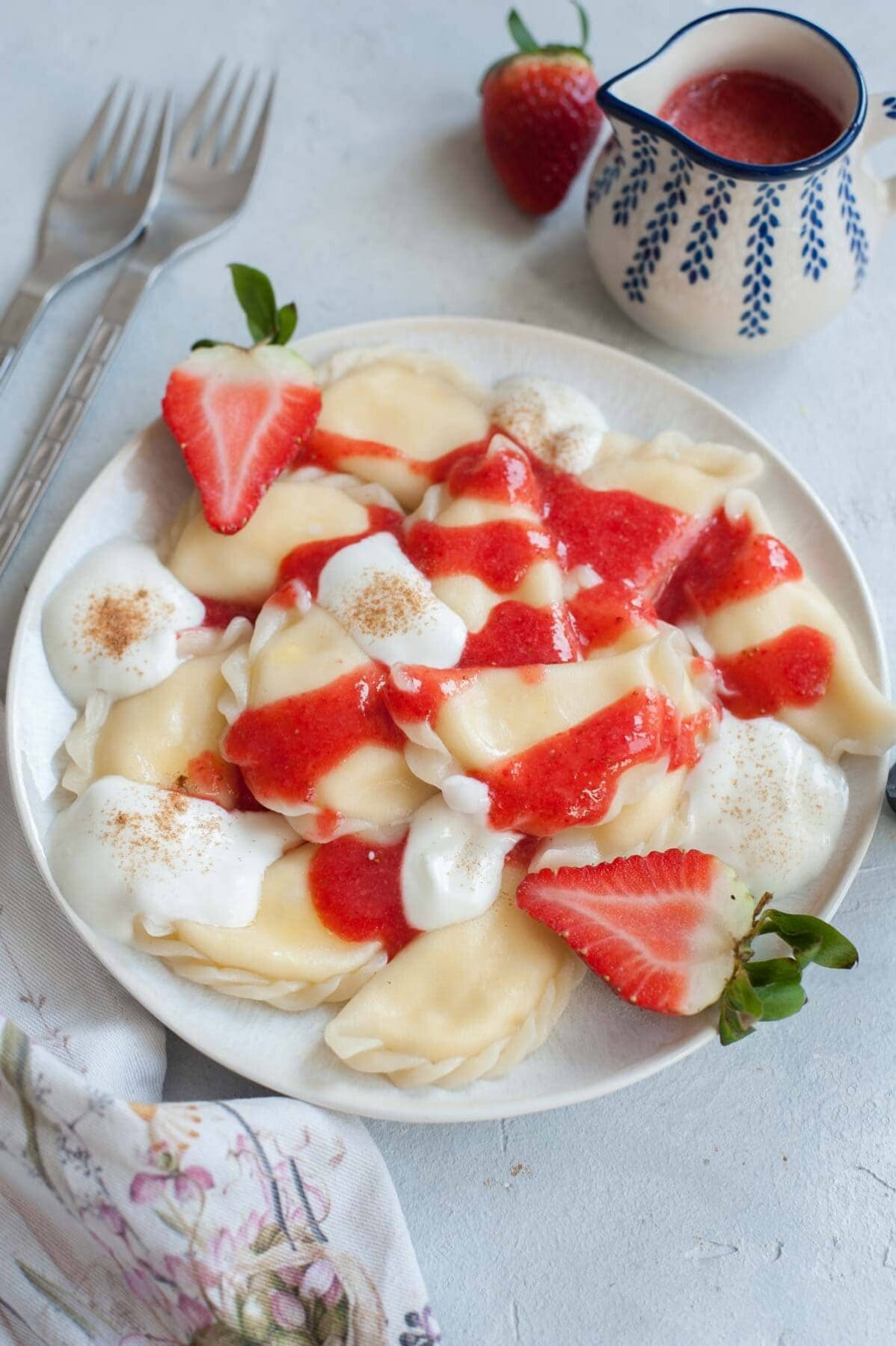 #6 Sauerkraut filling (pierogi z kapustą kiszoną)
Pierogi can be also filled with just sauerkraut, without the mushrooms. I don't have that recipe yet but it will be surely posted in the future!
#7 Wild mushroom filling (pierogi z grzybami)
This filling is usually used to stuff uszka – little pierogi that are served with Christmas Eve Borscht soup (Barszcz czerwony/Barszcz wigilijny). The filling is made with wild porcini mushrooms and sauteed onions.
Here's the recipe: uszka.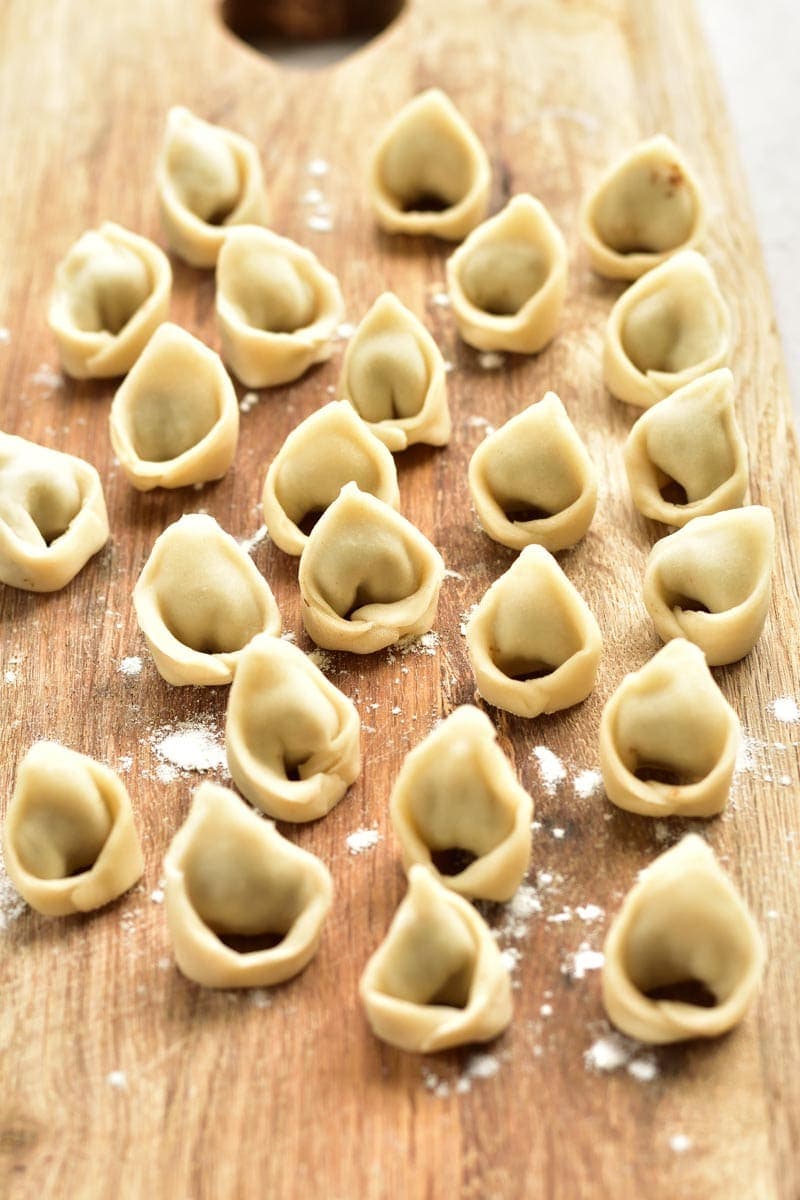 #8 Meat pierogi (pierogi z mięsem)
Meat filling is usually made from the meat leftover from rosół soup (meat broth). The meat is then put through a meat grinder and combined with sauteed onions, and sometimes mushrooms.
Here's the recipe: meat pierogi.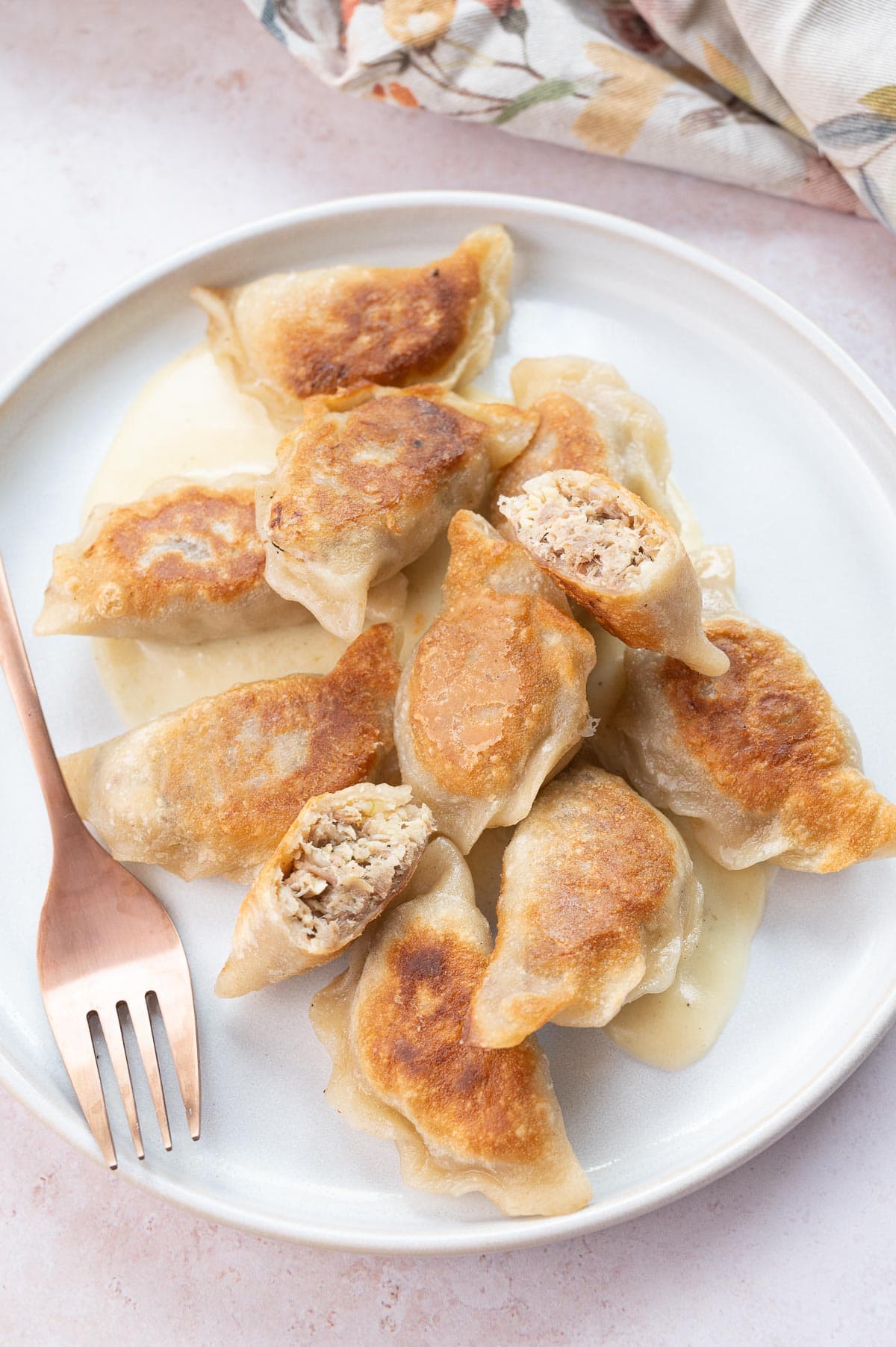 #9 Dessert pierogi (fruit pierogi)
Sweet pierogi are filled with fruits. Any type of summer fruit can be used. The most popular fruit pierogi are blueberry pierogi, strawberry pierogi, and sweet cherry pierogi. You could also make a sour cherry filling, plum filling, black or red currant filling, blackberry filling, and farmer's cheese filling. This filling is very simple, all you have to do is combine chopped fruits with sugar and flour, then fill the pierogi with the mixture – that's it! (raw and not cooked fruits are used). In Poland, wild blueberries are used for blueberry pierogi – they are small blueberries that grow wildly in Polish forests. They are more flavorful than regular, bigger blueberries (which are actually called 'American blueberries' in Poland!). They are also more delicate and prone to breaking and staining your pierogi dough. Because of that, I like to freeze them first and fill the pierogi with frozen blueberries.
I recently got a comment from a reader, who made pierogi filled with apples. I think this is such a great idea and I plan to try them in the near future. Here's the comment: "I cut some apples in small chunks, added raisins, butter, brown sugar, and cook till done. Filled each circle with 1 tsp. apples and when done sprinkled with confectionery sugar. They were amazing."
Dessert pierogi are served with whipped cream or sweetened sour cream.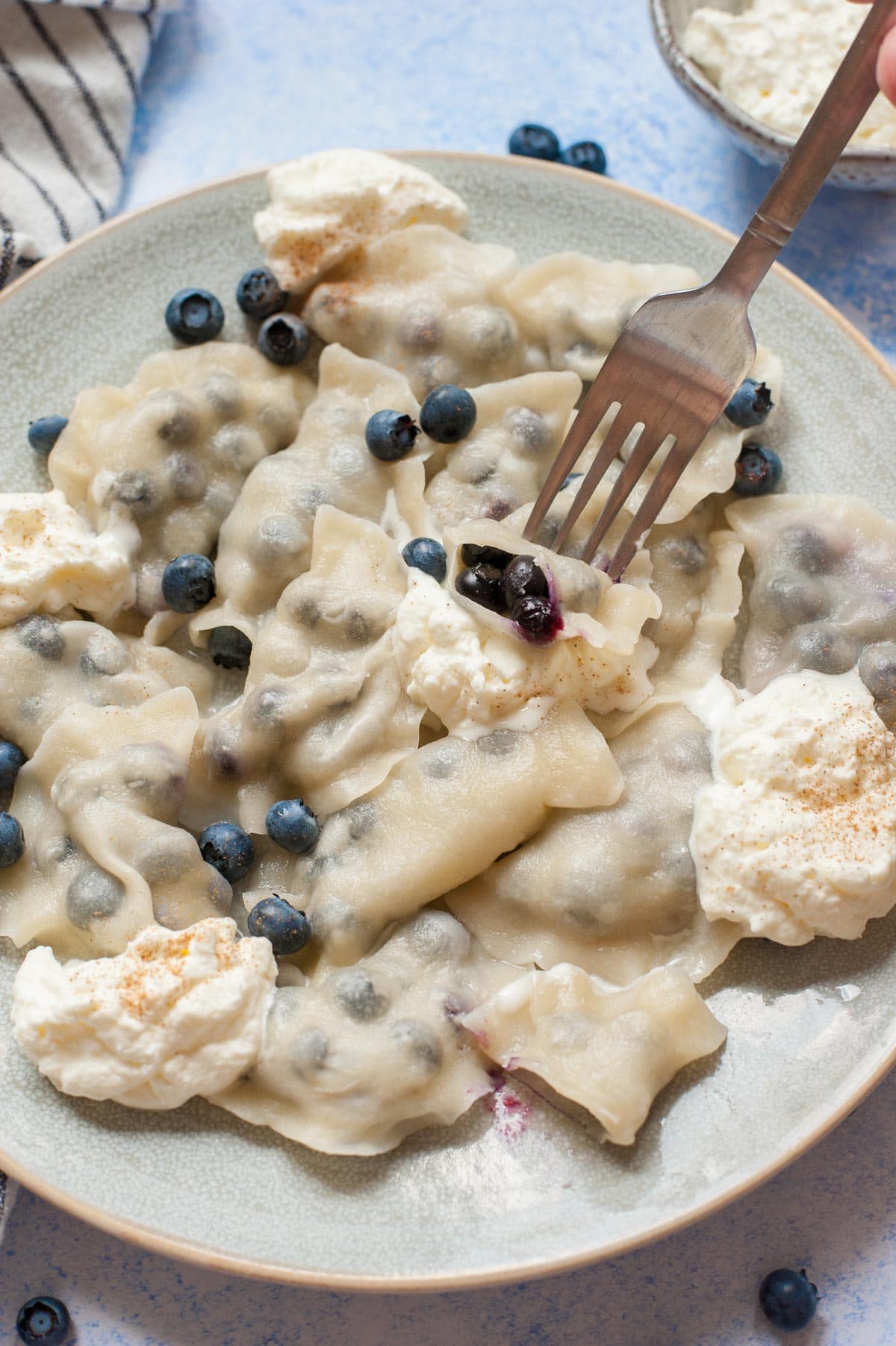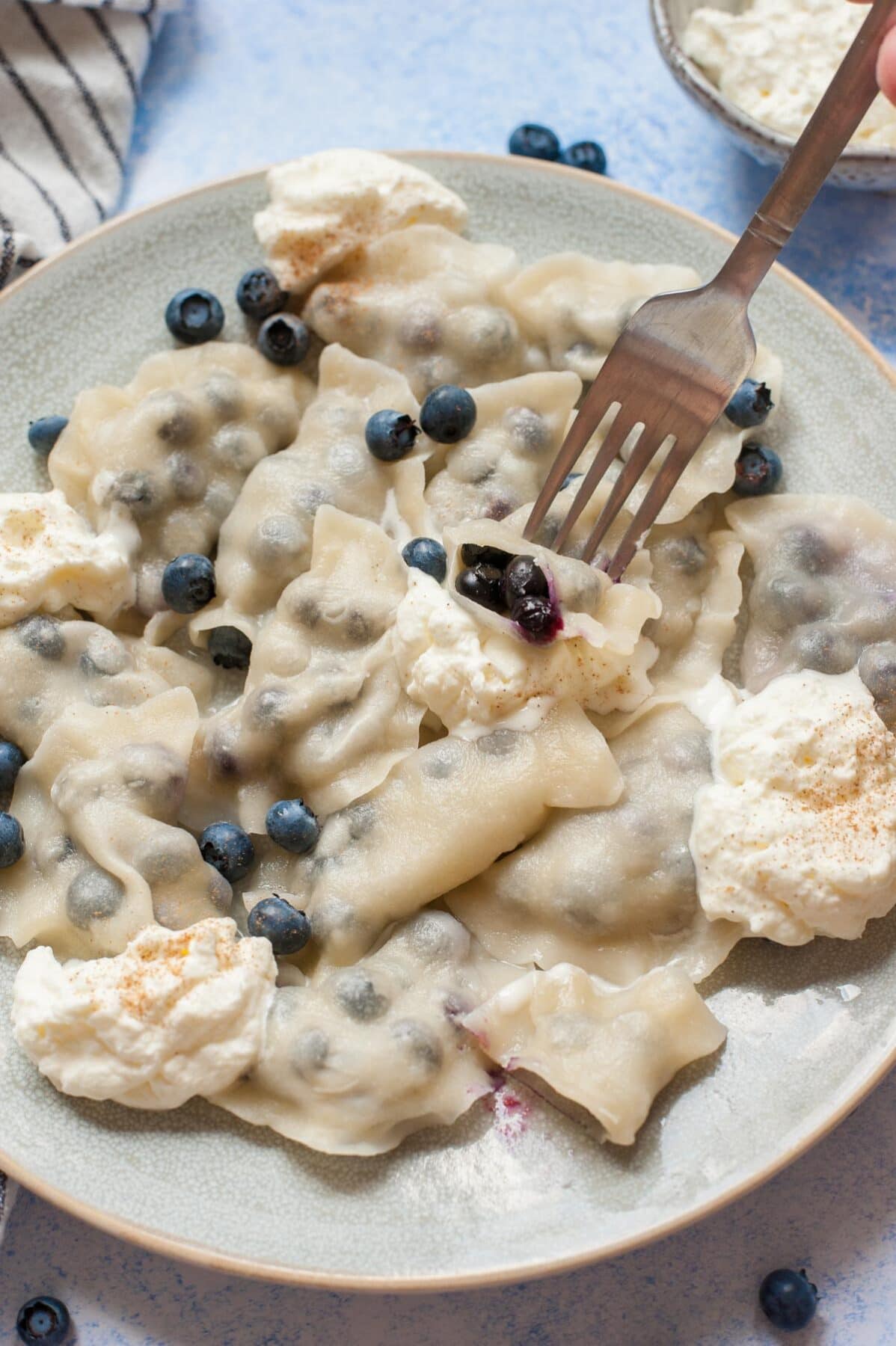 #10 Vegan pierogi with sun-dried tomato and lentil filling
This is not a traditional filling, but quite popular in Poland nowadays. The filling is made with sauteed onions with spices, red lentils and sun-dried tomatoes. These pierogi are really good! They can be made vegetarian if you're using butter or vegan if you're using vegetable oil.
Here's the recipe: vegan pierogi with spicy sun-dried tomato and lentil filling.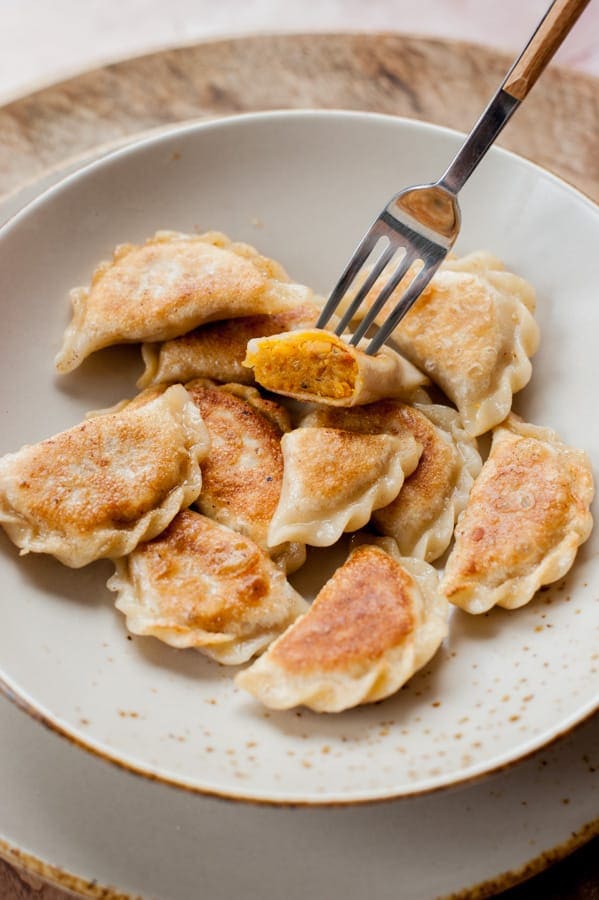 #11 Buckwheat groats and farmer's cheese (pierogi z kaszą gryczaną i twarogiem)
This filling is popular in the south-east region of Poland. It consists of cooked buckwheat groats (kasza gryczana) and Polish twaróg cheese. Sometimes also mushrooms are being add. You can substitute twaróg cheese with feta cheese.
If you're wondering how to cook buckwheat groats, I have instructions here, in my buckwheat salad recipe.
#12 Smoked cheese (oscypek) and cranberry jam
I haven't tried this pierogi filling but it's very high on my 'to-do' list! I've found this video of a popular cook – Jamie Oliver, you can see the video here. The filling is made with oscypek (Polish cheese), cranberry jam, mashed potatoes, cottage cheese, cream, and onions.
This filling is not traditional but it's inspired by a traditional street food that is very popular in Zakopane – a city in the south of Poland. Oscypek with cranberry jam is being sold on every street of this city, it's very very delicious.
Oscypek is the name of a traditional polish cheese that comes from the Tatra Mountains region of Poland. It's smoked sheep's cheese. It's usually sold in a traditional oval shape, it's firm and squeaky (similar to Halloumi cheese). There is probably a very small chance that you can find this cheese outside of Poland, so you can substitute it with any other smoked sheep's cheese or just smoked cheese like smoked gouda, smoked cheddar, or smoked mozzarella or scamorza cheese.
#13 Spinach pierogi
Pierogi filled with spinach are quite popular right now in Poland, but this is not a traditional recipe that my grandma would make. This particular filling is my invention and it's made with spinach, potatoes, onions, and feta cheese. So, so delicious!
Also, the color of these pierogi is not photoshopped! The dough is colored with beet juice and it really is so pink. I like to make these pierogi for Christmas – they look so beautiful and Christmassy!
Here's the recipe: Spinach pierogi.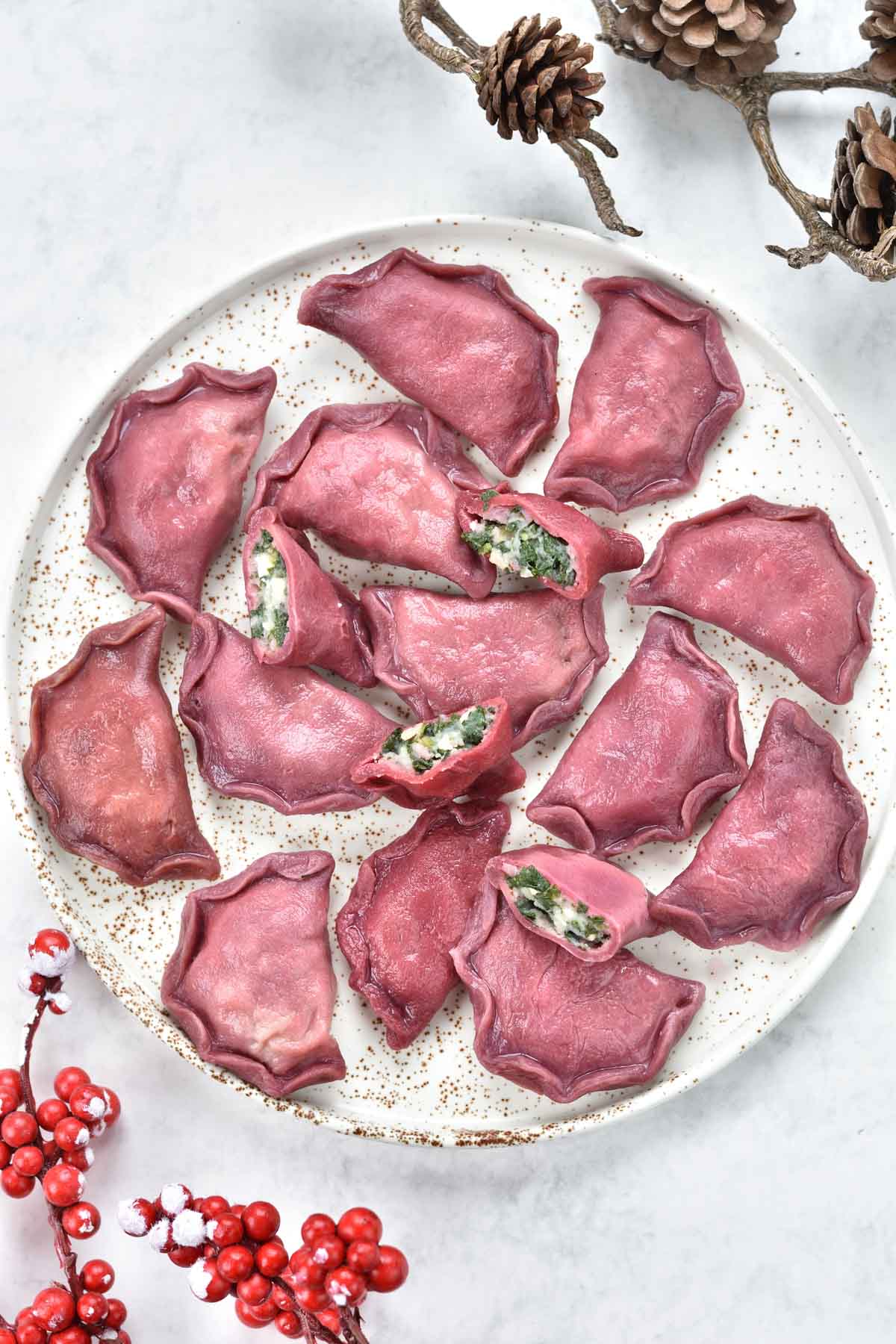 You could also make a similar filling – with spinach and ricotta. You could use the same filling that is used to filled pasta shells.
#14 Pumpkin filling
Pumpkin filling? why not! You could say that pumpkin is not a Polish vegetable, and it's true, both of my grandmas haven't cooked anything with pumpkin but nowadays it is a very popular vegetable, available in every grocery store. Poles don't make pumpkin pie but pumpkin soup or pumpkin muffins are quite popular. I've also seen pierogi filled with pumpkin, either with sweet filling (roasted pumpkin/butternut squash + pumpkin pie spice + sugar) or savory pumpkin filling (similar to ravioli filling) with pumpkin and parmesan cheese, served with sage butter.
#15 Chanterelle mushroom filling
Chanterelles mushrooms are one of the most beloved Polish mushrooms (my favorite mushrooms!). They are widely used in anything from chanterelle sauce, to pasta dishes or soup. I especially like scrambled eggs with chanterelle mushrooms!
To make chanterelle mushroom filling, cook the mushrooms with onions and garlic, season generously with salt, and pepper, then chop in a food processor.
#16 Poppy seed, dried fruit, and honey
This filling is similar to the poppy seed roll filling (makowiec). These pierogi are served just for Christmas Eve.
#17 Some other pierogi filling recipes that I find interesting
Mushroom, potato, and caramelized onions
Cabbage and egg filling (with a gluten-free dough recipe)
What to serve with pierogi?
Actually, pierogi in Poland are usually served on their own!
The most popular toppings include:
melted butter
sour cream
crispy bacon
caramelized onions
skwarki – fried pork backfat
sweetened sour cream or whipped cream for sweet pierogi
Here you'll find all my pierogi sauces and toppings ideas.
Dear readers! If you've come up with some delicious pierogi filling ideas, make sure to leave me a comment and I will add them to the list!