Tagliatelle with zucchini, red bell pepper, tomatoes and feta cheese
A delicious and quick vegetarian dish, that can be cooked in less time that it takesto cook pasta. Crispy zucchini and bell pepper in tomato and feta cheese sauce. The pasta is seasoned with a large amount of garlic, but no worries, it's not very garlicky, sliced garlic is less pungent than, for example, the grated one. Out of fresh tomato season, canned tomatoes can be used, and instead of the feta cheese you can cook a chicken breast as a side – fry it on a pan with some fresh/dried herbs. It's one of our go-to quick weeknight dinners!
Do you look for other quick weeknight recipes? Check out this category: dinner in about 30 minutes on the table.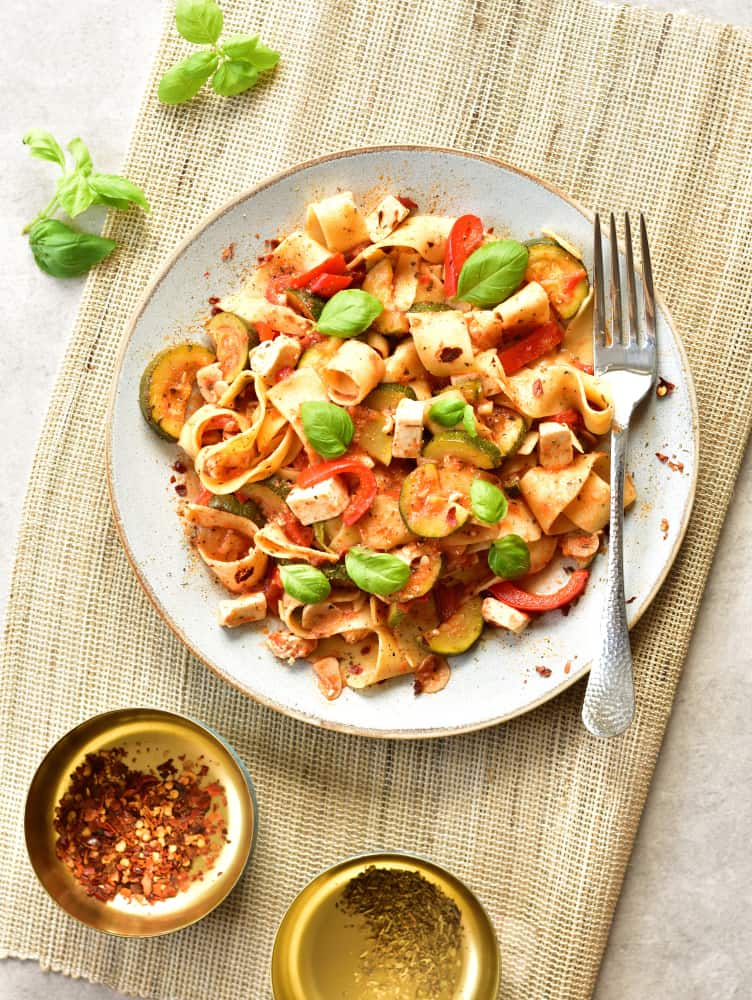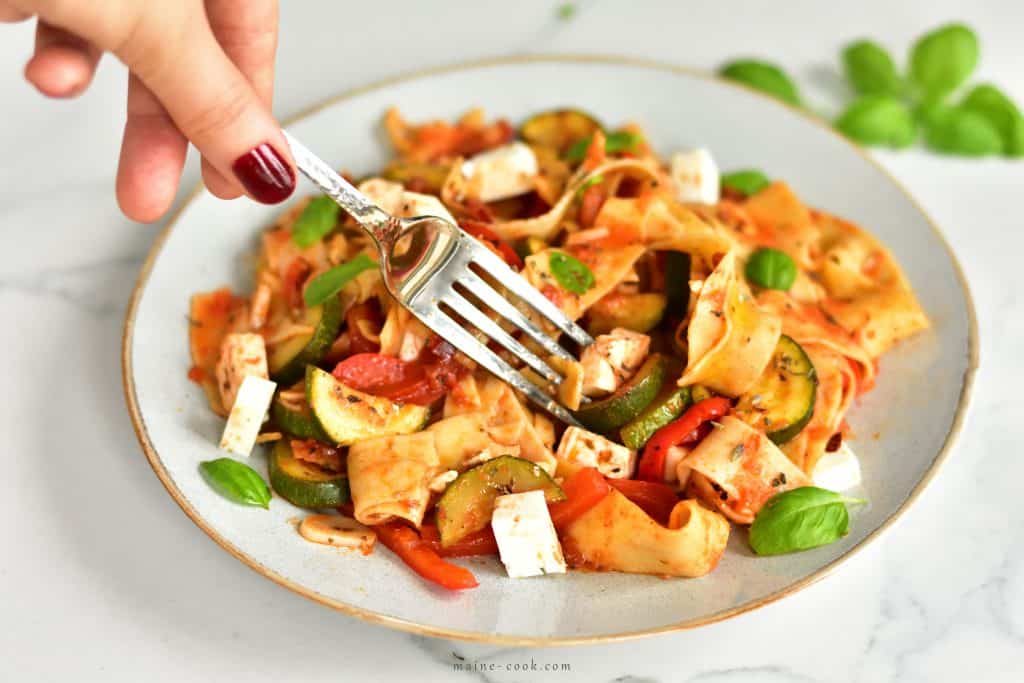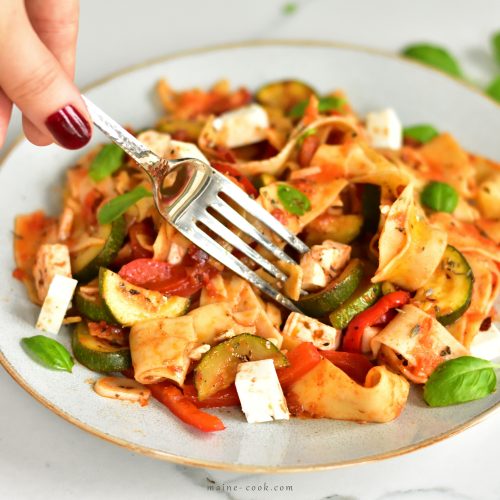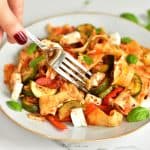 Print
Tagliatelle with zucchini, red bell pepper, tomatoes and feta cheese
Quick to make vegetarian dinner. It's super tasty and healthy, full of fresh vegetables. Garlicky tomato and feta cheese sauce elevate this dish to another level!
Ingredients
150g / 5.3 oz

pasta

I used egg tagliatelle

2

tablespoons

frying oil

1

medium zucchini

1

red bell pepper

3

small tomatoes

or 1/2 can tomatoes

3

large cloves garlics

1

heaped teaspoon

Herbes de Provence

(or rosemary, basil, oregano and thyme mixed together)

pinch of

chilli flakes

or to taste

salt and black pepper

to taste

to finish: frsh herbes

basil or thyme
Instructions
In a medium pot, bring water to a boil, cook the pasta al dente (it should have a bite to it, you don't need a lot of water, it must be well salted, don't add any olive oil to it). Reserve about 1/3 cup of pasta cooking water (it has a lot of starch and thickens the sauce nicely).

While the pasta cooks, cut the zucchini in half longwise and then cut crosswise into 0.5 cm / 0.2 inch slices and the bell pepper into 0.5 cm strips. Pour boiling water over the tomatoes then pell them. Cut 2 tomatoes into larger cubes, about 1.5 cm / 0.6 inch thick and 1 tomato into tiny 0.5 cm / 0.2 inch cubes.

Heat the oil in a big pan over high heat, add the bell pepper and zucchini. Cook without stiring for 2 minutes (you have to give the vegetables time to properly brown), then cook, stirring, for another 2 minutes.

Add thinnly sliced garlic, Herbes de Provence, chilli flakes, and cook, stirring, for 1 minute.

Add the tomatoes, cook for 3 minutes (some of the tomatoes should stay in pieces, and some should create a sauce).

Remove the pan from the heat, add the cooked pasta and a few tablespoons of pasta cooking water. Add crumbled feta cheese, season with salt and pepper (but carefully, the feta is already salty) and mix everything together.

Serve sprinkled with fresh herbs.
Notes
• when using canned tomatoes: I used canned tomatoes, that have been already cut into pieces, when using whole canned tomatoes, first cut them into cubes
• to double the recipe, you need to cook the bell peppers and zucchini separately, don't overcrowd the pan, so that the vegetables can brown nicely, this gives them a lot of flavor – first cook the bell peppers aloe for about 3 minutes, transfer into a plate, then add the zucchini and cook for 2 minutes, then add the garlic, chilli, Herbes de Provence, cook for another minute, add the bell peppers back to the pan, then follow the recipe
•don't stir the vegetables too often so that they have a chance to brown properly
Nutrition
Did you make this recipe? Let mi know how you liked it in the comments below!