Schnitzel is a very popular dish in many countries in the world, but what it is exactly and where does it come from? Learn more about Schnitzel and different versions of this dish.
What is Schnitzel?
Schnitzel is basically a cutlet – a thin piece of meat. It can be made from pork, veal, chicken, or turkey. It's very popular especially in Germany and Austria, but also in many neighboring countries. The most popular is breaded Schnitzel (coated in flour, eggs, and breadcrumbs) but it can also be unbreaded.
Different kinds of Schnitzel
You may think there is just one Schnitzel but the truth is there are many kinds!
The most popular kind of Schnitzel is a simple breaded German Schnitzel recipe – breaded pork chops. Pork chops or loin are pounded thinly, then dredged in flour, dipped in beaten eggs, and finely coated in fine unseasoned breadcrumbs. It's the most classic recipe and pure comfort food!
Although pork meat is the most popular choice in Germany, other kinds of meat such as chicken breast, turkey breast, and veal meat can also be used (and are delicious).
Pork Schnitzel is called Schweineschnitzel and Chicken Schnitzel is called Hünerschnitzel.
German Schnitzel can also be unbreaded and is called Schnitzel Natur.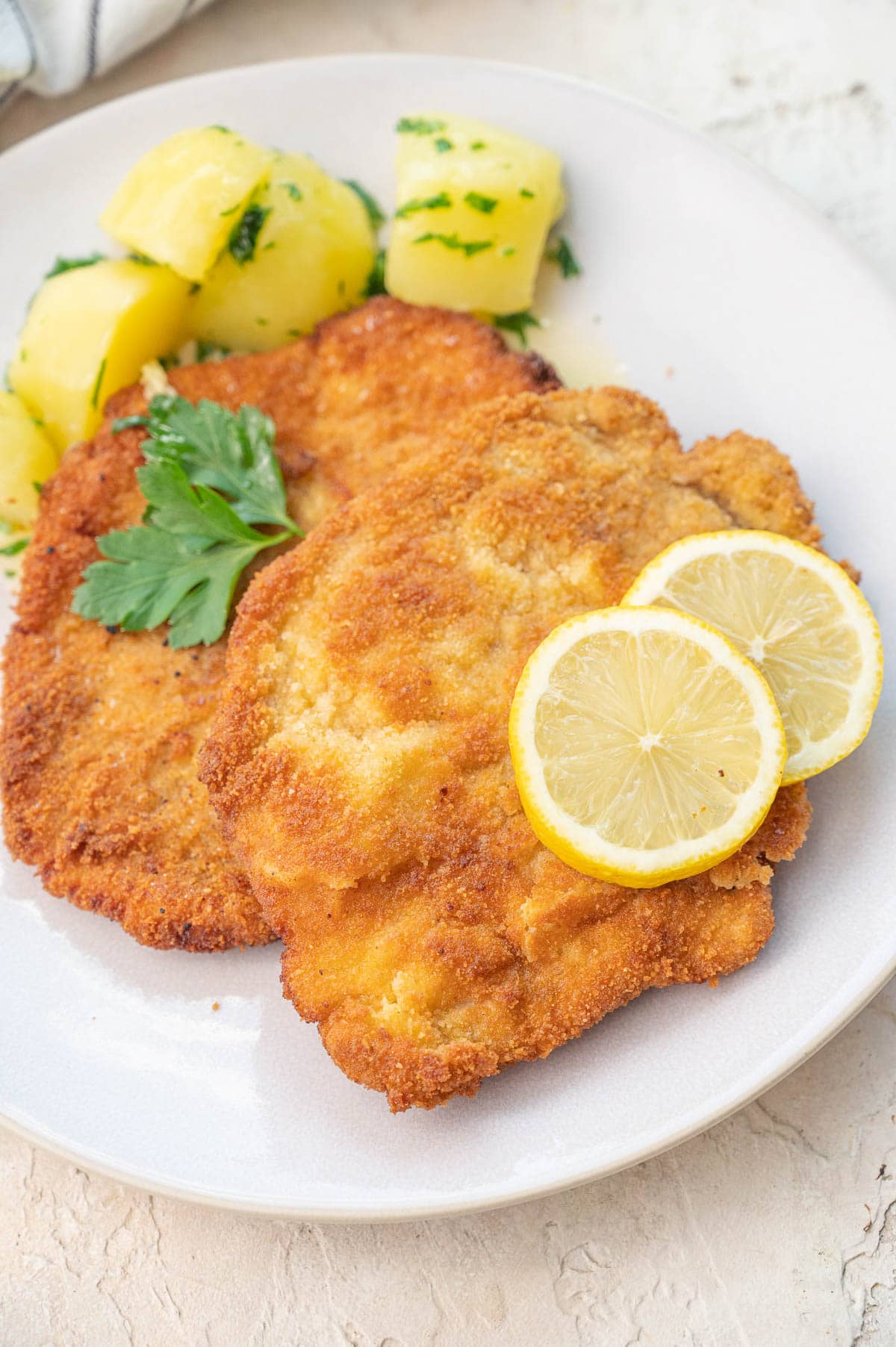 Another popular Schnitzel is Wiener Schnitzel – the national dish of Austria. Wiener Schnitzel means Viennese Schnitzel and must be made from veal and be breaded. Wiener Schnitzel is NOT the same as German Schnitzel and there are more differences than the choice of meat (more on that below).
Wiener Schnitzel can also be made from pork or chicken but it's then called Wiener Schnitzel vom Schwein (pork) or Wiener Art (Viennese Style Schnitzel).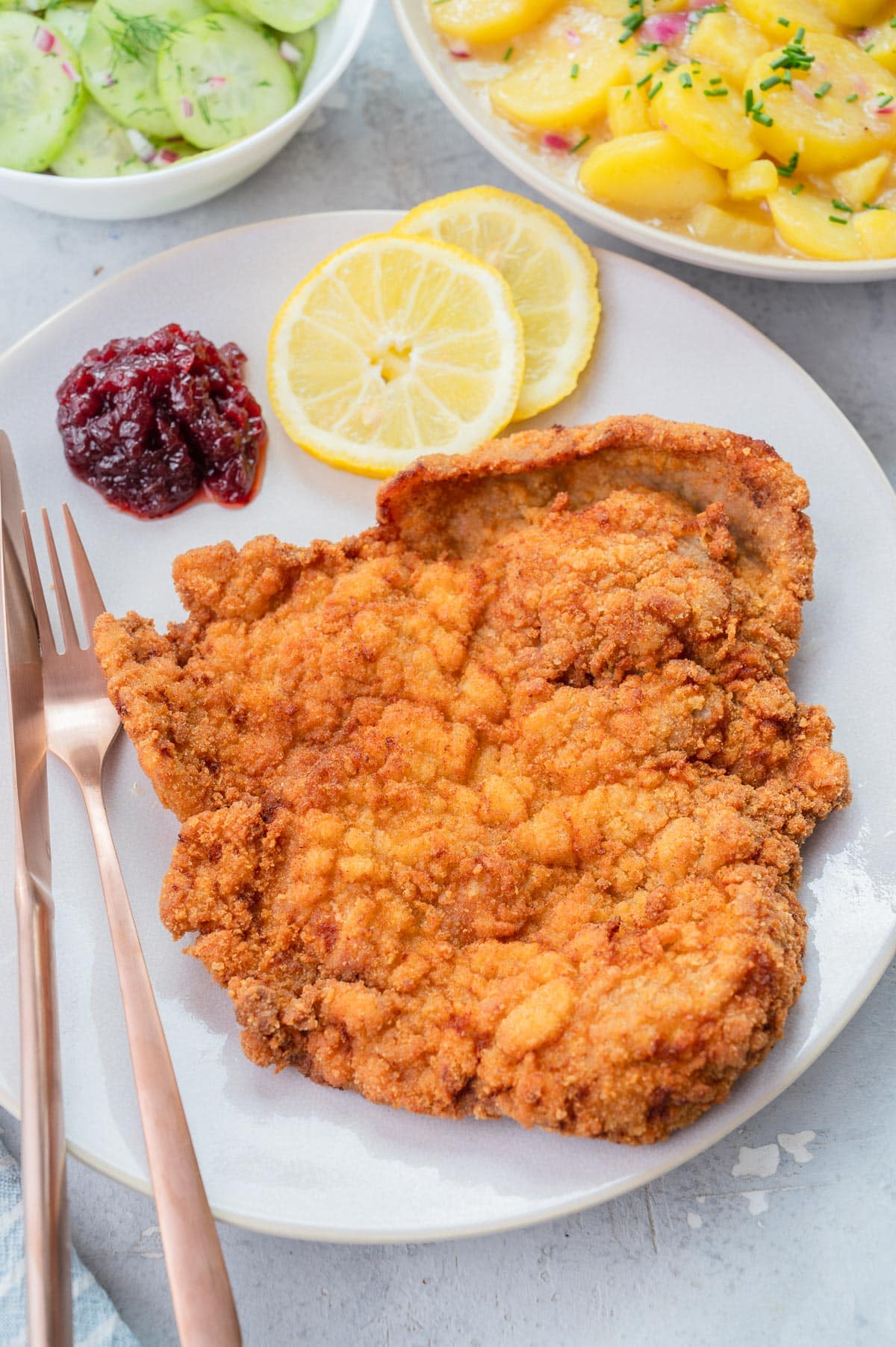 Jägerschnitzel is a German recipe, very popular in Germany and Austria. It's a Schnitzel that can be breaded or NOT breaded and it's served with mushroom gravy.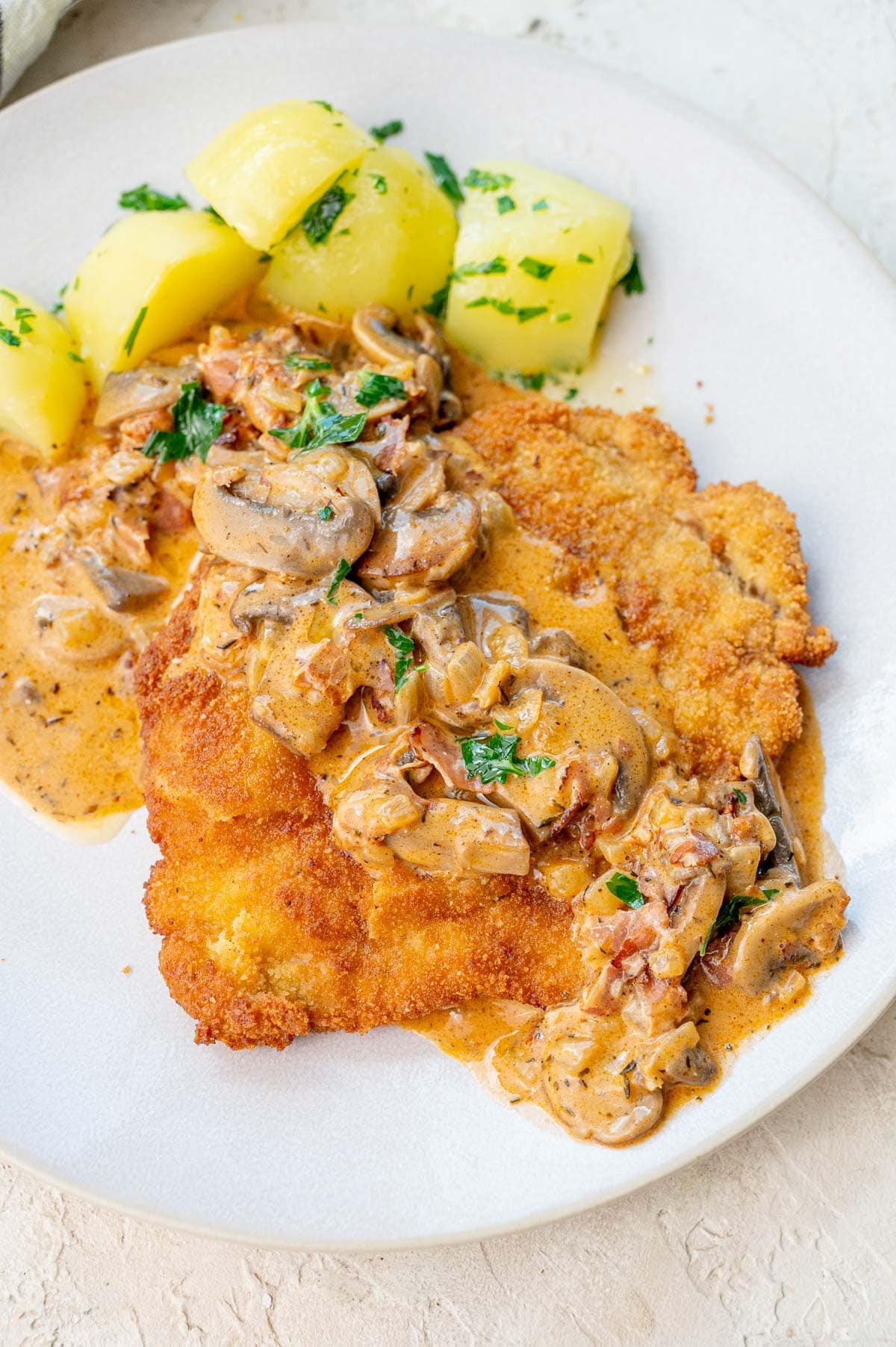 More kinds of Schnitzel:
Rahmschnitzel (Cream Schnitzel) – Schnitzel served with a cream sauce, sometimes with mushrooms added.
Zigeunerschnitzel (Gypsy Schnitzel) – a Schnitzel served with bell pepper tomato sauce.
Schnitzel Holstein – breaded veal Schnitzel topped with sunny-side-up eggs, anchovies, and capers.
Frankfurt Schnitzel With Green Sauce – breaded Schnitzel served with herb (green) sauce.
Pork Cordon Bleu – breaded pork Schnitzel stuffed with ham and cheese.
Zwiebelschnitzel – with onion sauce.
Chicken Schnitzel – or in other words – breaded chicken cutlets. The same recipe but using chicken breast meat. I like to add lemon zest, parsley, and parmesan cheese to mine!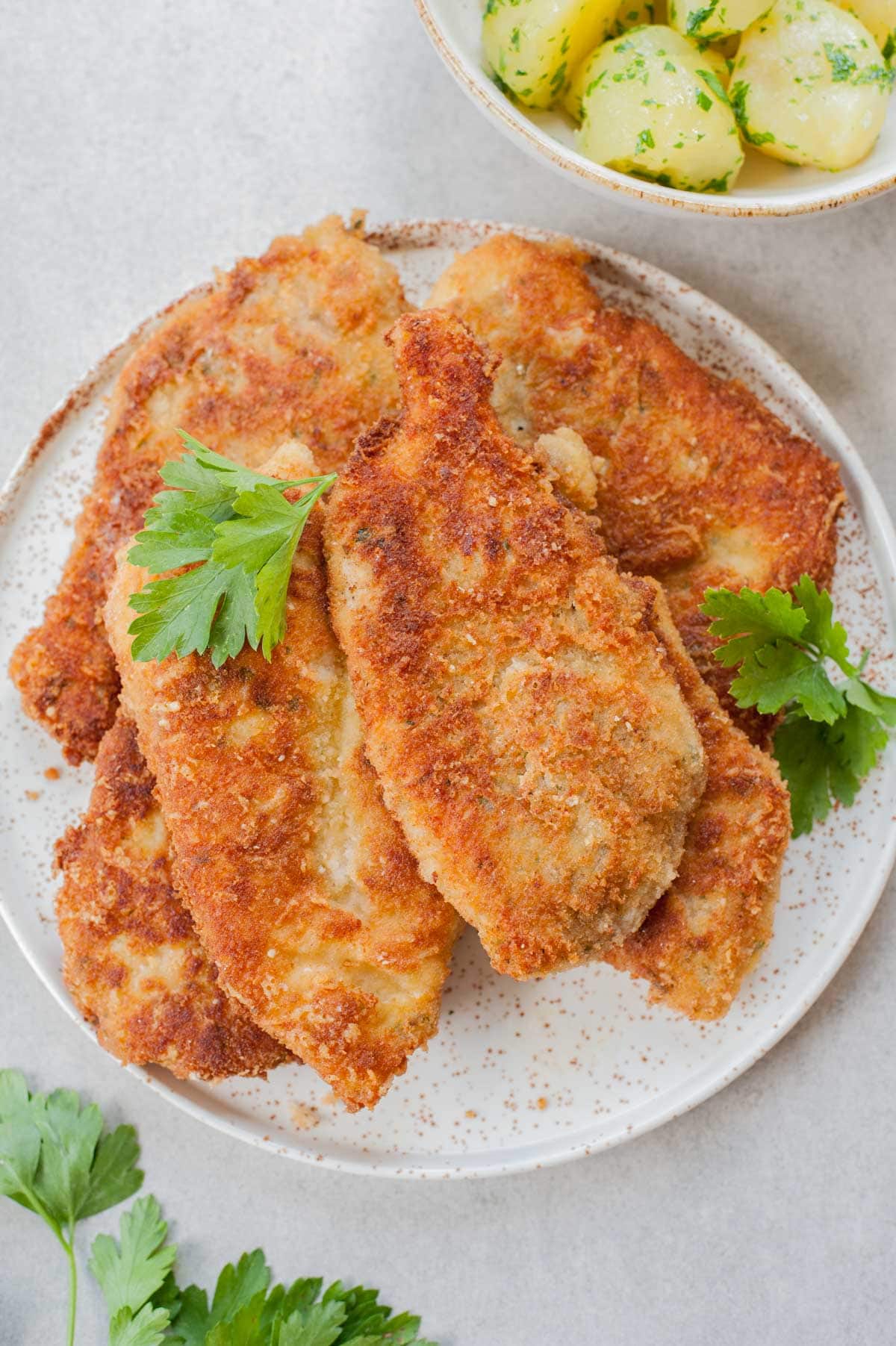 What is the difference between Wiener Schnitzel and German Schnitzel?
Schnitzel can be made from pork/chicken/turkey/veal and is usually pan-fried. Wiener Schnitzel is a dish with a protected origin and must be made from veal and be deep-fried. Schnitzel made from pork is called "Wiener Schnitzel vom Schwein" (Schnitzel from pork) or "Schnitzel Wiener Art" (Viennese-style Schnitzel). The name Wiener Schnitzel is protected by Austrian law!
German Schnitzel is NOT the same as Wiener Schnitzel (Viennese Schnitzel, Wiener means Viennese in German language). Most people will tell you that the difference is just the choice of meat, pork for German Schnitzel and veal for Wiener Schnitzel, but it's so much more. So what are the differences:
The choice of meat: veal must be used for the Schnitzel to be called Wiener Schnitzel. German Schnitzel can be made from pork/veal/chicken/turkey, although pork is the most popular choice.
The preparation technique is also a little bit different. German Schnitzel is usually just shallow-fried in a pan (the oil does not cover the Schnitzel) while the Wiener Schnitzel is deep-fried and cooked using a special technique that requires moving the Schnitzel with kitchen tongs while it's being fried to create its hallmark ruffled surface.
Wiener Schnitzel will also be bigger due to the size of the veal cutlets that are cut from the veal' leg using a butterfly cut.
The sides that are served with both types of Schnitzel are also different – Wiener Schnitzel is very often served with lingonberry jam, a slice of lemon, and either potatoes with parsley and butter or a potato salad. German Schnitzel is often served with Spätzle and cucumber salad.
Please note, although in order to call Schnitzel a Wiener Schnitzel you need to use veal meat, in the reality, veal meat is expensive and difficult to source so a true veal Schnitzel is not that popular in restaurants and homes, where more affordable and easier to get pork meat is used.
Where does Schnitzel come from?
It may be surprising that the Schnitzel does not come from Germany or Austria, but from Italy! Cotoletta alla Milanese (veal breaded cutlet with a bone still attached) came from Milan to Austria and then began to be popular in Germany.
Schnitzel in other countries
Poland – one of the most popular Polish recipes is kotlet schabowy which is identical to German breaded pork chops. Another very popular Polish (and Ukrainian) recipe is this chicken Kyiv (called cutlet de Vollaile in Poland) which is basically a chicken Schnitzel that is stuffed with herb butter, rolled up, and breaded!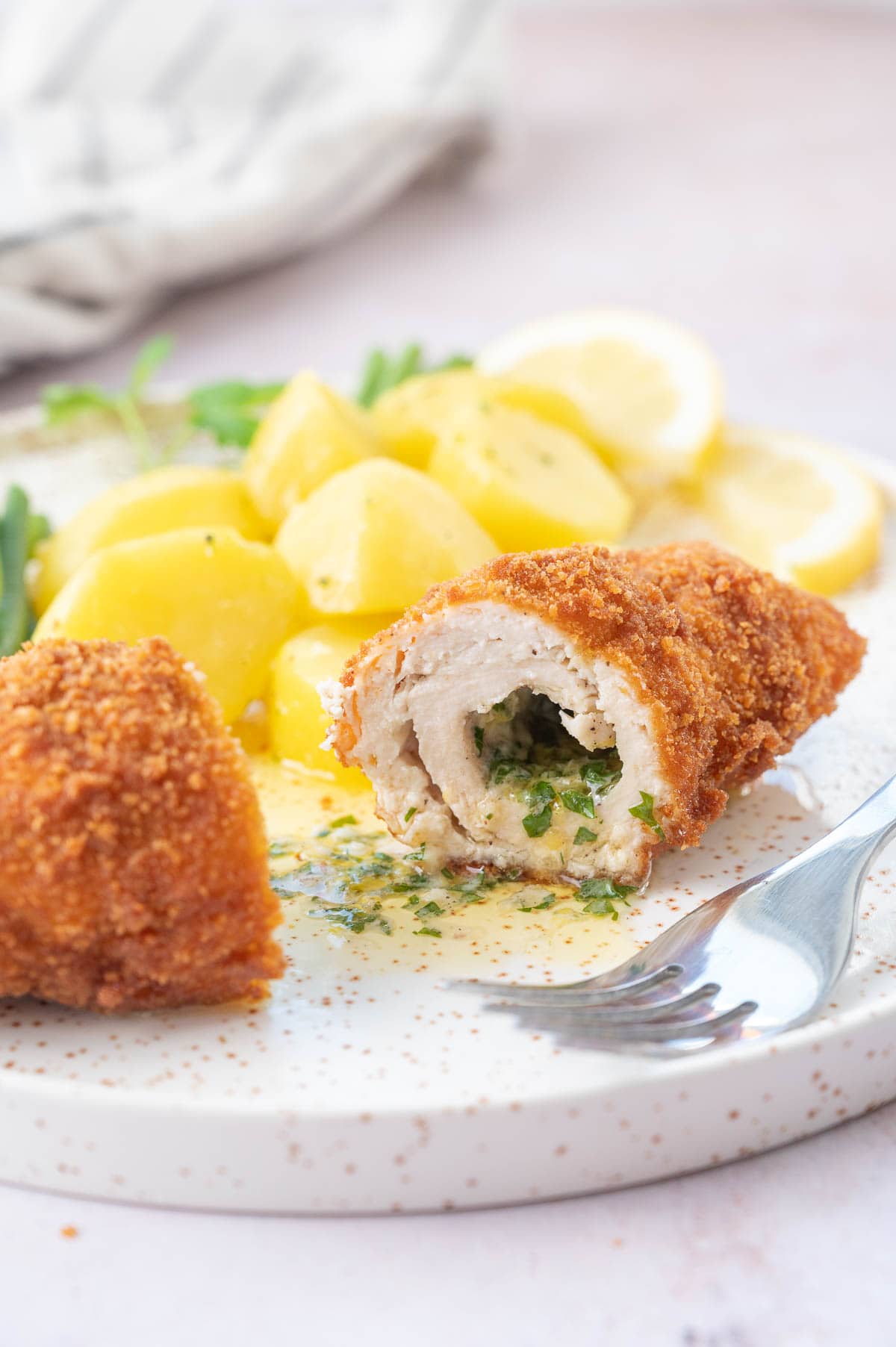 Denmark – Danish Schnitzel is a breaded pork Schnitzel – served with brown butter, horseradish, capers, and anchovies (which is very similar to Schnitzel Holstein probably due to the closeness of this northern German region to Denmark).
USA – chicken fried steak (which was introduced in Texas by German settlers) and chicken parmesan.
Japan – katsu (or panko chicken, breaded panko chicken cutlets) or tonkatsu (breaded pork cutlets), often served with curry and rice.
Basic Schnitzel recipe
Schnitzel recipe is really very simple, all you have to do is:
pound your meat of choice thinly
season with salt and pepper
dredge in flour
dip into beaten eggs
coat in breadcrumbs
and fry in a pan until golden on both sides.
Enjoy!
What is Schnitzel (+ Recipes!)
Schnitzel is a very popular dish in many countries in the world, but what it is exactly and where does it come from? Learn more about Schnitzel and different versions of this dish.
SAVE THIS RECIPE
Saved!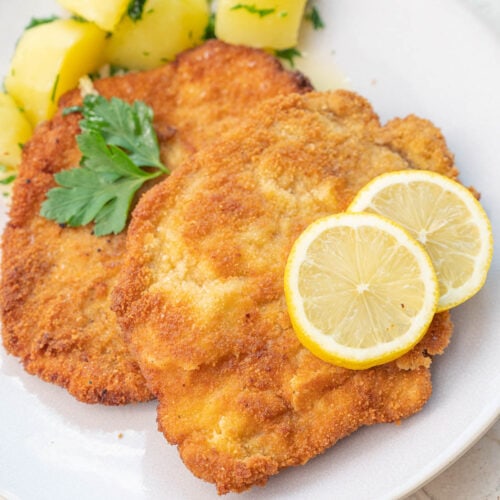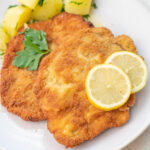 Print Recipe
RATE THE RECIPE
(click on the stars)
Ingredients
4

pieces of meat (4 pork chops or 2 large chicken breasts)

⅓

cup

flour

2

eggs

1

cup

fine breadcrumbs

salt and pepper

to taste

clarified butter or frying oil

for frying the cutlets
Instructions
If using pork chops, pound them with a meat mallet until thin. If using chicken breasts, cut them in half horizontally then pound each cutlet. Season on both sides with salt and pepper.

Dredge each cutlet in flour on both sides.

Dip each cutlet in beaten eggs.

Coat each cutlet in breadcrumbs.

Heat clarified butter or frying oil in a pan over medium heat. Cook cutlets in batches until golden brown on both sides and cooked through in the middle.

For more detailed instructions and step-by-step photos, visit the recipes for each type of Schnitzel that are shown in the body of the post (I have separate recipes for Wiener Veal Schnitzel, German Pork Schnitzel, and Breaded Chicken Cutlets, all of these are linked above).
Notes
The amounts of ingredients are estimated because you will use different amounts depending on how big your cutlets are.
Calories are for 1 breaded cutlet.
Tried this Recipe? Rate the Recipe and tell us what you think in the Comments!