Sauerkraut and mushroom pierogi recipe
Sauerkraut and mushroom pierogi (polish dumplings) can be eaten all year round, but I love them especially in autumn and winter. This is one of my favorite pierogi fillings, they're always present on my Christmas table. The filling can be made two ways, with wild mushrooms only or with a mixture of wild, dried mushrooms and pan-fried cremini mushrooms. Both versions are delicious. Cremini mushroom filling is more delicate in taste (kids like it more). For more pronounced mushroom flavor use only dried porcini mushrooms. The taste is richer, but the difference is not huge. This filling can be also used for stuffing yeast dough, puff pastry dough or pancakes (European-style, like these). Yeast dough hand pies filled with mushroom are traditionally served with barszcz wigilijny soup (Christmas Eve Beet Soup – Borscht).
Pay attention to buy sauerkraut, that is naturally fermented, not mixed with vinegar. The list of the ingredients should include only sauerkraut and salt.
These dumpling are slightly sour, hearty and packed with flavor! They are very easy to make from scratch at home.
Here you can find my pierogi dough recipe with step-by-step photos. The dough is soft and easy to roll out.
Check out also these spinach, feta and potatoes pierogi. Beetroot juice coloured pierogi dough would for sure look lovely on your Christmas table!
I also have a recipe for traditional potato onion and cheese pierogi (pierogi ruskie).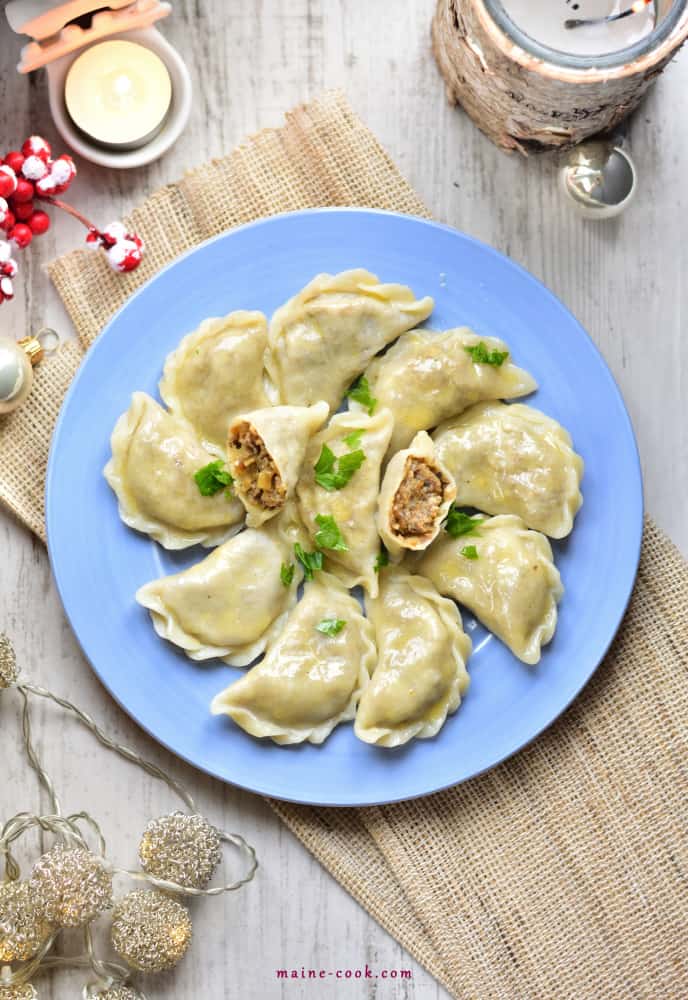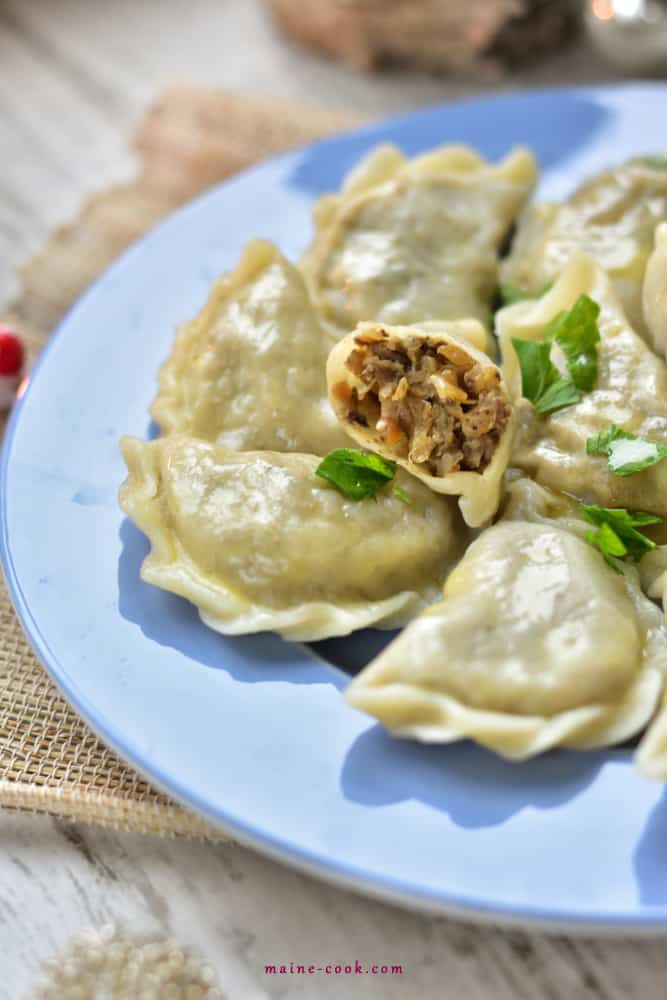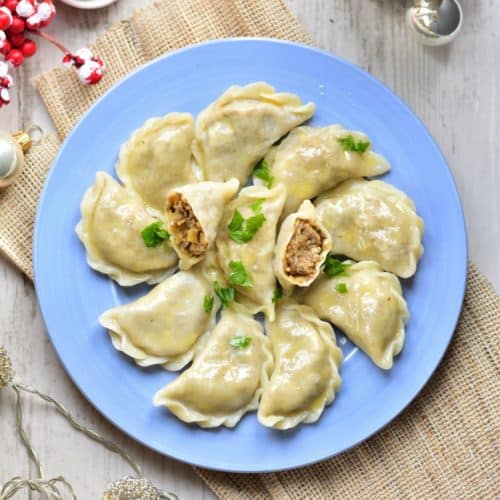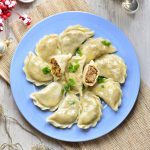 Print
Sauerkraut and mushroom pierogi recipe
A traditional and authentic pierogi recipe with sauerkraut, fresh cremini mushrooms, dried porcini mushrooms and onion filling.
The recipe yields about 70 dumplings and uses up about ¾ of the pierogi dough mentioned above.
Preparation time: making the filling about 30 mins + making the dough 5 mins + 1h 15 mins filling and shaping the pierogi.
Cooking time: 45 mins (sauerkraut with mushrooms) + about 20 mins (the dumplings)
Prep Time
1
hour
50
minutes
Total Time
2
hours
45
minutes
Ingredients
filling:
450

g

/ 16 oz sauerkraut

drained

20

g

/ 0.7 oz dried porcini mushrooms

or 100g / 3.5 oz if you're not using cremini mushrooms

2

bay leaves

2

whole allspice berries

3

tablespoons

frying oil

2

medium onions

240g / 8.5 oz

1

teaspoon

caraway seeds

1

teaspoon

marjoram

400

g

/ 14 oz fresh cremini mushrooms

salt and black pepper

to taste, I added about 1 teaspoon salt and ½ teaspoon pepper

5

prunes

optional!, can be omitted, 45g / 1.6 oz
Instructions
Make the filling:
Drain the sauerkraut (drained sauerkraut should weight 450g / 16 oz), combine in a medium pot with dried mushrooms, bay leaves and allspice. Add water, enough to cover the sauerkraut and mushrooms. Cook, partially covered, over medium heat for about 45 minutes.

Dice the onions. Heat 2 tablespoons of oil over medium heat in a big frying pan. Cook the chopped onion with caraway for about 10 minutes, stirring from time to time, until soft and translucent. Add marjoram, cook for another minute, transfer to a plate.

If you're using cremini mushrooms: Wash them and pat dry with paper towels. Cut into ½ cm / ¼ inch slices. Increase the heat under the pan to high, add another tablespoon of oil and chopped mushrooms. Don't stir for the first 3-4 minutes, then stir and cook until the mushrooms release water. Cook until it evaporates, stirring from time to time, then cook until nicely browned, transfer on a plate. It will take about 12 minutes.

Drain the cooked sauerkraut with mushrooms, reserve the liquid! It can be used to enhance the flavour of many soups, including Polish Christmas Eve Beet Soup (borscht). Discard bay leaves and allspice.

Add the cooked sauerkraut with mushrooms, pan fried cremini mushrooms and sauteed onions to the food processor bowl. Pulse several times to chop finely (but not to a paste consistency). You can also chop it finely with a knife.

Season the filling with with salt and pepper, to taste.

You can also add finely chopped pruns to the filling. It's important to chop them with a knife and not process in the food proessor with the rest of the filling (or it will come out too sweet).
Fill and shape the pierogi:
Pierogi dough should be at room temperature. On a lightly floured surface, roll out the dough thinly, about 2mm / 0.08 inch thick (that is, a little thinnier than 1/8 inch). Cut out dough rounds, portion filling on all the dough circles. Fold the dough over the filling to create a half-moon shape, press the edges together to seal. Transfer on a kitched towel, lightly sprinkled with flour. Cover with a second kitchen towel, so that the dumplings don't dry out. Gather scraps, roll out and repeat the steps.
Cook the pierogi:
Bring a pot of salted water to a boil. Cook the pierogi, about 10-12 dumplings at a time. When they rise to the water surface, cook them for 1 minute, then remove from the water with a slotten spoon and transfer to a plate.

Serve drizzled with melted butter or caramelised onions.

Enjoy!
Notes
* If the sourkraut is very sour, you can rinse it with water, but I don't usually do it (I tested this recipe with home-made and store-bought sauerkraut).
* Pierogi dough can also be rolled out using a pasta maschine. I have an Kitchen Aid pasta roller attachment. Roll out the dough on setting 4. According to the manufacturer's instructions you need to roll the dough on each setting until you get to the setting 4. I'm not doing this, pierogi dough without an egg is easier to roll out than an egg dough or pasta dough. To make it possible, the dough must be well sprinkled with flour, at room temperature, slightly rolled out with a rolling pin (to a thickness of approx. ¾ cm / ½ inch) and smooth (otherwise it will tear).
Nutrition
Did you make this recipe? Let mi know how you liked it in the comments below!
Sauerkraut and mushroom pierogi – step by step: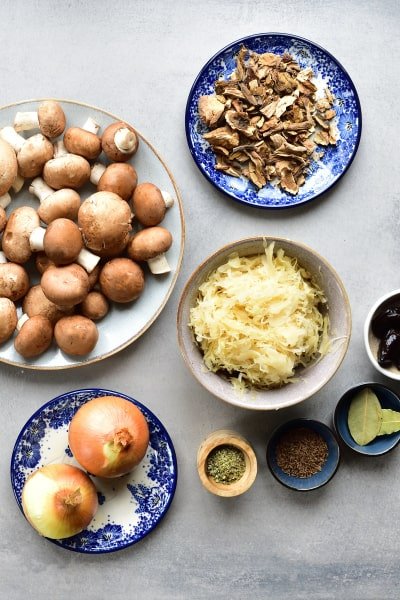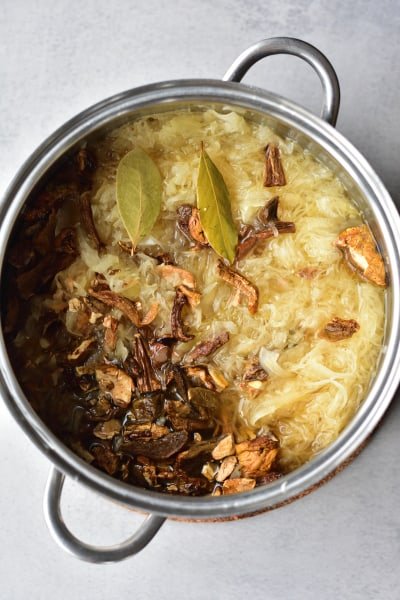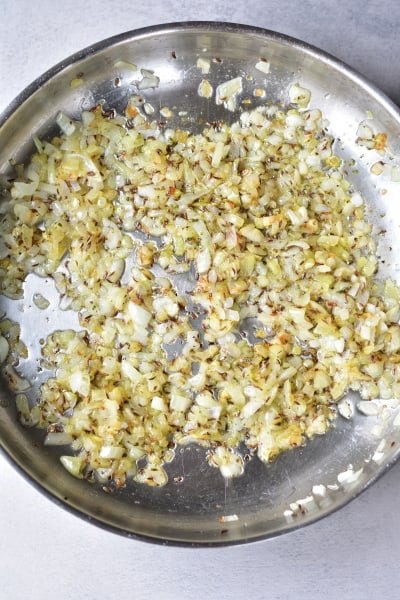 Prepare all the ingredients. Combine drained sauerkraut, dried porcini mushrooms (20g, or 100g if you're not using cremini mushrooms), bay leaves and allspice berries in a medium pot. Add enough water to cover. Cook for about 45 mins. Sautee chopped onions with caraway seeds and majoram on a frying pan until soft.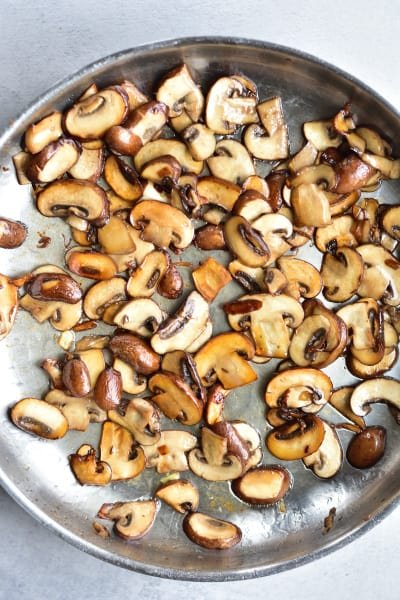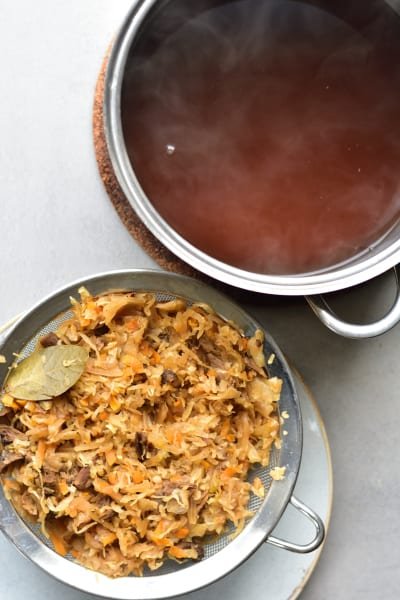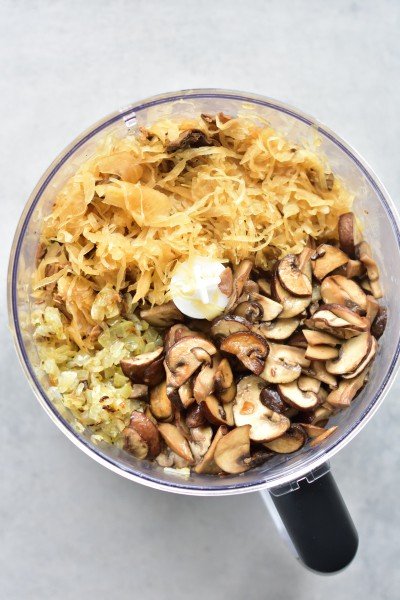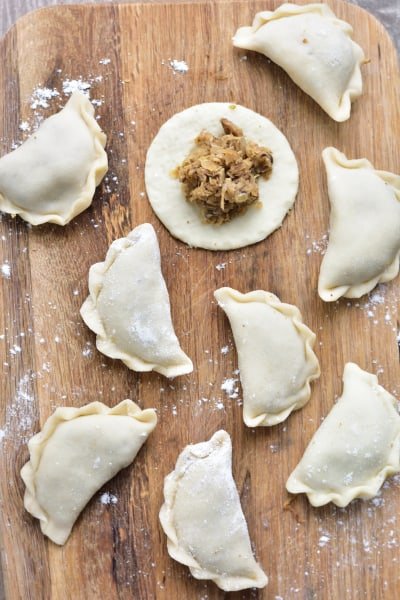 Brown chopped cremini mushrooms on a pan (if using). Drain the sauerkraut, reserve the liquid, discard bay leaves and allspice. Chop the sauerkraut with mushrooms and onions in a food processor. Season the filling with salt and pepper.
Fill and shape the pierogis. Cook in salted water until the dough is soft.
Enjoy!
Last Updated on