This chanterelle pasta is very quick to prepare and packed with flavor. We have it on our table every year, as soon as the chantarelle mushrooms appear at the farmer's market. The chanterelle mushrooms combined with a garlicky white wine tomato sauce finished with thyme and parmesan cheese is a winning flavor combination. This dish requires only a couple of ingredients and is so tasty!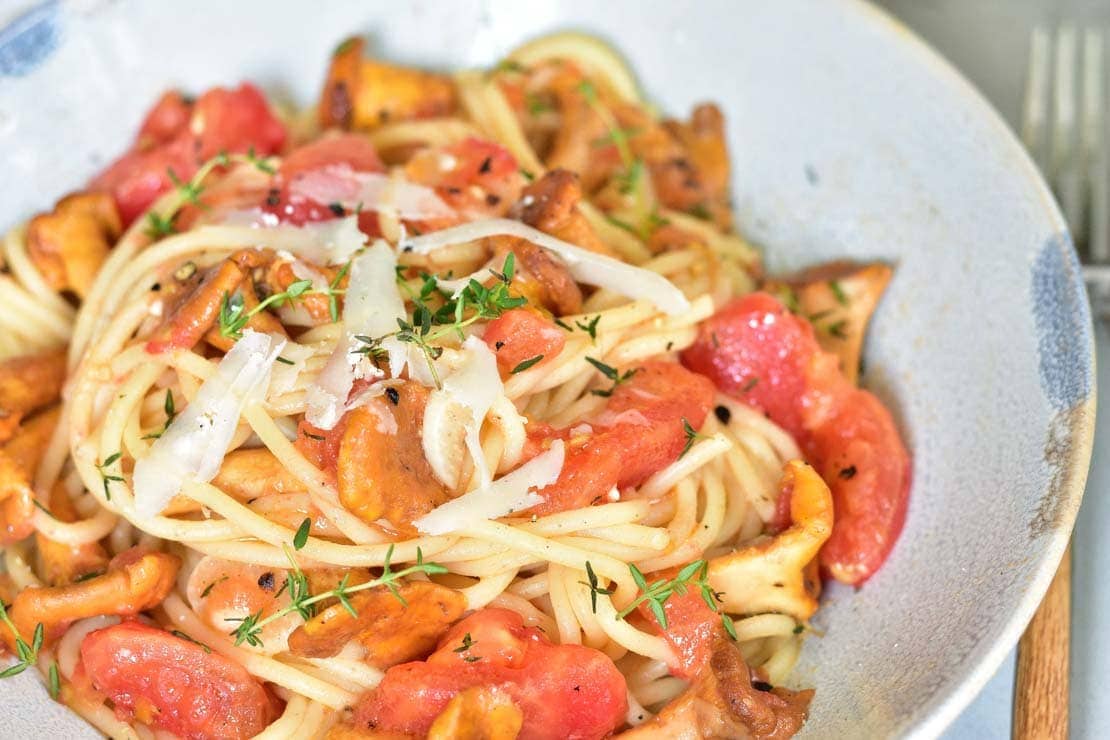 Ingredients
The white wine is not pictured in this photo, sorry! I also used more garlic than shown.
Instead of wine, add some lemon juice at the end of the cooking time.
When chanterelles are out of season you can use cremini mushrooms, but the dish will taste different as other mushroom types have a more pronounced flavor. Chanterelle mushrooms are rather mild and sweet-tasting.
Instead of thyme, fresh rosemary would also be great!
Instead of fresh thyme, use 1.5 teaspoons of dried thyme.
For the best flavor, use only ripe and fresh tomatoes. If you don't have them on hand, use canned crushed tomatoes.
Pasta: I used spaghetti but you can also use any other pasta type, like for example fusilli.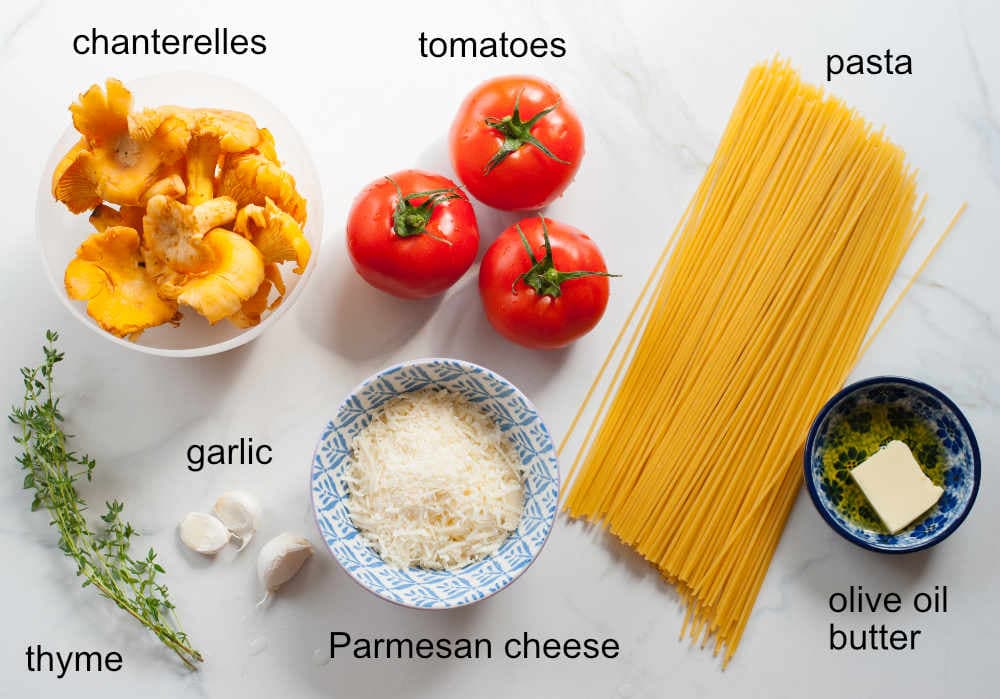 Step by step instructions
Do you need to wash the chanterelle mushrooms?
The mushrooms for this recipe need to be sauteed so I like to clean them gently just with a damp paper towel in opposite to washing them with water.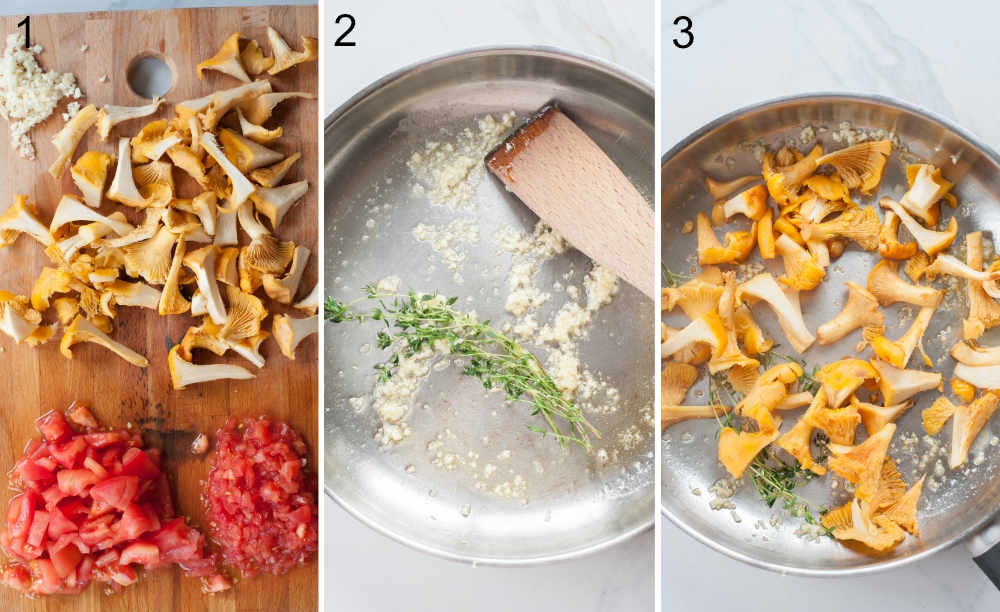 STEP 1: Prepare all the ingredients: wash and dry the chanterelle mushrooms, cut into 2-4 parts, depending on how big the mushrooms are, leave small mushrooms whole. Peel the tomatoes, cut two tomatoes into big cubes and 1 tomato very finely – the two tomatoes will provide texture to the dish while the finely chopped tomato will help create a sauce. Chop the garlic very finely – I know that the recipe calls for a lot of garlic (5 cloves), but don't worry, it won't be too garlicky, provided that you chopped the garlic and not pressed it through a garlic press. Pressed garlic has a pungent, strong flavor, while chopped garlic is more mild and we can add it more to the dish!
STEP 2: Heat butter and olive oil in a big frying pan. Add the garlic and thyme and cook for a minute.
STEP 3: Next, add the chanterelles and cook over high heat for about 1-2 minutes (without stirring! – this will help brown the mushrooms, they tend to release water when stirred). When the mushrooms start to release water, add the wine, and cook for 1-2 minutes.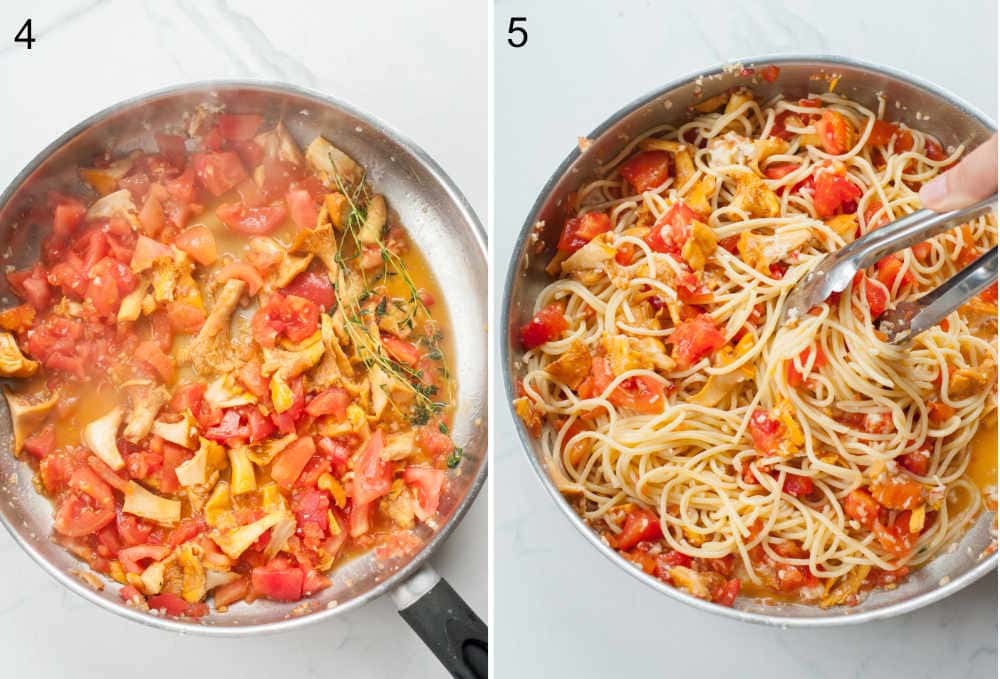 STEP 4: Add the tomatoes and cook for a couple of minutes. Discard the thyme.
STEP 5: Toss the sauce with cooked pasta.
Enjoy!
Storage
Like with any pasta dish, pasta is best stored without the sauce or it will become a little bit mushy. You can of course reheat it the next day in a pan. Store it in the fridge for up to 3 days.
Other recipes with chanterelle mushroom that you may like
Here you'll find all my chanterelle mushroom recipes.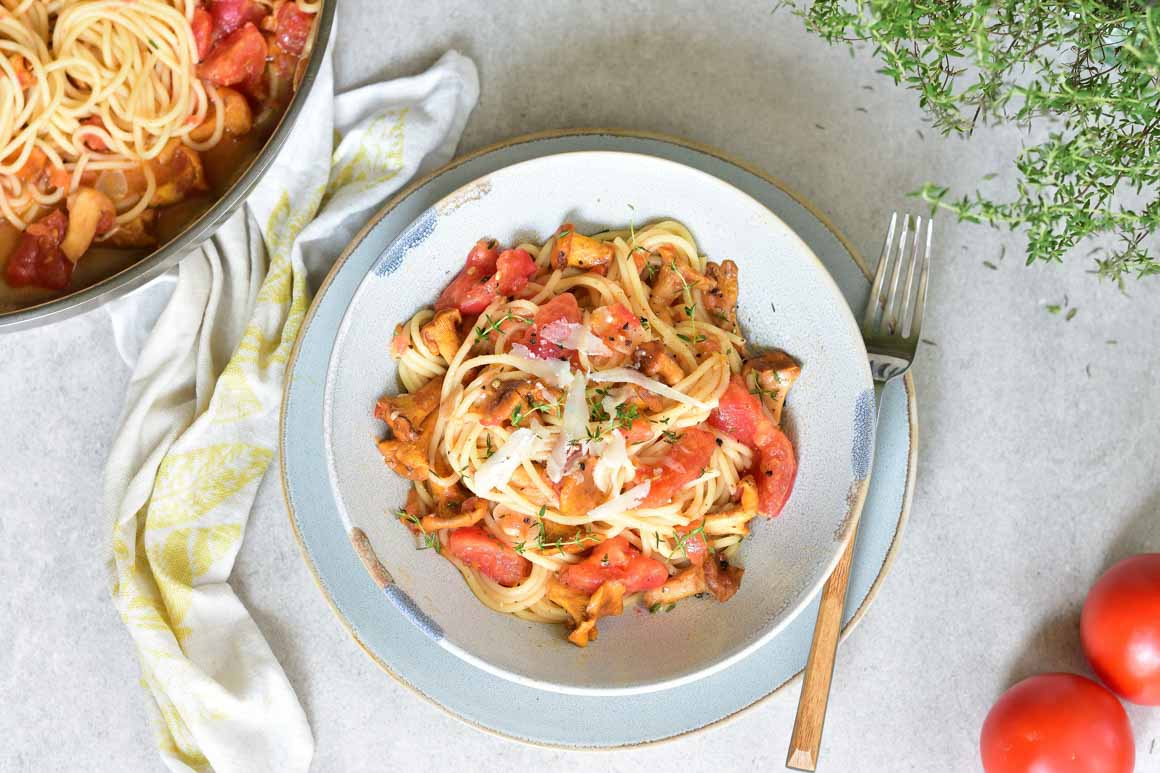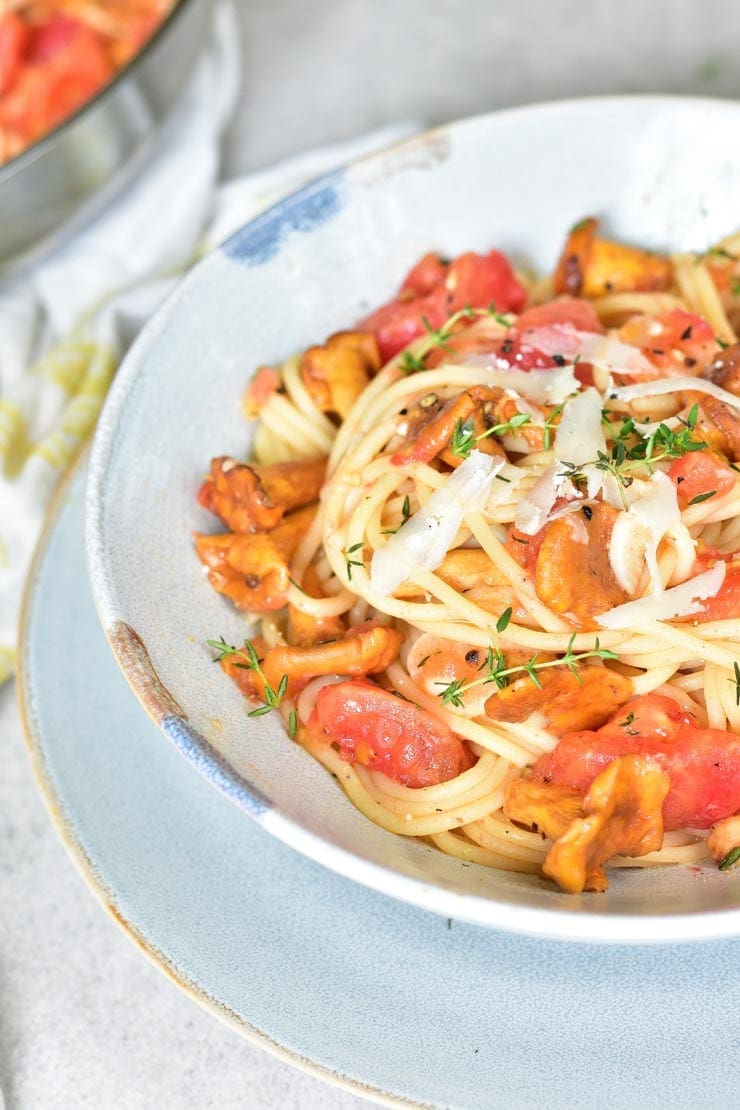 Chanterelle pasta
Extremely quick to prepare, full of flavour pasta dish
Pin This Recipe!
SAVE THIS RECIPE
Saved!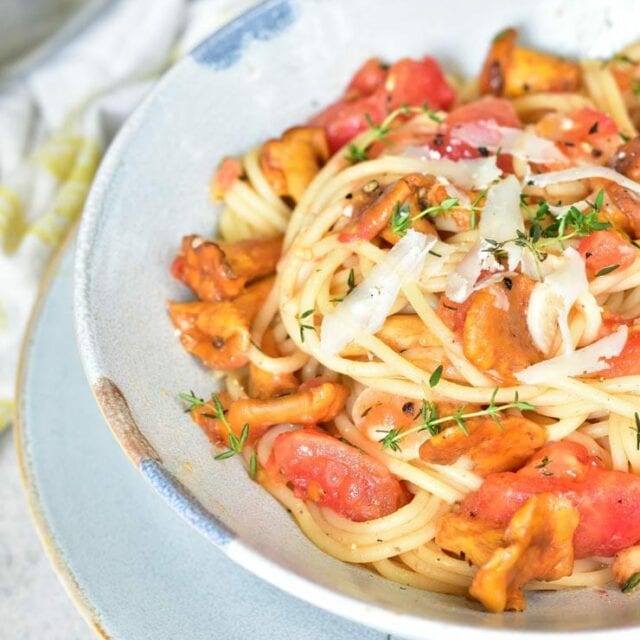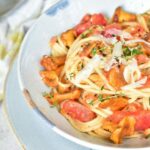 Print Recipe
RATE THE RECIPE
(click on the stars)
Ingredients
pasta:
6.5

oz

(180g) pasta

I used spaghetti

2

tablespoons

olive oil

1

tablespoon

butter

5

twigs thyme

5

cloves

garlic

finely chopped

1/2

lb

(225g) chantarelle mushrooms

1/4

cup

dry white wine

or 1 Tbsp lemon juice

3

medium tomatoes

about 14 oz/400g

small handful

grated Parmesan cheese

about 1/2 cup (1.5oz/45g)

salt and pepper

to taste
to serve: fresh thyme leaves
Instructions
Cook the pasta al dente in well-salted water (the pasta should have a bit to it).

Wash the mushrooms, pat thoroughly dry with paper towels. Cut larger mushrooms in half, leave the smaller mushrooms whole.

Pour hot water over the tomatoes and peel them. Cut two tomatoes into large cubes and one into very fine cubes.

In a large frying pan, heat the olive oil and butter, add the chopped garlic and thyme twigs, cook for 1 minute, then add the chanterelles. Cook over high heat for 1-2 minutes (don't stir the mushrooms).

When the mushrooms start to release water, add the wine and cook for 1 minute.

Add the chopped tomatoes and cook, stirring, for about 2-3 minutes. Discard the thyme twigs.

Take the pan off the heat, add the Parmesan cheese, thyme leaves, and cooked pasta. Toss everything together, season with salt and pepper to taste.

Serve sprinkled with fresh thyme leaves.
Notes
Calories = 1/2 of the recipe (this is only an estimate!).
For the best flavor, use only ripe and fresh tomatoes.
Out of the chanterelles season, you can use cremini mushrooms.
Instead of thyme, you can use fresh rosemary.
Instead of fresh thyme, use 1.5 teaspoons dried thyme.
Instead of wine, add at the end some lemon juice to the dish.
Tried this Recipe? Rate the Recipe and tell us what you think in the Comments!
Did you make this recipe? RATE THE RECIPE or tell me in the COMMENTS how you liked it! You can also add a photo of your dish. It would make me very happy and will help other readers. Thank you!!