Polish soups are my absolute favorite part of Polish cuisine. We have lots of more known dishes such as pierogi or gołąbki but Polish soups are what I'm usually craving the most! They have bold flavors and are usually hearty.
The thing that many Polish soups have in common is that they are sour (in a good way!) and are often made with some kind of fermented ingredient – this is what distinguishes them from soups from other countries.
If you have not tried any of them, you may be surprised by their taste, but when you become accustomed, it's hard to stop eating them!
Polish people love soups and they make them out of almost everything. I have already 13 written recipes and I also have tried to write something about soups that I don't have a written recipe for yet (24 soups are mentioned!). I will be updating this post with new recipes when they are published.
I wanted also to add that Polish people make their soups from scratch, canned or jarred broths are not really known and popular in Poland. They often use rosół (see below) as their base.
1) Rosół soup (Polish chicken soup)
This is unquestionably the queen of Polish soups. It's our most important soup! It's simply a very essential broth made most often from chicken or chicken and beef and served with thin noodles. It's usually slowly cooked for a good couple of hours until it's meaty, comforting, and completely irresistible.
Rosół soup can lead to heated discussions. Every time someone posts a picture of this soup on some Polish cooking forums, you will see at least a couple of hundreds of comments and at least a couple of people fighting over the ingredients or preparation method.
Yes, a simple broth can have this effect on Polish people! I think it has a lot to do with nostalgia and the filling when you were sick and you'd get this hot delicious broth with noodles to help you feel better (at least it is for me!).
Here's the recipe: Rosół recipe (Polish chicken soup).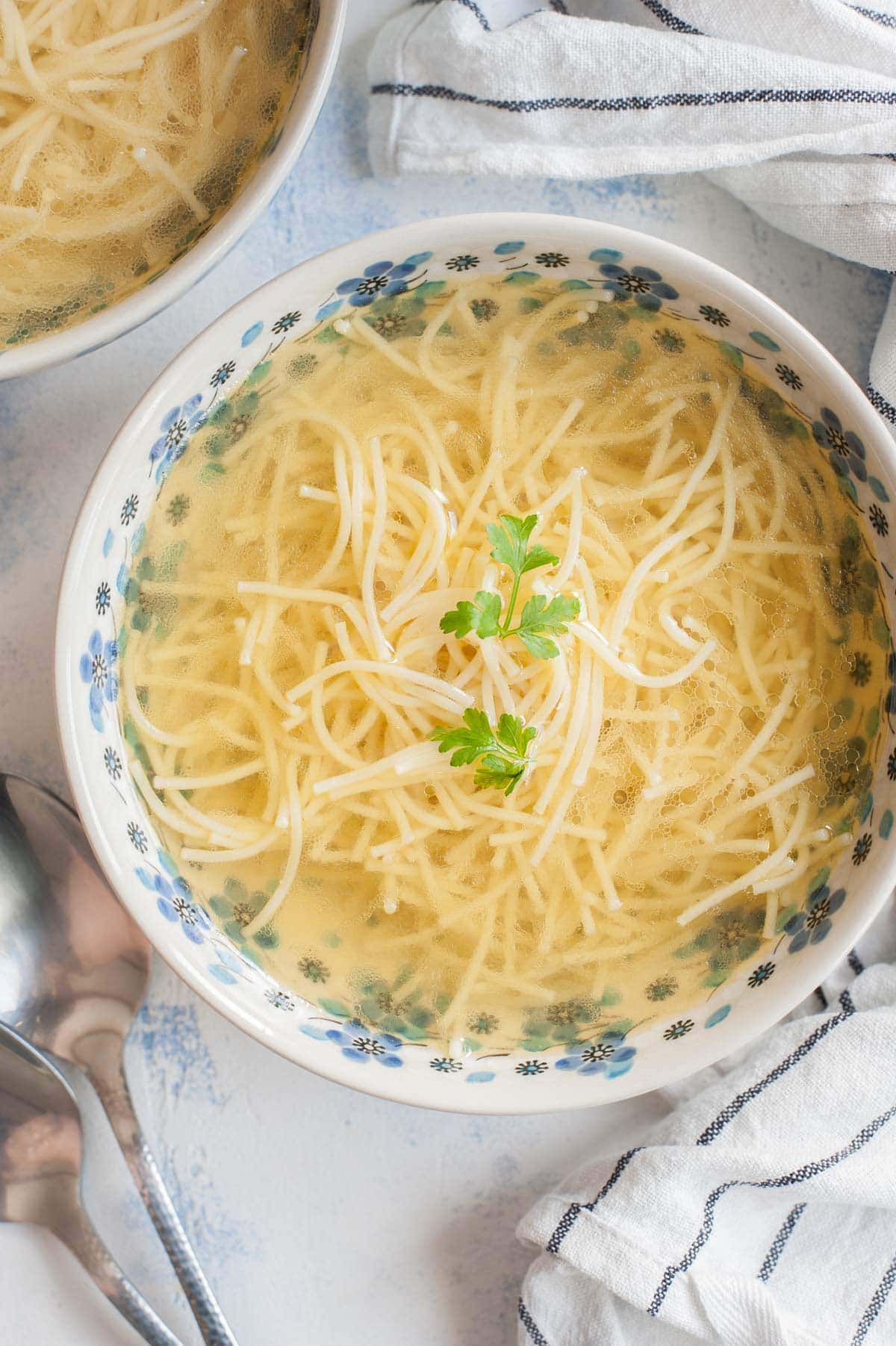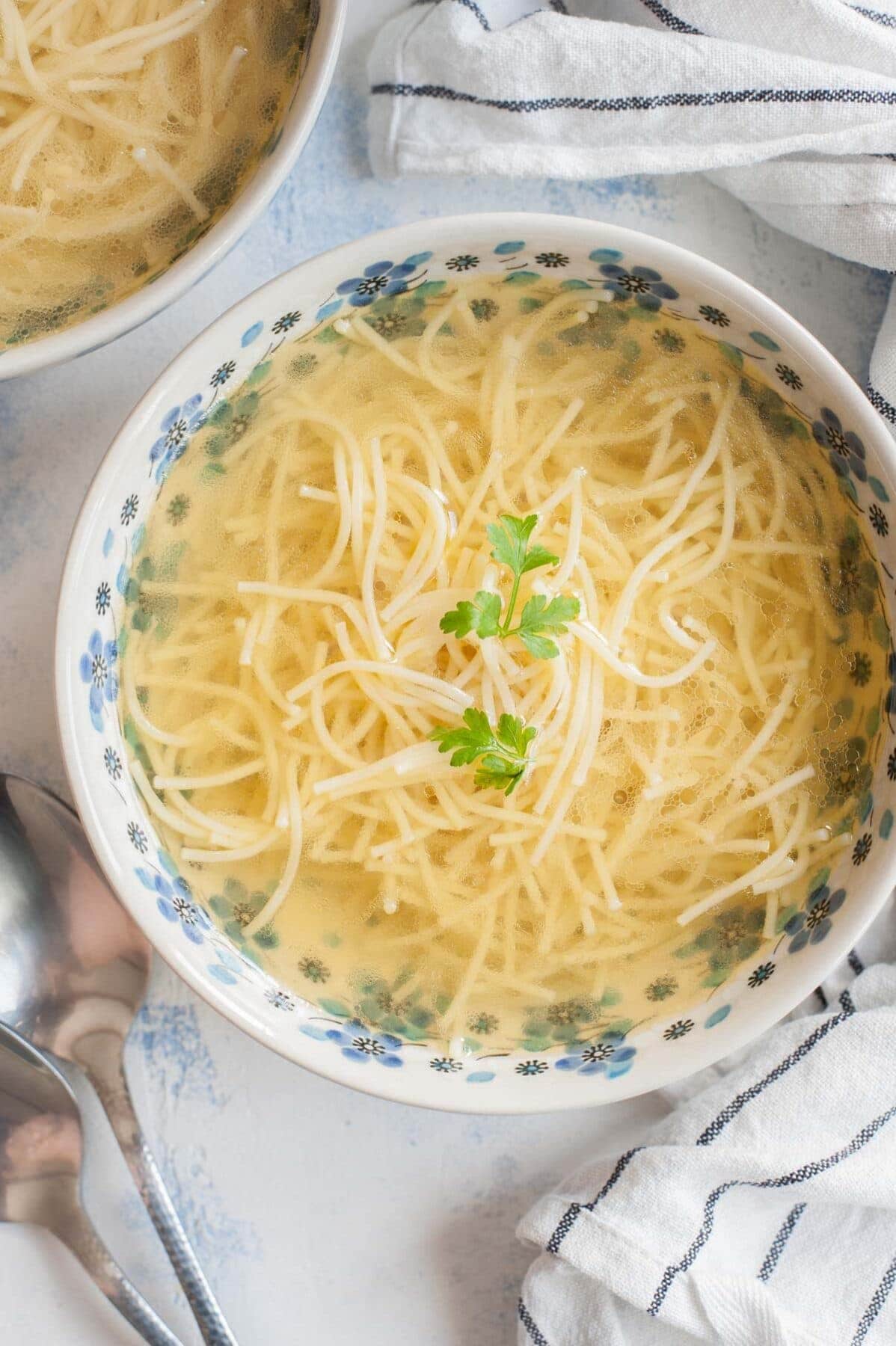 2) Żurek soup (Polish sour rye soup)
This is my personal favorite. This soup is made with sour rye started (similar to sourdough starter needed to make bread), Polish white sausage, and smoked bacon. It's so deliciously sour – yes, this is THE BEST thing about this soup. It's hearty, meaty, smokey, thick, and creamy. It's usually served for Easter.
Here's the recipe: Żurek soup (Polish sour rye soup).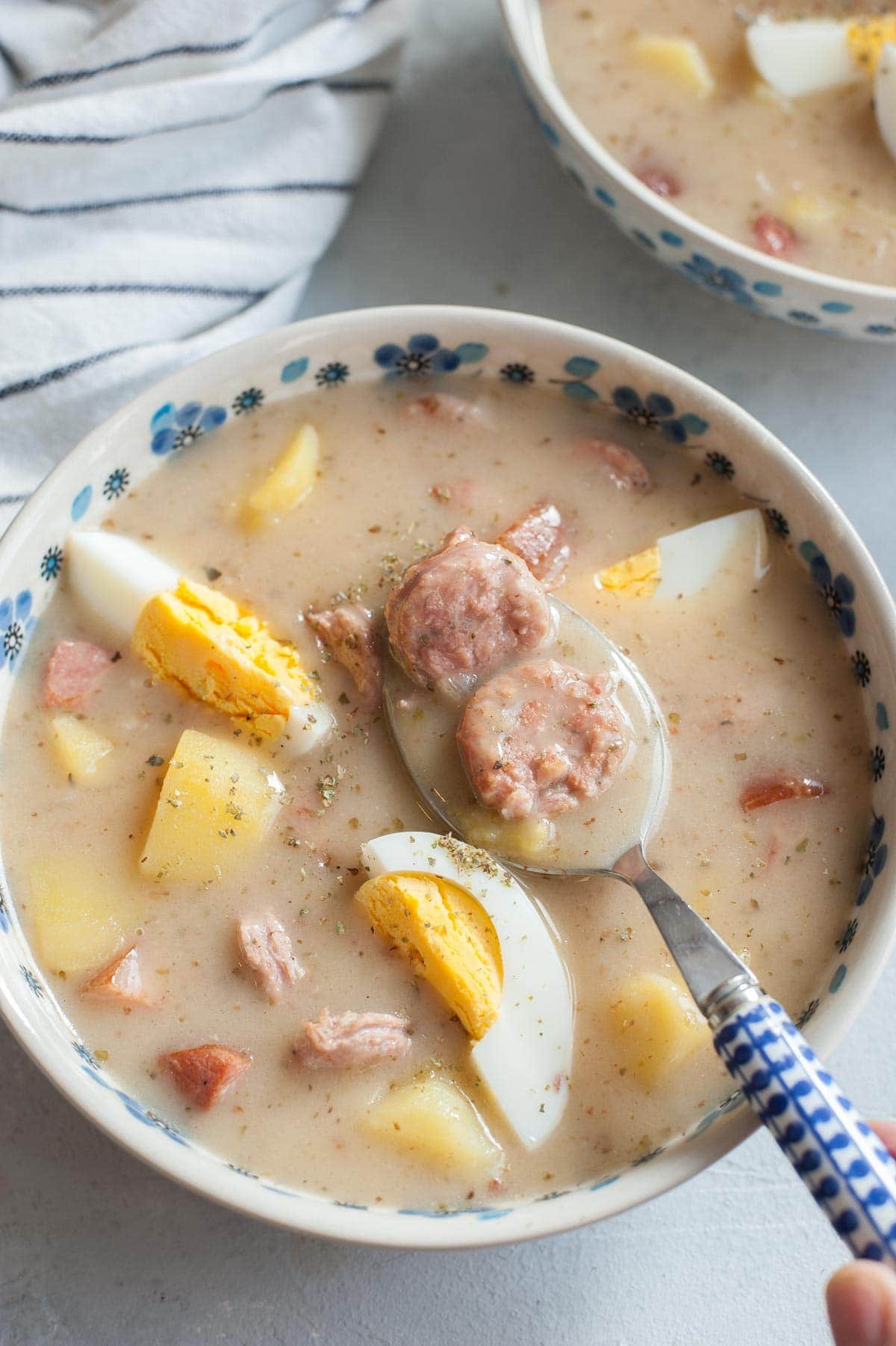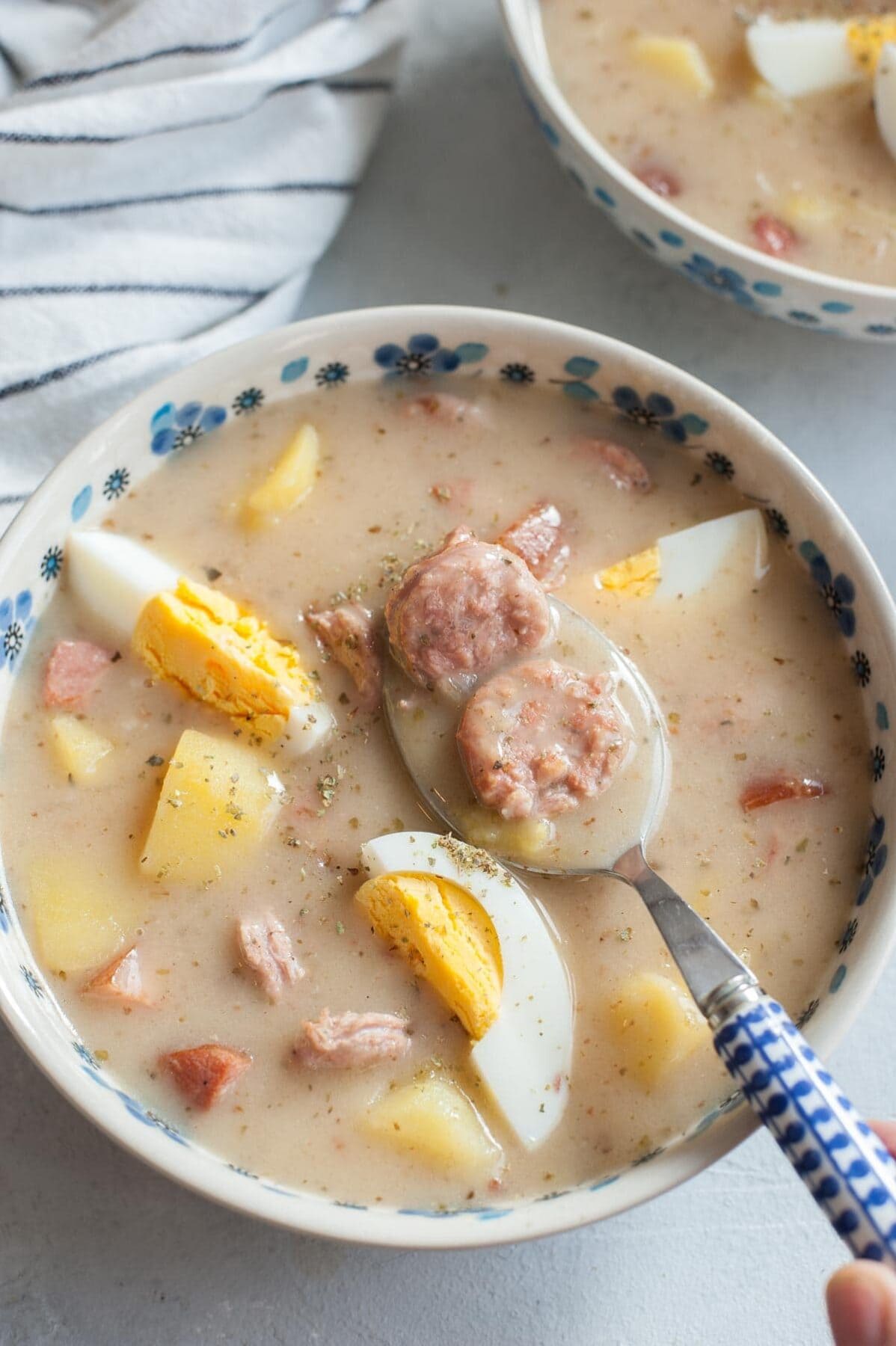 3) Barszcz biały (white borscht)
Barszcz biały is very similar to the żurek soup, these are the differences:
żurek is made with sour rye starter, while barszcz biały with sour wheat starter (so you just need to use a different type of flour)
more cream is added to barszcz biały
barszcz biały is less sour (you need to add less sour wheat starter)
Here's the recipe: White borscht (barszcz biały).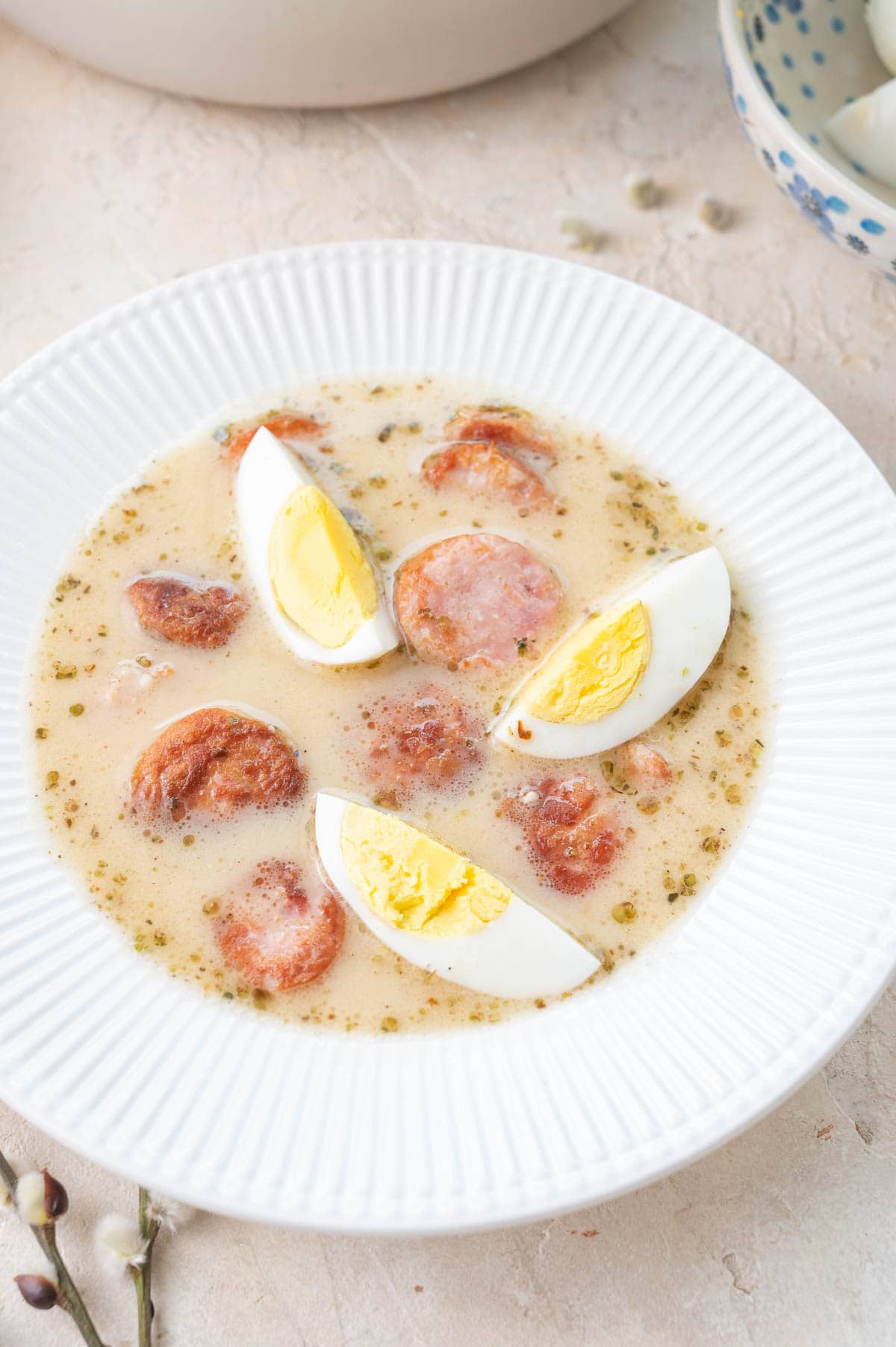 4) Polish dill pickle soup (zupa ogórkowa)
This is my second favorite soup, right after żurek. This is also a sour soup, it's made from fermented cucumbers, but they are not dill pickles! These cucumbers are naturally fermented in brine (it's just a solution made with water, salt, and spices) and no vinegar is added. It's absolutely delicious!
Here's the recipe: Polish dill pickle soup (zupa ogórkowa)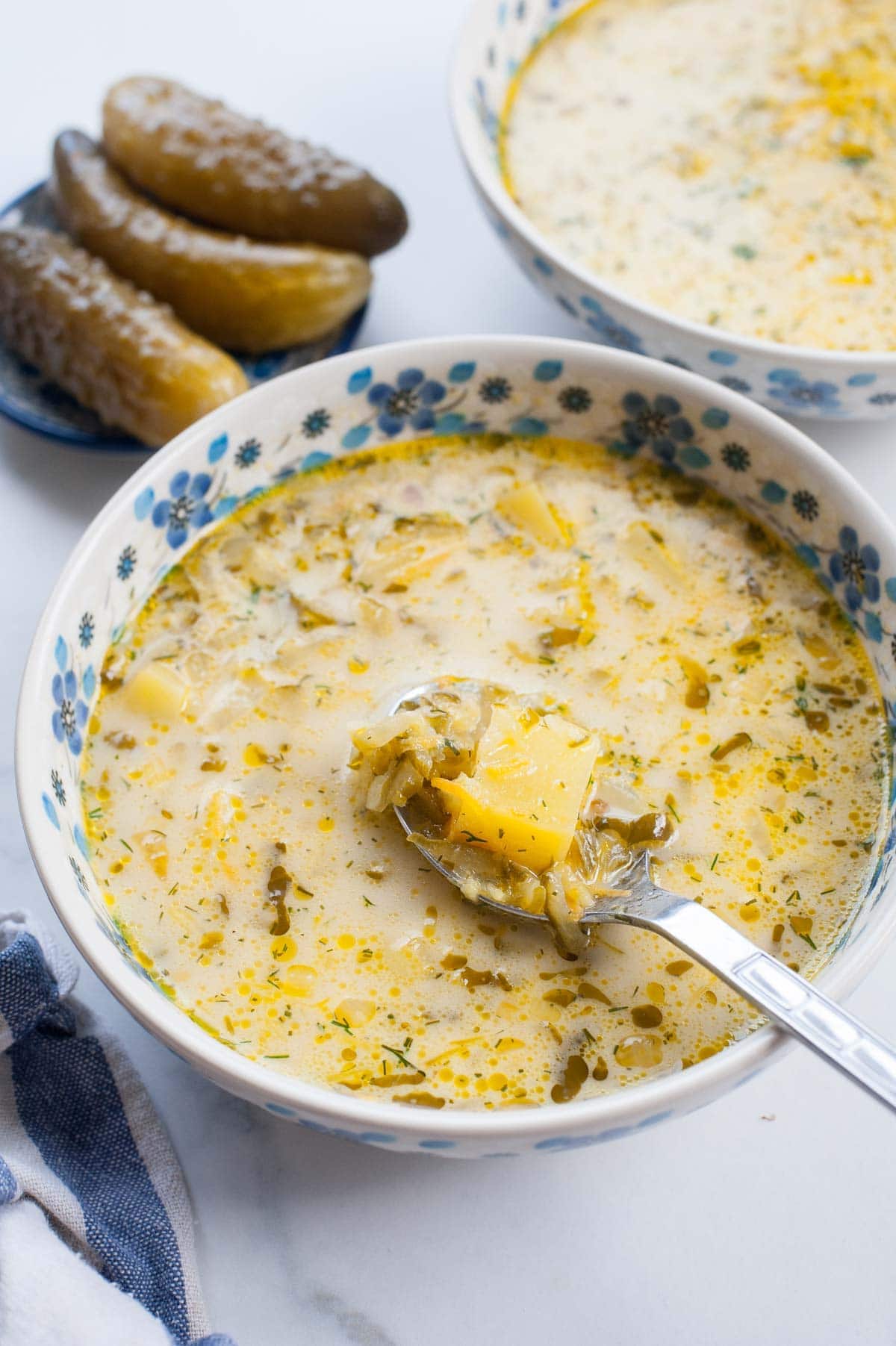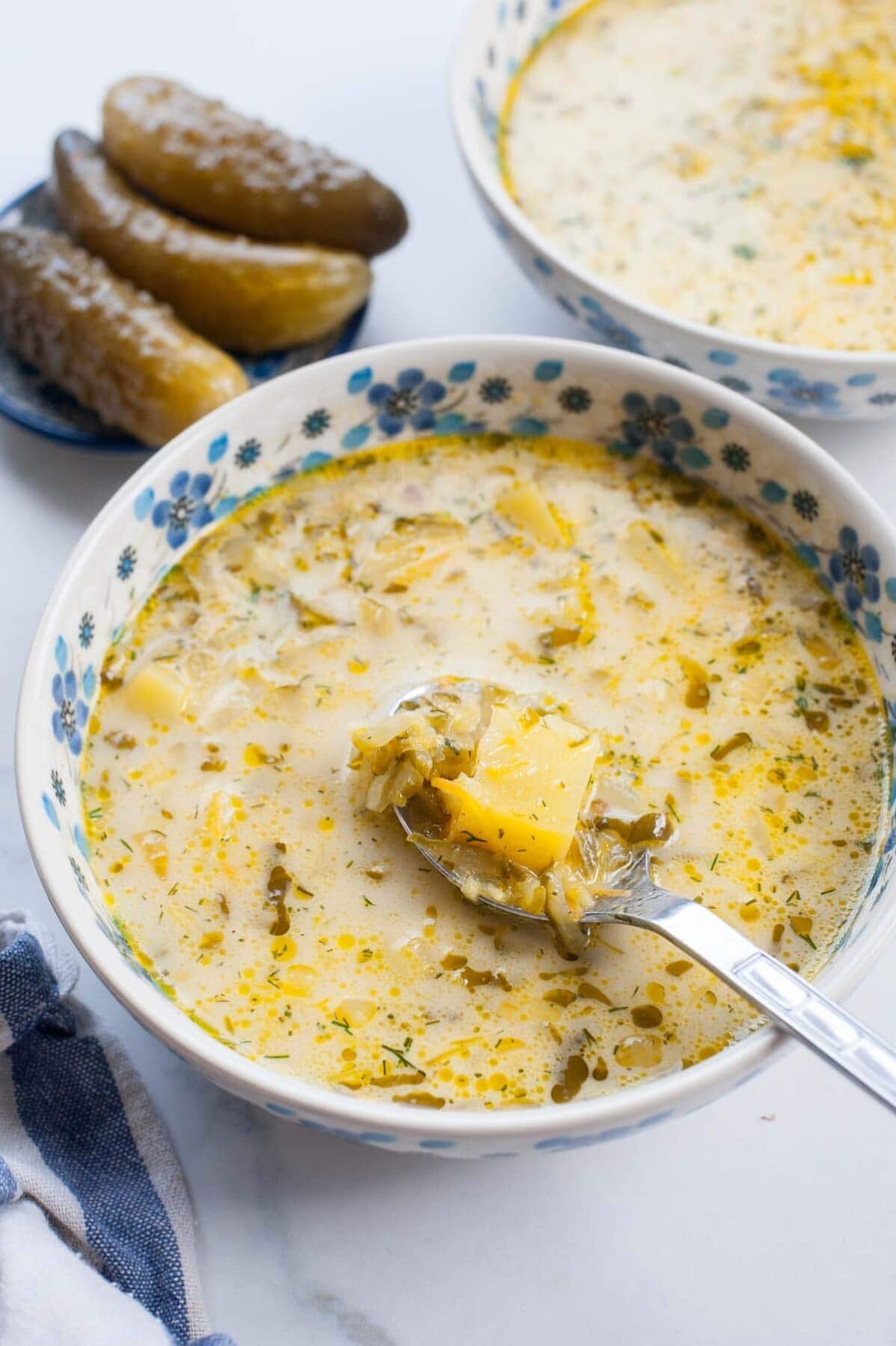 5) Polish tomato soup (zupa pomidorowa)
Zupa pomidorowa is a simple tomato soup. It's usually made with rosół soup as a base, but you could also use just a regular chicken broth or vegetable broth. It's made with just 3 ingredients! (broth, tomatoes, and cream). It's served with either noodles or rice (I'm team noodles!).
Here's the recipe: Polish Tomato Soup (zupa pomidorowa)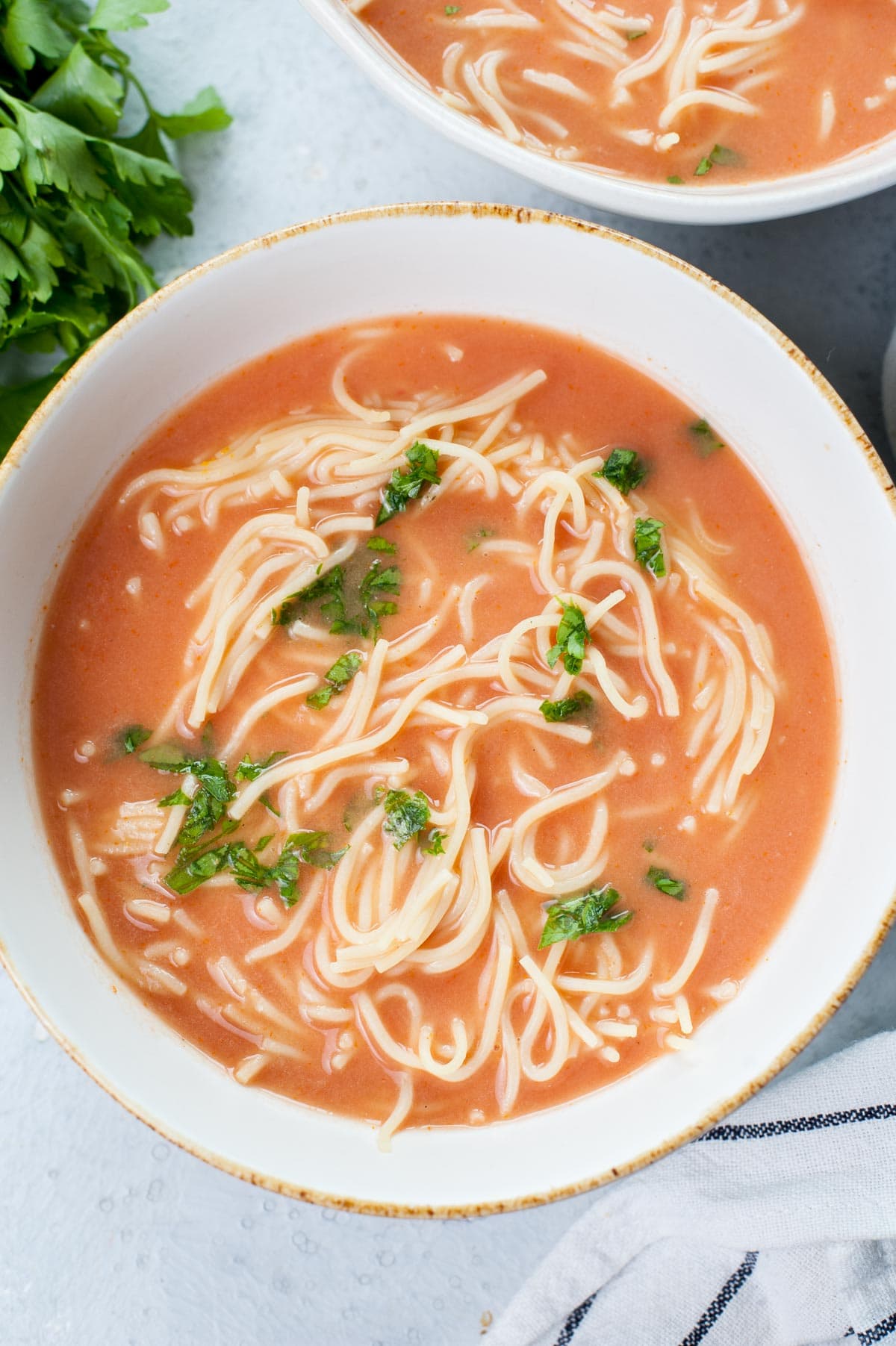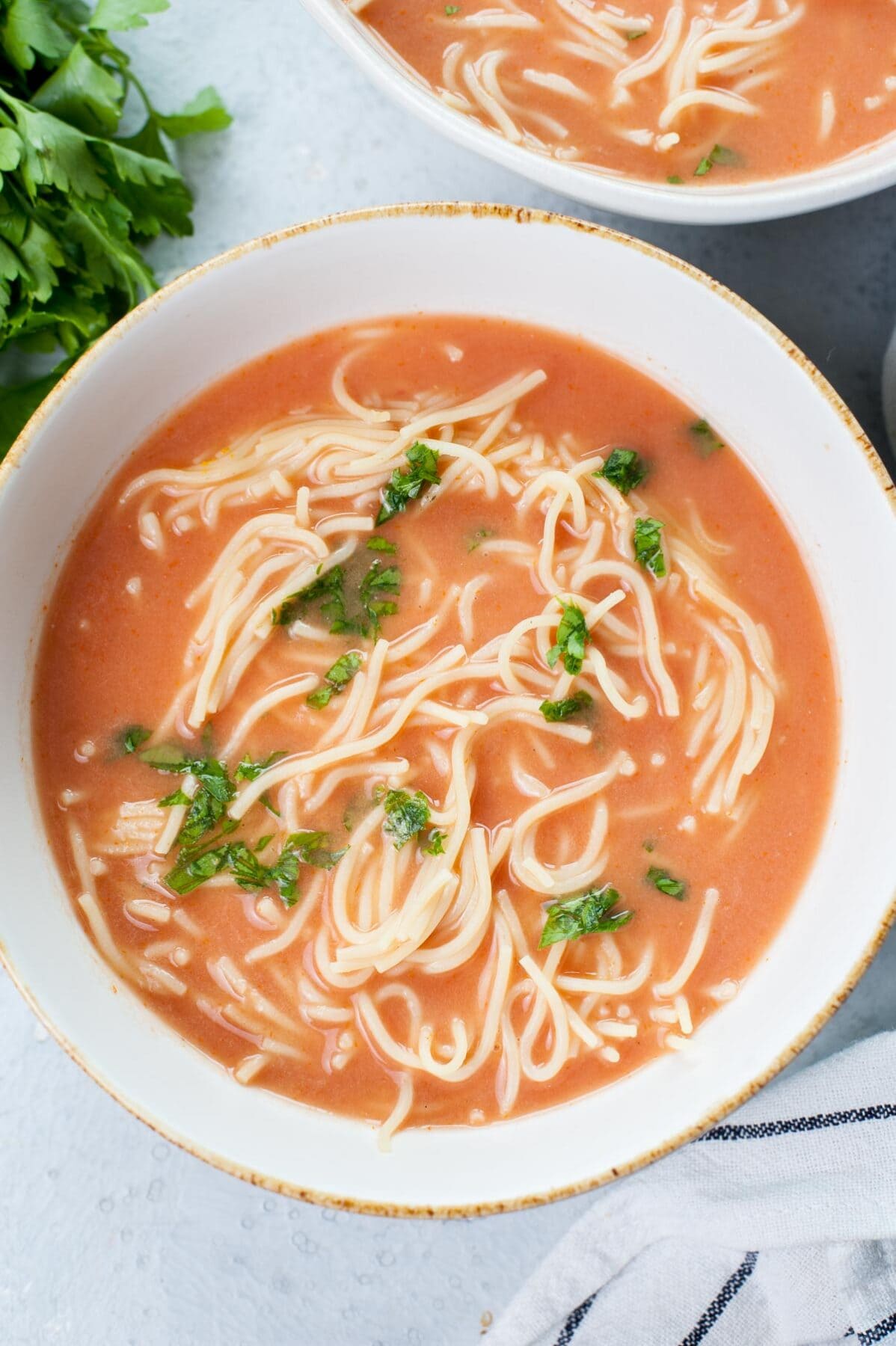 6) Stuffed cabbage soup (zupa gołąbkowa)
Stuffed cabbage soup is made from all the ingredients that you would use to make gołąbki (stuffed cabbage rolls) but without all the fuss! It's super easy, feeds a crowd, and freezes well. You can make this soup on the stovetop or in a pressure cooker.
Here's the recipe: Stuffed Cabbage Soup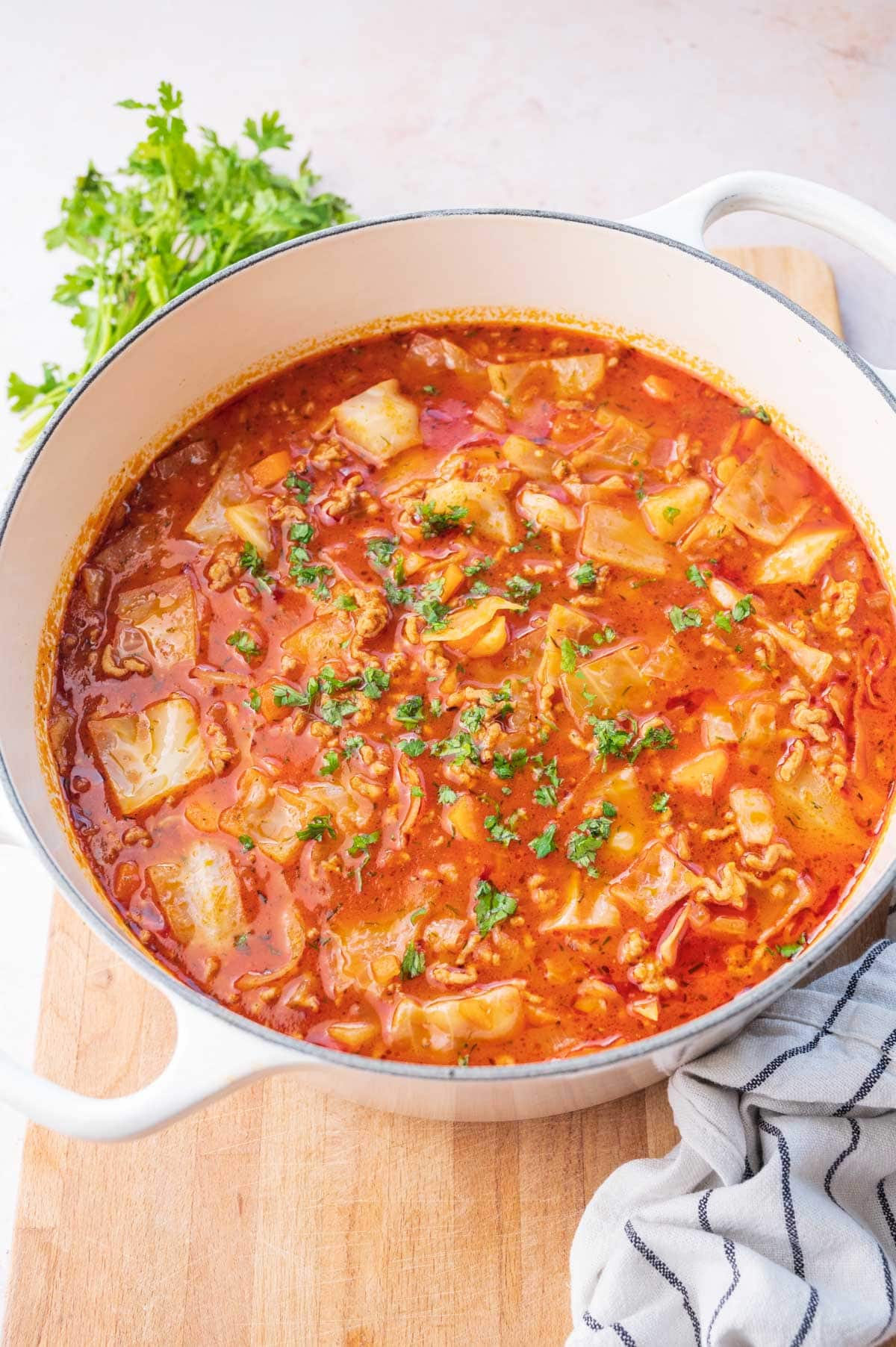 7) Polish beet soup (barszcz czerwony)
Barszcz (Borscht) is a Polish beet soup. It's delicious, slightly sweet, and sour. This is an everyday borscht recipe. It's often served with mashed potatoes and sauteed onions with bacon topping. It tastes amazing and it's really easy to make. The full name of this soup is barszcz czerwony (red borscht) because we also have barszcz biały (white borscht, you can read more about it a couple of paragraphs above). It's also called "barszcz zabielany", which means that the cream has been added to it.
A version of this soup without the cream and potatoes is also popular (see below).
This recipe is also different from Ukrainian-style borscht, meatless and clear Christmas Eve borscht, or spring borscht (more on that below).
Here's the recipe: Polish beet soup.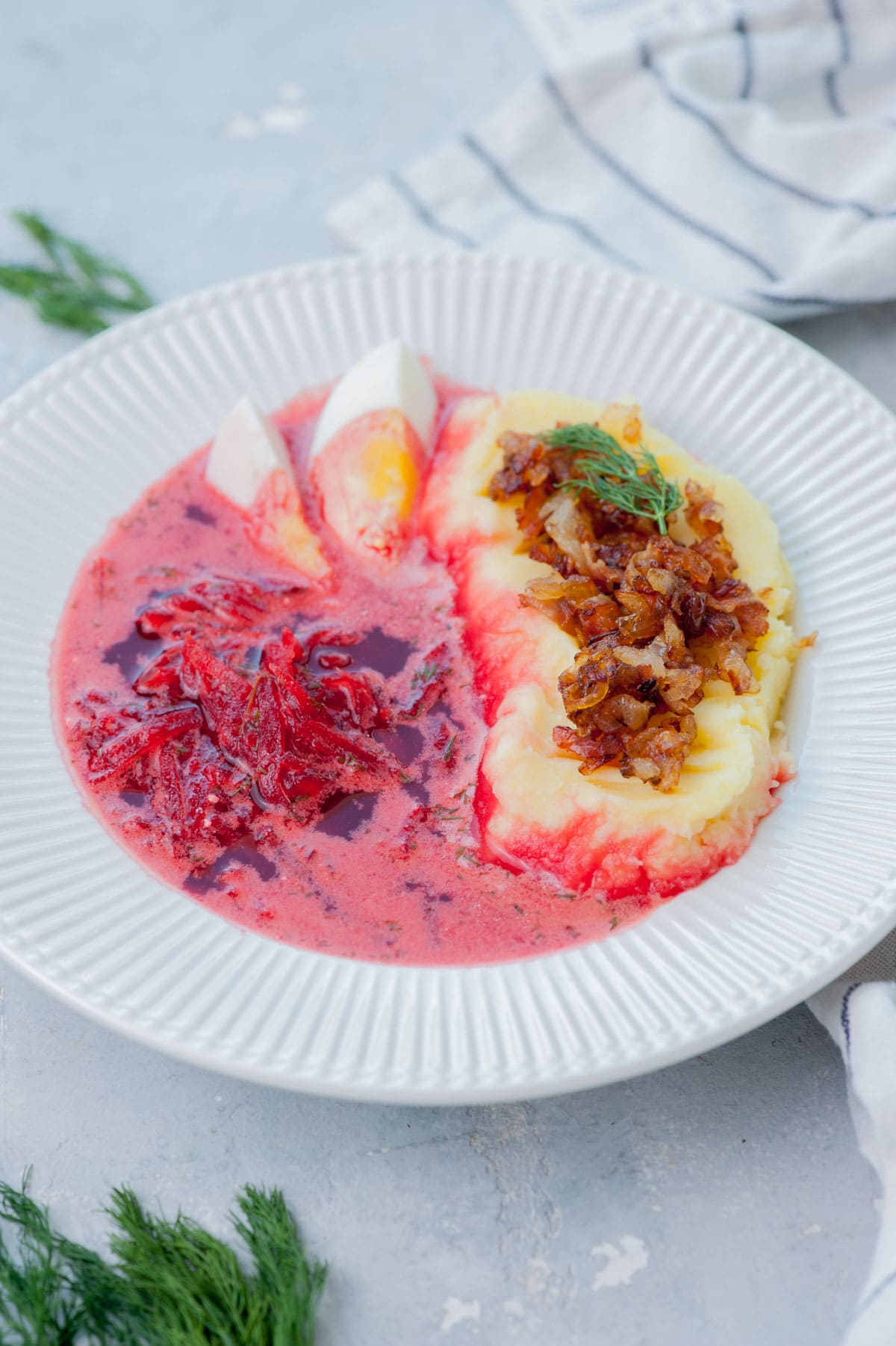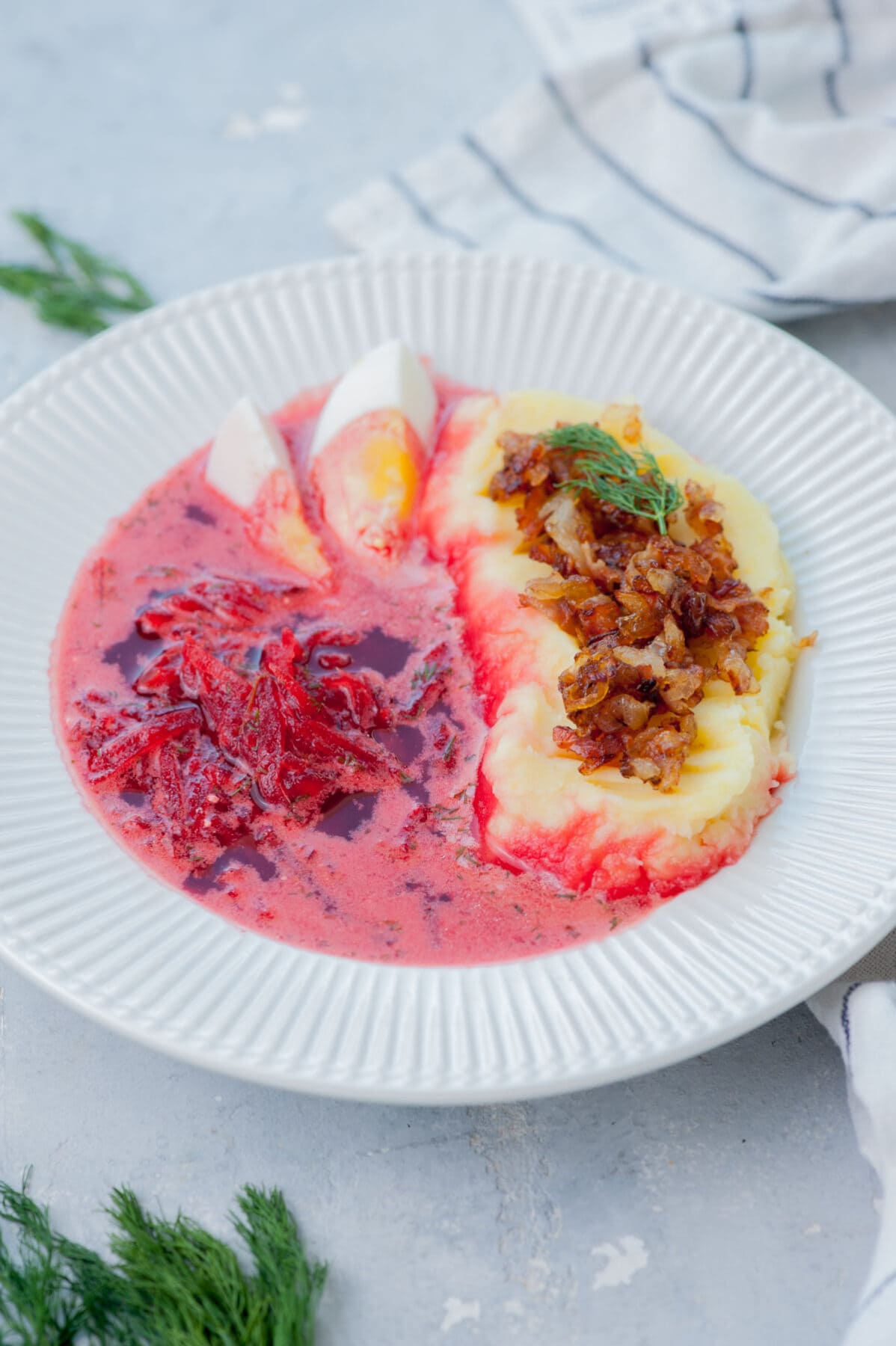 8) Simple beet soup
This is another version of Polish beet soup described above. It's very simple and made with just a couple of ingredients. No cream is added to the soup but it's often served with a dollop of sour cream on top. It's not served with mashed potatoes.
Here's the recipe: simple beet soup.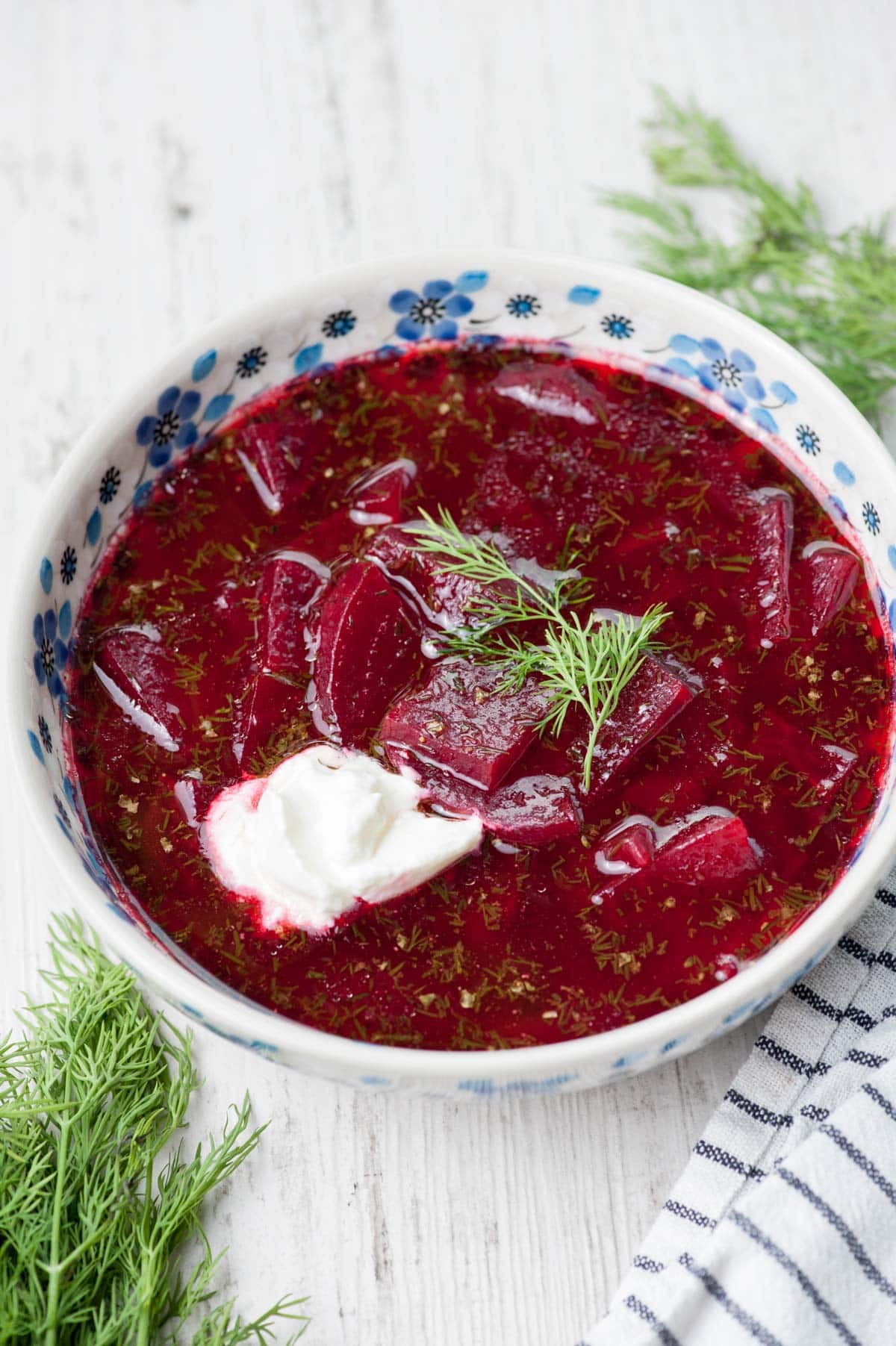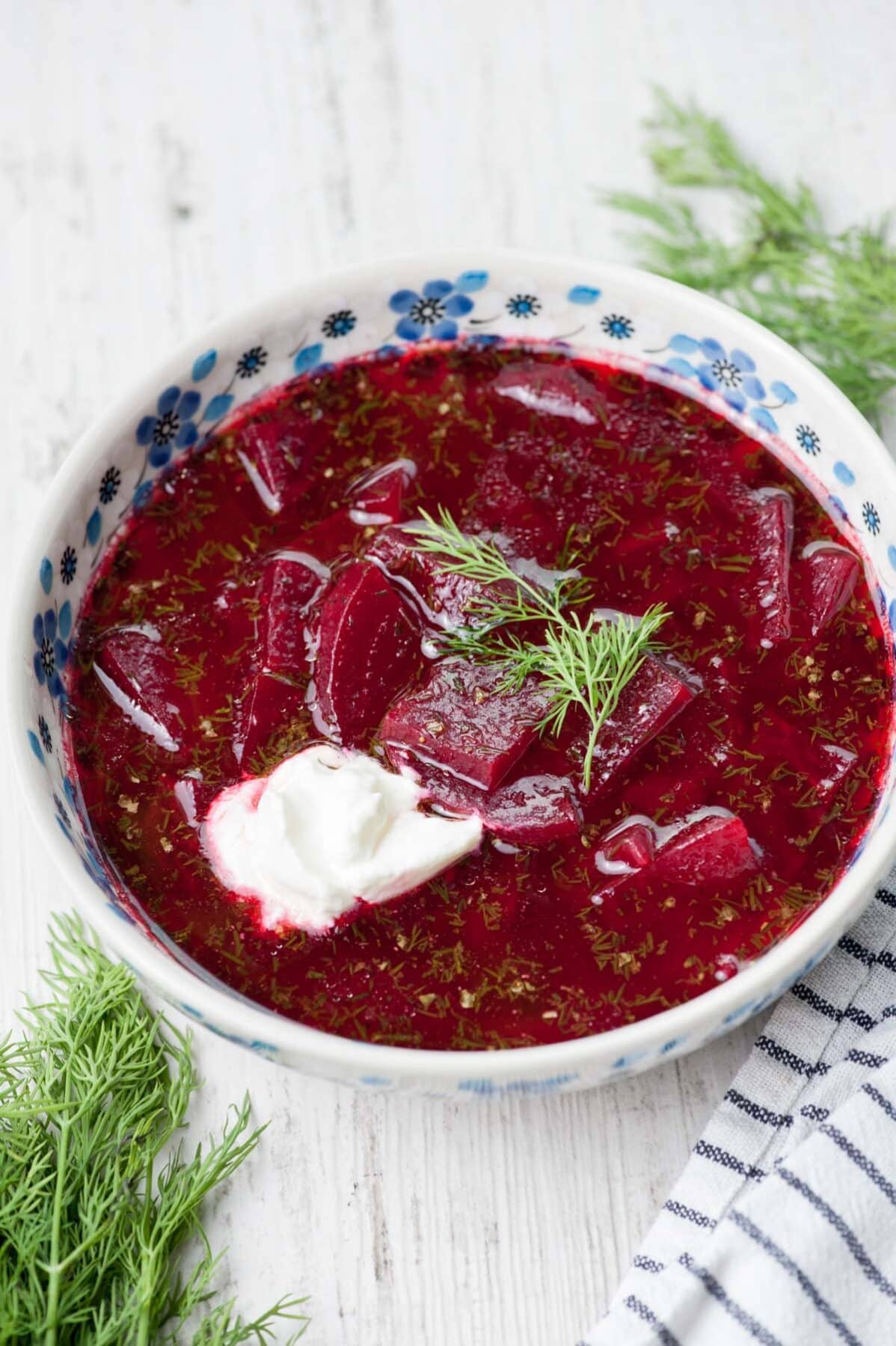 9) Ukrainian-style borscht (barszcz ukraiński)
This is a Ukrainian type of borscht but it's so popular in Poland that I consider it a Polish soup. I actually ate this soup very often in my childhood and I didn't even know it is Ukrainian. This borscht is filled with vegetable chunks, beans, and beef and served with a dollop of sour cream on top.
10) Christmas Eve borscht (barszcz wigilijny)
This borscht is made almost exclusively for Christmas Eve. According to the tradition, it must be meatless and clear (so no chunks of beets or other vegetables in the soup). It's made with beet kvass (liquid from fermented beets) but I'm also giving another option in the post. It's served either with uszka (small pierogi filled with wild mushroom filling) or krokiety (pan-fried and breaded rolled up crepes filled with sauerkraut and mushroom filling).
Here's the recipe: Polish Christmas Eve Beet Soup Recipe (Barszcz Wigilijny).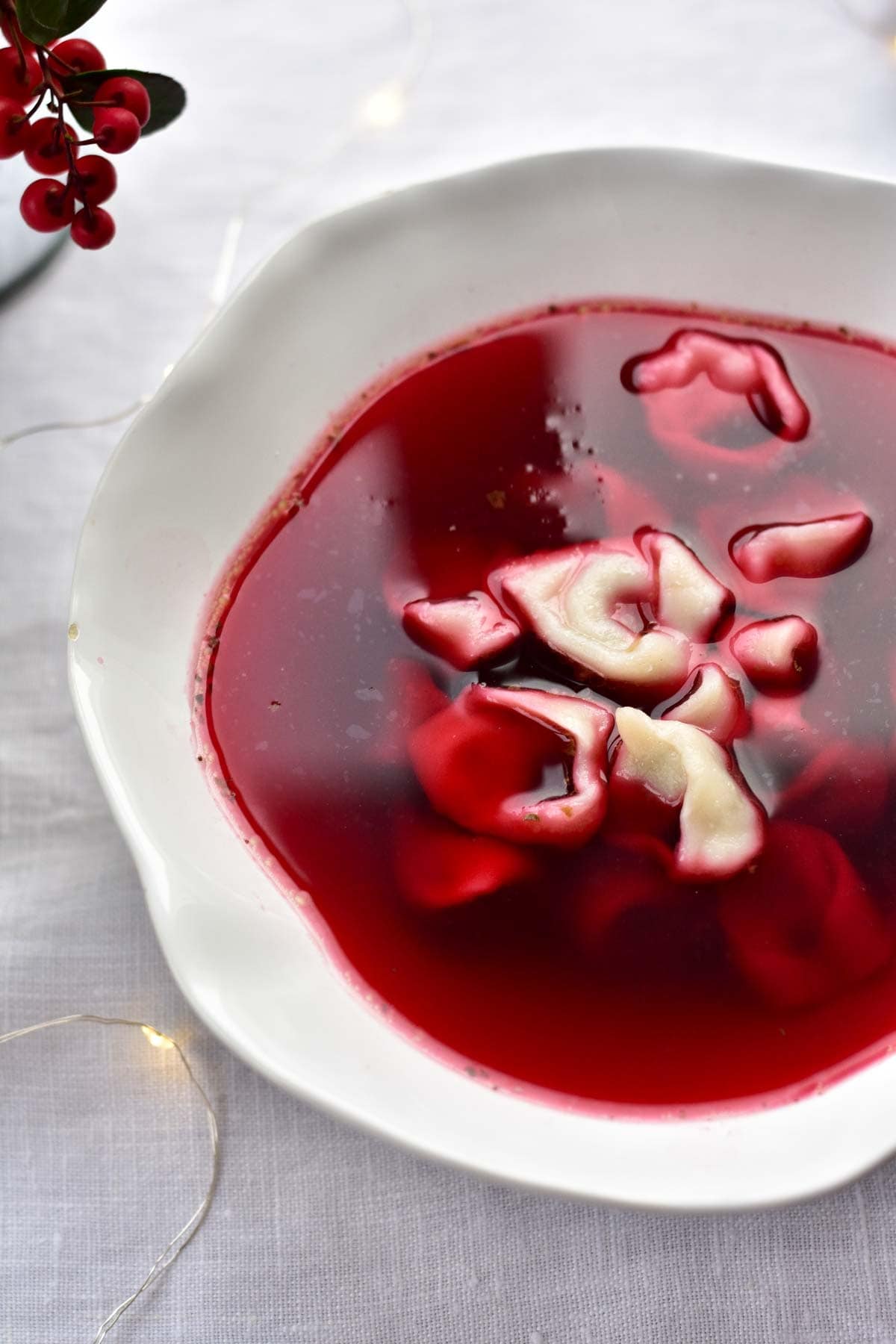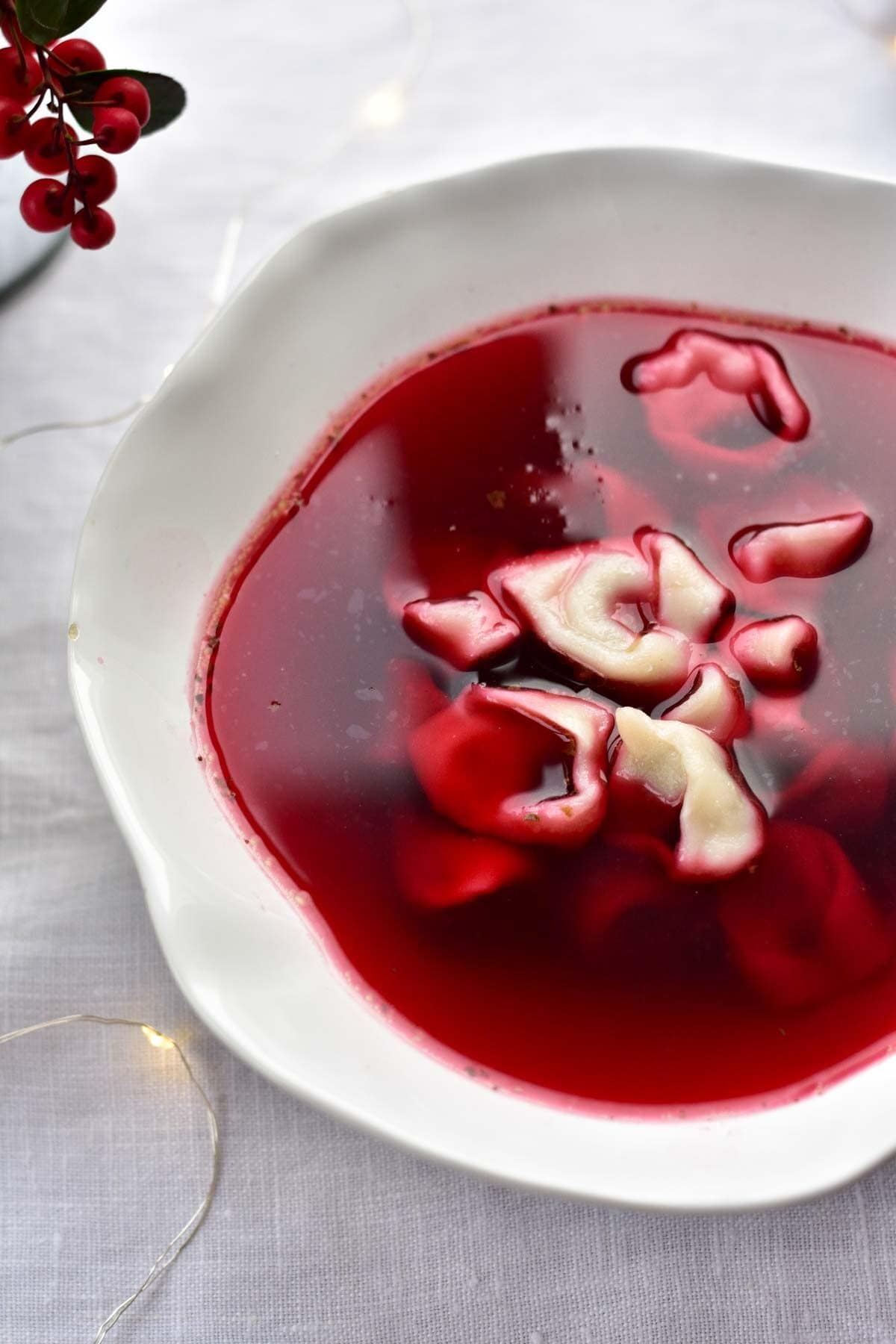 11) Botwinka (or zupa botwinkowa) – beet greens soup
You could call this soup a spring version of borscht. It's made with whole young beets, which means we're using beets, their stems, and leaves. The word "botwinka" can mean a soup or the leaves and stems of young beets. This soup is quick and easy, but very flavorful. It's also a great way to use up all parts of a beet, especially if you grow your own beets or have found such a beautiful bunch of beets at the farmer's market. I serve this beet greens soup with hard-boiled eggs and sometimes feta cheese. It's one of my favorite spring recipes!
Here's the recipe: Beet greens soup (Polish botwinka soup)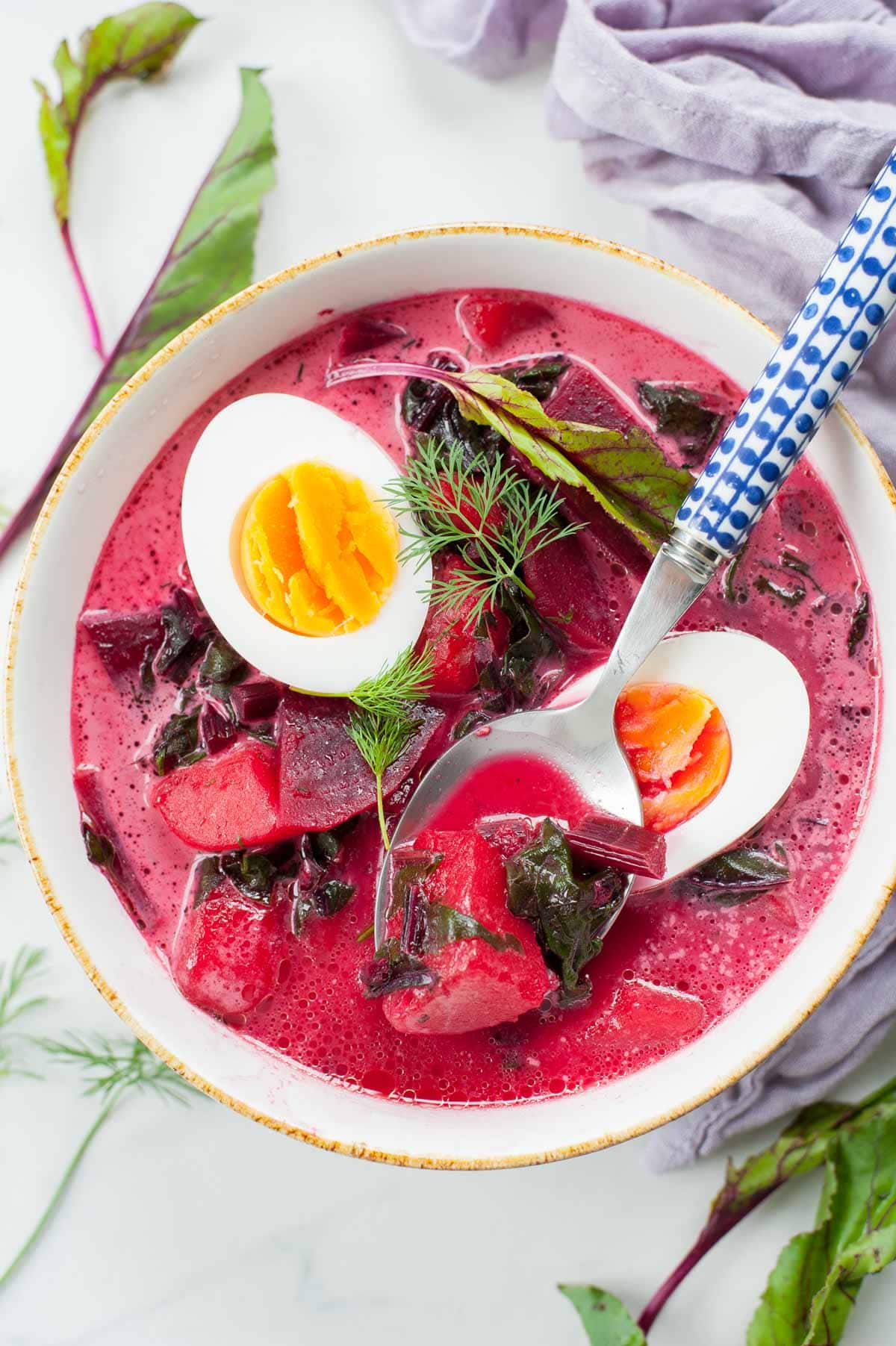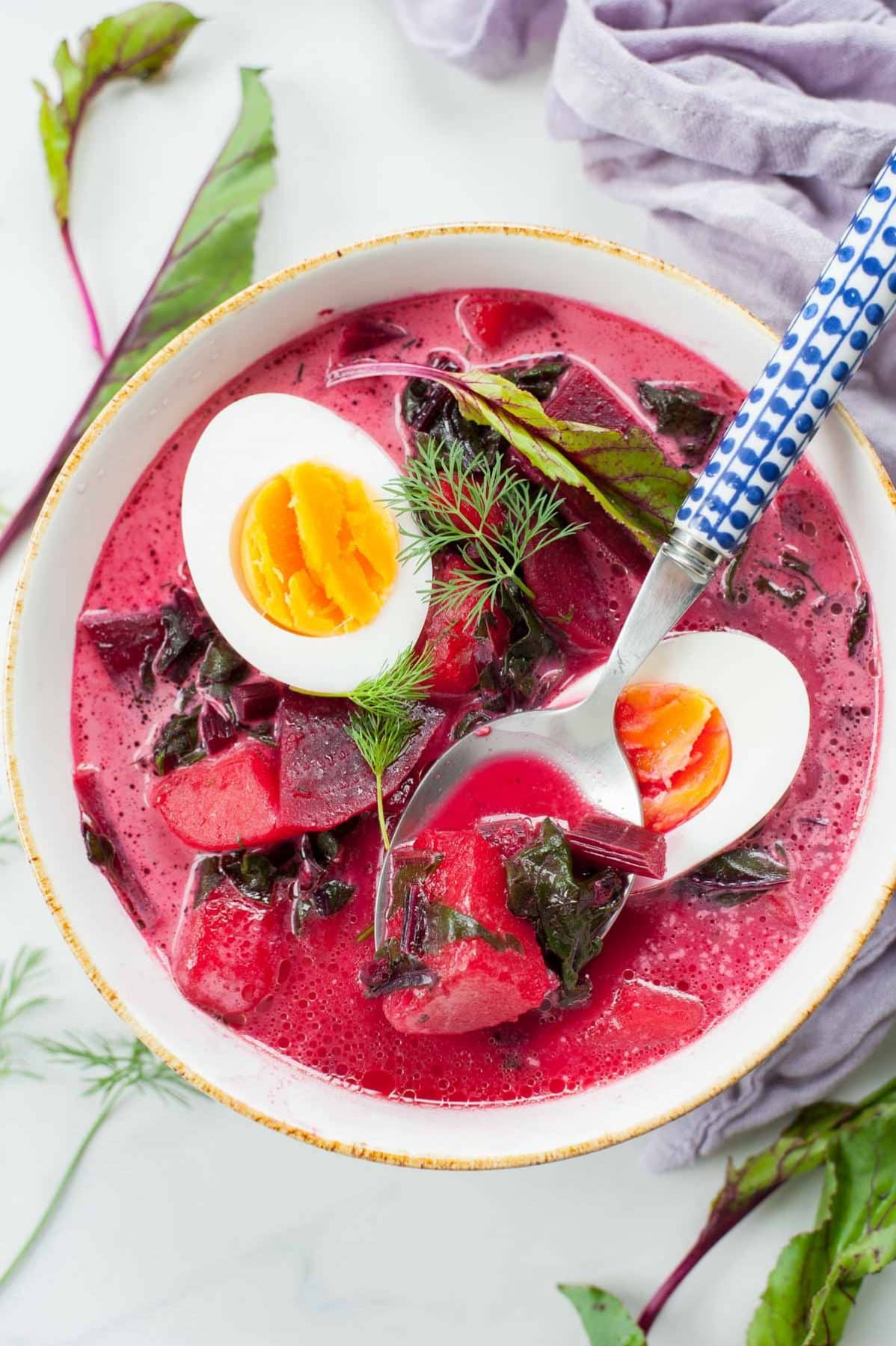 12) Chanterelle soup (zupa kurkowa)
Chanterelle mushrooms are very popular in Poland. Polish people are making so many dishes with them, anything from simple scrambled eggs (the recipe for scrambled eggs is at the bottom of the post), omelettes, creamy chanterelle sauce, to soups, tarts, and pasta recipes.
This chanterelle soup is so simple and quick to make but loaded with flavor. It's made with lots of chanterelle mushrooms, potatoes, lots of garlic, dill, and a secret ingredient – feta cheese.
Here's the recipe: Chanterelle soup.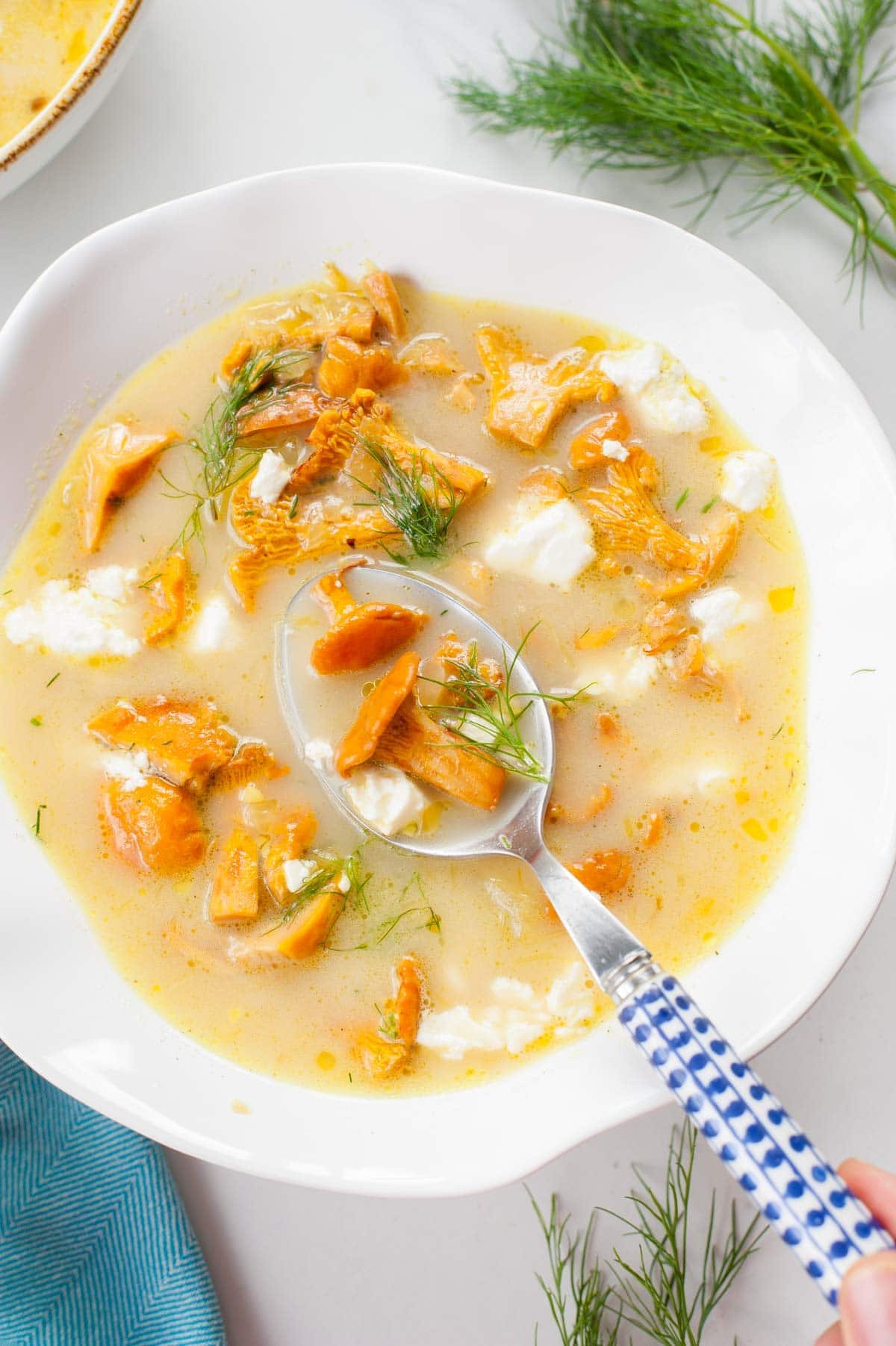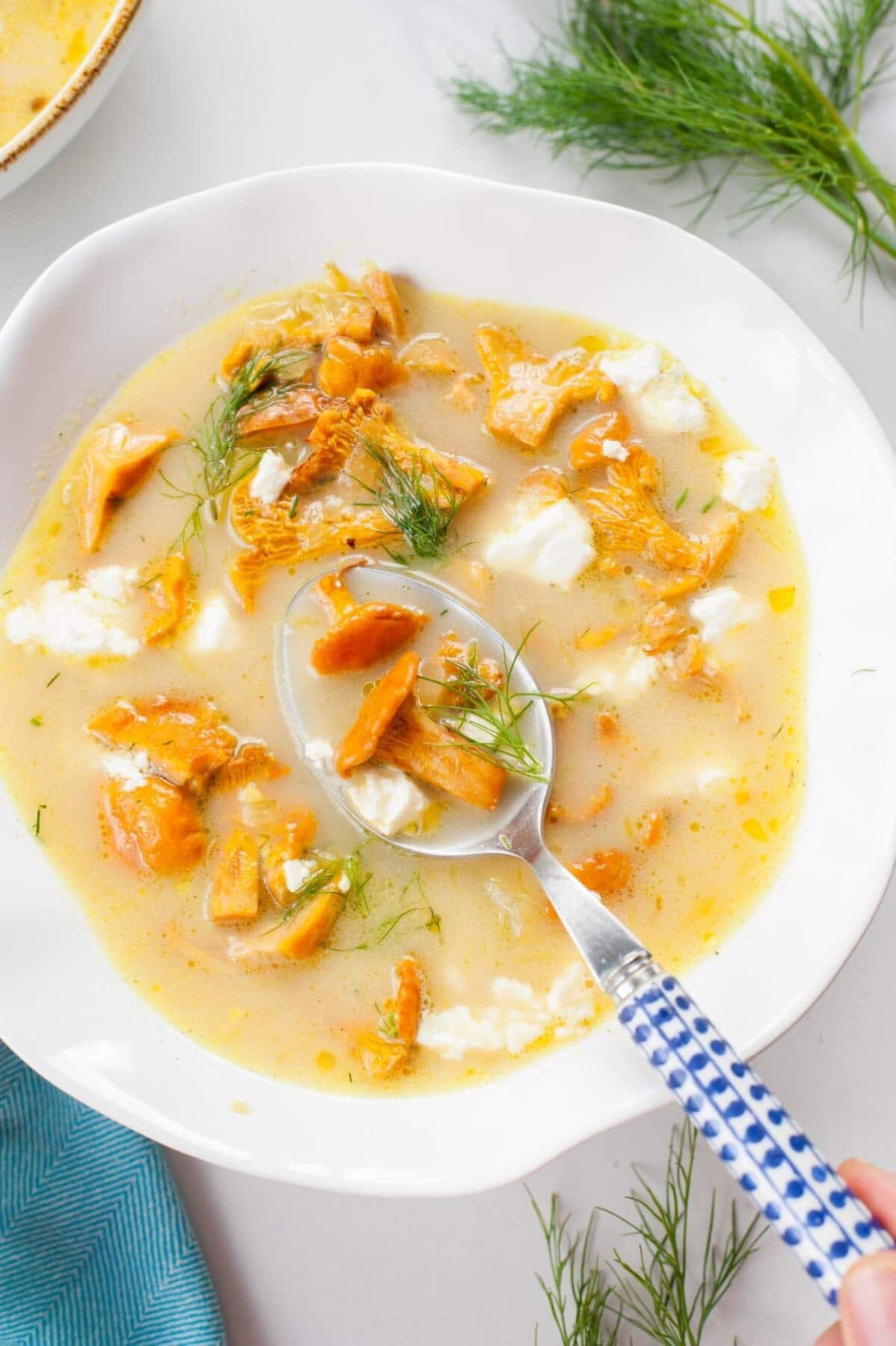 13) Zupa gulaszowa (goulash soup)
This soup looks like Hungariash goulash but in form of a soup so it's made with pork shoulder, bell peppers, and tomatoes.
14) Kapuśniak (sauerkraut soup)
This soup is made with smoked pork ribs, fresh white cabbage, and sauerkraut (fermented white cabbage). There are many versions of this soup such as kwaśnica (it's popular in the mountain region and made with just sauerkraut and smoked meats) and kapuśniak made with fresh young cabbage and kiełbasa (kapuśniak z młodej kapusty).
15) Christmas Eve mushroom soup
Meatless mushroom soup that is served in some regions of Poland for Christmas Eve instead of beet soup. It's made from wild mushrooms.
Here´s the recipe: Polish Christmas Eve Mushroom Soup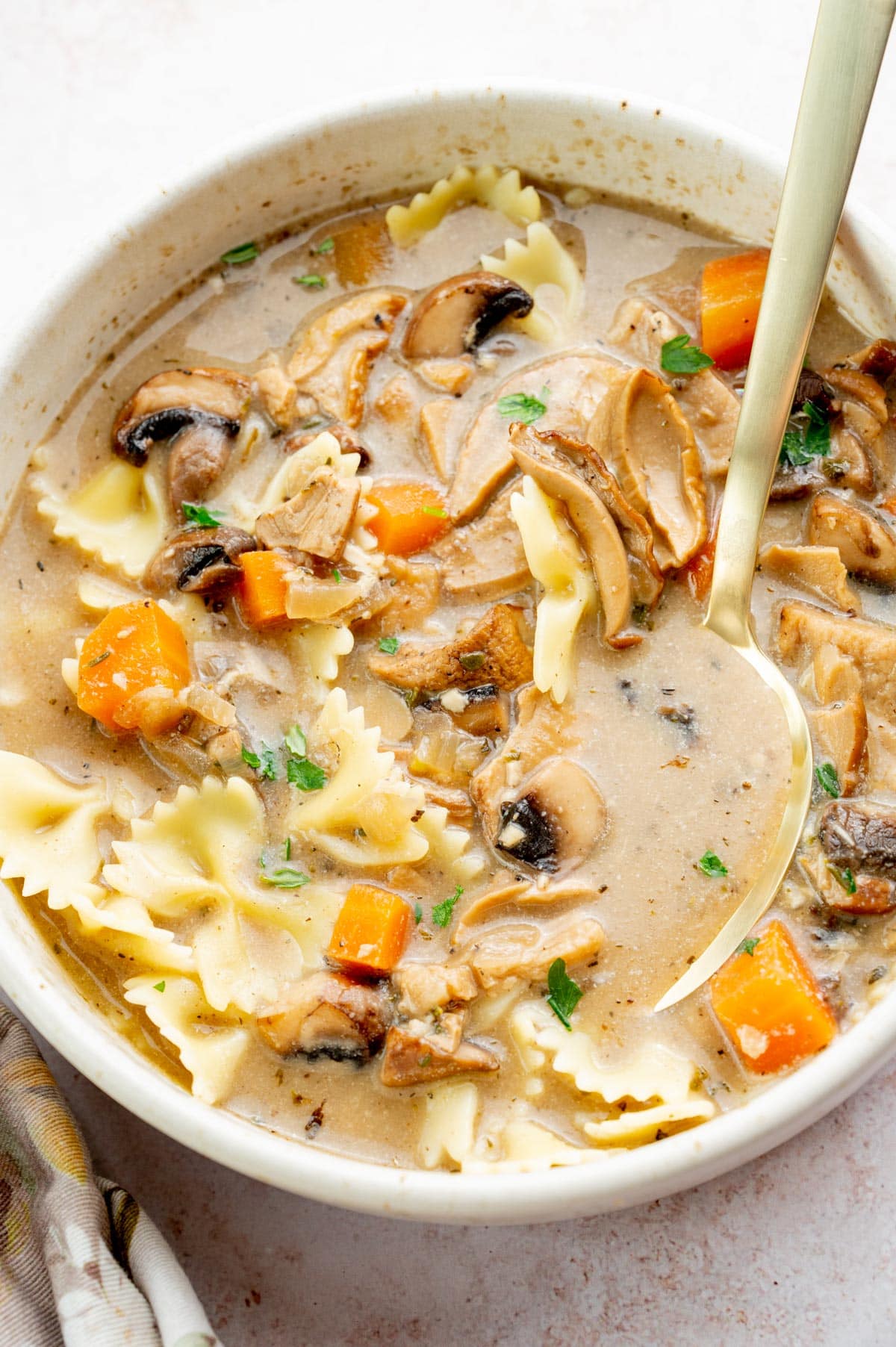 16) Mushroom soup (zupa grzybowa)
This is an everyday mushroom soup and is made with mushrooms (mostly wild mushrooms but sometimes also button mushrooms) and a meat-based broth.
17) Krupnik
Soup made with vegetables, chicken, and barley. It's a very popular soup for small children. I was never a fan of this one, to be honest!
18) Grochówka (split pea soup)
Thick and simple soup made with split peas and smoked pork ribs.
19) Zupa rybna (fish soup)
Especially popular in northern Poland since it has access to the Baltic sea. It's made with various types of fish.
20) Zupa jarzynowa (vegetable soup)
It's a simple vegetable soup made with vegetables and vegetable broth. It's delicate and mild-tasting. There are many versions of this soup including cauliflower soup (zupa kalafiorowa), potato soup (zupa ziemniaczana), bean soup (zupa fasolowa), dill soup (zupa koperkowa), or broccoli soup (zupa brokułowa).
21) Chłodnik (cold soup)
You could call it cold botwinka soup (it's #10 soup in this post). It's especially popular in summer – you could call it Polish gazpacho! It's made with beets, beets leaves and stems, cucumbers, dill, buttermilk/kefir.
There is also another version of this recipe and it's made with just cucumbers, radishes, dill, and buttermilk/kefir. It´s called chłodnik ogórkowy.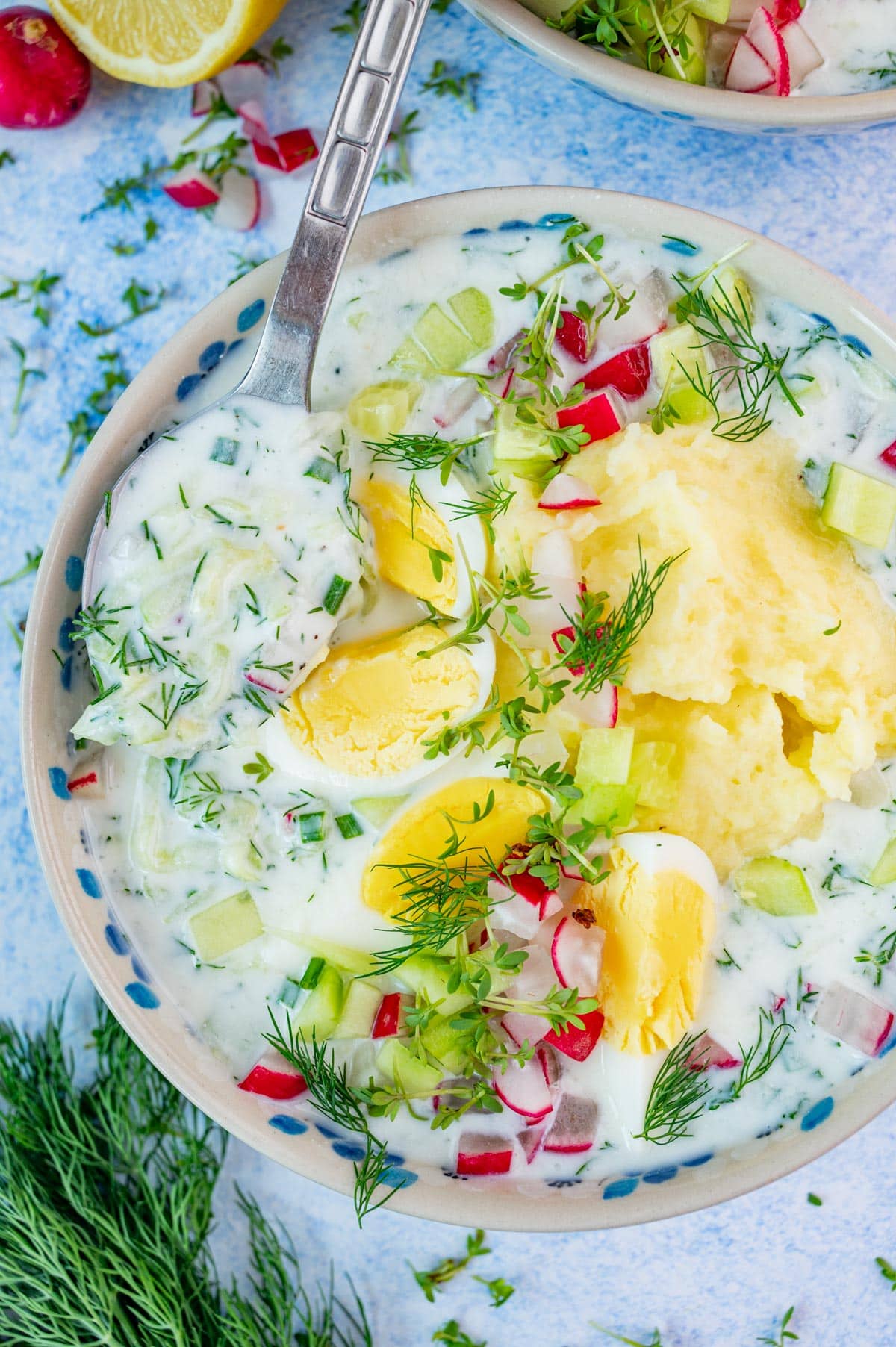 22) Zupa szczawiowa (sorrel soup)
It's made with szczaw leaves (sorrel leaves), smoked pork ribs, and chicken.
23) Czarnina (duck blood soup)
This is an old-fashioned soup that is not really eaten nowadays (at least no one from my family or friends is eating it). I must admit, I have never tried it but I wanted to mention it since I know it's quite well known among the Polish community in the US. This soup is made from duck or goose and their blood.
24) Flaki or Flaczki (tripe soup)
A soup made with beef tripe, root vegetables, and herbs.