Delicious vegan pierogi (polish dumplings) filled with spiced red lentils and sun-dried tomatoes. This is not a traditional pierogi filling, but it's really good. Red lentils are way less flavorful on their own, but delicious with lots of spices. I combined them with onion sauteed in aromatic spices and sun-dried tomatoes. It's important that the stuffing is not dry, so add some oil from the sun-dried tomato jar. This oil is very aromatic, you can also add it to salads. These dumplings taste best pan-fried in oil or butter!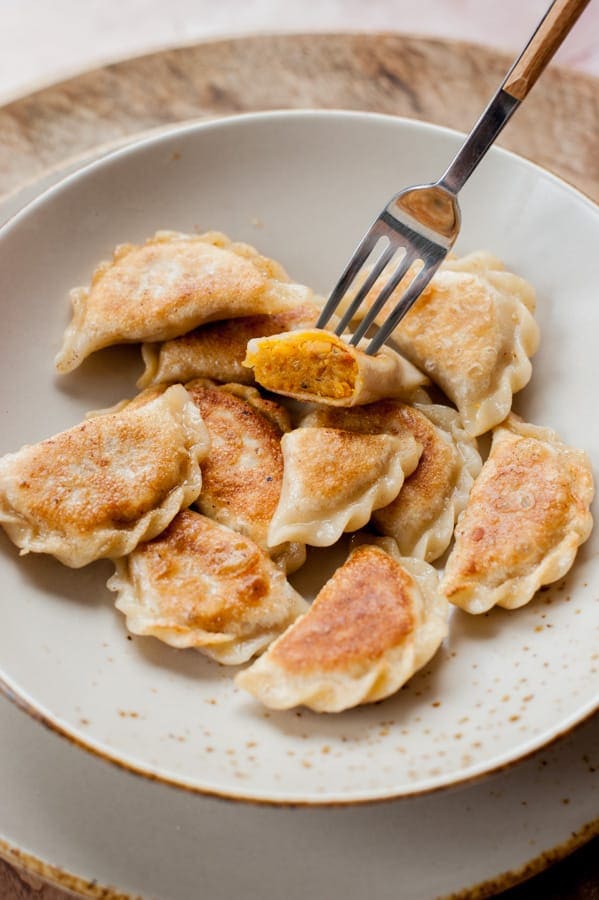 This recipe can be made vegan or vegetarian. For vegan pierogi, use vegetable oil instead of butter/clarified butter.
The pierogi dough preparation and the whole process of making pierogi are described only superficially in this recipe. If you've never made pierogi before and want to read how to make perfect pierogi dough (no-egg) and how to make pierogi from scratch, please read this guide: the best pierogi dough recipe. It includes storing and freezing tips.
Here you'll find all my pierogi sauces and toppings ideas.
My other pierogi recipes:
I have a separate post, where I talk about all the traditional and modern pierogi filling ideas.
Here are my recipes:
– potato and cheese pierogi (authentic recipe)
– potato and cheese pierogi the American way (with cheddar cheese)
– sauerkraut and mushroom pierogi
– spinach, potato and feta cheese pierogi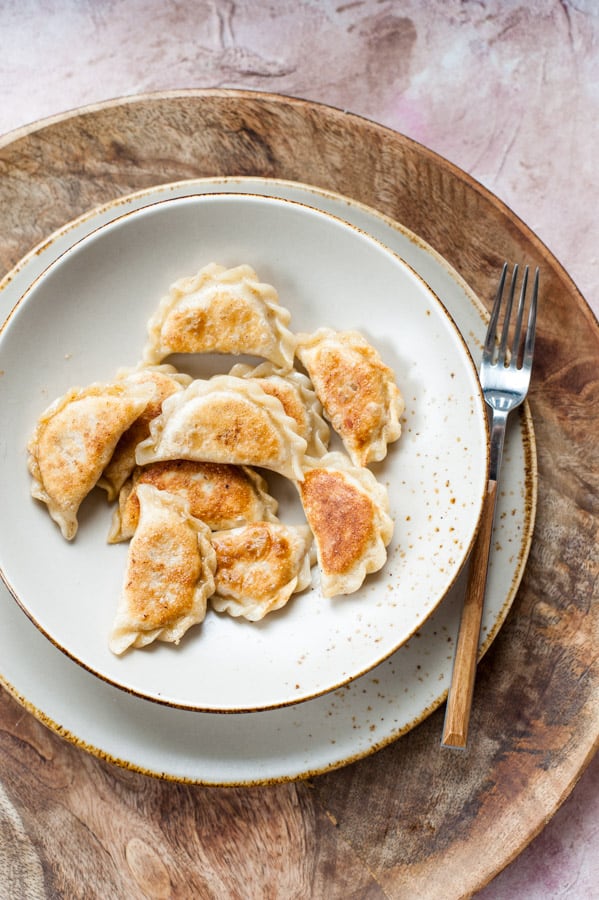 Vegan pierogi with spicy red lentil and sun-dried tomato filling – step by step: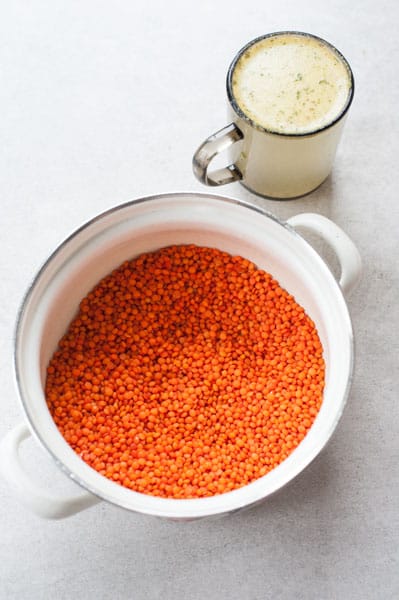 Vegan pierogi with spicy red lentil and sun-dried tomato filling
Vegan pierogi recipe (polish dumplings). I combined red lentils with sun-dried tomatoes and onion sauteed with aromatic spices. They taste amazing!
SAVE THIS RECIPE
Saved!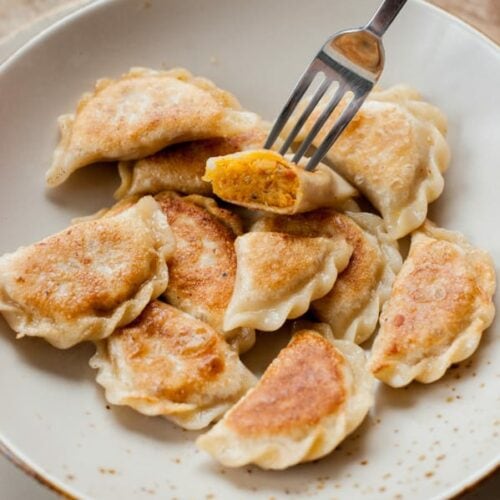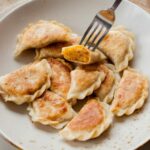 Print Recipe
RATE THE RECIPE
(click on the stars)
Ingredients
no-egg pierogi dough:
250

g

flour

8.8 oz / 2 cups

½

teaspoon

salt

140

g

water

½ cup + 4 teaspoons

20

g

vegetable oil

or butter, 0.7 oz / 4 teaspoons
filling:
1

cup

red lentils

220g / 7.8 oz

1

cup

vegetable broth

240ml + 2-3 tablespoons more (see instructions)

2

tablespoons

oil from the sun-dried tomatoes jar

or clarified butter / ghee

1

large onion

1

teaspoon

paprika powder

1/4

teaspoon

cayenne pepper

1

teaspoon

dried thyme

1/4

teaspoon

cumin

½

teaspoon

turmeric

2

cloves

garlic

100

g

/ 3.5 oz sun-dried tomatoes

12 pieces, from a 185g / 6.5 oz jar

2-3

tablespoons

oil from the sun-dried tomatoes jar

or water

salt and pepper

to taste
Instructions
pierogi dough:
Mix the flour with salt.

Add the vegetable oil / butter and water into a small pot, heat up until very warm, but not boiling (if using butter, it should melt).

Add water with oil to the flour, stir with a spoon until roughly combined.

Knead by hand or with a stand mixer using a hook dough attachment, until a smooth and soft dough forms.

Flatten the dough and wrap in plastic foil, set aside for 30 minutes.
filling:
Cook the lentils: rinse in a sieve, add to a medium pot, pour in the broth and cover. Bring to a boil over medium heat, then reduce the heat to a minimum and cook for 15 minutes until lentils are soft. Drain the lentils, and while still hot, mash them thoroughly with a fork. I like to overcook the lentils – I add additional 2-3 tablespoons water at the beginning and cook the lentils about 4 minutes longer. This way the filling will be more smooth and creamy. If you don't want to overcook the lentils it's good to puree the filling at the end so that the lentils are not noticeable.

Dice the onion, chop the sun-dried tomatoes finely and the garlic very finely.

Heat the oil in a frying pan (if you want to make vegetarian pierogi it's better to use clarified butter / ghee), add the onion and spices (paprika powder, cayenne pepper, thyme, cumin, and turmeric), cook over low heat for about 10 minutes. Add the garlic and cook for one minute more.

Combine the cooked lentils with sauteed onion and sun-dried tomatoes. Season with salt and pepper, add 2-3 tablespoons of oil from the sun-dried tomatoes jar so that the filling is not dry (you can swap a part of the oil with water).

assemble:

Thinly roll out the dough, cut out rounds, scoop the filling with a teaspoon and place on the rounds, press the edges to seal.

Cook the pierogi in batches in a large amount of salted water. Once the pierogi float to the surface of the water, cook them for 2 minutes. Remove from the water with a slotted spoon.

They taste best pan-fried in oil / butter / ghee.

Enjoy!
Notes
* 1 cup is 240 ml. 1 cup flour weighs 125g (US cup).
* Calories count = 1 serving = 12 pierogi.
Tried this Recipe? Rate the Recipe and tell us what you think in the Comments!
Did you make this recipe? RATE THE RECIPE or tell me in the COMMENTS how you liked it! You can also add a photo of your dish. It would make me very happy and will help other readers. Thank you!!